The Permanent Representative of Belarus asked about freedom of speech
22 January 2021 | TUT.BY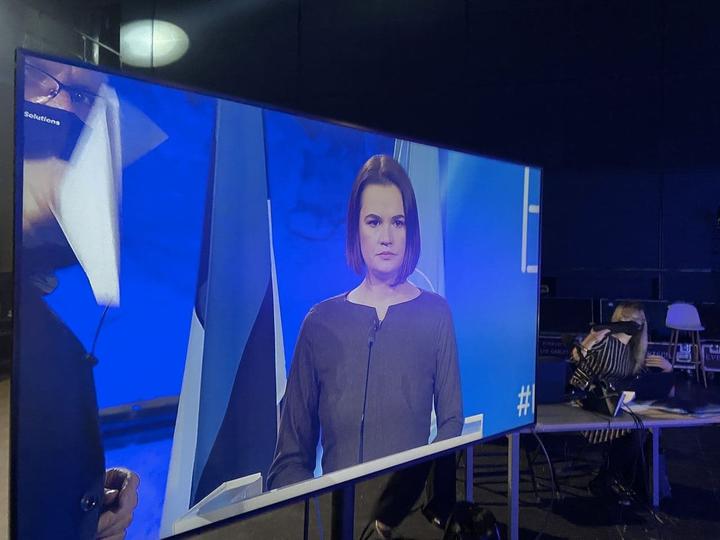 At the initiative of Estonia, France, Ireland, Norway, Great Britain and the United States, the Security Council held an informal meeting with the participation of ex-presidential candidate Sviatlana Tsikhanouskaya. At the meeting, issues related to mass media in Belarus were discussed.
Irene Khan, the UN Special Rapporteur for Freedom of Expression and Opinion, addressed the participants with a speech. She said that the freedom to disseminate information and exchange opinions is one of the key human rights that are being violated in Belarus.
According to the UN High Commissioner for Human Rights, more than 400 journalists were arrested last year and independent media have been subject to various restrictions. She also mentioned the August 2020 internet shutdown, as well as the revocation of accreditations for more than two dozen foreign journalists. The case of our colleague, Katsiaryna Barysevich, was not ignored by Khan either.
"One journalist is reportedly in pre-trial detention for disclosing confidential medical information and false information, while she was in fact investigating the violent death of a peaceful protester. Journalism has been criminalized. On the one hand, not a single attack on a journalist has been investigated or reviewed in court. On the other hand, the full force of criminal law fell upon journalists and mass media."
She called on the government of Belarus to allow the UN Special Rapporteur on Belarus and herself to visit the country.
Tsikhanouskaya called on the UN to convene a meeting of the Security Council and include Belarus in the agenda
Sviatlana Tsikhanouskaya recalled the persecutions that followed after the presidential elections in Belarus. They concerned not only peaceful protesters, but also journalists who covered those events.
"Among them are three fearless journalists – Darya Chultsova, Katsiaryna Andreyeva and Katsiaryna Barysevich, who have been in prison for two months. They were charged with organizing mass protests and disclosing medical information about Raman Bandarenka, the protester who was killed by the regime's associates. They are only guilty of doing their job and telling the truth," she said.
Tsikhanouskaya also noted that the media ruled by the regime are only part of the overall picture of persecutions in Belarus.
"More than 32,000 people have been detained, there are about 900 suspects in politically motivated criminal cases, 400 cases of torture reported by the UN, and 8 activists who died in connection with state violence. Not a single government official has been prosecuted. Despite this violence, Belarusians continue to protest daily. They demonstrate courage, dignity and resilience," added Tsikhanouskaya.
Latushka turned to his former colleagues: "Is this the law or a violation of the law?"
Pavel Latushka stated in his speech that the persecutions in Belarus affected all strata of Belarusian society – women, students, doctors, athletes, scientists, actors, musicians, etc.
"Even the most vulnerable are punished simply for exercising their universal human rights – as the example of Elizaveta Bursava shows. An 87-year-old woman who survived the Holocaust was found guilty of an 'unauthorized mass action' for hanging the former national flag on her balcony. We must thank the independent media for their coverage of this and many other cases. Here we must once again express our support and solidarity with the illegally imprisoned journalists Darya Chultsova, Katsiaryna Andreyeva, Katsiaryna Barysevich, blogger Ihar Losik and another 185 persons who are considered political prisoners," said Latushka.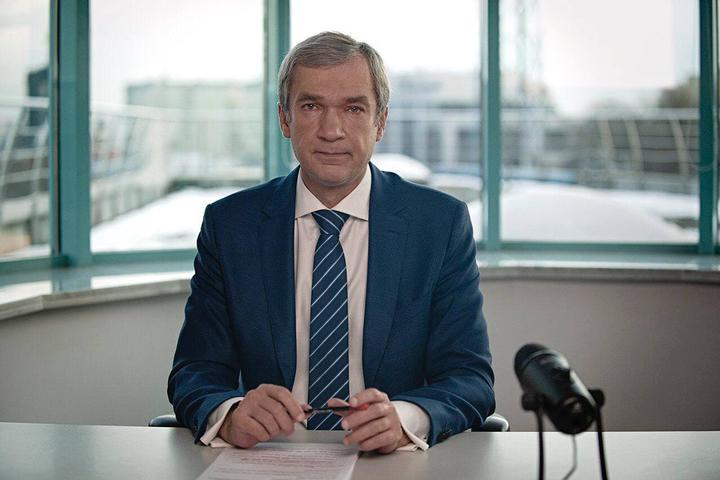 He also formulated six questions to his former colleagues – Belarusian diplomats.
"First: We saw a video of premeditated killings in Belarus. There are no open cases. Is this the law or a violation of the law? Second: Thousands of people were tortured. Reports with video evidence were filed. Again, not a single investigation has been initiated. Is this the law or a violation of the law? Third: There have been more than 32,000 detentions and arrests. Is this a marginal part of society? Fourth: 500 journalists have been detained and arrested. Not 5, but 500 people! Is this freedom of speech? 9 (actually, already 10 – TUT.BY) journalists are now in prison. Fifth: Journalists cover meetings on the streets, and for participating in them they are sent to prison. Journalists have stopped wearing vests with the word 'press' on their backs because they are being shot to kill. Sixth: in an audio recording, Deputy Minister of Internal Affairs Karpiankou gives the order to shoot to kill, to shoot in the face. Do I need to comment on this?" asked Latushka. "Maybe my former colleague Rybakov (the Permanent Representative of Belarus to the UN – TUT.BY) will explain to the world that all this is within the framework of the Declaration of Human Rights?"
Ivashkevich: "Since September, journalists have become the main target of the security forces"
Stanislau Ivashkevich, an employee of the Belsat TV channel who is now engaged in investigative journalism but also worked as a reporter during the August events, spoke at the meeting as well.
According to him, he was detained twice, each time spending two days in custody and getting fined.
"During my first two days in prison in August, we were taken out of the cell to be beaten. We had to run through a row of masked guards, each of whom struck a blow."
Ivashkevich said that the beating continued in the courtyard, where the detainees were on their knees with their hands on the back of their heads. Then, according to him, he did not face any more cruelty; however his colleague Elena Shcherbinskaya, who was detained the next day, was repeatedly beaten up and constantly humiliated by the guards and spent six days in the hospital. He also mentioned the incident of his colleague being wounded by a rubber bullet, although she was wearing a blue journalist vest, and a similar incident with Natallia Lubneuskaya, a correspondent of the Nasha Niva media agency.
He said that since September, journalists have become the main target of the security forces. Not only were they detained, but their equipment was also damaged. He cited the Belarusian Association of Journalists' (BAJ) data: cases of the use of force against 62 journalists were recorded, almost 500 journalists were detained, and about 100 were subjected to administrative detentions. According to him, about 50 informational Internet resources in Belarus were blocked last year, and media accreditations were revoked. He also drew attention to the hunger strike of the blogger, Ihar Losik.
Brown: "My reporting experience in Belarus, the country I fell in love with, ended bitterly"
British journalist Gareth Brown said that over the past five years, he covered events abroad, in hot spots, in Iraq during the confrontation with ISIS, and also interviewed heads of state and government. He could not legally work in Belarus and receive accreditation, but he arrived in Belarus to report on the events.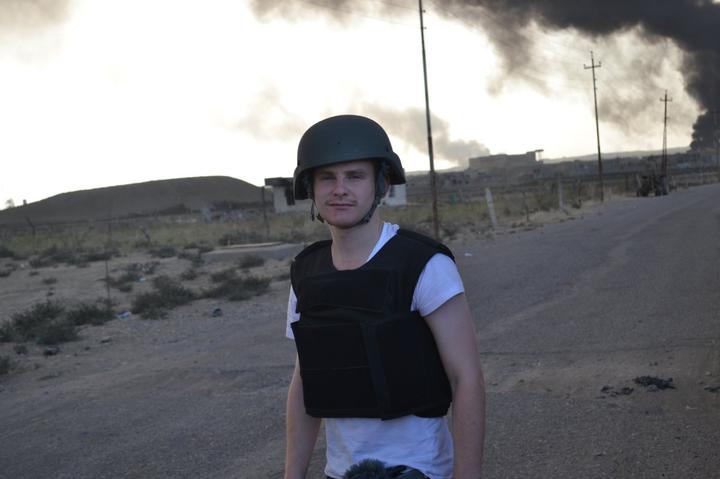 "There was hope for change all across the country. However, it faced the harsh reality of authoritarian rule. In Belarus, I spent more time running away from shooting than in any of the six hot spots where I've been as a reporter."
Brown compared himself to a fugitive from justice: he hid his notes, hid his origin. According to him, a journalist covering the protests in Belarus is regarded as a protester as well. He described various difficulties he faced in our country, and also drew attention to the fact that family members of journalists are also persecuted.
"My reporting experience in Belarus, a country that I fell in love with after spending time there, ended bitterly – two men in plain clothes beat me on the staircase late at night. I have no doubt that they were from the KGB. But when I leaned against the concrete, taking the punches from their fists and knees, I had no regrets whatsoever."
Rinkēvičs considers it necessary to create an international body to investigate human rights violations in Belarus
Latvian Foreign Minister Edgars Rinkēvičs also cited BAJ statistics on detentions and persecution of journalists, censorship and blocking of Internet resources.
"The situation in Belarus continues to worry us and, apparently, the entire international community. Almost six months have passed since the presidential elections in Belarus, but the most serious human rights violations still go on. These include illegal detention, physical and mental torture. Journalists are among those who suffer the most. They pay the price for courage in presenting the truth."
He noted that the Latvian government continues to provide support to Belarusian independent journalists, is engaged in their rehabilitation and psychological assistance, and also provides financial support to civil society in Belarus. Latvia, he said, supported the OSCE report, which describes human rights violations in Belarus, and said that the country is expecting the report of the UN Commissioner for Human Rights on the situation in Belarus, which will be published in February.
The next step, in his opinion, should be the establishment of an international body to investigate human rights violations in Belarus – he appealed to all countries in the Council to support its establishment.
Representative of the Russian Federation: "The meeting is a clear provocation"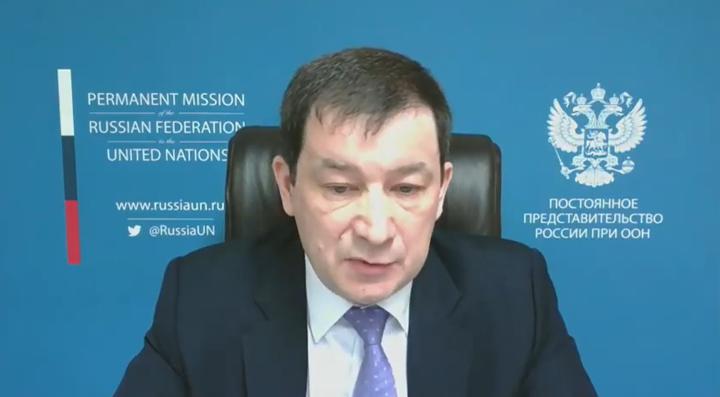 Representative of Russia Dmitry Polyanskiy said he would speak longer than the time limit in order to counterbalance the politicized and one-sided approach of previous speakers.
"Belarus is not on the agenda of the Security Council, and the Council does not hold a discussion on the situation in this country. Thus, today's meeting is a clear provocation and a blatant attempt to interfere in the internal affairs of a sovereign state. I was also impressed with how the Estonian side summed up the results of the meeting without even listening to all the members of the Security Council and Belarus itself. This clearly demonstrates that you do not need an open discussion on this topic, but rather an illusion of international unity and a chorus of like-minded countries," said Polyanskiy.
He also asked the Estonian side whether they are deliberately creating a precedent for the Security Council to discuss the internal situation in a country which does not threaten international security in any way. He compared the situation in Belarus and in the United States, drawing some parallels, and asked whether they should discuss the situation in the United States.
Polyanskiy also accused the Belarusian opposition of being openly financed from abroad, spreading calls for further riots through social media and even killing security officials and their families.
"Besides, Western countries openly finance and support some Belarusian media. We have heard a lot of confirmation of this today. Don't you realize that such support robs them of their independence and turns them into your mouthpiece?"
Representative of Belarus: "None of you is a shining beacon of democracy"
Valentin Rybakov, Permanent Representative of Belarus to the UN, also spoke at the meeting. He noted that such meetings, even unofficial ones, have nothing to do with the agenda of the UN Security Council. And the participation of Belarus in this meeting is not a recognition of its legitimacy.
"This is another desperate attempt by several members of the Security Council to earn political points with a selective and biased approach. This is clearly indicated by the way this meeting is organized. Some speakers are not even media professionals. Some have nothing to do with journalism at all. According to the logic of the event sponsors, any person can be presented as a media professional capable of competently speaking on the topic," said Rybakov.
He said that the Belarusian delegation had appealed to the organizers with a proposal to give an opportunity to speak at today's event to media representatives (chairman of the Belarusian Union of Journalists Andrei Kryvasheyeu and pro-government analyst Aliaksandr Shpakouski – TUT.BY), but their participation was denied.
"The sponsors of this event should be warned. None of you is a bearer of the standard of democratic values and principles. None of you is a shining beacon of democracy. You have absolutely no moral right to preach democracy or teach us, or anyone else, democratic values. By the way, perhaps, European and Estonian taxpayers will be interested to know who paid for the trip of some speakers to Tallinn," emphasized the Permanent Representative of Belarus to the UN. "What Belarus needs least of all now is foreign intervention and instruction, especially from those who themselves are far from the standards of freedom of the press and freedom of speech."
Valentin Rybakov once again voiced the position of Minsk: Belarus will not tolerate any external interference and pressure and is ready to cooperate with each member state on the principles of mutual respect and dialogue.
"Concern" and "internal affairs of Belarus"
Representatives from different countries also spoke at the informal meeting.
Representatives of Finland, Great Britain, Poland, Ireland, Lithuania, Germany, Norway, Ukraine, the USA, Belgium, Canada, France, Estonia, Romania, Slovenia, Slovakia, Italy, the Czech Republic, Montenegro, Austria, Australia, Malta, Croatia and Portugal expressed concerns about the situation with freedom of speech in Belarus and the persecution of journalists in our country.
The importance of freedom of speech and expression was highlighted by Mexico and India.
The Chinese representative reminded that China respects the sovereignty, independence and territorial integrity of Belarus. He expressed confidence that political and social stability in Belarus will be restored under the leadership of President Alexander Lukashenko and due to the efforts of the Belarusians themselves.
"China considers what is happening in Belarus to be its internal affairs and opposes any external interference," said the diplomat.
The Permanent Representative of the People's Republic of China to the UN also asked what the issue under discussion had to do with the UN Security Council agenda, and also called it regrettable that two Belarusian journalists were denied the opportunity to speak at this meeting.
Meeting under the "Arria formula"
The meeting is held according to the "Arria formula" – meetings in this format are not held in the Security Council chamber; no resolutions or other official documents are drawn up during them. Other members of the UN Security Council, if they wish, can refuse to participate in such meeting.
This is the second meeting of the UN Security Council with the participation of Sviatlana Tsikhanouskaya. The first was on 4 September, during which she called for the introduction of sanctions against those involved in human rights violations in Belarus and to take measures to stop the violence.
According to a recent report by Reporters Without Borders, Belarus has confirmed its status as the most dangerous country in Europe for journalists. According to the BAJ, at least 480 journalists have been detained, 97 journalists have served their administrative detentions, and 10 journalists are currently behind bars.