How do the embassies in different countries help and what do they focus on?
1 March 2021 | Alena Talkachova, TUT.BY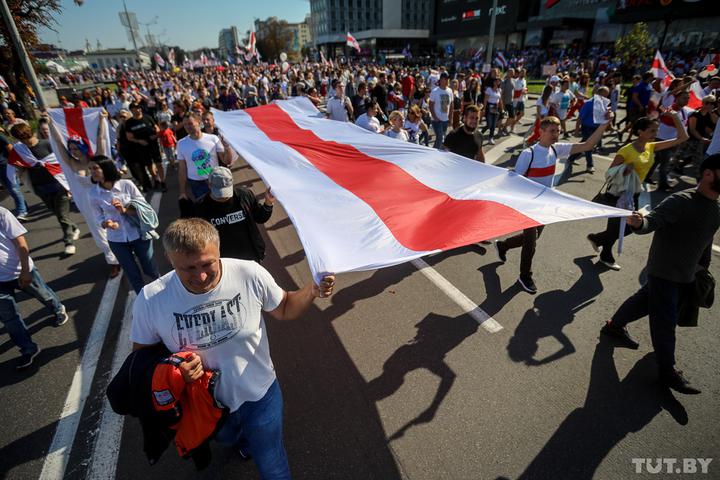 "People's Embassies" of Belarus abroad were opened in December last year. The ceremony was held online, featuring Sviatlana Tsikhanouskaya, Pavel Latushka, as well as MEPs. Today, "People's Embassies" are operating in 17 countries. We talked to representatives of several "embassies" to find out how they are helping Belarusians who came to their respective countries after the elections, and how they are perceived by local officials.
"People's Embassies" is an initiative aiming to create alternative diplomatic missions of Belarus abroad. It was announced at the World Belarus Congress in October 2020. Belarusian communities in 17 countries supported the project, in the belief that the current government has lost its legitimacy not only in Belarus, but also abroad. The "People's Embassies" are not aimed at replacing foreign Belarusian diplomatic missions, but rather, they help Belarusians who came to their respective countries and are engaged in "raising awareness" about what is happening in Belarus.
"We are negotiating with Ukrainian state bodies in order to terminate their cooperation with Belarusian state-owned enterprises"
In Ukraine, the Information Center acts in place of the "People's Embassy". It opened in December along with the "embassies" in other countries.
"There are quite a few active Belarusian organizations in Ukraine. First of all, this concerns the issues of refugees, since the country is the easiest and safest destination for those who are forced to escape quickly from persecution. This work is a priority for us. At the same time, we understand that it is important to communicate the position of Belarusians from all over the world about the projects being implemented. We have coordinators and representatives of public associations in our Information Center helping refugees in Ukraine. In fact, we've created the Information Center to consolidate the efforts of the large Belarusian diaspora. Our activity is a part of the wide informal community of Belarusians abroad. We are glad that in such a difficult time Belarusians all over the world support each other and unite in a single movement of solidarity," says Yulia Kaminskaya, a volunteer of the Information Center.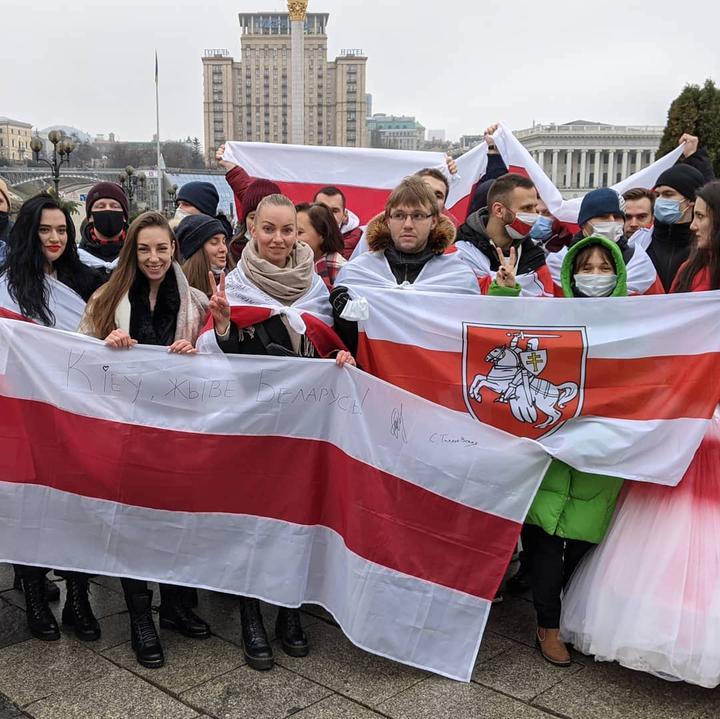 Organizations and initiative groups that are part of the Information Center are engaged in a dialogue with Ukrainian government agencies on the issues related to Belarusians in Ukraine, such as, for example, the residence permit extensions.
"As far as possible, we are also negotiating with relevant Ukrainian state bodies the opportunities of stopping cooperation between Ukraine and state-owned enterprises of Belarus," says Yulia.
The Information Center is ready to provide more than just informational assistance for Belarusians who move to Ukraine. They can also get legal advice, psychological and humanitarian assistance (food, clothing, hygiene items), help in finding accommodation.
It is difficult for the volunteers to estimate how many Belarusians have applied to the Information Center during several months of its existence, since the Center consists of various initiatives.
"However, we know that after the events of August 2020, several thousand Belarusians ended up in Ukraine. According to the Ukrainian border service, a total number of 161.6 thousand Belarusians entered and 158.8 thousand left the country in the period from August till December," says Yulia.
"We are not trying to substitute the funds"
In Lithuania, the "People's Embassy" consists mainly of refugees who faced persecution in Belarus. Activist Bella Fox says that the main task of the "embassy" in Lithuania is to represent the interests of Belarus and Belarusians who live or recently arrived in the Republic of Lithuania, providing them with all the necessary information and informing the Lithuanian public about what is happening in Belarus through activities and campaigns. Bella emphasizes that the "embassy" is not to replace the foundations created to support Belarusians. Rather, it communicates with those who already received help from the foundations, performing information function: you can ask the "embassy" for advice on which funds to contact and what kind of help they provide.
"The 'People's Embassy' is not taking over the work of specialized funds that help Belarusian refugees in Lithuania (Razam, Dapamoga, BySol). It is mainly engaged in diplomatic work together with National Anti-Crisis Management as well as Tsikhanouskaya's headquarters. In Lithuania, the information to Belarusians is provided through interviews and publications on social networks, as well as through a special program 'Long Live Belarus at Night with Bella Fox' on the radio. However, the People's Embassy is open to provide informational support to any citizen of Belarus in Lithuania," Bella said.
"Local people want to help Belarusians"
In Germany, the "People's Embassy" was established by Mikhail Rubin, Mikhail Taube and Dyana Veras. It opened in December along with "embassies" in other countries, but the recruitment process for the volunteers started earlier, in mid-November. Today, about 15 volunteers work for it.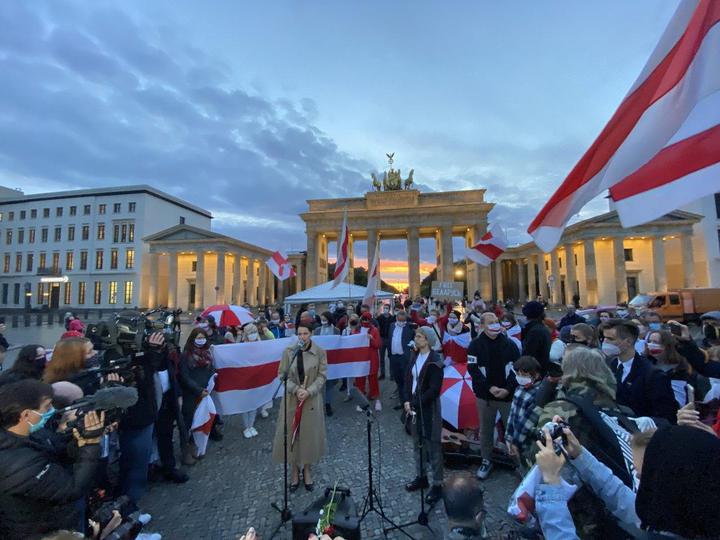 "Some people devote a couple of hours a day or a week to the project, others – almost all of their free time. It's important to understand that we all are volunteers and that we also have jobs and families. Of course, these are mostly Belarusians or 'former' Belarusians who once left their homeland for various reasons and moved to Germany. Specifically in our 'People's Embassy', there are no Belarusians who relocated after the 2020 elections. I think this is due to the fact that, unfortunately, it is not so easy to get to Germany for those who are fleeing the persecution of the dictatorial regime. Nevertheless, among those who want to help, there are also local residents who are very concerned and are eager to help Belarusians in their 'troublesome business'. And we really appreciate that!" says Mikhail.
The "People's Embassy" in Germany is in constant contact with two associations of Belarusians in Germany – RAZAM and KUB, which were established after September 2020, their representatives are a part of the "embassy".
"We also cooperate with the human rights organization Libereko. We coordinate our actions and act together in some areas. If we are approached on issues that are already being dealt with by representatives of the associations listed above, then we either redirect people to them or join our efforts," explains Mikhail.
The "embassy" in Germany informs the general public about the situation in Belarus, establishing and maintaining contacts with governmental organizations, public associations, trade unions, businesses, scientific and cultural circles as well as receiving and sharing the information with various institutions and organizations.
"We are ready, of course, to help all Belarusians who have ended up or will soon find themselves in Germany wherever possible. We have a special emergency contact e-mail address on our website available for anyone who needs help. Yet our abilities are limited, of course. We can't issue any official documents or certificates, we can't influence the issue of German visas, etc. Of course, you can turn to us for help with language support, search for accommodation, education opportunities, and employment. Nevertheless, we must not forget that we are not an official organization, but volunteers, yet we try to do everything in our power," says Mikhail.
"How many Belarusians have applied to the 'embassy' so far? What kind of help did they ask for?"
"For the moment, a few Belarusians have contacted the 'embassy', mainly on the visa issue, where, unfortunately, we can do little to help. This is primarily due to the geographical location of Germany, of course. We also had information inquiries and requests for joining us," says Mikhail. "We are in constant contact coordinating actions between other 'People's Embassies', as well as representatives of Sviatlana Tsikhanouskaya's office, Coordination Council, and National Anti-Crisis Management. With limited resources that we have, this allows us to work as efficiently as possible for the accomplishment of our main tasks – upholding and representing the interests of democratic Belarus, protecting the rights and interests of Belarusian citizens abroad, including performing a number of functions of official embassies."
"Tsikhanouskaya won at a polling station in France, but the embassy said that it was Lukashenko"
Coordinator of the "People's Embassy" of Belarus in France Alisa says that the decision to create an "embassy" was taken on 9 August, when, according to the results of the exit poll, Sviatlana Tsikhanouskaya won at the 114th polling station, while according to the Belarusian Embassy, Alexander Lukashenko received 200 votes more than his main rival.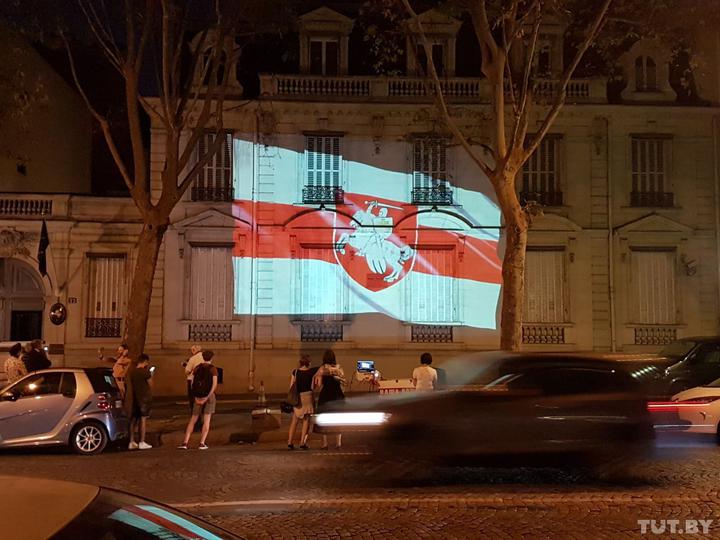 "In general, the attitude of the embassy workers was very mean, and people, who are used to a certain level of respect from French officials, were deeply offended by such behavior," said Alisa.
The "embassy" in France mainly consists of Belarusians who have lived in the country for a long time, and at the moment it is made up of only five people.
"Now I realize that we need to expand since we all are volunteers, each of us has a job, hence the time that we can dedicate to the 'embassy' is limited. Nevertheless, at the moment we represent about 700 people, including those who subscribed to our communities in social networks and with whom we discuss the work of the 'embassy'. But it's necessary to understand that we represent neither some candidate nor a party, nor a political movement. It is important for us that the strive for democracy of the majority of Belarusians is supported as much as possible abroad, and here, I believe, we represent not just 700 people from our networks but many more," says Alisa.
According to Alisa, French politicians and officials treat the "embassy" representatives positively, despite the latter's "unofficial" status.
"Another important thing is that we (National Anti-Crisis Management, Tsikhanouskaya and 'People's Embassy') develop our agenda together, which means that our every step is smart, diplomatic, discussed at weekly meetings and, importantly, universal for every 'embassy'. When we contact our state institutions, we do it not as an independent community of Belarusians in France, but as representatives of a common, united working project of 'People's embassies', which gives a different status to our communication," says Alisa.
The Declaration of the "People's Embassies" stipulates assistance to the Belarusians who ended up in foreign countries after the elections. In France, there are almost no Belarusians who arrived after August 2020, since the country has suspended the issue of tourist visas after the beginning of the pandemic, allowing only student and work visas.
"There are still a couple of people who have turned for help, not directly to the 'embassy', yet our representative is dealing with them directly. When it comes to the assistance to Belarusians in France, it mostly concerns integration help, administrative advice, a search of accommodation, language courses, etc. It can also involve some financial solidarity, yet since we don't have any funding, the money is donated by the members of the diaspora, when someone needs such help," says a volunteer.
"Sweden, unlike Belarus, is a real social state, and they help"
In Sweden, the establishment of the "People's Embassy" was carried out by the organization "Belarusians Abroad". According to Dzmitry, the idea was in the air for a long time. In early December, the "embassy" was opened.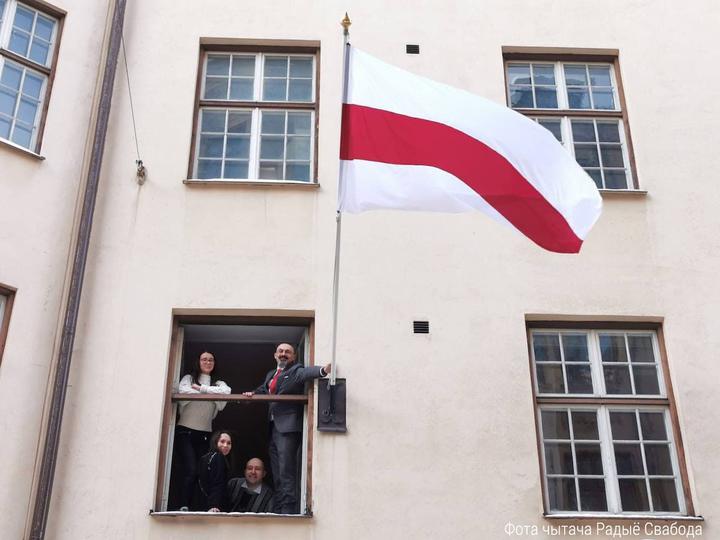 About a dozen volunteers work at the "embassy", including those who left Belarus 25 years ago as well as recent arrivals.
"This is a volunteer organization, which employs people of completely different profiles, they are united by a commitment to democracy in Belarus and a desire for international relations to somehow improve and be maintained, yet in a way to bypass the illegitimate and illegal regime. Today, the need for international relations with civil society in Belarus is greater than ever, and we are the ones who help to establish these relations," says Dzmitry.
The "embassy" in Sweden is now focused on information assistance. According to Dzmitry, most of all, such help is needed for those who have recently left Belarus or are in Sweden in a refugee status: these people don't know the Swedish way of living and may not have time to get the help they can count on.
"We can't provide financial assistance, but in Sweden, it is very important to know where and when to apply, because Sweden, unlike Belarus, is a real social state and it helps, but in order to receive this help you need to know where and when to apply," says Dzmitry.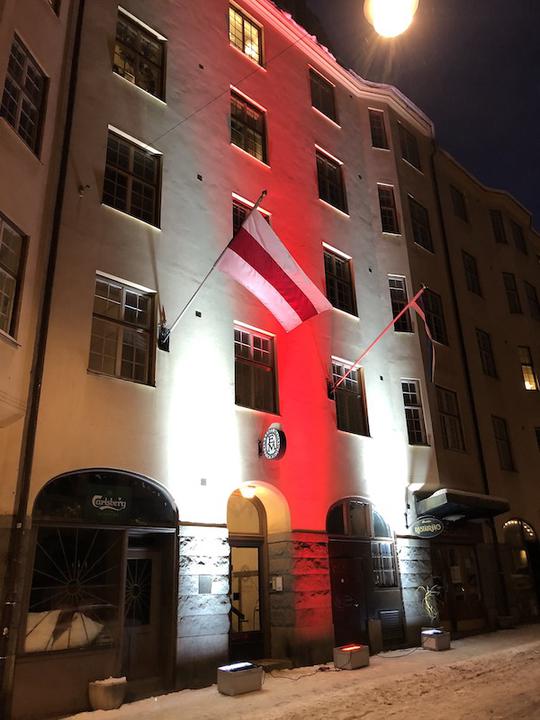 So far, not so many Belarusians who left the country after the elections have applied directly to the embassy. Some of them apply not to the embassy directly, but to the organization "Belarusians of Sweden", through Belarusian forums in social networks.
In the Swedish "embassy", local residents also work as volunteers. For example, one Swedish citizen, who has been to Belarus literally once, helps the "embassy" with translations.
"It is very important to understand here (and perhaps Belarusians have not yet fully realized it) that today Belarus has become an important focus of attention for many people worldwide. Previously, it was a dark spot, no one was interested in it, many people did not even know about it. The aftermath of the August events caused such a huge stir in the souls of people, especially in the souls of the Swedish, who totally take to the heart the campaign of non-violent resistance to the dictatorship. Therefore, the interest in Belarus is now huge, it has literally turned 180 degrees: from zero interest to an absolutely incredible level of attention. Many people care for Belarus, want to help, and sometimes don't know how to, so our task is to explain it," says Dzmitry.
"There are many descendants of Belarusians in Brazil who identify themselves with the Russian Empire and Poland"
One of the most exotic "People's Embassies" of Belarus was opened in Brazil. One of its activists, Volha Franco, says that the Belarusians of Brazil began to unite in the diaspora only after the elections, with the start of mass protests.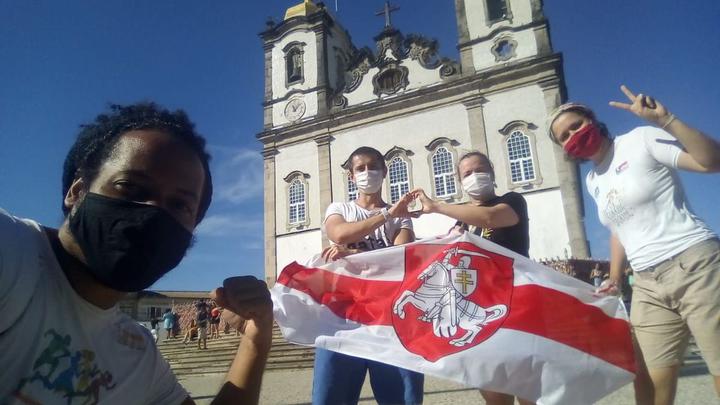 "The diaspora that we now have in Brazil consists mostly of Belarusians who emigrated 10 – 15 years ago. We started to join in August last year, organized some flash mobs as a diaspora. When we found out about the idea to create a 'People's Embassy', we decided to do that, as there is no other unofficial Belarusian representation in Brazil. Our 'embassy' opened on 10 December, the International Human Rights Day, simultaneously with the 'embassies' in other countries. There are 8 most active representatives in the 'People's Embassy', all of them live in different cities and meet online. The 'embassy' holds seminars for Brazilians, explaining the peculiarities of Belarusian internal politics. I give classes in Belarusian language and culture, which are also attended by local people," says Volha.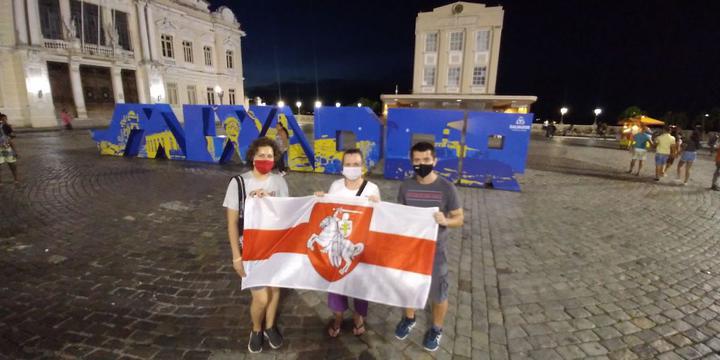 The "embassy" in Brazil provides information on what is happening in Belarus, establishes contacts with state and non-state institutions, scientific, business and cultural unions. The "embassy" is also ready to help Belarusians who had to leave Belarus for Brazil after the elections, but Volha hasn't heard of any of such cases yet.
The representative of the "embassy" notes that it has become easier to contact local organizations on behalf of the "People's Embassy of Belarus". For example, now officials and the media are more willing to correct the name of our country when they are officially addressed on behalf of the "embassy".
"Officially, the country name Belarus has been used for a long time in Brazil, but sometimes even journalists use its old version, which is translated as 'Belarussia'. Before we also used to contact them, but they would just ignore us every now and then. Now we send an official request on behalf of the 'People's Embassy' and they change the name much more willingly," said the activist.
There were also cases when the embassy tried to address local industries, requesting them "not to finance the regime". For example, during the strike at Belaruskali, the "People's Embassy" contacted Brazilian companies who purchase the company's products.
"We asked them to support the strikers from Belaruskali, instead of supporting the dictatorship. Unfortunately, for now, these remain just unilateral relations: we inform the companies, send them our statements, yet so far we did not receive any specific replies. Nevertheless, we still try to communicate through syndicates and support the strikers through flash mobs," says the activist.
"We, as people of Belarus, took on the role of representation of Belarus abroad"
The "Frontman" of the "People's Embassy" of Belarus in Ireland Ales says that Irish Belarusians met in Dublin even before the elections to support Sviatlana Tsikhanouskaya. That is how a community of Belarusians emerged in Ireland.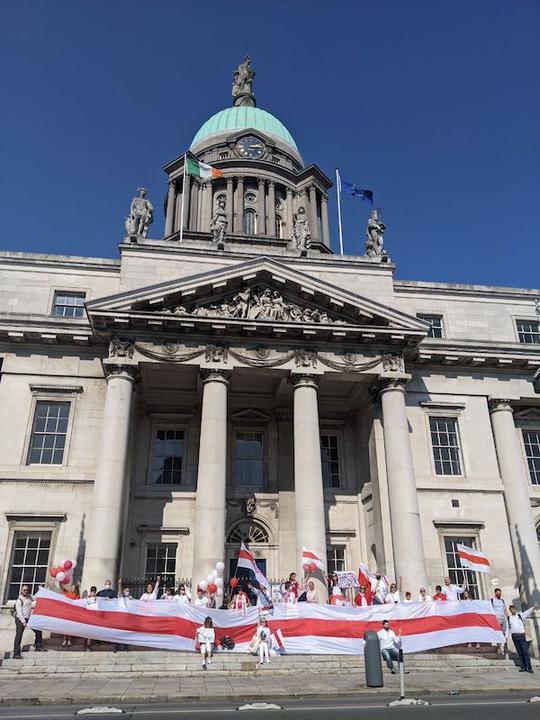 "We are the people of Belarus abroad. We don't ask about nationality, we don't divide people on the basis of the language they speak. That's why here in Ireland instead of 'Belarusians of Ireland' we say 'citizens of Belarus in Ireland'. What unites us is that we don't accept Lukashenko's regime, which lost its legitimacy, as did all his institutions," says Ales.
Irish Belarusians decided to unite in the "People's Embassy" following the World Belarus Congress. According to Ales, the idea has been in the air for a long time. Now, as the Belarusian leadership is rapidly losing its authority in the world, Belarusians feel the responsibility to represent their country abroad. According to the "embassy", about three thousand Belarusians live in Ireland as of today. More than a hundred people joined the rallies in support of Belarus in Dublin last summer. According to the representative of the "embassy", he has not yet met any Belarusians who came to Ireland after the elections.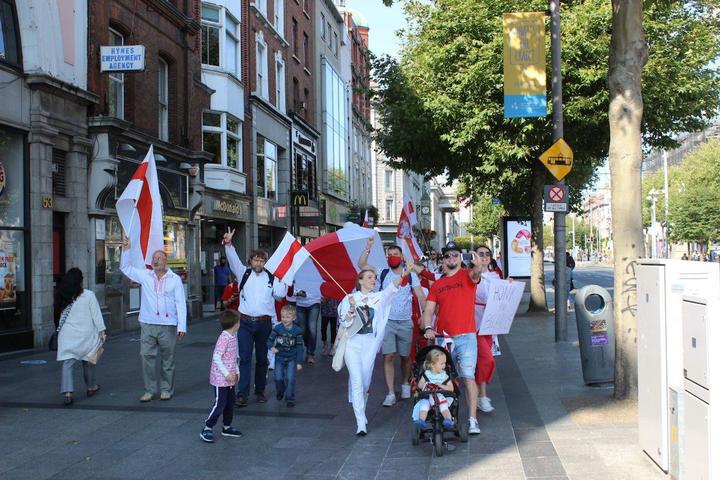 "Ireland is not an easy country to get to. It is mostly due to its geographical location as well as due to the fact that Ireland is not a member of the Schengen zone. No one who had to flee from Belarus has turned to us yet. All of us left the country before the summer of 2020. Some did it after 2006, some after 2010," explains Ales.
The "People's Embassy" in Ireland is mostly involved with representing Belarus, being a point of contact for Irish politicians, a channel of reliable information about what is happening in Belarus as well as helping the citizens of Belarus in Ireland. The "embassy" also cooperates with National Anti-Crisis Management and the office of Sviatlana Tsikhanouskaya.
"It's important to point out that Belarus isn't represented in Ireland by any official body, so we fill in that gap. It should be also mentioned that we haven't planned our work for years ahead yet. This initiative is aimed at filling in the temporary absence of legitimate governmental bodies in Belarus. We hope that the political crisis in Belarus will come to an end already this year and that the country would have a legitimate government," says Ales.