Minsk may be deprived of the World Ice Hockey Championship, doctors are supported by everyone except the authorities, pressure on residents of Novaya Baravaya continues
18 November 2020 | BYHelp-Mediagroup
The European Parliament considers the transfer of the World Ice Hockey Championship from Minsk, but the final decision has not been made yet
The Council of the International Ice Hockey Federation was held to discuss the political situation in Belarus and the spread of COVID-19 there.
Belarus came to the attention of the Council because the 2021 World Championship, which is scheduled from 21 May to 6 June, was supposed to be held in Minsk and Riga. However, Latvia has already spoken out categorically against such an event in the Belarusian capital and has even banned the head of the Belarusian Ice Hockey Federation, Dmitriy Baskov, from entering Latvia.
Even before the Council began, Member of the European Parliament Karin Karlsbro from the Swedish Liberal Party began collecting signatures asking not to hold the 2021 World Championship in Minsk. She was supported by the representatives of Finland and Latvia.
"Sports should not be politics, but that is no excuse to turn a blind eye towards what is currently happening in Belarus. We cannot hold a world championship in arenas with protesters being arrested and tortured in the streets outside," Karlsbro said.
"There are issues occurring within Belarus that we need to take seriously, because there is a significant risk that the current challenges in Minsk, the government position of the Latvian co-host, and the COVID-19 pandemic will have a significant impact [on] the 2021 World Championship in Minsk and Riga," said the Federation's President, René Fasel, following the discussion.
Earlier, a poll had been conducted on the Golos platform. Out of 430,000 Belarusians who voted, 91% were in favor of canceling the championship in the country in such conditions.
Despite all this, the Council of the International Ice Hockey Federation took additional time to analyze the situation and make a final decision.
European Bank for Reconstruction and Development (EBRD) postponed financing of projects in the public sector of Belarus
"We call on Belarus to continue to fulfill all its international obligations. The EBRD continues to invest in private sector projects in Belarus, but we have stopped lending to government projects for some time," said a bank representative.
Courts, terms, dismissals and strike – a new daily reality for Belarusian
Some Belarusian news is in danger of becoming a daily routine even though it transgresses the boundaries of law and humanity.
Today, trials were held again over journalists who had been detained while performing their duties. Journalist Aliaksandra Kvitkevich received 15 days of detention, journalist Ihar Karnei – 10 days, and videographer Maksim Lauretski – 15 days.
After 10 days of detention, world-renowned athlete Andrei Krauchanka was released.
Pavel Mankinenka, a 25-year-old software engineer, was sentenced to four years in prison for spraying pepper gas at police officers.
In the city of Lida, the director of Lyceum No. 1 did not have his contract extended. He spoke out against election fraud in August.
Expelled students were asked to return to universities, but on the condition that they no longer participate in protests. By the way, actions were held again today in all major universities.
Two more workers joined the strike at the Salihorsk factory, Belaruskali.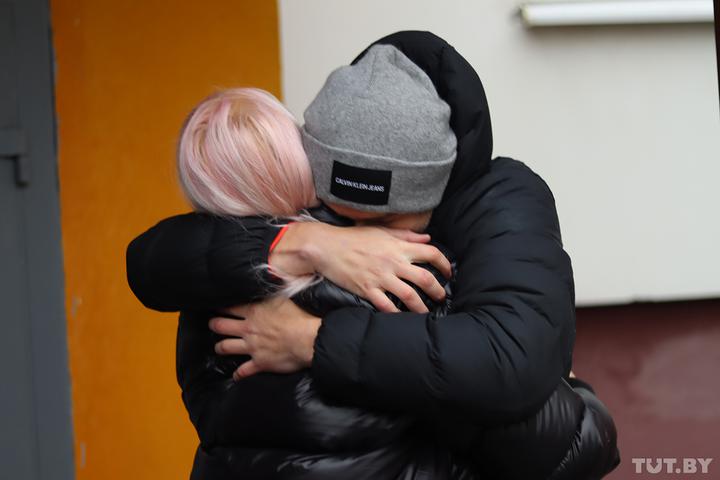 The Prosecutor General's Office threatened priests for condemning the destruction of memorials to Raman Bandarenka
The Prosecutor General's Office issued official warnings to the priests who condemned the destruction of Raman Bandarenka's memorials.
It is noteworthy that representatives of the two most widespread denominations in Belarus – Catholicism and Orthodox – were united in their assessments of what was happening.
The bishop of the Roman-Catholic Church, Yury Kasabutski, called the actions of the security forces "an attempt to destroy everything that is noble, pure, light that is in our people".
And the press secretary of the Belarusian Orthodox Church, Siarhei Lepin, wrote that "this is a mockery of the portraits of the murdered man, of flowers in his memory, a satanic violation of lamps and icons."
These statements aroused the indignation of Alexander Lukashenko. He instructed the head of his administration, Igor Sergeenko, together with the Prosecutor General, to deal with those who criticized the authorities for the destruction of the national memorial.
At the same time, an open letter from Christians of Belarus appeared on the Internet. Its authors demand to stop the violence and to declare the elections invalid. By noon on Wednesday, 18 November, more than a thousand believers from different parts of the country had already signed it.
Poland is ready to recruit dismissed Belarusian doctors, in Belarus people buy protective suits for doctors with their own money
Poland wants to allow doctors and IT specialists from Belarus to work in the country without obtaining a work permit. We are talking about those specialists who entered the country on a visa for humanitarian purposes or a visa marked with Poland Business Harbor (it is intended for companies that want to relocate their business to Poland).
As of mid-October, almost 800 specialists from Belarus have used the Poland Business Harbor program. At that time, 22 IT companies of various sizes were considering moving to Poland.
In early November, Alexander Lukashenko commented on doctors leaving abroad: "We have no extra doctors. We ourselves need to heal our people. But, following our principle, we will not keep anyone. But you have to understand: if you leave, you will not come back."
Meanwhile, there is a shortage of doctors in Belarus, they are overworked in a pandemic, they are constantly under pressure because of their views, and they are fired and arrested.
At the same time, people are ready to support doctors. Thus, residents of one of the districts in Minsk bought reusable protective coveralls for doctors. "Our dear doctors, take care of yourselves and know that you are not alone!" reads the caption to this photo.
Water was supplied to Novaya Baravaya, now residents of the district will be fined
In Novaya Baravaya, a large residential area of Minsk, the water supply resumed today.
According to experts, such a repair could have taken several hours, but for some reason it took three days. As local residents themselves assume, the work was deliberately delayed since the authorities "are taking revenge on them for their position".
But on the same day, many people began to receive summons en masse from the police. They say that residents of the area will be held accountable for "violation of the architectural design of the facade of a building or structure" and for "violation of the rules of improvement". A white-red-white flag hangs in almost every window of apartments in Novaya Baravaya.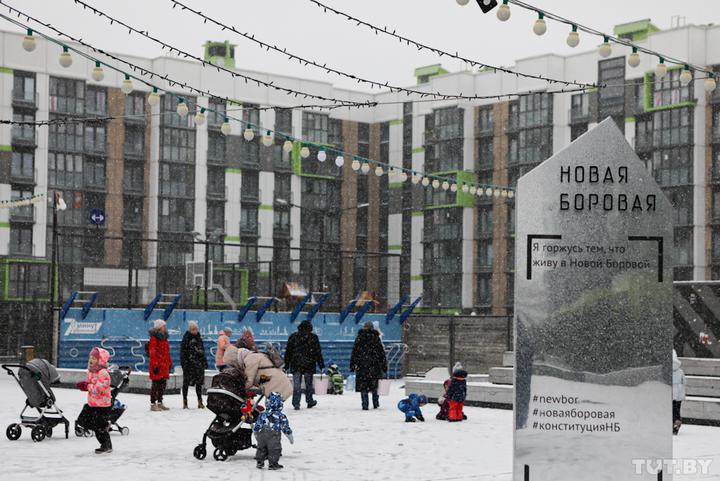 ---
For more information on the events of 18 November 2020, please visit Infocenter Free Belarus 2020: