7 September 2020 | The President's Communication Group, lrp.lt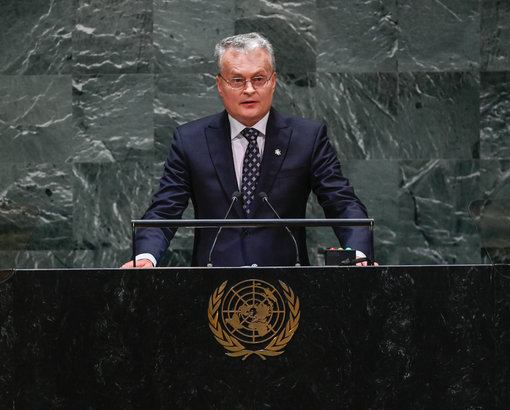 President Gitanas Nausėda had a telephone conversation with President Volodymyr Zelensky of Ukraine to discuss the situation in Belarus and possible cooperation between Lithuania and Ukraine in attempt to deescalate the worrying situation in the neighboring country.
"We agreed that the dialogue of the Belarusian authorities and the civil society to ensure transition of power and holding new, fair and democratic election under the supervision of the OECD was the peaceful solution to the current situation," said President Nausėda.
The President also added that Lithuania was prepared to assume leadership and responsibility for mediating the dialogue between the protesters and the Belarusian authorities. According to the President, that was the obligation of Lithuania as a free EU country that had suffered from repressive and occupation regimes. The President said he believed that Iceland's support 30 years ago when Lithuania struggled to restore its independence inspired the state leaders and civil society to pursue freedom like no other. Therefore Lithuania and the European states supporting its mediation initiative have the same mission.
During the conversation, the approaching summit of the Normandy Four and increasing tensions in Donbass region due to regular breaches of the ceasefire. The two leaders shared their expectations for the EU-Ukraine Summit. The President stressed that the summit was highly important for further political association and economic integration of Ukraine.
The leaders also touched upon the topic of nuclear safety and discussed the threat posed by the Ostravets NPP that was about to be launched. The Ukrainian leader expressed support for Lithuania's position not to buy unsafe electricity from Belarus.
The two leaders said they were delighted with close bilateral relations based on shared values. President Gitanas Nausėda accepted the invitation of President Volodymyr Zelensky to visit Ukraine at the end the year.