A frank conversation with her adviser, Franak Viachorka
 11 December 2020 | Maria Mialiokhina, KYKY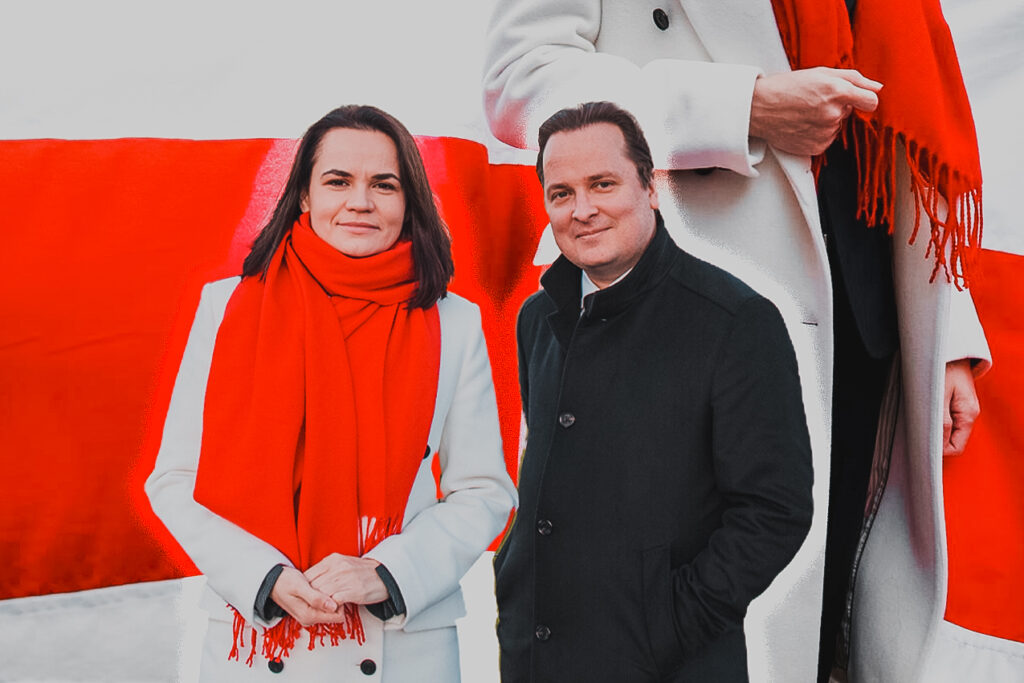 Would Tsikhanouskaya run in the new presidential election? How are the relations with the official Russia developing and why has the correspondence with Lukashenko's administration become "boorish"? Where do the means that Tsihanouskaya uses to pay for her living expenses in Lithuania, actually, come from? Sviatlana's international policy adviser, Franak Viachorka, is answering questions on behalf of the whole team at KYKY today.
"Where is everybody? Why aren't they at work?"
KYKY: You were one of the key figures in Milinkevich's team in 2006 when you were only 18 years old. Today you are 32 and you are an adviser of Tsikhanouskaya. Your father was the leader of the Belarusian Popular Front. It means that you have been trying to change the situation in the country for all of your adult life. When did you realize that democracy in Belarus is in a dire situation?
Franak Viachorka (FV): My parents once fought the Soviet regime. My father was at the origins of the underground anti-Soviet movement in the 1980s. Therefore, from an early age, I have been engaged in a struggle because I had no other choice. I was detained for the first time at the age of 13 for my graffiti that read "choose". It had happened during the 2001 presidential election. Then I was detained for spreading the leaflets. And at the age of 18, I had experienced my first imprisonments. Since then I have been serving short-term sentences many times. The expulsion from the university, interrogations, and beatings followed. I "was lucky" to go through a lot. But there has never been anything close to a wave of violence and terror that we experienced in 2020. That is true that in my lifetime I have experienced life under one and only president, Lukashenko. But I think we are close to the moment when everything will change.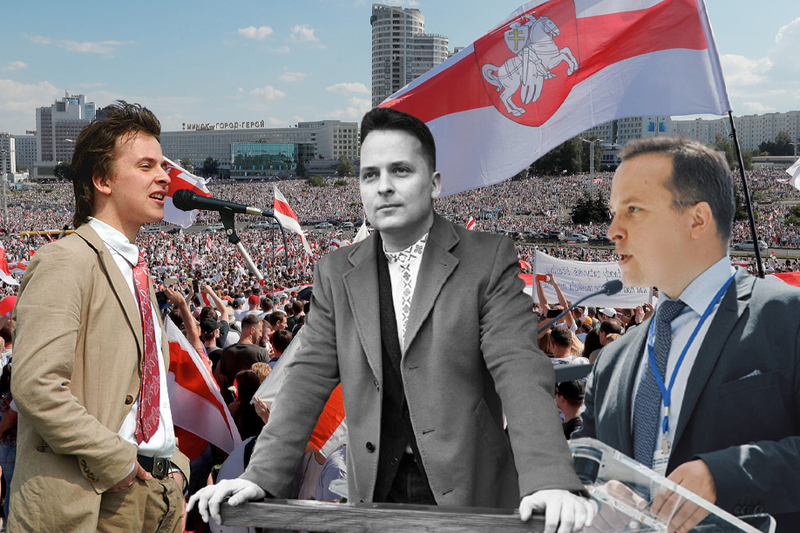 Franak Viachorka graduated from the University of Warsaw in Poland and the American University in Washington. After being expelled from the Belarusian State University, he was drafted into the military service in Belarus. He specialized in International Communication and is a co-founder of the cultural project Art Siadziba, co-organizer of BNR-100 event and Hodna initiative. Until recently, Viachorka lived and worked in Minsk. His job experience includes positions of an editor at Radio Free Europe/Radio Liberty, the U.S. Agency for Global Media (USAGM) analyst, Digital Communication Network president, and Atlantic Council fellow.
KYKY: How did you become an adviser to Tsikhanouskaya? Under what circumstances? What are your responsibilities?
FV: After the elections when the first wave of violence started I left for Kyiv. Already there I contacted Tsikhanouskaya's headquarters and offered my services because I could be useful in international politics. The answer was to come to Lithuania and then the decision would be taken. Without any specifics. I came for one week. I assembled a strong team, and we began to build an international program. The team includes former journalists, analysts, and diplomats. In fact, today we work as a full-fledged ministry of foreign affairs. We have established contacts with 21 countries. But now I delegate more responsibilities and spend more time with Sviatlana at the meetings, interviews, and negotiations. And Sviatlana never ceases to amaze me. Her strength and character in particular.
KYKY: Would you admit that you are in love with her just a little bit?
FV: No, I am not. I am just impressed, just like many other Belarusians who have trusted her. Today our team includes politically diverse people: some are more left-wing and some are more right-wing. But all of us are united under the banners of Tsikhanouskaya, just like once the triune joined headquarters. We are fortunate to have such a leader.
KYKY: How does Sviatlana Tsikhanouskaya's day start and what events is it filled with?
FV: She's very demanding. She is usually the first person who shows up at the office. "Where is everyone? Why aren't you at work?" she immediately starts posting in the group chat (laughs). At about 9 am she has coffee with the staff while discussing the previous day's news, in particular, the number of people detained and those in need of our support. Only after that meetings and calls begin. Her schedule is tight. She only has 15-30 minutes per meeting. She has up to 15 events scheduled per day. And she always keeps in touch even when she is at home. I don't know where she finds strength and energy to go at such a frantic pace. "I just want to return back home as fast as possible," she replies.
KYKY: You accompany her everywhere. Do you think Sviatlana feels equal to and is not intimidated by such powerful politicians like Merkel, Macron? How does the preparation for such meetings usually go?
FV: She is just different inside. It does not matter whether she has Macron, Merkel, Baginskaya or an ordinary teacher, or a worker in front of her. Everyone is just a human being. Sviatlana is not "driven" by status, titles. Her only desire is to help and save. She does it without any pretense. When she had a meeting with Macron, she was natural and confident. Macron was more nervous than her. For example, there was some tension at their first meeting with the Prime Minister of Slovakia. Then the Prime Minister said to her that his English was not very good and so he would speak the Slovak language to her. And Sviatlana began responding to him in Belarusian. They spoke in this way for a while, switching to English later, but the whole situation was nice. There was also a situation with a well-known politician. "Let's forgo diplomacy. Just give me the real deal," she said. And "give me the real deal" phrase is the essence of Sviatlana's character. This is her strength. She knows how to carry out a simple conversation with people on their level, regardless of their status. She is a politician who acts like an ordinary person. This is what distinguishes her from other politicians.
KYKY: Meetings at such high level involve following a formal protocol. Has it ever happened that anyone would forget the details or go the wrong direction or anything like that? Any awkwardness?
FV: Protocol can be complicated. For example, when we went to Germany, it was forbidden to hold any other meetings until Sviatlana had met with Merkel. This is required by their protocol. In addition, it is important to greet people in a proper way and to sit in the right place. Therefore, if a meeting is held at a high level, with the president or the chancellor, for example, each guest receives a mini training. And there was not a single meeting where Sviatlana did not look powerful or where she made any mistakes. The only thing she often worries about is being late. She also worries about her guards. She wants to make sure everyone is fed and no one is neglected.
KYKY: What can you say? She is a typical mother. How is Sviatlana generally accepted in the West?
FV: Very warm. Even competing parties in the parliament of Germany and Sweden applauded her. However, in the West, Belarus is perceived more as an idea, rather than a country. Today, everyone wants to be a little bit like the Belarusians, the people who are willing to take risks in the name of their own dignity and the future of their country. There is no dictatorship in Europe. When Sviatlana talks about people being killed and tortured it leaves people in a state of shock. It also emphasizes the values of democracy and how easy it is to lose them. The events in Belarus represent a good lesson for the whole world.
KYKY: Does Sviatlana take her guards, motorcades, and the inability to move independently for granted or does she mostly dislike it?
FV: The guards and Sviatlana live in the same house, under one roof. Sviatlana can neither go to the store nor go for a walk with her children without the guards. But she accepts this situation with certain humility. Although it is clear that she does not like it.
KYKY: Are you serious? Does she shop at the store and at the market on her own?
FV: Yes, she goes shopping on her own. She also goes for a walk with her children. Of course, 24/7 security affects her privacy. She is constantly being recognized in public places and asked to pose for a picture or to give an autograph. She has no opportunity to spend some time alone because she is constantly under surveillance.
"Even Lukashenko is unable to legitimize Voskresensky"
KYKY: Can Tsikhanouskaya as of spring 2020 and now be described as two different persons? Has she changed dramatically in any way?
FV: She became a true politician. Over the past six months, she has totally rearranged her life, learned rhetoric and diplomacy. Probably, she would no longer be able to return to being the person she was in the past.
KYKY: Do you think she would like to continue her career in politics?
FV: I am sure she would. Perhaps she simply does not realize it at this moment in time. Very high expectations were set for her. Politics is not a hobby. When you are trusted, you must complete what you have started. Sviatlana has a heightened sense of justice and a high level of responsibility and she never promises anything that she cannot deliver.
KYKY: Would Tsikhanouskaya run for the presidency in the new election?
FV: It is possible. Although the very idea of participating in the election scares her. But, I think, even if Sviatlana does not become a candidate, she would still be taking an active part in the country's political life for many years to come. She will remain a symbol of Belarus forever.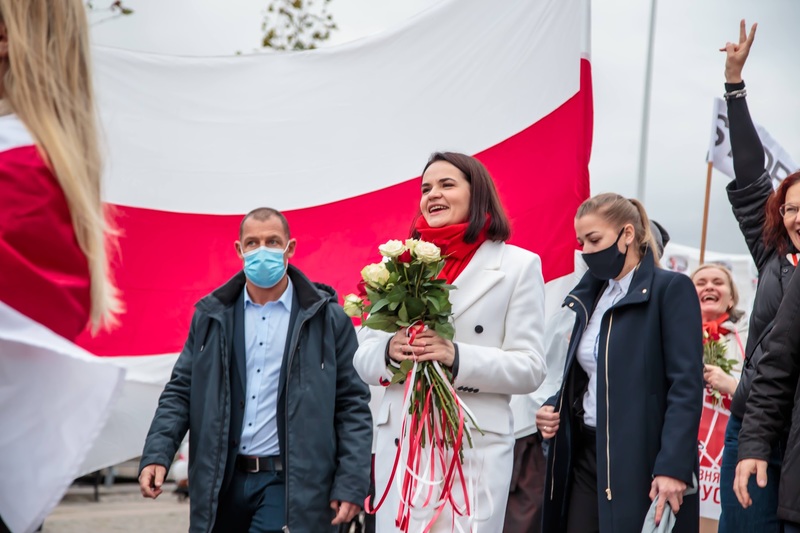 KYKY: Aren't you afraid that as soon as the special operation "grandfather flew away in a helicopter" [a metaphor for the Lukashenko's resignation – editor's note] is conducted, the division of government positions will immediately begin and Tsikhanouskaya will simply be washed out of the process?
FV: There are no guarantees. But Tsikhanouskaya will still remain the main political character until the results of the new election are announced. Today she is the only legitimate president of Belarus. Millions of Belarusians voted for her. And no one will be able to exclude her from this process. If there is no Tsikhanouskaya, there will be no negotiations with the so-called authorities. Voskresensky can hold a million round tables, but as long as he has no key members of the Coordination Council, headed by Tsikhanouskaya, behind him it is all a sham. Nobody recognizes such negotiations as legitimate. And even Lukashenko is not capable of legitimizing Voskresensky today.
KYKY: Vitaly Krivko, Voskresensky … What do you think about them? Do you consider them traitors?
FV: I don't know what motivates these people. Are they traitors? Or are they broken? Or are they on a mission? We will find out their incentives behind their actions later on.
Probably, anyone who agrees to play games with the regime while people are being beaten, tortured and kept in prisons are traitors. How else would you call it? And there is no forgiveness or explanation for their actions. I admire Viktar and Eduard Babaryka, Maria Kalesnikava and everyone who refused to play these games.
KYKY: If every political prisoner is released, including Siarhei Tsikhanouski, how will the situation be developing further down the road? Siarhei can turn out to be a person with a completely different image and rhetoric than his wife.
FV: Of course, a lot depends on Siarhei. But I think he will have no choice but to support his wife and join the Tsikhanouskaya team. She is now the leader and legitimate representative of the Belarusian people. And even famous people who were at the origins of the revolution in Belarus would be forced to support Tsikhanouskaya's campaign until the new election happens.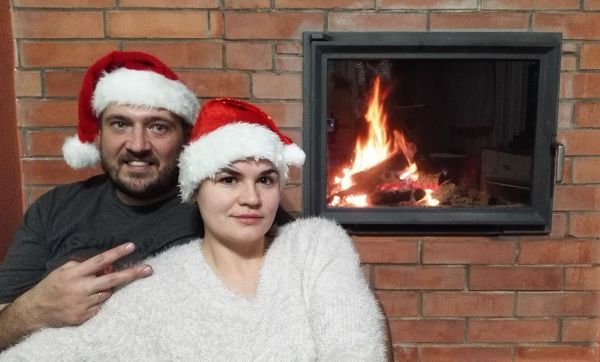 KYKY: Some people think that Tsikhanouskaya is surrounded by a lot of drama today. They say she is a puppet of the advisers and foreign consultants who use her as a bargaining chip. What do you think about that?
FV: This woman cannot be manipulated. It is enough to see how she distributes assignments and ruthlessly edits drafts. She is also capable of raising her voice. It is true that her phenomenon is a mystery to many. Coming from nowhere she has topped the charts and ratings of the most influential people in the world during the last six months. This surprises many. And that is why the conspiracy theories appear. But she is a great example that a politician is not only the campaign program and the knowledge but a great deal of meeting people's expectations. In the past, it seemed that Belarusians needed a leader with a strong grip like Lukashenko. Today people have changed their perception of reality. Belarus needs self-organization, self-government, a president holding only representative powers, and a diversified parliament.
KYKY: Do you favor a parliamentary republic over a presidential republic?
FV: Yes, absolutely. Belarus should become a parliamentary republic. And there should be a clear division of the branches of government.
KYKY: You said that Tsikhanouskaya could also raise her voice. I can't believe it. She always speaks in such a calm manner.
FV: She does speak in a calm manner, but if she disagrees with something or doesn't like something, she can bark.
KYKY: Bark? Are you serious? When did it happen last time?
FV: Every day (laughs). Therefore, I am sure she could hold a leading position in any field. Sviatlana is great at reading people. And she knows how to get her point across. And if she is not sure about something she will not say it or do it.
KYKY: Who pays for Tsikhanouskaya's diplomatic trips?
FV: Her apartment and security are provided by the Lithuanian government. The trips are paid by the host countries. For example, the visit to Denmark was paid for by the magazine Politiken that awarded Sviatlana the Freedom Prize. Her visit to Poland was covered by one of the universities where Tsikhanouskaya made a speech. In Vienna, the costs were covered by the organizers of the conference on Eastern European politics.
Sviatlana does not receive any money from the governments of other countries. We also have sponsors, including some Belarusian businessmen, who support the work of our office in Lithuania. Only recently it became possible to offer salaries to our employees. Everyone has worked for free before that.
KYKY: Does Sviatlana Tsikhanouskaya get a salary?
FV: Yes, she does. She has recently begun receiving a salary as well. But it is not a lot of money.
KYKY: What does not a lot mean? Is it, perhaps, a thousand euros or ten thousand euros?
FV: Her salary equals the average salary in Vilnius which is about 1,200 euros per month.
KYKY: Who initiates meetings with the heads of states? Is it Tsikhanouskaya's headquarters or the inviting parties?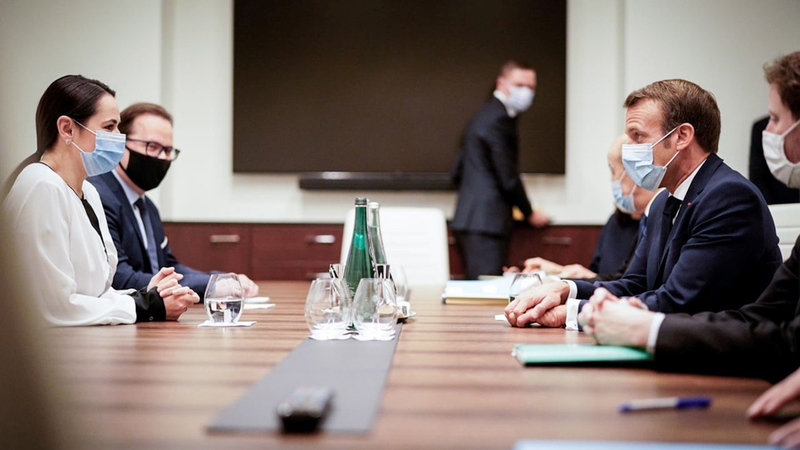 FV: We are not able to request meetings at this level, but we can signal that a certain visit would be of interest to us. The conversation with the President of Finland can be an example. And when the signal is received, the host makes a decision whether to send the invitation or not. Today we are building diplomatic relations for a new Belarus without Lukashenko so that later we do not have to build everything from scratch.
KYKY: Are you just networking or are specific issues like investment aid, reforms and so on discussed during the meetings?
FV: Several topics are always discussed, one of them is the assistance to Belarus. When a certain state is hosting Sviatlana, it, thereby, makes it clear that her legitimacy as the national leader of Belarus is recognized. Within the framework of such meetings, the opening of humanitarian corridors, visa issues, and sanctions are also discussed. One of the recent discussions is the recognition of the OMON and the Main Directorate for Combating Organized Crime and Corruption as terrorist organizations. Some other examples include freezing financial support that comes from international organizations, including banks, and initiating an international investigation of the cases of torture and crimes of the regime.
KYKY: Are there any agreements on disconnecting the Belarusian banks from SWIFT?
FV: The preparations are underway for various scenarios. The disconnection from SWIFT is the last resort that will be applied if the regime continues terror acts of torture and murder. We have to be consistent, so for now we are talking about targeted sanctions against Lukashenko and his associates. This is necessary to split the elites, so that their support of Lukashenko becomes unprofitable. As of now, every day of Lukashenko being in power means huge financial losses for the country. And both Belarusians and Russians realize it. Therefore, there are more and more people who are interested in removing Lukashenko.
"At this point, the correspondence with the Presidential Administration is cold, and, at times, boorish"
KYKY: Lavrov's recent visit to Minsk showed that the Kremlin is rooting for constitutional reform in Belarus. Under pressure from Russia, this could be a legitimate way to replace Lukashenko.
FV: Anything is possible. But I would not put high hopes and expectations on the Kremlin. It is not the force that will help Belarusians resolve their issues. The best the Kremlin can do is no interference. Its proposal for constitutional reform is an attempt to buy time so that the protests subside and the Moscow politicians can develop the best case scenario for themselves. The constitutional reform that is suggested by Russia is not in the interests of Belarus. It will not, in any way, help to solve the problems in the current situation of the political and economic crisis. And it does not lead toward a new election. Therefore, there is no point in discussing constitutional reform just yet. The demand of the people is to hold a new and fair election. We have to stand our ground. We should not allow any other country to impose its interests on us.
KYKY: Has the Kremlin's attitude towards Tsikhanouskaya changed?
FV: The Kremlin has no political strategy on Belarus. They have always considered us to be basically a part of their territory with Lukashenko as its governor. A governor who is a bit frenzied, but predictable. The Russian Ministry of Foreign Affairs is engaged in building relations with Poland, Armenia, and the Baltic states. Every country except Belarus. Today Moscow is only making an attempt to grasp what has actually occurred in Belarus. The fact is that in August the reports on Belarus for the Kremlin were being prepared by the FSB. The FSB was directly supplied with the materials from the Belarusian KGB. Russia was convinced sure events in Belarus represented a color revolution that was funded from abroad. In fact, they begin to understand that the situation is much more complicated and sophisticated only now. The rude awakening is followed by a search for possible scenarios of handling the situation. The Kremlin cannot stand Lukashenko, but it still doesn't have a replacement figure.
Our position will not change. We do not want anyone to interfere in the internal affairs of Belarus. If there was no financial support from the Kremlin during the first months of the protests, Lukashenko would not have stayed in power. In mid-September we would have already been negotiating a new election. But when the Kremlin came into play, things got more complicated. Today it is a must to either remove their influence or come to an agreement with the Kremlin. The West will not interfere in this process.
And as a result, Lukashenko is only in contact with the Kremlin, while Tsikhanouskaya together with the Coordination Council keep in touch only with the West.
In this situation, there are few opportunities to find a solution to the crisis and to start a dialogue with mediation. The last stronghold for dialogue is the OSCE. But so far nothing has been achieved there.
KYKY: Yet in one of your interviews you said that communication is happening and dialogue is taking place with Lukashenko's representatives. What kind of dialogue are you referring to? Has anything been agreed upon?
FV: Several calls with Andrei Savinykh were conducted. He represents Belarus in the OSCE. We also have passed down messages, including the messages regarding the beginning of the negotiations, through the OSCE mediators to the people of Makei and the Presidential Administration. Through September and a part of October, we were in steady contact. Yet in November our communication broke down. Nowadays even if there is a correspondence it is cold and sometimes even boorish. The letters say that Tsikhanouskaya and the members of her team have broken away from the people, hence the so-called authorities have nothing to talk to us about. Nevertheless, I can confirm that Sviatlana possesses the opportunity to convey any message to Lukashenka and it will be placed right on the desk of the so-called president.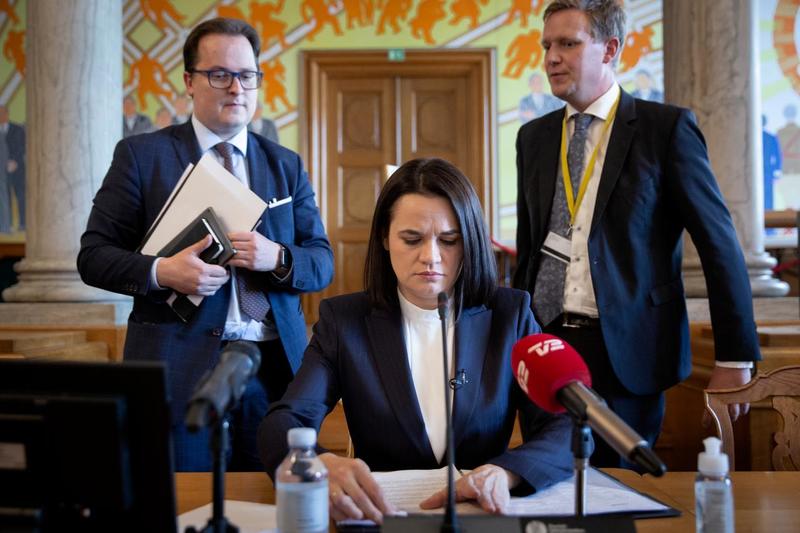 But Lukashenko is terrified of negotiations and exhibits a behavior of a schizophrenic stuck in a bunker. Perhaps he really believes that everyone loves and adores him and that his enemies want to implement the so-called Dulles' plan. He is afraid of losing control of the situation. Therefore, today there are less and less chances that there will be any negotiations conducted with Lukashenko.
After the murder of Raman Bandarenka, Lukashenko's future in politics ceased to exist. He will leave ingloriously.
KYKY: How much longer do you think he will stay in power?
FV: In the spring, I think, the date of a new election would be announced and the final decision on the constitutional reform would surface. Unfortunately, it is impossible to make predictions for more than three months. Yet I am sure that in 2022 Lukashenko will be long gone. This does not mean that everything will be all right immediately. Belarus will be facing a difficult transition period and reforms. Financial rehabilitation will take about a year, as it would be necessary to re-establish conditions and guarantees for business, including the support for small businesses, and try to attract those businesses that already left.
KYKY: Elites have to split for making possible all events that you are talking about. Do you think it is possible in Belarus? After all, Lukashenko surrounded himself with downright sadists and his environment is still monolithic.
FV: In addition to sadists, he is surrounded by uneducated, unhappy gopniks and envious scoundrels. It was Lukashenko who created the system of rudeness and impunity at the state level. He himself treats the people like cattle. Therefore, today's revolution is not only for the new election or against Lukashenko. It is against the inhumanity and lies that the regime cultivates. Today, the elites are not monolithic. Many have already been fleeing the ship and withdrawing assets from the country. Yet the real turning point will happen when the oligarchs close to Lukashenko publicly declare their position and people start leaving the system on a massive scale. We do not know exactly when that will happen. But we are doing everything possible to create the predispositions for this to happen.
KYKY: You said that the elites are withdrawing assets from the country. Can you confirm it or is it just an assumption?
FV: We are having conversations, calls, and contacts with former and current officials and businessmen. They are thinking about their future. Many are in a stalemate situation. If they support Lukashenko they will be included in the sanctions lists, therefore losing sales markets and supply channels. If they do not support the regime, Lukashenko will try to take revenge by closing or nationalizing companies and enterprises.
For now these businessmen and officials are contemplating how to protect themselves and to preserve their capital. Some write letters to the embassies in order not to be included in the sanctions lists. Some are frantically trying to withdraw assets from Belarus.
A group of international investigators is currently reporting that such schemes are taking place. However, the problem is that Belarusian financial flows are not as large-scale as Russian or Ukrainian ones. We are not talking about hundreds of millions of dollars. These are much smaller amounts. It is relatively difficult to trace these schemes. When the act on democracy in Belarus is adopted, international intelligence services would be participating in the search and identification of these assets. Hence a separate paragraph was dedicated to the investigation of sources, channels and locations of Lukashenko and his associates' capital.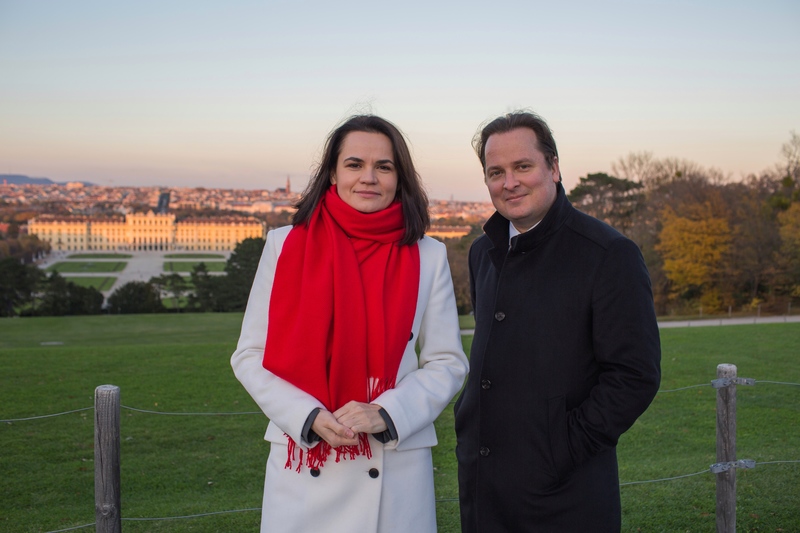 KYKY: Let's clarify. Are you talking about the well-known large businessmen close to Lukashenko?
FV: Correct. I am talking about certain large-scale businessmen close to Lukashenko as well as the individuals in charge of large state-owned enterprises. They also have the capital obtained through corruption schemes. Lukashenko has built a completely corrupt state. Although he himself came to power claiming he would fight corruption. Yet today all state-owned enterprises or companies associated with the Office of the President's Affairs and his Administration are the absolute corruption structures that had been created to launder and withdraw money from the country, control the money flows and destroy competition by any means possible. Lukashenko is at the top of this corrupt oligarchic structure where everyone else is "tied up" and on the hook. It is impossible to simply leave the system. It would mean signing your own verdict. And the system intentionally "makes everyone dirty" to obtain the compromising evidence and proof of guilt. Perhaps that is why the insiders are fighting so desperately to keep the system afloat.
KYKY: There already was an attempt at a color revolution in Belarus in 2006. It was the so-called "Cornflower Revolution". Why didn't it work then? And why would it be successful now?
FV: First, our society is more mature. People have learned to self-organize, the courtyard initiatives have appeared, and the national identity is being revived. Such a rise has not happened in a long time. Belarusians have become a solid and full-fledged European nation. No one looks back at the Soviet legacy anymore. There is no nostalgia. People want their lives to be like those of the Europeans. Our mentality is ready for it. Healthy patriotism has emerged. People are ready to assume responsibility and to take risks for their home country. They understand the value of this fight. This is what makes protests successful. Lukashenko has absolutely lost any support. He has made too many mistakes which turned into a political and economic crisis for the country. No one will tolerate him anymore. Today his only merit is that he has rallied our society to fight his own regime. Therefore, I do not even doubt that everything will work out. It's only a matter of time.
KYKY: And the final question. Traditionally, the president wishes the citizens of the country a Happy New Year. Will Tsikhanouskaya record the New Year address?
FV: Absolutely! It will be posted on YouTube channel and in all independent media and Telegram channels. I think no one would want to look at Lukashenko during their New Year party and spoil their mood. And remember that the New Year is not only a holiday but also a good reason to deal with Lukashenko's question as soon as possible. New Year's Eve is made for taking walks!