13 August, 2020, 21:46, Radio Svaboda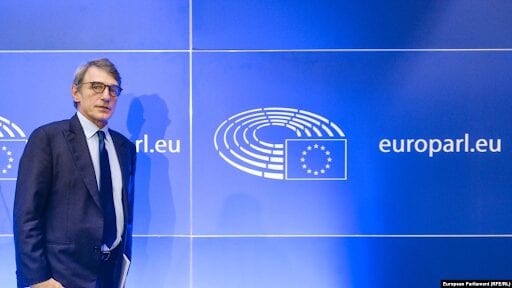 The President of the European Parliament David Sasoli has expressed his concern about the violence of the Belarusian authorities against its own population.
"I am deeply concerned by the violence used by the state authorities against people peacefully demonstrating their desire for change,"

said a special statement from the Head of the European Parliament, published on Thursday on the website of the EU's representative assembly.
"Belarusians have the right to protest and express their anger against the disputed election results and the non-transparent electoral process, which did not comply with minimum international standards,"

said Sassoli.
He called on the President of Belarus Aliaksandr Lukashenka to "stop the repression and refrain from further violence."
According to him,
"the use of brute force by law enforcement agencies against one's own people, resulting in death and injuries, must have consequences in accordance with international law, including targeted sanctions."
Earlier on Thursday, Sasoli called on Lukashenka to "immediately release those who have been detained" and said that "the people of Belarus have the right to protest."
An extraordinary EU Foreign Affairs Council will discuss the situation in Belarus on Friday. On behalf of the European Union, EU Foreign Minister Josep Borrell called on the Belarusian authorities to "put an end to the violence, release all arbitrarily detained persons and immediately return to the path of proper democratic and pluralistic behaviour by entering into dialogue with society."
"Otherwise, we will have to reconsider our relations with Belarus and eventually adopt sanctions against those responsible for the violence, arbitrary arrests and falsification of election results. We will discuss this issue on Friday, 14 August, at the extraordinary Foreign Affairs Council that I have convened," Borrell wrote on his blog.