Health committee specialist of Minsk city administration gives a sharp response to Natallia Kachanava [Chair of the Council of the Republic of the National Assembly]
12 November 2020 | BYHelp-Mediagroup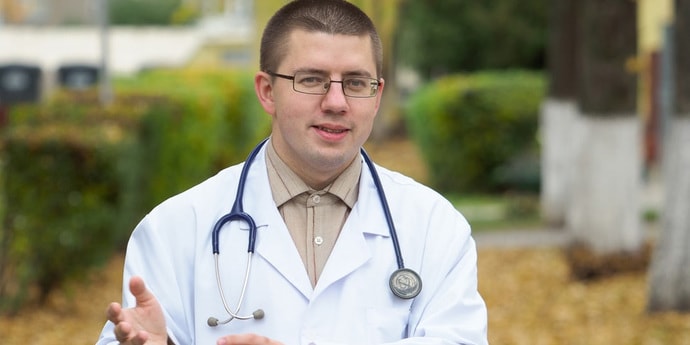 There are a lot of brave and honest people in Belarus despite the fact that in the past three months almost 20,000 have been detained, arrested, persecuted and tortured.
One of these Belarusians is Nikita Salavei, head visiting specialist on infectious and parasitic diseases at the health committee of Minsk city administration, associate professor at infectious diseases department of Belarusian State Medical University (BSMU).
Nikita has delivered a sharp response to the message that Natallia Kachanava passed on to protesting healthcare workers: "There will be no dialog in the streets, do warn them about it".
He has published his message to Natallia Kachanava, Chairwoman of the Council of the Republic of the National Assembly, on his Facebook page:
"Madam Kachanava! I hope this title sounds OK when you hear it from the slaves? Because this is how doctors are now treated by the bureaucrats and administrators who think that we are obliged to provide treatment to everyone at any time, but we are not allowed to express our position, protect our colleagues who are unlawfully detained, or at least stand outside our offices, let me note, in our free time. For any of these actions we need to be arrested, beaten and detained in prisons. So we have obligations, but no rights. Anyway. You mentioned a dialog. And you don't want it to happen in the streets. Well, Facebook is quite a good platform for that.
Now, let's get to the point and see what I and many other healthcare workers are not satisfied with:
Unlimited violence against peaceful civilians from security forces. Beatings, shootings, torture and rape of the best Belarusian people. Those who are not the best do not care. And that is why there are so many healthcare workers, athletes, cultural workers, university lecturers, IT specialists, labourers and representatives of other occupations that come out into the streets these days. Since March we have been spending days and nights at our clinics and hospitals helping COVID-19 patients, never taking off our protective gear, doing our best to free hospital beds for regular specialised care. And after all that we end up with hundreds of patients now who have wounds inflicted by your accomplices of types our doctors last saw in pictures from military surgery textbooks. We have been and are still demanding that any violence be stopped and those responsible for it be punished by law. This is in the context of a country governed by law that you so often mention.
Simulation of the elections. Yes, this time falsifications on the scale of 80% didn't go unnoticed. The people are now wiser, more active and creative. We now have independent online platforms with over 1 million participants, white ribbons and voting ballots that we fold a certain way. This has so clearly shown that you have lost that if only you had a smidge of shame you would have peacefully left our long-suffering country alone to give it a chance to finally become a normal developed country and not an outcast. But you have never had either shame or dignity. You have decided as usual to spit in people's faces. The slaves will tolerate. They will wipe the tears and by tomorrow it will be forgotten. We have not forgotten. And never will. New elections are bound to happen soon. Without the blue fingers (of the dictator) clenching on.
Lying about everything and on all government levels. Let's look at the pressing problem of COVID-19 for example. For how long do you intend to keep telling lies about just over 1,000 new cases per day? Sure, it's a real achievement that in the last few days the official numbers of new cases have exceeded a thousand. Maybe finally the same can be done for the mortality rates? I don't want to have to explain to the relatives of the deceased whether their dad had been treated properly, as officially there were only four COVID-19 fatalities in the whole country so how could he be among these numbers? No, in most cases the treatment had been good. Otherwise, the number of fatalities would have been higher and they would have been more frequent. It's just that even in the best hospitals in the world the lowest fatality rates for COVID-19 patients in intensive care are around 16-20%, 40% on average, but they can also be as high as 60%. Any school child can multiply the number of hospital beds in intensive care with the mortality rate… I would also like to remind you about multiple cases of junior and middle-level medical workers and doctors who have lost their lives due to COVID-19 while on duty. Since the pandemic began no one has found the time to pay tribute to them if only in the form of a memorial list on the webpage of the Ministry of Health.
Expulsion of students from medical and other universities. What's happening today at the BSMU is worth the best of comedy talk shows. Many of those students who "have or have not been dismissed" don't even understand what their current status is, as they are not given any paperwork on their expulsion. The lecturers are being told pretty stories that their students got expelled on disciplinary issues and not for expressing their civic stance and of course not because someone on TV said that these students don't belong at universities. Undoubtedly, that is exactly where they belong. They are expelling the worthiest, the proactive, those with the best grades, aspiring to change the future of our country for the better. One thing makes us happy – the fact that very soon these students will be back at universities. But it will be quite the other way round for university management who have been participating in persecutions in such a shameful way. They would have to look for new jobs.
Detention, beatings, arrests, and dismissal of our colleagues. Many of them have been working day and night during COVID-19 risking their lives. Today we can hold country-scale medical councils on Akrestsina as all types of specialists are being held there, doctors of the highest qualification, degrees, and ranks. This is where you got it completely wrong. You have tried too hard to stifle everything and everyone. But for us it is a blessing in disguise. We used to have problems with solidarity among healthcare workers but now it is getting stronger by the day. Professional groups and whole institutions are coming closer together. Video addresses are coming out like hotcakes, appeals and petitions are signed by thousands of doctors. Today even the most unpolitical health workers have come to realise their true "value" for the government and have witnessed what type of "gratitude" they might receive for their hard work. They now understand the vital necessity of fighting for their rights and freedoms. So you won't be able to herd us back into slavery.
I have tried to convey my standpoint as well as that of my colleagues truthfully and to the point. We'll be glad if you can give a response. But please be specific, address our points and cut out the usual nonsense. We've heard it all in the past 26 years. And regarding "there will be no dialog in the streets"… The dialog, Madam Kachanava, will take place wherever the people of Belarus decide to have it."
Nikita Salavei also made the following statement: "I have joined the Coordination Council since I am convinced that the Republic of Belarus is currently in a state of crisis due to a lack of public confidence in the current government."