Belarusian protesting doctors on fighting against torture, persecution and coronavirus
5 November 2020, 00:02 | Aliaksandr Nepahodzin, LENTA.RU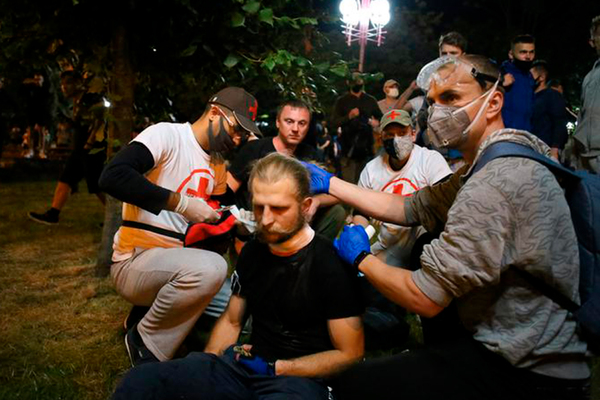 Belarusian doctors have been supporting those who protest against Alexander Lukashenko for nearly three months. They didn't stay on the sidelines after Sviatlana Tsikhanouskaya had announced the general strike with the requirements to organize new elections and stop the violence of the OMON riot police. The authorities and security officials don't appreciate the importance of the doctors' work: they are arrested, severely beaten and fired as anyone else. LENTA.RU with the help of Bysol Solidarity Fund, which supports Belarusians who suffered due to their political positions, contacted the doctors participating in the protests. They told about what they had to go through in the pre-trial detention center, what methods of enforcement the directors of the clinics have used and how they fought with the coronavirus which began to spread again.
Arrests and tortures
Uladzimir Harokh. A medical assistant at Minsk Regional Center for Emergency Medical Care. He was arrested while providing medical care to the injured during the protests in Minsk the day after the elections. He had to leave the country
At night on 10 August I read about what was happening in Minsk, and couldn't stay at home when people needed my help. I got into whites to show that I was a health worker, neither a policeman in civil clothes, nor a protester. I took a first aid kit with me. Close to midnight they began to break up the protests with weapons and stun grenades. People began to run away, I stayed and watched what was happening. In a few moments when there was nobody left around me I saw an elderly man lying on the ground, trying to get up, clutching his stomach. Without pausing to think I ran to him. I know how high the mortality due to the abdominal wounds is, considering the OMON riot policemen's actions, who usually shoot and then look.
The elderly man had a penetrating wound of the abdominal wall with the bowel prolapse, internal bleeding and wound in the leg. I ran to the wounded and began to provide medical care, and then we got a grenade thrown at us. It's a good thing that I managed to turn away and cover the wounded man (about what had happened before the arrest).
The point was that the riot policemen threw a grenade from the prisoner transporter and watched me. While I was kneeling dressed in whites and calling them for help. I began to shout that the man could die, and asked to ensure security for me and call an ambulance. They got taken aback when they saw the bowel prolapse, surrounded me, but called an ambulance. I stayed even when my colleagues arrived, helped them, organized the riot policemen to transfer the man to the stretcher. Besides, the elderly man was a retired employee of the Investigative committee. Leaping ahead, he survived, withstood the surgery. Although he had been in critical condition, he recovered. A month ago I heard that he was alive and everything was fine.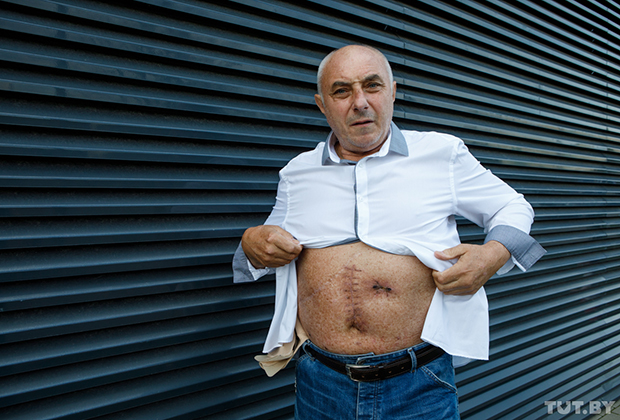 However, they didn't allow me to leave with the wounded man. A policeman came and said: "You are coming with us". He just took me by the white coat indicating I should follow peacefully. I looked in his eyes and said: "But why, you saw that I just provided medical care". He objected: "Don't do anything stupid, let's go". They twisted my arms, pulled the zip and took me to the prisoner transporter. I didn't resist. I thought that everything would have been much worse. Of course, the OMON riot policemen beat me severely: I felt it even with my hands getting numb because of nerve roots injury. However, they let me provide help, didn't just wring my hands, saw the situation, ensured security and called an ambulance. This is as it should be, but in these mad times, and considering the way they usually behave, it was cool, thanks to them.
They took me and other arrested people to the Akrestsina detention center at nearly 01:30 a.m. on 11 August. There we kneeled with faces to the ground till 05:00 a.m. Then we were allowed to lie on the stomach on the grass till 08:00 a.m. and then they transferred us to the inner yard. We had to kneel on the concrete floor till the evening. From time to time they took people for interrogations.
They didn't let us go to the lavatory. We were given water only at the end of the day. Then they raised us from our knees and took us to the cell, stripped naked and laughed, called us "blue beach boys" – blue due to the bruises.
Someone was given notices about suspicions in criminal liability, the others were called under administrative charges. All investigative actions and court were held there. I had been at the Offender Detention Center for four days, and in two days after the release I was already on the bus on the way to Poland. Besides, the investigators tried to assure that I hadn't provided any medical support, and appeared at the scene of arrest by accident, though, there was a white medical coat and first aid kit with me, and the OMON riot policemen helped me.
Hanna Sushchynskaya. Anesthesiologist at Minsk Regional Clinical Hospital. On 27 October she was arrested on the solidarity event with her colleagues from the Republican Scientific and Practical Center (RSPC) "Cardiology" which was held near the regional hospital
We participated together with my colleague. There was a sign on our poster: "I/We RSPC Cardiology". We didn't have anything symbolic with us, we didn't shout anything. We were arrested by eight OMON policemen. We also saw some plainclothes without any markings.
We weren't explained what we were detained for, and they didn't introduce themselves. It is like a knee-jerk in our country: you can be arrested by a stranger, taken to the police office for no good reason and at any time.
To be honest, I can't say that they abused us. My friend was arrested without any acts of force, I was grabbed by my jacket, because I was fearful and tried to run, but that was it. They neither shouted at us nor beat. In the Barauliany pre-trial detention center not far from the hospital where they took us, they communicated humanely and politely. I think because many policemen work with us regularly, we render them information about our patients. However, our story is one of the few positives against the background of the other cases.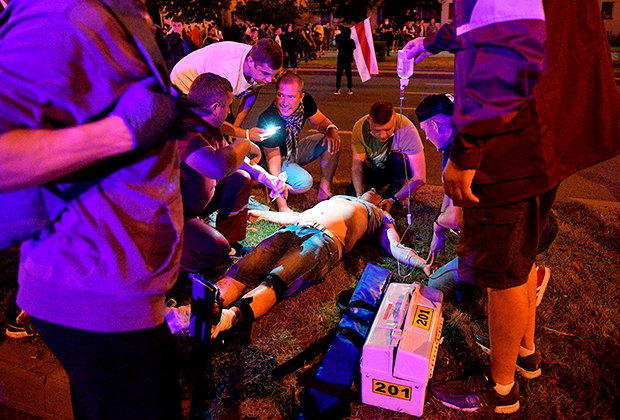 Volha Sadouskaya. Clinical pharmacologist at Minsk City Clinical Hospital No. 6. She was detained on 13 September, subjected to abuse in the police department, spent a day in a pre-trial detention center
It was a traditional Sunday march of solidarity. We were surrounded and detained on the way to a starting point – unfortunately, a familiar story. On that day, the riot police acted tough, rude. Me and the rest of the detainees were driven in a minibus for an hour and a half, then they brought us to the Savetski police office, where they commanded us to line up against the wall in the yard, although the weather was already cool.
We spent six hours near the wall in the yard in a line hearing insults, humiliation, promises to shoot us, take us to the forest. To the girls they gave special comments in a rude form. The policemen played fascists, gave commands in German.
We, of course, did not know where they were taking us, because no one said a thing, no one explained why you were detained, no one explained your rights, lawyers were not allowed in, relatives who gathered at the police office were provided with zero information about the detainees. Even worse, until 23:00, while we were standing at the wall, they said that there were no detainees in the office, although people could see us through the cracks in the fence.
Soon I ended up in a pre-trial detention center in the city of Zhodzina, where I spent almost a day. There, too, no one explained a thing to us. Later I found out that on that day many doctors were detained in different parts of Minsk. The medical community reacted the next day, publications began, the staff of the Republican Scientific and Practical Center for Organ and Tissue Transplantation came out for a chain of solidarity with our names. The public outcry started, and in the evening a judge from the neighboring city of Barysau came to Zhodzina to conduct an imitation of court hearings. We, four doctors, were released in the evening.
The punishment is mainly fines, ranging from five to 30 base units (one base unit equals 27 Belarusian rubles). There is no logic, the degree of punishment is chosen randomly. In my case, I was released with a notification. There were several court hearings after that, and as a result, the case was sent back for revision to the police office. There was no final court hearing yet, there is still time until 15 November. If no court hearing takes place, the case will be closed according to the statute of limitations.
Andrei Vitushka. Anesthesiologist and intensivist of the Republican Scientific and Practical Center "Mother and Child". On 10 August, he and his wife were detained when they came to a police office to look for their son. Spent three days in a detention center on Akrestsina Street, endured abuse
On 10 August, around midnight, my wife Krystsina and I were detained near the Tsentralny police office. Our son Miron disappeared three hours earlier. At that moment, my wife and son were just going to my mother, she lives in the area of Stela "Minsk – Hero City", the place of the first dispersal of the demonstrators.
A 16-year-old teenager was kidnapped in the middle of the street in front of his mother, pushed into a minibus and taken away in an unknown direction. They shouted that he could be picked up by the police.
More than ten people gathered near the police office – mostly relatives of the detainees, who came to find out at least something about their loved ones. They told us nothing. When a traffic police car and two police trucks drove up to the building, I went to meet them, thinking that they had finally brought our son. However, riot police poured out of the cars, two of them rounded me and my wife up and, without listening to any explanations, pushed me into the truck with other people. Near the Stela we were divided and loaded into a prisoner transporter, and sent to Akrestsina Street.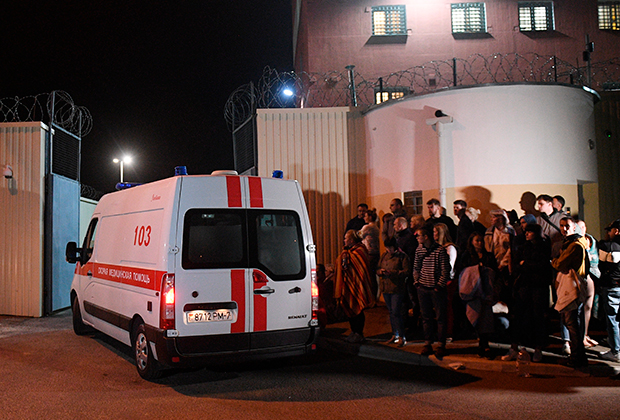 You know what… this is not how you treat people, it was torture. Almost all the staff at the detention center on Akrestsina talk in a raised voice and swear. They insult and humiliate the detained. In a cell for six people there were 32, and in the neighbour female cell for four – 53 detained. I was beaten less than the others, only a little during detention, and a little during admission.
For days there was no food, toilet paper or soap. There was not enough air. The lights wouldn't be switched off. Krystsina got it worse. Her cell was smaller with more people in it. She has insulin-dependent diabetes. She wasn't given insulin, and wasn't allowed to measure the sugar level in her blood, and wasn't fed.
My wife wasn't supposed to be there, according to the law, underage children can not have both parents taken at the same time. However, she still spent three days at Akrestsina. We later discovered that Miron was taken to a different police station, where he was kept for six hours, even though by law it shouldn't have been more than three, and constantly beaten. Medical examiners later counted more than ten hematomas on his body. My colleagues reacted with solidarity. Everyone worried, and those who could do whatever possible to locate me. After my release, they helped me get back to normal.
Aliaksei Bialastotski. Urologist at Minsk City Clinical Hospital No. 4. Was detained on the 2 September and delivered to the detention center on Akrestsina street. Ended in hospital after severe beatings, currently in rehabilitation in Czech republic
I was detained on 2 September around 7 pm by Pushkinskaya metro station. On that day the people's memorial to Aliaksandr Taraikouski (first deceased in the protests) was covered with sand. I was driving past and could see a crowd of people from afar, then decided to stop to ask if anyone needed medical help. After that, I helped people remove the sand from the pavement. There was one impudent policeman that tried to disperse everyone whom I approached and asked to introduce himself since he did not have a badge or any other visible ID. In about five minutes I was approached by around ten people in plain clothes who detained me. No one introduced themselves or talked to me, they just took me under my arms and led me to a minibus
I was severely beaten in the bus on the way to the police station. At the station I was hit a few times. Two of the blows landed on my head, they were aiming at the ears, and then another time in the chest.
After the police station I was taken to Akrestsina, there I was not beaten. But as a result I stayed in two hospitals. Soon after I was discharged one of my colleagues sent me a contact email where you could apply for medical care in the Czech Republic. I wrote to them, attached the transcripts and details of medical examinations, and got offered rehabilitation. In Belarus medical treatment was at my expense while in Czech Republic everything is paid by the host country. They don't just help doctors but also all victims that apply for help.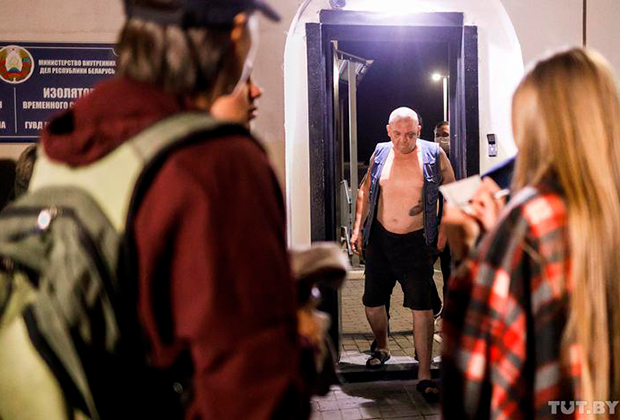 On management pressure and layoffs
Uladzimir Harokh. A medical assistant of the Minsk Region Center for Emergency Medical Care
I wasn't fired. I resigned myself on 1 August, before the elections. Let's just say that it was not directly related to politics and persecution because of my views. I wanted to change jobs, I had a new position waiting for me and at the same time I had a visa to Poland ready. Until the last moment I thought and reasoned whether to leave or not, but then after the detention center it became clear that I had to. For another month after my release my mother had been receiving phone calls, the Investigative Committee was looking for me, some people came to my home without any documents. However officially they never stated what they wanted me for. Right now I am in Poland in a limbo. I am managing by taking some side jobs but need financial help. I got a job in Wroclaw as a general labourer helping build a hospital for corona patients. I am of course not happy with this situation.
Hanna Sushchynskaya. Anesthesiologist at Minsk Regional Clinical Hospital
Our head physician summoned us and talked to us in a very negative tone. He said that employees with such a position should not be working in a state hospital.
The head physician said in a personal conversation that he intends to fire us. If not now, immediately the next day after the action, then later, having found some reasons for it. Later he backed out of his statements. When he talked with our team, when the doctors came to talk with him in order to find out what the situation was, why he threatened us, the head physician retracted his words, assuring that we would not get fired for political reasons. We'll see.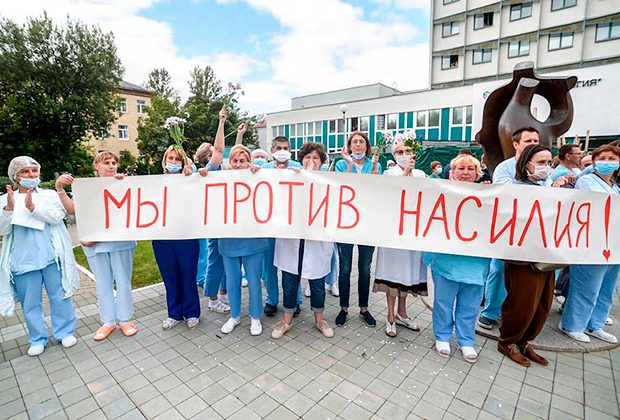 Volha Sadouskaya. Clinical pharmacologist at Minsk City Clinical Hospital No. 6
There was no open talk about me getting fired, the management tried to soften the situation, although I constantly experience mild pressure.
For about a month or a month and a half someone kept calling the clinic asking "How long is this woman going to work here?" Meaning it is time to fire her.
Everything depends on the attitude of the administration. How decent is the person managing the hospital or a clinic. Aliaksandr Mrochak, director of Republican Scientific and Practical Centre "Cardiology", who has openly supported his employees who were detained at the beginning of August and stopped all planned surgeries, was one of the high-profile layoffs.
They wrote a joint letter which he signed. And literally a few weeks later, our Minister of Health was replaced and his first move was to dismiss Mrochak. Naturally we did not see any other than political reasons for that. This was an outright dismissal of a person due to his civic position.The second high-profile layoff was Viktar Sniazhytski, rector of Grodno Medical University. He also supported the protests and was expressing his position openly on Facebook. After that he was fired. He lost his position as a senator. These are the real high-profile layoffs that everyone knows about. Then there are those who decided to resign themselves.
Aliaksei Piatkevich. Former head of the endoscopy department of the Republican Clinical Medical Center under the Administration of the President of the Republic of Belarus. On 14 August he resigned in protest against the violence, and due to subsequent repressions he was forced to leave the country
One fine morning I got up, watched the report from the detention center on Akrestsina street. And that was the last straw. I came to the morning meeting, waited for it to finish and then wrote a letter of resignation.
Pressure on the medics existed as long as this regime. In 2010 I left for Moscow because I did not agree with the system. As a head physician I decided to not falsify the statistics at the oncologic dispensary.
After my dismissal I had to hand over the service apartment on the appointed day. By that time I have already given a few interviews. After one of those the management called me and asked me to come to the house urgently. It alerted me. I called the lawyer and called my son. He noticed a bus with tinted windows without numbers in our backyard and a police car, in the other backyard too. I don't know if they came for me or not. I didn't check. I called a friend, took out the SIM card and ran away.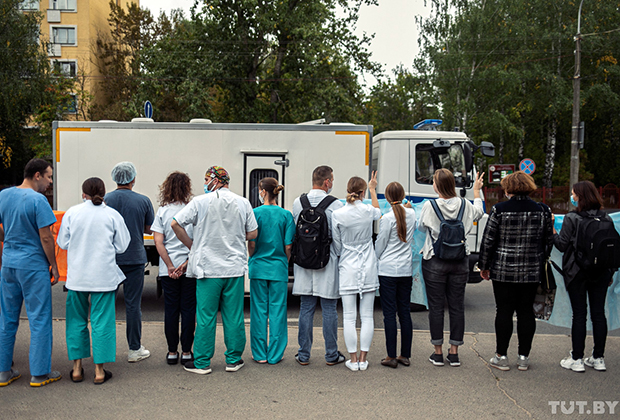 Later some people found me on Facebook, and said they could help. At first I did not take it seriously. Then later when I realised I was in trouble I started writing to them, first with caution: what if KGB officers have created a page and are writing to me to discover my location. I only turned my phone back on after I arrived in Lithuania.
I was hiding in Belarus for almost two weeks. Strangers provided me with shelter, money, food and clothes. It is like a miracle. They knew who I was, so they were putting themselves at risk but still decided to help.
Now all I can do is sit here and wait until Lukashenko gets dismissed… I do not know how long it will take. I was very shaken. I see that I can get a job anywhere in Europe. But that's now why I came here. I have a three-month visa just to sit it out. If my family will not get their visas extended I will turn around and go back to Belarus at my own risk. If they take me so be it. But this is an extreme outcome. My daughter is going to school here. Me and my wife are learning Lithuanian. Naturally if I go past the breaking point once I am assimilated here and I will not have the possibility to go back, I will stay here.
Volha Sadouskaya. Clinical pharmacologist at Minsk City Clinical Hospital No. 6
It is impossible to come to peace with this violence. A colleague at my clinic, traumatologist, an associate professor at the BSMU, Yauhen Zhuk, was detained on 10 August. He has suffered physically, he got beaten and spent a few days in Zhodzina. After that he could not work and resigned. There are a few similar cases where people resigned. Others are subjected to constant pressure saying that you will get fired and will not be able to find work, you will be in trouble. Since our health system is primarily owned by the state the fear of losing your job is real. That explains why many are afraid to leave.
Andrei Vitushka. Anesthesiologist and intensivist of the Republican Scientific and Practical Center "Mother and Child", a victim of abuse at the detention centre
Undoubtedly the cases of management pressure on my colleagues have been large-scale. They were pressured for going to protest marches, for displaying protest symbols at home, sympathising with the protesters, supporting those on strike and for even leaving the state trade union. At the moment eight employees have lost their jobs: some dismissed "with a cause", some "by mutual agreement", even though there was no agreement rather pressure to get rid of an unwanted employee. The most high-profile case is of course the one of the academician Aliaksandr Mrochak.
On the fight against COVID-19 amid the protests
Andrei Vitushka. Anesthesiologist and intensivist of the Republican Scientific and Practical Center "Mother and Child", a victim of abuse at the detention centre
As far as I know, there are fewer detainees and convicts in our field of work than, say, in education or, for example, in state media. This shows a certain level of sanity among the managers in health care, who can estimate the power of medical solidarity. However, the situation may change if at the very top a decision is made to "expel and suppress", no matter what.
They are most probably not too eager to shake up the health care sector by massive layoffs, particularly during the second wave of COVID-19.
Andrei Tkachou. Co-founder of the Medical Solidarity Foundation within By_HELP movement, one of the organisers of the by_covid campaign
In Belarus the manipulations with statistics that happened in the spring are being repeated. Every day we receive the real statistics, not the one that gets published officially. And for the medics one of the types of protest was the opportunity to publish the real numbers on COVID-19. We hear everyone that the authorities main goal is to suppress protest activity in the streets as much as possible. That is why they are twisting the COVID-19 agenda in their favour. Like, for example, don't go outside. The Coronavirus situation is worse now than it was in the spring. But we see that no measures were taken and are not planned to be taken. We experience absolute disregard on the part of the authorities.
When coronavirus is beneficial for the authorities it is being considered and restricts lawyers' visits at the pre-trial detention center, forbids parcels for the prisoners, and limits mass gatherings. When it's not beneficial, the coronavirus does not exist.
Anastasia Pilipchyk. Co-founder of the Medical Solidarity Foundation, former head of department for medical support of sports facilities of the Directorate of the 2nd European games 2019 foundation
Contrary to the election becoming a trigger for the majority of the population to come out and protest, the medics were irritated already in the spring. By what? By the attitude of the authorities and particularly Alexander Lukashenko towards the situation with coronavirus. We all understand this is a general crisis, that no one could have predicted. The virus travels round the world and kills many people. But support is vital during the crisis.
When you are accused on national TV, the responsibility for getting infected is transferred to the patients – this is not the way a country leader should talk. This attitude angered people, they started to understand how the authorities really treat them (on Lukashenko's politics towards the COVID-19 in the spring).
It was important to address the nation saying that we are going through difficult times but together we will get through it. To convey properly the position of authorities on the fact that total quarantine is not being introduced. It can be justified. I am also against total quarantine, this is definitely not a solution with respect to economics. But this needs to be explained to the people so that they understand why it is done. Some basic measures need to be introduced and talked about.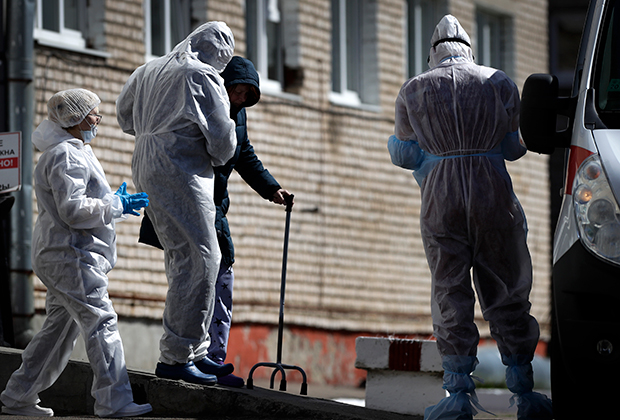 On the support from colleagues and the diaspora
Hanna Suchshynskaya. Anesthesiologist at Minsk Regional Clinical Hospital
About 60-70% of all the doctors that I know, who I am directly in contact with, take an active part in the protests. And about 90% of all the doctors support the protests, but not everyone demonstrates their support. A day before we went out on a solidarity event the head physician spoke to us saying that the healthcare sector and the medics are beyond politics, that our hospital is beyond politics, and if you participate in any such events it is your personal responsibility, do not expect any support from the healthcare institution where you work. When me and my friend openly supported the protests we did not expect any support from the management, we did it privately as doctors.
Volha Sadouskaya. Clinical pharmacologist at Minsk City Clinical Hospital No. 6
Our colleagues supported us very much, they also stood in solidarity chains, tried to help, find lawyers, gave interviews to attract public attention so that we would be released as soon as possible. According to the management, they also made their efforts to speed up our release. It is difficult to judge, because there were no official reports on this matter. They said that they were trying to release us through their contacts in the Ministry of Internal Affairs and other structures. Whether you can believe it or not, I don't know. There is no evidence of this.
Aliaksei Piatkevich. Former head of the endoscopy department of the Republican Clinical Medical Center under the Administration of the President of the Republic of Belarus
When I resigned the majority of my colleagues supported me. They shook my hand, some openly, some in secret, they wrote and called me. Those there were others who tried to walk away when seeing me.
I can't say that someone followed in my steps, but another three employees from our Center resigned. One of the doctors was given a choice by the administration for his activity on Facebook: either you delete all the posts or you resign. He chose to resign. However he wasn't allowed to leave immediately as there was no one else to do the job. He was given a month, continued to work and then left.
Another person, with the same last name, Yauheni Piatkevich, is a well-known story in Belarus. When the former Minister of Health at a public meeting with journalists was asked whether there were cases of torure he answered no. Piatkevich handed him the megaphone and said: "Repeat this so that everyone could hear that there was no cases of torture in the country". Later he was called to the Prosecutor's office, and he was fired. Zhenya got a new job at a private clinic "Lode". Two weeks later he was fired after a phone call. I understand that he is now getting ready to leave the country.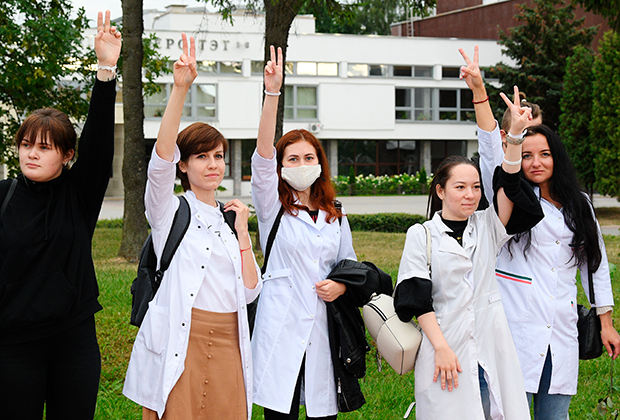 Aliaksei Bialastotski. Urologist at Minsk City Clinical Hospital No. 4, currently in rehabilitation in Czech Republic
I am planning to return home but only after the illegitimate government is dismissed. Currently I am considering staying within the EU for some time but I would very much like to return home. I fear persecution. The majority of my colleagues are shocked by the current situation in our country but there are also those who are content. Management of the hospital did not threaten to fire me, did not pressure me, instead they supported me. They facilitated a faster examination, made sure I got a separate room and encouraged me.
Anastasia Pilipchyk. Co-founder of the Medical Solidarity Foundation, former head of department for medical support of sports facilities of the Directorate of the 2nd European games 2019 foundation
The idea to establish a foundation and movement to support the medics came by shortly after the August events. Medics, including myself, went into the streets in solidarity chains as soon as we learned about the terrible events in Zhodzina, on Akrestsina and other detention facilities where people ended up after the first few days of protests.
At the beginning, the healthcare workers received enough financial, legal and other types of support from the BYSOL Foundation, which was organised by the BY_HELP aid movement for the people of Belarus. But it was only getting worse. Doctors, nurses and medical students were taking part in the protests, arrests began. One of our doctors got beaten up and ended up in intensive care. Doctors who disagree resign. The list of these cases grows by the day. That's why at the end of October we decided to establish a separate support foundation purely for people employed in healthcare. We provide support for medics that lost their jobs.
Not everyone is ready to leave Belarus, and I support that. This is our country and why should we leave to please someone. The country is in crisis, we need to deal with it, not try to ignore it.
We also help those who decided to leave the country. The process of getting a job in the EU is quite complex, one that requires a few years of preparations. Our goal is to ease the requirement for Belarusians, to give them an option to work as interns. We work primarily in Lithuania and Poland as it is easier to adapt in these countries due to language similarities, many also speak Russian.
Additionally we receive a lot of help from the diasporas, including Russia. Russian people are like brothers to us. The only thing is that some healthcare workers may be under administrative or criminal prosecution, and since we have a common legislative base within the framework of the Union State on some issues, some problems may arise. But no one is pushing Russia into the background in terms of the relocation of doctors.