Investigative Committee responds: Everything is in accordance with the law
29 September 2020 | KYKY.ORG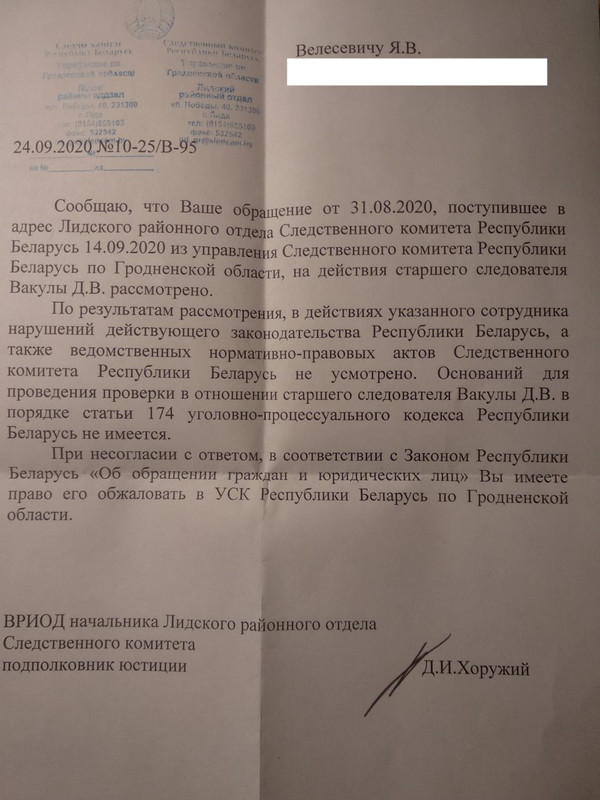 Another story of the failure of the legal system was revealed by the Legal Initiative on their website. On 11 August, in Lida, Yaraslau Veliasevich was detained. Together with his friend, he ended up at the local police station, where he was severely beaten and had cold water poured upon him.
Afterwards, Yaraslau was sent to the Investigative Committee of the Republic of Belarus. According to him, an investigator named Dmitry Vakula forced him to sign a protocol which stated that Yaraslau had thrown stones at the traffic police cars and riot police (OMON) buses. The investigator threatened to continue torturing him, so Yaraslau was forced to sign the report.
As a result, a criminal case was opened against the man under Article 364 of the Criminal Code of the Republic of Belarus – violent acts or threats of violent acts against law enforcement officers on duty. However, Yaraslau was later released.
Once freed, Yaraslau immediately documented the injuries and filed an official claim against the investigator's illegal actions. Recently, the man received a response from the Lida Regional Department of the Investigative Committee, and the letter signed by the interim chief Dmitry Kharuzhy is simply shocking.
Yaraslau's claim was taken into consideration – but, they found that none of the investigator's actions violate the current legislation. Therefore, the claim to conduct an internal investigation of the investigator's actions under Article 174 of the Criminal Procedure Code has been dismissed as groundless.
The Legal Initiative comments: "The response is definitely conclusive – the Investigative Committee is not interested in the objective investigation of victims' complaints of torture and is obviously going to shut the case down. The prosecutor's office forwards complaints of torture to the Investigative Committee, thereby failing to fulfill its duties to supervise the implementation of legislation, and neglecting its right to initiate criminal cases and proceedings."
Just a reminder – the UN has reported at least 450 cases of torture during the protests in Belarus. Yet, not a single criminal case has been initiated in the country.