Mass meetings involving huge numbers of people have taken place in the country. Influential Belarusians have stated their positions, while Lukashenka has gathered his supporters.
August 17, 2020, 00:52 | TUT.BY
The eighth day of protests following the presidential elections which took place on the 9th of August in Belarus has been the longest and most turbulent to date. Aliaksandr Lukashenka, whose victory at his sixth set of elections was announced by the Central Election Committee (CEC), gathered his supporters in Minsk, but the mass meeting attended by those who do not agree with this victory was by all accounts many times larger. On top of this, mass actions have taken place across Belarus, from regional centres to villages and farms. But it is not only the people who have spoken. Several influential Belarusians have spoken out about their anger at the violence perpetrated against peaceful citizens.
"For our Bat'ka! For our Bat'ka! For our Bat'ka"
[Bat'ka is Russian-language term of endearment for a father, similar to the English "my old man"].
On Sunday supporters of Lukashenka met at Independence Square to hold a rally. People were transported to attend this event from all over Belarus: dozens of buses were arranged to take people to Minsk from every region of the country as well as separate 'support trains' especially organised to run outside their normal schedule.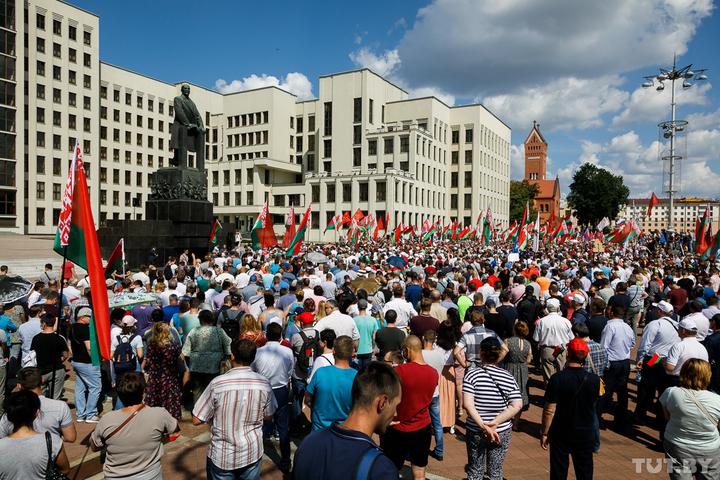 Lukashenka announced that the number of attendees at the square are estimated to be 50 thousand. The Ministry of Internal Affairs even announced that at the beginning of the mass meeting at Independence square there were over 65 thousand people. These calculations have been questioned, but we'll discuss below.
Aliaksandr Lukashenka, the main speaker, touched on familiar themes. He thanked all those gathered and listened to the crowd's affirmations of love.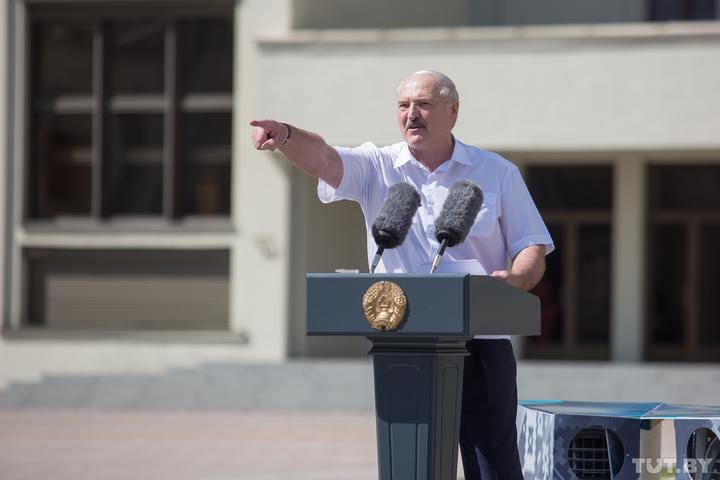 The president spoke about how he had delivered the promises he made in the 90s, listing them:
"You asked for a 20-dollar wage, you asked for factories not to be privatised, you asked for land not to be taken away from land workers, you asked me not to introduce private healthcare or education, you asked me to return dignity to our soldiers and officers who were afraid to go outdoors, you asked me, a person with little experience, to lead this people back from the brink of destruction. We have achieved that. […] Not everybody agrees with my policies, 'We don't like the regime!' But you and I reinforced that regime in the 90s when we brought in the new Constitution. At that time you asked me to restore order, – and I restored it! You asked me to do away with corruption and oligarchs. Where are the oligarchs now? You asked me to free the streets of Minsk from gangs. I have done this for you!", the president continued.
"Thank you! Thank you! Thank you! Thank you! Thank you!" people applauded under their red-and-green flags, the scarlet banners of the Communist party and the white flags of "White Rus".
The most epic dialogue was the one which the president had with his electorate:
"I must ask you: what do you want right now?"

"Peace!"

"Do you want freedom?"

"No!"

"Do you want reforms?"

"No!"

"What reforms? What shall we change?"

"Nothing!"
The White-Red-White Country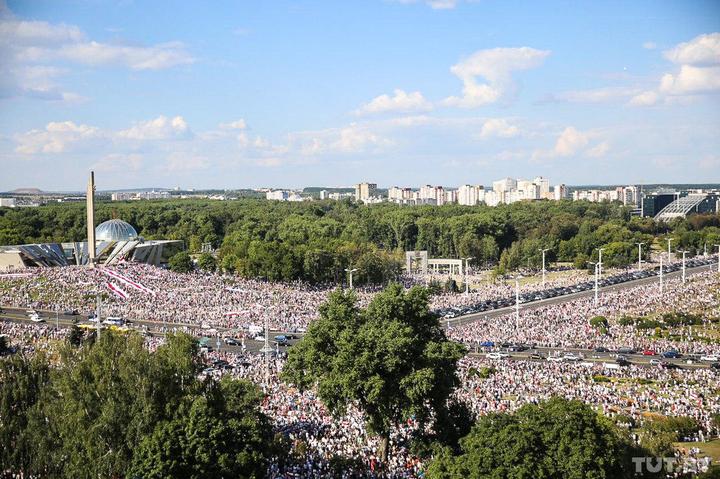 Meanwhile, the red and white crowd in Minsk began to gather at Stela obelisk on Victors Avenue. There was a risk that supporters of the alternative candidate might go to their pre-agreed meeting point at the Independence square where devotees of Lukashenka were rallying. But this flaw in the plan was easily corrected and, red and white crowd wrapped around the supporters parked busses and beelined towards Stela.
The record for the largest number of people gathered at a protest which was set back in the turbulent 90s was easily broken. By the reckoning of TUT.BY in this one location alone around 220,000 protestors gathered. By the reckoning of one expert at BBC, this estimate was lower at 127,000 people, but this expert also gave a lower number of attendees for the president's rally at 12,000.
This protest involved fewer speeches, but the bold statements of Paviel Latushka, director of Kupalauski Theatre, were heard again:
"The regime has opened a Pandora's box. That means that if no legal assessment is made of the actions of those in power who have committed these acts, and no judicial procedures are activated while examining the assessment of these events, then in future every citizen of our country – one person, two, 10, 100 thousand, millions – may be subjected to violence, and there will be no punishment for those responsible. If we don't make that legal assessment, then we will surely fall into an abyss."
Maryia Kalesnikava, chairwoman of Sviatlana Tsikhanouskaya's combined headquarters, made a speech by Stela.
"You are amazing, I love you," said Kalesnikava to those gathered.
She announced the combined headquarters intention to bring an appeal to the Constitutional court for the authorities' unconstitutional actions. Among the demands to be placed on the regime are Lukashenka's resignation and the release of political and economic prisoners.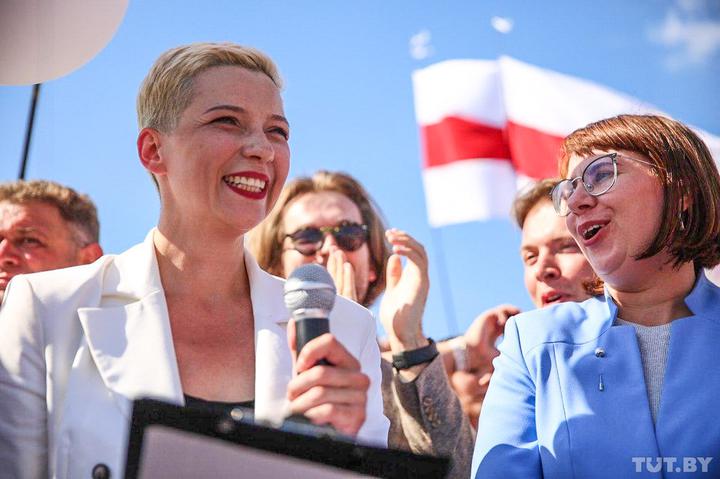 "26 years of life and freedom have been stolen from us", said Maryia Kalesnikava. "Overcome your fear", she added.
Kalesnikava also addressed civil servants, security officers and judges:
"Guys, this is your last chance. Take your stand with good and with people. We are the majority. We are a force to be reckoned with."
In all other respects the protest was stereotypically Belarusian. Volunteers organised to supply water; protesters not only brought their own trash bags but even found volunteers to load trash into their cars and take it away (apparently, they even sorted recyclables separately!). Participants joked that they were leaving the area around the Stela cleaner than it was when they arrived.
The column of people, numbering many thousands, completed a route right across the centre, noisily passing the KGB building per tradition. Here, in the 'amerikanka' [nickname for the KGB], several people are being held, namely Viktar Babaryka, now knocked out of the running for president, his son and many other members of his headquarters and employees of Belgazprombank, some of whom have been named as political prisoners.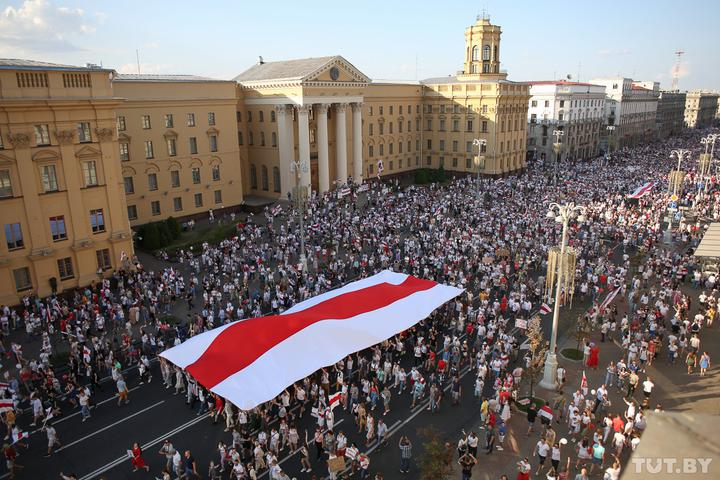 Since Sunday afternoon peaceful marches have happened in other regions of Belarus. People came out onto the streets everywhere from regional centres to villages. In Hrodna, for example, around 40,000 people gathered on the streets. In Brest, the mayor came out into the town square to meet the protestors, bringing with him the leadership of the regional security bloc. An emotional conversation was held, after which people went to the pre-trial detention center to demand the release of the arrested. In Gomel, the morning began with a funeral for Aliaksandr Vikhar who died after being arrested at the protests. Several hundred people came to say arewell to him. The events that happened in different regions can be seen in photos taken by journalists and uploaded to TUT.BY.
Are we saving the country or giving its population hell?
Protesters across Belarus are angered at the violence perpetrated against civilians, but Yury Karayeu, Minister of Internal Affairs, has taken an extremely hard line.
"I have already expressed my regret for those who have been assaulted and accept personal responsibility," Karayeu noted. "What was it that [director of the Kupalauski theatre] Latushka said that I should resign? And [the poet Uladzimir] Niakliayeu, that I ought to shoot myself? I'm sure it would give them great pleasure to see me demoralise my staff. And then everything would collapse."
"We are defending our nation, defending these buildings that allow for the government to function, defending regional police departments from being captured. It's symbolic. [If the protestors] seize a regional police department then we lose our authority, relevance and power. Who will be there to deal with the law violations? Citizens are already complaining about the mess and people honking their car horns. What have they done to the best republic of the former USSR?" inquired the minister.
The head of the Ministry of Internal Affairs has promised to deal with all instances of violence and abuses of power by security officers once "things quiet down", and chided that "both sides are complicit in escalating the situation".
"When you see your own friends and relatives being knocked down, you begin to lose your cool. That's very bad, and I oppose it. It should not be happening. We will deal with all instances. Not now, but once everything quiets down. I see no reason to demoralise the police to suit somebody else's agenda," said Karayeu angrily, pointing out that according to his information, participants in these mass meetings are being paid (and that the women are paid double).
But far from all those in power share Karayeu's opinion that the riot police's harsh response is the necessary evil.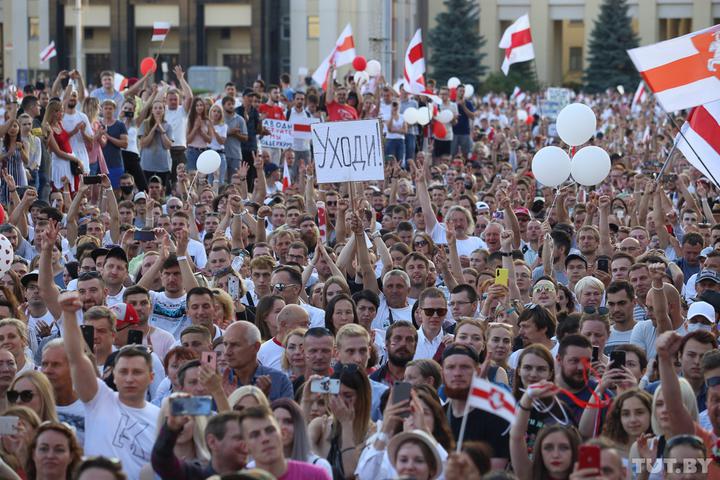 The Belarusian ambassador to Slovakia, ex-aid to president Ihar Liashchenia, made a speech supporting citizens who had joined the peaceful protests following the presidential elections.
"Like all Belarusians, I am shocked by the stories of torture and beatings of my fellow citizens," the diplomat stated.
He added that hundreds of his countrymen had "personally felt the effects of a number of representatives of the organs of power fully resurrecting the traditions of the NKVD in a tolerant, European, 21st century Belarus".
"I stand in solidarity with those who took the streets of Belarusian towns and cities in peaceful protests and believe their voice should be heard. As a native of the town of Zhodzina, I stand with you, workers of BELAZ and the Heavy Press Blacksmithing Factory. I truly hope that the future of my Belarus will be founded on the opinions of all layers of society and the representatives of a variety of political entities. Belarusians have suffered for this right!"
Viktar Chaichyts, a senator and head of the Board of Lawyers of the Republic, expressed himself in less stark terms.
"Yesterday, I was on Okrestin street. I spoke to a lot of people. What I saw and heard shook me! I will do everything I can to provide adequate legal help to all those who have suffered from illegal acts. I am happy to say that practically all of my colleagues are doing the same. Besides defending the innocent and demanding punishment for those who have committed these crimes or allowed them to take place, I will do everything in my power to establish a dialogue between the different sides of the conflict currently taking place in our country," he wrote on Facebook.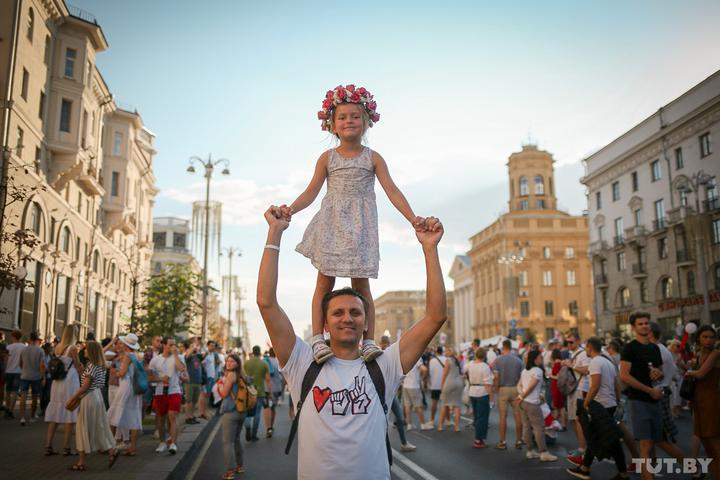 The wife of the ex-prime minister of Belarus Siarhei Rumas published a photo with her husband and a view of the Stela from the top floors of the Bank of development on her Facebook. She commented that the view from above was just as beautiful as the atmosphere down below. This comment was considered to be in support of the protestors, albeit indirectly.
The protests have not made us forget about the main theme of the last few days which is the gravity of violence committed by the riot police and the help offered to their many victims. Those who believe that stories of people being beaten and crippled are fake or an exaggeration (there was no shortage of such people at the first mass meeting) should read the account of a doctor at the military hospital in Minsk where the center for firearm injuries is located and where the victims of protests were taken.