What Volha Khizhynkova shared after her release
20 December 2020, 14:51 | Aliaksandra Kvitkevich, SPORT.TUT.BY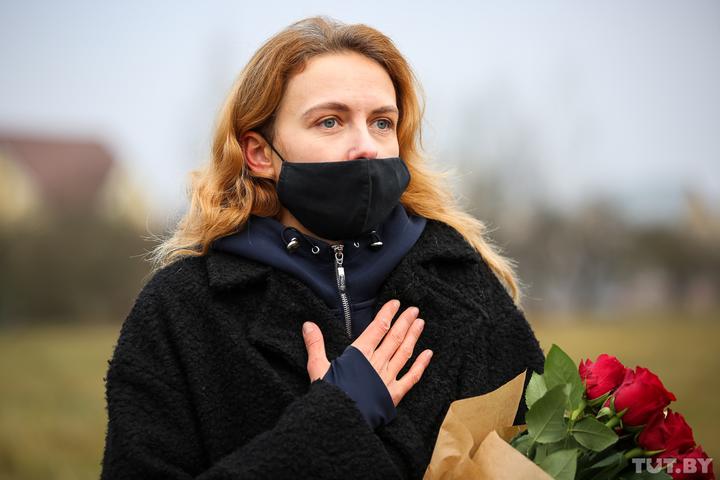 On 20 December, Volha Khizhynkova was released after 42 days of imprisonment. She had been detained on 8 November and tried on three counts of participation in unauthorised mass events. Right after Volha's release, she was interviewed by a TUT.BY journalist, Aliaksandra Kvitkevich, who had been her cellmate for 10 days and had written about the terrible conditions of their detention.
How do you feel?
Good, very good, now that I am with my friends. I had no idea that I have so many friends (laughs).
How have you been over the past three weeks?
I was in a cell with girls who had been arrested under the same article as I. After your release, a Russian woman convicted for posting an Instagram story was put in our cell. She was sentenced to 15 days in prison (this refers to a Russian citizen who shared a video about security officers on Instagram – TUT.BY). A week ago, the heating in our cell was turned off and cold air was blowing from the window [frame] all the time. We had the water tap and the toilet repaired, but then the mattresses were taken away without any explanation.
We slept on the floor on our blankets and wrapped ourselves in our clothes. I was wearing two shirts, two polo necks and three sweatshirts – everything that I had. One of the women got cystitis because of this.
How did they explain your sudden transfer to Zhodzina (Volha spent almost the entire term at the Akrestsina detention centre [in Minsk] and was brought to the prison in the town of Zhodzina a couple of days before her release)?
They did not, they simply transferred me there. Compared to the Akrestsina [detention centre], Zhodzina was a pleasant surprise. It is clear that these two facilities have equally strict rules. The only difference is that if you do not violate them in Zhodzina, you will not be punished.
Are you going to leave the country?
I do not want to. I want to live here, I have many friends here, more than I even imagined. I don't even think about it, I love my country, I want to live and work here.