29 September 2020 | Infocenter Free Belarus 2020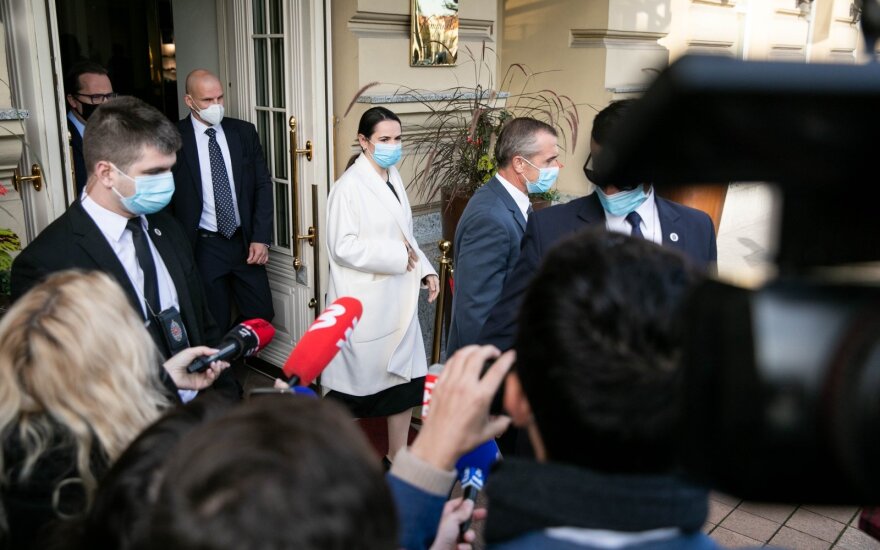 Today is the 52nd day of Protests. We will follow the events together.
8:31 am At the moment, Sviatlana Tsikahnouskaya is meeting with the French President Emmanuel Macron in Vilnius.
The main topic of the discussion is the holding of new elections in Belarus with mediation of other countries, including France.
8:57 am Lithuania, together with Latvia and Romania, has prepared its own Marshall plan for Belarus which will be presented at the next Council of Europe summit (1-2 October).
According to the President of Lithuania, the plan provides for:
better access for Belarus to the EU market, financial resources
diversification of the energy sector
assistance to civil society, non-governmental organizations.
"I believe that Europe is able to do a lot [for Belarus]," he stated. "I believe in the future of Belarus, in a kind, friendly and peaceful neighbor."
Earlier, Poland announced a European Marshall Plan for Belarus worth €1 billion.
10:02 am Pavel Latushka states that he is ready to return to Belarus under the guarantee given by Russia and the EU.
"The OSCE mandate can become such a guarantee. An international organization is the tool that helps to find a way out of various crisis situations, and Belarus is a member of this organization."
10:16 am At the meeting with Emmanuel Macron, Sviatlana Tsikahnouskaya received a promise of assistance in the efforts to negotiate and resolve the crisis in Belarus and to release political prisoners.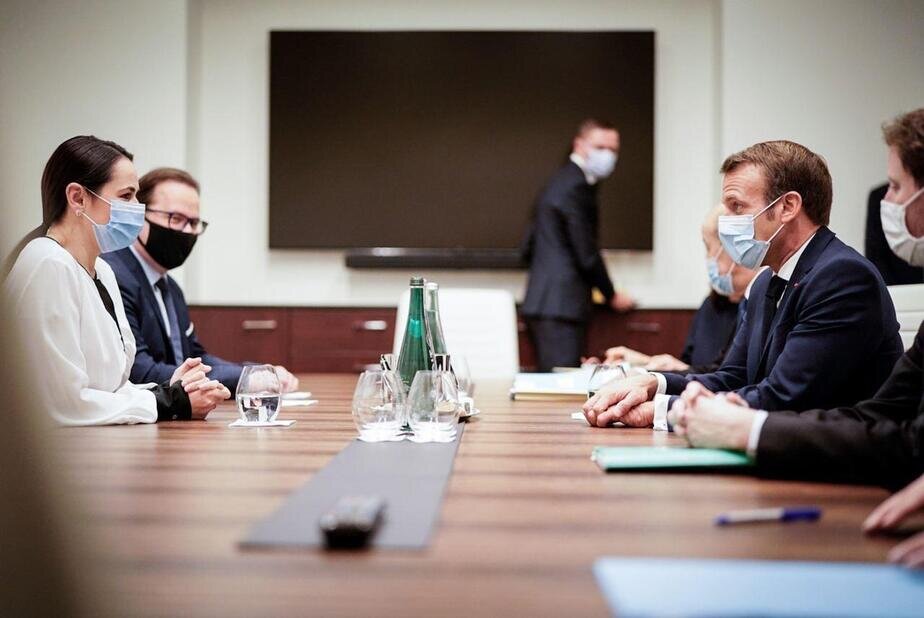 "He promised us to do everything to help with negotiations, (during) this political crisis in our country … and he will do everything to help to release all the political prisoners," Tsikhanouskaya told reporters in English after the meeting in Vilnius.
10:29 am The Belarusian IT front has published its manifesto. The cyber partisans announced that the purpose of their organization is to remove from power those officials who do not want to listen to the people. For this purpose, they plan to hack state systems and publish materials concerning the interests of civil servants and security forces officials.
The cyber partisans emphasized that this is not revenge, but fighting fire with fire.
10:33 am The court satisfied the prosecutor's demands and sentenced two citizens who participated in the 19 June protest to three years in prison.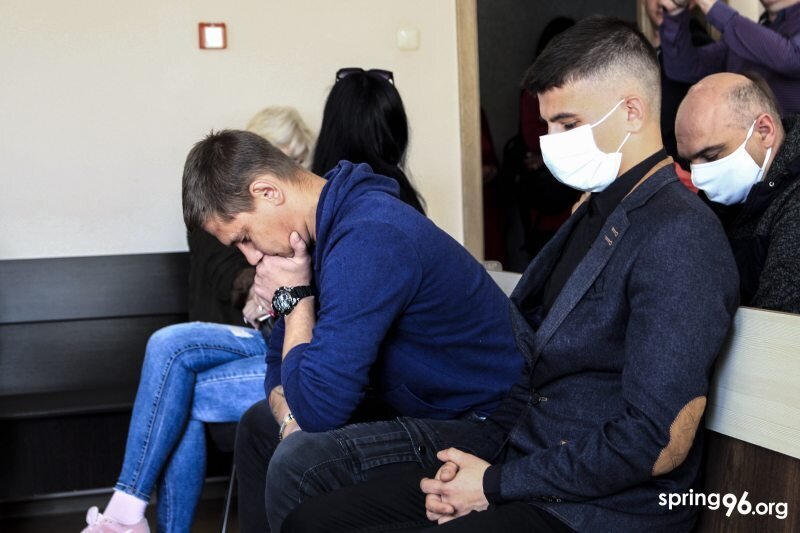 It should be noted that the men are accused of showing resistance to the security forces during their detention and protecting one of the detainees from being beaten by the riot policemen.
10:40 am The Free Association of Athletes of Belarus has released a video message to the security forces.
"If you are acting according to the law, why do you hide your faces and run cowardly as soon as your mask is torn off?"
10:50 am The term of arrest of political strategist Vitaly Shklyarov was extended for another two months. The investigation justified the extension of the arrest by the fact that Shklyarov could go into hiding, said lawyer Anton Gashinsky. According to him, during the detention, his client was only interrogated twice and once summoned to a face-to-face interaction; no other investigative actions were carried out.
10:57 am The ONT channel broadcast the news that Alexander Lukashenko was nominated for the Nobel Peace Prize.
😂 It turned out that the channel took this news from the humorous site "Panorama", where only fictional news is published.
11:21 am The Belarusian ambassador to Russia announced that Russia and Belarus have renewed their negotiations of the integrated road maps. 28.5 out of 30 maps have been agreed on so far.
12:00 pm Russian President Vladimir Putin called the external pressure on Belarus after the presidential elections "unprecedented", the Kremlin press service reports.
12:03 pm PandaDoc CEO Mikita Mikado talked about opening a new office in Ukraine. According to him, about 60 people have already moved from Minsk to Kiev, Odessa and Lviv.
12:10 pm French President Emmanuel Macron, meeting presidential candidate Sviatlana Tsikhanouskaya in Vilnius, promised his country's assistance in organizing a dialogue to resolve the political crisis in Belarus.
Sviatlana Tskhanouskaya thanked Macron on behalf of the Belarusian people for his public refusal to recognise Lukashenko's legitimacy, and repeated that she is ready to talk to all sides, including Russia, about organizing negotiations and bringing Belarus out of the crisis.
12:20 pm In Homel, journalist Yevgeny Merkis was not released after serving his sentence of 15 days of detention. Instead, he was sentenced to another 12 days, apparently to make up for being released too early when he was arrested in August.
12:35 pm Sviatlana Tsikhanouskaya announced that next week she will hold a meeting with German Chancellor Angela Merkel, along with several other meetings in Europe.
"Some [of these meetings] will be held online, and some in person. But they are all important in order to find a peaceful solution to our issues," said Tsikhanouskaya in an interview with Radio France Internationale.
12:40 pm The Ministry of Internal Affairs website has been offline for 20 minutes already.
12:50 pm After meeting with Sviatlana Tsikhanouskaya, Emmanuel Macron announced his readiness to help Belarus in negotiations for a new election in an interview with BNS.
"We will act. I respect and admire Sviatlana's involvement. As Europeans, we will do our best to help the Belarusian people. We will use OSCE mediation to ensure progress. We had a wonderful discussion, and now we must be pragmatic and support Belarusian people. We will be doing all we can, believe me."
1:05 pm The news about Lukashenko's nomination for the Nobel Peace Prize, taken from the satirical fictional-news website "Panorama", was published on the ONT (All-National Television, Belarus's state-owned television station) Telegram channel as real, and repeated almost word for word. Among other things, ONT's text mentions that in 2020 Lukashenko "prevented anarchy, foreign intervention and civil war".
1:07 pm The Cyber Partisans group confirmed that they attacked the Ministry of Internal Affairs website. Nevertheless, many users can access the site using VPN, and some even without it, both from phones and PCs.
1:25 pm Minsk State Linguistic University (MSLU) students have gathered at their daily protest. They chant: "Every day!"
1:30 pm "Pressball" journalist and author of numerous charity projects, Sergey Schurko, was released from Zhodzina detention center today. He spent 15 days in police custody.
2:00 pm The wife of blogger and historian Eduard Palchis reported him missing. In a Facebook post, she says that lately he suspected he was being followed. On 27 September, he planned to move to a safer place, and has not been in touch since then.
2:08 pm Svetlana Alexievich is in Berlin at the invitation of the German Academic Exchange Service (DAAD), "working on a new publication, among other goals," the organization said.
2:10 pm Journalist Alyona Dovnar was sentenced to 15 days in prison and a fine of 1,350 rubles (USD 515), the Belarusian Association of Journalists reports.
Alyona was arrested on 26 September, during the brutally dispersed Women's March in Minsk.
2:15 pm Yulya Karnacheva, an activist in the "Country For Life" movement, was arrested today in Hrodna. Her apartment is being searched.
2:20 pm Minsk residents, detained on 28 September for standing in line at a coffee shop serving coffee to people during the rally, were sentenced to 7 days of detention.
2:30 pm Residents of the Minsk district Serebryanka staged a flash mob about the events taking place in Belarus. Its message is "soon all the people will be beaten, but not broken."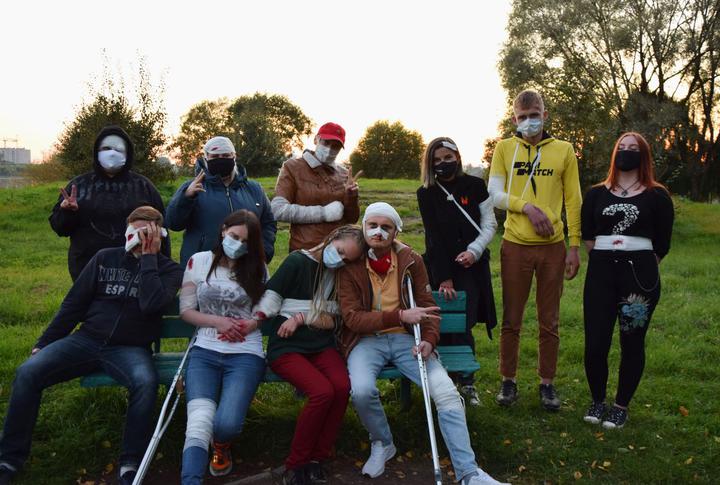 2:35 pm Putin's press secretary Dmitry Peskov commented on Emmanuel Macron's meeting with Sviatlana Tsikhanouskaya:
"The French President met a Belarusian citizen. At the moment we cannot assess this in any other way: this is the right of both the French President and this Belarusian citizen. We respect people's rights – both his and hers. Apparently, the French President supports this Belarusian citizen, this is how we see it."
2:45 pm Journalist Maria Grits was released from custody.
2:50 pm In Polatsk, the entire central square has been blocked all morning, and right now security officials are being rewarded for their "valiant" service there, reports Nexta.
2:55 pm 70 "Hrodna Azot" employees composed a resignation letter. It's their response to the arrest of their colleague Igor Rubtsevich and the legal persecution of other "Azotovites". If these men are fired, their workshop will stop. There are very few such specialists, and it takes six months to train a new one.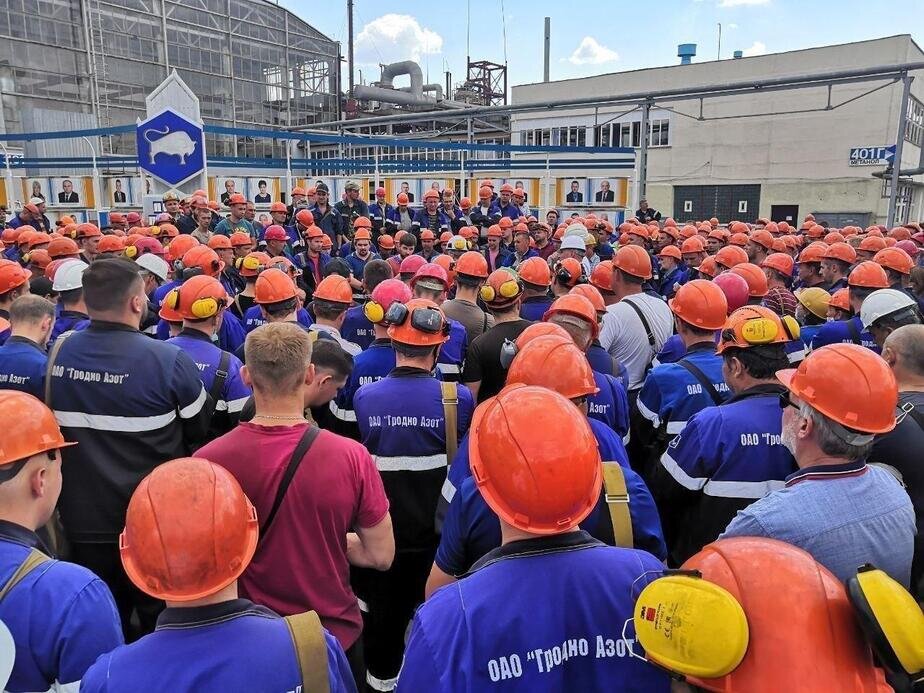 2:58 pm Coordination Council member Pavel Latushka said in his interview to Radio Liberty that France is one of the leading EU countries, and Macron's meeting with Tsikhanouskaya is an important signal for society and the international community.
3:26 pm Euroradio: In an attempt to stop daily student protests at the main entrance, Minsk State Linguistic University management have blocked the doors. Now the students have to get in through other buildings.
3:30 pm In the Lebyazhy district of Minsk, a Zelenstroy utility company worker pointed a torch at a woman who was filming him burning red and white ribbons.
3:40 pm Belarusian State University of Informatics and Radioelectronics (BSUIR) students are holding another sit-in protest and singing songs on the entrance stairs.
3:46 pm Euroradio: Minsk police have refused to initiate criminal proceedings against a man who broke off a bottle neck and threatened a group of locals waving a white-red-white opposition flag. He also threw chairs at them.
According to the police, the people with the national flag who were sitting on a bar terrace were the ones behaving inappropriately, and "it was clear that they wanted to start a fight". The actions of the man who threatened them with the broken-off bottle neck and threw furniture, on the other hand, "do not constitute a crime".
3:58 pm Sergey Naryshkin, head of Russia's foreign intelligence service, has stated that CIA and Pentagon instructors helped organize the protests in Belarus.
According to Mr. Naryshkin, the US is using the most unscrupulous methods, such as making use of nationalism, extremism and Catholicism, to destabilize the situation in the country.
4:22 pm The Belarusian Ministry of Foreign Affairs has announced tit-for-tat sanctions against the Baltic countries.
The agency also pointed out that meetings similar to the one between Macron and Tsikhanouskaya have no real-world impact.
4:36 pm Pavel Latushka, member of the Presidium of the Coordination Council, supported university students in their aspirations to live in a free Belarus. He noted that it is the youth "who make history". Latushka encouraged students to create change with their own hands.
Solidarity rallies in support of detained students will be held tomorrow at Belarusian universities. Details will be published by student chats.
4:39 pm According to BelaPAN, the Belarusian government has adopted the proposed tit-for-tat sanctions against Baltic countries. About 100 officials from each country will be banned from entering Belarus.
5:00 pm ⚡️ The UK has sanctioned eight members of the Belarusian regime, including Alexander Lukashenko, for human rights violations in Belarus after the rigged elections.
The UK sanctions include a travel ban and asset freeze on the following individuals:
Alexander Lukashenko – President,
Viktor Lukashenko – son and National Security Adviser to the President of Belarus,
Igor Petrovich Sergeenko – Chief of Staff to the President of Belarus,
Yuri Karayev – Minister of Internal Affairs and Major General of the Militia,
Alexander Barsukov – Deputy Minister of the Ministry of Internal Affairs and Chief of Public Security Police,
Yuri Nazarenko – Deputy Minister of Internal Affairs and Commander of Internal Troops,
Khazalbek Atabekov – Deputy Commander of the Internal Troops of the Ministry of Internal Affairs,
Dmitry Balaba – Commander of the Special Purpose Police Unit of Minsk (aka OMON).
Dominic Raab commented on his Twitter: "We have taken decisive action against Alexander Lukashenko, his National Security Adviser and Chief of Staff. They are banned from travelling to the UK or channelling money through UK banks.
We will hold to account those who persecute their own citizens."
5:01 pm ⚡️ In coordination with the United Kingdom and in support of the people of Belarus, Canada imposed sanctions against government officials of Belarus, including Alexander Lukashenko. These actions are being taken under the Special Economic Measures Act.
5:43 pm Maksim Znak's defense has petitioned the court to change the measure of restraint from remand in custody to personal surety.
6:25 pm The Belarusian Football Federation has revoked press credentials from the journalist Alexander Ivulin for events under the auspices of the ABFF (Belarusian Football Federation). Earlier, the head of ABFF was dissatisfied with the fact that political topics were discussed in Ivulin's video.
6:30 pm The Ministry of Information has deprived Belarus's most popular website, TUT.by, of its status of the media outlet. Currently, the ben is for three months. Now, TUT.by journalists will be prohibited from attending public events and being at emergency zones.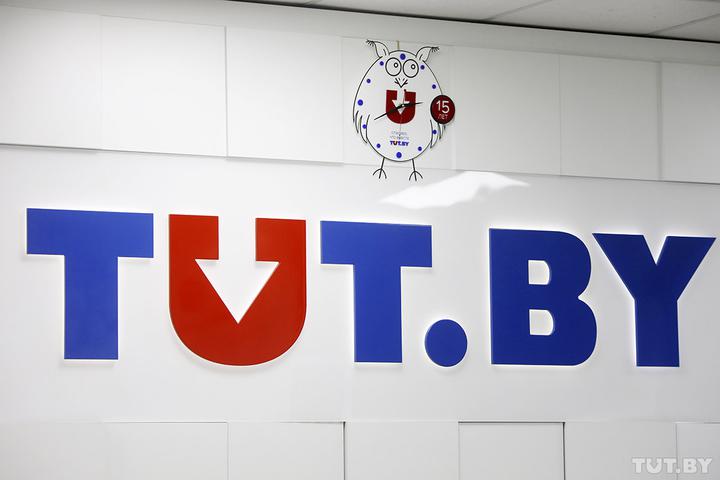 6:40 pm The UK has doubled its financial support to the Belarusian non-governmental sector. The aid is now up to one and a half million pounds over the next two years.
6:48 pm Sviatlana Tsikhanovskaya commented on the earlier decision to close TUT.by as a media outlet.
"The regime has officially deprived Belarusians of the right to know the truth. Journalists, you are the heroes", she said.
6:56 pm Members of Parliament from 29 countries demanded that Lukashenko immediately free all political prisoners and to stop the violence against the peaceful protesters. The letter has been signed by MPs from the USA, Ukraine, Italy, Romania and many other countries.
7:03 pm German Minister of Foreign Affairs Heiko Maas: Lukashenkо has rejected all proposals for dialogue and instead is betting on violence and military forces.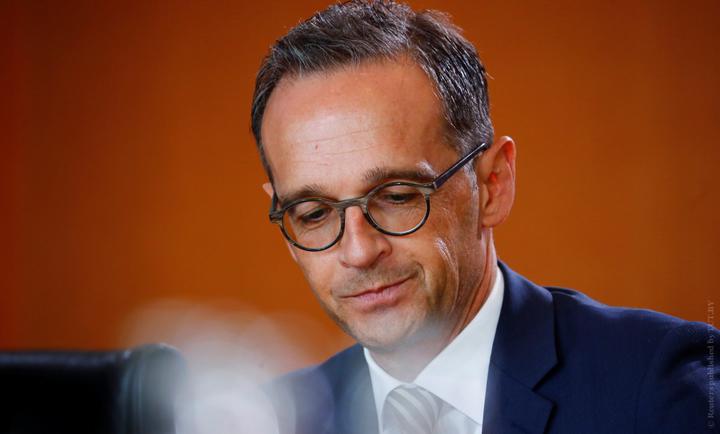 7:09 pm The Free Choir is singing "Pahonya" at the Minsk Central Bus Station.
7:30 pm The "Belarus Girl Power" Telegram channel has announced the "Women and flowers protest rally" for tomorrow afternoon. The protest will be held as a solidarity chain.
7:40 pm Lithuania, France, and Greece have begun a statement to the UN in defense of Belarusian journalists. Over 50 countries have already supported this statement.
7:44 pm Cyber Partisans have announced their next victim: the website of pro-government newspaper "Gomelskaya Pravda" ("The Homiel Truth").
8:00 pm Chess.com, the world's largest chess portal, has changed its flag for Belarusian players to white-red-white.

8:10 pm Solidarity chains are now taking place in Chizhovka, Serebryanka and in the village of Bolshevik near Minsk. Residents of the Sukharevo microdistrict are marching through the neighborhood. In many districts, protests are being held in the form of lectures, tea-parties and concerts. It is not possible to list all the activities that are now taking place in all districts, towns and cities – but there are a lot!
8:20 pm Darya Losik, the spouse of the political prisoner Igor Losik, was interviewed by Radio Liberty. She told the journalists about the unbearable conditions in which her husband is being held: Igor is deprived of press and correspondence, he is moved from cell to cell very frequently, and forced to make false statements.
Darya demands that her husband be freed immediately and an end to pressure on him.
8:55 pm The Coordination Council has issued an official response on the earlier actions of the Ministry of Information: "The Ministry continues to overstep its authority and restrict the independent media sources. The pressure on Belarusian media continues."
9:22 pm In Lebyazhiy microdistrict of Minsk, unknown men with truncheons broke up a solidarity chain. A child in a stroller was sprayed in the eyes with tear gas, after which he was taken away in an ambulance.
9:27 pm According to the newspaper "Silniye Novosti" ("Strong news"), the parents of many children were detained in Homiel today for participating in a protest, and their children were taken to an orphanage.
9:31 pm Sviatlana Tsikhanouskaya has begun an online meeting with the heads of strike committees at the Belarusian factories. Representatives of MAZ (Minsk Automobile Plant), MTZ (Minsk Tractor Works), HrodnaAzot, Naftan were at the meeting.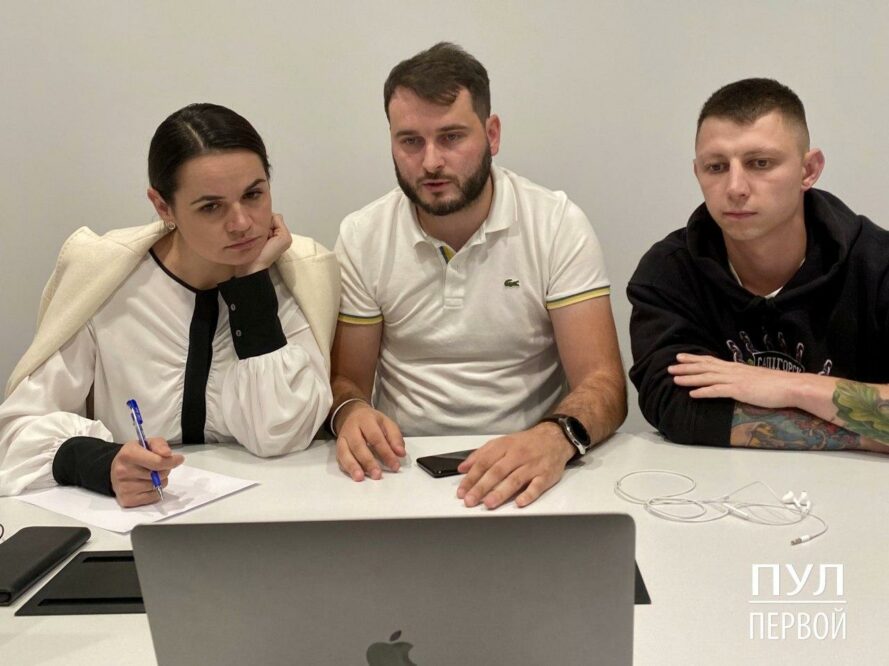 "The strike is one of our main driving forces. This is the force that will lead us to the victory," stated Tsikhanouskaya.
10:15 pm Solidarity rallies are also taking place today in the towns of Novopolotsk, Hrodna, and Rechitsa.
10:18 pm Trials of the Russian "Sputnik V" coronavirus vaccine are already underway in Belarus. According to official announcements, the tests will start no earlier than in a week from today. It is frightful to think what this may mean for the Belarusian people.
10:28 pm Two people were arrested in line for the coffee shop where arrests took place yesterday. There is now a solidarity chain next to the cafe.
10:32 pm The initiative "Honest people" has announced a student solidarity rally for all the Belarusian universities for tomorrow afternoon, Nexta reports.
10:40 pm People have gathered for a solidarity rally near the Riga supermarket and written over 70 letters to political prisoners.
10:49 pm The "Country for Life" Telegram channel has reported that Siarhai Tsikhanovsky's detention has been extended for another two months.