El arzobispo Kandrusewicz finalmente pudo regresar a Belarús y celebrar una misa solemne de Navidad; en Lituania, las cuentas del sanatorio de la Administración Presidencial están bloqueadas; los socios estadounidenses se niegan a trabajar con Synesis, que ha sido objeto de sanciones
24 diciembre 2020 | BYHelp-Mediagroup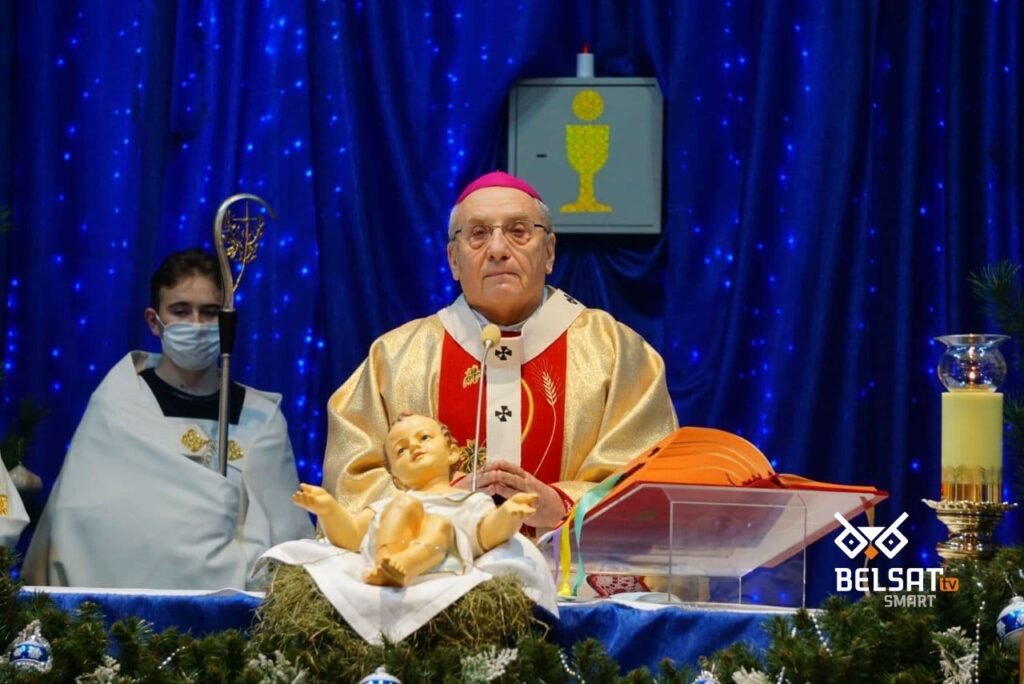 «Cuando crucé la frontera, me arrodillé, agradecí a Dios por mi regreso y besé el suelo», el arzobispo Kandrusewicz ha regresado a su tierra natal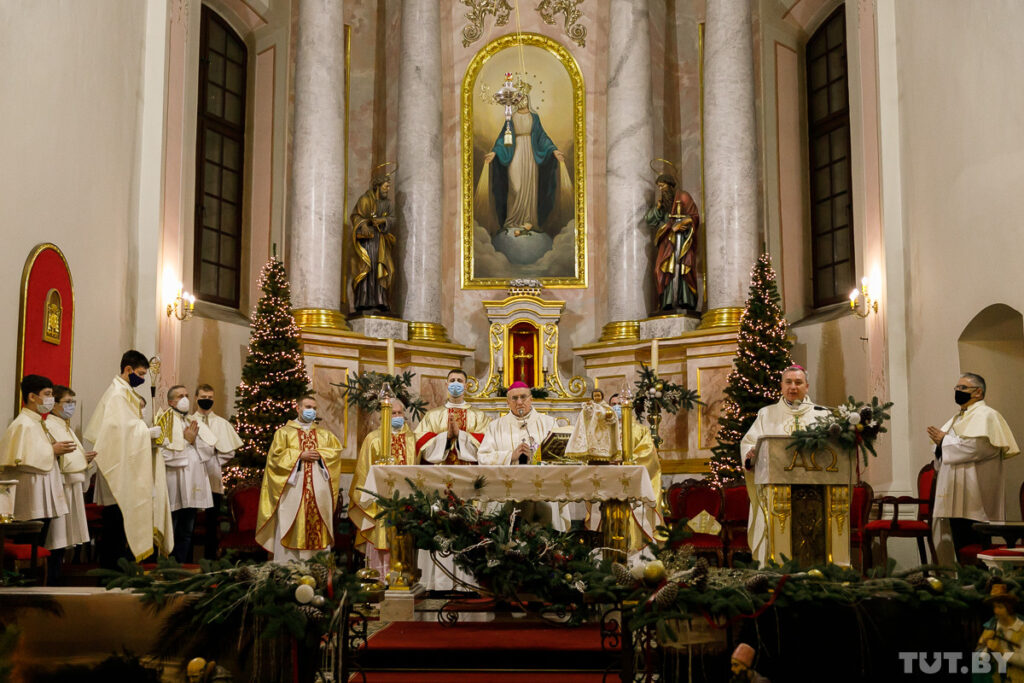 Tadeusz Kandrusewicz regresó a su tierra natal en Nochebuena, el 24 de diciembre, casi cuatro meses después de su exilio factual. A finales de agosto, las autoridades belarusas prohibieron a Tadeusz Kandrusewicz ingresar al país. Entonces, Aliaksandr Lukashenka dijo que Kandrusewicz había «viajado a Polonia y recibido consejos sobre cómo destruir el país». El cabeza de los católicos belarusos ha pedido repetidamente a las autoridades que detengan la violencia contra los manifestantes. La situación con el regreso del metropolitano a su tierra natal se resolvió solo después del encuentro de Lukashenka con el representante especial del Vaticano Claudio Gugerotti, que el 17 de diciembre trajo una carta del Papa Francisco a Minsk.
El metropolitano Tadeusz Kandrusewicz celebró servicios navideños en la iglesia archicatedral de Minsk. Los creyentes de la iglesia principal de Belarús saludaron al jerarca con aplausos. En su sermón de Navidad, Kandrusewicz señaló que los belarusos están celebrando la festividad en un momento difícil con la pandemia de coronavirus y la crisis sociopolítica en el país. Los nuevos desafíos, dijo, deben obligar a volver a la verdadera religiosidad. También agradeció a todos los que contribuyeron a su regreso a Belarús. Con lágrimas en los ojos, dijo que percibía lo que le pasaba como una cruz que tenía que cargar, y nunca perdió la esperanza de volver: «Dondequiera que esté, dondequiera que sirva, siempre recuerdo Belarús, es mi patria. Y hoy, cuando crucé la frontera, le pedí al conductor que se detuviera, me arrodillé, agradecí a Dios por mi regreso, besé el suelo. Esta es mi tierra, crecí aquí, quiero estar aquí, quiero servir aquí. Nunca me he opuesto a Belarús, siempre he defendido sus intereses y seguiré haciéndolo».
La misa festiva de Navidad se retransmitió desde Magilieu, y no desde la iglesia archicatedral de Minsk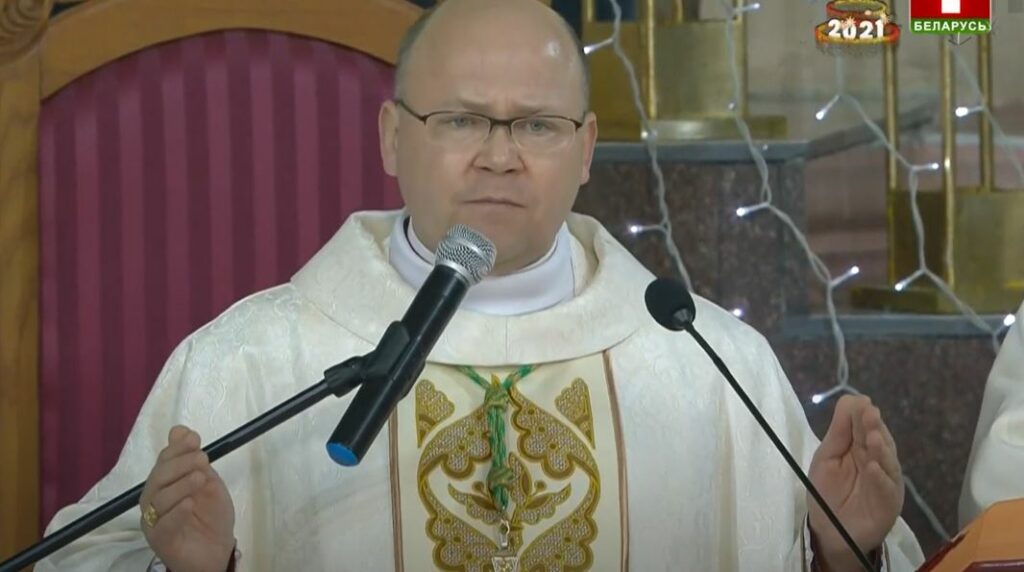 In previous years the state television used to broadcast the Christmas Mass from the Minsk Cathedral. But this year the broadcast came from Mahiliou. The church representatives said that the state television suggested that any bishop but Yury Kasabutski, who had spoken out against the intensification of repression against the Catholic Church more than once, should be conducting the Mass. The celebratory Mass was celebrated by Aliaksandr Yasheuski, Auxiliary Bishop of Mahiliou.
"Sin is the worst thing. But second most terrible thing is living in fear or in absence of peace," Bishop Yasheuski quoted St. Francis de Sales. "So much terror, violence, and repression are out there!" said the bishop about the current situation in the world. "This year's holiday is not very joyful," he also noted. "The whole world has been shaken by the coronavirus pandemic. And Belarus has also been shaken by a socio-political crisis. Can the celebration be truly full of joy if a family table has empty seats or when a family is in mourning?" asked the Bishop, hinting at the political prisoners and people killed on the streets of Belarusian cities. "May peace come to our country and God's truth, justice, and freedom prevail. In order to become a nation you need to engage in a dialogue, face to face and shoulder to shoulder," said Bishop Yasheuski. "May Belarus become a country of peace and mutual respect again," the Bishop emphasized.
The accounts of the sanatorium "Belarus" located in Lithuania were frozen under the EU sanctions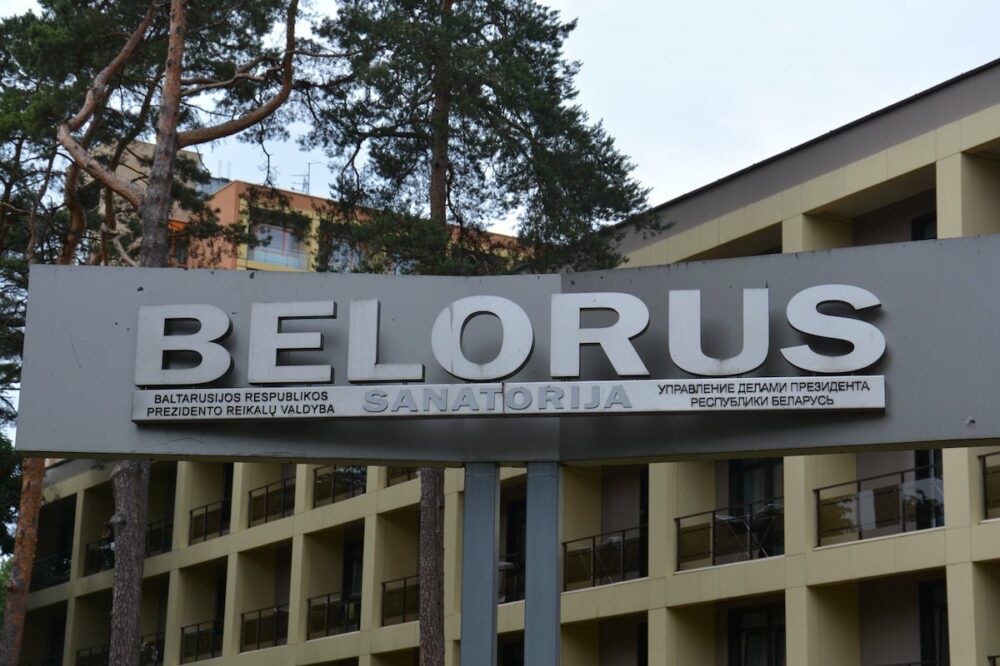 The accounts of the sanatorium "Belarus", which is located in Druskininkai (Lithuania) and is a part of the business empire of the Office of the President of Belarus, were frozen. The Office of the President of Belarus became one of the entities that were included in the third package of EU sanctions, which was approved on 17 December 2020. The sanatorium's accounts were opened in the Swedish Swedbank, and the bank had frozen the accounts. The blocking of the accounts came as a surprise to the sanatorium's management. The sanatorium has 393 employees. It is regularly ranked among the five largest taxpayers in Druskininkai municipality.
American partners refused to do business with LLC Synesis that came under sanctions
American GSD Venture Studios, as a firm supporter of civil and political rights, refused to cooperate with the Belarusian company Synesis after the latter was added to the EU sanctions list. European officials are confident that Synesis supports and benefits from Lukashenko's regime. Synesis has been working on a cloud-based public safety monitoring platform Kipod for a few years. It became a basis for the implementation of the Republican system of public safety monitoring in Belarus. The technology developed by Synesis helps Belarusian security forces identify participants of the street protests. Mikola Dziadok, a political activist, was detained and tortured by the security forces with the help of this technology. The state propaganda outlets published a video of him confessing. The video shows that tear gas was used against him.
---
For more information on the events of 24 December 2020, please visit Infocenter Free Belarus 2020: