27 August 2020, 10:06 | KYKY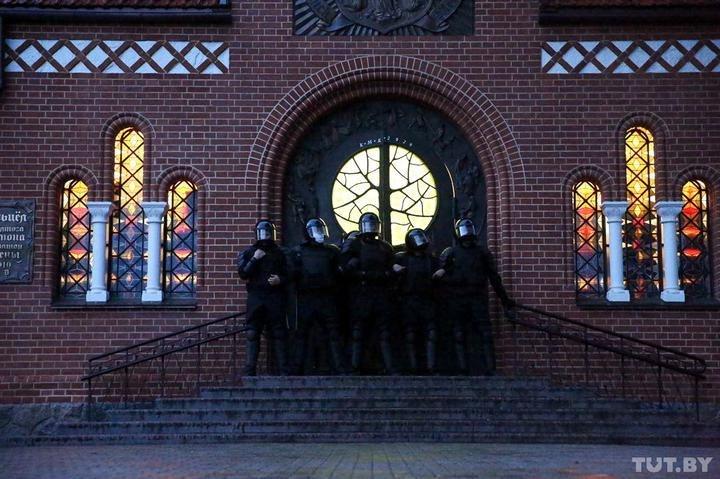 Yesterday, during the crackdown on Independence Square, security forces blocked the entrance to the Red Church – people in black held the door of the church closed for about 40 minutes while parishioners, demonstrators, and journalists were inside.
The head of the Catholic Church in Belarus, Archbishop Tadeusz Kondrusiewicz, did not stay silent. He made a strong statement about the actions of the security forces. We quote:
"While abroad, I was deeply saddened to receive scant details about the blocking of the entrance and exit of the Minsk Red Church by armed militants of the OMON riot police on 26 August.
"In accordance with the Constitution of the Republic of Belarus, people have the right to pray, freely entering and leaving the church for this purpose. Blocking the entrances to the church and preventing the free entry and exit of people is a gross violation of the rights of believers and religious liberty.
"In connection with this incident, I fully support the statement made in my absence by the Vicar General of the Minsk-Mogilev Archdiocese, Bishop Yuri Kosobutsky, and as Chairman of the Conference of Catholic Bishops in Belarus, I declare my strong protest against the unlawful actions of the security forces, whose purpose should be to protect the fundamental rights of citizens, including the right to freedom of religion, rather than to hinder their implementation, guaranteed by the legislation of the Republic of Belarus.
"Inadequate and unlawful actions that took place on the territory of the Church of St. Simeon and St. Helena must be investigated, and the perpetrators must be punished in accordance with the legislation of the Republic of Belarus.
"These and similar actions of law enforcement officers do not help to relieve tension to bring about the early restoration of peace and harmony in Belarusian society, while in the meantime, the Catholic Church calls for reconciliation and dialogue in order to resolve the unprecedented socio-political conflict in our country."
Let us remind you that yesterday, Bishop Yuri Kosobutsky also told the state bodies of Belarus and the leaders of the security forces that such behavior is unacceptable and illegal.
"Blocking the entry and exit of people contradicts the constitutionally guaranteed right of citizens to freedom of conscience and religion; it offends the feelings of worshippers and goes beyond the laws of man and God," declared Kosobutsky.
His appeal appeared at 21:37, when the people had not been released yet. He demanded that the entrances to the church be immediately unblocked and no one be prevented from entering and leaving it. Bishop Yuri Kosobutsky's protest was supported by the bishop's vicar of Mogilev and the Mogilev region, Bishop Alexander Yashevsky. The hierarchs hope that similar actions of law enforcement agencies on the territory of places of worship will never be repeated.