20 September 2020, 22:31 | Alesya Pesenka, LADY.TUT.BY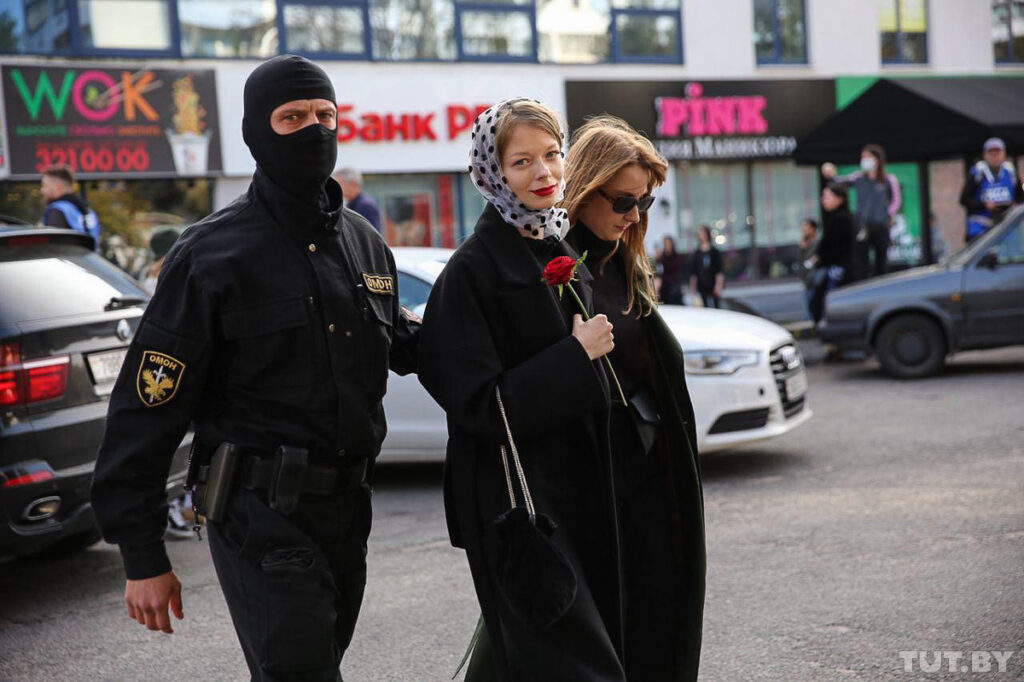 "Style always comes first," laughs 23-year-old Aliaksandra Varabyova. And then she seriously adds that aesthetics for her, a culturologist by training and a photographer-slash-stylist by vocation, is an important part of life. Yesterday, Alexandra's stylish photo where she, accompanied by a riot police officer, is walking with a smile towards a prisoner transporter vehicle, went immediately viral over all social media. TUT.BY found the girl, who was released from the Mascouski police department yesterday, and talked about the reaction to the photo, the women's movement, style and detention.
"What can I tell you about myself? I was born in Minsk, graduated from BSUCA (Belarusian State University of Culture and Arts), I am married and have a dog. I work as an SMM manager and website editor. I style photo shoots and advise my clients on their wardrobe. Sometimes I am also a model for digital advertising campaigns. My style can be described as retro-minimalism. I always dress like this, even when I walk my dog or just pop out to a store to buy some bread. I didn't dress up for the march on purpose, although some girls were wearing shiny and glittery things. But I was wearing my usual clothes. My only thought was to put on a warm coat, so that I would not get cold in case I was detained."
Yesterday, together with a friend, Aliaksandra joined a Shiny March column at Kamarouskaya square. The friends walked up to the Iceberg shopping center only to find out that detentions had already begun – the bikers who had come to support the women's rally were being arrested.
"Really soon, right next to the shopping mall we were surrounded by the riot police and some unidentified men in olive uniforms. The girls made a chain, I was in it too, pressed against the wall. The riot police officers were trying to push us back and for some moment I got a bit scared I might be trapped in some kind of a stampede. It didn't happen though as the riot police started just grabbing the girls out to break the chain."
"We were singing, screaming, asking not to harm us. Then a uniformed announced we all were going to be detained anyway, so it could be either rough or nice. My friend and I glanced at each other and we made up minds to just go 'nicely'. We were if not the last, but second-to-last to be detained. An officer came up to us and said, "Follow me, miss." He was pretty polite when walking us to the van. I was holding my friend's elbow and the office was lightly holding my shoulder. There was no physical pain, nobody was twisting my arms behind my back. At some moment I saw a reporter and thought I had to smile. Well, at least I could get a lovely souvenir picture later on (laughing). Little did I know that this photo would be so promptly published and go viral."
Once the photo appeared on TUT.BY and social networks, Aliaksandra received a call from her husband. The girl hadn't told him yet she'd been detained, but her phone had not been taken from her in the van, so she answered the call.
"I was hoping they would let me go, so I didn't immediately call my husband or family. But it turned out they found out about the detention as their messengers were being flooded with the photo sent by our friends," the girl says. "Fortunately, there were no serious reasons to worry because we were treated politely. The attitude towards the detainees, in my opinion, was rather sarcastic, mocking even. It was clear that we were not taken really seriously, kinda like What are you aiming at achieving with your little flower protest? attitude. There were some officers who complained of having a hard time being bullied. But I personally have never said or written anything offensive to any of the police officers."
Aliaksandra and her friend were taken to different prisoner transporter vehicles, so they ended up in different police departments. There, the girl had a conversation, was issued a warning and had her fingerprints collected.
"They asked me what I was doing there. I replied I was walking," the girl recalls. "No force was used against me. I don't know, maybe to some extent the idea of their own masculinity kinda stops them from being violent toward a woman 'cause beating a girl has always been viewed as shameful in such rather patriarchal groups as law enforcement agencies are. On the other hand, as it has been proven, there are those who do not care at all. But I always do hope that there is a human hiding behind a mask, and no human can enjoy beating another human."
The girl says she often hears the opinion that peaceful women's marches are aimed at protecting men who suffered from violence. She believes that this is not entirely true.
"Women attend these rallies because they feel the power to change something together. We did not just stand up for men, women want to show solidarity with each other, women want to have their viewpoints heard, and to condemn what is happening in the country's political life. I don't think love can defeat violence, that's utopian. Only being united can stop the violence. People's unity can take various shapes – someone is taking the streets to protest, someone is posting and sharing on their social networks, someone is volunteering near police stations. The key is to be involved, not to stand aside."
When the girl was released, her husband was meeting her. Aliaksandra says he disapproves of her participation in women's marches.
"When at the police station, I was not scared. I was emotionally prepared to be sent to Akrestsina, to be trialled, and so on. It seems we were very lucky our yesterday's story ended this way."
"After I was released, I saw the photo on the Internet and Instagrammed it too. I am very happy it was captioned with "Vogue", that a variety of artistic interpretations has been popping up. Fashion and style are looked upon as something hothouse-flowery, pampered, something glossy, refined, but the truth is it is life at its brightest."
The girl is proud of her Instagram profile, and she meticulously works on its promotion, posts the outcomes of her work as a stylist, photographer, and model. She says she usually shares with her more than 10,000 followers her opinions on aesthetics and style, on what being feminine means to her. However, since June she's been openly expressing her thoughts on political events in the country.
"I know my audience is not vast, but I truly love my followers. They are really supportive and I like talking to them, sharing my projects. It is an important commercial tool too, since most of my photo or style clients find me on Instagram."
On Instagram, Aliaksandra and her friend Olga Bigel are also building up SEPARATIO, a women's clothing brand.
"My friend and I have a lot in common, both in type and personality. We kept hearing we are too complicated, kinda "uncomfortable" ladies. And one day a guy told her, "Olya, you are so separative!"

"When I heard that, I exclaimed, "Isn't that beautiful?!" So, this word became an inseparable part of our brand's DNA, it reflects how we see this world. Separation is the term used to define the process of a child's breakaway from their parents. A child is believed not to be able to reveal their true personality, grow up to be an adult unless they are psychologically separated from their mother and father. At the same time, we support feministic ideas of being separated from male opinion-imposing and suppression. For us, feminism is mainly about freedom, choice, risk, development and growth."
The girls create simple classic clothes – pant suits and dresses with the imprint of so beloved by Aliaksandra retro.
"When I was about 16 and fashion-experimenting, I realized I liked this particular style a lot, so I started exploring it. I know retro is not everyone's favourite, some people say my style is weird, but I don't really care. That is my way of expressing myself, of feeling comfortable. Someone on social networks wrote I'd tried to attract more attention with my appearance at the protest, to hype, whatsnot. But the thing is I go for a walk like this every day. We live once. I want beauty to follow me every single day, not just on special occasions."