Holocaust survivor retiree spoke about her detention in Minsk
7 December 2020, 20:34 | Iryna Ramaliiskaya, Current time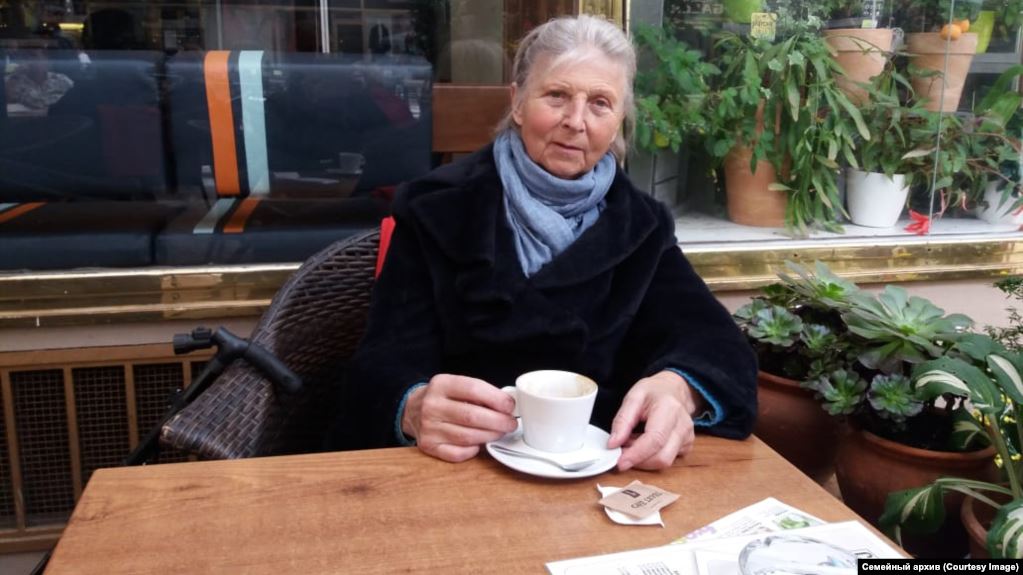 On 6 December a traditional Sunday march against Alexander Lukashenko was held in Minsk. At least 300 people were detained. Among the detainees was a 79-year-old resident of Minsk, Larysa Sous. She was held at the police station for more than six hours. An administrative protocol was drawn up against her for participating in an illegal protest action. Now she faces a trial.
As a child Larysa Sous survived Holocaust. She told Current Time that she usually goes to the March of Pensioners in Minsk, which takes place on Mondays. But she usually does not take part in Sunday actions. According to her, she was detained while she was on a stroll, but she witnessed how riot police began to detain the protesters.
Please turn on subtitles and choose your language in the video settings.
"The first thing I will say is that I was less worried than my family. I am already so old that I need not worry, and I think more about them than about myself. About them and about the whole country.
How it happened. I participate in all Pensioners' Marches. I do not go to other marches, because my health does not allow me, due to my age and the operation that I had not so long ago. But I need to walk a lot, so I stroll around my neighborhood for several hours every day. And on this day – yesterday – I, like every other day, just went out for a walk. I walked one big circle – several streets – I already turned onto the second circle, approached the new metro station "Kavalskaya Slabada" – it is the corner of Varanianski and Zhukouski streets – and saw people there. I would not say that this was a very large group of people, but a decent one.
I stood for a while, just looking and was about to leave, when suddenly I heard people shouting: "They're coming, they're coming!" People began to disperse, and in no time a whole slew of riot police in black clothes jumped out. There were so many of them, and they had automatic weapons. You can imagine an older person's reaction. People ran into the arch entrance of this corner house followed by the riot police. And then I heard shots from there. For an elderly person who has children and grandchildren, has already lived a life, you simply cannot just go through it, and standing there calmly is, of course, impossible.
The women stayed, I didn't run. I never run anyway. I stood there, and when they began to take the tied up people out of this arch with their hands behind the back, I even said to someone nearby: "Look how many people are leading one person with his hands in handcuffs" (I thought that they were handcuffs). Then there were more and more brought out. And, of course, the reaction was everyone shouting: "Fascists!" Naturally, seeing something like this, it is impossible for a normal person to just calmly live through it.
I think that every woman of my age who has children and grandchildren would have probably done the same. I began to shout: "Take me away! Why do you take them? Take me!" They led [the people] into a bus – I followed them. And then one of the leaders of the OMON said: "Take her." And they took me by the arms into this minibus.
I noticed that they smelled of vodka – apparently they just had a drink. Today I rubbed my hands with vodka – it was the same smell. Not the morning after breath, but vodka. Perhaps they had a drink and ran out straight after. That's my opinion.
So, we were thrown into a paddy wagon, we were few people. There was one woman who stepped out and shouted: "Where is my husband, where is my son?" She was out with her husband, met their son and witnessed how the son was attacked. She tried to protect her son, but was immediately seized. And what happened to her husband and son she did not know. She screamed all the time.
There was another man with his hands tied behind his back, he was sitting in front of me. These were not handcuffs. Hands were tightly tied with some kind of a plastic cord. And he kept asking: "Untie me, I can't sit like that anymore." I was told that these can only be cut through, nothing else would work. His jacket was torn and he had a completely swollen eye. It happened literally within a few minutes, his eye swelling over. It is clear why this was happening: of course, this man was beaten. There was someone else in the front whom I did not see. And about five or six riot policemen were in this minibus.
Then they drove us around. I don't know where they took us. And they threw us into a bigger bus, where there were many people, that one was almost full. And then all of us were brought to the Aktiabrski police station. They took us down to a basement somewhere into an assembly hall and sat us down. And there were many people and among them were those who were beaten up. Most were not beaten. They were probably just taken for the quantity, but some of them were beaten. A young man sitting in front of me said that they fired at him with these weapons, probably with rubber bullets. It passed near his ear he said: "Everything was on fire, just one centimeter in and my head would have been blown away." And his lower thigh was shot through. For more than four hours that he was there blood kept dripping to the floor. He was sitting in front of me, I saw that his blood dripping.
Finally they realized that I was of old age. They collected everyone's data for everyone: year of birth, place of work, occupation. And they realised that in a few months I am 80 years old. I am a handicapped person of the second group. Probably, it played a role. As everyone's details were noted down we heard what the people were saying. There was a young man, a maxillofacial surgeon at a children's hospital. There was another doctor. There was also a graduate student from China. Almost all of them had higher education. There were no scum, no dregs, no drunkards. There was one drunk man who was probably taken in by accident. He could see what was going on in there he could say something, I suppose. He was the only drunk person among all the people. But they apparently needed to fulfill a plan so they grabbed him too.
When I was out walking I was not ready for this as I was just taking a stroll. It was they who grabbed me like everyone else. But it's another matter when I go to marches. There they do not touch pensioners. Didn't touch at least. I thought if they'll detain me for some days so be it. But what can one do about it? It's the same for anyone.
Sometimes people say to me: "You are a heroine." But to me it seems that I am doing what any person at my age should do, there is absolutely no courage or heroism here. This is a normal reaction to the lawlessness, to the terror that is now taking place in the country. What else can you do? Only protest peacefully like that. So they detain you for some days, so what? I am 80 years old, if I die, so what? It's no big deal. I'm not doing it for myself, I'm doing it for the young ones. They have a chance to live differently. They will not want to live like this. The world is already changed, it's a completely different world.
And these people refuse to understand that the world is different, they all want to live in that old world order. [As in the song:] "My dear country is wide, I breathe so freely." We believe that this is the case. And then, when I read Solzhenitsyn, when I read many similar books, I [saw] everything in a different light. Any person who wants to know, who reads, he will no doubt understand everything and will know how to do right. What is good and what is bad.
In the first days of the [Second World] War when Minsk got bombed my mother had to walk by foot with me, a three month old, and my brother who was four and a half, to the village. They walked and by the time they arrived Germans were already there. A few weeks or a month later there was an order for all Jews to gather in the ghetto not far from there. My mother was Jewish. The whole village knew about it. Mom took us and wanted to go to the ghetto with the children so as to not endanger the family of my father's brother. But they caught up with her and said that they would keep us safe, asked her to stay, saying that we would stay alive as long as she is alive. And so she raised us like this throughout the war, and the whole village knew this, and not a single person betrayed us. What does this convey? This suggests that Belarusians are this type of people. Not a single person betrayed us although there was a reward and they could have been executed for harbouring.
My dad fought against the Nazis and was wounded by Stalingrad. And when after the war the whole family lived in Minsk I remember well how another house was being attached to our house. This was on Leninhradskaya Street. And the German prisoners of war worked there. And my dad despite the fact that his family suffered so much during the war fed these poor Germans. This means that Belarusians are this type of people.
Where did these people that capture us now come from? Are they really Belarusians? I can't even believe it. I can't imagine that. I sometimes think about it at night. How could this happen? To run just like on a safari, chase people, shoot them point-blank. Where did all of this come from? Do they really have mothers? Would a mother who found out what her son was doing, would she then recognise him as a son? I would think not. It can't be. This is worse than fascism. It is worse, extinguishing your own people this way. I have a right to my opinion."