17 October 2020 | Infocenter Free Belarus 2020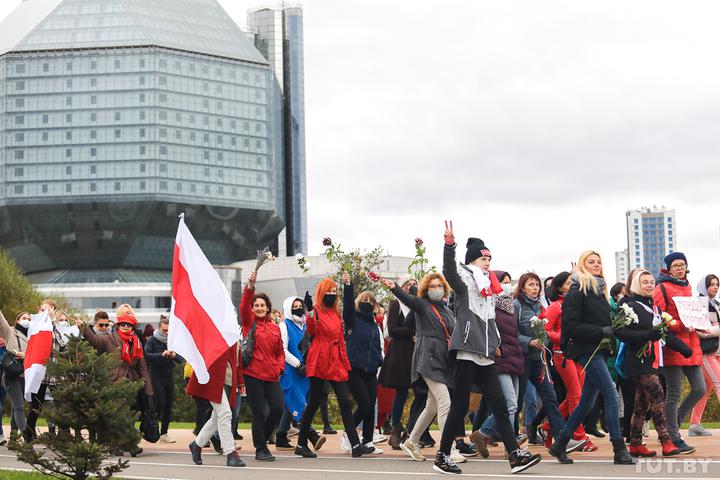 6:14 am Employees of the Hrodna "Azot" Plant published their video address in which they expressed their position against the falsification of elections. This also included the brutality, repressions and pressure applied by the management to employees with different political views and their dismissal.
8:42 am University students are taking part in a Youth March today in Minsk. Students will be gathering at their universities and will march to the centre of Minsk in columns.
8:55 am Sviatlana Tsikhanouskaya spoke to the Daily Telegraph journalist Nataliya Vasilyeva about her life journey and what's next for Belarus. "I won't return to the kitchen… I can't betray the hopes of a nation," says the Belarusian opposition leader.
10:05 am The Belarusian state TV has recognised the existence of political prisoners in Belarus for the first time during Lukashenko's rule. The title of the top propaganda TV programme "Editors' Club" includes the words "Lukashenko met with the political prisoners".
11:08 am Sviatlana Tsikhanouskaya has expressed her support for the Women's March and Youth March which should take place in Minsk today. "Solidarity of women and students is an enormous and bright force. Let the entire city be lit up by this force today."
11:36 am Saturday classes have been cancelled in Belarusian universities. This is probably due to the student protests planned for today. How cancellation of classes can prevent students from getting together is a mystery. In previous years, during students' protests, the classes were extended.
11:52 am 45% of Belarusian start-up companies made the decision to move their businesses from Belarus, as reported by Euroradio.
12:23 pm The Women's March started from the Dana Mall shopping centre and began moving towards the city centre.
12:52 pm It became known that yesterday, the homes of Pinsk activists Vyacheslav Perets, Valery Romanovich and Oleg Dzyadzerka were searched.
12:53 pm The Women's March keeps moving towards the centre of Minsk; Nina Bahinskaya, the Belarusian protest legend, joined them. The security forces are watching the march, but so far they are not carrying out arrests or taking any other active steps; they are only filming the march participants.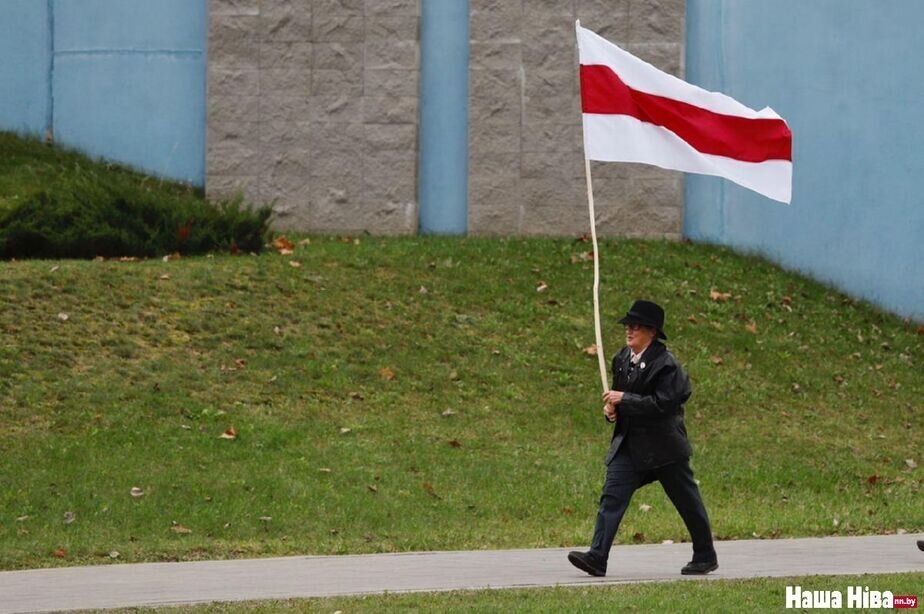 12:57 pm The Youth March participants are gathering at the Belarusian State University of Informatics and Radioelectronics, Minsk State Linguistic University, and other Minsk universities.
1:10 pm The student column was dispersed; people are being arrested near the Palace of Arts and more than 10 people have already been detained. Students tried to block the road, but did not manage to do it.
1:10 pm TUT.BY photojournalist Vadim Zamirovsky has been detained.
1:17 pm People who have posted photos or videos from the protests on their social media are now all being summoned by the police.
1:28 pm A RIA Novosti journalist covering the students' march in Minsk has been detained. He was released after a document check.
1:30 pm Onliner journalist Darya Spevak was detained during the dispersal of the student demonstration.
1:34 pm TUT.BY journalist Vsevolod Zarubin has been detained.
1:40 pm The participants of the students' march are being hunted down in courtyards.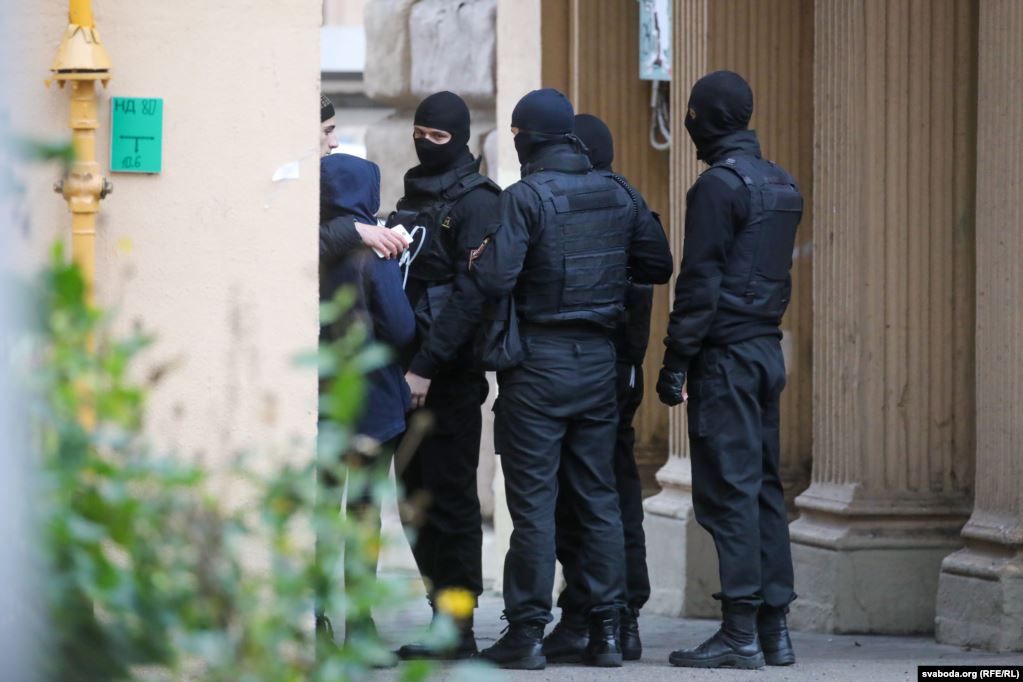 2:07 pm Lawrence Meredith, head of the Eastern Neighbourhood Department at the European Commission: If the people are victorious, the EU will provide Belarus with enormous economic support. The EU remains committed to finding a way out of the crisis in Belarus, and imposing sanctions was a reaction to the current events.
2:27 pm The Women's March ended at Yakub Kolas Square. No detentions were reported.
2:40 pm Actors' portraits were removed from the walls in the Yanka Kupala Theatre. The actors, together with artistic director Nikolai Pinigin, left the theatre in protest against the politically motivated dismissal of director Pavel Latushka.
2:43 pm According to the date of human rights activists, security officials detained at least 15 people during the Youth March; the list is constantly being updated.
3:00 pm Minsk residents have formed a solidarity chain on Sportivna Street.
3:05 pm Over 20 people have been detained in Minsk today. The detainee list is published on the Viasna Human Rights Centre website. Among detainees, there are journalists again: Darya Spevak of Onliner and Vsevolod Zarubin of BelaPAN.
3:10 pm A pro-government march "For Peaceful Belarus" is taking place in Mahiliou. The official messages do not mention the names of its organisers. Passers-by are taking pictures of the march and saying, rather bitterly: "Why do some events get dispersed, and others get to go freely?"
3:15 pm In Minsk, Victory Square near the Eternal Flame is surrounded by metal barriers and patrolled by several dozen armed security officials in blue uniforms and balaclavas. The underground access to this part of the square is closed as well.
3:20 pm Aliaksandr Pylchenka, the lawyer of Viktar Babaryka and Maria Kalesnikava, got his lawyer's license terminated from 16 October. Now, he officially has no right to represent his clients.
3:35 pm Roman Lashkevich, the spokesman of the Municipal Department of Internal Affairs, commented on today's detentions of journalists:
"At the moment, no one is talking about arresting journalists. Some journalists were taken to one of the district police departments for investigation; their documents are being checked."
3:55 pm Nina Bahinskaya felt unwell after the Women's March. She was taken to an ambulance – even there, she went holding the white-red-white flag.
4:00 pm As a @nashaniva correspondent reports, Nina Bahinskaya received medical assistance and returned to take part in the Women's "Demarche".
4:10 pm Human rights activists already know 29 names of people detained during the peaceful protests on 17 October. These are mainly students.
4:15 pm In Hrodna, the drama theatre actors' meeting is taking place again under the surveillance of a prisoner transporter and two police buses. So far, there have been no detentions.
4:29 pm The Women's "Demarche" participants keep walking around Victory Square. The girls started giving flowers to the drivers who greet them with honking.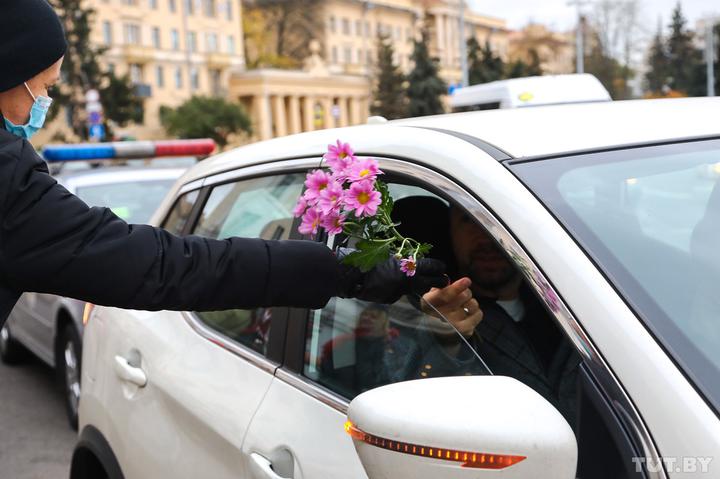 4:38 pm The Municipal Department of Internal Affairs spokesman, Roman Lashkevich, said that administrative cases have been opened against all journalists detained today during the student march.
4:40 pm Unknown individuals broke a car window which had a poster with the Article of the Criminal Code for abduction displayed in it.
4:55 pm On 16 October, Zhodzina residents held a rally against the persecution of peaceful protesters. They walked through the city streets with their hands behind their heads, like prisoners.
5:00 pm Belarusians of St. Petersburg gathered at the Belarusian Embassy to show support for their countrymen. Another protest against the dictatorship took place today in the centre of Helsinki.
5:05 pm One of the Women's Demarche groups, with Nina Bahinskaya in the lead, paid tribute to the victims of the regime at the Red Church.
5:30 pm As of 5:30 pm, there are already 38 names on the detainee list, compiled by the unregistered Viasna Human Rights Centre.
6:10 pm A Hrodna bakery refused to bake a cake "in support of the OMON (riot police)". The next day, grateful residents of the city bought everything there.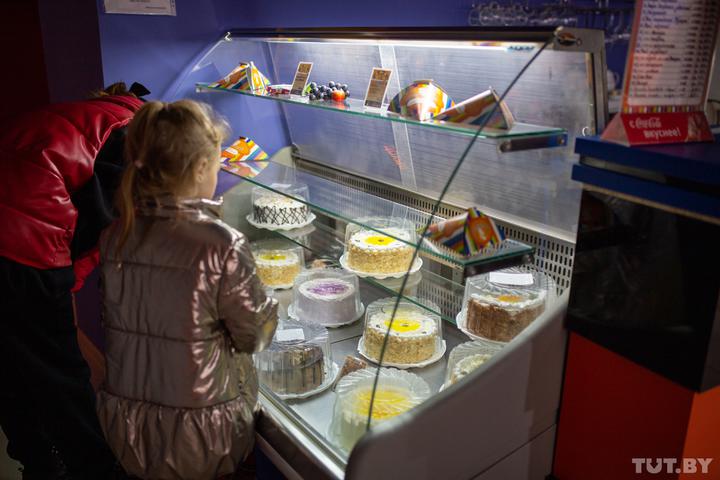 6:20 pm The detained TUT.BY and BelaPAN photojournalist Vadim Zamirovsky is accused of "participation in a mass rally" and "disobeying an official". This was announced by his lawyer. It is likely that Vadim will remain in custody until the trial, which will take place no earlier than Monday. Mr. Zamirovsky has a young child.
6:33 pm All the detained journalists were transported out of the Oktyabrsky district police office and presumably taken to Akrestsina detention centre.
6:49 pm In Minsk and throughout Belarus, there are local activities: solidarity chains, sports competitions, lectures, courtyard tea parties and even concerts. It seems impossible to list everything.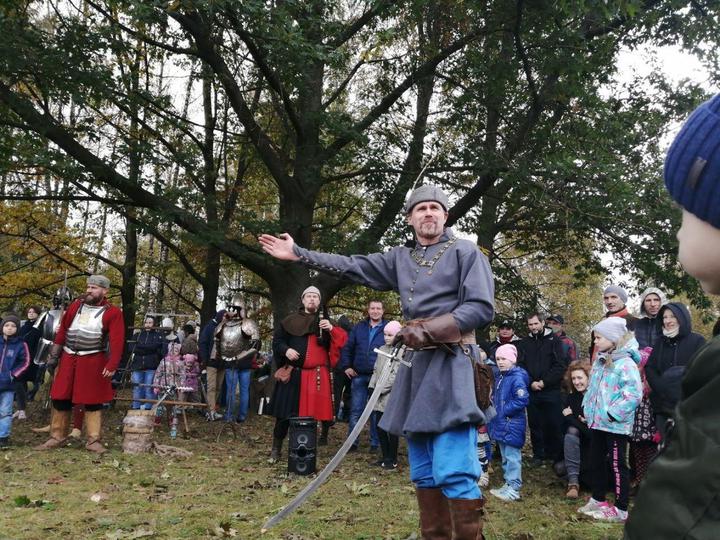 7:30 pm Actions of Solidarity with Belarus were held in Helsinki, Riga, Lviv, Washington, Rome and St. Petersburg. Moreover, in St. Petersburg, solidarity rallies have been held every day since 9 August.
7:44 pm Today's march in support of Alexander Lukashenko in Minsk attracted about 20 participants.
7:49 pm Throughout the past two months, a British film crew has been making a film about Belarus and Belarusian protests for Netflix. The protesters, the Coordination Council and Sviatlana Tsikhanouskaya are the main protagonists. Filming takes place in Minsk, Kiev and Vilnius. The crew members have already been detained in Minsk once, as Franak Viačorka, adviser to Sviatlana Tsikhanouskaya on international affairs, informed in his Telegram channel.
7:54 pm The number of people detained for participating in protests against election fraud since 9 August has reached 14,590.
8:00 pm Online meetings with Sviatlana Tsikhanouskaya were held in two districts of Minsk. One of the meetings was forcibly interrupted by the arrival of OMON riot police.
8:27 pm Lawyer Illia Salei, who has been held in the KGB pre-trial detention centre for the last few months on charges of "calling for actions to breach national security" and attended the recent meeting of political prisoners with Lukashenko, has been at home since Friday evening. TUT.BY learned this from his neighbours and other informed sources. Any other details on the status of the lawyer are not yet available.
8:35 pm NEXTA Telegram channel published a report which indicates that currently, one of the main tasks of the Ministry of Emergencies is to drive around the city and look for white-red-white flags in windows so that they can then be removed.
9:50 pm Since the onset of the 2020 election campaign in Belarus, more than 350 criminal cases – against participants in the presidential race, activists, and protest rallies – have been initiated. Viasna Human Rights Centre is aware of 312 people who have come under criminal prosecution; the list is constantly being updated. 91 of those on the list have already been recognised as political prisoners.
9:54 pm Viasna Human Rights Centre has published the names of 44 protesters who were detained at today's student march.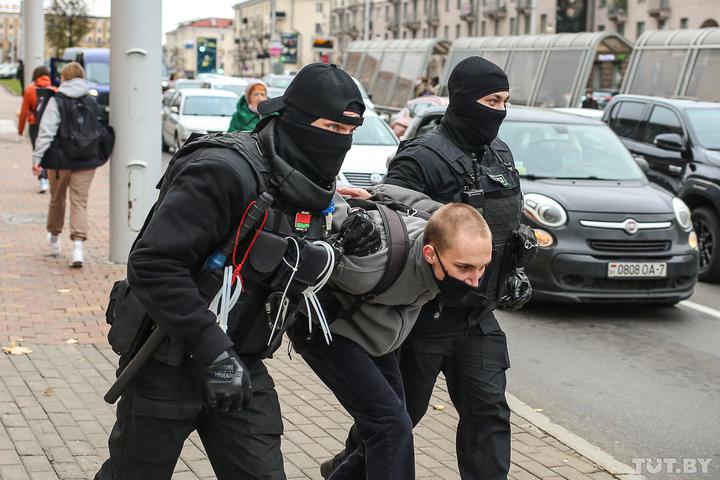 10:30 pm In Hrodna, security forces disrupted a charity event held by actors and musicians in support of the children's hospice. Hospice director Olga Vialichka was recently detained and fined for taking part in a protest.
10:51 pm In its evening broadcast, the main Belarusian state TV channel showed a screenshot from a chat with obscene threats to the participants of the rallies. In particular, one of them read: "We will fuck you up, you bastards." The screenshot was shown on the socio-political TV show "Panorama" without any warnings about the age rating of 18+.
It should be noted that obscene language on TV in Belarus is prohibited by law. But, apparently, the law in Belarus does not apply to everyone.