Elderly people face violence, but continue to protest; "Miss Belarus" is subjected to severe trials in prison; Sviatlana Tsikhanouskaya's children think that their father is dead
30 November 2020 | BYHelp-Mediagroup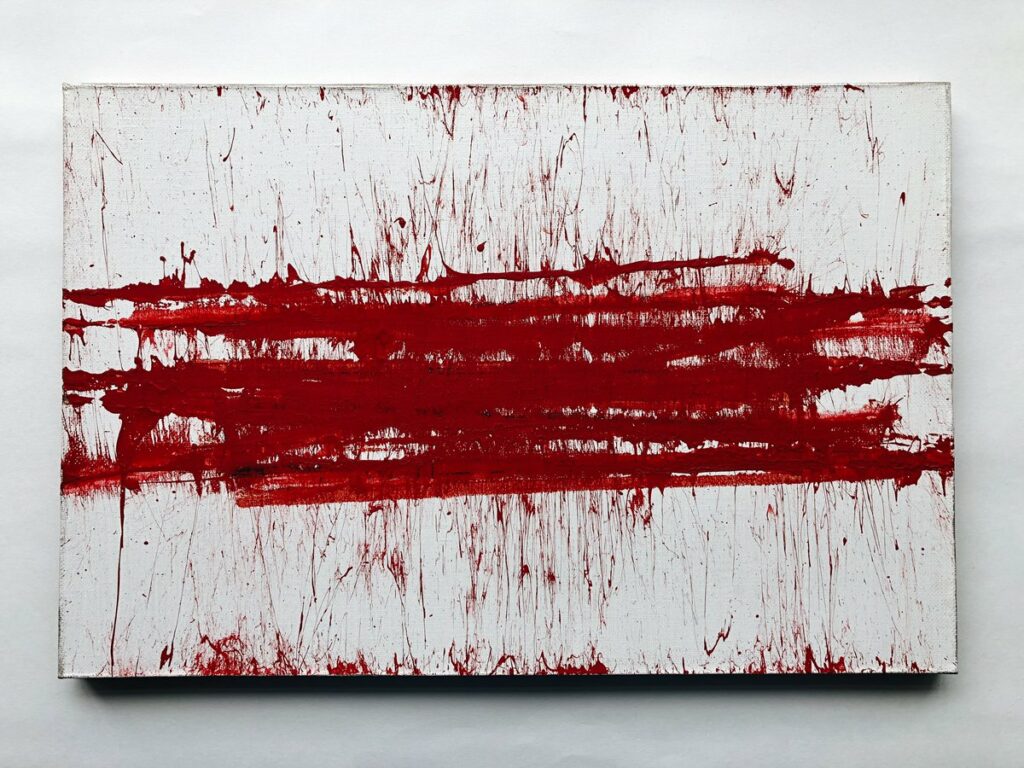 The March of Wisdom took place in the capital, a number of people were detained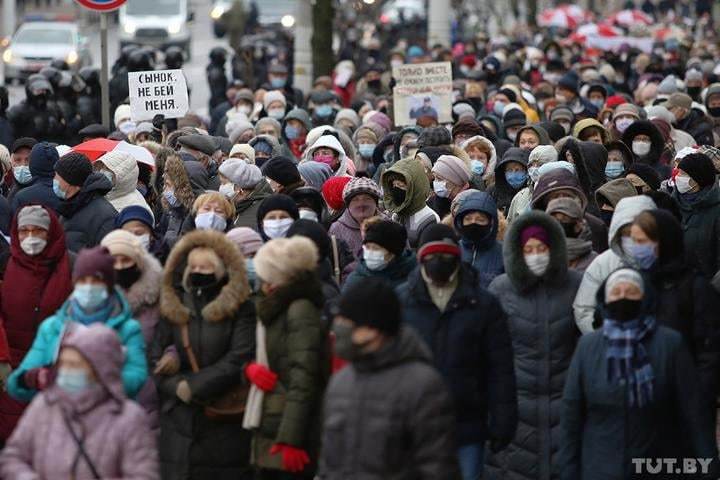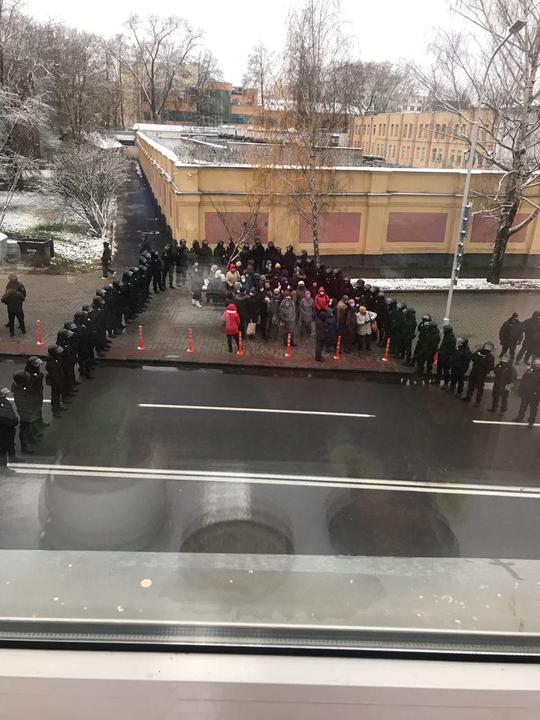 On Monday, 30 November, Belarusian seniors, as usual, took it to the streets of different cities of Belarus to condemn the violence that is now taking place in Belarus.
The biggest procession, as always, took place in Minsk. This time, the law enforcement not only pushed aside peaceful elderly people to prevent them from passing but also surrounded them, literally taking them hostage. The elderly had not been released until everybody's personal information was obtained. Several participants complained about not feeling well and an ambulance was summoned. An unknown gas was used against other groups of protesting seniors. "Come on, work hard on these people so they never come out again," state the conversations among government security forces that got intercepted and were leaked online.
Viasna Human Rights center reported that at least 20 people were detained at the retirees' march on Monday 30 November.
Seniors together with young people at the March against Violence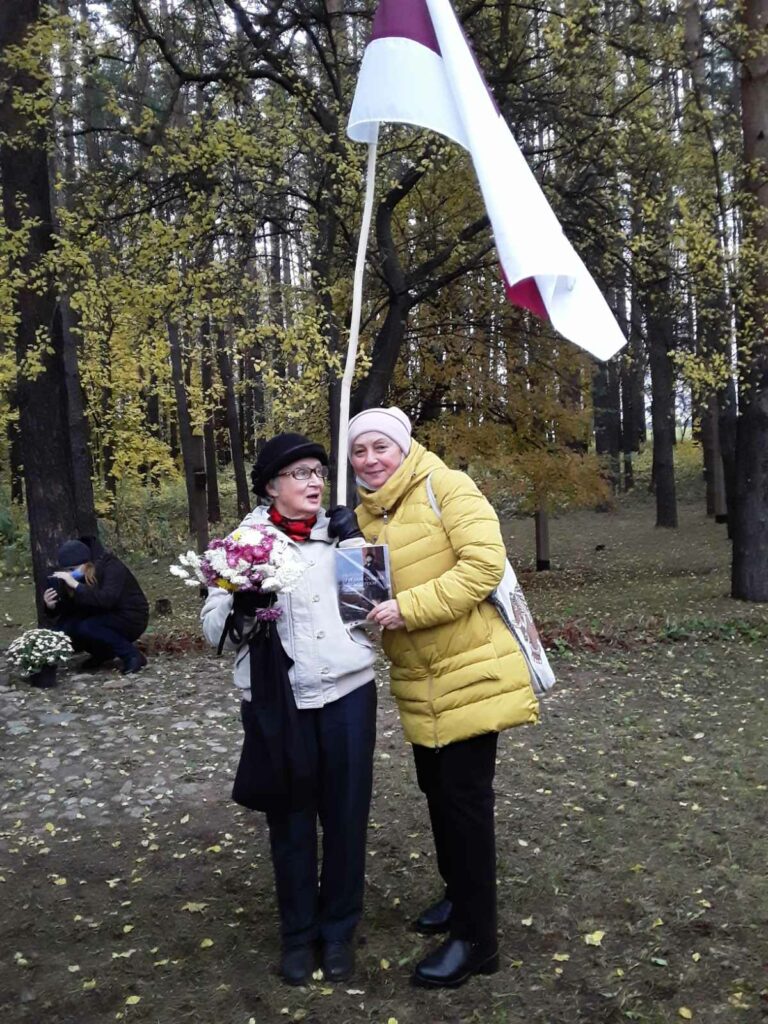 Today, a 72-year-old retired man was sentenced to 5 years in prison. The judge considered such punishment to fit the crime because the elderly man was fighting off the riot policeman while being taken inside a prisoner transport vehicle. "At the moment of arrest, the security officer was hit in the face at least two times… Bodily injury that did not result in short-term health damage or minor persistent disability," as stated in the case notes. The senior will not be sent to a correctional institution but will serve his sentence under home arrest.
61-year-old Nina Pryvalava spoke in an interview about her participation in protests, detention, and arrest. Nina had worked with orphans for a long time. In August 2020, for the first time in her life, she saw how defenseless people were beaten with truncheons. She could not contain her emotions and expressed her resentment to the riot police. She was sprayed with tear gas and admitted to the hospital with a corneal burn. After being discharged, Nina continued to participate in protests because she adores modern youth and believes that the young generation should be supported by seniors. During one of the marches, when Nina was waving white-red-white ribbons, she was arrested and sentenced to 12 days of prison. The elderly woman spent this difficult time of her life in a cold cell without warm water or the necessary medications. She was released with a COVID-19 diagnosis. After her recovery, Nina was summoned to the migration service. The woman will likely be deported because she is a Russian citizen. But Nina is no longer afraid of anything. She agrees to live in the Smolensk region next to her native country. She is planning on obtaining her Belarusian passport when the situation in Belarus changes.
This is only one of the many stories of the gross injustice prevailing in today's Belarus.
The conditions of "Miss Belarus's" detention in prison revealed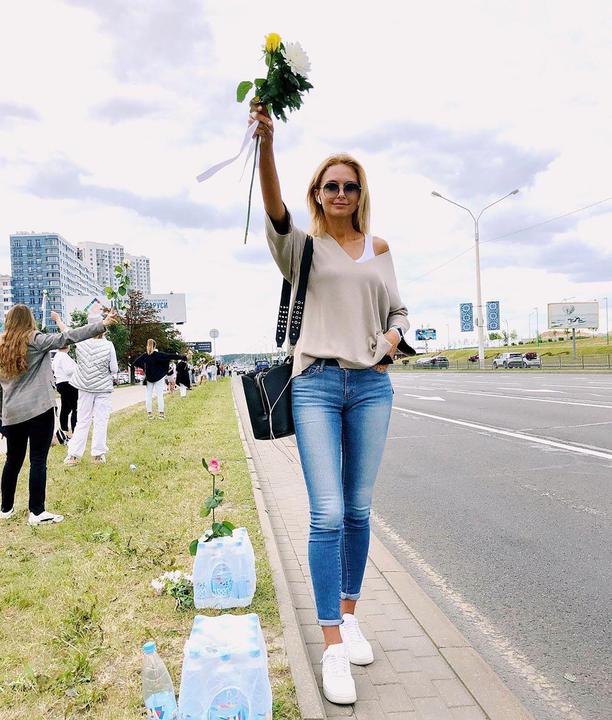 For many days, Volha Khizhynkova, Miss Belarus-2008 and a public activist, has been under arrest for her participation in peaceful protests. In total, she will spend more than a month in prison and should be released on 11 December. In the infamous Akrestsina Detention Center Volha is not receiving her correspondence or packages. During the first days of her detention, she has even been deprived of a toothbrush and toothpaste. Prisoners are not taken out for walks and are not given the opportunity to take a shower. Having a dirty mattress available is considered a luxury. One of the ways to bully imprisoned famous people is to make them share a cell with homeless people. That way the smell and the possible infestation with parasites make their life unbearable. The media reported that the first beauty of Belarus washed the heads of homeless women in the sink to fight the unsanitary conditions and intolerable smell at least a little bit. This year, Khizhynkova has openly opposed violence and spoken out in support of new presidential elections. As a result, she was forced to leave the National School of Beauty.
"Are you sure daddy is not dead?" Siarhei Tsikhanouski, Sviatlana Tsikhanouskaya's husband, and a former member of the presidential race had his prison sentence extended
Today, Siarhei Tsikhanouski, a blogger, a former presidential candidate, and Sviatlana Tsikhanouskaya's husband, has had his prison sentence extended for another three months. He will stay in detention until at least the end of February 2021.
Siarhei was detained on 29 May. Now he is charged with organizing actions that grossly violate public order (part one of Article 342 of the Criminal Code), obstructing the work of the Central Election Commission (Article 191 of the Criminal Code), and inciting racial, national, religious or other social hatred (part three of Article 130 of the Criminal Code). Tsikhanouski has been in prison for six months.
"Siarhei Tsikhanouski has been in prison for six months. For six months I have been communicating with my husband only through lawyers and letters. During the last six months, I have only heard his voice once. For six months my children have been asking me when their dad would return. Recently, my daughter asked me if I was sure her dad had not been dead. It's scary when a five-year-old asks these kinds of questions. But it is even worse that there are a lot of families that are faced with this grief," Sviatlana Tsikhanouskaya comments on the new wave of abuse her family is subjected to.
The first Belarusian online school for children was organized by the Belarusians living in Ukraine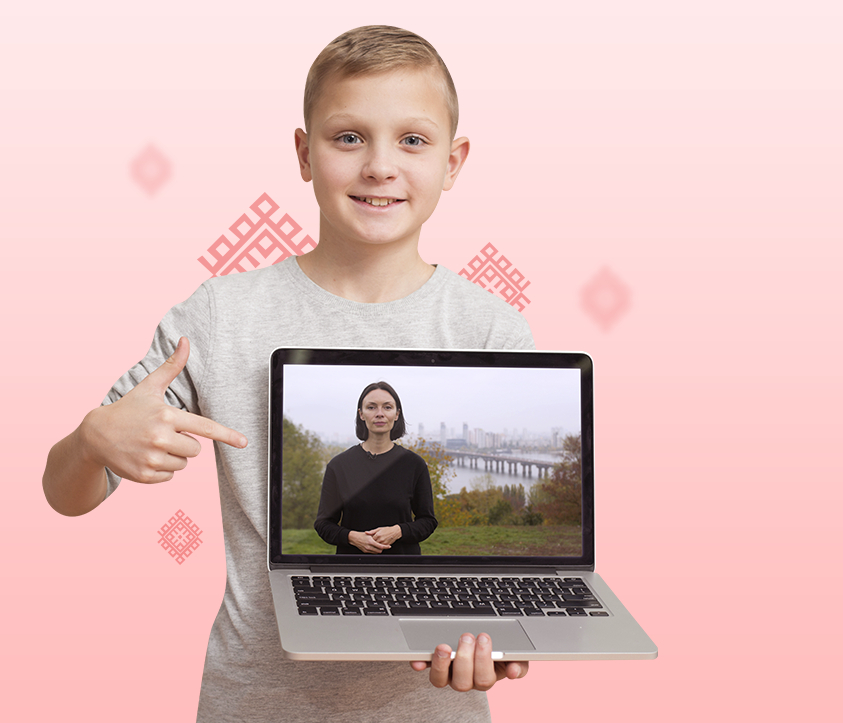 Belarusian immigrants in Ukraine organized the first Belarusian comprehensive online school. Its main organizer was Belarusian actress Anastasiya Shpakouskaya. She was forced to leave Belarus for political reasons and faced the problem with the education of her children. The school will include grades 4 to 10 with an in-depth study of mathematics, English, and Computer Science. The main curriculum for students will be taught in Russian, yet Belarusian history, language, and literature will be taught in Belarusian. Upon completion, the students will receive a Ukrainian state-recognized certificate.
According to the organizer, such a school is a necessity for Belarusian families who were forced to leave the country due to today's political situation.
---
For more information on the events of 30 November 2020, please visit Infocenter Free Belarus 2020: