She and her husband were sentenced to 15 days of detention
31 August 2020, 20:15 | TUT.BY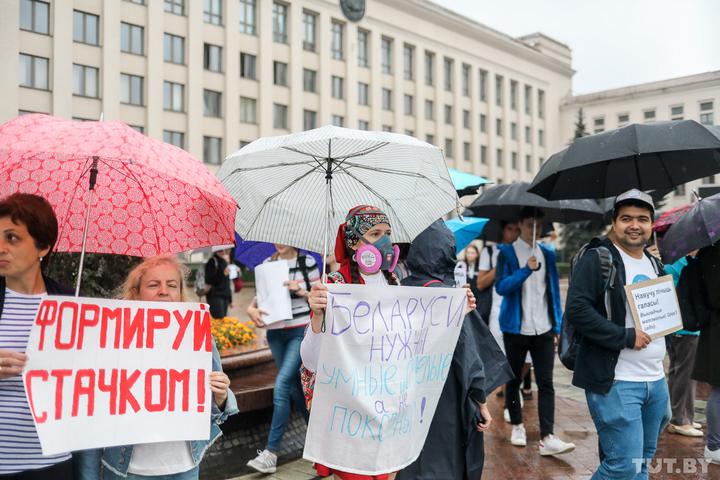 On 31 August, the Ivanovsky District Court of the Brest region heard the case of Sviatlana Volchak, a Belarusian State University (BSU) lecturer who took part in creating the university strike committee. She was sentenced to 15 days of administrative detention for taking part in an unauthorized mass event; her husband Mikhail was sentenced to the same term.
Sviatlana Volchak and her husband Mikhail were detained on the evening of 28 August in the village of Zastrujie, Ivanovsky district, in their own house that they were renovating. This was reported by BelaPAN, with a reference to Mikhail Volchak's sister, Volha.
According to Volha, Sviatlana and Mikhail had their "laptops, phones, a drone, and documents confiscated". She also said that Sviatlana is charged with taking part in an unauthorized mass event according to Article 23.34 of the Code of Administrative Offenses.
The Volchak family spent the weekend at the Ivanovsky District Department of Internal Affairs. Their court hearing procedures began at around 4 p.m. on 31 August.
Both spouses were tried under article 23.24. As a result, the court sentenced both of them to 15 days of administrative detention, as Mikhail's sister Volha told TUT.BY. In addition to that, some of their electronics devices were confiscated.
Sviatlana was charged with re-posting information about the march on 23 August to a chat where BSU students and lecturers communicated. The court classified this as a call to take part in an unauthorized mass event.
Mikhail was charged with spreading information about the event under an anonymous nickname. The nickname was seen online on 29 and 30 August, when the couple had already been detained. Mikhail did not agree with this charge, but the court considered his guilt proven and also sentenced him to 15 days of detention, Volha said.
Mikhail and Sviatlana will serve their sentences in Ivanovo, where they have no relatives.
On 27 August, Mikhail Volchak told BelaPAN that the day before, BSU lecturers who had signed the petition with political demands addressed to the university administration started receiving phone calls inviting them to the public prosecutor's office.
"Nobody has gone there yet, but some have received threats of having a criminal case started. No details were given over the phone. The call-in notice is just an invitation for a talk," he said.