Parents discuss the arrest of schoolchildren on the streets of Minsk
2 February 2021 | Rebenok.by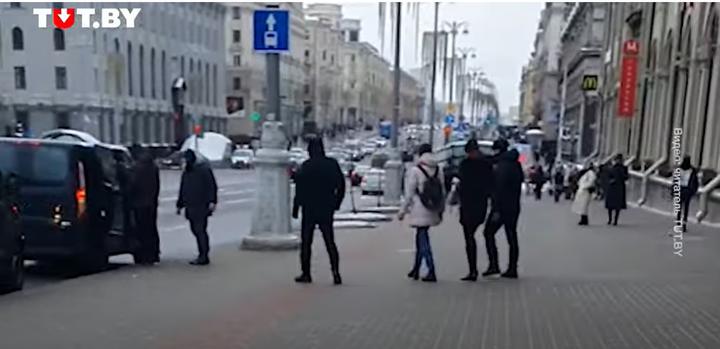 On 31 January, people were again arrested in big numbers in Minsk. Many of them say that they have not participated in any rallies. Some school children going about their business happened to be among the detainees. After overcoming the initial shock, the parents shared with us the details of how their children ended up at the police station over the weekend.
"Men were sitting on the seats, and the girls were on the floor"
Katsiaryna believes that on Sunday her daughter, along with other teenagers, "were simply kidnapped in broad daylight". A group of schoolgirls came to the city center to visit the flea market located in the Korpus Culture Center on Masherava street. From there they went along the tram tracks to the Victory Square (Ploshcha Peramohi) metro station in order to go to McDonald's.
"Each one of them is 15 years old. The children were going down the stairs to the metro station when they saw men in balaclavas running after them. The girls, naturally, also started running and went down to the turnstiles. Men were dressed in civilian clothes without any identification marks. They grabbed the children and put them in a bus. Their phones were immediately taken away. Only one girl managed to hide her phone," describes the situation according to her daughter's words Katsiaryna.
The mother is surprised that the metro workers failed to react in any way to the arrest of the teenagers. The girls were first put in a minibus where "the men in balaclavas were sitting on the seats, and the girls were on the floor". The children were moved from the bus to a prisoner transporter. Then they were taken to the Frunzenski police station.
"5 people were transported in a 2-seated 'prisoner compartment'. When children were taken to the police station, they, at first, were put in the assembly hall. They were questioned and photographed. Then, as far as I understood, some juvenile affairs department female associates came and took the girls to another office. They were given back their phones and allowed to call their parents," the mother says.
The police report provided by Katsiaryna to our editorial office details that the inspector of the juvenile affairs department had conducted the interrogation in the presence of legal representatives, a teacher, and a psychologist. But the mother denies it. According to her, she had been informed about the arrest of her child only after the interrogation.
"When I arrived there I asked them who had given them the right to carry out any actions with minors without their legal representatives. They rudely responded by asking why our 15-year-old children were walking on the city streets by themselves. It made me resentful. Should I put a 15-year-old teenager on a leash? They insisted that my child had to be escorted by me."
In the police department, Katsiaryna was told that the information on the teenagers would be transferred to the commission on juvenile affairs, and parents might be given an "administrative punishment" for parenting neglect. The teachers notified the mother that the case had been initiated.
"They have already visited my youngest child's school, asking questions about our family and children. My other daughter goes to a different school, a gymnasium in the city center. Her counselor informed me that they had called the school the previous day, demanding to see our children's files urgently. She had to prepare these in a hurry."
Katsiaryna says that although her daughter is "a strong, brave girl" she has experienced serious distress. The unexpected Sunday arrest frightened the teenagers very much.
"At first we started looking for witnesses and wanted to find video recordings from cameras. But today we decided that we should not explain anything. Our children were kidnapped! For now, we are thinking how to protect the rights of our child in this situation."
"They scared my child so much that he was hardly able to get home"
Another Sunday arrest story was shared with us by director Pavel Niadzvedz. On that day, he met with his 13-year-old son Tsimur at the Kastrychnitskaya metro station. The teenager was returning from filming the series by Yauhen Kryzhanouski where he had been working on weekends for two years. The young actor has a portfolio as he is known for his role in the film "Kupala" where he has played the Belarusian poet in his youth.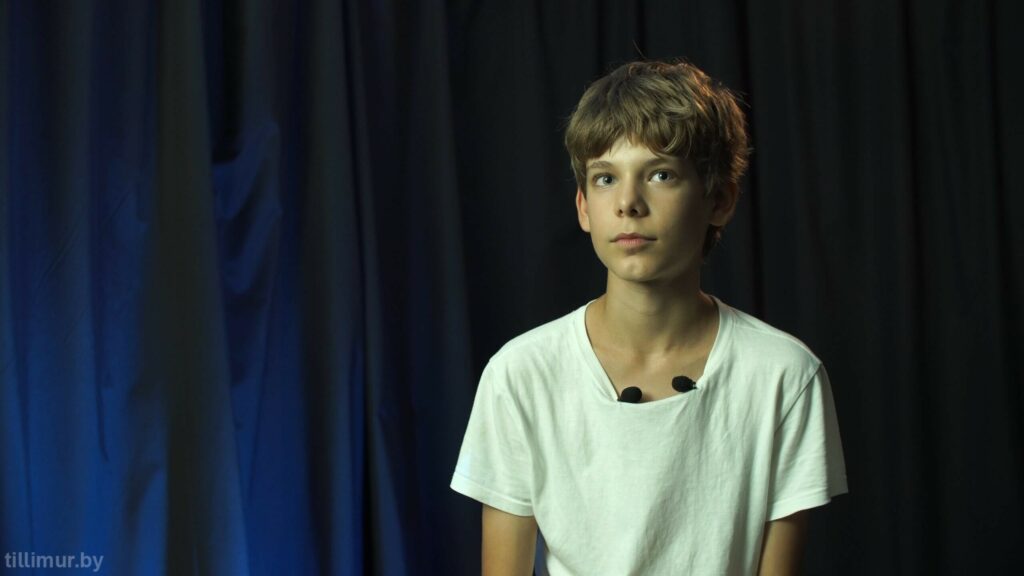 The father and his son took a quick bite at McDonald's and were walking along the avenue towards the railway station as Pavel wanted his child to catch a train home to Zaslavl. On the way there they lingered a little because they met some acquaintances.
"Suddenly a minibus stopped near us, people dressed in black ran out and grabbed my friend. Of course, I began to ask what happened because we didn't do anything and there were no rallies around us. Then one of them pointed at my son signaling to grab him too. I said that I would not let him go anywhere since he was only 13 years old. 'Well, then you go with us too,' said one of the men with a smile on his face."
Pavel said that while his son, he, and other detainees were riding in a minibus, the men joked that it was "kind of a city tour". At the Frunzenski police station, the detainees were brought into the assembly hall. The father noted that he and his son were not allowed to talk and were not allowed to use the toilet for a long time.
"They said that if we were in the army we would not whine. There were about 15 of us in the assembly hall and one girl was crying. I looked at my son and saw tears in his eyes. His knees were trembling. I began to console him so that he would stop worrying. I was saying that they do not beat anyone anymore and that I would be fine. If I get in prison I will get out eventually. And, of course, I began to demand that the child be allowed to use the toilet as soon as possible. They allowed it."
Then Pavel was searched, interrogated, photographed, and filmed. Police officers also demanded to examine his phone.
"We returned back to the assembly hall, and I was fully confident that they would let us go. But there was an order to search my son. I asked them if it was legal. They replied that they would 'do a light search'. They rummaged in a backpack, took out his school uniform and textbooks, and demanded to examine his phone as well. But I flatly refused to unlock my son's phone. Even I have never looked through his personal correspondence," says Pavel.
According to the father, he was escorted out for another conversation later, while the interrogators talked to his son. Tsimur ended up showing them the content of his phone where they found several protest photos in the Recycle bin. According to the father, after that, the inspectors for juvenile affairs talked to his son a little bit more. However, this time in the presence of his mother (she was also summoned to the police department).
"Poor Tsimur has already been sitting there all stressed out and with a splitting headache. They put together some police reports and said that they were registering our child with juvenile affairs department. We were warned that inspectors would come to school and to our home. They said that the child 'was on a slippery slope', that now 'he would have a turbulent life', and that he 'would not be able to get into any university'. In the end, they scared the child so much that as soon as he got home, he immediately went to bed."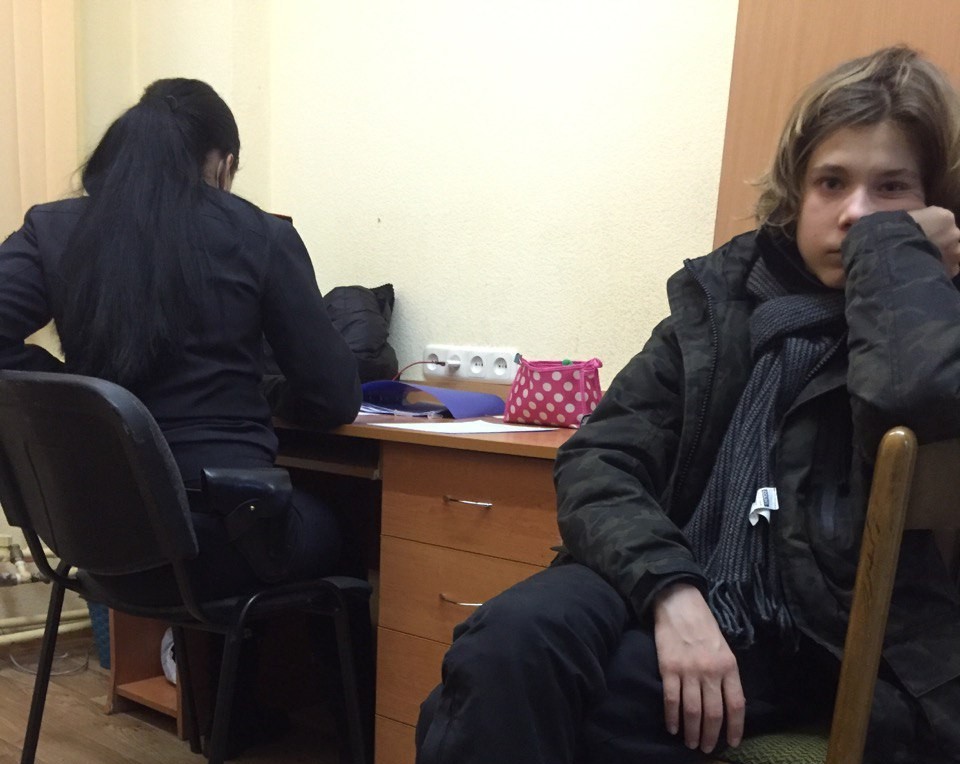 The father believes that it has been, perhaps, the most powerful shock in his son's life.
At school, Tsimur has not yet noticed any pressure. But an inspector came to the apartment where the boy is registered (the family does not reside at that address). They explained that they needed to find out more information about the teenager and his family, promising to come to their current place of residence. The parents do not know what the outcome and the aftereffects of this incident might be. This uncertainty is the most frightening.