Dzianis Dudzinski on a day in Akrestsina, the most dangerous place on the planet and the ideal Belarus of the future
18 September 2020, 08:00 | Aliaksandr Charnukha, Onliner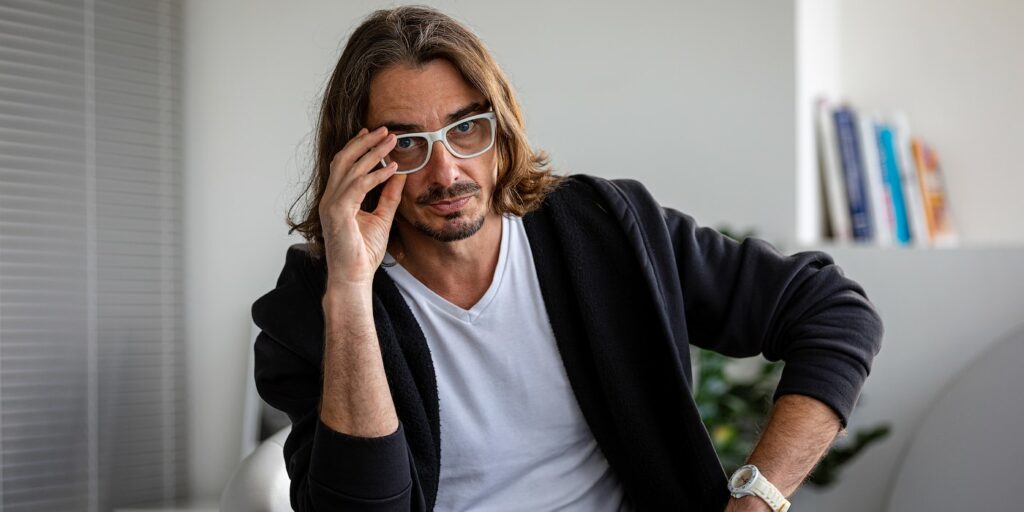 Before the election, Dzianis Dudzinski posted on social networks and was suspended from television and Slaviansky Bazar broadcasting. And on Monday, he returned from the Central Detention Center on Akrestsina where he spent a bit more than 10 days for participating in an unauthorized protest. Now the showman, TV host, actor and businessman is returning to his normal life and is talking about how it all happened. In his interview to Onliner, Dzianis talks about his arrest, the video for CTV, relationships with ex co-workers, the weirdest place on the planet, inbound tourism and the ideal Belarus of the future. For more information, see the video.
Here are just some quotes from the interview:
Every time I would leave my apartment to go outside for a cigarette, my wife would ask me every single minute, "Are you there?" And I went like, "Well, yes, I'm here". Or she would say, "Call me when you are on your way home from the subway, and talk to me!" I would beg her then, "Katsya, please, stop it already". And now she reminds me of it, "I told you so!" Now she's calling me trickily with "Copy that!", asks me to be careful, not to get into trouble. "And put on your hat!"
After Akrestsina, I was happy to just hug this cute, dear, beloved creature (I'll definitely get slapped for this creature word!) – Katsya, my beloved wife. We are already very close and connected to each other with regular calls, always holding each other's hand and hugging. Our friends keep asking, "Hey, what is this touchy-feely about?" But that is not just a public display of affection, that is all about us, about who we are as a couple somehow.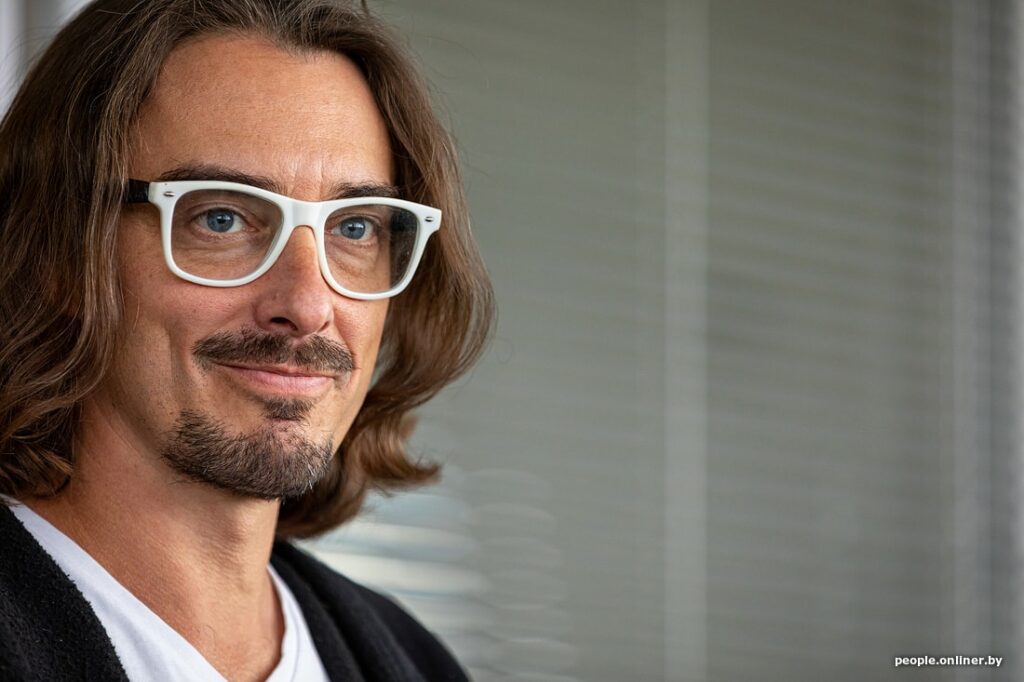 I knew that something was coming up. In some secret chats, certain people that I don't have the right to name, indirectly told me I was being under the threat of arrest. To "When is it the time to start worrying", the reply was "Already". We asked our friends if we could spend a couple of days at their dacha [country house]. They said, "Sure thing! We will be waiting for you at this time. Hop into the car and drive on right to our place". I was leaving the office on Peramoga [Victory] Square, and immediately I noticed a person who should not have been there. We see these guys pretty often, at all sorts of rallies, and call them "plainclothes". It was obvious he was on the lookout for someone in particular. I saw him, walked up to a certain point, and just sensed that something was wrong.
I decided to go back to the office and was just about to open the door when this man came up to me and said, "Dzianis Igaravich Dudzinski? Follow me, please". I started mumbling, "I'd like to be…" And he continued like, "Follow me… You know who we are and where we are from, don't you?" I replied, "Yes, I do…" – "No nonsense, right?" – "There won't be". "Well, let's just go". In the van, kneeled, with your face to the floor and your head down, I was taken to the police station.
Akrestsina… Nothing good about it, nothing funny, nothing interesting about it at all. This is all about a traumatizing, nerve-racking experience. It's all about restriction of personal freedom, violation against the individual, no matter how well you are treated there. When a person gets into such extreme conditions, their subconsciousness is desperately striving to invent something to do. The hardest, gloomiest day is the first one there. You're left all alone in your cell, and you have absolutely nothing, not even a watch to wind, to fidget with at least. I had a soapbar with me, and I memorized the entire text on its wrap! Same with the wet wipes. You do this to have at least to read something, so that the eye is hooked to something. You lie down on the bunk, but you cannot fall asleep… Then I discovered a chessboard scrawled on the bunk, and under the table I found some checkers made out of bread. Gosh, I was besides myself with joy! I was placing them on the board and playing all by myself. Then I realized that there was no interest in this: I moved a white, stood up, walked around the cell for 20-30 seconds, then came back, sat down and looked at the board, "What a smart move the whites made!"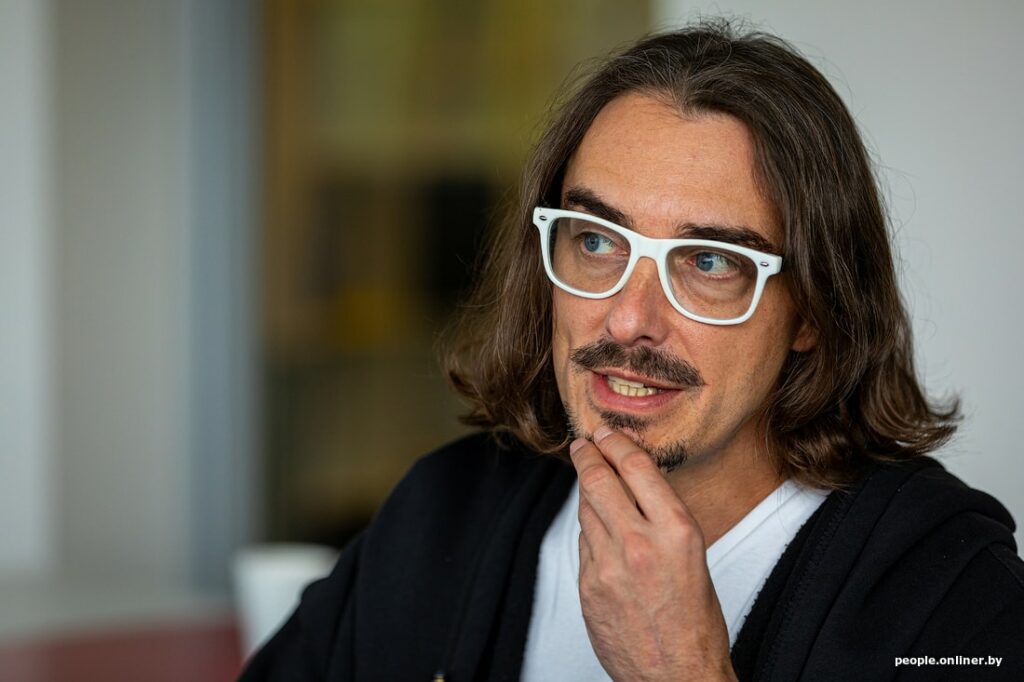 When you are in Akrestsina, you immediately remember the events of 9-12 August. And you're scared. You are dead scared. But really soon I saw a completely different picture. You realize that people just work there, you are just a part of their routine. They have to file a police report, provide you with bed linen and food. Even more than that – none of them sees you as a criminal. For them, you are just another someone who's been detained for some period. At first, it felt as if it was all about me, but then it occurred to me that it is all about the others too.
The video for CTV? I had no time to weigh all pros and cons. The thing is that this decision-making option was not even on the table at all 'cause there was the only one to take – film this video. A phrase I kept hearing over and over again throughout those two weeks was "Dzianis, you do understand everything, don't you?" You look into those eyes, you see that smile. They are perfectly polite, intelligent, no pressure, but this phrase when you are in Akrestsina… "Dzianis, it would be great if you did it this way…" And I go, "Well, maybe…" and you are replied with "No, it's a must. And this is not our request". And then certain names are mentioned and you understand, "Well, yes, you have to do it". So, it just had to be done.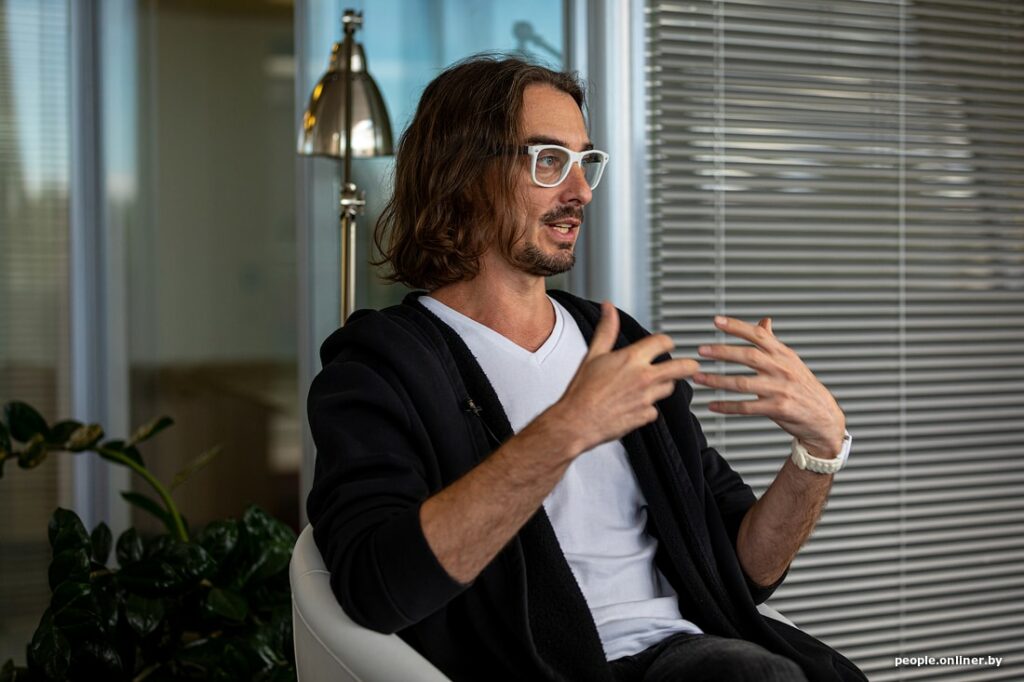 After I had spoken out on the Symbal.by store, I wasn't fired. I was temporarily suspended from live broadcasts. When I asked how long it would take, there was the phrase I've been hearing a lot lately: "Until everything settles down". Officially, my work contract was terminated only two or three weeks ago. What's your thoughts on all this? It's like "I will continue to live my life, I will say what I want to say, I will participate in what I want to be a part of, so, the next move is yours, my dear employers, take it or leave it".
I was supposed to host the contest at "Slavianski Bazar" for the fifteenth time, and the fifth for my wife. Something like twelve years ago I made up the format of how to interact with the contestants. At that time, it seemed to me that it was fairly boring to go on the stage and just read the script. Back then we needed a show to give the jury the opportunity to rate. Our contestants come from all over the world, from Australia to Cuba. They are all completely different, all speak different languages, everyone has their own psychology and world vision, and you are immersing into this national and linguistic diversity! You are overjoyed to be right in the middle of this delightful madness!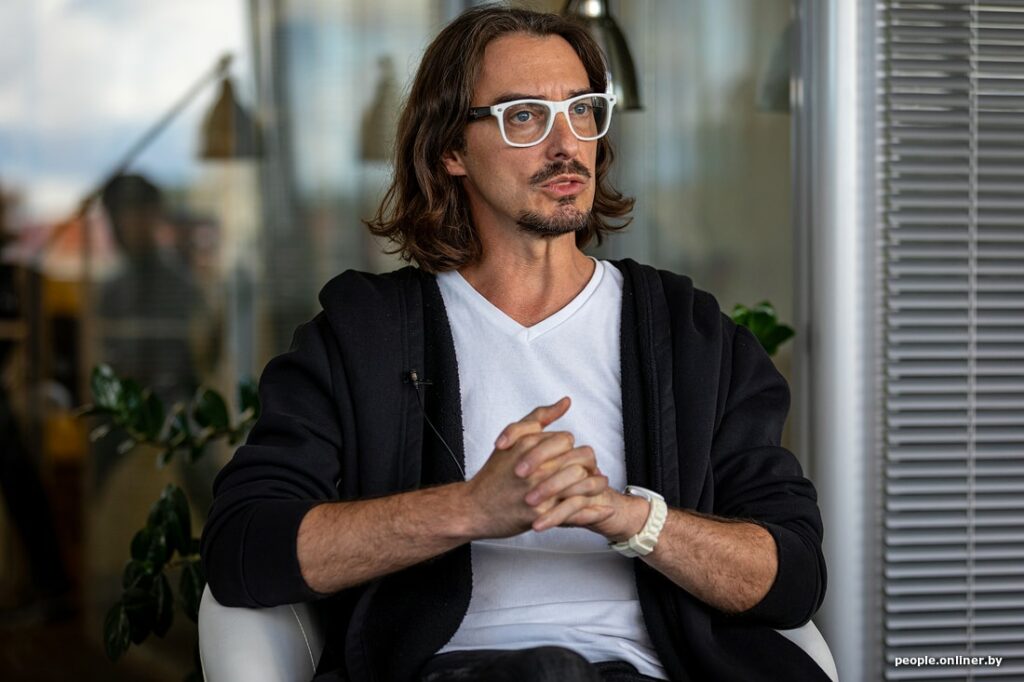 Go give it a try to find tours to Belarus. Just google "tours to Belarus" in any foreign language – and all you are going to come up with are just several really miserable webpages and a couple of really good ones, but eventually everything will be about Mir, Niasvizh, Vitsebsk, and the library… And then go google "tours to Honduras!" You will be amazed to find hundreds of pages that cover everything, from mountains and volcanoes to oceans, swamps, crocodiles, snakes and dragons! Thank God something, though grudgingly, with baby steps, but is emerging now – websites are being developed, there are guys who are genuinely keen on promoting domestic tourism. Belarus should be famous, well-known. We are not Belorussia or White Russia, we are Belarus! I truly want to tell everyone about it.
I have only one request to the officials: just don't interfere. Give people an opportunity, introduce some relief over those crazily heavy taxes, offer some benefits, perks, bonuses. Let them do it themselves. They will be your cash cow! At least, let them fatten up, put on some weight a little bit now. Let their dreams fly! Let them build a tiny log house a hundred kilometres away from Minsk to host some German or Polish tourists there, let them show the country and tell its story to foreigners. It is not true that Belarus has nothing to amaze, to impress with.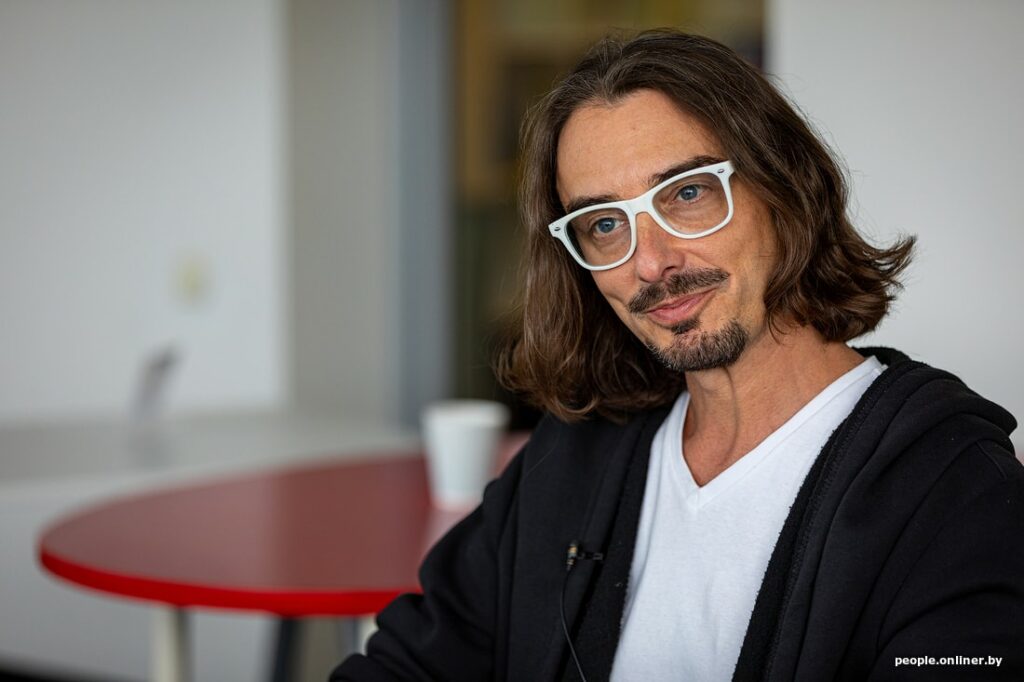 If you check out the list of the ten most dangerous cities in the world, you will see the city of San-Pedro-Sula in Honduras always competing with Mexican Ciudad-Juárez. We were travelling through San-Pedro-Sula, and our guides, citizens of Honduras, immediately warned us, "We will stop here to buy some water, no one is leaving the car". I say, "Can I go take a selfie with San-Pedro-Sula in the background?" I am answered, "Yes, just we are to see you".
Solidarity in show business? It's clustering, segregating. People get united within their groups. Those who quit or were fired from television belong to one group. The others are those who stayed and continue working. I even think they truly believe in what they're saying from the screens right now. Or they are sure that when they are on the stage, they are doing something good and important.
I don't want to leave Belarus. My family, friends are all here. I know the entire geography of Minsk; I even like our climate. I also don't want to miss anything that's going on here. After all, this is both a historic and historical process not only for our country, but for the whole of Europe. I do want to see it with my own eyes, feel it, sense it. Of course, I am totally aware that perhaps some day they will come and say that it would probably be better to leave after all. Then there will be nothing else to do but to leave.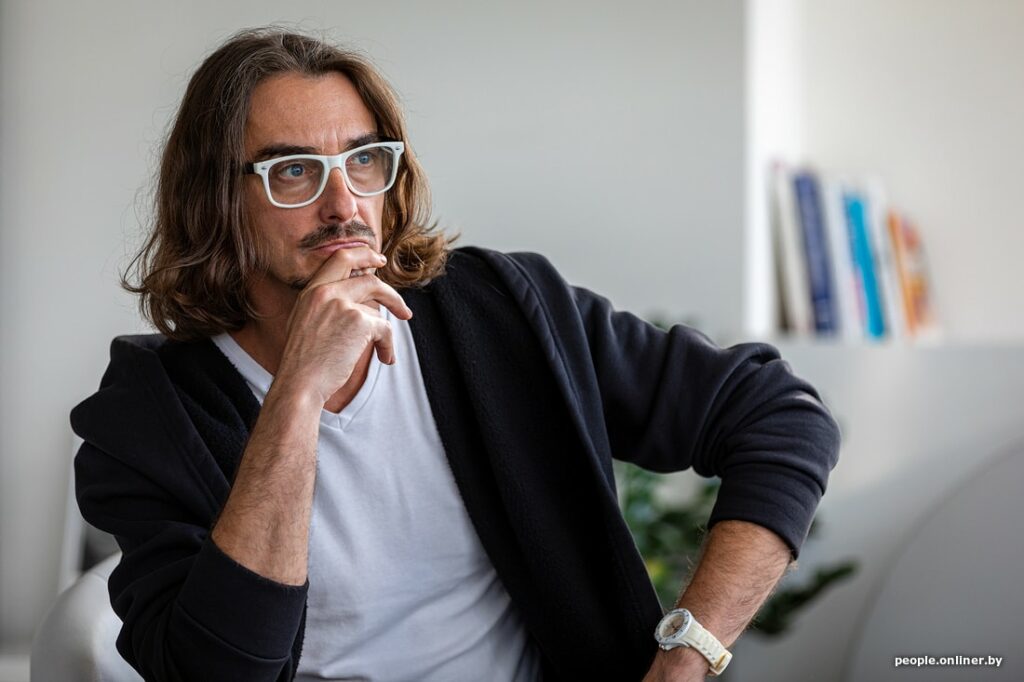 My perfect Belarus of the future? These are the people I see, I talk with now. The people who are able to build and use compound-complex sentences. The people who are fluent in Russian, Belarusian, any other foreign language. The people who read books. The people who can tell the difference between good and bad coffee. The people who say "I'm sorry, please", and "excuse me". The people who ask interesting questions. The people who know how to work with high-tech equipment. The people who are Belarusians. Beautiful or unattractive, men, women, adults, youth. We are going to figure out how to create this Belarus ourselves. Please leave us alone on this homework for at least a couple of years. We will sculpture our own Belarus out of these clays and acorns.