9 September 2020 | Media Solidarity GoFundMe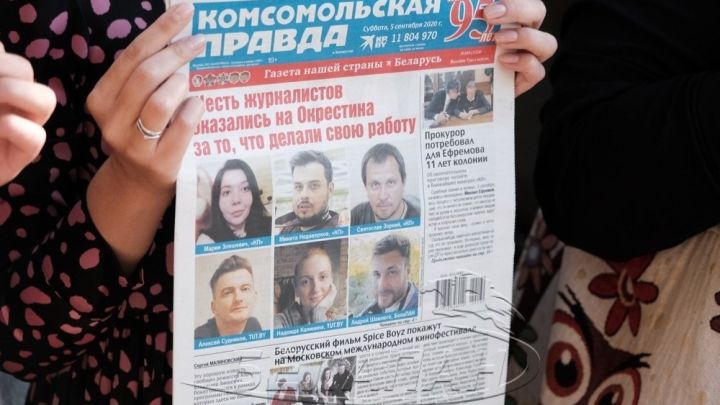 For donations:
Belarusian authorities have launched an unprecedented attack on independent media and journalists.
All across the country, journalists are being arrested and jailed for merely doing their work. They are accused and found guilty of coordinating mass gatherings while in fact, their only function is to report on them. Authorities have blocked dozens of independent websites for their truthful accounts of beatings, tortures and election fraud. Financial and tax authorities enter the offices of media publishers for unscheduled checks while publishers themselves get arrested on criminal charges. Advertisers, fearing political repercussions, withdraw their advertising contracts. The Commission for "Information Security" has revoked the accreditation of well-known and respected journalists who work for foreign media in Belarus. The state Printing House and kiosks hinder the publishing and distribution of independent newspapers. On 9 September, the Ministry of Information issued a second warning to leading independent portal TUT.BY, which is threatened with the suspension of its activities for up to one year. The Belarusian government thinks that it can suffocate freedom of expression and freedom of the press by intimidating journalists, banning live streams or creating unbearable economic conditions for media. But it will not succeed in that.
We have received hundreds of requests to extend BY_Help fundraising support to independent journalists, whose work makes it possible for us and the world to learn about what's happening in Belarus. Therefore, we have launched a new campaign – Media Solidarity, a fundraiser to support independent Belarusian media and journalists. The organizers and supervisors of the campaign are BY_Help's team based outside of Belarus: Andrei Stryzhak, Laksej Lavoncyk, Aliaksandr Lapko, Nadzeya Norton and Ales Čarniakovič.
The funds raised will be spent on:
Protective equipment for journalists (clothing and headgear, masks and equipment for reporting on street protests under unsafe conditions).
We know that OMON riot police cynically target both female and male journalists, whose only protection is often their "PRESS" vest.
Stipends and one-time financial support for journalists suffering due to repressions for their work in independent media. This includes full-time and freelance reporters, as well as other media workers.
Temporary relocation for those who are threatened the most.
Support for newsrooms and media organizations that are looking for new legal sources of income.
Journalism is not a crime. Journalists are not criminals. Solidarity is stronger than repression!
Please share information about the Media Solidarity campaign with your friends and acquaintances to help spread the word! Now, it is very important not to waste a moment and help the campaign gain momentum in order to help journalists in Belarus who are heroically working on the frontlines to bring us the truth about what's happening.
To donate funds: https://www.gofundme.com/f/mediasol & http://bit.ly/byhelpmedia
To request for help, please fill out this Google form
To read more about us in Belarusian and English, visit our website
Within the first 24 hours, we were able to raise almost 8,000 euros. Over 190 people have already donated and more than 600 have shared the fundraiser. Our strength lies in solidarity!
You can use GoFundMe's own sharing functionality or just copy and share the short link: https://www.gofundme.com/f/mediasol
You can also share the PayPal link: http://bit.ly/byhelpmedia
Thank you so much for your support and participation in this campaign! You are our heroes!