25 October 2020 | Infocenter Free Belarus 2020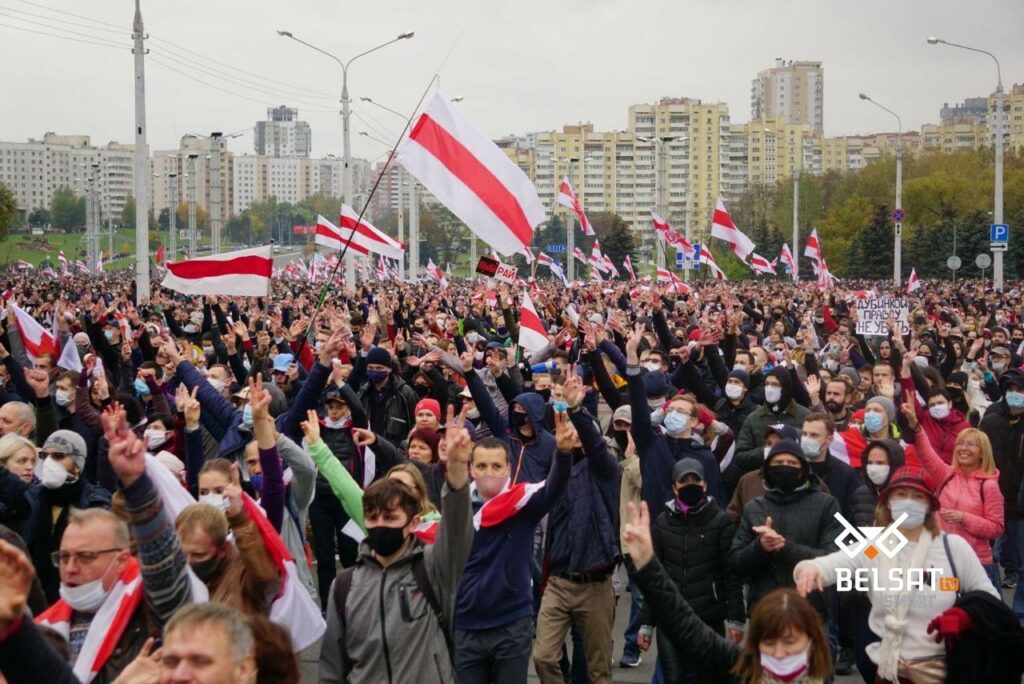 Good morning, the 78th day of the protests begins.
8:45 am After a long break, Vadim Prokopiev has released a video address to the security forces.
In the new video, Prokopiev addresses an imaginary riot policeman, Sergei, stressing that since the beginning of the protests against election fraud, about 15,000 Belarusians have passed through Belarusian prisons. The pre-trial detention centre on Akrestsina Street was turned into a torture camp. Lukashenko continues holding on to power with blue fingers and using the security forces as his shield, but the judgement day is inevitable.
"You can't preserve anonymity. Escaping to Moscow will not work. For security officials with brains, the only way not to go to jail is to reread the oath and follow the law." And this law enables the OMON officer Sergei and others not to carry out criminal orders and not to go against their people.
8:55 am Russian poet, composer and singer Andrei Makarevich announced his support for the Belarusian people.
In an interview with Radio Svaboda, Makarevich, who has Belarusian roots, admires the colossal endurance and dignity of the Belarusian people.
"The fact that it is possible to keep the protest peaceful with such a large number of participants is fantastic!" said the musician.
And he wishes that this protest will continue to remain peaceful.
8:45 am The Belarusian Association of Journalists (BAJ) has again released an appeal to citizens with a request to help journalists do their work.
In the appeal, in particular, the BAJ asks [residents] to open the doors of their apartment blocks' entrances to journalists and let the journalists onto the balconies so that they can record the march from above and from a safe distance. People are encouraged to share their home Wi-Fi with journalists and help the media collect information by sending their records (photo, video) to media chatbots in Telegram channels.
9:15 am At the approach to Minsk near the Malinauka district, a large white-red-white flag has been erected over the houses. This is the way the local residents have decided to greet the guests of the capital who are going to the People's Ultimatum March.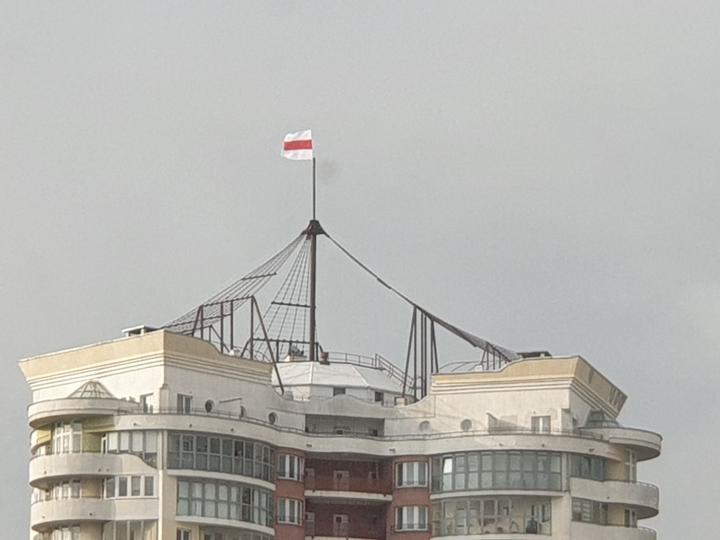 10:25 am Belarusians from four different continents have recorded a very warm video in support of the strikers in Belarus. People from the USA, Canada, Great Britain and Chile participated. Poland and even Japan took part in the action.
10:30 am Residents of Navahrudak, the first capital of the Grand Duchy of Lithuania, are standing in a solidarity chain on the Castle Hill.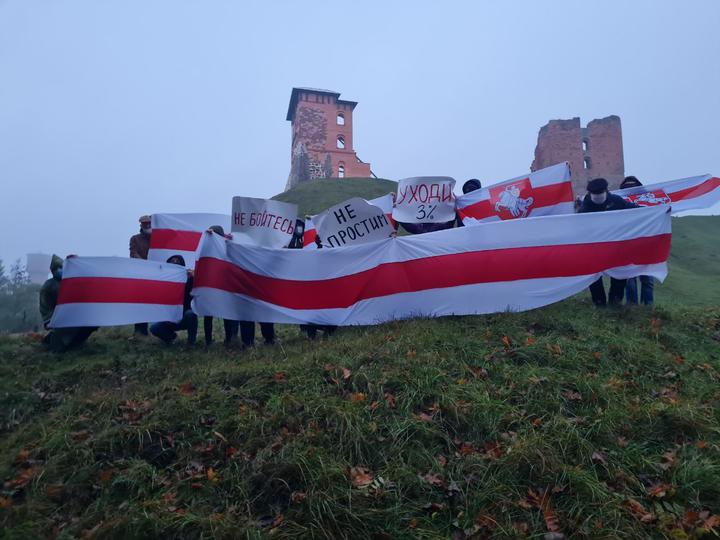 10:40 am Military and specialised security equipment has been brought to Minsk again in preparation for the Sunday March.
10:55 am A Homel resident will go on trial for spraying gas and beating riot police
The Investigative Committee announced that the investigation into the case of the 29-year-old Homel resident has been completed. He is accused of spraying pepper gas in the face of a riot policeman by using a gas cartridge on 9 August, hitting him on the head and then resisting arrest.
The man was charged under Art. 364 of the Criminal Code (use of violence against employees of the internal affairs bodies in order to obstruct their lawful activities). He is being kept in custody.
11:10 am From Volozhin to Vancouver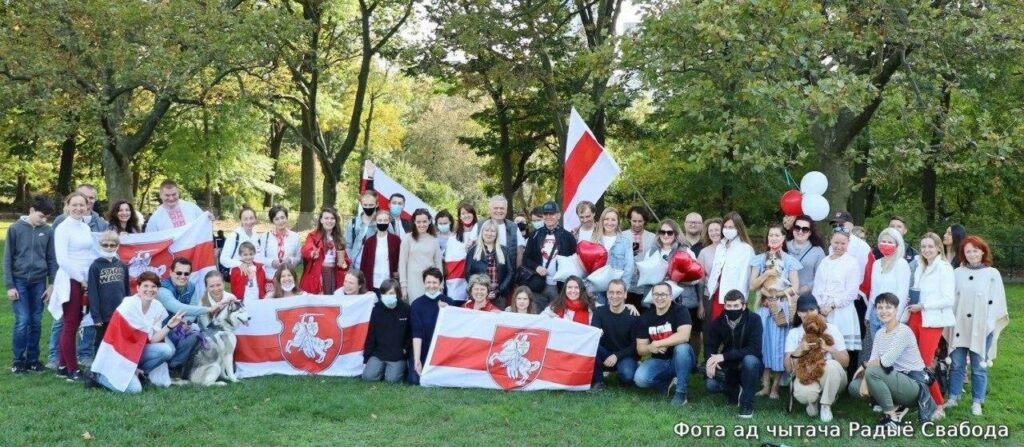 Solidarity actions with Belarusians are being held all over the world. There was a Belarusian picnic in New York. An action of Belarusian "superheroes" took place in Chicago and Belarusians walked along Cronulla Beach in Sydney.
Belarusians from Moscow and Volozhin recorded touching video messages to their compatriots.
11:12 am Belarusian "partisans" continue to decorate Minsk.
Huge white-red-white flags and banners in support of the strike appeared on buildings in the Minsk-Mir residential district of the capital.
Unknown persons have written in huge letters "Long live Belarus" on the roof of one of the apartment buildings in Minsk. The inscription can certainly be seen through the windows of planes flying over the city.
Residents of the Megapolis residential complex filmed a video about their "partisan spirit".
11:15 am Belarusians create media archives with stories of people affected by security forces.
The first hundred firsthand stories collected by journalists, human rights defenders and volunteers are already available at https://august2020.info/ru
The stories are published in Russian and English. The project team promises to continue working on the archive.
11:30 am Press Club Belarus has launched a series of podcasts, "Press under Pressure".
The first heroine of the podcast was Marina Zolotova, the editor-in-chief of the TUT.BY portal, which was deprived of its network media status.
A series of podcasts will talk about what has happened and continues to happen with independent media in Belarus since August 2020.
11:40 am Fences are traditionally being erected near the Museum of the Great Patriotic War.
11:45 am Drummers have started playing in different districts of Minsk.
11:50 am People did not wait for 2.00 pm and went out into the streets early in regional centres. A column of protesters, with white-red-white flags, has already been seen marching in the streets of Smarhon.
The first people with flags appeared in the centre of Pruzhany. Local police officers are talking with them.
12:00 nn Mobile internet problems have started in Minsk.
People started to encounter difficulties around noon. LTE connection practically does not work; data download via 3G is also not possible. The problems are similar with messengers – the messages cannot be sent or received; media files in them cannot be loaded.
Protests have started.
Today, some Belarusians did not wait for the "traditional" time for the start of protest actions and have already taken to the streets, as reported by readers of @radiosvaboda.
12:20 pm "In order to ensure the safety of passengers," Minsk metro services have announced the closure of entrances/exits to the following stations from 12:30 pm: Lenin Square, Oktyabrskaya, Victory Square, Yakub Kolas Square, the Academy of Sciences, Chelyuskintsev Park, Pervomayskaya, Kupalovskaya, Nemiga, Frunzenskaya, Molodezhnaya and Pushkinskaya.
12:30 pm A new "March" application has been created especially for Minsk residents who have had their Internet disconnected. This application contains the most up-to-date map of Sunday marches. Data is transmitted in encrypted form via SMS and Bluetooth.
12:35 pm The US Embassy in Belarus published an article with advice to American citizens who have found themselves in Belarus during the protests.
Here are the basic tips:
Avoid mass gatherings.
Monitor local media for updates.
Be aware of your surroundings.
Maintain at least a three-day supply of food, water, medications, cash and other essential items for emergency use.
Carry proper identification at all times, including a U.S. passport with a current Belarusian visa or valid visa-free entry stamp.
12:40 pm Drummers continue to walk in residential quarters of Minsk. Readers sent in their videos from Mayak Minska and the Cascade residential complex.
12:46 pm Water cannons and specialised security forces equipment have started appearing on the streets of Minsk.
12:50 pm The blogger Maksim Kats has released a video with the most impressive and inspiring moments of the Belarusian protests.
1:10 pm As a sign of solidarity with the anarchists and drummers detained this Friday, the Pramen anarchist collective asks people "to take an empty saucepan and spoon for the march. Thus, you yourself can become part of the soundtrack of the march."
1:20 pm Belsat readers write: "There is practically no security in Independence Square, only a metal fence. The courtyards around the City Wall are full of them. But in general, they are practically not seen in the centre."
1:26 pm Fences have gone up around Independence Avenue and Yanka Kupala Street. People's bags are being searched. The same is happening in Niamiha.
1:30 pm Prisoner transport vehicles, minibuses and security forces are being drawn into the city centre.
1:31 pm Fences are being installed on Oktyabrskaya Square in Minsk.
1:33 pm Minsk residents are panic-buying cereals, pasta, salt and toilet paper, as reported by RIA Novosti with reference to the retail networks in the capital.
1:46 pm Riot police have blocked Soviet Street in Hrodna.
1:50 pm Central streets are blocked in Minsk: part of Independence Avenue, Masherov Avenue and Lenin Street are closed to motor car traffic.
1:56 pm The photographer Dzmitry Dzmitriev ("Novy Chas") and Sviatoslav Zorky ("Komsomolskaya Pravda" in Belarus) were detained a minute ago.
2:00 pm Belsat is launching an online broadcast of today's march.
2:01 pm Riot police with shields have cordoned off an intersection of Lenin and International Streets.
2:03 pm Traffic along Victors Avenue from the Stele towards the centre has been blocked; traffic on other central streets continue to be blocked.
2:09 pm Police cars, military trucks and armoured patrol vehicles have been seen near Lukashenko's residence, the Independence Palace.
2:10 pm The police have cordoned off the approaches to Independence Square; three buses without number plates are on duty on Myasnikov Street.
2:15 pm Nina Bahinskaya has joined the walk around Minsk.
Meanwhile, at the intersection of Gorodskoy Val and Niamiha, hundreds of people in large groups are walking with flags towards Victors Avenue, shouting: "Long live Belarus!" No riot police are seen there.
2:20 pm People have started gathering at Freedom Square.
2:21 pm Vitsebsk. Several police and traffic police patrols have been seen near the Philharmonic. Riot police have spread out in the adjacent streets; some are sitting in cars. Police are checking the documents of young people standing at the bus stop across the road.
2:23 pm Homel. Detentions have begun.
Two women with flowers and the activist Vladimir Nepomnyashchikh have been detained near the circus.
Policemen and traffic police are standing at every central intersection; minibuses with plainclothes agents on board are stationed in the courtyards.
2:27 pm Water cannons, equipment and a lot of security officials have just arrived on Lenin Street. They came out of the trucks and moved towards Freedom Square. The riot police formed a chain at the intersection of Lenin and International Streets.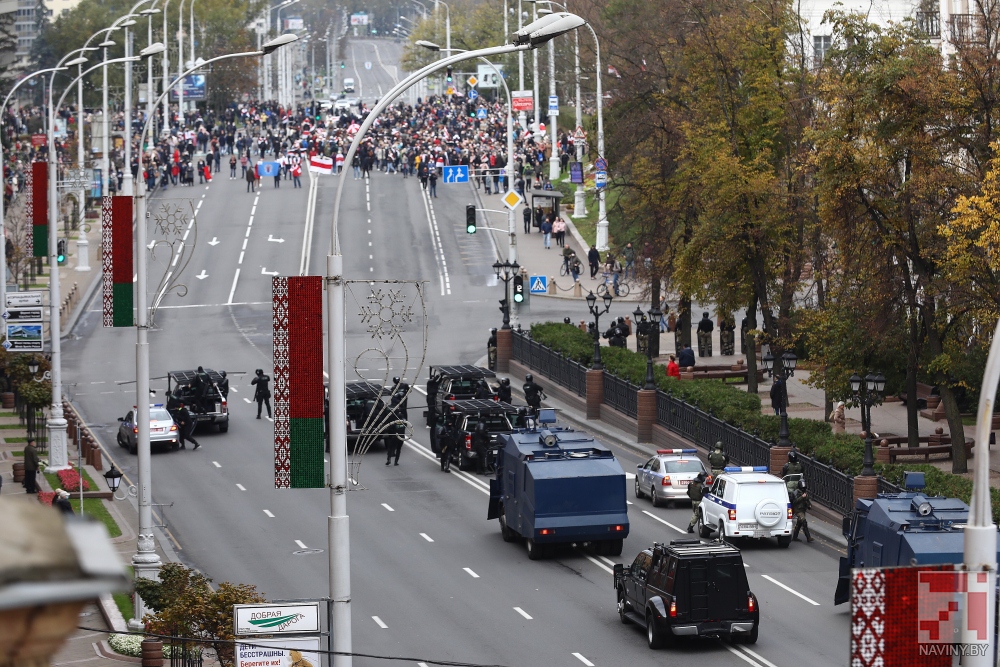 People are lining up on the bridge leading to Victors Avenue.
2:30 pm Riot police have cordoned off Europe Hotel; water cannons and Rubezh security forces equipment are seen in the area.
2:33 pm A column of many thousands of demonstrators is now at Victory Square. They are moving towards the city centre.
Unidentified men in helmets and balaclavas have blocked Independence Avenue near the circus.
2:34 pm Detentions have started near the Raduga store in Pinsk.
2:39 pm People are being brutally detained in Vaukavysk, as reported by NEXTA readers.
2:40 pm Around ten thousand people are marching towards the Stele (Minsk Hero City Obelisk) along Victors Avenue. Riot police machinery is moving towards the Independence Palace.
2:42 pm Riot police are going back to their buses on Lenin Street.
2:44 pm The traditional recording by the Ministry of Internal Affairs on violation of the law on mass events can be heard from the direction of Victors Avenue, where the demonstrators have gone.
2:47 pm In Polatsk, about 50-60 people took part in the protest action. However, they were not allowed to express their position for a long time. "Two UAZ cars with flashing lights blocked the road," a witness writes. He says the demonstrators were quickly dispersed.
2:49 pm A column of many thousands is moving along Victors Avenue. According to journalists' estimates, tens of thousands are marching in the main column of protesters. People are chanting: "Strike!"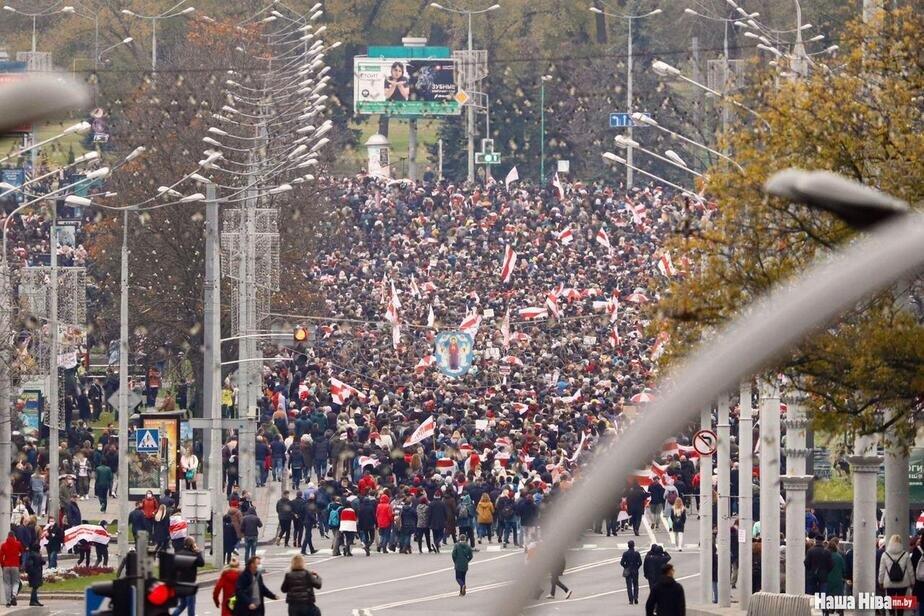 2:50 pm A lawyer, Sergei Supranovich, has been detained and his phone confiscated.
2:52 pm NEXTA readers report that tear gas is being used by riot police against the protesters. People are being brutally detained; ambulances are arriving at the scene.
2:53 pm Around 25 people have arrived at the place where Aliaksandr Taraikouski was murdered. People lay flowers.
2:55 pm Apparently, from several hundred to several thousand people have gathered in Hrodna. They are walking along the pedestrian street. Riot police in black uniforms clear the streets of people, carry out pinpoint detentions and beat people. One man was hit by a riot policeman on the head.
2:58 pm The head of the column has reached the Stele. There is no usual cordon there today, but the military stands at the stairs leading to the monument and warns through a loudspeaker that the action is unauthorised.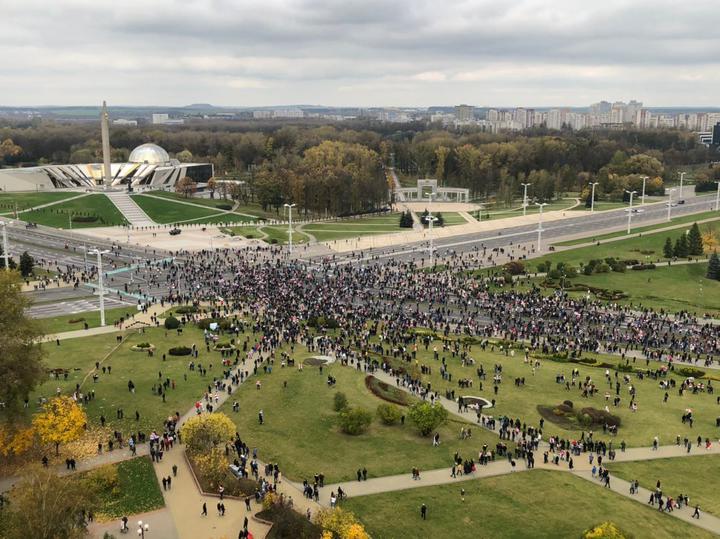 2:59 pm A man with a white-red-white flag was detained in Brest. People tried to defend him, but failed. According to preliminary information, the detained man is a local activist, Aleksandr Sakharuk.
3:00 pm The front of the column has reached the Obelisk. The song "Lyubimuyu nie otdayut" ("Will not give away our beloved") is being played from loudspeakers.
3:10 pm Nasha Niva estimates the number of protesters on Victors Avenue at more than a hundred thousand. The number continues to grow – according to Nasha Niva's forecast, the number of protesters should reach its highest at about 4 pm.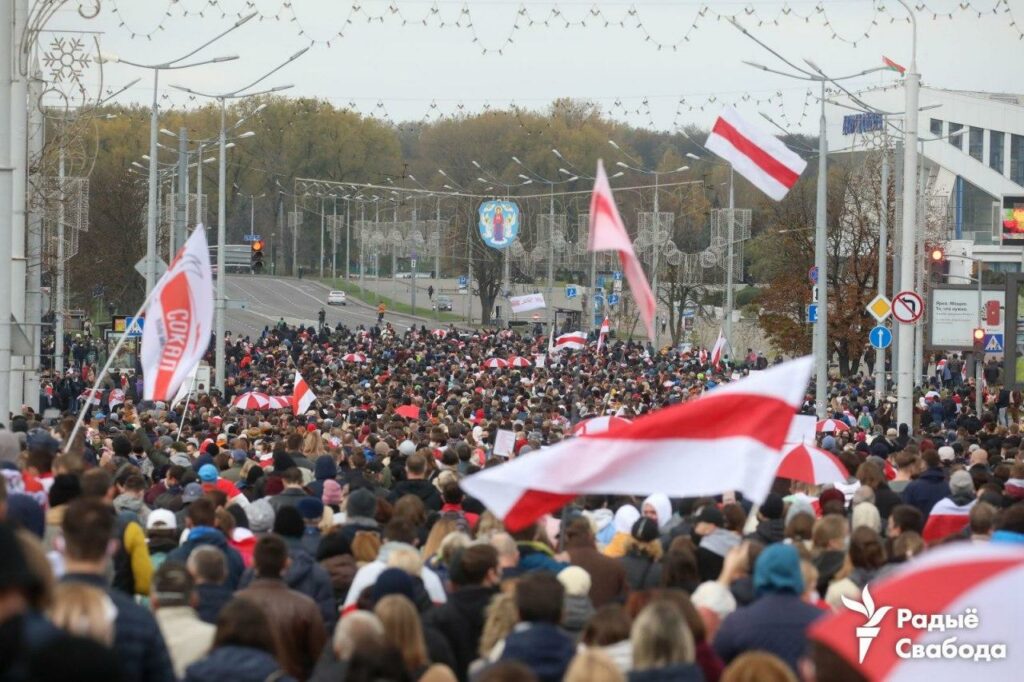 3:15 pm Aliaksandr Avdevich from Lida was spotted in the March in Minsk – the wheelchair-bound man has travelled 4,000 kilometres across Europe on a handbike.
3:17 pm The column of protesters has started moving from the Obelisk along Masherov Avenue.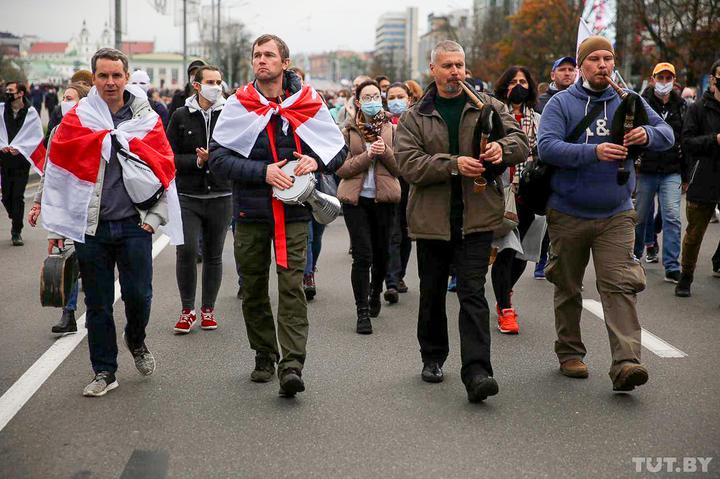 3:20 pm In Vaukavysk, people tried to talk to the security forces: "We live together, we are neighbours, classmates." As a result, the police simply began to detain them.
3:23 pm Traffic police have blocked traffic on Pushkin Avenue towards Victors Avenue.
3:25 pm Videos show that more people have already joined this march than any of the Sunday demonstrations in the past month.
3:26 pm In Pinsk, detentions have started on Lenin Street. People are chanting: "Let go!"
3:27 pm The huge column has turned around and goes towards Belaya Vezha.
3:28 pm Brest. Viasna Human Rights Centre reports that the regional head of the Radio Electronics Workers Union (REP), Zinaida Mikhnyuk, has been detained.
3:31 pm A column of many thousands is walking along Masherov Avenue.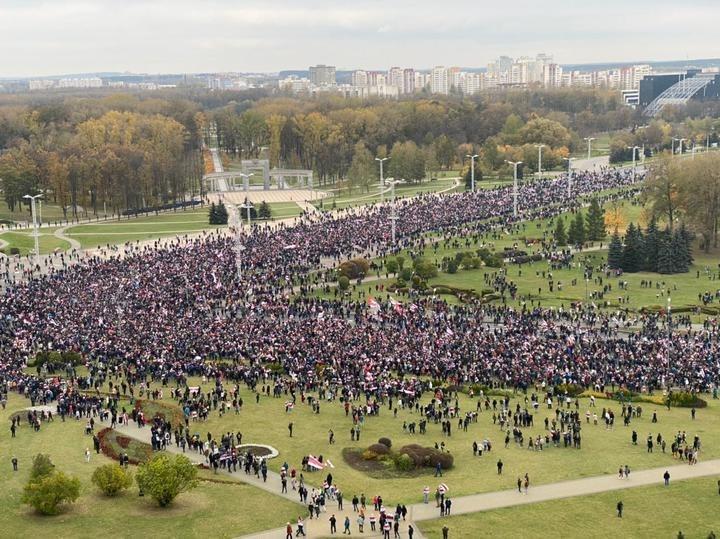 3:33 pm Minsk. Large columns are moving towards the Obelisk along the Svislach embankment in the Niamiha district.
3:37 pm Anti-riot vehicles and water cannons are moving along Kozlov Street towards Masherov Avenue.
3:39 pm In Pinsk, security forces do not let people go walking.
3:39 pm 20 people have been detained in Hrodna.
3:40 pm At the intersection of Masherov Street and Krasnaya Street, security forces are preparing an ambush in civilian yellow buses. The same is happening at the intersection of Kuibyshev Street and Masherov Street.
3:43 pm Minsk. Among the protesters today, there are ex-workers of the state TV channel BT, who quit in protest against lies.
3:45 pm The column has reached Bohdanovich and turned towards the Niamiha district.
A new chant has been created: "Sasha's resignation is the best amendment".
3:46 pm In Hrodna, security forces beat people up near the youth centre.
Today, several hundred Hrodna residents marched through the streets of their city.
3:48 pm Minsk. Take a look at the demonstration participants and their mood.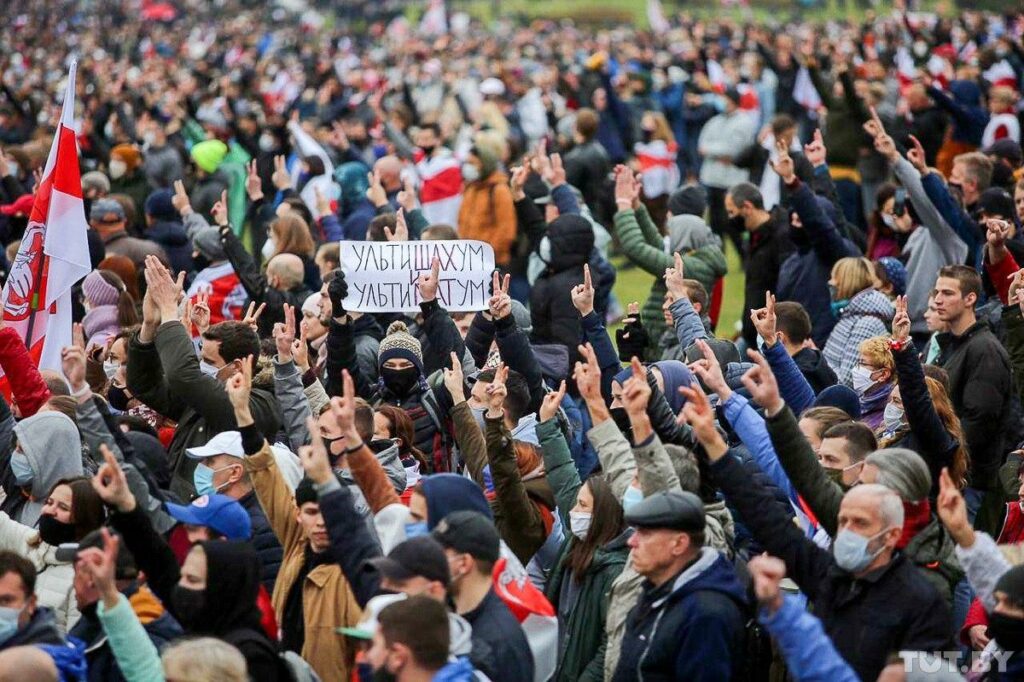 People are walking along Bohdanovich Street.
3:50 pm In Mahiliou, several women have been detained in the city centre. People report a large number of buses and minibuses with security forces in the city centre and near the place where people were supposed to gather.
3:52 pm In Navapolatsk, security forces are brutally dispersing people.
3:53 pm The column has gone to Smolenskaya Street in Vitsebsk.
3:54 pm Minsk. While the front of the column is going along Masherov, the end of it is still moving along Victors Avenue near the Minsk Gallery shopping and entertainment centre. Some of the people went to the Hotel Belarus and from there, moved towards Belaya Vezha.
3:56 pm Detentions are taking place in Brest.
3:56 pm Protesters are chanting: "Strike!" This march is the People's Ultimatum.
3:57 pm Tens of thousands of protesters are walking along Masherov Avenue near Belaya Vezha in Minsk.
4:02 pm Minsk. Water cannons and prisoner transporters went along Khoruzhaya Street towards Yakub Kolas Square.
4:03 pm In Hrodna, people are being dispersed near the Neman department store. Another four or five people have been detained.
4:05 pm Minsk. 8 prisoner transporters are moving along Kuibyshev Street towards Bangalor Square. Meanwhile, the column of protesters is walking towards Bangalor Square along Bohdanovich Street.
4:05 pm Minsk. Traffic is blocked at the intersection of Kuibyshev Street and Masherov Street. There is a water cannon and riot police with shields.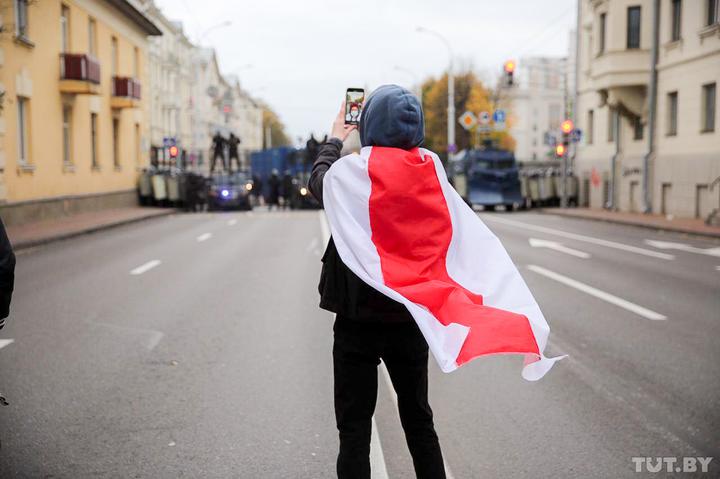 4:06 pm Brest. Despite numerous arrests, more than 500 people have gathered. At the same time, the security forces keep detaining people from the column.
4:10 pm In Brest, 63-year-old Yelena Gnauk, who was carrying flowers, was detained again near the central department store.
Let us remind you that Yelena was released merely 3 days ago, after serving 18 days for praying at a protest.
4:13 pm Security officials took the head of the non-governmental organisation "Alternative", Oleg Korban, from his home. Before that, they searched the apartment and confiscated all his devices.
4:16 pm Hrodna. Security forces dispersed people from near the department store.
4:18 pm A great many people are walking along Bohdanovich Street in Minsk.
4:21 pm In Homel, people are not allowed to gather even in small groups on Sovetskaya Street. Among the detainees there are women born in 1946.
4:22 pm Minsk. The front of the column has reached Bangalor Square and turned towards Surganov Street. There are a great many people there.
4:26 pm The protesters from Bangalor Square have turned towards Surganov Street, and are moving towards Independence Avenue.
4:29 pm In Brest, the column was surrounded by security forces; some people were arrested. But the column broke through the barriers and went on, chanting: "Long live Belarus!"
4:29 pm Inna Kovalenok, Belarusian theatre producer and volunteer at Viktar Babaryka's headquarters, was released today.
Inna Kovalenok was detained in Minsk on 28 September. She went out of her home to get coffee, and contact with her was lost. At first, she was sentenced to 13 days for participating in an unauthorised march, and later – to another 14 days.
4:31 pm Minsk. Today, the protest is relatively calm, but unknown individuals in balaclavas are still trying to detain people.
4:32 pm Security forces have closed off Surganov Street. The front of the column is already near the Riga department store. So far, it's hard to tell where the column will go next.
4:32 pm In order not to be taken to a minibus with security forces, a man swam across the Svislach river.
4:34 pm Despite the unprecedented opposition from the security forces, a column was organised in Homel. The demonstration has begun. Cars are honking in support.
4:35 pm While security forces are busy with the March, Minsk neighbourhoods are forming solidarity chains. Malinauka is said to be holding one for two hours already.
4:36 pm Hrodna. The police report that a few dozen people have been detained.
A few dozen were detained in Lida too; tear gas was used there. The Ministry of Internal Affairs confirmed this information. They also report that "a few dozen people" have been arrested on administrative charges.
4:39 pm Minsk. The column on Bangalor Square contains several people in wheelchairs. Among them is the famous Aliaksandr Avdevich.
4:40 pm Minsk. Take a look at the column on Surganov Street.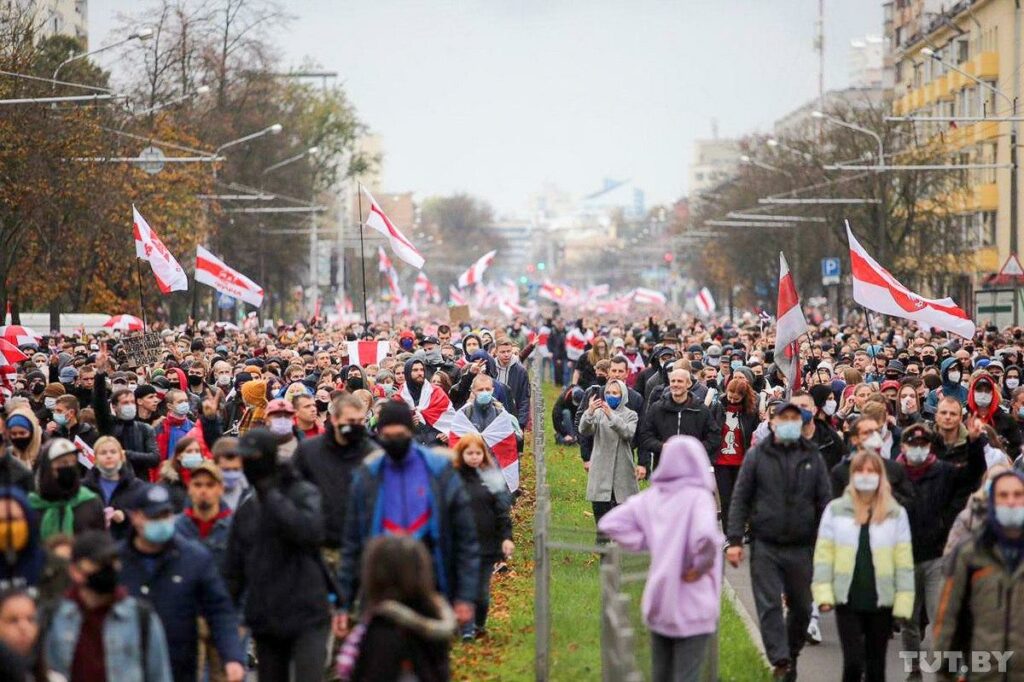 4:41 pm Navapolatsk. Security officials tried to detain pensioners by force; a man with a cane ended up in need of medical help.
4:41 pm @Nashaniva journalists estimate the overall number of protesters in Minsk today at more than 200,000 people. The number seems to equal that of the March on 30 August.
4:46 pm Vitsebsk security forces have blocked a car that was honking in support of the protesters. People are demanding to release it.
4:47 pm In Brest, riot police split the column into several parts, but people are staying in the city centre.
4:48 pm Minsk. The column of protesters stretches from the Bohdanovich-Khoruzhaya intersection to the Surganov-Kolas intersection.
Yakub Kolas Street is blocked by a dense line of riot police and barbed wire; a water cannon is there too. Now, people are trying to bypass the OMON riot police and turn left from Surganov Street towards Kalinin Street.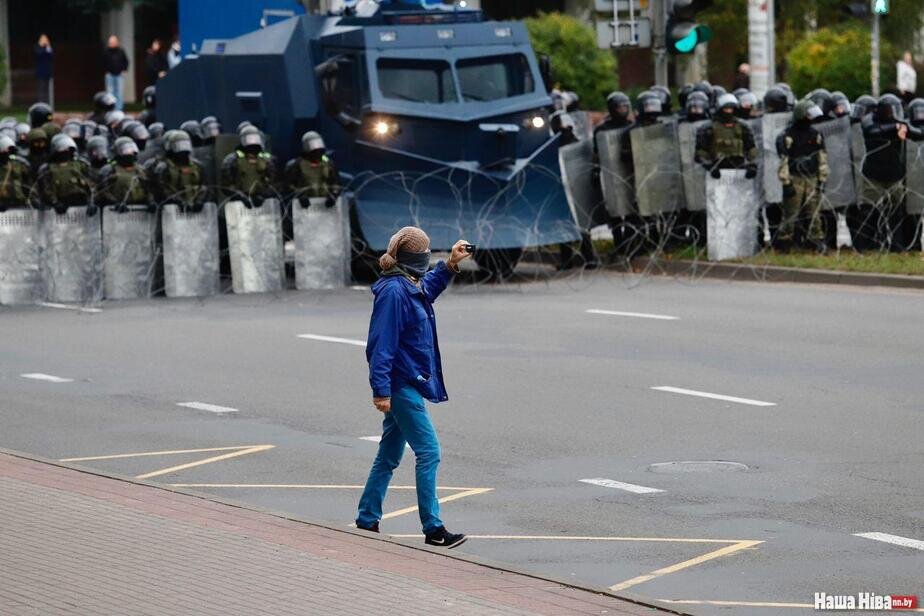 4:52 pm Minsk. There are a lot of security officials with shields and batons near the Belarusian National Technological University Dormitory No. 6. The territory was cleared of people, the students were driven into the dormitory, and the guard closed the door.
4:52 pm Minsk. The protesters have turned around and walked back down Surganov Street. The front of the column has become its tail end.
4:53 pm The historian and writer for the Belsat Telegram channel, Ales Kravtsevich, was detained in a protest in Hrodna, and is now at the Lenin District police department.
4:54 pm Brest. Detentions have started again on Sovetskaya Street. Riot police ran up to people from behind and began capturing them.
4:56 pm Belarusians in Poland have gathered at the Belarusian Embassy!
4:59 pm A view from above: the column of protesters as it is moving along Masherov Street.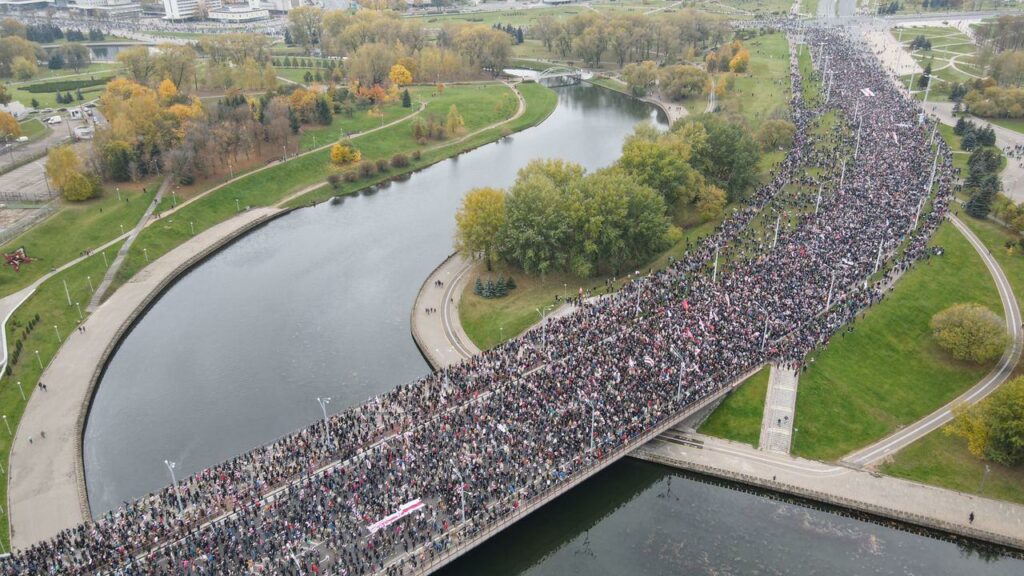 5:00 pm Brest. Armed security officials are dispersing people on Sovetskaya Street.
5:00 pm Minsk. Security forces blocked traffic on Kuibyshev Street.
Surganov Street is closed off at the Iceberg shopping centre. People manning the cordon did not let an ambulance through – it had to go via another route.
5:04 pm Navahrudak. People have gathered for a rally in the square. Their mass gathering was not allowed by the police guarding the city centre.
5:06 pm Minsk. The huge column is holding on; people do not disperse. At the moment, the protesters are moving from Bangalor Square along Orlovskaya Street.
5:12 pm Minsk. Small groups of people separated from the column and left along Nekrasov and Kulman Streets, but the rest of the column continues to move on.
On Surganov Street, cars have started moving. The cars follow the column and honk.
5:13 pm Minsk protest. An interesting fact: the column was moving continuously towards Bangalor Square for exactly 42 minutes!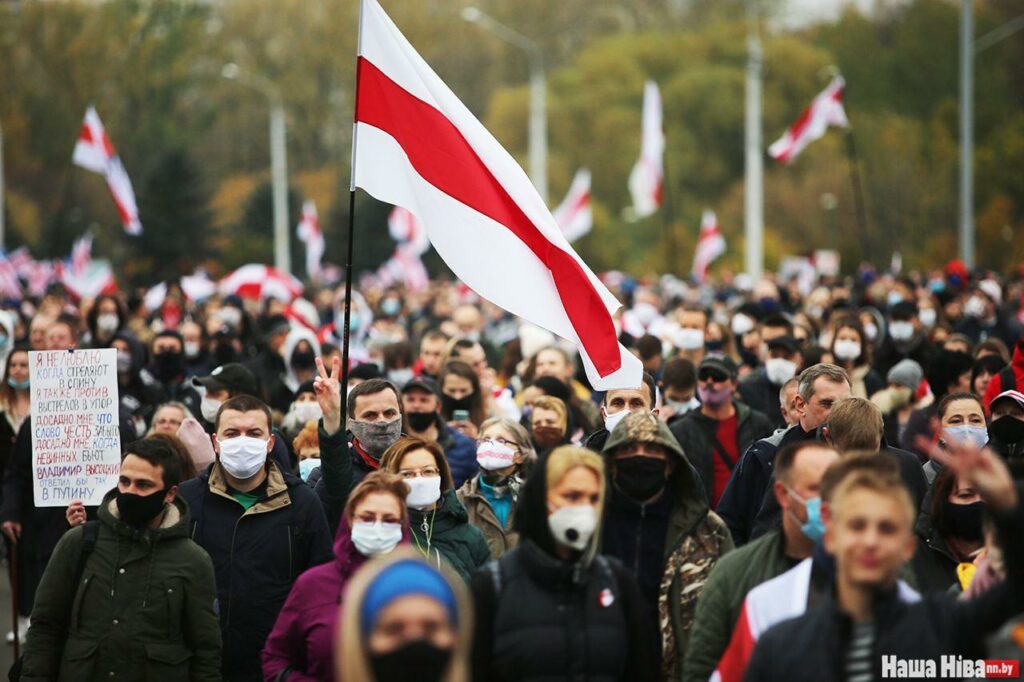 5:14 pm Some of the security officials went to the courtyards of Surganov Street to search for people.
5:15 pm In addition to the March, today in Minsk people lined up in a solidarity chain on both sides of Dzerzhinsky Avenue.
5:16 pm Hrodna. OMON are pushing aside women standing in their way.
5:16 pm Lawyer Sergei Supranovich, together with his girlfriend Anna Binkevich, has been detained.
Viasna Human Rights Centre reports about 49 detainees in different cities of Belarus.
5:20 pm Belsat correspondents, participating in the People's Ultimatum March, had their cellphones blocked. Now we know what this could be.
5:21 pm Three hours have passed since the journalists Dzmitriev and Zorky were detained in a protest in Minsk. They have not been released yet.
5:22 pm Minsk. The column turned to Orlovskaya Street. Its front has crossed the intersection with Gai Street. People have lit torchlights and are moving forward. There are people in wheelchairs in the column.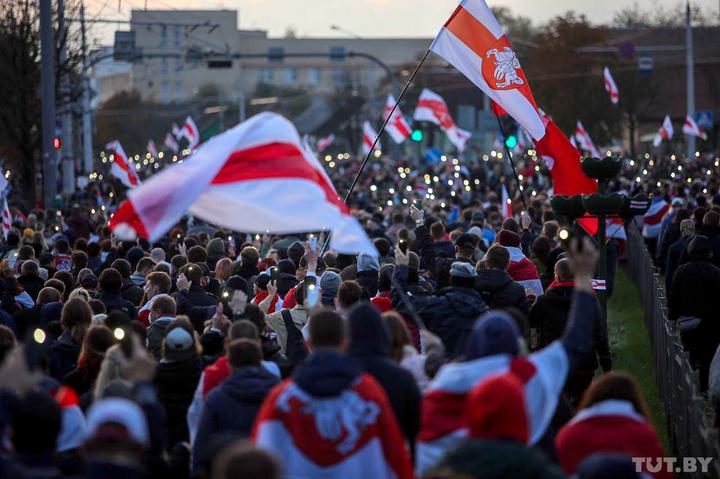 5:23 pm The column of security forces went down Khoruzhaya Street towards the Russian Embassy and the Youth Palace.
5:26 pm Minsk. The column is walking along Orlovskaya Street, chanting: "I am looking through the window, not watching TV". People are greeting them from the houses.
5:28 pm In Brest, the security forces are constantly trying to disperse the protesters, but people keep getting back together. This time, people are being detained on Budyonny Street.
5:32 pm The front of the column has reached the Central District police department. All roads are open.
Meanwhile, the convoys of anti-riot vehicles returned to Myasnikov Street and have arrived at the Obelisk.
5:36 pm Minsk. People keep walking along Orlovskaya Street, chanting: "From Khabarovsk to Brest, there is no place for dictatorship" and "Lukashenko to the prisoner transporter".
The front of the column has turned towards the Independence Palace.
5:40 pm Nina Bahinskaya is walking home safely – it means the march was a success!
5:43 pm Minsk. On its way along Orlovskaya Street, the column is passing by the Central District police department. People are chanting "Tribunal", "We will not forget, we will not forgive".
5:45 pm Hrodna. Among the detainees, there is puppet theatre actor Ivan Dabruk.
5:46 pm All anti-riot vehicles have left Myasnikov Street, even the ones that stood in reserve during the day.
They rushed to defend the palace of the ex-president.
Meanwhile, the front of the column has reached the bridge near the Supreme Court, on which the police cordon stands, and stopped at about 300 metres away. The protesters stood still for a while, and then began to slowly move towards the security forces.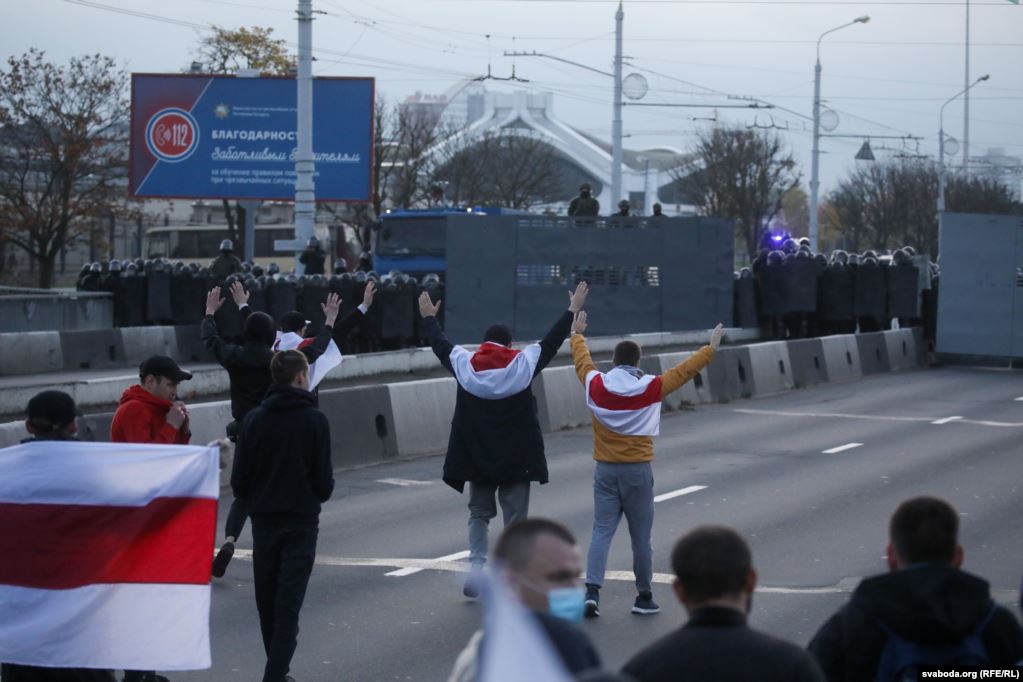 5:48 pm Security forces have blocked Orlovskaya Street near the Independence Palace.
5:48 pm The solidarity procession in Vilnius walked from the Lithuanian Seimas to the Town Hall. About 160 people attended.
5:49 pm Minsk. Workers meet the column on its way. They wave helmets at the protesters, reports @nashaniva.
After some hesitation, the column moved forward to the cordon of the security forces, which blocked traffic on Orlovskaya across the bridge.
5:51 pm The column has reached the cordon.
5:52 pm Now in Minsk:
On the bridge on Orlovskaya Street, there are Rubezh assault barrier vehicles, two water cannons, and a chain of riot policemen. They have blocked the column of protesters on the way to Victory Avenue.
5:53 pm Minsk. A large convoy of people transporting trucks, vans and buses was seen near the Chelyuskintsev Park. Vehicles drove in the direction of Uruchcha.
Considering the fact that the protesters have already come close to the Independence Palace, this looks strange – in earlier events, the security forces' vehicles used to leave the city only after the protest ended.
5:54 pm Minsk March participants approached the OMON line; the distance between them is about 5 metres. People are shouting: "Go away".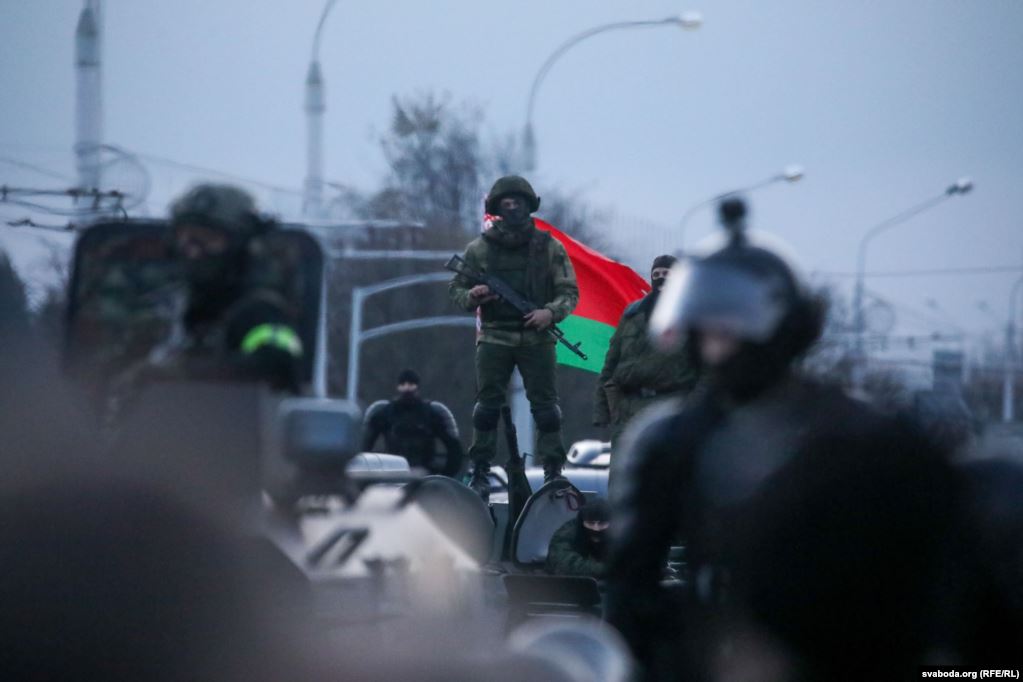 Several shots were fired. The riot police are trying to drive the protesters away from their chain. People are shouting: "Nazis". But, as a correspondent of @nashaniva reports, no one was hurt.
5:56 pm Minsk. The column that is walking along Orlovskaya is greeted not only from the windows, but also from the rooftops.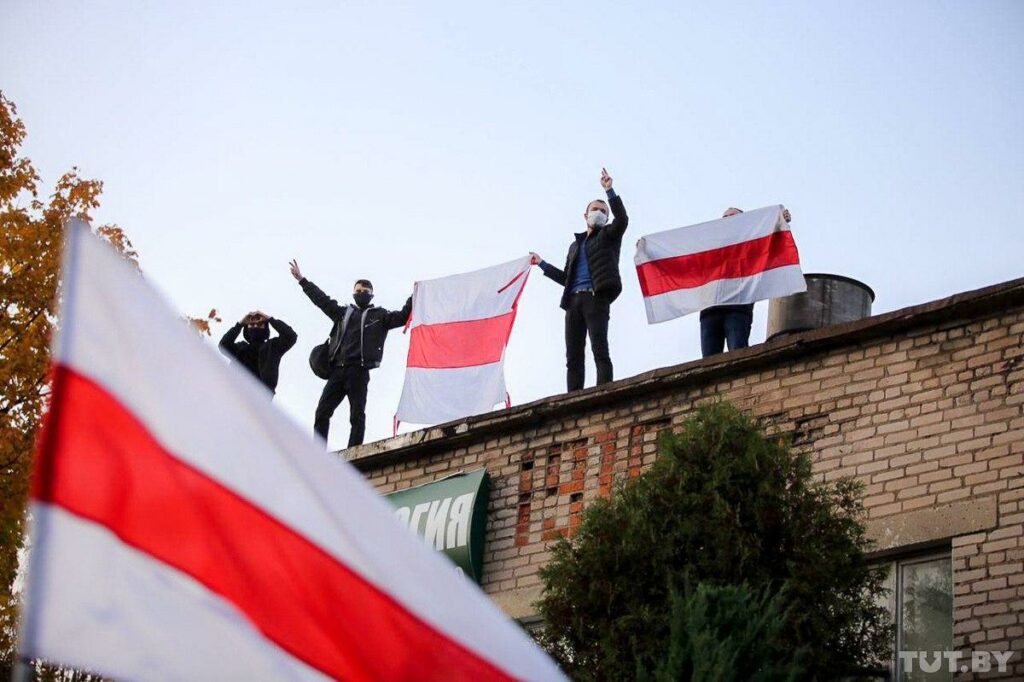 5:57 pm Minsk. One of the protesters approached the security forces' cordon. They tried to detain him, but people got him back. After that, a small scuffle ensued. As a reader reports, a man in a balaclava, standing by a Rubezh vehicle, fired twice in the air, and then pointed his weapon at the protesters. Now, the situation has calmed down.
5:59 pm Throughout all the marches, we have seen athletes, doctors, the Kupala Theatre actors protesting. On this march, people in wheelchairs are carrying a banner with an illustration of a heart rate.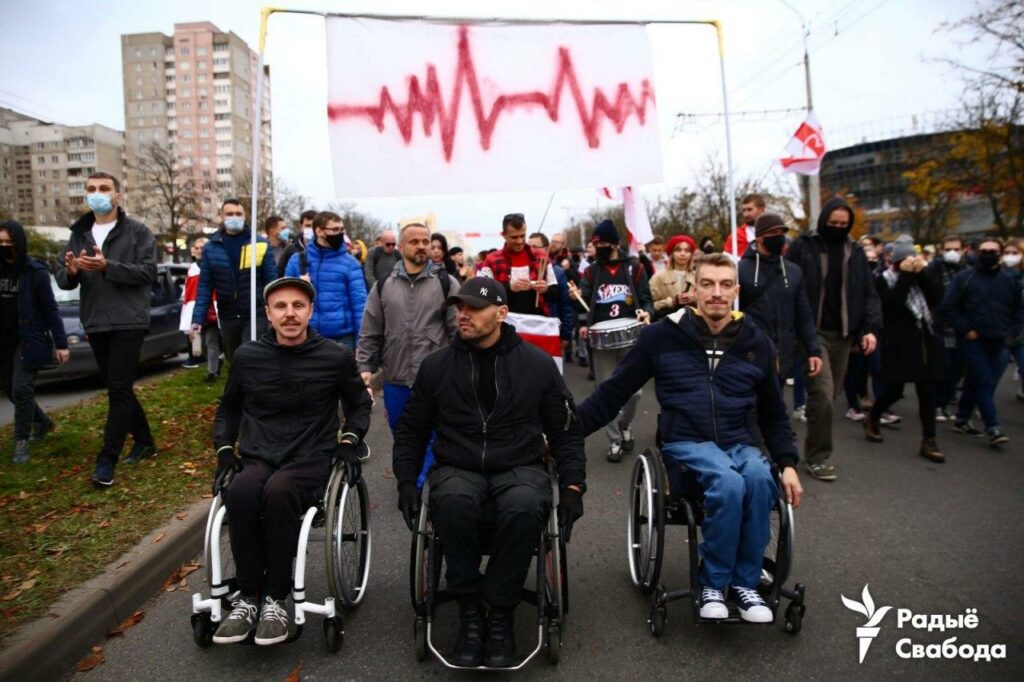 6:01 pm The march in Minsk continues.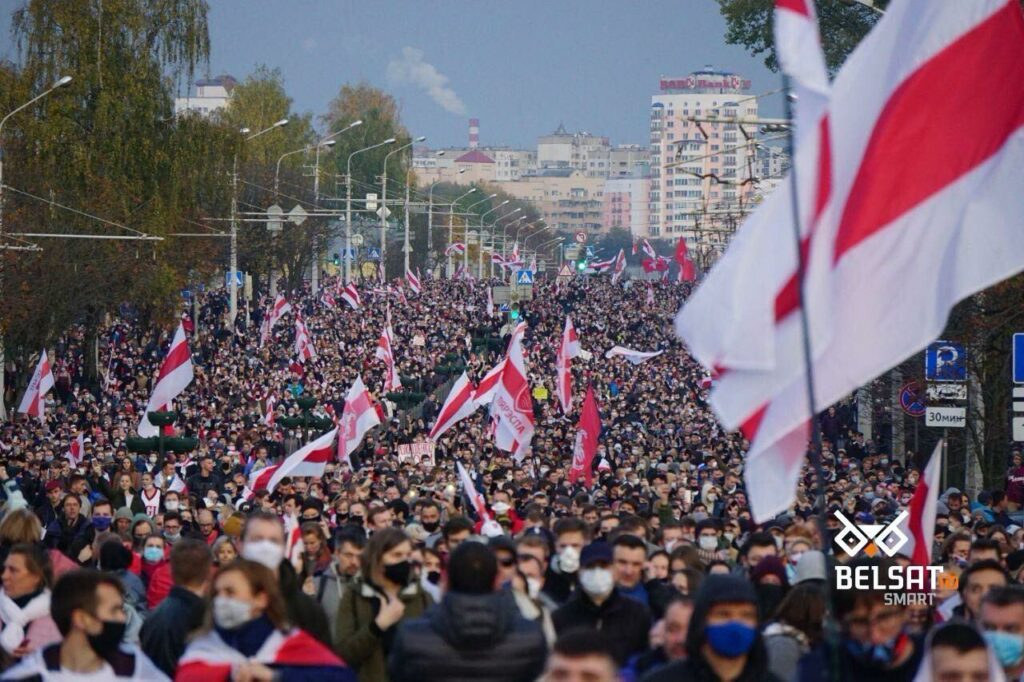 6:02 pm Minsk. Demonstrators were not able to reach an agreement with the riot police on getting permission to cross the bridge on foot, so most of them went around and headed to the park on Sviloch Street. Prisoner transport vehicles are following the column of protesters, @NashaNiva's correspondent reports.
6:04 pm Viasna Human Rights Centre, which has been stripped of its registration, has noted over 50 arrests today.
According to human rights workers, arrests have taken place in Minsk, Hrodna, Brest, Homel, Vitsebsk, Mahiliou, Rechytsa, Barysau, Navapolatsk, Lida, and Pinsk.
6:05 pm People crossed the police cordon on Orlovskaya Street, quickly followed by police buses. Protesters are running after them.
6:06 pm Incredible! For eleven Sundays in a row now, Minsk residents have taken part in protest marches. The number of protesters today is similar to that on 30 August, when over 200,000 people came out. It is a wonder but the numbers of protesters are growing, rather than shrinking!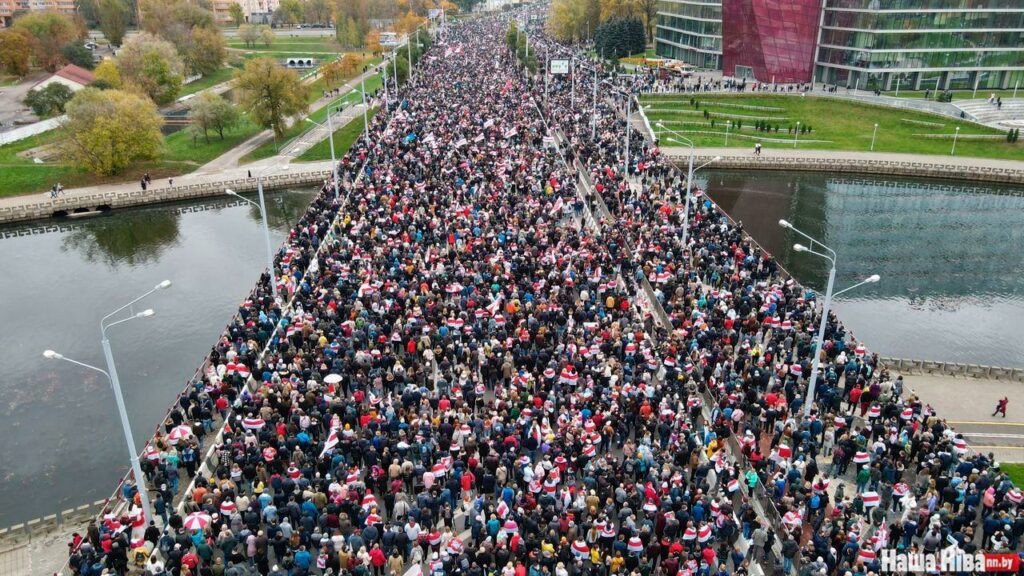 6:08 pm Today, some protesters in Homel waved the Liverpool flag.
6:09 pm Protesters chanted "Get out of the crowd, we're getting to work, now!" at plainclothes officers trying to infiltrate the crowd.
6:10 pm Minsk. When unknown individuals wearing balaclavas exited the minibuses on Orlovskaya Street, they threw a stun grenade into the crowd. However, it did not go off and instead began smoking. Readers report that it did not appear to be tear gas.
6:11 pm Loud bangs and flashes of light were observed from Orlovskaya Street.
6:11 pm The police are trying to set up a cordon near the Minsk Central Police Department. Protesters are trying to get around it. A lot of flash-bangs and stun grenades are going off!
6:13 pm Flash-bangs can be seen going off.
Witnesses report that riot police have begun breaking up crowds. People are scattering and running into courtyards.
6:15 pm Arrests have begun in Minsk.
6:18 pm Minsk. At least one person has been injured by a flash bang, when shrapnel penetrated his shin. Concerned bystanders helped take him to safety.
6:21 pm Baranavichy bus stop. People are being taken away. The stop is on the outskirts of town. People are not being allowed to reach downtown.
6:23 pm Minsk. The riot police are breaking up crowds using flash bangs. The Minsk police have reiterated to RIA Novosti that special equipment is being used on Orlovskaya Street "to suppress protesters' illegal activities".
6:26 pm Police have begun shooting flash bangs into courtyards on Orlovskaya Street.
6:30 pm Riot police are throwing stun grenades directly at people.
6:31 pm Minsk. Glass has been broken in an apartment entryway on Orlovskaya, where police threw flash bangs.
6:32 pm Minsk. Many prisoner transport vehicles are driving down Chervyakov Street, where flash bangs were just deployed against protesters.
6:33 pm Minsk. Unknown individuals wearing balaclavas, helmets, and carrying batons are looking for protesters in a courtyard on Novovilensky Street.
6:34 pm Eyewitnesses report that protesters were wounded as a result of police breaking up the crowds near the Minsk Central Police Department.
6:35 pm It has been reported that Sputnik journalist Pavel Vur and TUT.BY and Narodnaya Voli photojournalist Ales Piletsky were arrested in Vitsebsk while returning home after covering today's demonstrations.
6:36 pm Novaya Gazeta's correspondent in Minsk reports that riot police shot rubber bullets into the crowd while breaking up demonstrations. At least one protester was wounded after being shot in the stomach.
6:37 pm Polatsk. Four riot police officers are arresting one man, who was trying to walk away. They used pepper spray on him.
6:41 pm Police have begun dispersing crowds. Riot police in buses followed the column on Orlovskaya Street. Protesters chased them, and they were forced to retreat. However, at the intersection of Orlovskaya and Novovilensky, they regrouped, and when demonstrators approached, the officers deployed flash bangs and stun grenades. People then ran into courtyards, where the officers began a door-to-door search, @nashaniva reports. Riot police threw stun grenades at the backs of protesters running away, literally a hundred yards from the Mother and Child Centre maternity ward, where women are giving birth and staying with their newborns.
6:41 pm The mobile Internet is back in Minsk.
6:42 pm Minsk. Readers report that minibuses and prisoner transport vehicles are driving down Chervyakov Street. Riot police are looking for protesters in courtyards.
6:47 pm Youth Front leader Zmitser Dashkevich has been arrested, his wife Anastasia reports on Facebook.
6:57 pm Viasna reports that 83 people have been arrested in cities around Belarus.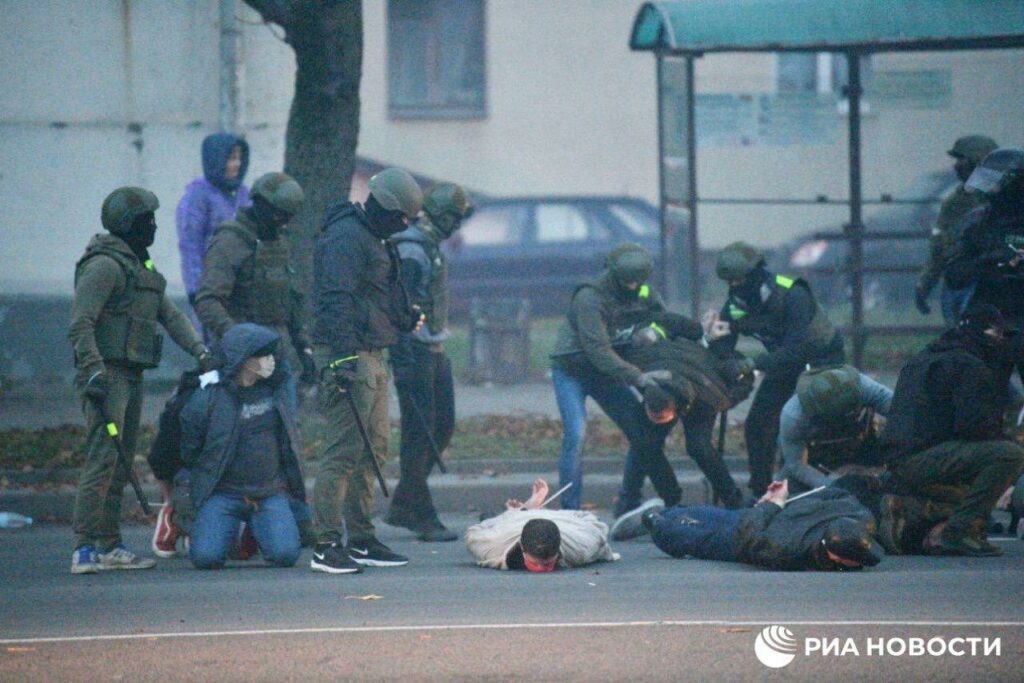 6:57 pm Hrodna. One of the detainees, Yuri, reports that protesters arrested are being marked with zelyonka, a bright green antiseptic commonly used in the former USSR that leaves a stain on the skin for up to a week. According to the report, riot police are using zelyonka to draw bright green crosses on those they believe to be the most serious lawbreakers.
7:01 pm Minsk. Readers report OMON vehicles are lining Masherov Avenue, from the bridge to the Stele, and riot police with shields are on the bridge itself. Riot police are still searching courtyards in the Orlovskaya district. They are using flashlights to search in bushes and under cars.
7:06 pm Novaya Gazeta has published a shocking photo of a man injured by a rubber bullet in Minsk.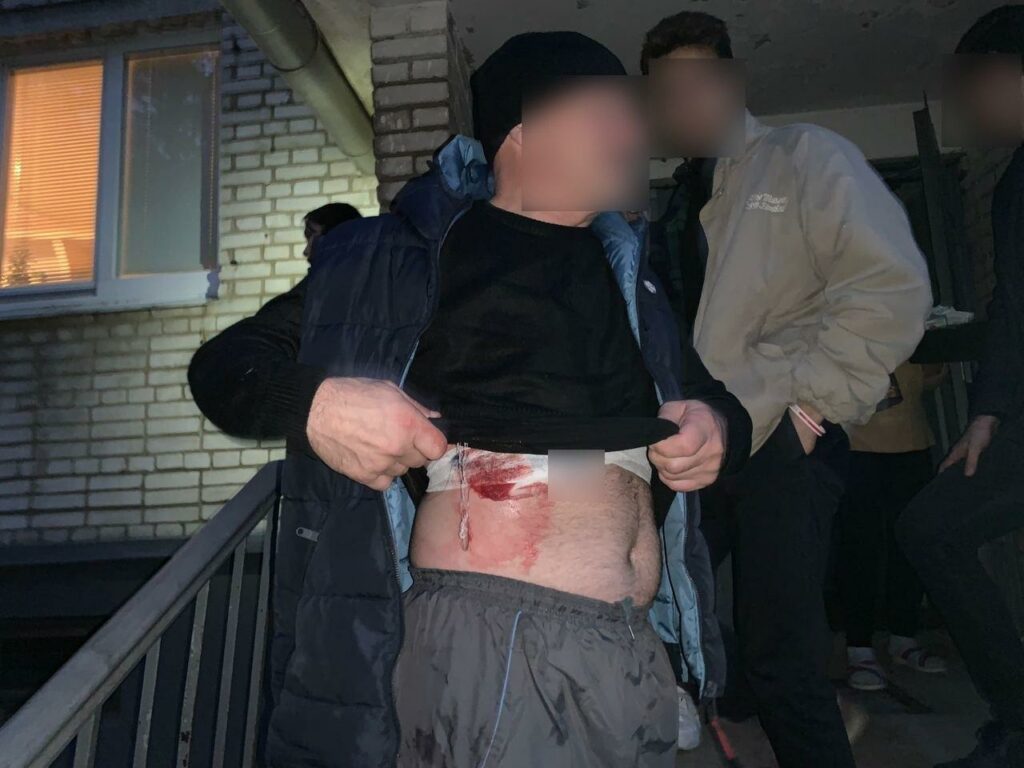 7:11 pm The entrance to the Lenin Square metro station is open at Independence Square. The metro is operating normally.
7:13 pm Detained journalists Dzmitry Dzmitriev and Sviatoslav Zorky have been released after being booked at the Oktyabrsky police station.
7:15 pm 102 people have already been listed as arrested on Viasna's list of detainees.
7:17 pm In their comments to RIA Novosti, the Minsk police explained that they are using flash bangs because "protesters attempted to attack riot police".
7:20 pm On Starovilensky Street in Minsk, unknown individuals dragged a driver and passenger out of a car and put them in a police minibus.
7:21 pm @Motolkohelp Telegram channel readers report that the light is on in the operating rooms at Minsk Military Hospital. This was also the case on the night of 10 August.
They report that wounded individuals are also being taken to Hospital 6 and the Emergency Hospital. The total number of casualties is unknown. After the flash bangs went off on Orlovskaya Street, about 10 ambulances appeared from various substations.
7:30 pm The bridge is being blocked in the direction of the Stele.
7:35 pm One of the BRDM combat reconnaissance vehicles riot police brought to Minsk on Sunday has been in an accident. A truck carrying riot police drove into it.
7:45 pm A 69-year-old man who was seriously wounded by riot police was taken to the Hrodna emergency room today. The man suffered a traumatic head injury, concussion, and cuts to his head.
7:49 pm Hrodna residents are continually delivering cookies and tea to those waiting outside the Lenin Police Station for detainees to be let out.
8:00 pm Viasna's list of detainees now contains 129 names. They have recorded arrests in Minsk, Rechytsa, Pinsk, Polatsk, Brest, Homel, Mahiliou, Zhabinka, Lyakhavichy, Hrodna, Barysau, Lida, and other cities.
8:02 pm Several companies have opted to remain closed on Monday, 26 October, while others have arranged for indefinite time off. Some companies are closing for technical reasons, while others are doing so due to potential problems with transportation and internet connections. Still, others are doing so as a show of solidarity.
8:13 pm Minsk. A man holding a sign saying "puppeteer" threw fake "money" at a column of people on Masherov Avenue.
8:21 pm @OnlinerBY readers uploaded a first-person video of the police dispersing the crowd on Orlovskaya Street using stun grenades.
8:24 pm Journalists Pavel Vur and Ales Piletsky, who had been arrested earlier in Vitsebsk, have been released three hours after their arrest. Police officers forced them to delete their photos. Piletsky reports that he was brutally arrested.
8:25 pm Belarusians around the country are beginning to form solidarity chains in a show of protest against violence.
8:42 pm An ambulance has arrived at the Lenin Police Station in Hrodna.
8:45 pm Sviatlana Tsikhanouskaya's Telegram channel published a statement from her on the results of the March and in honour of the People's Ultimatum.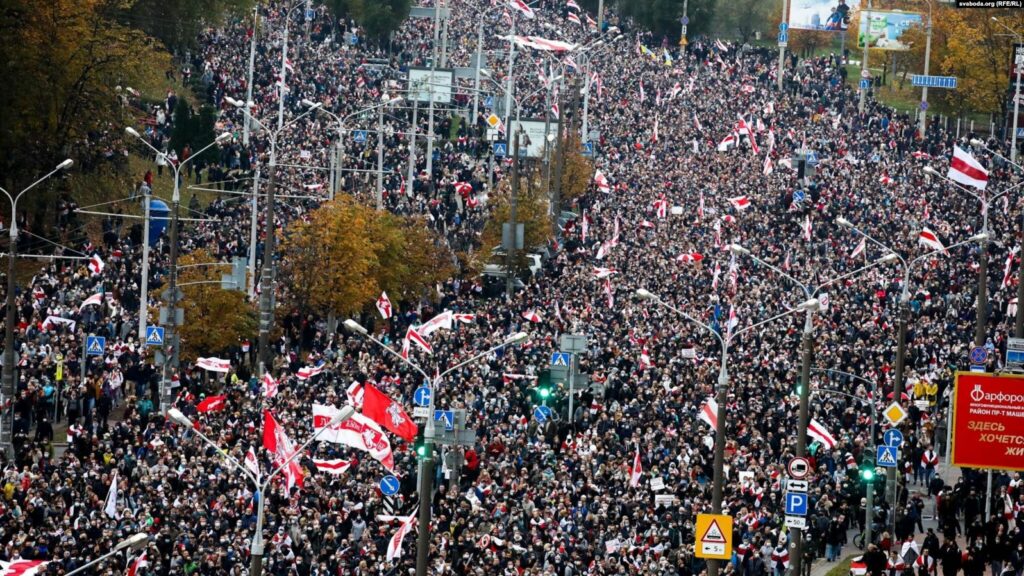 "Today, Belarusians showed the regime that peaceful protests are a constant, constructive force. We are ready to give our word and answer for it. Belarusians have given the People's Ultimatum, and the numbers that turned out for today's march are a sign that the people's will is working, and that it cannot be denied.
Today, once again, the regime showed the Belarusian people that it is capable of nothing more than violence. But throwing stun grenades into crowds and outside the windows of maternity wards is not a sign of strength. The regime is not willing to speak the truth, answer for its words, and fulfil the will of the people. That means that the regime is not worthy of the Belarusian people. That means that this regime has lost its authority.
That is why a general strike will begin tomorrow, 26 October. The people of Belarus are taking this step, because their word is the law. That is the same law they have tried to take away from us, but which we will certainly restore. And we will do so with the help of our strongest peaceful weapon – solidarity."
8:46 pm Readers have presented Nasha Niva journalists with bulletproof vests bearing the inscription "Press".
8:50 pm At least two wounded individuals are at the Minsk Military Hospital after having received gunshot wounds to soft tissue. Journalists also report that many wounded individuals have not gone to the hospital because they are afraid of retribution by the authorities.
9:00 pm Following a peaceful demonstration in Babruisk, Ivan Khamrenko, the husband of Vecherniy Bobruisk journalist Irina Khamrenko-Ushakovaya, was arrested.
According to Khamrenko, he was taken to a temporary detention centre. This is not his first arrest – he has been tried and sentenced to both jail time and fines twice in the past two months.
9:05 pm Neurosurgeon Sergei Getmanyuk was detained in Brest. He is one of the doctors who are fighting the coronavirus.
9:10 pm Today in Minsk, ex-BT journalist Natalia Bibikova and musician Erik Orlov-Shimkus were detained at the March.
9:13 pm A video has surfaced showing people chanting "Walk! Don't run" in order to avoid panic and a stampede after the explosions on Orlovskaya.
9:22 pm Telegram channel "Basta!" posted a video that, according to it, was taken at Petr Glebka Street in Minsk. In the video, a girl screams and cries from the pain inflicted on her by security forces; afterwards she coughs for a long time. "Commander, send her away, she's pregnant," a male voice says.
9:30 pm Security officials with truncheons broke into an apartment on Orlovskaya where the protesters were hiding and dragged them out by force, shouting: "I'll take you, with or without pain!" According to eyewitnesses, the video that was later sent to the @radiosvaboda channel was filmed by a little girl.
9:42 pm The press secretary of the Ministry of Internal Affairs, Volha Chamadanava, said that today the protesters broke the windows in the Central District Police Department. It was in this area, she reminded, that special equipment was used. Regarding the windows in apartment buildings broken due to grenade explosions, Chamadanava did not say a word.
9:44 pm Previously detained Belsat journalist Zmitser Kazakevich remains in the pre-trial detention centre. Professor Ales Kravtsevich, detained in Hrodna, was also left in confinement.
9:45 pm Human rights defenders of Viasna are currently aware of 212 names of detainees throughout the country.
9:55 pm Ales Piletsky, photojournalist of TUT.BY and Narodnaya Volya, about his arrest:
"The detention took place at 5 pm, when I was already walking home along Moskovsky Avenue. The riot policemen behaved rather harshly; at some point they used strangulation, twisted my arms – they wanted to take my phone. They grabbed me by the arms and legs and carried me to the car. There, they threw me on the floor, stepped on my throat with a knee. Now it hurts to swallow, and it seems that a tooth is also damaged. The Internal Affairs Office demanded that I delete the photographs."
10:00 pm Police reported to RIA Novosti that about 120 people were detained in Minsk and two policemen were injured.
10:02 pm Minsk. Someone set fire to car tyres on Kalvariyskaya Street, not far from Molodezhnaya metro station. The last time tyres burned in the Serebryanka district of Minsk, the footage of them was repeatedly used by journalists from state television to illustrate the "radicalisation of the protests".
10:08 pm Sviatlana Tsikhanouskaya supports the launch of the "August 2020" project to forward data on security forces' violence for further investigation.
The "August 2020" project collects stories of people who suffered from the actions of the security forces during peaceful demonstrations. The project was created by a group of journalists and volunteers with the support of Belarusian IT specialists. Already, there are hundreds of stories of people on the site; hundreds of testimonies are still being processed.
"It is important for the whole world to know about the crimes against humanity that have taken place and will continue to take place in the very heart of Europe in 2020," stressed Tsikhanouskaya.
10:10 pm Minsk. Unidentified persons in balaclavas arrived at Novaya Borovaya and took at least one person. According to the person who took the video, the detained woman has a child left at home.
10:25 pm The Head of the Municipal Department of Internal Affairs of the Minsk City Executive Committee:
"With the onset of darkness, the protesters went to the residential areas and started throwing stones at the administrative buildings. They also attacked the Central District Department of Internal Affairs of Minsk. The active participants were detained by police officers."
10:55 pm During the brutal dispersal of the demonstration, one of the grenades exploded right under a girl's feet, as shown in this video. The further fate of the girl is unknown.
11:21 pm The girl, whose apartment security forces with truncheons raided in search of protesters, told how it all happened.
According to her, she and her roommate had let in about 25 people, but the last man to enter the apartment was a man with a truncheon. He said: "We don't touch the women, the men – come out!" Everyone who went out was beaten; several men managed to hide.