2 October 2020 | Infocenter Free Belarus 2020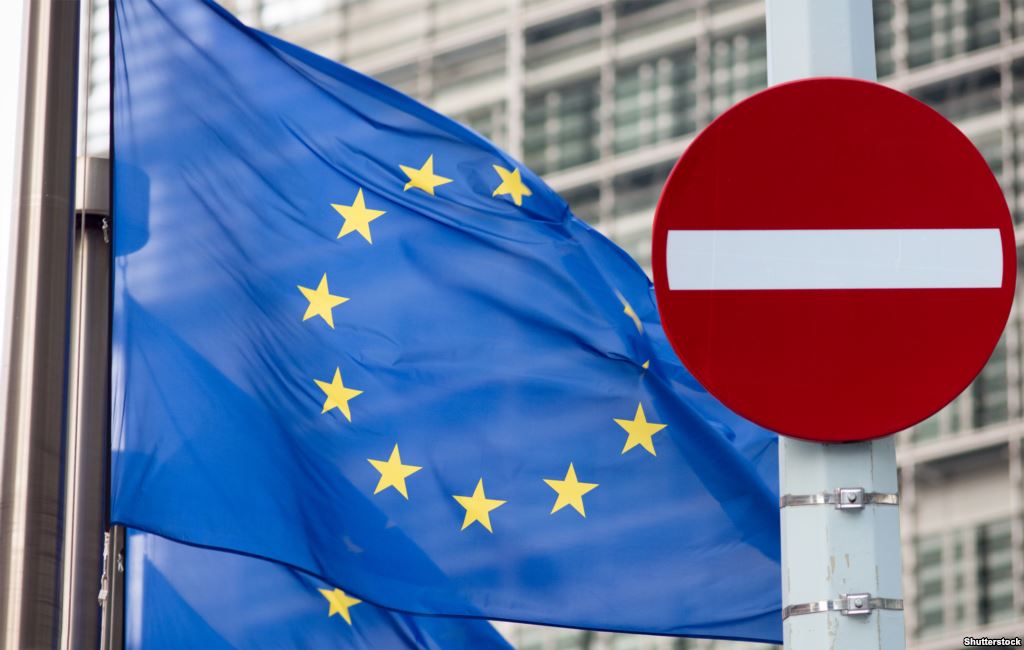 Good morning. The 55th day of protests begins in Belarus. Stay with us.
8:35 am The EU imposed sanctions on 40 Belarusian officials. Lukashenko himself did not make it to the list.
French President Emmanuel Macron pointed out that the EU did not impose sanctions on Lukashenko, as this would undermine Brussels' demand for dialogue with the opposition mediated by the OSCE and the release of political prisoners.
Macron pointed out that if Lukashenko was included in the list, it would give him a legal basis to refuse to fulfill the conditions.
Belarusian President Alexander Lukashenko was not included on the sanctions list, although Charles Michel said the bloc "will follow the situation" and that changes could be made. The sanctions include asset freezes and travel bans for those targeted.
9:36 am The United States pledges support to the Belarusian people. This was announced by the US Secretary of State Mike Pompeo. Pompeo pointed out that the US is against foreign interference in the settlement process, including that of Russia.
10:08 am The star of the Kupala Theater, actress Zoya Belokhvostik, was dismissed from the Academy of Arts. The actress was fired without explanation beyond the phrase, "Well, you understand everything yourself." The Academy of Arts administration declined to comment.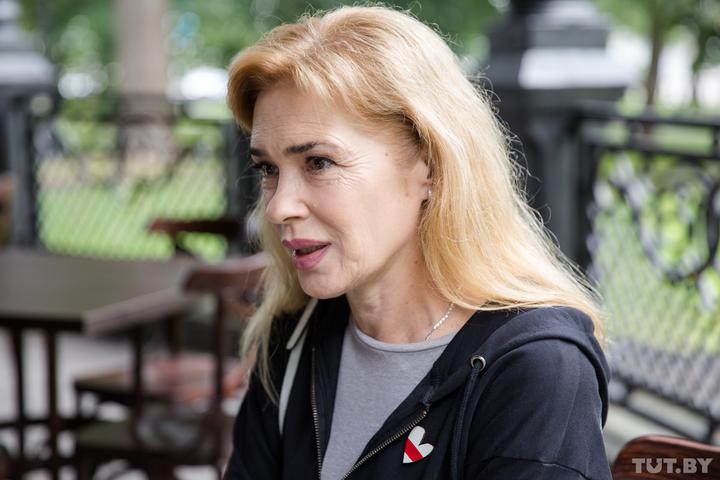 10:26 am The Ministry of Internal Affairs claims that law enforcement officers are present on every Telegram channel, including NEXTA, thus allowing the security forces "to have full control of the situation."
11:07 am Teachers' Day is approaching in Belarus, and people are preparing to congratulate them appropriately. Inscriptions "Teachers lie" and "Teachers' lies kill children" appeared in front of schools. This is how Belarusians remind teachers, many of whom were counting votes, of their participation in and responsibility for the election fraud.
11:16 am The USA has prepared a bill on Belarus.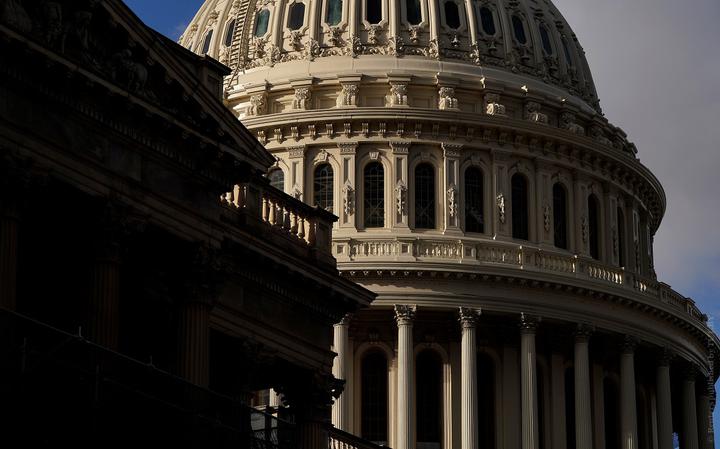 It involves the introduction of sanctions against Belarusian officials, an increase in aid for the country, as well as the preparation of reports on Russia's actions and Lukashenko's assets.
Key points:
refusal to recognise the election results
holding a new election in line with the OSCE standards
release of political prisoners, in particular the US citizen, political consultant Vitaly Shklyarov, and Maria Kalesnikava
dissent with Belarus' inclusion in the Union State under the Russian control
increasing aid to the free media
continued cooperation with the EU to protect the sovereignty of Belarus
11:47 am In response to the accusation presented by the Investigative Committee, Maksim Znak's lawyers filed a complaint with the Prosecutor General's Office. The Prosecutor General's Office, in turn, forwarded the complaint for consideration to the Investigative Committee itself, which is a gross violation and deprives Maksim Znak of the right to objective conduct of the case.
11:50 am The March for the Release of Political Prisoners is planned for this Sunday.
11:53 am In response to the EU sanctions, the official Minsk will introduce today its reverse sanctions list. However, this list is not going to be published.
11:55 am Lithuanian road carriers started transporting part of their cargo bypassing Belarus.
11:56 am FC "Torpedo" announced that due to the current events, namely, the best basketball player Yelena Leuchanka's arrest and pressuring other athletes, they are suspending their participation in the Minsk Football Championship. "We cannot and should not put up with lawlessness."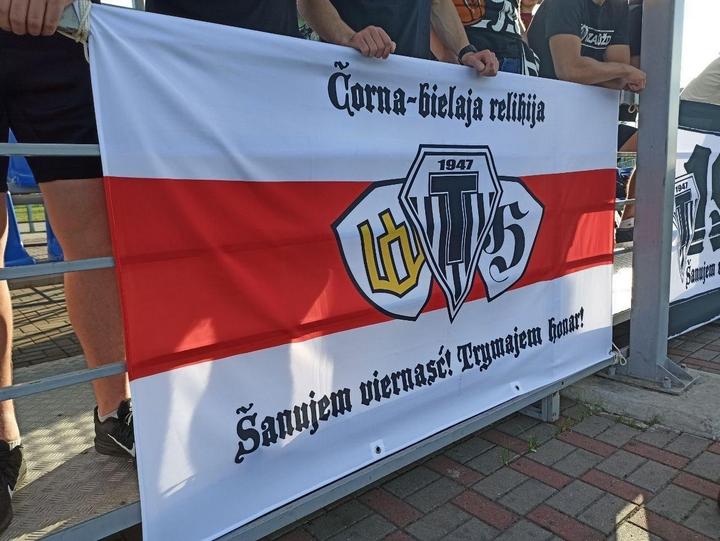 11:57 am Minsk threatens to break off diplomatic relations with the European Union in response to the sanctions.
12:00 pm EU ambassadors and diplomats of other countries (USA, Great Britain, Japan, Switzerland) in Belarus commemorated the International Day of Non-Violence. "Belarusian authorities should follow the example of their citizens."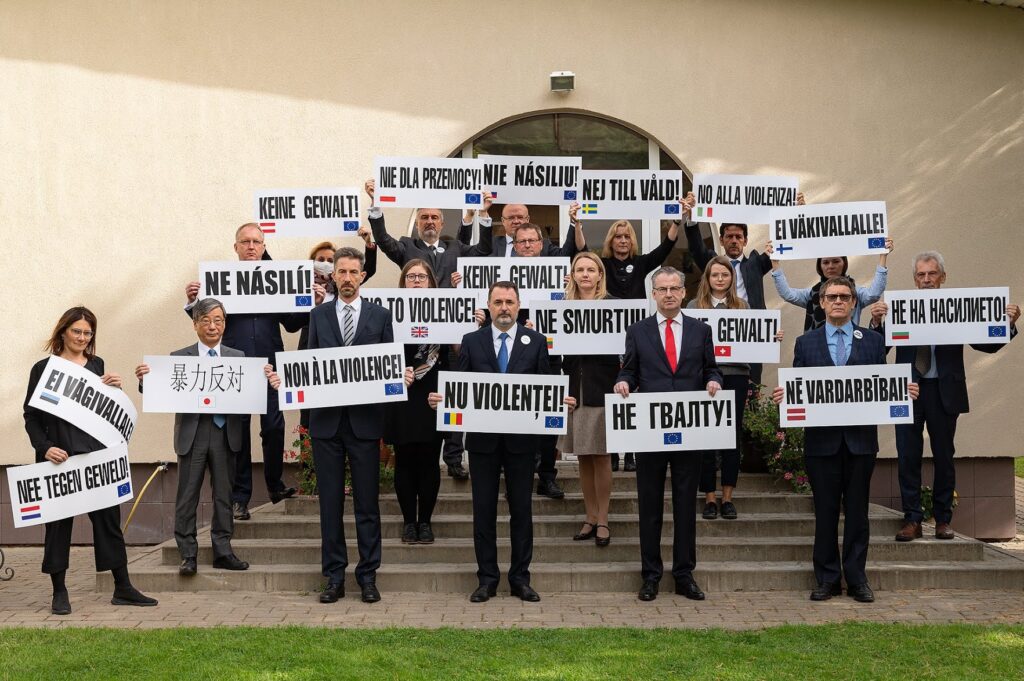 12:06 pm Historians employed by the Academy of Sciences took part in the protests to support their colleague, Andrey Matsuk.
12:10 pm Official Minsk is introducing its own sanctions list in response to EU visa sanctions. This will be a list of persons who are prohibited from entering Belarus. As per "civilized diplomatic practice", it will not be published, as reported by the agency. "Further promotion of 'the sanctions flywheel' by the European Union may lead to further serious consequences, for example, withdrawal of Belarus from joint programs and projects, review of the level of diplomatic presence before deciding on the expediency of maintaining diplomatic relations," the Foreign Ministry said.
12:24 pm Well-known Russian basketball player Svetlana Abrosimova has recorded a video message in support of the prosecuted Belarusian athlete Yelena Leuchanka.
12:25 pm IT developer Alexei Novikov witnessed Maria Kalesnikava being transported from Minsk to Zhodzina prison.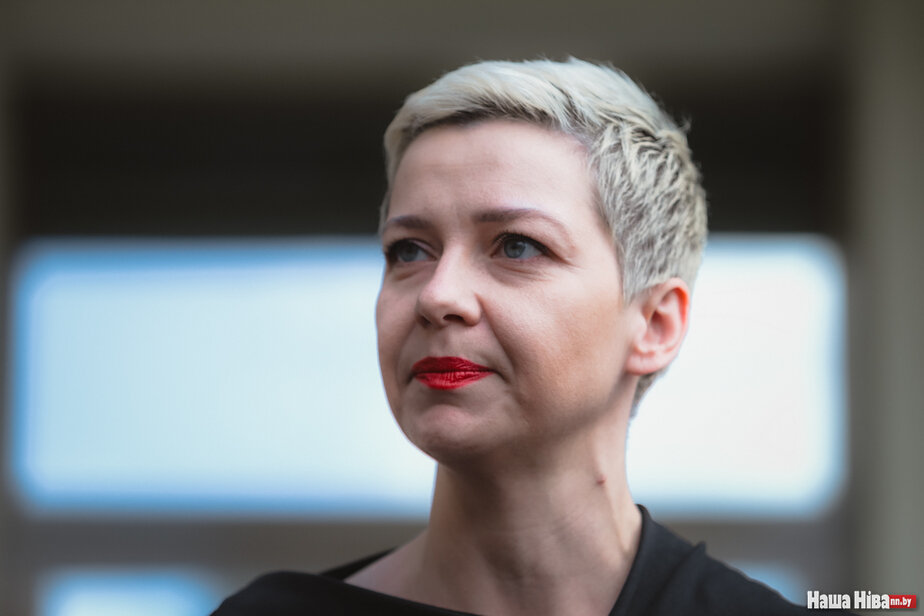 12:30 pm Foreign diplomats located in Minsk have spoken out against violence. The heads and representatives of the diplomatic missions of the European Union and its member states, as well as Japan, Switzerland, Great Britain and the United States, took part in the action, the International Day of Non-Violence, on 2 October.
12:49 pm Pavel Latushka, a member of the Presidium of the Coordination Council, made a statement on the EU sanctions against the Belarusian authorities: "This is another confirmation of the international illegitimacy of Lukashenko and a fundamental assessment of the crimes committed by his regime." Latushka considers this to be the first step of the European Union. He believes that the list of sanctions will be expanded if the repressions continue.
12:55 pm Pinsk journalist Andrei Yakimush, who was sentenced to 10 days of detention on 22 September, has been released from prison.
12:59 pm Today, there is another sit-in protest by students.
1:03 pm The administrator of Telegram channel "Voditeli 97%" has been detained. The security forces are now in control of the channel.
1:20 pm The Chamber of Representatives of the Belarusian Parliament approved the new appointment of Raman Halouchanka as Prime Minister of Belarus.
1:33 pm The Lithuanian Foreign Minister stated that the events in Belarus should be investigated at an international level. Linas Linkevičius said that in addition to the sanctions imposed on Belarus, the international community should investigate the actions of those who committed violence against their fellow citizens in Belarus.
1:45 pm People are discussing the situation at the airport on social media: travelers with a one-way ticket are not being allowed on their flights – they are being forced to purchase a return ticket.
1:58 pm A special operation took place to remove the white-red-white flag installed in the middle of the pond in Krasny Bary. According to readers of the Telegram @Nashaniva, a man in a rubber dinghy tried several times but without success. But after taking another man on board to maintain balance, the flag was removed.
2:05 pm Sviatlana Tsikhanouskaya is having an online conversation with Nina Bahinskaya.
2:12 pm "Information blockade". Babaryka's team spoke about his new conditions of detention in the SIZO:
"Viktar Babaryka was transferred to a new cell no. 2, where there is a view of a wall from the window instead of the sky, and the interior is decorated in dark blue colors. But he is not discouraged, on the contrary, he is cheerful and optimistic, friends!"
Viktar was put under an information blockade: there is no TV aerial, no shelf for a TV set in the new cell – he's even been deprived of the opportunity to watch the footage of state TV channels. His letters were not given to him for more than ten days, although the defense lawyers knew for sure there is something to deliver and the right to correspondence cannot be violated. The defense lawyer has notified the head of the pre-trial detention center in her statement.
2:21 pm Protests are taking place today throughout Minsk.
2:45 pm This morning, eight local residents who regularly take part in city rallies, were invited to the Zhabinka District police station. None of them has returned home; they were all detained and sent to a pre-trial detention center.
2:52 pm The police detained two employees of the "Listovka" printing house in Minsk.
2:56 pm Unidentified men are burning ribbons and removing the white-red-white flag in the Square of Changes. The police are not intervening.
3:00 pm The EU has enforced sanctions against 44 Belarusians.
3:05 pm Belarusian human rights activists have declared the activists of "European Belarus" – Pavel Yukhnevich, Yevgeny Afnakhel and Andrei Voynich, who were detained on criminal charges of mass riots – to be political prisoners.
3:10 pm On 29 September, a 41-year-old man was brought to the Emergency Medicine Hospital from the detention wards on Akrestsina Street in Minsk. The man is unconscious and on artificial pulmonary ventilation. He was diagnosed with skull fractures, an open craniocerebral injury, hematomas, rib fractures, and a lung contusion.
Law enforcement officers claim that the injuries were caused by falling out of bed in the detention ward.
Over 600 people have addressed the Investigative Committee with statements on the use of violence by law enforcement officers. Early in September, the UN announced 450 documented cases of torture and abuse of people detained after the 9 August elections in Belarus.
3:15 pm Yevgeniy Dyatkovsky and Konstantin Nesterovich, members of the publishing house "Listovka" which is known for printing materials in support of the protests, have been detained in Minsk today. Yevgeniy just disappeared from his workplace in the morning. And later, Konstantin was detained: two men in civilian clothes allegedly entered the office to order business cards, and when the rest of the visitors left, they showed their IDs and invited Nesterovich to go with them. There is no information where Dyatkovsky and Nesterovich are now.
3:22 pm Press Secretary for the President of Russia, Dmitry Peskov, commented on the sanctions against Belarus:
"In general, we have a very, very negative attitude towards the sanctions policy. In any case, it is rather a manifestation of weakness than strength," he said.
3:25 pm Police officers have started calling students of the Moscow State Linguistic University and inviting them to the police department "for a conversation". Most of the calls have been received by people prominently involved in protests.
3:35 pm Students of the Belarusian State University of Informatics and Radioelectronics have gathered for a now almost traditional sit-in protest.
3:40 pm The Ministry of Internal Affairs has launched another SMS campaign. This time, they are reminding people about their responsibilities concerning "deliberate blockage of transport communications" and "urging everyone to be mutually polite and attentive to each other."
3:52 pm The founder of the @studentyBY channel, Ihar Kabushkau, has been uncontactable since 2 pm today.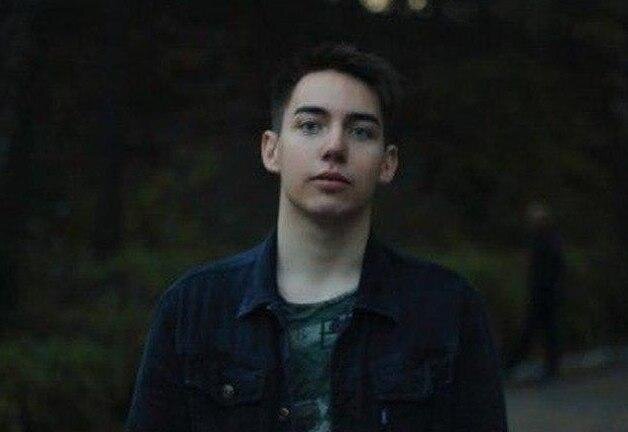 Earlier, at about 1 pm, he wrote that representatives of the Ministry of Internal Affairs were paying him a visit – therefore, he might well have been detained.
4:00 pm The Ministry of Foreign Affairs of Belarus will change the accreditation rules and run reaccreditation checks for all foreign media outlets working in the country. All the previously issued licenses have been terminated with immediate effect.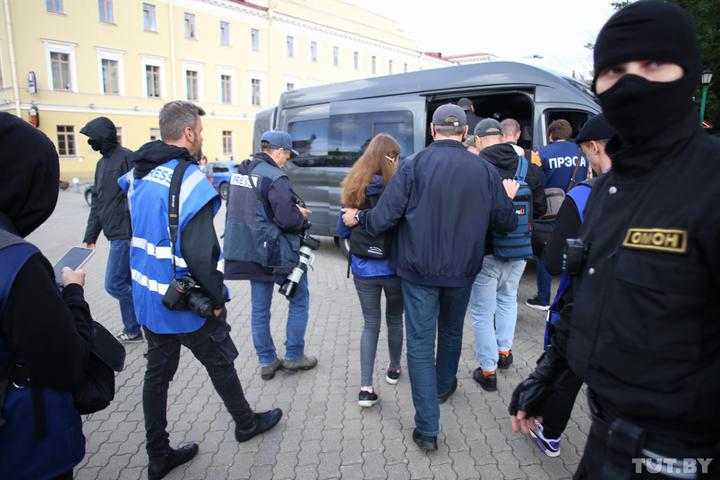 4:10 pm The press secretary of the Ministry of Foreign Affairs of Belarus, Anatoly Glaz, has commented on the sanctions imposed by the UK and Canada. He called them counterproductive and said that Belarus will come up with reciprocal sanctions for the UK and Canada.
He also said that the ambassadors of Belarus to Poland and Lithuania had been recalled to Minsk for consultations from 5 October. In addition, the Belarusian Foreign Ministry demanded a reduction in the number of diplomats working in Belarus at the embassies of Poland and Lithuania. 14 diplomats out of 25 should stay in the Lithuanian embassy and only 18 out 50 in the Polish one. According to him, this step was forced and had to be taken after "lengthy appeals for prudence".
4:25 pm Readers of Nasha Niva report that the "Stolitsa" shopping center will be closed on Sunday. Last Sunday, a number of shopping centers in Minsk were closed "for technical reasons".
5:05 pm A car owned by an inspector of a police department was set on fire. A criminal case has been initiated. Law enforcement agencies are looking for people involved in the crime.
5:15 pm On Independence Avenue, people have formed a solidarity chain.
5:20 pm The Ministry of Internal Affairs has introduced administrative responsibility for "thoughtless" parents who take their children to protests. The head of the criminal police, Gennady Kazakevich, called it "extremely cynical" when parents put their children in front of the police cordons.
According to Kazakevich, the Ministry of Internal Affairs is also generally in favor of strengthening administrative responsibility for participation in illegal mass events.
5:32 pm Volha Semchanka, an employee of the Mahiliou Drama Theater, has been detained, according to police who informed her relatives by phone. Previously, Volha was summoned to the Leninsky District Department of Internal Affairs and accused of participating in peaceful protest marches.
6:15 pm Earlier, we wrote about the arrest and disappearance of "Otchisleno" Telegram channel founder Ihar Kabushkau. Channel manager Alesya Vakulich is now also incommunicado. Neither Vakulich nor Kabushkau are answering any messages and their phones are switched off, according to friends. Their whereabouts are not yet known.
6:25 pm Russia has joined Minsk's sanctions against Western countries.
Pursuant to allied commitments, Belarusian sanctions against EU countries will begin to take effect in Russia immediately, according to Russian Foreign Ministry spokeswoman Maria Zakharova.
6:30 pm Several employees of Minsk company Belenergosetproekt have been denied their annual bonuses for participating in protests.
7:00 pm TUT.by readers report that on 1 October, the Belarus State Medical University rectorate met with students who had participated in a sit-in protest earlier. Professor Yuliya Matusevich went to support them. The next day, she received a call from the university and offered to tender her resignation.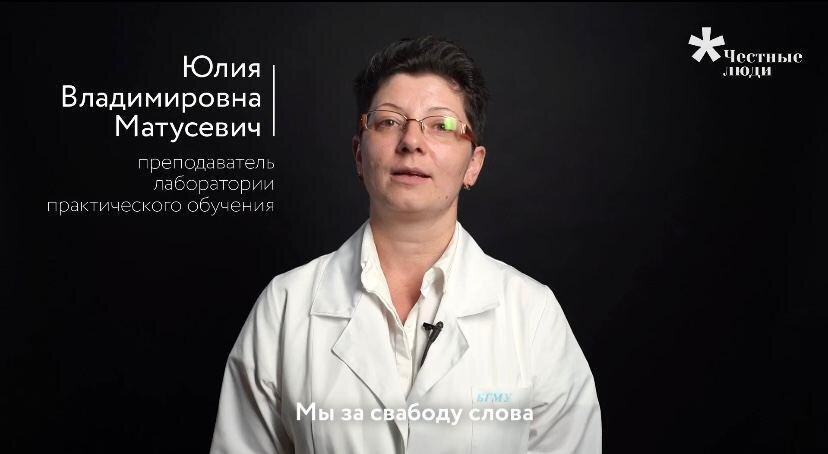 7:01 pm The onliner.by Telegram channel reports that the "Otchisleno" channel administrators have been released. Ihar has stated that he was a witness in a mass unrest case.
7:02 pm According to TUT.by, a person called the Pervomaiskiy police department and asked about the text message he received in which he was "identified as having participated in violating laws on mass unrest".
He was told over the phone that "the system was hacked and the message was just spam".
7:15 pm The United States Treasury has announced that it has imposed sanctions against 8 Belarusian officials, including those from the Ministry of Internal Affairs and the Electoral Commission.
7:55 pm According to the Lithuanian Minister of Foreign Affairs, Lithuania does not intend to reduce its number of diplomats or recall its Ambassador at the request of Belarus.
8:20 pm Belarusian media have spoken out about difficulties accessing YouTube and other Google services.
9:10 pm A Minsk resident who flew a white-red-white flag off of his balcony has been charged with participating in an unsanctioned mass event.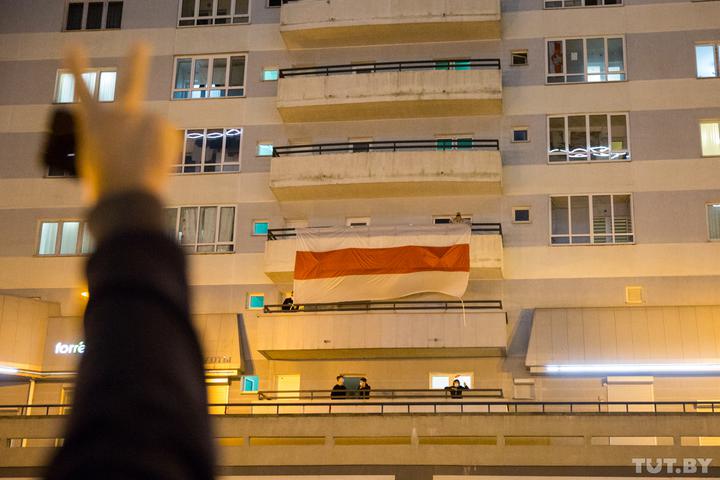 9:35 pm Ukrainian Foreign Minister Dmytro Kuleba has announced that Ukraine intends to join EU sanctions against Belarus.
9:58 pm Journalist Aliaksandr Sidorevskiy was detained in Mahiliou.
He was charged with participation in unsanctioned mass events, though he was carrying a document confirming that he was working as a journalist covering the protest.
10:25 pm UN representatives met with several Belarusian officials, including the Deputy Minister of Internal Affairs, Gennady Kazakevich. They expressed concern over the violations and civil liberties in Belarus. Kazakevich responded that any allegations of violence are unfounded.
Not a single criminal case has been filed in Belarus in response to the many reports of torture and violence against peaceful protesters.
10:30 pm People are continuing to gather in courtyards throughout Belarus for concerts, celebrations, protests and processions. The following are just a few examples:
"NaviBand" held an online concert in the Uruchcha neighborhood;
People stood, arm in arm, in a solidarity chain near Lahoysk and next to the Vostok metro station in Minsk;
People sang the songs "Mury" and "Stsyag" in the Central Post Office Building;
Literary critic Anna Severinets held a lecture in the Novaya Borovaya neighborhood in Minsk;
Local residents in the "Square of Changes" put together a celebration;
Residents of a neighborhood in Hrodna marched holding white-red-white flags.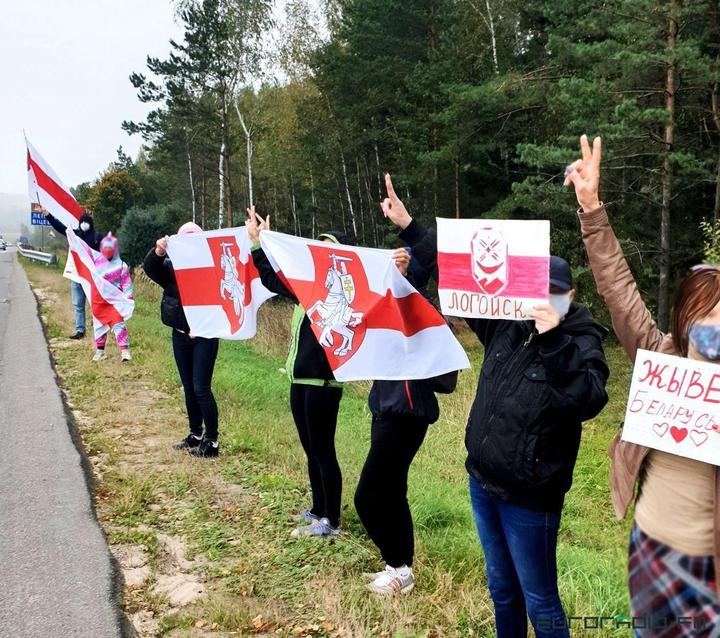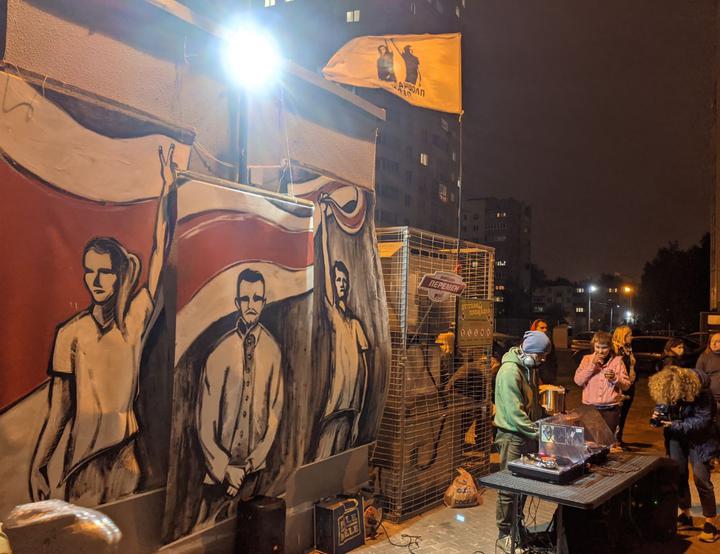 11:30 pm Zbigniew Rau, the Polish Foreign Minister, tweeted that Poland also does not intend to recall its ambassadors in Belarus at this time.