27 October 2020 | Infocenter Free Belarus 2020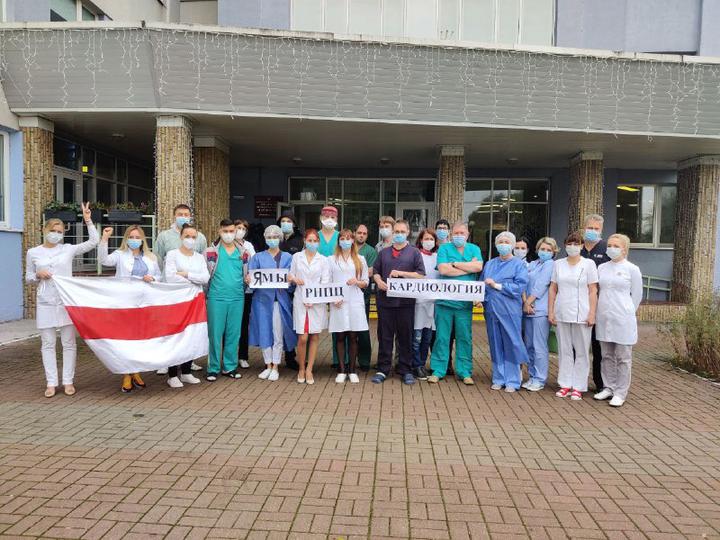 8:00 am Minsk.A solidarity chain of medics has formed at the Grushevka metro station. Two minibuses with tinted windows arrived and dispersed people. A few were detained. The exact number will be known later.
8:16 am Minsk. Doctors – the National Scientific and Practical Center for Traumatology and Orthopedics personnel – started a protest in solidarity with the strikers. Their placards say the names of the factories.
According to the law, doctors are not prohibited from going on strike, but they can protest outside their working hours.
8:18 am The Belarusian pension fund is running out of money. Enterprises don't have enough funds to make payments to the State Social Insurance Fund.
8:20 am Grodno.The strike at Grodno-Azot continues. The work shifts are not replacing each other. The plant workers are asking Grodno residents for support. They say they were promised that riot police would not be sent to the enterprise today.
8:35 am Minsk.Malinovka district partisans hung a large white-red-white flag on a house. It can be seen by everyone entering the city from the Brest direction.
8:38 am Minsk.The strike at Atlant household appliances' factory is reported to continue. Some workers have their entrance permission blocked. They cannot enter the factory premises.
8:39 am Minsk.The names of the medics detained in a solidarity chain near the Grushevka metro station are already known: they are Irina Kazimirovna Gaidel, Yevgeny Gennadiyevich Poloiko, Vladimir Vladimirovich Andruschuk, Oleg Leonidovich Polonetskiy, Mikhail Grigoryevich Tsubulsky, Andrey Bury, Dmitry Valentinovich Chuklay, Yelena Mikhailovna Tchaikovskaya, Yekaterina Vladimirovna Zhukovets.
All nine medics are from the National Cardiology Research Center. All have operations scheduled for today. The hospital department helping people with heart attacks cannot work today. Emergency diagnosis and help in critical situations of postoperative complications will not be possible.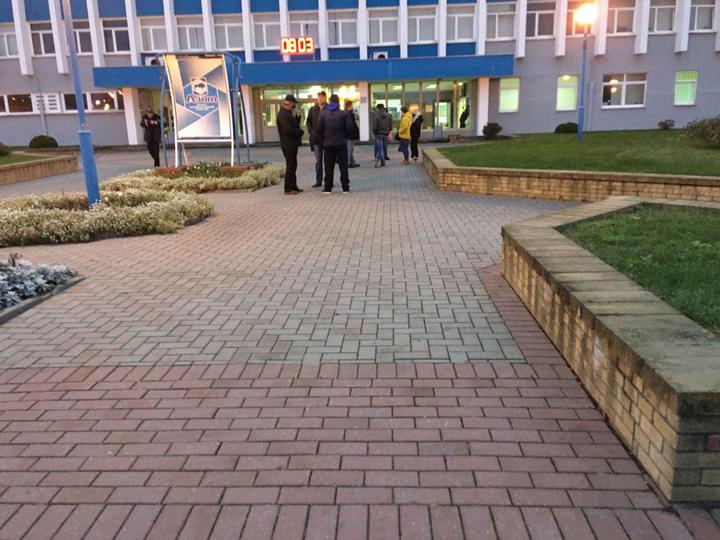 8:40 am Grodno.About 50 people have gathered at the Grodno-Azot entrance. Among them are factory workers whose entrance permission was blocked today.
The plant's third shift is reported to refuse to take over from their colleagues. This means that all shifts (the plant has four in total) have joined the strike.
8:48 am Grodno.Aliaksandr Zhuk, trade union activist in the Ammonia-3 workshop of Grodno-Azot, might have been detained on his way out of the house. The last time he was in touch was at 6:22 AM. His current location is unknown.
Meanwhile, the morning shift in Ammonia-3 was taken by a hodgepodge team: half the third shift workers and half others. Half of the Ammonia-3 personnel are on sick leave.
8:50 am Minsk.A solidarity chain supporting the strikers have formed at the Petrovschina metro station.
9:00 am Minsk.Theater and film actress Yelena Girеnok, who was detained the day before at a solidarity protest, has been released from the Moscow District Police Department.
9:05 am Minsk.Volunteers report that a young man, detained the night before and taken to the Moscow District Police Department, was taken to the regional hospital by ambulance. He was severely beaten, probably with broken ribs.
The list of volunteers contains a total of 577 people detained at solidarity protests on 26 October. Among them are many minors.
9:10 am Minsk.Dmitry Dashkevich, an opposition politician and Young Front movement leader, who was detained during the Sunday march, will have his trial continued at 9:30 AM in the Moscow District Court.
The day before, at the court hearing Dashkevich complained about the inhumane conditions in the Akrescin detention center, without food, water, or bed.
9:12 am Grodno.The striking Grodno-Azot workers were summoned to the management one by one. Yesterday the factory director Igor Babyr threatened to fire all workers who remained at the entrance checkpoint.
The Ammonia-3 workshop, one of the most important workshops in the plant, might stop functioning today. If this happens, another workshop will stop automatically: Carbomide-4. The Ammonia-3 alone makes a million dollars a month.
9:16 am Minsk.The car, from which people were shot with paintballs on Dzerzhinsky Avenue, was found out to not be registered under the numbers that eyewitnesses saw on it. Apparently, it was driven by security officials.
9:19 am Grodno.Employees of the Goretsky Sewage Treatment Plant published their video appeal against the government violence.
9:25 am Minsk.Not only students, but also teachers, assistants and other faculty are protesting in the Belarusian State University of Informatics and Radioelectronics. 35 faculty members in total joined in. So far they have not been threatened with dismissals.
9:26 am Baranavichy.The head of the Yeltsin Center web project Marina Petrushko, was detained in Baranavichy.
The Russian Embassy in Belarus says that she will be held in a Baranavichy police department until the trial.
The Consulate General in Brest is monitoring the situation. According to her defense, Marina Petrushko was detained under Article No. 23 of the Administrative Code.
9:48 am Minsk.A solidarity chain has formed in Kurasovschin.
9:49 am Grodno.The Belneftekhim Concern reacted to the strike in Grodno-Azot saying that their plant is fully operational, and all technological processes are taking place as usual.
9:51 am Runner Olga Mazurenok spoke about the pressure she feels after signing the solidarity letter from athletes.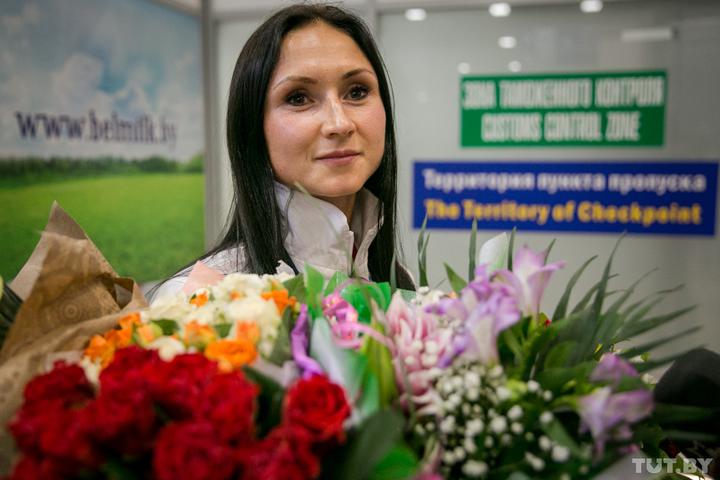 She was sent to the army, her salary was reduced five times, she has no opportunity to train and prepare for the Olympics.
10:04 am Minsk.The detained doctors from the Cardiology Center are being held in the Moscow District Police Department. Their colleagues urge everyone to come to the police department and demand their immediate release.
10:06 am According to the Belarusian Journalist Association, seven Belarusian journalists are currently in prisons. One of them, Dmitry Kazakevich, is on trial today. He is accused of disobeying the police.
10:09 am Minsk.The Belarusian State University Mechanics & Mathematics students are holding a sit-in strike in the department hall.
10:11 am Minsk.Traffic lights are going out all over the city. This might be a small sabotage.
10:14 am Officials are preparing the All-Belarusian People's Assembly, according to the Pul Pervoy Telegram channel. Among them are Natalia Kachanova, Chairman of the Council of the Republic, Roman Golovchenko, Prime Minister, and Yuri Vakulchik, State Secretary of the Security Council of Belarus. "The meeting on the All-Belarusian People's Assembly will begin soon," the Telegram channel says.
10:17 am Minsk.Another doctor from the Cardiology Center was found out to be detained. It is the anesthesiologist-resuscitator Aliaksandr Sergeevich Filippov. Most likely he is also in the Moscow District Police Department.
10:18 am Grodno.Three strangers are breaking into the apartment of Grodno-Azot shift head Denis Saiko. The neighbors are calling for help by the house.
10:23 am Minsk.The Belarusian State University of Informatics and Radioelectronics management had the passages closed between the university departments, in order to split up students.
10:24 am A Belorusneft worker recorded an appeal to his colleagues and superiors. "How can I continue my work in a situation where my friend is threatened with a broken knee in a police wagon and beaten for refusing to unlock the phone?"
10:26 am Grodno.One of the people called for a personal conversation with the Grodno-Azot management said that the meeting was also attended by unknown people who threatened criminal liability for the strike. People are offered to write applications for voluntary dismissal, but the strikers refuse.
10:28 am Lida.The Lida city market joined the strike. Almost all pavilions that belong to individual entrepreneurs are closed.
10:29 am Minsk.In Atlant factory, senior technicians have been called in the management office since the morning. There are also police (or KGB) present and threaten people with handcuffs. Workers are also being summoned for interviews one by one.
10:30 am Grodno.Blogger Vadim Ermashuk (Vadimati) was tried in the Oktyabrsky District Court in Grodno for participating in the march on 30 September. The court found him guilty under Article 23.34 and sentenced him to a fine of 540 Belarusian rubles (approx. USD 212).
10:34 am Minsk.The headmaster of the Gymnasium No. 50 was summoned to the Ministry with the personal data of students who signed the appeal to the people.
10:35 am Cyber Partisans published the personal data of 42 riot police commanders and inspectors (including commanders from the 1st to the 7th company of the Minsk City Executive Committee), who personally participated in beatings, torture and killings of citizens.
10:38 am Navapolatsk.Same as yesterday, security forces are patrolling at the Naftan oil refinery.
10:40 am The fuel price grew in Belarus the second time this month.
10:40 am Minsk.People started gathering at the Moscow District Police Department in support of the doctors detained in the morning.
10:42 am Minsk.A camera was installed in the lobby of the Belarusian State Medical University, in order to film everyone entering the building. Several people are patrolling there, including the dean of one of the departments.
10:43 am Vitsebsk. The Vitsebsk State Medical University students are hanging the pictures of violence against peaceful protesters in the university buildings.
10:44 am Minsk.The first of the doctors detained during the solidarity protest are being released from the police department. They were charged under Article 23.34 (participation in unauthorised mass events).
10:45 am Infobank.by, one of the largest sources on economics in Belarus, has a screensaver drawing attention to lawlessness and violence in the country for the second day in a row. This screensaver cannot be turned off.
10:46 am Minsk.The capital's Belarusian State Academy of Arts continues to strike, students are chanting: "Join in!"
10:52 am Grodno.Two directors of the Grodno Drama Theatre, Gennady Mushpert and Sergei Kurylenko, joined the national strike.
The theater director, Igor Gedich, suggested that they both write resignations of their own accord. The directors refused. They are threatened with dismissal under the article.
Rehearsals and performances have been canceled.
10:53 am The INeedHelpBy project has started accepting applications from striking factories and state-owned enterprises. The strikers and their families are promised to be provided with a food basket so that they do not have to save on food. The application for help can be submitted through the Telegram-bot of the project on the link. @INeedHelpBY_bot
10:57 am Minsk.Six fire engines and several ambulances arrived at the Academy of Sciences in Minsk on an emergency call.
11:01 am Barauliany.Physicians of the Republican Center for Pediatric Oncology and Hematology started a protest in solidarity with the strikers. "We are the peaceful warriors," their placards say.
11:02 am Minsk.Physicians of the Republican Scientific Research Center of Organ and Tissue Transplantation started a protest.
11:04 am Minsk.The striking Belarusian State University of Informatics and Radioelectronics students are coming to classes inviting others to join the strike.
11:06 am Minsk.Most students of the Belarusian State University are not allowed to enter the main building and the inner courtyard.
11:14 am Grodno.Thanks to the solidarity of the neighbors and other city residents, the unknown persons failed to break into the apartment and detain the Grodno-Azot strike committee member Denis Saiko.
11:16 am Minsk.Atlant factory workers are just walking around the factory. The conveyor belts are stopped.
11:20 am Minsk.The Belarusian State Academy of Arts students started a strike.
11:25 am Minsk.Oleg Polonetsky, head of the X-ray department at the Cardiology Center, and cardiosugeon Vladimir Andrushchuk, head of the computer tomography department, were released from the Moscow District Police Department.
Natalia Pavlovna Mitkovskaya, the new director of the Cardiology Research Center, arrived at the police department.
11:24 am Minsk.The Belarusian State University Faculty of History continues to strike.
11:24 am Over the past 24 hours, there have been 22 cases of short circuits on the railway.
Let us remind you that in this case, the system mistakenly believes that the railway section is occupied by a train, which seriously complicates the movement of trains.
11:25 am Minsk.Employees of the National Traumatology and Orthopedics Center started a protest in solidarity with the detained doctors.
11:29 am Rechytsa. Employees of Belneftekhim, who went on strike yesterday and recorded a video message, were fired. The company says they were fired for violating labor laws.
11:30 am Minsk.The Belarusian State Linguistic University students are gathering for a protest march.
11:30 am Grodno.Doctor of Historical Sciences Ales Kravtsevich, who was detained during the People's Ultimatum March, will be tried in Grodno today.
11:34 am Minsk.The Ministry of Emergency Situations commented on the incident in the building of the Academy of Sciences: "There was a report of smoke from the basement. The insulation of a fluorescent lamp melted. Employees of the Ministry of Emergency Situations and the administration evacuated about 50 people. There were no victims."
11:38 am The project "Zashkvarka" was launched, which consists of lists of businesses that are "with the people" or "for Batka (Lukashenko's nickname – Ed.)". The lists include more than 300 shops, coffee shops and other businesses that do charity work, rescue protesters or express solidarity with them.
11:39 am Minsk.More than 40 people came to support the detained doctors at the building of the Moscow District Police Department. At 11.26 AM, an unknown person with a machine gun came out to them and asked them to move from the entrance to the parking lot. People answered him rudely.
11:39 am Minsk.The Kupala Theatre actress Yelena Girenok spoke about her brutal detention on Monday: "A riot policeman ordered me into the bus walking over a man who was lying on the floor."
11:44 am Minsk.Another four doctors were released from the Moscow District Police Department. All were charged with administrative offenses.
11:48 am Minsk band Nezabudki released a song video in support of Belarusians called "Novaya Zemlya" ("New Land").
The band singer Pavel Sokolov was fired today from the Belarusian State University of Culture for his civic position and participation in protests.
11:50 am Opposition politician Mikalai Statkevich, who is currently in prison, sent a letter, in which he said that he was closely following the Belarusian protests.
"I have deep respect for all worthy people who stand for freedom in spite of everything. I'm sure we will win."
12:00 pm All detained doctors of the Cardiology Center have been released. They were charged with administrative offenses. A solidarity protest has started gathering at the hospital.
12:12 pm The Minsk Linguistic University students are marching in the university. According to some reports, the column is headed by the teachers.
12:13 pm A large sit-in protest is taking place in the Belarusian Medical University. This is the students' reaction to doctors being detained.
12:17 pm The Belarusian State University students of the Chemistry Department and the Law Department are protesting too.
12:18 pm The MTS mobile operator employees are standing in a solidarity chain in the Chelyuskintsev Park neighborhood for the second day in a row.
12:19 pm Atlant household appliances factory workers are marching around the company premises.
12:20 pm Minsk Lyceum No. 2 students are holding a solidarity protest.
12:22 pm The Minsk State Medical College students held a solidarity protest.
12:25 pm Belarusneft workers who joined the strike yesterday, were fired today.
12:28 pm A protest in solidarity with the strikers is taking place in the Lazurite residential complex.
12:31 pm The cell of the Zhodzina detention center, where Maria Kalesnikava is held, is under quarantine for ten days.
12:33 pm The Belarusian University of Informatics and Radioelectronics students took their solidarity protest to the street.
12:37 pm The Belarusian Academy of Arts students, who have taken part in the protests, are going to be expelled. About 20 students from different university departments might be expelled.
12:40 pm Mikhail Finberg's concert in the Kupala Theatre had, according to various sources, from 8 to 10 spectators.The vast majority of actors left the theater in support of their director Pavel Latushka in mid-August – and now other creative groups are performing on the theater stage. Admittedly, they are not a great success.
12:45 pm BelAZ automobile plant workers are gathering on the premises in preparation for protest.
12:47 pm In Pinsk, dental hygienist Vyacheslav Perts, who had previously announced an indefinite strike, was fired. The official reason is absenteeism.
12:47 pm The protesting chemistry and law students of the Belarusian State University are not allowed through the door. They are chanting: "Korol, let us through the door!" (Andrey Korol is the university rector; "korol" also means "king" in Russian – Ed.)
12:47 pm Lida residents are gathering for protest in solidarity with the Lyceum No. 1 headmaster Yury Khromin, who is going to be dismissed.
12:55 pm In the Academy of Arts, the Dean came to meet the protesting students. He threatens expulsions "for skipping lectures".
12:57 pm Integral electronics plant employees report that some of the workers, who took part in the solidarity protest yesterday, have been fired. Some were summoned for an interview.
1:02 pm The Linguohumanitarian College students, who had gathered for a solidarity protest, have been dispersed.
1:04 pm Onliner.by CEO Ilya Zhukovets was released from the Zhodzina detention center. His trial ended with a 180 rubles fine (approx. USD 70). He is on his way home.
1:06 pm A fourth-year student of the medical university died in Vitsebsk tonight. He had extensive retroperitoneal hematoma, but he had previously denied being beaten and detained. He was not among the four Vitsebsk Medical University students detained yesterday.
1:10 pm During the post-election protests, more than 16 thousand people have already been detained – this figure is equal to the population of the small regional center Shchuchin. Over 450 politically motivated criminal cases have been opened.
1:13 pm One of the BelAZ automobile plant workshops is on strike.
1:15 pm The Belarusian State University mechanics and mathematics students continue their strike.
1:16 pm Unknown people in civilian clothing brutally detained a Linguohumanitarian College student in Minsk. The headmaster took her to his office. A large support group has gathered by his office.
1:22 pm A lot of students have gathered at the Belarusian State University Law Department door again.
1:25 pm A solidarity chain has formed in Minsk's Kamennaya Gorka district.
1:26 pm A huge solidarity chain has gathered in Minsk's Shabana district.
1:28 pm A famous musician, previously working in the Kupala Theatre, Erik Orlov-Shimkus, was sentenced to 12 days. He was brutally beaten in the police department. Journalist Alesya Pesenko writes about this on her Facebook account.
1:32 pm The Telegram channel Motolko Help writes that a government medical plane has arrived in Minsk. The purpose of its visit is yet unknown.
1:33 pm Medics are holding a large protest at the National Transfusiology Research Center.
1:38 pm The Minsk Linguistic University is the first university in Belarus to go officially on strike – the teachers joined the students.
1:39 pm The Belarusian Technological University students are marching in the university, chanting: "Join us!"
1:40 pm Both directors of the Grodno Drama Theatre, Sergei Kurylenko and Gennady Mushpert, who joined the national strike yesterday, were fired.
1:41 pm In the Belarusian University of Informatics and Radioelectronics, 37 teachers announced they are going on strike. Students held a march in the university today, despite at least 40 of their classmates being detained yesterday.
1:50 pm Lukashenko ordered all protesters fired and expelled.
1:51 pm Euroradio reports that the deceased 20-year-old student of the Vitsebsk Medical University tested positive of coronavirus. His name was Artyom. The circumstances of his death still remain a mystery.
1:56 pm The National Mental Health Research Center employees started a protest in solidarity with the detained doctors.
1:57 pm The political prisoner Andrey Rasulov, a defendant in the case of "mass riots" in Zhlobin on 9–12 August, was released from the Zhlobin pre-trial detention center. This was reported by the Viasna Human Rights Center. His current legal status is as yet unknown.
2:03 pm The A1 mobile operator employees are holding a protest in solidarity with the GrodnoAzot workers. "Sending our best regards to other mobile operators, MTS and Life," the protesters said.
2:04 pm A lot of people with white-red-white flags are gathering on the rooftop on the Zhodzina School No. 7. The assembly includes one of the school's teachers and his students.
2:07 pm The Telegram channel Motolko Help writes that the Defence Ministry buses bringing soldiers in dress uniform with Russian flags were seen in the city center. They are standing near the Gymnasium No. 50 – a protest is held there in support of teachers who recorded a video message against violence yesterday, after which the authorities began pressuring them. Why people in Russian Army dress uniforms are nearby and what they are doing there is completely unclear.
2:15 pm A guy was detained near the Pedagogical University.
2:17 pm 12 employees of the New Theatre (Minsk) announced they are going on strike.
2:19 pm A group of students were detained on Independence Square.
2:20 pm A criminal case has been opened concerning the strike in GrodnoAzot. This advice is from the strike committee on their Telegram channel.
2:21 pm The political activist, ex-political prisoner and ex-leader of the Young Front movement, Zmicer Dashkevich was sentenced to 15 days. Zmicer has three young children.
2:22 pm The management of Flo startup – a world-famous app for women's health – urged their employees to immediately leave the office. They received information that security forces are on their way to the office.
2:27 pm The Minsk Linguohumanitarian College students blocked the corridor in their college. They are chanting: "We're together, we're many, victory will be ours!"
2:31 pm Minsk Electrotechnical Plant has partially stopped.
2:33 pm Onliner staff member Aliaksandr Mokhorev was fined 189 rubles (approx. USD 75) for participating in protests, and released.
2:34 pm Police came to the solidarity protest at the Zhodzina Gymnasium. The people dispersed.
2:49 pm In Minsk, people are gathering into solidarity chains.
2:51 pm Niamiha-3 shopping center in Minsk, Lida city market and Brest car market are on strike; more and more MAZ (Minsk Automobile Plant) and MZKT (heavy vehicle manufacturer) workers take sick leave and vacations at their own expense.
2:59 pm Sviatlana Tsikhanouskaya called on everyone to support strikers. "Remember, every active peaceful step brings us closer to the end of violence, release of political prisoners, and us finally holding a new fair election."
3:00 pm The Belarus Free Theatre actress, Darya Andreyanova, was sentenced to 14 days in jail. The theater's art director Nikolay Khalezin wrote about it on his Telegram channel.
3:10 pm Lithuania sent Belarus another note of protest concerning the Belarusian Nuclear Power Plant.
3:16 pm The deceased student's family in Vitsebsk told journalists that he had coronavirus, and he didn't go to protests.
3:17 pm The trial of famous Belarusian historian Ales Krautsevich began in the Grodno detention center.
3:21 pm One of the MZKT strike committee leaders, engineer Aliaksandr Lavrinovich, was fired.
3:22 pm Despite intimidations, students' strikes continue.
3:31 pm The coronavirus situation has grown worse in Brest. 12 out of 14 departments of the city hospital have been adapted to handle coronavirus patients.
3:37 pm Minsk High School No. 4 students gathered for a solidarity protest.
3:41 pm Belarusian businessman Aleksandr Vasilevich's term of detention was extended for another month, his wife said. Vasilevich was one of the participants in Lukashenko's meeting with political prisoners in the KGB pre-trial detention center.
3:48 pm Homiel.Five MTS mobile operator employees, who yesterday held a solidarity protest in Homiel, were found guilty under Article 23.34 of the Administrative Code, and sentenced to 10–15 days.
3:47 pm Zhdanovichi. In Zhdanovichi, workers gathered to picket in support of GrodnoAzot strikers.
3:49 pm Minsk. The Minsk City Court canceled the administrative arrest order against the @petitions_by project founder, Vladimir Kovalkin, three days before the end of his 15 day detention order. Then, they changed their mind. Kovalkin will have to return to jail to finish out those three days.
3:50 pm Homiel. The city authorities are pressuring individual entrepreneurs who support the strike. The individual entrepreneurs are summoned by phone for a conversation with the Trade Department and accused of "dividing society".
3:52 pm Minsk. Belarusian State Medical University is holding a meeting about expelling students for participating in the protests.
Meanwhile, the trade union committee chairmen report to the Minsk City Committee of the Belarusian Health Workers Trade Union that "everything is fine" and no protests are taking place.
3:57 pm Minsk.In Minsk's Novaya Borovaya district, local residents are holding their usual solidarity march.
4:00 pm Minsk. The Belarusian University of IT and Radioelectronics trade union committee is offering financial support of 60 rubles (approx. USD 24) to those who will not leave the union.
4:01 pm In Minsk, two unidentified individuals who said they were from the police went up a building in a hoist. They came up to a balcony with a white-red-white flag and demanded that the owner take it down. Both sides filmed the conflict. As a result, after a verbal altercation, the unknown individuals left empty-handed.
4:04 pm In Minsk, Belarusian State University of IT and Radioelectronics are chanting: "GrodnoAzot, we are with you!"
4:05 pm In Minsk, High School №4 students have gathered to sing "Мы – не народзец" ("We are not a little people").
4:06 pm The creator of the Telegram channel "Belarusian urbanism" has been sentenced to 13 days in jail.
4:09 pm Anatoly Schastny, the rector of the Vitsebsk State Medical University, met with students. He said the death of a student had nothing to do with the protests, and that though the rallies were against the law, university management did not call the police. He also added that it is forbidden to use "unregistered symbols" on the premises.
4:15 pm IF Metall, a Swedish trade union, expressed solidarity with the Belarusian workers.
"We support the nationwide strike in Belarus", said union chairperson Marie Nilsson.
4:16 pm A solidarity rally is in progress at the City Hospital №4 in Minsk. Earlier today, one of the doctors was detained for participating in a solidarity chain in Grushevka district.
4:21 pm In Minsk, employees of the National Research Center for Organ and Body Tissue Transplantology have formed a solidarity chain to support students and striking workers.
4:22 pm In Minsk, National Research Center for Cardiology doctor Oleg Polonetsky, who was detained this morning, told tut.by why he decided to join the rallies. "Doctors know first-hand what pain and injury are," he said.
4:23 pm A criminal case has been opened against Yelena Gnauk, a retiree from Brest. Recently, Ms. Gnauk spent 18 days in jail in administrative detention. She is currently a suspect in a mass unrest case.
4:27 pm In Lyakhovichi, three locals who participated in solidarity rallies were summoned to the district police office. There, the police drew up a report about one of them and released him until the trial, the other one was detained for 72 hours before trial. The third person, a young woman, was released.
4:36 pm The wife of Foreign Minister Vladimir Makei and Kupala Theatre actress Vera Polyakova has responded to the appeal sent to her by the chairman of the Belarusian Foundation for Cultural Solidarity, Siarhei Budkin. Budkin asked Ms. Polyakova to stand up for her colleague, an actress at the same theater Yelena Girenok.
"I warned her about the consequences and we agreed that when on the stage, we keep out of politics, and in everyday life, everyone can have their own opinion. Therefore, you should stop f**king around and better get to work," she said.
Yelena Girenok was detained yesterday at a rally in support of striking workers. Ms. Girenok has told the press that she was hit over the head, forced to walk over another person in the prisoner transport van, and dragged to propaganda-fueled conversations in the middle of the night. The reason for her arrest was simply her phone's screensaver with the white-red-white flag.
4:40 pm More than 30 professors at the Minsk State Linguistic University have expressed support for striking students. They are demanding an end to the violence, freedom to all political prisoners, and Lukashenko's resignation. Teachers are telling students that the classes are officially cancelled.
4:43 pm A trolleybus driver from Minsk depot №5 has announced that he is joining the national strike.
4:53 pm In Minsk, a group of people with white-red-white flags and umbrellas marched along Nemanskaya Street.
4:54 pm In Minsk, two anesthesiologists from the Minsk Regional Hospital, Anna Suschinskaya and Anna Karas, were kidnapped by unidentified individuals. The doctors had taken to the street after work to support their colleagues from the National Research Center for Cardiology and were taken right away.
4:55 pm In an open letter, 60 economists expressed their willingness to draw up an economic development plan for Belarus, Coordination Council reports.
Well-known Belarusian economists have signed the letter, including members of the Economy Group of the Coordination Council, such as Ales Alekhnovich, Pavel Daneylko, Dmitry Kruk, Serge Navrodsky, Siarhei Chaly. Some foreign experts have also signed: Sergey Guriev, Anastasia Shashmur, Konstantin Sonin, Becker Torbjorn, and others.
4:57 pm Residents of the "Mayak Minska" apartment complex recorded a video in support of factory workers and students.
5:00 pm Grodno residents are planning to hold a march on Saturday to support "GrodnoAzot" workers.
"GrodnoAzot is one of the first large enterprises to join the nationwide strike. The workers are true heroes! Now they are facing severe pressure as well as threats of dismissal and even physical harm from unknown persons. Belarusians, let's show our solidarity! We invite residents of our country to a march in support of the striking workers of GrodnoAzot!", the organizers wrote.
5:05 pm In Zhodino, Belarusian poet, singer-songwriter and editor-in-chief of the Verasen magazine Eduard Akulin was released after 24 hours in custody. He was arrested yesterday and taken to the Zhodino pre-trial detention center. Today the court sent Mr. Akulin's case back for revision, and he himself was released.
5:08 pm In Grodno, "GrodnoAzot" employees are asking all the residents of the city for support.
"Show solidarity with the people who are under tremendous pressure. From 5:30 pm, start forming chains of solidarity in your neighborhoods, along busy roads and near striking businesses. Go and have a coffee at the establishments that support the strikers. Support the families of those who are now fighting for their human rights".
5:09 pm At the Minsk Electrotechnical Plant, one of the production lines has stopped.
5:10 pm A video recording was published of the incident that took place on 25 October on Uborevich Street in the Chizhovka district of Minsk. An unknown individual, who was driving a BMW, attacked a man holding a white-red-white flag and beat them up.
The victim did not resist and only tried to cover his head with his hands, apparently thinking that the attacker might turn out to be a law enforcement officer.
Other drivers and passers-by interfered, causing the attacker to flee the scene.
5:12 pm In Minsk, people have formed a solidarity chain on Gurskoy Street.
5:24 pm In Mahilou and Babruisk, people have installed wires on railway tracks, hampering the movement of trains.
5:25 pm In Germany, Belarusian immigrants in Hannover have once again expressed their support for the protesters.
5:29 pm It has been reported that the two anesthesiologists from the Minsk Regional Hospital who were detained earlier were taken to the Borovlyanski police station.
5:34 pm According to the Otchisleno ("Expelled") Telegram channel, universities have started to receive lists of students who are to be expelled for participating in rallies.
5:40 pm It has been reported that the Central Department of the Investigative Committee has launched a criminal investigation against blogger Eduard Palchis. Today, Palchis was supposed to be released after 30 days in jail at the Akrescina detention center. Instead, he was transferred back to a pre-trial detention facility.
5.43 pm In Solihorsk, members of the Belaruskali strike committee recorded a video message in support of the striking GrodnoAzot workers.
5.53 pm In Minsk, the rector of Belarusian State Academy of Arts expelled three students. Two more were reprimanded.
5:57 pm The Gomel Central District Court has considered the administrative charges filed by police against Mobilnye TeleSistemy (MTS) employees.
On 26 October, five MTS employees in Gomel left their offices on their lunch break holding A4-sized sheets of paper colored to look like white-red-white flags. Within eight minutes, they were arrested by the police and spent the night in a pre-trial detention center. This morning, the two female employees were charged and released, and three male employees were tried.
The company's leading specialist, Vadim Dynkovich, and head of the technical department, Aliaksandr Vlasov, were found guilty of participating in an unsanctioned demonstration and sentenced to 15 days of detention each. MTS employee Yuri Synkov received a sentence of 10 days in jail.
For two days in a row now, MTS's Minsk office employees have participated in demonstrations of solidarity.
Last night, on its social media accounts, MTS made the following statement: "Views and beliefs are a personal matter for each of our employees".
6:15 pm A 63-year-old Brest resident who spent 18 days in a temporary detention center, is a suspect in a criminal case involving mass unrest, her daughter reports.
6:22 pm TUT.BY reports that political scientist Vitaly Shklyarov, who holds an American passport, has left Belarus. On 24 October, Alexander Lukashenko and US Secretary of State Mike Pompeo spoke about Shklyarov's release. Pompeo urged Shklyarov's full release and immediate authorization to leave Belarus. According to Lukashenko, Shklyarov is involved in the "Tsikhanousky case", though Shklyarov himself prior to his arrest, stated that he had not been in consultations with Siarhei Tsikhanousky, and had never worked for him.
Shklyarov, a native of Gomel, lived in the United States. He describes himself as an "American, German, and Russian political consultant, political scientist, advisor to the electoral campaigns of Barack Obama, Bernie Sanders, Angela Merkel, Ksenia Sobchak, and Dmitry Gudkov". He was arrested in Gomel on July 29, where he had come to visit his mother. He was held for nearly three months in temporary detention center number 1 in Volodarsky.
6:43 pm According to the "Belye Khalaty" ("White Coats") Minsk medical community Telegram channel, two anesthesiologists from Minsk Oblast Hospital have been arrested.
After work, the physicians supported their colleagues from the National Research Center for Cardiology, Anna Suschinskaya and Anna Karas, who were "taken right next to the hospital" by unknown individuals "and taken to an unknown location".
6:58 pm Professors at Belarusian State University of IT and Radio Electronics recorded a message for their students and all citizens of the Republic of Belarus: "What can we say about scientific development, when destroying someone else's life is more valued than creating something to improve it?"
7:01 pm An evening concert is taking place at Minsk Philharmonic Society. The choralists are interested in how Lukashenko is "fixin' to get 'er done!"
7:09 pm During a preparatory meeting for the Sixth All-Belarusian People's Assembly, Alexander Lukashenko stated that students who take part in unsanctioned protest demonstrations should be expelled from their universities, and any faculty who support them should be dismissed.
"Students. You came to study. So study. Whoever wants to study, should be able to do that. Anyone who breaks the law by going to unsanctioned demonstrations is depriving them of their right to be a student. Like I said, please, send them to the Army, kick the others out into the street. Let whoever wants to wander the streets do that. But they should be expelled from their universities. The same goes for the faculty. There's not that many of them, but they're acting very nasty in the universities."
7:23 pm At the Bolshoi Opera and Ballet Theater, instead of the "Tsar's Bride", the performers have begun singing "Magnuty Bozha" ("Mighty God"), a legendary hymn of the Belarusian opposition.
7:30 pm Unknown individuals are continuing to attempt to block traffic, including rail traffic, the Ministry of Internal Affairs has reported. Over the last 24 hours, over 20 incidents of metal wires being placed on railways have been reported. One such incident was in Mahilau, and six in Bobruisk.
7:54 pm The Krasnaya Knopka (Red Button) app notifies human rights defenders of arrests.
The app developer has reported that they have begun working with Viasna human rights center. By pressing a "button", a user's geolocation and data will be sent to human rights defenders, as well as contacts he or she has chosen in advance (relatives, friends, etc). When there is no Internet connection available, information about the user's arrest will be sent as a text message. Depending on the degree of trouble the user finds him or herself in, legal help may also be provided.
Krasnaya Knopka was developed in 2017 to assist protesters in Russia. The project's founder, Aleksander Litreev, fled Russia as a result of persecution from authorities, and now lives in Europe. This means that users can be assured their data and geolocation will not fall into unsavory hands. The EU has the world's strictest personal data protection laws.
The app's functionality is constantly expanding. Emergency notifications about danger in certain areas are also planned.
8:02 pm Tonight, a photo of the order expelling three students from the Belarusian State Art Academy was posted on a Telegram channel. At least one of them was expelled for participating in protests. The two others were officially reprimanded. The order entered into force yesterday, 26 October.
8:06 pm The World Belarusian Congress has been announced. Tsikhanouskaya, Latushko, Gerasimenya, Karach, Ledovsky, Leschenya, and others have agreed to speak at the event.
"This is the first World Belarusian Congress, there has never been anything like this before, as the very concept of a Belarusian diaspora did not even exist," stated Evgeny Medvedev, one of the congress organizers.
8:44 pm Coordination Council (CC) Presidium Pavel Latushko urged Belarusians to continue the strike not only on the streets of the city, but also within institutions and enterprises.
"Today, and beyond, it is important that we continue to strike and protest every day, but within enterprises, academia, and other institutions," he stated in a message on his Telegram channel on Tuesday. He further noted that it was necessary, in order to "save our strength and not make ourselves vulnerable to the brutal riot police, who are going to violently repress any demonstrations outside of the institutions where they won't dare go inside."
Latushko also stated that everyone fired during the strike will be given back their jobs, anyone jailed will be released, and any illegal convictions will be overturned.
8:58 pm Sukharevo and Smorgon districts in Minsk have formed solidarity chains. In the southwest of the city, people are marching, despite all the threats. In Shabany district, 97% of Belarusians support the striking workers, and Mahilau and Rechitsa are partisans.
9:08 pm After the wave of information regarding striking workers yesterday, it appeared that today was quiet at the factories. This is not the case. A @nashaniva reader describes the inside of the Minsk Kozlov Electrotechnical Plant (METZ) today:
"The strike is continuing at METZ. Two workshops, numbers 16 and 6 are striking. Since they are not working, that means that the entire factory is not working, or three thousand people."
Most of METZ's earnings come from selling transformers. Transformers are designed with a case, which holds a core. Oil is poured into it, etc. If there are no cases, there is no transformer.
"In workshop 16, they make those cases, and the work is done by 40-50 highly qualified employees. They joined the strike. In workshop 6, the situation is similar. There are about 30-40 key workers in there.
The stocks of these cases were selected in July. After that, the entire factory's work depends on how much workshops 16 and 6 produce.
Right now, the workshops are working with 30-40% of their workers. The others, whoever was able to, took sick time, or unpaid time off. Those who stayed are just doing the bare minimum, so they don't get fired right away.
Yesterday, at the start of the second shift (after 5:00 pm), the factory's deputy director for ideological work went to workshop 16, which was striking. He brought an order signed by the director, stating that anyone not performing their duties would be dismissed, and handed it over to those he considered to be the instigators. The situation did not change, there is no specific leader there, the workers decided on this together, and they are striking together.
The workshop manager carried out the second shift, and the deputy director worked the third shift. That happens very rarely, and almost never. Usually, management only works until 5:00 pm.
The director of operations A. G. Rachitsky tried the same pressure tactics again, he made promises, threatened to eliminate bonuses, then he threatened their jobs, then he tried to call the workers in to talk, one by one, so they could not feel supported by their colleagues. He promised that the factory would buy parts from Turkey, so the workers would not be needed anymore. He promised that each of them would be tried in court and fined 30-40,000 Belarusian rubles in lost profits to the plant. The workers listened, but they continued to strike.
These are strong, courageous people, but they are waiting for support from other companies. The factory is striking, either openly or work-to-rule, and they are not the only ones. The design and engineering departments are striking as well, though it is not as noticeable, because a day of downtime for the designers is not the same as simply turning off a machine. But the attention has been focused on these two workshops in particular. And they are feeling the most pressure, as well."
9:09 pm Sviatlana Tsikhanouskaya took stock of the strike's second day:
"Today is the second day of the national strike, and we made a lot of progress. I know that today, the workers at MTZ (Minsk Tractor Factory), MAZ (Minsk Automobile Plant), MZKT (Minsk Wheel Tractor Plant), and Integral faced administrative penalties. At MZKT, one of the strike leaders, Aliaksandr Lavrinovich, was fired. That is not the only case of repression against activists. But despite the pressure and threats, factories and companies continue to strike.
Today, at Grodno Azot, there was no shift change in three workshops. Throughout Belarus, people expressed solidarity with Azot's striking workers- Grodno residents brought them food and warm drinks, workers at the plants and factories expressed their support. That included the Belaruskali Strike Committee. Soligarsk residents say that thanks to the workers at Azot, 10 more Belaruskali workers have joined the strike. This is playing out in other factories, too. At MTZ, most of the workshops are on a work-to-rule strike. At METZ (Minsk Electronic Transformer Plant), two workshops are on strike, and so are the designers and engineering staff. Every step along the way is important, and the Belarusian people thank you for that. You should all know that the Solidarity Fund will provide assistance, should you lose a bonus or your job.
I want to speak to the striking students, as well. Belarusian State University, Belarusian State University of IT and Radio Electronics, Minsk State Linguistic University, Belarusian State Medical University, Belarusian State Academy of Arts, Belarusian State Technological University- you are continuing to stand up for yourself, despite the pressure and arrests you face. University administrations stepped up their efforts today to carry out ideological orders by dismissing and expelling anyone who does not agree. At Belarusian State Academy of Arts, students have already been expelled. Belarusian State Medical University is holding meetings about what to do with protesters. Students at Minsk High School Number 4 held a demonstration of solidarity today. And at High School Number 30, students and graduates alike came to defend their teachers.
Yes, the strike is only growing, and the faculties are supporting it, too! I know about the demonstrations of support at Minsk Liceum Number 2 and Minsk State Medical College. I know that the director of Minsk State Linguistic University's College of Linguistics and Humanities would not allow security forces to arrest a student today. I saw the clip recorded by Belarusian State University of IT and Radio Electronics professors. Each of these stories is a source of inspiration. And you should know that Germany, Denmark, Czechia, Slovakia, Lithuania, Poland, Sweden, and Estonia are ready to provide scholarships and a place in their universities for Belarusian students and professors who were expelled or dismissed because of their beliefs.
I would like to express my gratitude to the doctors, who took part in solidarity chains during their time off. Today, 10 cardiologists from the National Research Center were arrested- by doing this, the regime prevented an entire department of doctors from doing their work. Today, anesthesiologists from Minsk Oblast Hospital were arrested, and a epidemiologist was fired in Pinsk.
And despite all of this, doctors' solidarity with Belarusians is only growing. And you should know that the Fund will support you, if the regime deprives you of your livelihood due to your activism.
All of these attempts at pressuring us are fleeting. They are hoping that their intimidation will work. They want you to be afraid for your future, because they are even more afraid for their own. In the new Belarus, there will be no room for repression, because we, as the people of this country, value each factory worker, each doctor, each student and teacher.
A happy ending to this will not be easy, but today, the important thing is that the Bolshoi Theater performed "Magnuty Bozha" for the whole hall, and the Philharmonic choir stood on the theater steps and sang for passers-by.
Let's continue these demonstrations supporting one another. Let's thank one another for our bravery and persistence. Belarus is a country of heroes, so let's talk about that as much as possible!
9:15 pm 12 actors at Minsk's New Dramatic Theater have joined the strike. According to them, they offered management the option of quarantining the theater, but they were not able to reach common ground.
9:50 pm Maria Shakuro is 29 years old. She is the captain of the Belarusian women's national rugby team and Minsk's Grazhdanochka team. On 11 October, she was arrested at a peaceful protest and sentenced to 10 days. After her release, Shakuro spoke to Sport.Tut.By journalist Victoria Kovalchuk about her detention conditions at Akrescina and Zhodino detention centers, contact with OMON officers who called her "incredible" and "cute", lectures on philosophy and feminism right in the cells, and her unwillingness to emigrate from Belarus, even after everything she has gone through.
9:58 pm The administrative case against journalist Ales Piletsky has been dismissed, Piletsky wrote on his Facebook page. On 5 September, he was covering the Women's March in Minsk as an accredited journalist with Radio Svaboda. As when covering other demonstrations, he was wearing a "Press" jacket and a journalist's badge.
Despite this, police filed administrative charges against him for participating in the march. On 12 October, he was questioned at the Zadvodsky police station, after which the police should have decided whether to file charges.
According to Piletsky, on 27 October, he received a letter signed by the chief of the Zavodsky police station, stating that the charges against him for administrative violations under Section 1 Article 23.34 of the Criminal Code had been dropped.
10:00 pm Those who put flowers on the monument to Holocaust victims in Slutsk were tried, and sentenced to fines and jail time.
On Wednesday, 21 October, about 10 Slutsk residents pinned flowers to the monument to those who were burned and killed in the Slutsk ghetto. Several of them were later arrested. On 26 October, the first trial took place.
Journalist Zinada Timoshek was arrested at her home on 23 October. She also stated that Evgeny Ozyorny was arrested.
Spouses Irina and Andrei Krot brought Timoshek and Ozyorny a package at the police station. Andrei Krot was at that time arrested, but his wife was fined and released until her court date.
Charges have been filed against two more people, who came to the police station on 26 October, to support those who had been jailed.
Andrei Krot, Irina Krot, Zinada Timoshek and Evgeny Ozyorny were tried on 26 October, for charges under Article 23.34 of the Criminal Code (violations for organizing or holding mass events). Aliaksandr Shutko presided over all four trials. He handed down the following sentences:
Irina Krot – a fine of 20 base units (540 rubles)
Аndrei Krot – a fine of 30 base units (810 rubles)
Zinada Timoshek – a fine of 40 base units (1,080 rubles),
Evgeny Ozyorny – 10 days of detention
27 October
Yuri Gorodnik – 25 base units (675 rubles)
Anastasia Shuba – 25 base units (675 rubles)