14 October 2020 | Infocenter Free Belarus 2020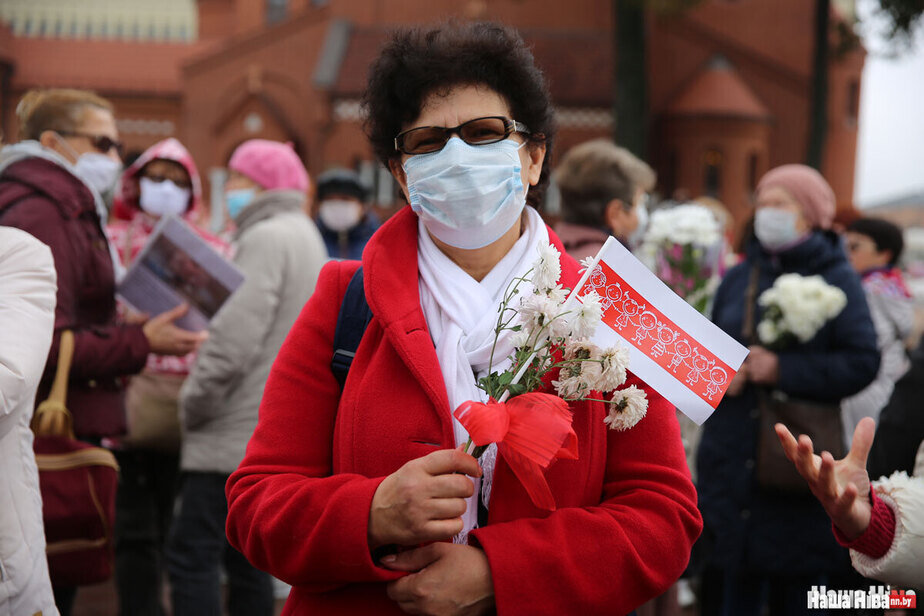 Good morning, the 67th day of the protests begins.
8:12 am Belarusians withdrew USD 1.428 billion from banks.
The National Bank has updated statistics on the money supply. The regulator's data show a powerful outflow of household funds from bank deposits.
8:35 am Early in the morning, protesters blocked Romanovskaya Sloboda Street in Minsk.
9:05 am The official website of the Belarusian National Technical University calls on students to protest. The site reminds them that they are the future of Belarus. Changes in the website content are related to Cyber Partisans' activities.
9:33 am Protesters have blocked traffic on Timiryazev Street.
10:04 am Many-time Muay Thai world champions Yury Bulat and Aliaksandra Sitnikova were detained.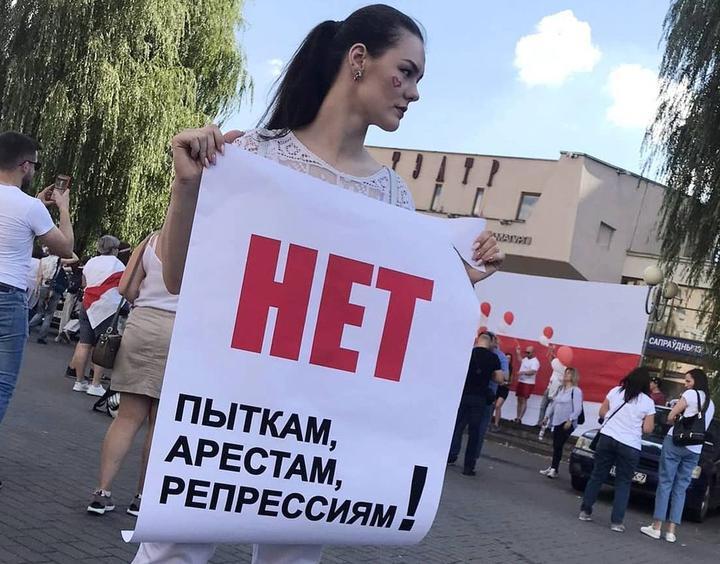 Yury Bulat was sentenced to 15 days in jail. Aliaksandra Sitnikova's trial will be held today. Let us remind you that the Kickboxing and Muay Thai Federation is led by Interior Minister Yury Karaieu.
10:33 am On 12 October 2020, the Swiss Federal Department of Economic Affairs EAER modified the list of persons annexed to the list of crimes against Belarus. Forty individuals have been added to the list. The additions came into force at 6 pm on 13 October 2020.
The list of forty people includes Minister of Internal Affairs Yury Karaieu, Head of OMON Dzmitry Balaba, Chairwoman of the Central Election Commission Lidziya Yarmoshyna, Dzimtry Paulichenka, Uladzimir Navumau and many others.
Sanctions include blocking bank accounts and a ban on entering the country.
10:36 am Today, Minsk residents are lining up again at the "Pervy Tsvetnoy" flower shop. The shop owner, Maksim Khoroshin, was detained yesterday and then severely beaten in police custody.
11:04 am The ex-Head of the National Tourism Agency, Grigory Pomerantsev, was sentenced to 13 days in jail for trying to free his 15-year-old son from a riot policeman.
11:07 am Sviatlana Tsikhanouskaya appealed to the workers of Belarusian factories and enterprises as follows:
"Your struggle takes great courage. And I know it's not easy for you. But what you are doing, with each day, brings us closer to victory. Unite. Take action. Leave the pro-government trade unions and create your own independent ones. If you are deprived of awards, or dismissed, contact the charity foundations."
12:00 pm The Russian Foreign Minister considers the Western countries' leaders meeting with Tsikhanouskaya as meddling in Belarusian internal affairs. Lavrov said so to RIA Novosti.
12:20 pm The Kupala Theatre Youtube channel already has 100,000 subscribers! Here's the link for those who haven't subscribed yet.
With more subscribers, the Kupala troupe will be able to receive money for their shows, which will allow them to earn a living now.
12:36 pm The criminal case based on Maria Kalesnikava's testimony about KGB and GUBOPiK officials using pressure and threats against her has not been opened. The lawyer Aliaksandr Pylchenko told TUT.BY that the Ministry of Internal Affairs is conducting an investigation.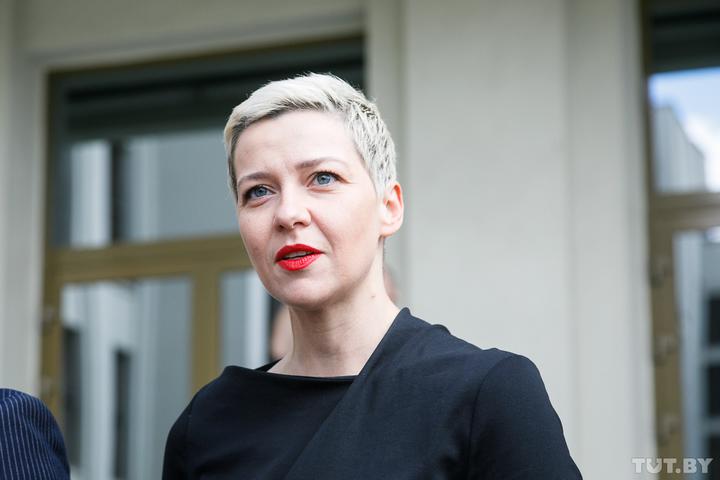 12:40 pm Riot police officers in balaclavas spoke on STV (a pro-government Minsk TV channel):
"If someone thinks that a gangster showdown can be had in the very centre of Minsk, we will make it clear very soon: the law is the same for everyone."
12:50 pm Today, German President Frank-Walter Steinmeier will have a meeting with Svetlana Alexievich, a Nobel laureate and a Coordination Council Presidium member. It is not yet known what the German leader and the Belarusian writer will talk about.
1:04 pm Students started the daily protest at the Minsk State Linguistic University. Protesters sing Bahdanovich's "Pahonia". A bus, with people in balaclavas, is positioned at the university entrance.
1:37 pm 200,000 people have already expressed their opinion on constitutional reform in the course of the first day of voting on the Golos ("Voice") platform.
1:46 pm Belsat: Doctor Andrey Berbitsky from Mahiliou, who was beaten up during detention and sentenced to 14 days, has been imprisoned for another 12 days.
2:11 pm Minsk Motor Plant workers thanked students for their solidarity protest, and reminded the authorities, on the MMP Telegram channel, that their time is coming to an end.
2:26 pm Belarusian State Academy of Arts students held a solidarity protest in spite of rain.
2:38 pm According to Charter 97 (a pro-human rights news site), an original event was held in Lida today. City residents buried the state economy, Lukashenko's Constitution, and "respect for police".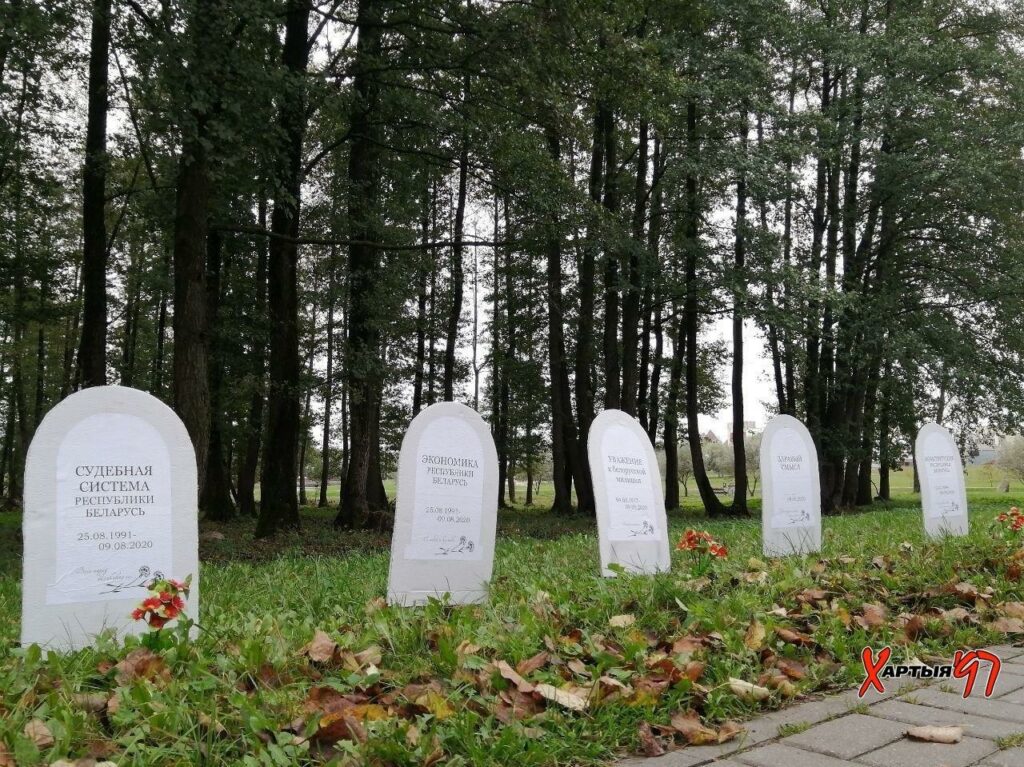 2:40 pm Tatsiana Seviarynets, mother of political prisoner Paval Seviarynets, was arrested at 2:20 pm. She was to be on trial at 2:30 pm. She was also recently fined for her "protest on the balcony".
2:46 pm TUT.BY: Three-time Olympic medalist Aliaksandra Herasimenia became the head of the Belarusian Sports Solidarity Foundation. Herasimenia moved to Vilnius and has already held several working meetings with representatives of sports associations and local officials.
2:59 pm A Mothers' Day event was held in Navahrudak. Demonstrators are holding placards saying: "Mothers' hearts shattered by truncheons."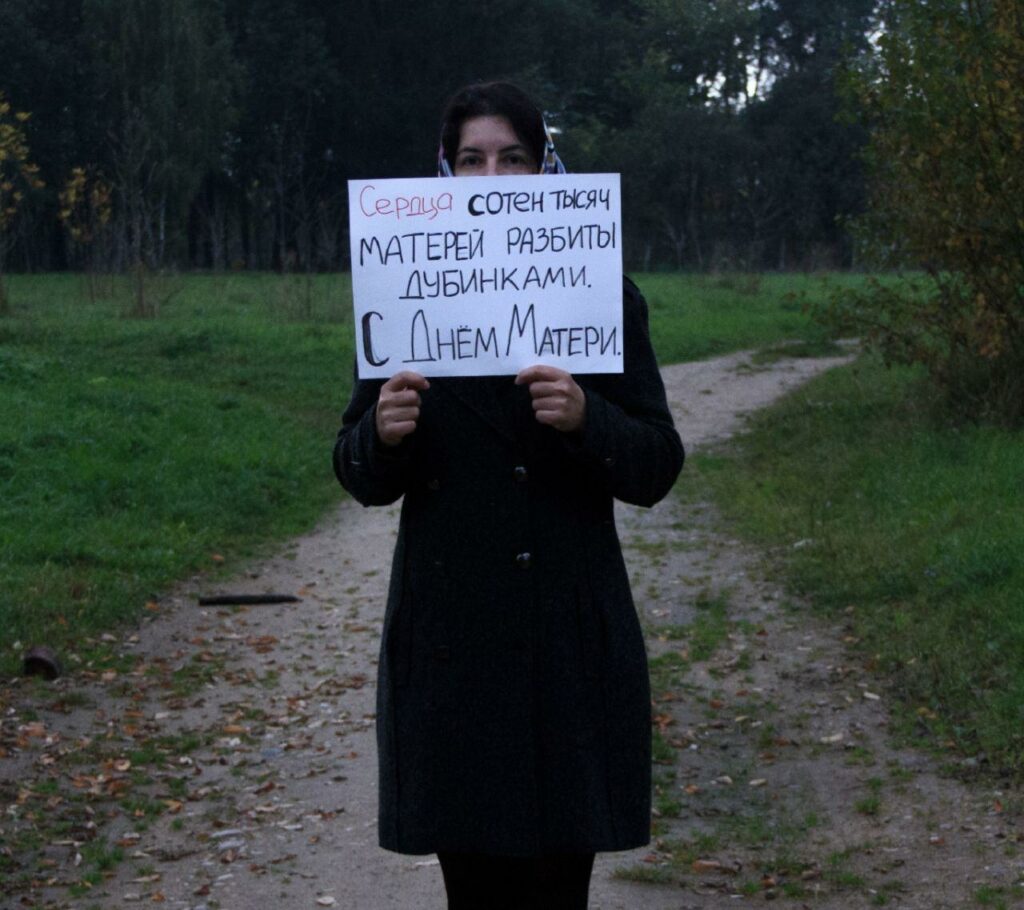 3:00 pm Sviatlana Tsikhanouskaya met with the European Humanitarian University's rector, Professor Siarhei Ignatov, and the university president, academy member Anatoly Mikhailov. After the meeting, Ms. Tsikhanouskaya gave a speech in front of the students. She wished them success in their studies and emphasised that no matter what field students devote themselves to, they will always be in demand in the new Belarus.
3:15 pm Today, women in Minsk are participating in the March of Mothers. They stood for a while near the Red Church, and then started walking along Nezavisimosti Avenue towards the centre of the city.
3:20 pm In an interview with Nasha Niva, head of the Minsk Tractor Plant strike committee Siarhei Dyleuski spoke about his reasons for leaving Belarus and his first days in Poland. According to Mr. Dyleuski, he did not want to leave Belarus, but he had a feeling that the authorities would put him in jail within the next few days. Now, he is in Warsaw, where he has already talked with Volha Kavalkova on the phone and is planning to meet her and Pavel Latushka soon.
3:25 pm In the Vostok district of Minsk, women have formed a solidarity chain. A TUT.BY reader has reported that a young man is offering them candy.
3:35 pm The March of Mothers is moving along Nezavisimosti Avenue. The women are chanting: "All for one and one for all!"
3:40 pm A traditional sit-in protest is taking place at the Belarusian State University of Informatics and Radioelectronics. The participants are holding posters in support of Maxim Zhuk, a student who was arrested, and chanting, "Long live Belarus!"
3:42 pm Uladzimir Zaryankin, a son of the mayor of Vitsebsk, has been released. He is due to appear in court on 23 October.
4:18 pm Anarchists from the Pramen collective have announced a widespread traffic-blocking protest on Friday.
"On Friday morning, we will gather in our courtyards and go out to block the key streets of our districts, not only in Minsk, but also in all major cities. […] We will not go to work, we will take to the streets against the dictatorship. Let's show the power of collective action!"
4:20 pm The column of women has reached Victory Square. The participants are chanting "We believe, we can, we will win!" and singing the Belarusian folk song, "Kupalinka".
4:30 pm Starting in mid-November, Belarusians with humanitarian visas will be able to work in Poland. The news was announced by Michal Szczerba, a member of the Polish Seim, in a press conference of the Centre for Belarusian Solidarity.
4:45 pm The Belarusian Student Union and the Student Initiative Group have prepared a report on repressions against students by the state and university administrations. In September and October, at least 149 students were detained. In total, they were collectively fined 11,799 rubles ($4578) and sentenced to 382 days of administrative detention.
Detailed information and infographics are available here in Belarusian and English.
5:00 pm Metropolitan Archbishop Veniamin, the head of the Belarusian Orthodox Church, has recommended against singing "O Mighty God", a spiritual hymn popular with protesters, in Belarusian churches.
5:39 pm The Lufthansa Technik trade union has issued a leaflet urging workers not to repair the plane belonging to "Lukashenko, the individual who gave the order to fire live rounds at demonstrators in Belarus".
The leaflet contains demands for Lukashenko's resignation, the release of political prisoners, and holding fair elections. It also mentions that almost 31 years ago, Lufthansa employees were in a very similar situation: the head of Romania, Ceaușescu, suppressed workers' protests while Lufthansa Technik employees were forced to repair his plane. In protest, they set down their wrenches and refused to work.
5:45 pm The Ministry of Foreign Affairs of Belarus has sent a note to the Ambassador of Ukraine concerning a recently-adopted resolution on attracting highly qualified Belarusian specialists. This was reported by Belta, with a link to the Foreign Ministry press service.
6:08 pm The USA is demanding that Belarusian authorities bring those who, according to Washington, are guilty of "undermining democracy" to justice. The US Secretary of State Mike Pompeo made this announcement during his telephone briefing with journalists: "We continue to demand that the Belarusian leadership begin prosecuting those responsible for undermining democracy, which was our earlier demand when we and our democratic allies in Europe and Canada imposed sanctions against the perpetrators," he stated.
Earlier, the US Treasury introduced economic restrictions against eight Belarusian officials, including Interior Minister Yury Karaieu and Electoral Commission Secretary Elena Dmukhaila. The State Department also added a number of Belarusian officials to its visa stop-list, which increased the final number of individuals on the sanctions list to 25. Restrictions remain in place against 16 individuals whom Washington believes to be involved in the persecution of protesters and fraud in the 2006 elections. This list includes Lukashenko and Electoral Commission Chair Lidziya Yarmoshyna.
6:10 pm Architect Mikita Domrachev, the brother of the Olympic champion Daria Domracheva, explained on his Facebook page why he does not want to leave Belarus. He also thanked Belarusians for their support, calling them incredible. Last Sunday, Domrachev was severely beaten by security officials.
7:36 pm A pro-government rally is taking place in Minsk.
7:37 pm Meanwhile, solidarity chains are growing in all districts of Minsk.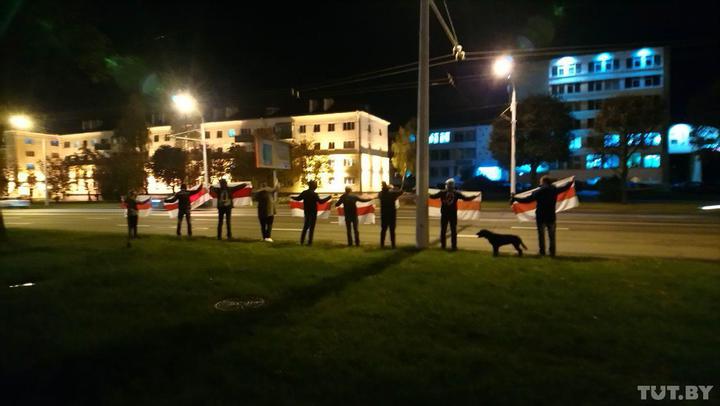 7:52 pm Belsat reports that their journalist, Dzmitry Kazakevych, has been sentenced to three days in prison for participating in a protest rally which took place on 6 September.
His apartment has been searched by security forces, who also seized all of his electronic data storage devices.
8:31 pm Over the two-month period from August to September, Belarusians have withdrawn over one billion US dollars and nearly the same amount of Belarusian rubles from Belarusian banks.
8:56 pm Aliaksandra Herasimenia (a Belarusian swimmer, two-time vice-champion of the 2012 Olympic Games, bronze medalist of the 2016 Olympic Games, and winner of gold medals at the World and European Championships) commented on her departure for Vilnius: "Today I took a very important step. Each of us and the whole world are seeing what terrible events are taking place on the streets of Belarus and inside the prisons. Every day, we see how inhumanely our people are treated. This includes athletes, who are subjected to pressure and repression on a daily basis, as a result of expressing their own position as citizens. We have been denied a voice and our basic human rights: the right to peaceful protests, the right to security, and even the right to life.
"I cannot remain indifferent and look the other way, so I've decided to take responsibility and head the Belarusian Sport Solidarity Foundation (BSSF) to protect the rights and freedoms of every athlete in our country."