12 August 2020, De Standaard
"The city bleeds at night." Belarusian authorities resorted to unprecedented violence to suppress riots against rigged elections.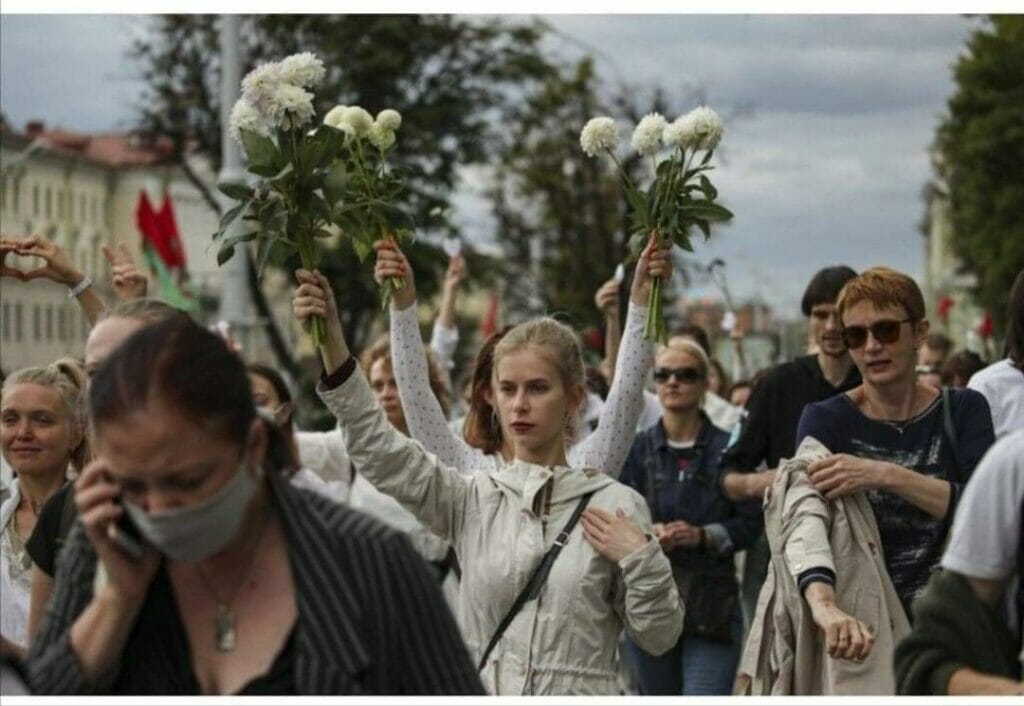 In Belarus, women in white clothing have crowded the streets. Many carried flowers. Others held banners such as, "I am a wife and a mother. Don't beat me." Some stood silently in long lines, hand in hand.
I am on the line with an attendee, Margarita (25). She is shocked. Like many of the women we contacted, Margarita asks us to omit her last name.
"We are so shaken by the authorities' violence and cruelty. We decided to show our compassion with the wounded and detained people in a peaceful way."
A spontaneous appeal from several women on social media spread quickly. Margarita estimates that her group had at least 500 women. Nobody knows the exact number of attendees or in how many cities the solidarity events took place. The independent online news outlets, including TUT.by and Belsat TV, reported an enthusiastic welcome of such gatherings in several places. Margarita knew that they would be targeted by police. "We agreed that we wouldn't carry anything suspicious to avoid arrest. When the police approached us, we silently dispersed and formed a line in another place. We are going onto the streets only during the day when the police don't dare act too brutal. We are scared of all the violence at night. At night, the city bleeds."
"Not being friendly"
The authorities' cruelty in an attempt to bring order to the streets is horrifying. According to Alexandra (33), it only worsened in the last few days. She headed into the city center on Sunday evening to speak out against the election results. That day the law enforcers were there to intimidate so that people would back off, she says. But on Monday and Tuesday they had clear orders to beat and shoot with rubber bullets.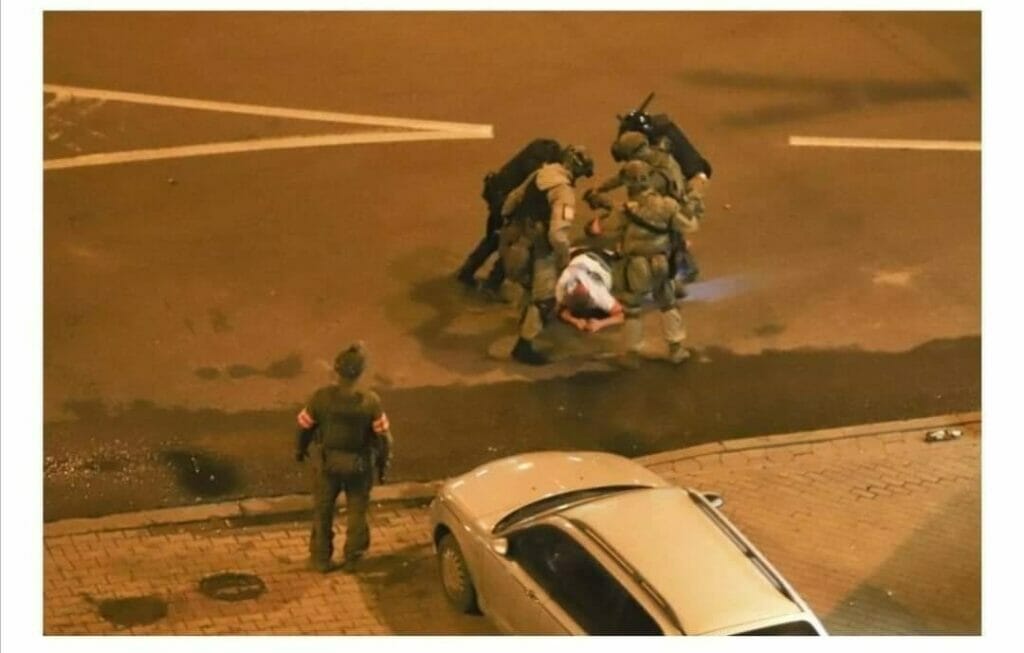 Natalia (44) confirms the story. She planned to protest until she received a call from a policeman friend. "Stay at home. We've just received an order 'not to be friendly', he said". "Not being friendly" is a euphemism for beating with truncheons and shooting with rubber bullets.
Belarus's Ministry of Internal Affairs admitted that the police fired into the crowd. An official source reports that protesters were armed and ignored the warning shots. According to an unconfirmed source, one of them was killed.
Online newspaper TUT.by tells stories of doctors in Minsk, the capital, shocked by the severe injuries of the hospitalized people. One man was shot from a distance of 10 meters. Another got seriously injured by a grenade. Yet another got a skull fracture.
Alexandra says she is afraid to go out to buy groceries.
"If you walk through a protesting neighborhood, you are at risk of being arrested".
Ales Silich, a journalist at Belsat TV, agrees. He has just left a detention facility. Dozens of crying and scowling family members of people arrested "for God knows why" are standing outside.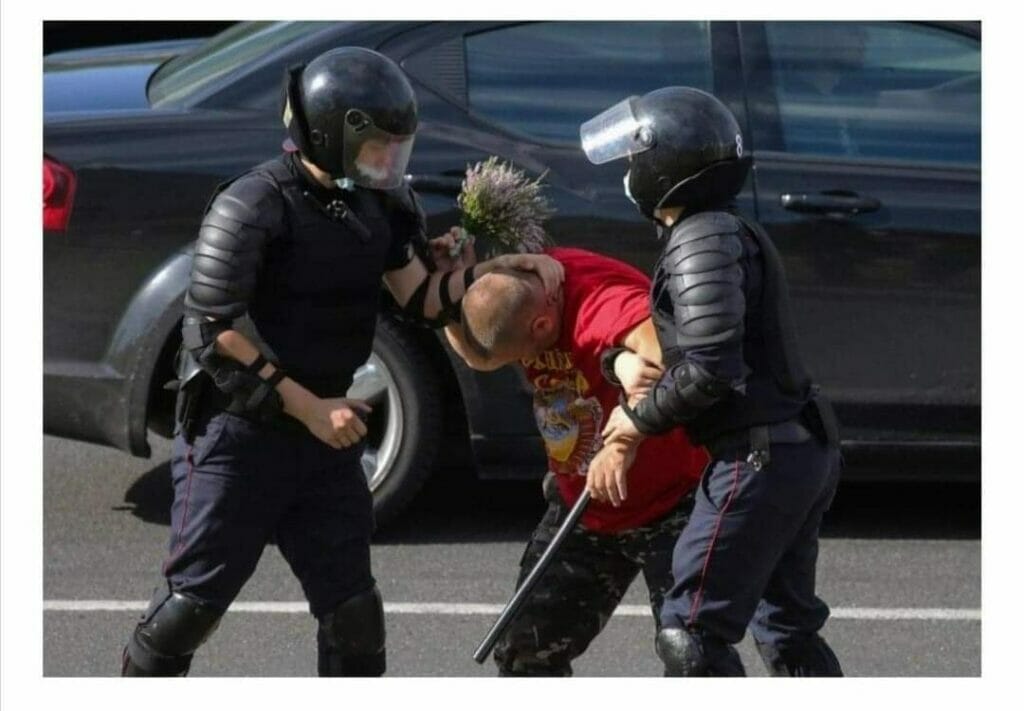 In the last few days, around 3,000 people got detained, according to Silich. Other sources claim even 6,000 arrests. "Don't trust the official numbers. They are rigged, just like the election results", someone says.
Terror regime
Everyone whom we call can not believe the ferocity of the violence. They express anger at the law enforcers' arrogance and are determined to continue fighting.
"We kept our mouths shut for 26 years, now is the time to keep coming out onto the streets,"

says Margarita, who plans to join the march today.
Last night, Ales Silich texted that his colleagues got arrested. And according to Alexandra, a few women got arrested across the city at around 7 PM. "This is a terror regime," she says. She is also going to participate in the demonstrations today. "We can't stay at home. We are too upset about what is happening in our country".
Tsikhanovskaya calls for an end to the fight
Opposition candidate Sviatlana Tsikhanouskaya shared a new video message via Telegram yesterday. She asked her compatriots to stop the protests and to respect the election results. "The people of Belarus have made their choice. … I ask you to be careful and respect the law. … I do not want to shed blood." Tikhanouskaya was visibly upset and holding back tears while reading the message. Her supporters are convinced that Belarusian authorities put her under heavy pressure. Sviatlana was a frontwoman of the resistance movement against President Lukashenko. She suddenly fled to Lithuania the day before yesterday.