9 September 2020 | Infocenter Free Belarus 2020
6:29 am The United States threatens Minsk with sanctions due to the situation with Kalesnikova. The US Secretary of State, Michael Pompeo, said that Washington, together with partners, are considering the possibility of introducing new sanctions against Minsk, in connection with the situation concerning the member of the Coordination Council of the Belarusian opposition Maria Kalesnikova, Reuters reports.
The Secretary of State called on the Belarusian authorities to stop violence against their own people, release all detainees, including US citizen Vitaly Shklyarov, and "enter into a constructive dialogue with genuine representatives of the Belarusian society".
7:57 am Members of the secretariat for the settlement of the political crisis in the country (CC) of the Coordination Council, Anton Rodnenkov and Ivan Kravtsov, intend to remotely participate in the CC's activities while they are in Ukraine. Kravtsov said this at a press conference in Kyiv on the evening of September 8.
8:01 am The match Belarus (U-21) – Portugal (U-21) was canceled due to suspicions of COVID-19 among Belarusians.
"FC Shakhtar defender Ilya Lukashevich, FC Minsk defender Dmitry Prishchepa and FC Neman midfielder Roman Vegera are suspected of COVID-19," Tribuna reports.
8:13 am Angela Merkel is urged to personally deal with the "Kalesnikova case"
Several well-known figures of German culture have appealed to Angela Merkel to immediately deal with the "case of Maria Kalesnikova."
The Nobel Prize laureate in literature Gert Müller, composer Sergei Nevsky, writer and journalist Katya Petrovskaya, as well as directors of theaters and music festivals, high-ranking culture officials of several federal states, choreographers, musicians, and writers wrote an open letter to Angela Merkel. The latter states that the Chancellor personally, against the background of the presidency Germany in the European Union, "together with their European colleagues have exhausted all political possibilities to quickly find out the whereabouts of Ms. Kalesnikova, guarantee her safety and achieve her immediate release."
The authors of the appeal believe that Maria "is in custody of the Belarusian security forces or KGB special services," writes DW.
"Taking into account the reports of torture, violence and abductions of people in Belarus during recent weeks, we are deeply concerned about the fate of Maria Kalesnikova," the cultural workers pointed out.
9:08 am The Telegram channel "Tipichnaya Belarus" ("Typical Belarus") reports that the Coordination Council member Maksim Znak is not available. Maksim Znak was supposed to go live on "Echo of Moscow"; he appeared on the screen for a few seconds, but the connection was interrupted. According to the "Echo" producer, his last phrase was "it looks like someone came to us", and he wrote the word "masks".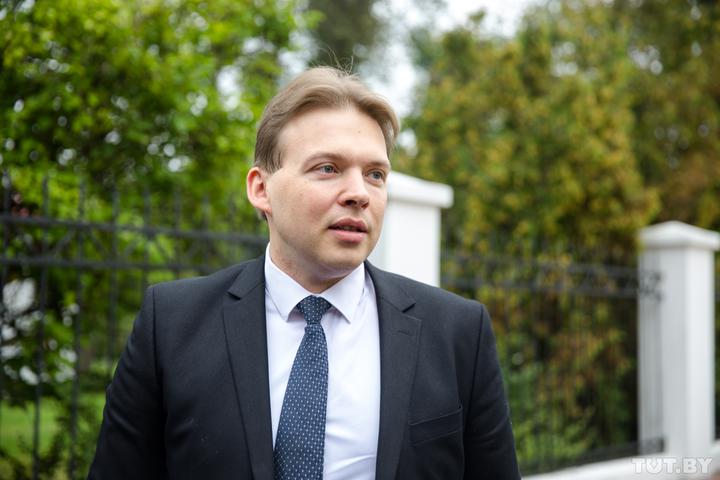 9:10 am Tsikhanouskaya: "Lukashenko and Putin's secret conversations are worrying."
Sviatlana Tsikhanouskaya, a present-day symbol of change in Belarus, hopes that Russian authorities will not grant Aleksander Lukashenko's request for military assistance.
In an interview with DELFI, the former presidential candidate stated that secret negotiations between Lukashenko and Vladimir Putin are "worrying," but "we are not afraid of that, because there is no reason to do what Lukashenko asked for. And he asked for military help."
She expressed hope that the Kremlin understands that the reasons for the current situation lie within Belarus, not outside of it.
Tsikhanouskaya pointed out that "we have friendly relations with Russia, and we do not want to spoil them."
9:29 am Belarusians demand the Ministry of Health to explain the increased mortality rates in the first half of 2020.
Healthcare workers together with other Belarusian citizens are collecting signatures under an open appeal to the Ministry of Health, demanding an explanation for the unprecedented rise in mortality in the country in the first half of this year, and especially in the second quarter.
"We, citizens of the Republic of Belarus, healthcare workers, as well as many others, are extremely surprised and worried by the mortality rate of the first half (and even more so of the second quarter!) of 2020, published in the United Nations (UN) statistics system.
9:44 am People in civilian clothes and masks took Maksim Znak to an unknown direction, Interfax was told by the Coordination Council Secretariat on Wednesday. "Maxim left Babariko's (Belarusian ex-presidential candidate Viktor Babariko – IF) headquarters, accompanied by people in masks and civilian clothes. They got into a minibus and drove away," the source said to the news agency.
"The police department does not have such information," Natalya Ganusevich, an official spokesman for the Minsk City Police Department (GUVD), told Interfax-Zapad.
9:51 am Tsikhanouskaya says that Belarusians' fight for their rights was not and will not be aimed against Russia, it is very important not to spoil the friendly relations between the two countries. "The Belarusian people have three extremely simple demands – Lukashenka's resignation and new, fair, transparent elections with all candidates participating, the release of all political prisoners, and the investigation of all crimes committed by the authorities against the Belarusian people. In no way is this a fight against Russia and, I'm sure, will never be. Please do not believe the propagandist media and politicians who claim otherwise," Tsikhanouskaya said in a video message to Russians on Telegram.
10:06 am Maria Kalesnikova's lawyer Lyudmila Kazak is going to file a complaint with the Prosecutor General's Office for refusal of legal defense.
"We were expecting to receive information about the whereabouts of Maria Kalesnikova. It seems incongruous, when the highest levels report that the person has been detained, but no one can get in contact with her, and neither is her exact location disclosed to anyone," Lyudmila Kazak told Radio Svaboda.
10:22 am The French Foreign Ministry strongly opposes "arbitrary arrests and forced expulsion of the Coordination Council members from the country."
As the Foreign Ministry statement declares, official Paris demands to fully clarify the situation with Maria Kalesnikova in particular, writes DW.
The document notes that France is in favor for the European Union's immediate adoption of "sanctions against persons responsible for repressions against the Belarusian people, as well as for falsifying the elections of August 9th."
10:53 am Maria Kalesnikova's apartment is currently being searched, "Euroradio" reports. Security officials in masks do not allow anyone into the hallway. This is explained by the "ongoing investigation process".
11:16 am Unknown people are trying to get into the Nobel Prize winner Svetlana Alexievich's apartment, the "Euroradio" representative writes in the chat of the press service of the former presidential candidate Viktor Babarika's headquarters.
"Svetlana Alexievich invites journalists to come to her, because she has been receiving phone calls from unknown numbers, and her doorbell has been rung," he writes. Alexievich is a member of the Coordination Council of the Belarusian opposition. On 26 August, she was already summoned to the Belarusian Investigative Committee for interrogation as a witness in the case of the Coordination Council, then she refused to testify.
Nearly all members of the Coordination Council Presidium are currently either detained or outside Belarus.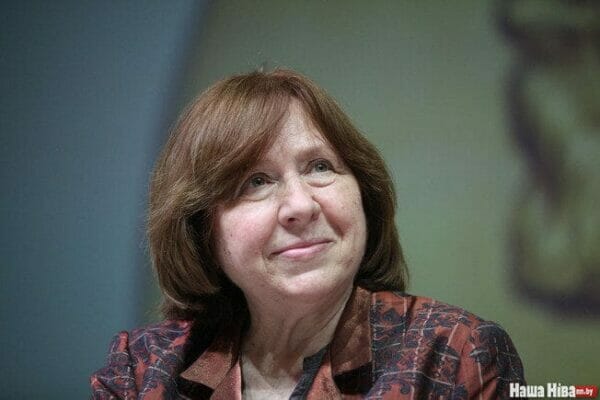 11:26 am According to the head of the European People's Party faction (the largest association in the European Parliament) Martin Weber, it is necessary to impose sanctions against Alexander Lukashenko and his entourage as soon as possible.
In a comment to the ZDF TV channel, he said that it is necessary to agree on the "black list" as soon as possible and include Lukashenko in it, writes DW.
On a related note, the most important problem behind the conflict in Belarus, the politician pointed out, is "Putin's system, which keeps the entire region in tension", as well as "the question of whether the idea of ​​freedom and democracy will spread to the east."
11:33 am On the morning of 9 September, officers of the Investigative Committee conducted a search in the apartment of Ilya Salei, a lawyer at the Viktor Babariko's headquarters, one of the lawyers of Maria Kalesnikova, a member of the Presidium of the Coordination Council (CC) for the settlement of the political crisis.
11:59 am Svetlana Alexievich's announcement
Svetlana Alexievich, Nobel laureate, head of PEN Belarus:
"None of my like-minded friends from the Coordination Council Presidium are left. Everyone is either in jail, or banished from the country. The last one, Maksim Znak, was taken today.
At first, they stole the country from us, now they are stealing the best of us. But in place of those ripped out from our ranks, a hundred others will come. The Coordination Council didn't revolt. The country revolted. I want to repeat again what I always said. We were not preparing a coup. We wanted to prevent a split in our country. We wanted the society to start a dialogue. Lukashenko says he will not speak to the street, but the street is hundreds of thousands of people who go out every Sunday and every day. This is not a street. This is the people.
People go out to the streets with their little children, because they believe they will win.
I also want to appeal to the Russian intelligentsia, let's call them this old-fashioned word. Why are you silent? We only hear rare voices of support. Why are you silent when you see a small, proud nation being trampled? We are still your brothers.
And to my people, I want to say that I love them. And am proud of them.
And here is someone calling at my door again…"
12:05 pm The current location of Maria Kalesnikova has been revealed. Her father has reported that Maria is held in Detention Center No.1 in Volodarsky Street.
12:08 pm Activists of the Human Rights Center "Viasna" have reported that the apartments of Ilya Salei and Maksim Znak have been searched due to the commencement of a criminal case under Part 3 of Art. 361 of the Criminal Code ("Calls for actions aimed at causing harm to the national security of the Republic of Belarus"). Currently both men are in the Central Office of the Investigative Committee.
12:14 pm A spokesman for the Belarusian Ministry of Sports and Tourism, Vladimir Nesterovich, has resigned. "That's it. I quit sports and tourism. I cannot take it anymore. I will take my time to get myself back together".
12:20 pm Dmitry Petko, Deputy Head of the Department for the Investigation of Crimes Against Information Security and Intellectual Property of the main investigative department of the IC, has resigned, as he said "for reasons of conscience".
12:38 pm A police car and unidentified armed men have arrived at the house of Svetlana Alexievich, a Nobel prize-winning writer and member of the Coordination Council.
1:02 pm Lukashenko commented on photographs of people who had been tortured in Akrescina prison: "Some girls had their buttocks smeared with blue paint".
1:12 pm People who have come to support Svetlana Alexievich keep standing by her home. Representatives of the embassies of Lithuania, Romania, Sweden, and other countries are said to be among them.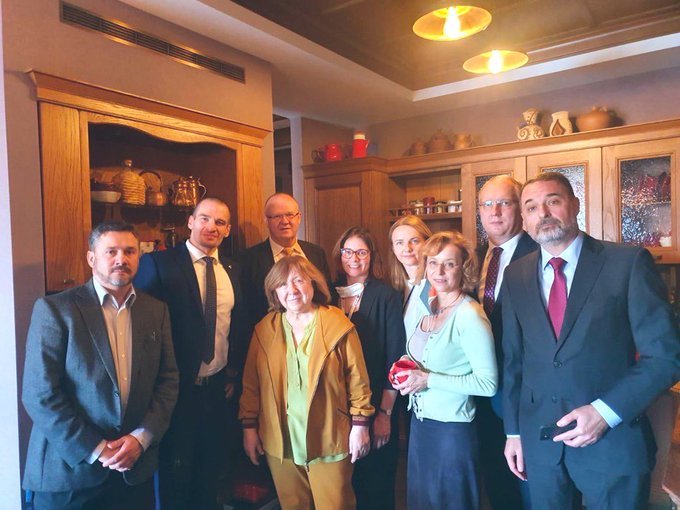 1:15 pm The detention of Ilya Salei and Maksim Znak has been confirmed.
1:24 pm Teachers from the Minsk State Linguistic University have recorded a video message with their vision of the latest events in the country and the university.
"It's not just about politics – it's about the confrontation between good and evil, between humanity and barbarity."
1:37 pm The strike committee of Belaruskali reported "a pleasant surprise" from the workers of the Mozyr Oil Refinery, "most likely, in response to the mass arrests and violence this weekend, [the workers] have stopped several more units [of production]". Moreover, two sulfur processing units stopped earlier have not yet been launched. Workers say they will not rush to relaunch them, and will do them as slow as possible."
1:39 pm Despite the latest actions of Latvia, Lukashenko continues preparations for the 2021 World Ice Hockey Championship.
The Championship is to be held in Minsk and Riga from May 21 to June 6, 2021. On September 7, Alexander Lukashenko signed a decree regarding new dates for a visa-free regime for championship participants and fans from 44 different countries of the world.
At about the same time, Latvia sent the International Ice Hockey Federation a proposal to host the 2021 World Ice Hockey Championship with another country, instead of Belarus. Otherwise, Riga says it is ready to withdraw its application.
2:06 pm Activist Andrei Strizhak has said one of the reasons for the dismissal of Prosecutor General Alexander Konyuk was his inability to stop the flow of aid from non-governmental funds organized by the people to support the protest. He backed up his post with some "leaked" official documents.
2:12 pm Ilya Salei, a lawyer from Babariko's headquarters, has been officially charged with "Calls to perform acts detrimental to the external security of the Republic of Belarus, its sovereignty, territorial integrity, national security, and defense capacity punished by arrest for up to six months or by deprivation of freedom for up to three years". (Article 361 of the Belarusian Criminal Code)
2:16 pm One lie leads to another, and it seems that the officials don't even try to make it sound real anymore. Now Lukashenko has claimed that the police had not violated any laws during the arrest of protesters and that about 60% of those who were sent to the detention ward in Akrescina Street had been drunk and drug-fuelled "urkas" (jargon used in Soviet times for criminals serving time, as opposed to political prisoners).
2:20 pm Solidarity rallies are taking place all over Minsk. Larger ones have been reported in Masherov Avenue, Dzerzhinsky Avenue, Olshevsky Avenue, and Timiryazev Street.
2:34 pm An employee of the Society for Water Rescue, Nikolai Kuprientsa, has been fined 810 rubles for not taking the protesters from the water to the OMON.
In the courtroom, OSVODovets told @euroradio that his salary is 656 rubles a month.
2:45 pm The head of RT agency, Margarita Simonyan, during an interview with Lukashenko, reminded him that her employees were detained and brutally beaten during the protests in Minsk.
Lukashenko: "Can we turn this page?"
Simonyan: "With pleasure!"
2:54 pm Former President of the European Council, Donald Tusk, has proposed nominating Sviatlana Tsikhanouskaya and her husband Sergei for the Nobel Peace Prize.
3:03 pm More and more students join solidarity rallies in Belarus.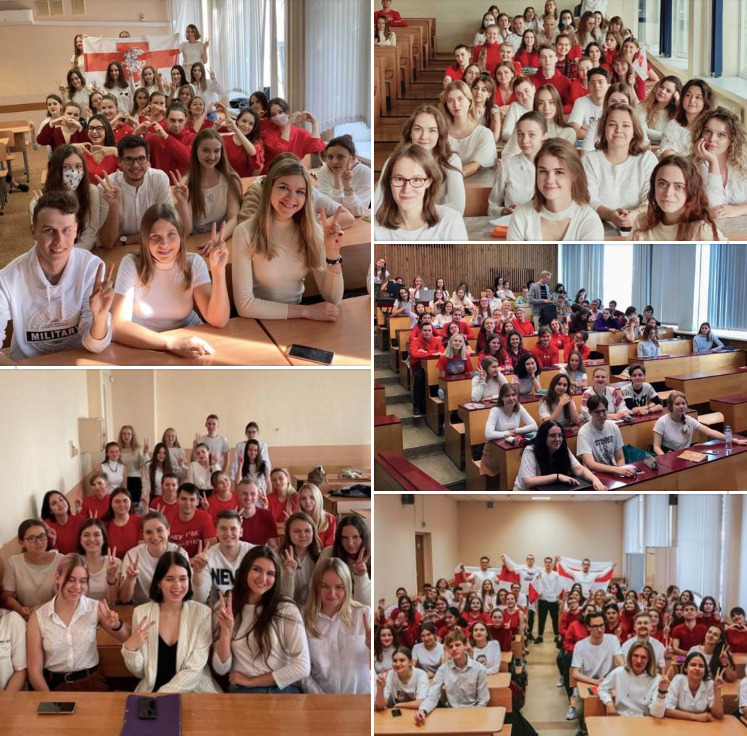 3:11 pm The State Control Committee visited yet another organization, the "Country of Castles" Foundation, with an unscheduled check. The director of the fund, Alexander Varikish, sees political motivation here: he helped the press service of the Coordination Council. He stated this to TUT.BY
The Country of Castles Foundation is engaged in cultural activities, including the organization of guided tours.
3:22 pm Belsat became aware of the dismissal of Dmitry Petko, one of the heads of the Investigative Committee. Mr. Petko was responsible for investigating cases of information security and intellectual property.
He left "for reasons of conscience."
3:33 pm NEXTA reports that Maria Kalesnikova is a suspect in a case involving an attempted seizure of power. She is the only member of the Coordination Council who has faced such charges.
According to TASS, the information was confirmed by Maria's lawyer, Lyudmila Kazak.
3:46 pm The Minsk City Executive Committee has clarified why they play Soviet era music via loudspeakers during the protests, claiming that it "helps brighten the mood of those Minsk residents and visitors who are in favor of peace, calm and order in the city", as reported by TUT.BY.
3:50 pm Dmitry Laevsky, Maksim Znak's lawyer, told TUT.BY that his client is now at the Central Office of the Investigative Committee and under further investigation.
4:15 pm Maria Kalesnikova's father has told RIA Novosti that she is, in fact, under arrest. She is facing 2 to 5 years in prison for an attempted seizure of power.
4:40 pm The management of the "Belaruskalii" potassium plant has sued its strike committee in order to deem illegal the strike that was started on August 17th.
The hearing is scheduled for September 11th.
Co-chairmen of the strike committee Sergey Shits and Anatoly Bokun are named as defendants in the lawsuit. At the moment, Mr. Bokun is serving a 15-day jail term that he received for participating in a peaceful protest.
5:04 pm According to a statement published by the State Investigative Committee in their Telegram channel, "remand in custody has been chosen and approved by the prosecutor as a measure of restraint for suspects Maria Kalesnikova and Maksim Znak. Ilya Salei has also been arrested as a suspect in the same crime. Further investigation is being carried out to establish all the facts of the case".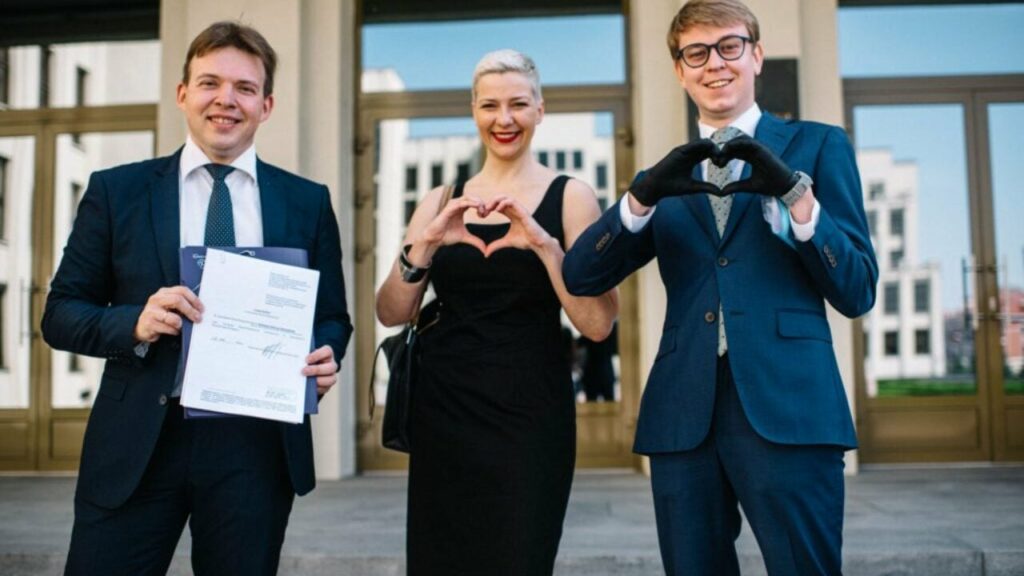 5:30 pm A short while ago, Belarusian state owned Channel One broadcasted a video clip showing a 'Belarusian citizen' speaking in support of Lukashenko. However, it later emerged that the man from the video is a member of the Russian Communist Party who lives in Moscow and even ran for a seat at the State Duma, as reported by Nasha Niva.
6:00 pm Maksim Znak will go on a hunger strike if he is not formally charged with a crime in the next few days, his lawyer Dmitry Laevski told TUT.BY.

"We consider the allegations made against my client and his detention unlawful and unfounded. I must stress that Maksim Znak acted as a lawyer for the Coordination Council and Viktar Babaryka's campaign, providing legal assistance. All of his public statements, requests, and comments were transparent and lawful, without any illegal intent. Such actions cannot constitute a criminal offense," Mr. Laevski added.

6:05 pm The shift supervisor of a fire station at the Frunzenskiy emergency services department, who warned Minsk residents about personnel coming to take down the white-red-white opposition flags from their houses, has been sacked, according to Onliner.by. Now he has three days to move out of the apartment provided by the department together with his child and pregnant wife.

6:10 pm Women of Minsk are gathering for a rally in support of Maria Kalesnikova. A group holding white and red umbrellas is marching down the streets. Ms. Kalesnikova was abducted yesterday in an attempt to forcibly remove her to Ukraine, but she tore up her passport at the border. Today, she and two other members of the Coordination Council were charged with an attempt to seize power in the country.

6:13 pm The Ministry of Information has issued its third warning to TUT.BY since 7 August. This means that access to the news portal could be restricted for a year. The final decision on the matter is up to the Ministry.

6:35 pm A rally in support of Maria Kalesnikova has started on Nemiga street in Minsk. At the moment, there are a few dozen people, with more arriving, TUT.BY reports. People in green uniforms and black masks are asking journalists to stand back "for security reasons," and two women have already been detained.

6:47 pm Security services have started detaining people right away, just like they did yesterday at a solidarity rally near the Central market. The protesters are standing close together and holding onto each other for protection. One woman who was filming the events had her phone taken away. The police also put two other women into a van. The others are chanting "Shame on you!" and "Criminals!"

6:51 pm People are forming solidarity chains all over Minsk, including Filimonova street, Serebryanka district, Belarus State Medical University, Urucca, Petrovschina, Chizhovka, and Loshitsa. This has become a tradition for the protesters.

7:00 pm More demonstrators are being detained at the solidarity rally in Minsk. About 200 people have gathered to take part.

7:10 pm Eight lifeguards from OSVOD who were arrested earlier for helping protesters cross the river have been released from the Akrescina detention facility. Court hearings will resume tomorrow.

7:15 pm About 10 people still remain on Nemiga street. A woman is reciting the Constitution of Belarus.

7:25 pm Deputy Prime Minister, Igor Petrishenko, has made a statement claiming that "adults are knowingly putting their children in danger by taking them to mass rallies."

"Every case of a child participating in an unauthorized demonstration will receive legal assessment, and their parents will be held accountable," he stated, as reported by sputnik.by.

7:34 pm After multiple arrests at the women's rally in support of Maria Kalesnikova, a small group of protesters moved to Independence Square. The woman who was filming and had her phone taken away earlier was eventually detained. Right now the remaining participants have gathered near the Red Church, according to Nasha Niva.

7:47 pm Ex-presidential candidate, Sviatlana Tsikhanouskaya, head of Viktar Babaryka's campaign, Maria Kalesnikova, and head of Valery Tsapkala's campaign, Veranika Tsapkala, have been nominated for the Sakharov Prize for Freedom of Thought.

7:55 pm According to several reports, the website of the Interior Ministry Academy has been hacked again.

The hackers have published the following message on the site: "P.S. They claim that they can intercept conversations between Warsaw and Berlin but cannot even protect the website of their own Academy. Will you really let these losers rule the country?"

8:00 pm The police are still detaining participants in the women's rally at Independence Square. The protesters are trying to avoid being arrested by hiding inside the Red Church.

8:14 pm Nina Baginskaya, a widely known 73-year-old activist, has arrived at the Red Church.

8:23 pm At Independence Square, a group of elderly women are standing on the sidewalk, waving a white-red-white flag. Passing cars are honking in support. A few vans arrived at the square, and some people with no identification or insignia detained a woman.

8:24 pm A crowd of medical workers is marching down Dzerzhinsky avenue from the Medical University. They are chanting, "Take your meds, old man!" apparently referring to Alexander Lukashenko.

8:30 pm The member of the Coordination Council Executive Committee, former diplomatic official and Minister for Culture, Pavel Latushko, has announced a forthcoming visit to the German Foreign Ministry. "We are expecting that all members of the EU will present a unified view of the political crisis in Belarus," Latushko said.

8:43 pm "Viasna" human rights center reports that 13 people were arrested at today's rally in support of Maria Kalesnikova on Nemiga Street.

8:55 pm Maria Kalesnikova's lawyer, Lyudmila Kazak, was finally able to talk to her client.

According to Ms. Kazak, the activist is feeling well despite the stress she has endured. She has received medical help due to being forcibly dragged and held in a car. Ms. Kalesnikova has not received any documents concerning the arrest. She was only handed a notice of the measure of restraint that indicated she would remain in custody. Maria Kalesnikova views the events of the last few days as an act of kidnapping, which is a felony. Moreover, during the time she spent at the Department for Combatting Organized Crime and Corruption, Ms. Kalesnikova received death threats, which she treated extremely seriously, given that she was in police custody at the time. She is planning to file a complaint regarding these threats. Ms. Kalesnikova's words are consistent with the story told by activists Ivan Kravtsov and Anton Rodnenkov, who had been forced into an attempt to move her to Ukraine.

9:30 pm Security personnel wearing black and green uniforms and masks have arrived at the Square of Change, the common area of an apartment block in Minsk which is known for high levels of protest activity, such as rallies and various community events. The residents are asking the officers to let them go home while chanting "Fascists!" and "How much does your conscience cost?" Now, security personnel are painting over the "DJs of Change" mural. It has already been painted over by the authorities and restored by local residents today.

10:05 pm The case against four employees of IT company PandaDoc, who were arrested on the grounds of suspected embezzlement on a large scale, has been handed over to the central office of the Belarusian State Investigative Committee. No investigative activities are being carried out at this time. The employees must be formally charged or released before 11 September.

Their lawyer commented: "The guys are currently at the detention facility on Volodarsky street. The conditions there are, to put it mildly, not very good. Their cell is aggressively searched every now and then, but they are holding on. They are shocked by the absurdity of the allegations and will not plead guilty."

10:20 pm Priorbank is not currently accepting cash for credit card payments. It has also suspended such payments through online banking, as reported by Radio Svoboda with reference to the bank's press service.
Moreover, the bank has also limited the number of daily credit card payments. Customers can spend up to 300 rubles on goods and services in Belarus and 300 more on purchases from foreign online merchants.

10:35 pm Today was the first day of Sviatlana Tsikhanouskaya's visit to Poland. Here are a few highlights. She was:
Thanking the Polish government for their level-headed and unwavering approach to the situation in Belarus;
Stressing the fact that Belarusian independence is not for sale, and all other countries must respect it;
Urging everyone to support funds providing help to striking workers and all those who are oppressed by the current regime;
Asking other countries not to recognize agreements signed by Lukashenko, since he is not a legitimate president;
Calling for sanctions against those who participated in vote-rigging, suppression of peaceful protests, beatings, and torture.
Ms. Tsikhanouskaya also spoke about possible ways to support expelled students as well as fired workers and university professors. Later, she met with prime minister Mateusz Morawiecki to discuss a plan to provide financial aid to Belarus, and she took part in an opening ceremony for the Belarusian Center in Warsaw, which will become a community workspace for Belarusian students, organizations, and media.

10:50 pm The mural depicting DJs at the so-called "Square of Change" has been painted black once again. Security services also took down two flags: the opposition white-red-white and another one with the Minsk coat of arms. Local residents were chanting "Shame on you!" and urged those who did it to take off their masks. Now people are going back home, thanking the security personnel for the show. Others are wishing each other good night from the windows.