25 September 2020 | Infocenter Free Belarus 2020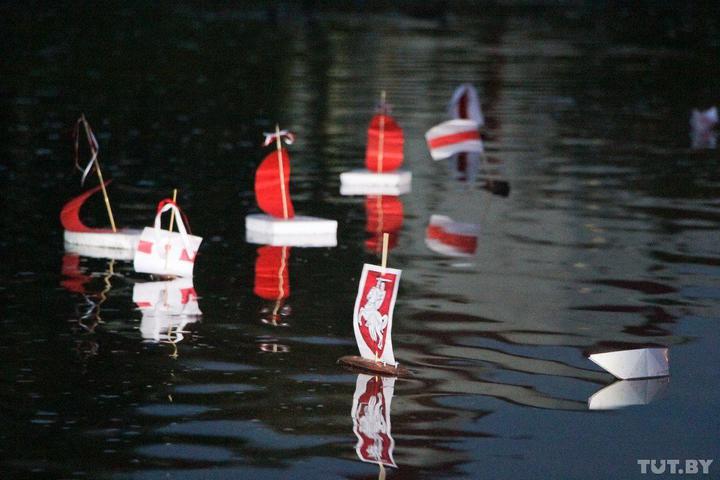 8:14 am The 48th day of protests in Belarus begins with blocking of the roads by drivers. News agency Nasha Niva reports that Mayakovsky is blocked.
8:45 am According to the State Customs Committee, a malfunction in the electronic customs system has been fixed. For more than a day, the customs office accepted only paper declarations. Previously, cyber partisans took responsibility for the failure.
9:32 am Lawyers supporting detained Maxim Znak, who has been on hunger strike already for a week, recorded a video message to draw attention to the unprecedented situation.
10:02 am Norway joined the list of countries, which declared the illegitimacy of Lukashenko's presidency. This was announced on Twitter by the Secretary of State of the Ministry of Foreign Affairs of Norway Audun Halvorsen.
The list of countries which do not recognize Lukashenko as the legitimate president of Belarus now looks like this:
UK 🇬🇧
Germany 🇩🇪
USA 🇺🇸
Canada 🇨🇦
Lithuania 🇱🇹
Latvia 🇱🇻
Norway 🇳🇴
Netherlands 🇳🇱
Poland 🇲🇨
Slovakia 🇸🇰
Ukraine 🇺🇦
Czech Republic 🇨🇿
Estonia 🇪🇪
10:30 am Facebook has removed groups of accounts associated with the Russian special services and the "troll factory" that violated its foreign intervention policy.
10:41 am Canadian newspaper The Globe and Mail investigated the source of manufacture of riot-control water cannon vehicles, which are being used against Belarusian protesters.The vehicles have been identified as produced by Canadian Streit Group based in the United Arab Emirates.
10:44 am Belarusian official Dmitry Zagortsev, appointed a few days ago to the post of deputy chairman of the city administration in Yalta, has been removed from office for supporting the protests in Belarus. To recap, Zagortsev previously has published the corresponding video message.
10:53 am Victory Square in Minsk is currently blocked. Guards of honor are reported to be present there, as well as lots of flags with Russian symbols. Presumably the reason is Lukashenko's today meeting with the leaders of the Leningrad and Irkutsk regions.
11:08 am Another theater in Belarus, along with the Yanka Kupala National Theater, cancels all performances. In the Grodno drama theater the dismissal of actors who supported the protests began.
11:14 am Sergei Radchenya, who committed an act of self-immolation in front of the police building in Smolevichi, died in the Republican Burn Center.
11:17 am Egor Martinovich, editor-in-chief of "Nasha Niva", received a court order on another administrative case. Martinovich's wife suggests that this is due to his arrest on August 11. That night Martinovich was detained and beaten severely like many other protesters. A criminal case was brought against him.
11:55 am Due to Lukashenko's announcement Belarusian students studying in Poland will have to verify their diplomas in Belarus.
12 pm Andrei Matsuk, candidate of Sciences in history and one of the most prominent specialists in his area, has been detained. At the moment Matsuk is being kept in Akrestsin prison.
12:11 pm The Minsk City Court ruled to keep the Coordination Council member Maria Kalesnikava in custody.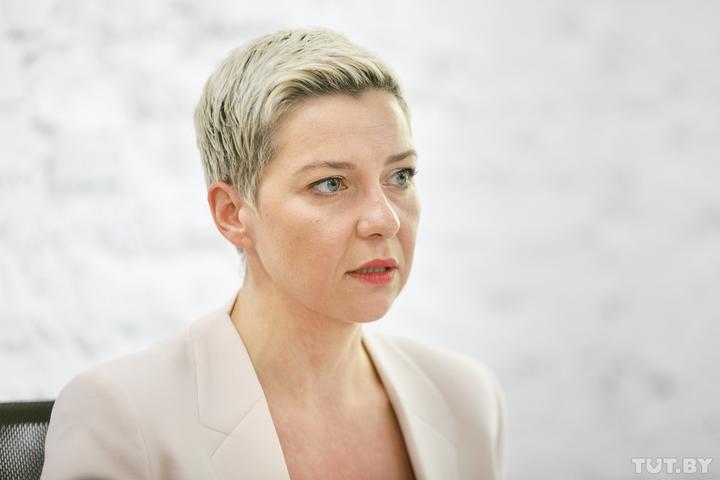 12:20 pm Cameraman Pavel Potapov was detained in Minsk late yesterday evening; he was filming the events taking place on Partizansky Avenue. The trial is likely to be held today, writes the Telegram channel of Belarusian Journalist Association.
12:24 pm The Belarusian State University of Informatics and Radioelectronics students are holding a sitting protest in front of the university for the second day in a row.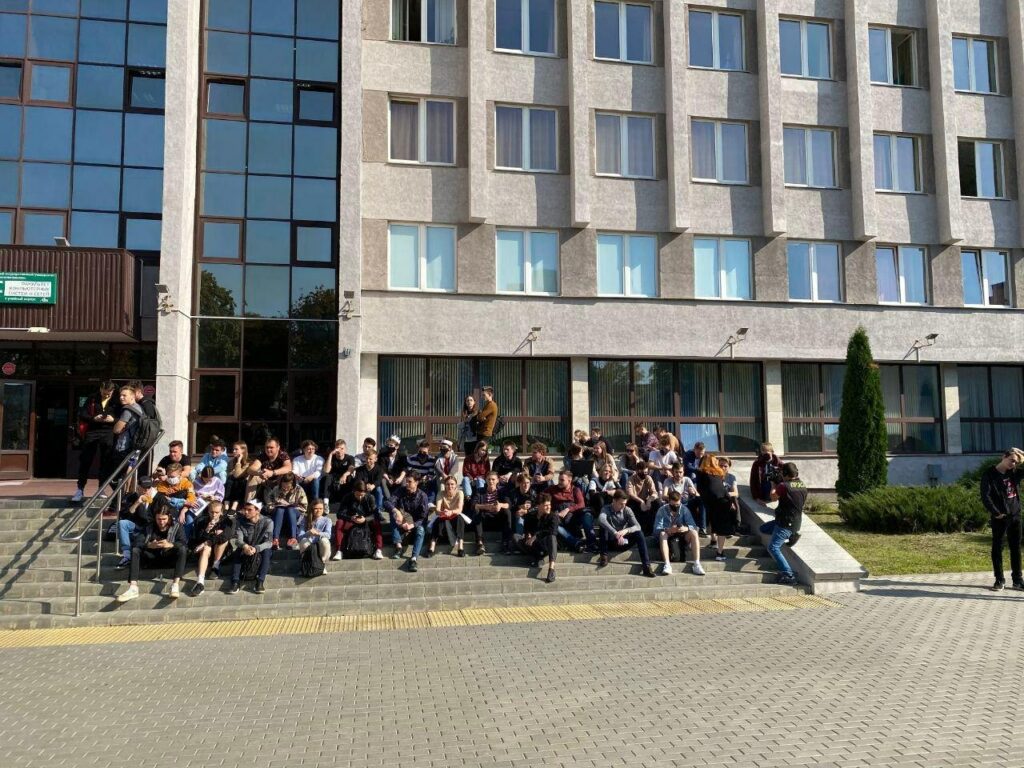 12:34 pm A solidarity protest is held at Janka Kupala Theatre in Minsk. Participants are singing songs.
12:57 pm The Coordination Council member Pavel Latushka addressed the students: "It's time to unite, communicate, and act. You are making history, this chance comes very rarely and only to a select few."
1:10 pm Minsk State Linguistic University students held a solidarity event and sang Victor Tsoi's song "Peremen" ("Change").
1:20 pm The Free Association of Belarusian Athletes made an appeal to the world community about the situation in Belarus. They are asking people not to remain indifferent and show solidarity.
1:24 pm Two charges were drawn up against Maria Kalesnikava's lawyer Lyudmila Kazak – for participation in a mass event and failure to obey the police. Lyudmila says that she was not at the rally in which she was accused of participating.
1:38 pm Poland will keep Belarusian students if their diplomas received in Poland are not acknowledged at home. "We will only benefit from this, they are highly qualified, speak the language and are integrated into society," said a spokesman for the Ministry of Science and Higher Education of Poland, RIA Novosti reported.
1:50 pm In different parts of Minsk, small groups of people are forming chains of solidarity during the lunch break at work.
2:06 pm The Ukrainian party "Holos" ("Voice") stood up for sanctions against Lukashenko and his associates in the Verkhovna Rada (Ukrainian Parliament).
2:08 pm The court sentenced Dmitry Solovyov, the editor of the website "Mogilev Region", to 7 days of arrest, writes the Belarusian Journalist Association Telegram channel.
2:15 pm Belsat journalist Denis Goncharenko and cameraman Ales Lyubenchuk, detained yesterday near the Akrestsin prison, were sentenced to 12 days of arrest. Also, a fine of 510 rubles was imposed for work without accreditation, writes Belarusian Journalist Association.
2:22 pm Swedish Foreign Minister Ann Linde announced that Sweden does not recognise the Belarusian election results, and that Lukashenko has no legitimacy.
2:35 pm The Belarusian media started a campaign of solidarity with Yegor Martinovich, Nasha Niva editor-in-chief, arrested in a criminal case of "libel". The banner "Freedom to Yegor Martinovich" appeared on websites of all the largest independent media outlets in the country.
2:37 pm Belarusian National Technical University and BSU Faculty of Applied Mathematics and Computer Science students held solidarity events at their respective universities.
2:58 pm BSU Journalism Department and Faculty of Philosophy and Social Science students came out to a joint protest at the university.
3:03 pm Belarusian Catholics sent a letter to the Belarusian Television and Radio Company (BTRC) asking to return the traditional Sunday Mass broadcast on the radio. The radio replied that it is their decision what programs would be broadcast. Canceling the broadcast has become one of the instruments of pressure on the Catholic Church in Belarus, which consistently condemns election fraud and violence against peaceful protesters.
3:13 pm Students of the Belarusian State University Department of International Relations took part in a solidarity demonstration.
3:23 pm President of Poland Andrzej Duda: Everything must be done to ensure that elections which will be recognized by society are held in Belarus.
3:28 pm The Latvian Foreign Ministry has published the expanded sanctions list for Belarus. It includes 101 people, among them – Belteleradiocompany head Ivan Eismont, his wife and Alexander Lukashenko's press secretary Natalia Eismont, Deputy Prime Minister Anatoly Sivak, and others.
The list is common to all Baltic countries and can be found on the Estonian government's website here.
3:30 pm Sviatlana Tsikhanouskaya addressed everyone who supports the idea of a people's inauguration. She thanked Belarusians for their trust and pointed out that the inauguration is a celebration to which everyone is invited, and it should not end with violence and raids. Tsikhanouskaya invited people to continue protesting and thus express their will, and promised to do everything so that every voice in the country and abroad was heard.
3:50 pm Ukrainian "Dikiy Teatr" ("The Wild Theater") presents an online premier of the play "Hurt. Belarus(sia)", written by Belarusian playwright and Coordination Council member Andrey Kureichik. THe play is about the recent events in the country. The online broadcast can be viewed here.
This play is the last part of Kureichik's trilogy. The first two parts, "Hurt. Russia" and "Hurt. Ukraine", were released in 2018 and 2019.
4:30 pm Ukraine will open its borders to Belarusians from 29 September. However, after entering Ukraine, people will have to quarantine themselves for 14 days. An alternative to quarantine may be a negative coronavirus test, which must be presented upon arrival.
4:40 pm Cameraman Pavel Potapov, detained yesterday in Minsk while filming a protest, has been sentenced to 15 days of detention.
4:50 pm The information about mass installation of surveillance cameras in Minsk has been confirmed. Telegram channel @motolkohelp published one of the lists of cameras installed in the city center and their technical characteristics.
5:10 pm Hrodna resident Karina Malinovskaya, who on 11 August was pulled out of her car by the riot police, hit in the stomach and forced to give a false testimony on camera, has miscarried. Today, Karina was fined 270 Belarusian rubles for allegedly participating in an unauthorized event.
5:25 pm The UN demanded the immediate release of Maria Kalesnikava. 16 UN experts signed a statement demanding that the Belarusian "authorities" "conduct a quick and effective investigation on what happened to Kalesnikava, […] as well as identify and bring to justice those responsible for her forced disappearance."
5:30 pm Journalist Dmitry Semchenko, formerly a correspondent and TV presenter at the pro-government TV channel ONT, was released after 15 days of administrative detention.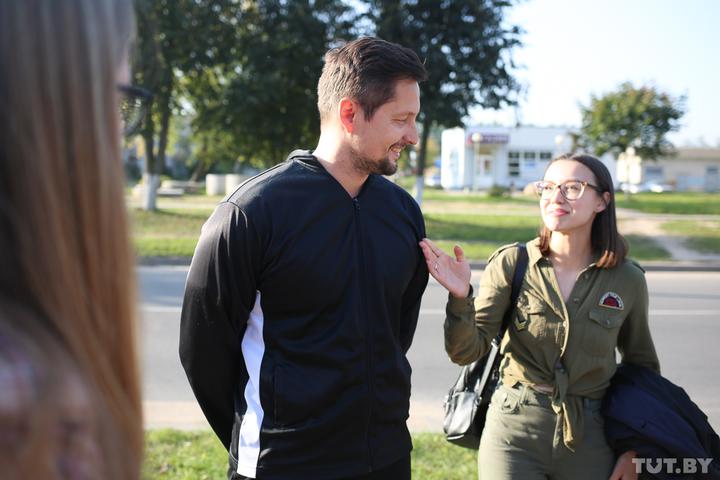 5:45 pm A small procession of women with white-red-white umbrellas is passing by the Sportivnaya metro station. Women are headed to the memorial on Pushkinskaya.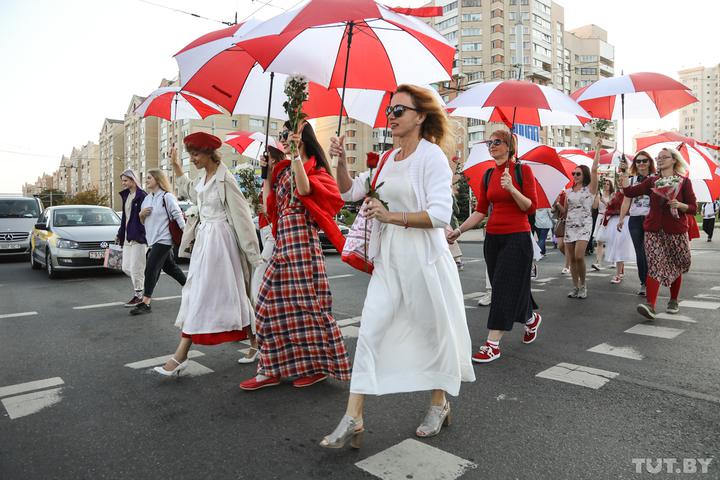 5:50 pm Today, police visited Gymnasium No 2 in Hrodna and gave a presentation to children, during which they handed out truncheons, helmets and brochures titled "Defend Your Country". They also showed the children firearms.
5:53 pm Right now, a court session is being held in the case of Maria Kalesnikava's lawyer, Lyudmila Kazak. Kazak was abducted yesterday in the center of Minsk by unknown individuals in masks and OMON uniforms.
According to Kazak, as she was being detained, she "started asking if this [was] an abduction, they did not answer, then [she] started resisting". In response to her demands that they explain on what grounds she was being detained, she was told that she herself knew everything. Consequently, the lawyer was charged with two offenses: participation in unauthorized mass events, and failure to obey police orders.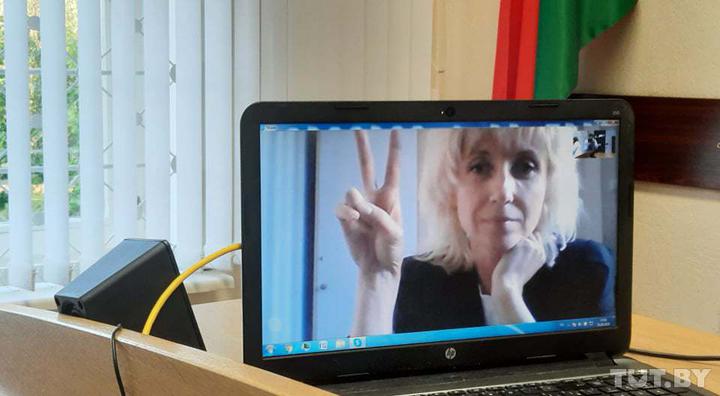 6:02 pm Lithuania, Latvia, and Estonia have worked out a joint methodology for the electricity market, having agreed that electricity supplied to the Baltic states should not be produced in Belarus.
The methodology has been presented for public consultation.
6:03 pm Smarhon activist Aliasandr Budai has been arrested for the crime of slandering police officers, his wife Volha told RFE/RL Radio Svaboda.
Budai had already served three days of detention for participating in unsanctioned rallies, and his wife organized a demonstration supporting him.
6:07 pm A group of women with red and white umbrellas held a demonstration and placed flowers at the memorial for Aliaksandr Taraikouski.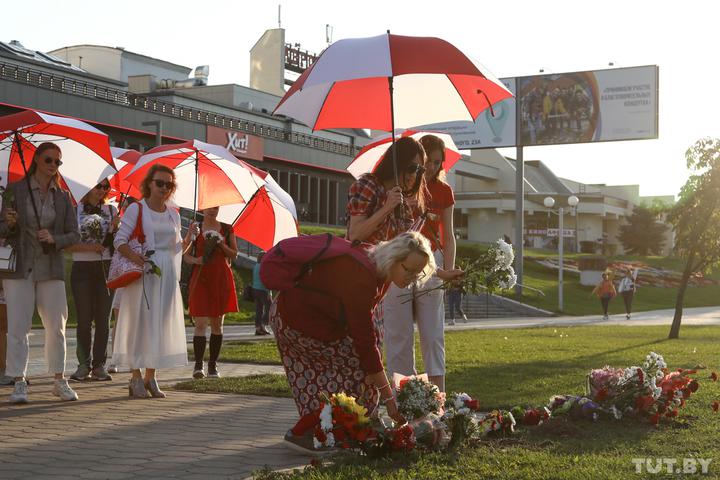 6:17 pm The Belarusian Journalists' Association has systematized known facts on persecution and repression of media professionals in 2020. The table is updated regularly and now includes several hundred cases.
6:19 pm An employee of the state company Belarusneft has recorded a video message urging his colleagues to strike.
6:59 pm Today, Sviatlana Tsikhanouskaya met with US Deputy Assistant Secretary of State George Kent. They discussed recent events in Belarus and possible ways out of the crisis, as well as potential participation of the US, EU, and Russia in organizing dialogue and holding new elections, reports the Pul Pervoi Telegram channel.
7:02 pm Belaruskali strike committee co-chair Anatoly Bokun has begun a hunger strike. Bokun is currently serving a 25-day sentence at the Uzda detention center, according to Euroradio, citing the strike committee Telegram channel.
7:17 pm Several sources have reported on the arrest of a Belarus State IT and Radioelectronics University by several unknown individuals without any identifying symbols, citing the university's Telegram channel. The alleged arrest was caught on video.
7:18 pm 170 members of the Minsk metropolitan design organization Minskinzhproekt have appealed to the authorities, asking them to end the violence and hold new presidential elections.
7:19 pm A judge has fined Maria Kalesnikava's attorney Lyudmila Kazak 675 Belarusian rubles ($260 USD) for failure to obey police officers. Following the sentencing, people present in the courtroom yelled, "Shame!"
7:52 pm The Ministry of Information has filed a lawsuit against the online media outlet TUT.BY. This may result in TUT.BY losing its status as a member of the mass media, though it would be permitted to continue its work as an online resource.
7:55 pm Lectures, concerts, and courtyard parties are taking place in neighborhoods around Minsk today. Famous musician Pete Pavlov performed today at the Angarskaya, and theater critics Aliaksei Strelnikov gave a lecture on Grushevskiy Square about a play by Yanka Kupala. Dvor Fest took place in another courtyard.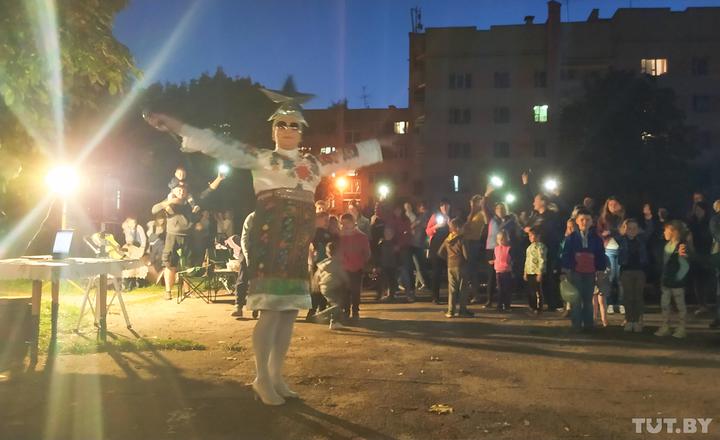 8:17 pm Maksim Znak has lost 6 kg after 8 days of a hunger strike. His test results are abnormal.
8:26 pm Belarusian human rights defenders have recognized Stepan Latypov, who was arrested during the unrest on the Square of Change, as a political prisoner. Latypov was arrested after asking law enforcement officers who had arrived at the courtyard to present their badges. They then conducted a search of his apartment.
8:30 pm On the evening of 25 September, Viasna Center human rights worker Marta Rabkova was charged, most likely with either inciting riots or financing such activities. She is being held at detention center number 1 in Minsk, according to the center's website.
8:44 pm Volunteers from Viasna human rights center in Mahiliou have reported that 64-year-old navy veteran Aliaksandr Strakh has been sentenced to 7 days in jail for participating in the protests. Earlier, the Lenin Court in Mahiliou had fined him 270 Belarusian rubles for participating in the Peace March.
8:54 pm People are joining local demonstrations around Minsk, reports TUT.by. They are holding flashlights and singing songs.
10:42 pm European Belarus activists Egor Litvinka, Andrei Voinich, Anasatasia Kirik, and Pavel Yukhnevich were brutally arrested on 25 September in Minsk. They are charged with participation in mass unrest, according to the European Belarus (Evropeiskaya Belarus) Telegram channel.