24 September 2020 | Infocenter Free Belarus 2020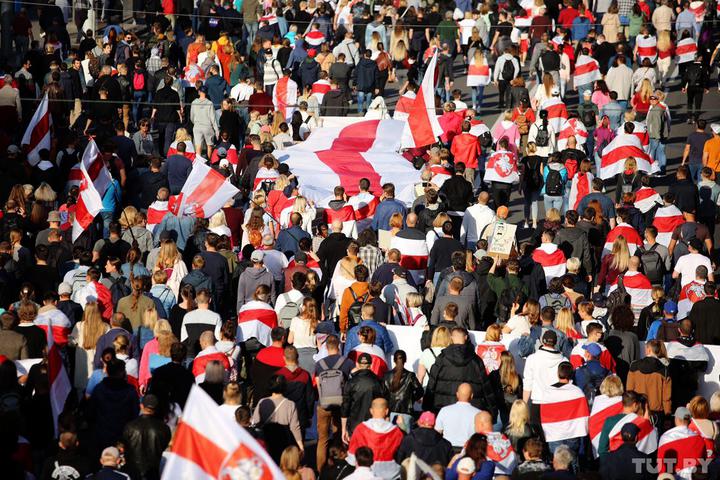 8 am Good morning. Day 47 of protests begins.
8:15 am Human rights centre "Viasna" reported that 259 people had been detained during the protests on September 23 in Minsk and other cities of Belarus.
8:20 am The European Union considers Lukashenko's inauguration and new presidential term as lacking sufficient democratic legitimacy, as stated in the statement made by Josep Borrell, the EU High Representative for Foreign Affairs and Security Policy.
According to him, "the EU is reassessing relations with Belarus." Borrell also believes that only "a comprehensive national dialogue and a positive response to the people's demand for new democratic elections are the only way out of the political crisis in Belarus."
8:45 am According to the telegram channel @motolkohelp, security forces were patrolling the administrative buildings in Minsk throughout the night and only now started to leave the buildings.
9:07 am Since early in the morning people have been lining up in the solidarity chains slowing down highway traffic in different districts of Minsk. Near the Uruchye metro station, two people holding the national flag were standing in the dividing strip of the dual carriageway. A road police officer jumped out of the arriving car and severely dragged one young person inside the car. The second person was later also detained.
9:30 am At one of the construction sites in Minsk, the builders brought in a tape recorder and played the song "Changes"!
10:15 am It was announced at yesterday's press conference at the Center for Belarusian Solidarity in Warsaw, that the Belarusian security officials, who resigned in protest for reasons of conscience, would receive assistance in Poland with legalization, adaptation, search for housing and a new job, and the police union will ensure their safety.
10:20 am Readers of several independent Telegram channels started sending many photos of receipts, which, in addition to the calculated information, reads as follows: "If you know the security officers of the law-enforcement bodies of the Interior Ministry, especially, any riot police and their relatives or close friends, then please remind them that lustration is not far off, and they will ultimately bring harm only to themselves, their wives and close relatives. It's not too late to take side with the people! [Signed by] Cyber ​​Partisans".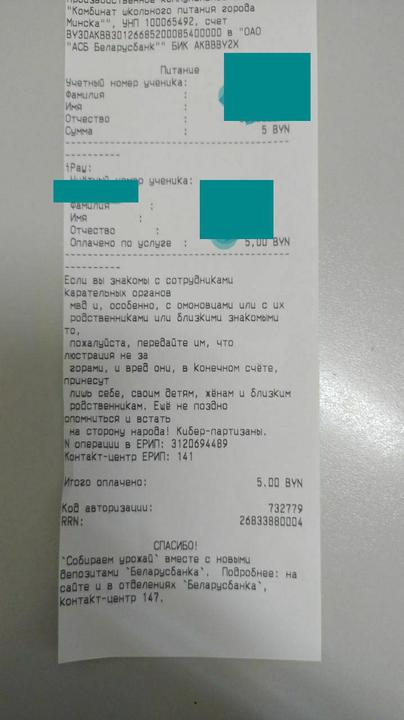 10:40 am Cypriot President Nikas Anastasides said in an interview with Le Figaro newspaper that Cyprus supports the idea of ​​imposing sanctions against Belarus, but believes that a similar sanctions approach should be applied to a number of other issues. In his view, Cyprus does not intend to veto sanctions against Belarusian officials.
10:45 am Andrei Drobysh, the actor of the Kupalovsky Theatre, was detained during the protests.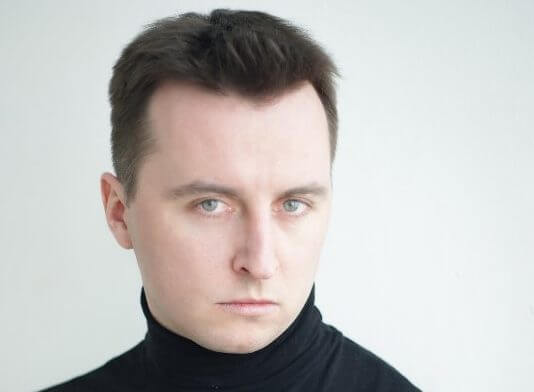 10:50 am Vitaly Makei, the son of the Foreign Minister Vladimir Makei, resigned from the Foreign Ministry, as confirmed by several unrelated sources. The journalists tried to clarify this information with Vitaliy Makei himself, but he replied: "I will refrain from answering. I hope for your understanding."
10:57 am The main entrance to Minsk State Linguistic University has been closed, allegedly, as the sign says, due to "repair works". The students used to gather here during long study breaks.
11:05 am The Prosecutor General's Office is initiating adoption of additional measures to stabilize the situation in the country, as announced by the Prosecutor General Andrei Shved before the start of the coordination meeting on combating crime and corruption. Shved also stressed that participants of unauthorized rallies will be punished by larger fines.
11:20 am In one of the courtyards in the center of Minsk, employees of the state utilities company burned (!) the coat of arms "Pogonya" painted on the transformer unit wall.
11:40 am Journalist Daria Gushtyn was summoned to the Investigative Committee for questioning today, but she left 10 minutes later, refusing to sign a non-disclosure agreement. Her husband Yegor Martinovich, the chief editor of the "Nasha Niva" newspaper, was detained yesterday as an alleged suspect in the "slander" case. Their apartment was searched.
11:42 am Lukashenka responded to accusations of his "secret" inauguration: "Well, in my opinion, according to the laws of Belarus, we do not have to warn any of the Western states or generally warn anyone. This is an internal affair of our country. And there is only one criticism: either a mystery or a sacrament. You know, about 2 thousand people were invited to the inauguration, along with the military. And it is practically impossible to keep it a secret".
12:00 pm Lukashenko's supporters with red-green flags have gathered at the Lithuanian Embassy in Minsk. One of their placards reads: "Forgot who liberated us in 1944?"
The picket ended abruptly after 30 minutes.
12:15 pm A Radio Liberty reader drew attention to the fact that the state TV news channel said that Lukashenko was taking the oath "with his red hand on the Constitution".
12:24 pm In the near future, cyber partisan troops may grow. Currently they have 30 members, but received thousands of applications from those who wish to join.
Belarusian hackers promised to intensify their attacks if their demands are not met.
12:29 pm Twins who sung a duet at yesterday's inauguration supporting Lukashenko spoke to a Russian newspaper, Moskovsky Komsomolets, about their experience.
They pointed out that they did not know where exactly they were invited. People were taken away under the pretext of "holding a party." Lukashenko's appearance and inauguration came as a surprise to everyone. According to the singers, after the inauguration, "everyone congratulated each other, shook hands, it was a celebration."
The girls also pointed out that phones were taken from all participants.
12:30 pm In Minsk, people are taking to the streets carrying white-red-white flags, in a demonstration of solidarity.
12:57 pm People have gathered at Janka Kupala Theatre; they are singing.
1:01 pm The Kremlin said that Putin did not congratulate Lukashenko on his inauguration.
1:07 pm Belarusian State Economic University students went on a march. (video)
1:14 pm ⚡️⚡️Maria Kalesnikava sent a letter to her father from prison in Zhodzina. In the letter, she urges her father not to give up and says those who "kidnapped [me] are incredibly weak and hysterical. They cannot even do their job well. It's a mess and all chaotic here. I'm not kidding."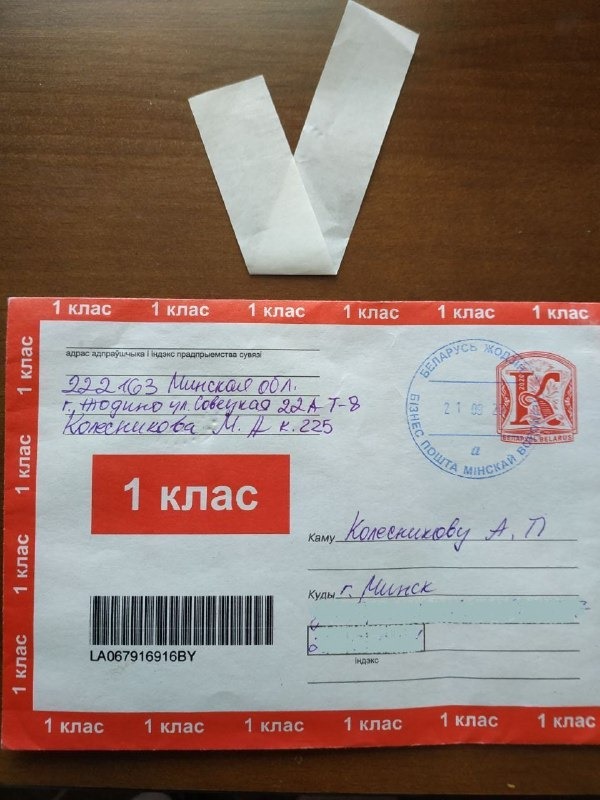 1:13 pm People have formed a chain of solidarity near the "Minskmetstroy" plant which produces reinforced concrete products.
1:17 pm In Homel, students gather at their universities in protest against police lawlessness.
1:20 pm In spite of the main entrance to Minsk State Linguistic University being closed, students and teachers have gathered into a traditional protest at another entrance. They sing songs and chant: "Viva academia", "Long live Belarus", "Every day". (link)
1:22 pm The Coordinating Council has published an appeal regarding the "secret inauguration" of Lukashenko. The Council condemned the violence against peaceful citizens, pointed out that the election results were not recognized by leading world countries, and proposed to create a negotiating platform for overcoming the crisis in the country.
1:34 pm A protest of dissent over yesterday's inauguration is held in Paris.
1:37 pm An event in support of students and teachers is held in the Physics Department of the Belarusian State University.
1:37 pm ⚡ Ukrainian President Volodymyr Zelensky canceled his visit to Belarus. Yesterday, Ukraine officially stated that it does not recognize Lukashenko as the legitimate ruler.
1:39 pm A chain of students lined up near the State Technical University in Gomel. The vice rector for science and several university employees are watching the students from the steps of Building No 2, hiding behind a tractor.
1:45 pm World athletics champion Marina Arzamasova withdrew her signature from an open letter to the authorities and stopped speaking publicly about events in the country.
"I was just told about my future prospects. Naturally, I didn't like them."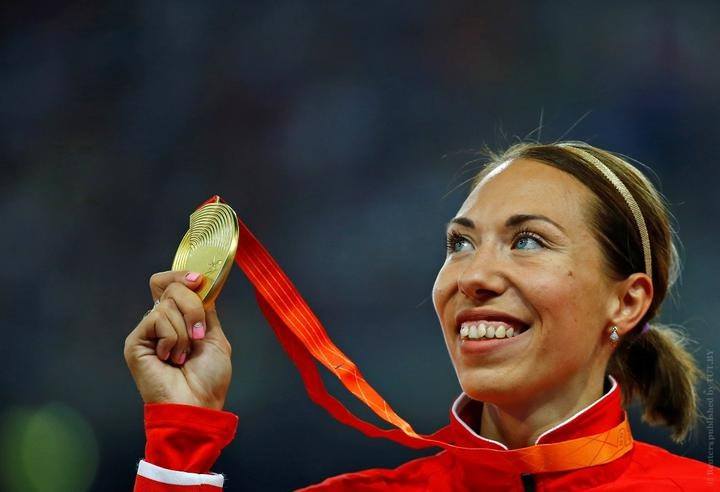 1:49 pm In Minsk, residents of the Kaskad residential complex went out in a demonstration of solidarity.
1:50 pm The General Prosecutor's Office, the Investigative Committee and the Ministry of Internal Affairs of Belarus received emails with an attached appeal from 369 BSU Geography and Geoinformatics Department alumni, students and employees.
2:03 pm People have formed a human chain on Independence Avenue near the Chelyuskintsev Park in Minsk.
2:10 pm For the past month, Belsat TV photojournalist Irina Orekhovskaya has been taking pictures of workers who tired of the fear and joined the strikes. "They said a loud "No!". The key people of the country! Look at them!" (link)
2:22 pm The case in which the Nasha Niva editor-in-chief was arrested is being investigated by the Investigative Committee under an article of libel.
"According to the investigation, in mid-August of this year, a publication was posted on the Nasha Niva website, containing deliberately false information, humiliating the honor and dignity and defaming the Deputy Minister of Internal Affairs of Belarus." (link)
2:26 pm Certain Western countries question the legitimacy of Alexander Lukashenko, but this does not reflect the opinion of the entire international community, the Belarusian Foreign Ministry said.
Currently, these countries have officially refused to recognise Lukashenko as head of state:
➖ Germany;
➖ Lithuania;
➖ Latvia;
➖ Slovakia;
➖ Slovenia;
➖ Czech Republic;
➖ Estonia;
➖ Denmark;
➖ Poland;
➖ USA;
➖ Canada;
➖ Ukraine;
➖ the Netherlands;
➖ Great Britain.
Only the President of Turkmenistan congratulated Lukashenko on the inauguration.
2:30 pm ❗️ Belarusian diaspora in Great Britain held a protest in the financial centre of London.
Activists spoke against Citigroup and others trading Belarusian government bonds, saying this provided financial support for Lukashenko's bloody regime.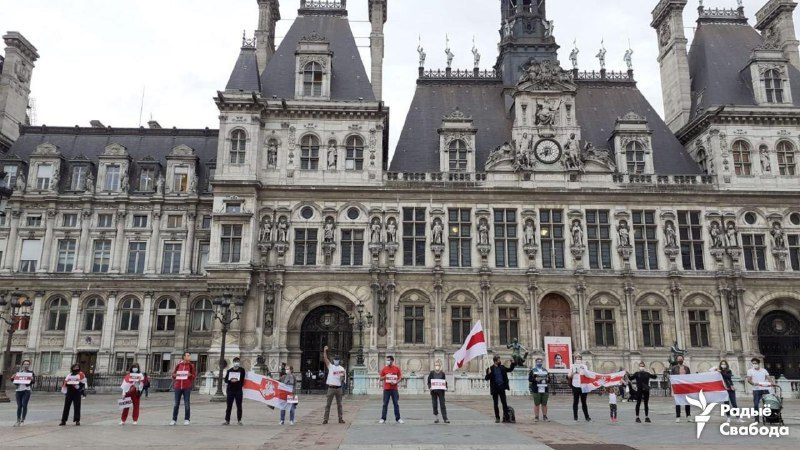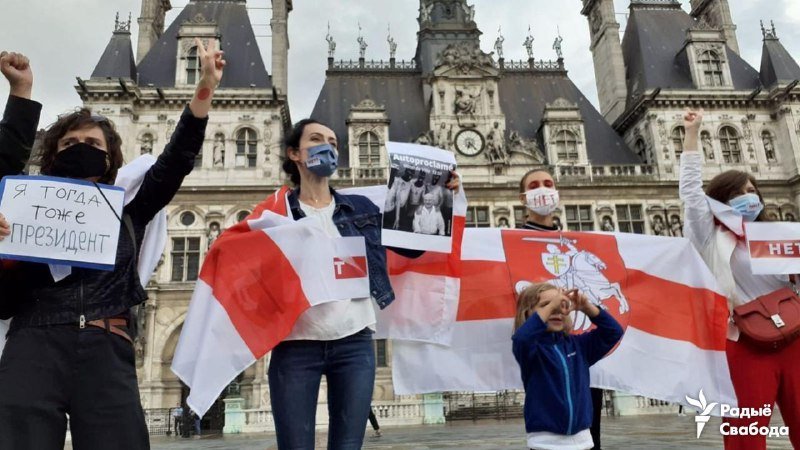 3:08 pm Sviatlana Tsikhanouskaya met with Dutch Foreign Minister Stef Blok. Ms. Tsikhanouskaya thanked the representatives of the Netherlands for their support, in particular, the non-recognition of Lukashenka's legitimacy, as well as the fact that the Dutch chargé d'affaires in Belarus Henricus Johannes van Oosterhout was personally present at the trial of Maria Kalesnikava, as reported by Telegram channel @pulpervoi.
3:17 pm Volodymyr Zelensky has canceled his visit to Belarus which was originally planned for this fall. The announcement was published by the @UsyLukashenko Telegram channel with reference to the Ukrainian ambassador in Belarus.
3:18 pm British Foreign Minister Dominic Raab said that he has ordered to prepare sanctions against those guilty of violating human rights in Belarus.
3:25 pm A utility company has repainted the TV tower in Homel. Now it is distinctly white-red-white, just like the opposition flags.
3:27 pm A group of Belarusian IT professionals has announced the development of software that, with the help of artificial intelligence, is able to "recognize" a security officer if they are wearing a balaclava.
3:42 pm At the Belarusian State University, Journalism and Philosophy department students organized a joint protest rally. After it ended, the students were summoned to the dean's office.
3:46 pm The Minsk State Linguistic University rector issued a decree prohibiting "unauthorized rallies" on campus.
3:48 pm The former coach of Belarus' national U-17 hockey team has commented on his recent dismissal: "The chairman of the ice hockey federation explained to me: in order to work with the national team, the coach must support the current government."
3:59 pm Students at the Belarusian State University of Informatics and Radioelectronics are staging a sit-in protest.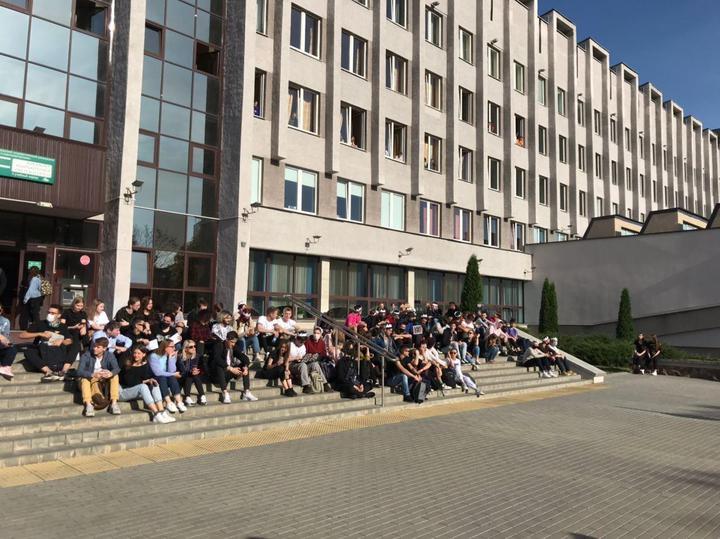 4:10 pm A solidarity rally was held at the BSU Chemistry department. Students performed a few songs to express their support for those who had been detained, as reported by "Otchisleno" ("Expelled") Telegram channel.
4:17 pm According to an official announcement, the UEFA Congress, which was supposed to take place in Minsk, was moved from Belarus to Switzerland due to the unstable political situation in the country.
4:30 pm Sviatlana Kudzelich, a professional Belarusian runner, has announced that she was kicked out of the national team. Earlier, she signed a collective letter calling for Lukashenko's resignation and condemning violence.
4:42 pm Canadian Foreign Minister François-Philippe Champagne tweeted that his country will allocate $600,000 to support Belarusian civil society, in particular, projects related to women's rights and independent media.
4:47 pm Tomorrow, Canada, the United States and the United Kingdom are planning to announce their decision on sanctions against Belarusian officials who are accused of electoral fraud and violence against peaceful demonstrators during protests.
5:03 pm The Lithuanian Seimas called on the government to expand the list of Belarusian officials who are banned from entering Lithuania. The proposed list includes 118 names, as opposed to the current 30.
5:17 pm Marina Drobyshevskaya, a journalist from Homel, was released after 10 days of detention. The news was announced on Facebook by her colleague, Alena Germanovich.
5:29 pm A short film by Belarusian director Nikolai Kuprich titled "The Akrestsina Sisters", which focuses on what was happening in the early days of the protests near the notorious detention center in Minsk, will take part in one of the world's leading documentary film festivals – IDFA in Amsterdam. The art director of the Belarus Free Theater Nikolai Khalezin published the news via his Telegram channel.
5:32 pm The Ministry of Internal Affairs published recordings of phones calls from "disgruntled citizens", some of whom were asking to shoot at peaceful protesters with military grade weapons.
The people who participated in a group dance event at the Mahiliou City Hall were given a prosecutor's warning for an "unauthorized mass rally". According to the organizers, they have held similar events in the past without any issues.
5:45 pm Nationwide rallies in support of Sviatlana Tsikhanouskaya as the elected President of Belarus are planned for Sunday, 27 September. The demonstrations will begin at 2pm Minsk time, in the center of each city in Belarus.
5:47 pm Minsk City Court ruled to keep Illia Salei, the lawyer of Coordination Council member Maria Kalesnikava, in custody. The complaint that his defense filed against the measure of restraint was dismissed.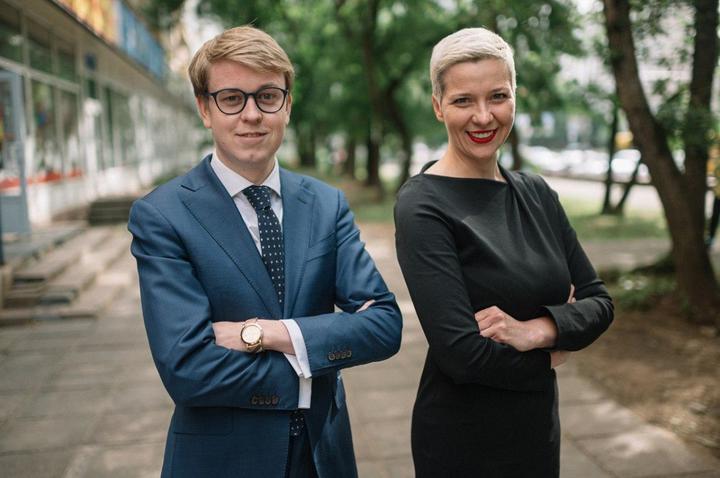 5:55 pm The news from the website of the Ministry of Internal Affairs with recordings of phone conversations, in which "concerned citizens" are asking the police to shoot peaceful protesters.
5:56 pm Hrodna Puppet Theater actor Alexander Ratko tried to swim across the local river Neman while fleeing from riot police during a protest. However, security forces were waiting for him on the other side. The actor was detained.

6:11 pm The Executive Committee of the Union of European Football Associations (UEFA) has decided that "in light of the organizational and operational challenges of the current situation," all UEFA corporate events will be held in Switzerland for the next six months.

As a result, UEFA Executive Committee meetings scheduled for December 2020 and March 2021 will be held in Nyon, Switzerland, as will the March 2021 UEFA Ordinary Congress. The UEFA Congress had been scheduled for 2 March in Minsk.

6:37 pm The UN Secretary General, Antonio Guterres, spoke in a meeting of the UN Security Council, where he stated that coronavirus is out of control. Many countries have declared that a second wave of the virus has begun and are once again adopting lockdown measures.

"The pandemic is clearly a test of the international community, which we have failed," he said. The UN chief said that currently, countries are struggling to reach agreements on any issues, whether with regards to fighting the virus or expressing their political positions.
6:49 pm Attorney Viktar Matskevich told TUT.BY that the attorney representing Maria Kalesnikava, Lyudmila Kazak, has been incommunicado since Thursday afternoon.

"At 1:30 pm, Lyudmila said goodbye to her colleague, whom she had met on Kommunsticheskaya Street. She was rushing to a hearing in court. She did not arrive. Her car is parked on Kommunisticheskaya Street, and is locked," Matskevich stated at the time.

According to Matskevich, Kazak's husband has filed a kidnapping report with the Central District Police Station. Nasha Niva readers report that "At 1:50 pm, across from 24 Kommunisticheskaya Street, unknown individuals detained a woman and took her away in a Geely 8971 TA-7 car (most likely Kazak's car). The woman cried out for help many times", they said.

6:54 pm Mikhail Gorbachev, the first president of the USSR, spoke with Podyom about how he is closely watching the situation in Belarus, and noted that people "still have a lot of work to do".

"The Belarusians are doing great. They have found their character, now. That is wonderful. I am watching things closely. They are writing that what happened yesterday was madness. I think that things aren't going to just go away on their own. What happened the last few days, and with holding elections… an enormous task lies ahead."

6:55 pm Cyber Partisans have once again hacked the Ministry of the Interior Academy website. "If we see even one cadet in a balaclava on Sunday, or any of the following days, we'll rip the masks off every one of the students at this school," they wrote on the Academy website.
7:01 pm Nasha Niva reported tragic news today: the mother of a 16 year-old Timur Mitskevich has died.

Timur Mitskevich is a teen who got in a coma after being tortured and beaten by Belarusian police. His eyes were crushed when he was savagely beaten. Police shoved a baton into his mouth and beat his throat. They broke several ribs and he spent several days in a coma.

Then, because he reported the torture, he was summoned to the Belarusian Investigative Committee, despite being a minor who was so injured he could hardly stand up from his hospital bed, and criminal charges were filed against him.

Mitskevich was hospitalized again when his condition worsened and he began suffering from panic attacks. He was able to escape the hospital and leave Belarus, but the horrific story was simply too much for his mother. She passed away on 24 September at the age of 44, leaving behind 9 orphaned children, 7 of whom are minors.

7:09 pm In the coming days, the Baltic States – Latvia, Lithuania, and Estonia – will be presenting a general "blacklist," to include approximately 100 individuals from Belarus who will be banned from entry. The Latvian Foreign Minister, Edgar Rinkēvičs, spoke about this on Latvian radio, Delfi reports.
7:39 pm An order was issued at Minsk State Linguistic University (MSLU) on 24 September banning "unauthorized mass gatherings" on campus.

Since 1 September, MSLU and other universities around Belarus have seen nearly daily demonstrations of solidarity. Students and faculty gather on stairs, in halls, and entrances to university buildings, where they sing songs, clap, or simply stand in silence, sometimes holding white-red-white flags and signs protesting the presidential election fraud and violence at the hands of security forces.
On social media, students describe how police and security forces in plain clothes sometimes carry out arrests on campus or nearby. The latest examples of this took place on campus at the Belarusian National Technical University, MSLU, Belarus State IT and the Radioelectronics University, and near the Belarus State Technical University, Belarus State University, and some regional colleges. Police film protesting students and faculty, take away their placards and flags, disperse them, and then arrest them.
According to the rector of MSLU, "12 to 40 individuals participate" in the protests, which represents 0.2-0.6% of the student body.
Photographs indicate that far more students are in fact taking part in the gatherings.
7:44 pm Czech Prime Minister Andrej Babiš believes the European Union needs to declare its readiness to provide Belarus with economic support, thereby supporting the development of Belarusian civil society.

"Belarusians need to feel supported by Europe," he stated. "It is important that Europe says that we (and Russia) are ready to provide economic assistance. We need to help in this way, so that we are not meddling in Belarusian domestic affairs."
According to Babiš, it is worth providing Belarus an opportunity to expand its economic cooperation, and provide greater support for initiatives aimed at developing Belarusian civil society.
8:11 pm ❗️Maria Kalesnikava's attorney, Lyudmila Kazak, has been arrested for an administrative offence and remains at the police station, according to TASS. Earlier today, Kazak was unreachable. Her husband filed a kidnapping report at the Minsk Central Police Station.

8:16 pm The Norwegian Foreign Ministry has stated the following: "Lukashenka's secret 'inauguration' does not give him any legitimacy, and merely exacerbates the crisis." Norway's Ministry of Foreign Affairs has reiterated its appeal to authorities to refrain from violence and begin a serious dialogue with the opposition. "The elections were neither free, nor fair," wrote the Norwegian Foreign Ministry State Secretary, Audun Halversen.
8:24 pm The condition of attorney Maksim Znak, who is currently on a hunger strike at pretrial detention center #1, has worsened.

8:45 pm Minsk. Journalists have gathered outside of Akrestsina Detention Center waiting for their colleagues, photojournalist Aliaksandr Vasiukovich and Uladzimir Gridin, who were charged with participating in an unsanctioned rally and sentenced to 11 days of detention.

8:52 pm At a meeting of the National Commission on the Rights of the Child, Deputy Prime Minister Ihar Petrishenko, who is also Chairman of the Commission, stated that approximately 280 administrative cases have been filed with regard to minors' participation in unsanctioned rallies.

According to Petrishenko, the National Commission on the Rights of the Child supports an approach of cracking down on parents' responsibility for their minor children's involvement in such events. He described children's participation in the rallies as a gross and undisputable violation of children's rights, as enshrined in the UN Convention on the Rights of the Child, the Belarusian Marriage and Family Code, and other laws.

"Any international organization will confirm that I am correct. It is surprising that not a single human rights activist, not a single humanitarian fund, who are so concerned with those arrested at protests, has uttered a word about these violations of children's rights," Petrishenko said. "Some are of the view that these actors do not see obvious violations. Most likely, they are far more interested in creating fake news."
9:31 pm Member of the Presidium Coordination Council (CC) on resolving the political crisis in Belarus, and head of the Minsk Tractor Factory Strike Committee, Siarhei Dylevskiy, who was released on 18 September following 25 days of administrative detention, intends to continue his participation in the CC.

Dylevskiy was arrested for allegedly participating in unsanctioned rallies and failure to obey a police officer on 24 August near Minsk Tractor Factory, where he had gone to support workers, along with fellow Presidium CC member Volha Kovalkova. On 25 August, the Factory (Zavod) District Court in Minsk sentenced Dylevskiy and Kovalkova to 10 days of detention.

On 3 September, Dylevskiy was supposed to have been released, but on the same day the Central District Court in Minsk found him guilty of participating in a demonstration with several thousand people in Minsk on 23 August, and sentenced him to 15 days in jail.

9:40 pm Minsk. Photographers Uladzimir Gridin and Aliaksandr Vasiukovich were released from Akrestsina Detention Center following an 11-day sentence.

10:02 pm Nasha Niva readers have sent photos and video of a colorful show put on tonight by residents of the now-famous Square of Change, in support of their neighbor Stepan Latypov, who has been charged with a crime.
10:22 pm This is the broadcast of Belarusian children's show Kalykhanka shown on television station Belarus 3. The story is about a teddy bear who climbed onto a throne, and wouldn't get off of it. The entire time, he kept asking for a pie. In the end, he fell off of the throne because of his own greed, and a fox sat on it in his place. The events and characters depicted are fictitious. Any similarity to actual persons, living or dead, is purely coincidental.