Some of Them Are Still in Custody
28 August 2020 | TUT.BY, BAJ, Evropejskaia Pravda, BAJ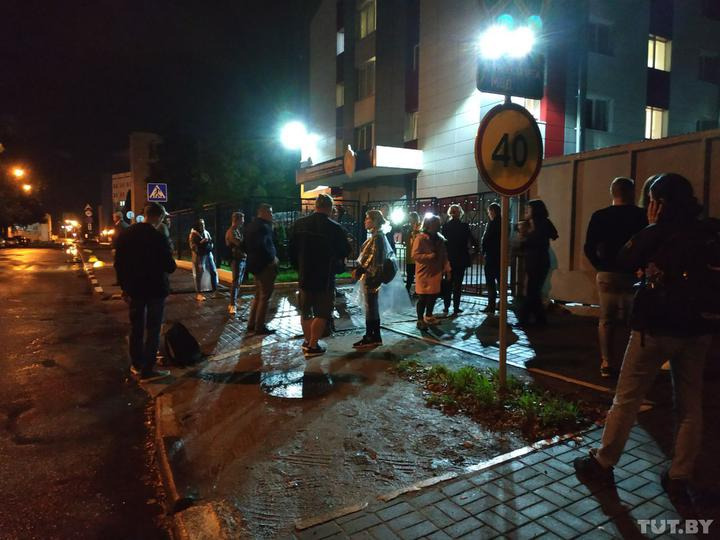 On August 27, at about 6pm two dozen journalists were detained at Svabody Square, including TUT.BY reporter Stanislau Sharshukau and TUT.BY photographer Vadzim Zamirouski. Later, at about 10 pm more journalists were detained at Independence Square. Stanislau Korshunau, TUT.BY correspondent in Brest, was also detained. The Ministry of Internal Affairs said that the journalists were not detained, but taken to the Oktyabrskoye district police department in Minsk to confirm their identities and media accreditations.
A minibus took the journalists away in an unknown direction "to check their documents".
Media representatives lined up to board the minibus. At the same time, a drunken man, who should have caught the attention of the police, was told to "go for a walk" by the law enforcement representatives.
"They will be taken to the police department to confirm their identities," said the official representative of the Minsk city executive committee's police department Natalya Ganusevich.
Among the detainees were TUT.BY journalists Stanislau Sharshukou and Vadim Zamirouski, as well as Uladz Grydzin (Radio Svaboda, the Belarus service of RFE/RL), Vasily Fedosenko (Reuters), photographer Aliaksandr Vasyukovich, Nadezhda Buzhan (Nasha Niva), Dmitry Lovetsky (AP), Zakhar Shcherbakov and Sergei Satsyuk (BelaPAN), Ekaterina Andreeva and Maxim Kalitovsky (Belsat), Vladimir Kostin (Reuters), Sergei Bobylev (TASS), Evgeny Odinokov (RIA Novosti), Pavel Martinchik (Komsomolskaya Pravda in Belarus), photographer Evgeny Erchak, Steve Rosenberg (BBC).
The detained media representatives were taken to the Oktyabrskoye district police department. Later Sputnik.by reported that another group of journalists had been delivered to the Oktyabrskoye district police department, including Sputnik's own correspondent.
TUT.BY correspondent Stanislau Korshunau was detained in Brest, while covering the locals collecting signatures for recalling their MP. The journalist was released after they checked his ID.
At about 19:50, nine journalists were taken from Independence Square in Minsk: they were brought to a minibus for identity check. Among them were TUT.BY journalist Aleksey Sudnikov, Tatiana Korovenkova (BelaPAN), Alexandra Boguslavskaya (DW), Lenta.ru journalists. and others. Once inside, the journalists were asked to turn off their phones; they were told that they would be taken "to the appropriate internal affairs departments for an ID check and then released". "Let's not create problems for each other", said the security official in the minibus.
"Where are we going?" asked the journalists.
"Let's keep it silent, please, we'll arrive in about seven minutes" – said the police officer.
Once at the police station, the journalists detained on Independence Square were asked to take their IDs in their hands and go inside for a check. While at it, the phones had to be turned off.
Radio Svaboda journalists operator Oleg Gruzdilovich, Alyaksandr Dashchinsky and Andrei Rabchik were also detained on the square. The Russian Embassy in Minsk is checking information about the detention of Russian journalists, TASS reports with reference to the diplomatic mission.
After 20:30, Oktyabrskoye district police department began releasing journalists. TUT.BY reporter Stanislau Sharshukou was released from the police department at 21:25. According to him, journalists were called into a room one at a time, their IDs were checked and they were asked to show the photos on their phones and cameras. Another TUT.BY reporter, Alaksei Sudnikau, was released.
Nadezhda Buzhan, photographer for Nasha Niva, described how the law enforcements looked through the photos made by the detained journalists. "One of the employees there implied that if I refuse to delete the photos, my camera could accidentally fall and break".
Christina Johannesson, Ambassador of Sweden to Belarus, arrived at the Oktyabrskoye district police department. She said she knew that one of the detained journalists was a swedish citizen. Later he was released.
Around midnight, an ambulance came to the police department and took away a BelaPAN journalist, Tatsiana Karaviankova.
"There was no paperwork, they didn't say if we were arrested or detained. They just kept us there from 7 pm. We were asking to call our lawyers and inform them on our status. There were some unidentified people wearing civilian clothes and masks, we didn't know who they were. The police officers said they didn't know these people either, and these people demanded to show them our phones and didn't let us go. I felt bad, my blood pressure had risen" said Tatyana Karaviankova.
As of 00:30 August 28, those journalists who refused to provide access to their phones remained detained. They are TUT.BY photographer Vadzim Zamirouski, Belsat journalist Yekaterina Andreeva, Belsat photographer Aliaksandr Vasyukovich, Radio Svaboda journalist Uladz Grydin, Deutsche Welle journalist Alexandra Boguslavskaya, Current Time TV cameraman Andrei Yaroshevich. Lawyers Sergei Zikratsky and Yekaterina Malyukova arrived at the Oktyabrskoye district police department to see the detained journalists, but were not allowed inside.
At about 1 am Vadim Zamirouski, a TUT.BY photographer, was released from the police department. His camera, flash drives and phone were taken away.
Alexandra Boguslavskaya was also released. She was told that an administrative procedure had been started against her in accordance with Art. 22.9 of the Code of Administrative Offences. Allegedly she had been working without media accreditation. However, Alexandra does have a media accreditation issued by the Foreign Ministry. Her phone was also taken away.
On August 27, law enforcement officials also detained protesters on Independence Square in Minsk. Human rights activists reported more than 200 detainees.
Ministry of Internal Affairs statement
At about 7 pm the press service of the Ministry of Internal Affairs of Belarus released a statement via their Telegram channel "due to the incoming inquiries regarding detention of journalists in Minsk city center".
"Today the journalists were brought (not detained!) to the Oktyabrskoye district police department in Minsk to confirm the legality of their professional activities. Journalists working for registered mass media, as well as foreign journalists with accreditation from the Ministry of Foreign Affairs, will be released", said the statement.
Trials over journalists
[The full list of the journalists detained can be found here – editor's note]
In total, about 50 (!) journalists were detained. Almost all of them were released after their identities and media accreditations had been confirmed. However, protocols were drawn up on four of the journalists for participating in an unauthorized rally (these journalists had refused to give their phones to police officers for checking): Katerina Andreeva, Maksim Gorchanok, Aliaksandr Vasyukovich, Andrei Yaroshevich. They remain in a temporary detention center pending trial.
At least one deportation has been confirmed. It's a Swedish journalist Paul Hansen. He was prohibited entry to Belarus for 5 years.
Protocol for working without media accreditation was drawn up on a Radio Svaboda photographer, Ulad Hrydin, despite the fact that he has the press accreditation from the Foreign Ministry.
EU reaction to mass detentions of journalists
The European Union reacted to the mass detentions of journalists that took place on the evening of August, 27 in Minsk, as well as in Brest.
According to Yevropeyska Pravda ("European Truth"), the statement was published by the EU spokesperson for the external affairs and security policy Peter Stano.
The EU expects the Belarusian authorities to immediately and unconditionally release the detained journalists, as well as all peaceful protesters, Stano said.
"Let the media do their jobs without intimidation. A free press is crucial to the democracy demanded by the people of Belarus", said Stano on his Twitter.
"Belarusian Association of Journalists" demands that Investigative Committee initiate criminal case for obstructing legitimate professional activities of dozens of journalists
The "Belarusian Association of Journalists" NGO requires the chairman of the Investigative Committee of the Republic of Belarus to initiate a criminal case into the events of 27 August 2020, when a crime was committed against dozens of journalists under Art. 198 of the Criminal Code of the Republic of Belarus ("Obstruction of legitimate professional activities of a journalist").
These massive crimes are an obstacle to the legitimate professional activities of journalists: forcing them to refuse to disseminate information under the threat of violence, destruction or damage to property, infringement of the rights and legitimate interests of journalists.
The Law of the Republic of Belarus "On the Mass Media" stipulates that a journalist has the right to be present at mass events, in places of other socially important events and to transmit information from there (Clause 2.2, Article 34).