14 September 2020, 10:20 | Aliaksandr Atroshchankau, Reform.by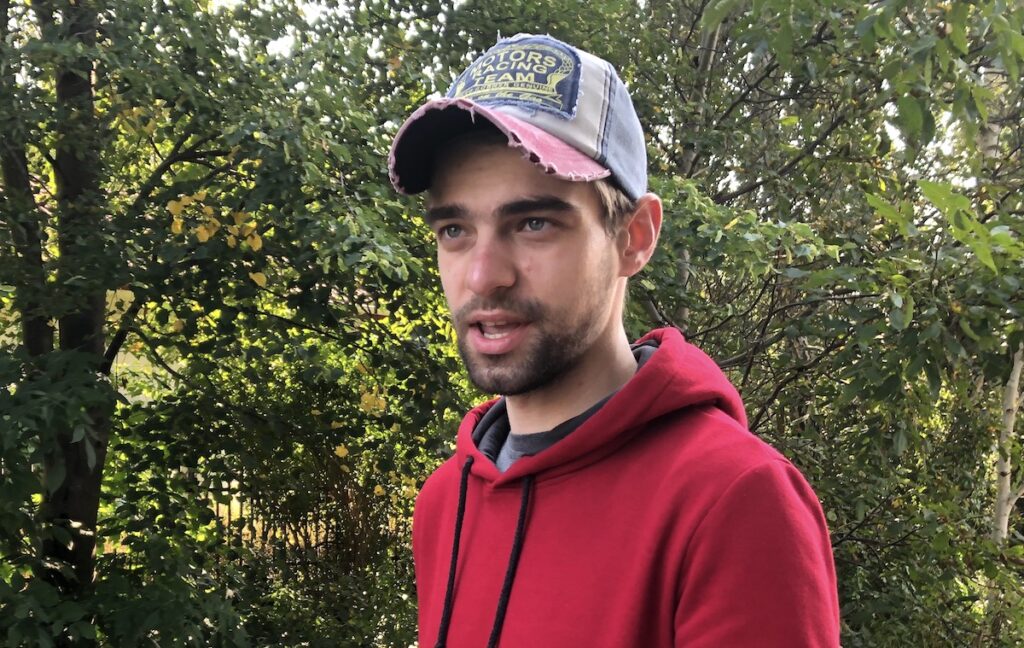 Senior investigator of the Partizansky (Minsk District) Regional Department Investigative Committee of the Republic of Belarus, Captain of the Legal Corps Andrei Astapovich departed for Russia after posting a five-page resignation letter on Instagram. The post contained descriptions of violence against peaceful protesters, torture inside police stations and detentions centers, falsification of criminal cases against demonstrators, and much more. After the publication of his resignation, Andrei Astapovich tried to go to Latvia through Russian Federation territory. However, after an unsuccessful attempt to cross the border, he was arrested on 21 August at a Pskov hotel. Russian security forces subsequently took him back to Belarus, after which all communication with him ceased. Several days ago, Andrei Astapovich appeared in Warsaw, where he told our journalist (exclusively for the readers of Reform.by) what happened after his detainment by Russian security forces and much more.
Tell us what happened to you after your detainment, how you ended up at the Belarusian border, also how you came to be in Poland?
I was detained by Russian security forces in "Rizhskaya" hotel in Pskov. At first, I was told that they had to investigate my checking into the hotel under someone else's passport, which was a formality since my friends and I all checked-in using one passport. At the police station it became quite clear that this was just a bogus pretext. Right after I had been brought there, plainclothes officers appeared and began asking questions entirely unrelated to my stay at the hotel. When I refused to speak with them, they drew up a police report for minor hooliganism – allegedly for swearing in public. After I refused to sign this report, they tried to charge me with illegal border crossing, citing coronavirus restrictions. However, I fell into the category of persons who are allowed to enter the Russian Federation even during the pandemic. I refused to sign the above-mentioned report as well, realizing that they were just looking for an excuse to detain me, stalling to arrange extradition to Belarus.
When the police officers compiling these reports in the presence of people in plain clothes – who, when I asked them what Department they were from, dodged my questions – were handing me these reports to sign, it was clear that they were nervous, acting on someone else's orders. Their hands were visibly shaking. People in plain clothes forbade the police officers from communicating with me, yet the police officers in Pskov treated me with understanding and expressed sympathy for the events taking place in our country. I was able to learn that the Federal Security Services (FSB) was working on my case.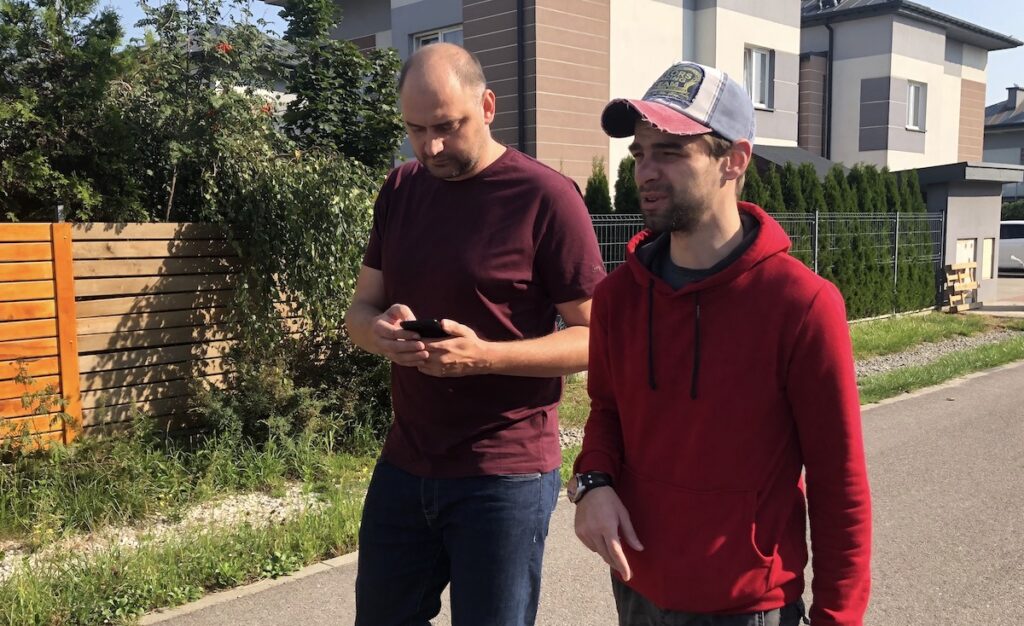 How were you taken to the border?
At some point they said that I am being released, and began returning my things. I had two phones with me, the third got left in the hotel. Yet at the police station, the third phone turned up in my private things. Meaning my hotel room had been entered without a search warrant, my belongings examined, and the phone was slipped into a bag they brought along. Later they started escorting me out, not through the main entrance but through the back door. There, a minivan with six to eight people in full gear and balaclavas was already waiting. They detained me harshly, handcuffed me, put a ski mask with a black cloth over my head so that I could not see anything. My hands were handcuffed in front of me and when I had been put in the minivan, they attached a 32-kilogram dumbbell to them. Apparently, this was an element of psychological intimidation – for me to think that they would drown me in some river. In the car, they tried to find out my phone passwords, when I refused they talked among themselves, stating that despite the fact that the phones are turned on and locked, they see that they are in flight mode, so no one will track me, and they can proceed as planned. And so on, and so forth. Later, they left me alone and drove on in silence.
Of course, I felt scared. I did not know what their plans were or what they would do to me, but I decided for myself: if I die, then I should die with dignity. I prayed, recalled my sins and asked God for forgiveness, humbled myself, sat down as straight as I could in the mask and with the dumbbell, did not respond in any way to their questions and kept silent the rest of the way.
Analyzing their behavior, the lack of physical actions in response to my silence, I realized that if they were going to kill me, then they would force me to answer their questions with physical force. At least, that is how I comforted myself. Also, the fabric of the mask on the right eye had a gap at the bottom, and they did not think to remove my watch, so at the beginning of the trip I was able to check the time. We drove for four hours, and we drove very fast. I knew that from Pskov to St. Petersburg is about four hours' drive, similarly to the border of Belarus. Here I understood: it makes no sense to take me so far to the river, they aren't beating me, meaning they are taking me either to a larger FSB office for further interrogation, or to Belarus. The second option was much scarier. Three hours later, when judging by the sounds, trucks began to pass us one after another, I realized that they were taking me to the border.
At the border, they removed my handcuffs and mask, and handed me a notification that I was deported from Russia for a period of five years. I asked, "For what reason?" They answered that it is for the illegal detainment of Russian citizens. I was confused by this. There was nothing about it in the piece of paper they gave me. I was told this verbally. I tried to figure out what it was all about. At first, I thought that I was charged with the capture of my friends who had been with me in Pskov and had helped me. But, first of all, they are citizens of Belarus, and secondly, they were with me in the hotel of their own free will. They clarified, "No. Wagners." I didn't understand how they connected the "Wagners" with me… Then I thought that maybe the KGB officers whispered to them that I had something to do with it or participated in the arrest, so that they would be tough on me. Or maybe the FSB decided to make it clear that I was not welcome in Russia, so that I would not try to go back through the forest and they would not have to take me out again… But, honestly, I do not understand where the "Wagners" came from.
When I got out, I sent a photo of the indicated document to competent people in Russia who sympathized with me. They explained that the notification that was handed to me is a fiction; this piece of paper has no legal force, and the fact that I was taken to Belarus was neither deportation nor extradition, but was made based on a direct connection between two power structures, which structures – it is obvious.
I don't know why – maybe because I acted the way I did, maybe because they did their job – but when they dropped me off, the atmosphere calmed down. The attitude towards me changed, voices were not raised, and communication was easier. I asked them where I was. They replied that I was in Belarus, in the Vitebsk region. They even named the nearby settlement, although it seemed that they themselves were unsure. But it helped me a lot later, when I was getting out through the forest.
Let's stop the story at this point. I can only say that later everything got much more complicated.
Why do you think Russians did not hand you over personally?
When I realized that I was being watched, that they would soon arrest me, I gave my friends instructions on what to do in case of an arrest. I asked them to contact the media and find me a lawyer, which was done, as well as many other things. As I later found out after getting out of Belarus, those actions saved me. I learned in the cell about the publicity, the presence of a lawyer who was not allowed to see me, and other circumstances, which helped me psychologically and allowed me to be more defiant. I prefer not to say how I managed to find out.
I'd like to point out that after returning to Belarus, I was incommunicado for a long time, and then, when I was able to get in touch and was no longer in Belarus, I put together the full picture from all sides. I was able to find out what and how it happened… I was pleasantly surprised at the number of people who sympathized with me. And on the other hand, how my "former colleagues" hunted me, and how cunningly and lawlessly they acted. But let's skip that part for now.
As I understand, many factors helped, with the main one being the media. By the time I was arrested, I had already spoken to Russian journalists and given interviews to the "Rain" TV channel. Many people were aware of my situation, and when I was arrested, they tried to help me in some way, including the employees of this TV channel.
Initially, their plan had been that I would be arrested and detained for 48 hours for any reason, and then "handed over" to the Belarusian authorities. But when publicity got out, they saw that everything that happens to me immediately gets into the media. It was obvious that if I were handed over directly to the KGB, it would mean that Russia is directly helping Lukashenko. Apparently, they had their own plans on this issue, and a decision yet to be made. Yet, they could not allow me to go to Latvia – my visa would have been ready the following day. Hence, they decided on the following – we deport him, won't hand him over directly, but will inform the other side via our own channels, they will catch him and we come out clean. But after the events in Pskov, I already understood what was going on and I also changed my tactics.
It was very difficult, one plan after another failing, wanted suspect description notices on the border, no connection (I had to get rid of my phones), a lot of other nuances, but I had to get out. As soon as the FSB officers drove off, I didn't wait for the next minivan, filled with our guys to arrive, and immediately ran for the forest. As it turned out, it was the right thing to do. Soon I heard a chase. They ran through the forest after me for a long time, but didn't find me. I understood that in Russia the Media publicity protected me, but it wouldn't work here, either I get out or it's the end of my story. What happened in Russia is quite enough for me to tell tales to my kids and grandkids. I decided for myself that they will not catch me, that I will make the most of this. Since they started to play with no rules, I had to do the same and use all the skills I had.
As you can see, I was able to get out, but what happened in Russia turned out to be a warm-up before… That's all for now. Maybe I'll write a book. When the government changes, I can publish it.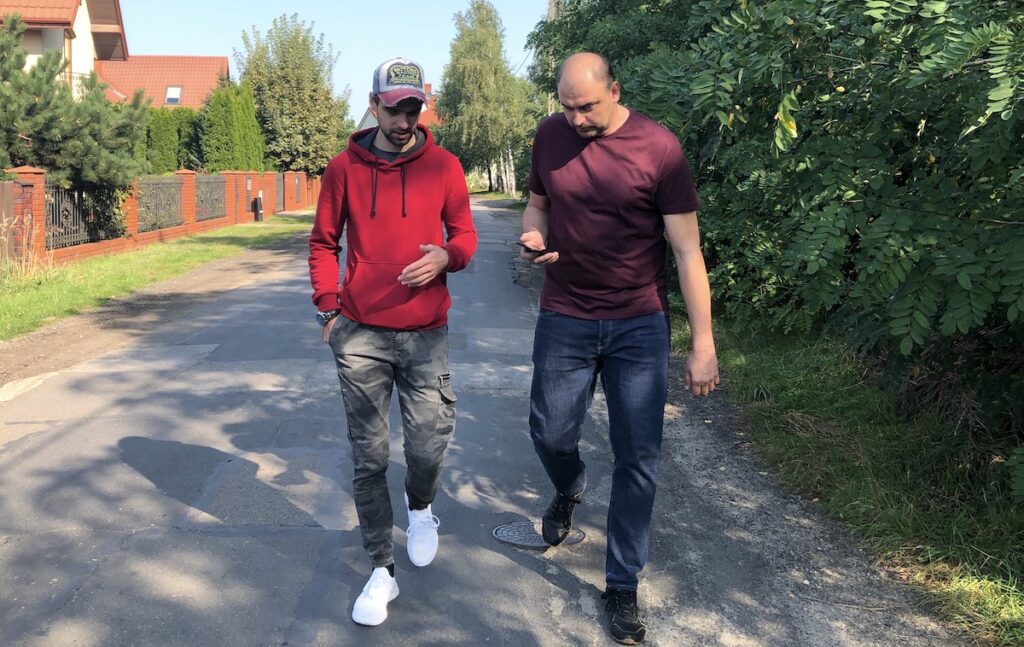 After the events of 9 August, there were other dismissals of employees for reasons of conscience. Why did your resignation specifically cause such a stir? Is this related to the Investigative Committee you worked for or your departure to Russia? Maybe it is connected with the cases you've been investigating?
Yes, as far as I know, employees resigned, both prior to and after my resignation, including employees of the Investigative Committee. I think the reason lies in my public resignation letter, after which I decided to go to Russia. I was on daily duty and witnessed the terrible incidents I described in my resignation letter. Before that, there were other moments, after which I thought about it. For example, I went to a gas station to buy water, and the cashier nearly threw the change into my face. I had been wearing the uniform of the Investigative Committee. Colleagues began to share how they ordered taxis, but taxi drivers refused to accept money. Drivers say, "When I took the order, I didn't know that you were an employee of the Committee, otherwise I wouldn't have come, and I won't take your money." We don't participate in crackdowns; we don't torture people… But I realized it didn't matter anymore. The authority of all law enforcement agencies has been destroyed. It does not matter if you are from riot police or not – it's over!
It all piled up, and after my shift, to be precise after my night shift, I wrote that very resignation letter. I wrote it emotionally, indicated everything as it was, all that boiled over in me. Then I slept, read the resignation letter once more and realized that I was setting myself up. I started having doubts. But I rented an apartment on Kamennaya Gorka, the windows of the apartment looked out to where women with flowers stood during actions of solidarity. I too went out in the evenings, but it doesn't matter… I see that people stay, they stay together, do not give up. You could, of course, write a general, template report – I resign and that's that. But I saw all these people, we all saw what they did to the arrestees in detention centers. They then write appeals, seek justice but receive formal non-replies. So, what about me, am I also going to write a general report? That's why I decided to lay it all down as is.
I understood, of course, that there would be some kind of a reaction, and it would be better to disappear for a week just in case, then find out the reaction, and then act according to the situation. But I wasn't ready for what came next. I wasn't planning on running away. I thought I'd go away for a week, wait for things to settle down. After spending a day with a friend in Moscow, I received a signal that everything is bad, that they are looking for me, they know that I am in Moscow, I realized that I have a little time left, but I need to go to a place where they will not give me up. I started to act, and it is now partially known what happened.
Do your former colleagues support your actions? Where did the signal come from?
Let's just say that I found out. I won't go into details. I'm a legal investigator, and I know my job. I don't need to see the resolution with a stamp or a photo from the database to understand that a case has been initiated. I can figure it out from other signs by putting all the pieces of information together. I posted the report on 19 August, and a criminal case on the base of the article 425 of the Criminal code, Republic of Belarus [Officer inaction. Provides for penalties from fines and prohibition to hold certain posts for up to seven years of imprisonment, depending on the article and the consequences – Reform.by], as I later found out, was already initiated on 20 August. When a criminal case is opened, this information is immediately uploaded into the Unified Citizen Data System (EDBG in Russian) and so on, but I knew that I was not in the databases, as if the case were not initiated and they were not looking for me. They worked sneakily so that I would be calm and act openly, which allowed them to arrest me in Russia.
Initially, I was sure that until the case would be opened, before I'd be put on the international wanted list, I would have at least a week to flee to a third country. After being arrested in Russia, I realized what kind of game they were playing, and then I started a deeper analysis and information gathering. I found out about the BOLO [editor's note: "Be on the lookout" or "All-points bulletin"] notice at the borders. When I got out, this information was confirmed, I found out that interrogations had been already ongoing within the frame of the case, which allegedly does not exist. I even know who is investigating.
According to the law, a legal investigator is supposed to be independent during the investigation. In other words, theoretically, you or one of those who remained could start investigations and save the evidence collected within the investigations for future use, having covered their backs with higher authorities "decisions" to not initiate criminal cases…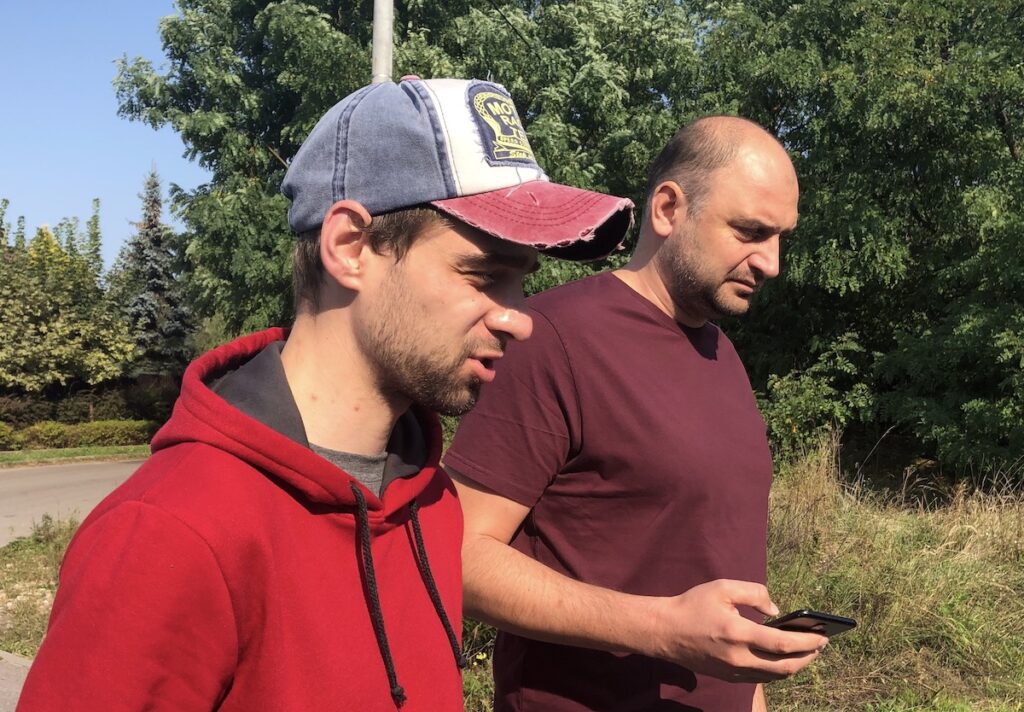 In theory yes… Moreover, according to the law, as a legal investigator, I can open a criminal case without prior approval, conduct an investigation, bring charges and send the case to court. Roughly speaking, one can do all of this without the signature of a single higher up. This is really possible under the articles of Criminal Code and the Code of Criminal procedure. But all sorts of internal orders, department instructions, which became more and more common from the very first day of the Investigative Committee being set up, make this impossible. First one document, then the second, third – and in the end you have to coordinate everything with the Head of the Department. Now it has already reached the point where you report your every move, every incident to the Committee. And the authorities make a decision and tell you what to do. They have a general summary for each investigative visit and for each procedural action. And now, if someone initiates a case without the consent of the authorities, this decision would be quickly cancelled and the legal investigator would receive a reprimand. If this is some ordinary criminal case, then you can still "act a fool" – pretend that you made a mistake and accidentally did it under the old scheme, and get off with a reprimand or loss of a bonus. But with an obviously political case, for example, say you start a case against a police officer for violence against a protester and show firmness, you will be dismissed very quickly.
But you dared…
Yes, I made up my mind, resigned and left, although I was second in the queue to get an apartment, construction was supposed to start before the end of year. Already started the paperwork. On the one hand, I lost everything, but on the other hand, I don't regret it. Because these loans would tie me even more to this job. It's a pity, of course. It was easier for me to decide than for many others. I had no family, no loans, no car, no house. I packed my essentials into two bags – one of which got left in a hotel in Russia when the FSB arrested me, where, by the way, I had all my money, the emergency fund just for such an eventuality – and I left.
As for others – when you have a family, a mortgage, a car loan, and two years left before retirement – it is more difficult for you to decide. You can be pressured through it all. The longer you work in law enforcement, the harder it is to leave. After all, you work only in one sphere, and it is very difficult and even scary to imagine yourself as a civilian. It is very difficult to restart and go somewhere else. Even on a construction site, you can only go as a handyman, because you do not have any training. You can also be a security guard in a store… But that's not what you want when you're the boss or a senior legal investigator. I'm not even talking about power or money. It's just that being a legal investigator is an interesting job. And to be an operating officer is even more interesting, since there is less paperwork. A lot of people like it, a lot of people lived for it – handed down the profession over generations from father to son. To lose everything, to take a stand against a system that you may have belonged to for generations – not everyone can do it. Yes, most people go to smoking areas and say what they really think.
And before that, were there any impulses to leave?
For a long time, I specialized specifically in violent crimes – murder, rape, grievous bodily harm. And this is not just a job, your work with human lives. The cost of error is very high. You can formally consider the case of bodily harm and send it to court, and the attacker will receive several years in prison. Or you can look deeper and see that the "victim" behaved much worse than the accused, this is an unemployed drunkard, while the "attacker" is a diligent worker and a good father of two children who defended himself, but just threw a bad blow and broke the attacker's jaw. The picture becomes completely different, and you already think of what you can do within the law, so as not to break the life of a decent person. If you work honestly and fairly, then you are literally cooking in all this, you become very tired, there is not enough time for yourself. Not everyone can stand it. That's why everyone periodically considers leaving.
Initially, I wanted to study to be a pilot. I had been looking through a reference book, and I saw – "prosecutor-expert-investigative activities." Has a certain ring to it, and you won't be sitting in some bush, for sure a city job. I was in appropriate physical condition. Due to this, I entered the Academy of the Ministry of Internal Affairs without any problems. But it's not so easy to leave. You can't leave for the first five years after the Academy, because you have to work as a trainee at the place you will be sent to by the State or repay all expenses for your studies. It's a ton of money, and I didn't have it. Five years of study also go into the employment period, since cadets join the details, go on patrols. In fact, they receive not a scholarship, but a salary with bonuses and other things. Then five years of state work to repay school fees.
My state work for the Academy ended on 27 July. But the system is so cleverly designed that the employment history in all law enforcement agencies is credited only after 10 years. It is set up so that after five years of the Academy and five years of working to repay fees, I lacked 14 days until 10 years of employment history. So the situation is as follows – either sign another contract or you are, at 27 years old, out on the street without a normal civil profession and without a single day of employment history. In a usual situation, I would have signed up and worked for another five years, and then it's five more years to retirement – you have nowhere to go… And after 20 years of such work, you are already falling apart, your health is ruined, and you don't want to go anywhere yourself. In fact, you are already a different person. If it didn't go the way it did on 9 August, maybe I would have worked there all my life.
Have you investigated citizens' appeals after 9 August?
I had a somewhat unusual situation. This year I have been investigating a very complex case, for which I was sent to the Minsk Department of the Investigative Committee. And I was working only on this particular case. Therefore, they did not distract me by political activities, although many colleagues were engaged in elections and were constantly assigned to them. I returned to my district a week before the election and expected that all this political fuss would not affect me. But I didn't get to sit this one out, and I was put on duty as a Legal Investigator at the police department. On my first shift I was lucky and nothing like this happened. There were ordinary incidents which were unrelated to politics. I think I wasn't even supposed to go on the night shift. I just replaced someone. And then things began to happen which I described in the resignation letter…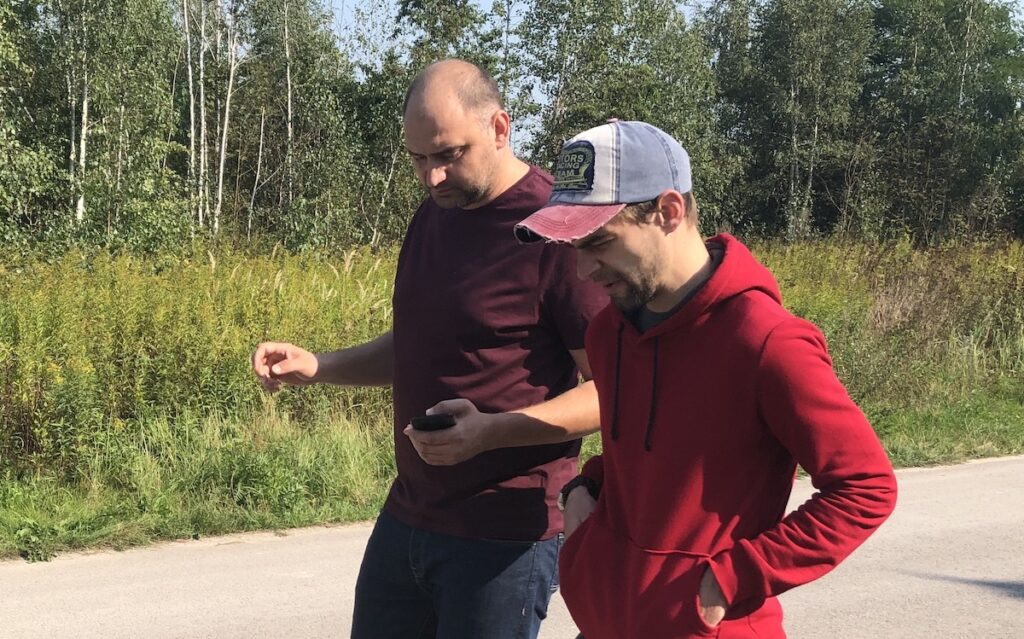 You go to the scene of the incident as the head of the Operational Investigation team, you start figuring it out, but then some unknown person comes and says, "I'm from General so-and-so, I need to talk to the victims." And you realize that you are supposed to be the senior investigative officer, and people are looking at you, but you can't do anything, because someone from above is "solving issues," intimidating victims. You can, of course, take the position of "not my business" – you did not beat anyone… But the responsibility is still with you. After this incident call, I told myself that I will not work anymore.
Every public resignation from security forces in protest causes a stir in the media. But are there many quiet dismissals that go unnoticed by the media? Do you have any information?
Almost all of my friends resigned by publishing their decision. Because if you just write a letter of resignation, they will come to you and keep at you with their, "Come on, stay, you are just tired. How about we give you a vacation, we will redistribute the workload." Stuff like that, for two hours. I have seen it many times – a person writes a letter of resignation on Friday, but gets worked on over the weekend, and on Monday he is back at work.
It seems that for the first time the Ministers of the Security Services – Khrenin, Karaieu – addressed their subordinates through appeals. Not instructions or orders, but public appeals, petitions. Makei also appealed to the diplomats. Lukashenko's speech to the prosecutors was of the same type. Does it say something about a management crisis?
I think that the intellectual part of all the security services, which is not in leadership positions, is mentally on the side of the people. But they are in a very vulnerable position, and they understand this. It is not a problem to deal with each person, one at a time. But if there is collective resistance to the system, it is a completely different matter.
Even within one district. If two or three legal investigators leave, one takes these five or six cases and redistributes them among the others. Everyone will immediately have seven to eight cases instead of the usual six, all at the same time. Already up to 60% of the investigative corps are women. They traditionally have children and a household in addition to their work. They can't sit around the clock at work like the guys.
Even if you put aside dissatisfaction with the political situation… People will just start thinking, "What do I have this job for, if I live in the office?" One or two more people will leave, then another will resign because of politics… The workload will increase even more. What should be done with the cases? Deadlines are being extended and cases are piling up. Then someone else will quit because he studied to be a legal investigator, not to be sent to a protest as a support guy to run around with a camera.
Politics is politics, but crime has not gone away and it will not. And what kind of orders can work in this situation? Just a little bit more, and the point of no return will simply be passed. One by one they will start leaving en masse for a variety of reasons. They see that the system is choking. They don't have enough strength, so they don't know who else to attract. That is why they use such slogans: "Danger! The West is trying to take us over. The 90s are back!" What 90s? 30 years have passed. Forget it already.
Why are the riot police and other security forces on the streets so brutal?
I don't understand why the riot police act like this. I can only say that I can't imagine how the Belarusian law enforcement agencies will restore their reputation and trust in the eyes of the people after what happened.