29 October 2020, 9:41 | TUT.BY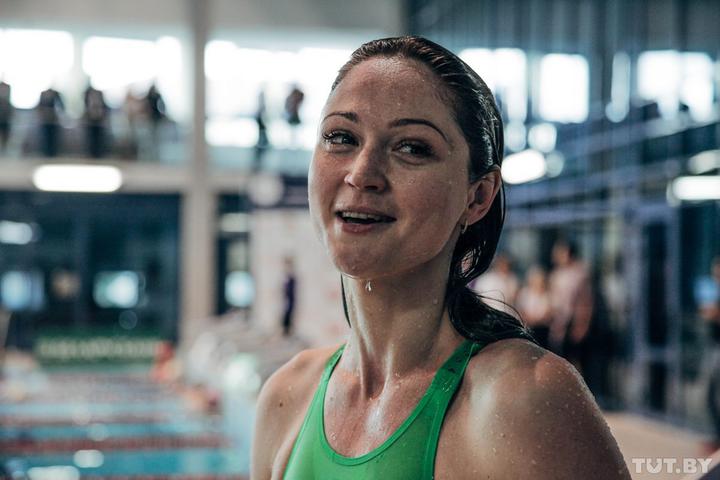 Belarusian three-time swimming champion Aliaksandra Herasimenia told RBK about the persecution of athletes in her homeland, how she helps to fight it and the reasons why she left the country. The most interesting from the interview.
In the middle of October Herasimenia moved to Vilnius and became the head of the Belarusian Sport Solidarity Foundation.
What does your organisation do?
We help athletes who cannot continue training due to the current situation and are at risk not to be allowed at the Olympic Games because they will be incapable to qualify.
Do foreign athletes support you?
Yes, many of them support us. Polish athletes were the first to provide support. And when Yelena Leuchanka was arrested, she was supported by a lot of basketball players from other countries.
If we talk specifically about the support of our foundation, then for objective reasons few people know about us. Our organization was established recently. And one of the tasks is to tell the world about us.
Many foreign athletes are surprised when you tell them what is happening in our country. A lot of them do not even have a clue of the situation in Belarus, though they are living nearby.
After Leuchanka's arrest athletes sent a letter to the International Olympic Committee (IOC) with a request to impose sanctions on the National Olympic Committee of the country. Under which flag will Belarusian athletes compete at the Olympic Games?
Under a neutral one, we will not be able to use the white-red-white. We sent a letter to the IOC to tell about the problems which athletes in our country face.
Will you write such letters to the international sports federations?
We are going to do everything to let Belarusian athletes to take part in the competitions, regardless of political views.
How is your foundation financed?
With the donations of the people, moreover from foreign countries. Belarusian IT-companies support us. Soon we are planning to launch a crowdfunding campaign for targeted assistance to specific athletes.
Did you leave Belarus because of the pressure?
Of course. Had I not left, I think I would have been arrested after I had been appointed as a head of the foundation. Unfortunately, today in our country laws do not work and rights are violated.
How long did it take you to decide to lead the foundation, because the current situation might not be resolved soon?
It took me a day to make a decision. Of course, I was thinking, considering the pros and cons. But things that had happened in our country made me realize that it won't help to sit still and wait for everything to come back to normal, we have to take action, to do something about this.
I was not planning to get involved in politics. I only want to have an opportunity to do what I like, to train children. But now I do not have this opportunity. We are forced to go outside, to enter politics.
You know, people on the streets often thank us because we athletes are not afraid of expressing our position to the authorities and to what is happening. But I would like to thank them, because hadn't they gone outside, nothing would have happened. The athletes were unlikely to protest.
What do you think, how soon you will be able to return to the country and could it happen while Lukashenko is still in power?
We all believe in victory, we believe that it will come to the end. The only question is how much time it will take. I understand that at the current moment I will probably not be able to return. I understand that if I go back, I will probably end up behind bars, the country is now in legal default. But I believe that it will all end soon and I will be home in several months.
Many athletes have not stated their position yet because they are afraid of sanctions of the national sports federations and clubs?
I cannot say for everyone who has not. They must have strong reasons. But many of those who I have talked with personally, expressed solidarity and supported us. But at the same time they told that they had to feed their families and to train more (for the competitions).
Sure, this year is a difficult one for the athletes, especially for the Olympic ones. After all, the Olympic Games take place once in four years. And given the postponement of the Tokyo Olympics to 2021, for some, the upcoming Games may be the last due to age. And it is certain that they do not want to lose the opportunity to compete in the Olympiсs. They are worried about their sports careers, afraid that they will end up without funding and will not be able to continue training.
How do you feel about star athletes who have refused to demonstrate their position?
I think that they also had their reasons for not expressing their position openly. And I am sure this reason forces them to stay in Belarus. I cannot answer for everyone, everybody makes their own choices. They made theirs.