21 October 2020 | Infocenter Free Belarus 2020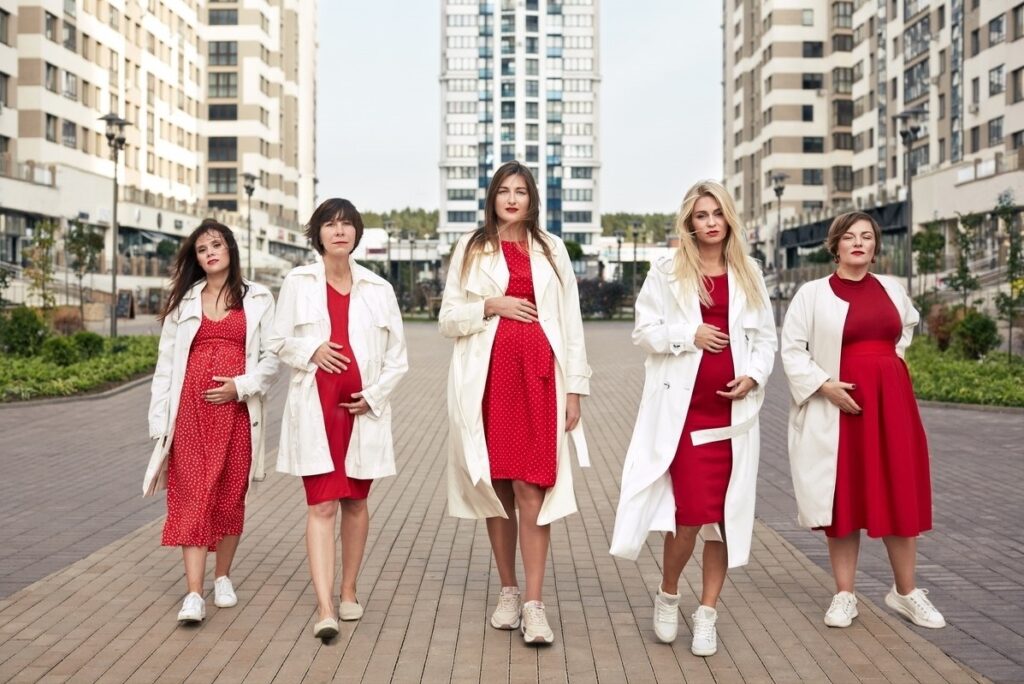 8:00 am Nasha Niva readers report that Lukashenko's supporters want to put everything at stake and organize a mega-rally in Minsk. According to the reports, regional authorities have received an order to deliver a certain number of attendees for this rally and they are desperately trying to meet the target. As only a few want to go voluntarily, bonuses are offered to persuade others.
"This weekend, most likely on 25 October, officers of the Ministry of Emergencies will be forcibly driven from Brest by bus, the list of participants has been prepared today."
"The Stolin region authorities are obliged to send 800 people. It's an order".
"Minsk Linguistic Humanitarian College was ordered to send all the staff to the pro-government rally."
"They called my mother (a teacher of a specialized pedagogical center in one of the districts of Minsk), but the entire team refused to go."
8:05 am "Investigation period" was extended in Pavel Sevyarynets's case by another 2 months. According to Pavel's wife, he will remain in custody until 20 December. Nobody knew about the extension, not even Pavel's lawyer.
8:11 am The European Parliament has discussed a report on the situation in Belarus. Almost all MPs supported the report.
EU High Representative for Foreign Policy Josep Borrell believes that the threats that Belarusian security forces will use lethal force to suppress protests signs of desperation on the side of Belarusian authorities. Josep Borrell also supports the proposal for an OSCE mission to mediate between the regime and the opposition.
'We continue to support Belarusians' rights and reject falsified Presidential election results. EU ready to support meaningful democratic transition. Working on more sanctions, supporting civil society & preparing broad economic package for new democratic Belarus" Borrel wrote on his Twitter page.
8:46 am Belsat reports that the house of Anzhelika Orekhvo, the Council Chair of the Polish Union in Belarus in Grodno, was searched yesterday.
9:23 am According to the information published on Viktar Babaryka's Facebook page, Inna Kovalyonok, a volunteer of Viktar Babaryka's headquarters, suffers enormous psychological pressure at the detention center at Akrestin. Inna has been under arrest since 28 September. Her lawyer is not allowed to see her, she is kept in horrible conditions without any access to a normal WC or a shower.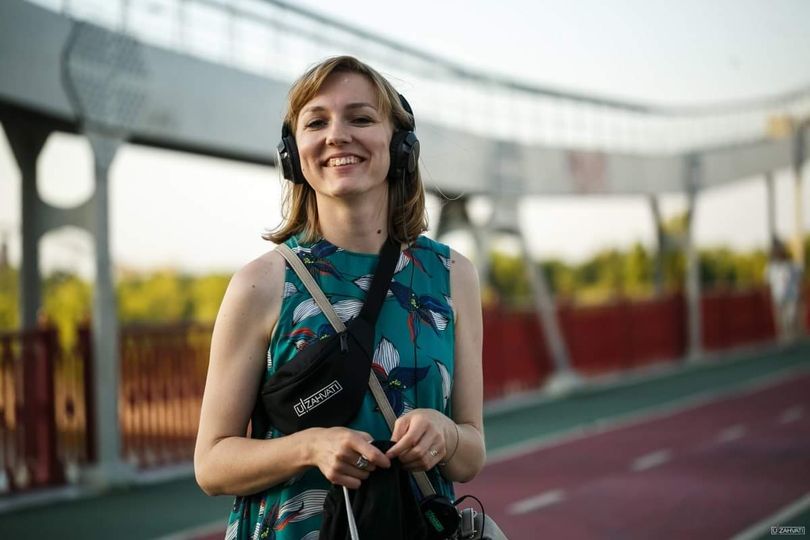 9:34 am Sviatlana Tsikhanouskaya announced guarantees for those who will support the strike if the regime fails to meet the demands of the People's Ultimatum. She urged Belarusians stop going to work or attending classes starting from 26 October.
"Striking is our right to self-governance. The sooner we take the situation into our own hands, the less violence people will suffer at the hands of the regime, and the sooner we will restore security, law and fair elections to Belarus – along with the return of all those who were forced to leave Belarus, your friends and relatives."
10:37 am The Coordination Council insists on the full release of all political prisoners. The CC members stress: "Changing a measure of restraint is not a release! This is just a change of the detention conditions. It looks like an awkward imitation, an illusion aimed at misleading the society."
It should be recalled that seven people were recently placed under house arrest, including Lilia Vlasova, a member of the Presidium of the Coordination Council, a well-known Belarusian lawyer and the founder of mediation in the country.
10:49 am "Nothing is sacred to them anymore." Pregnant Belarusians spoke out against Lukashenko's oppressors. They expressed their disagreement with the events in Belarus in their photo project. After a street rally, any teenager or pregnant woman may end up in a prisoner transporter and be brutally beaten. Therefore, these women have found an alternative way to protest.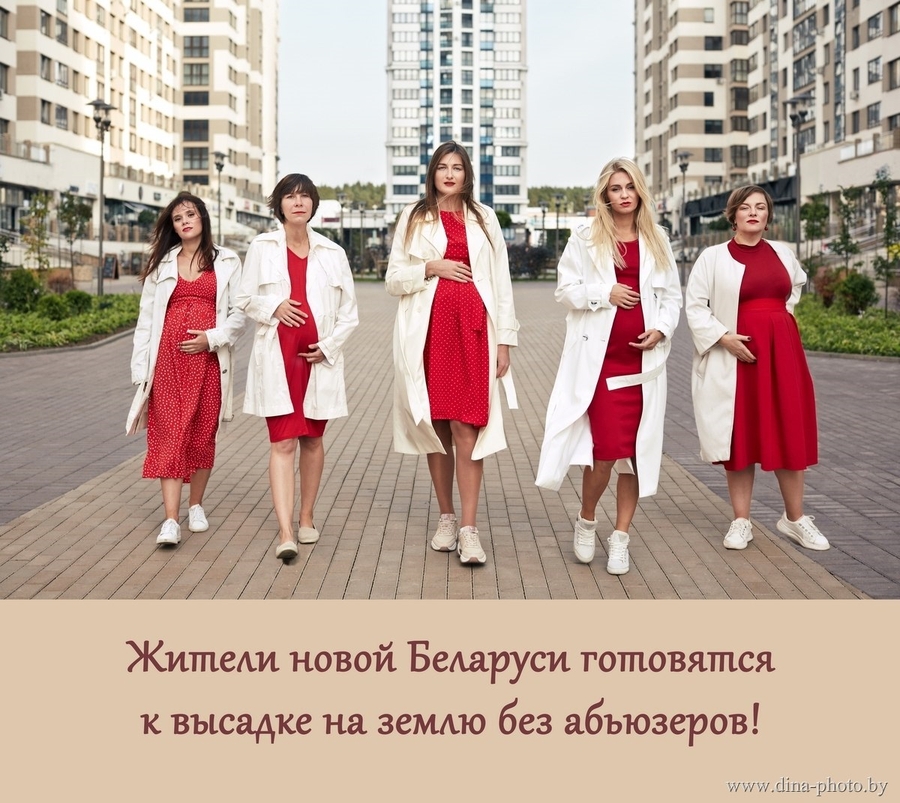 10:58 am As Pool Pervogo Telegram channel reports, all the country's leadership gathers at the Palace of Independence: the Prime Minister, the heads of both Parliament chambers, the Supreme Court, the Presidential Administration, heads of law enforcement agencies, the State Control Committee, governors. Topics for discussion include economics, public safety and the political issues.
11:29 am Nina Bahinskaya responded to Lukashenko's words:
"His problem is that he is a liar. [He speaks] as if he has praised me for my devotion to my beliefs. He forgot to mention that half of my pension is taken away from me (for payment of various fines). Is that not repression?"
11:30 am According to Charter 97, there are already more than 100 names on the list of political prisoners in Belarus. Ten Belarusian human rights organizations made a joint statement declaring additional 9 people who took part in the protests, as political prisoners.
11:50 am During a meeting in the Palace of Independence, Lukashenko said that in December he plans to hold the next All-Belarusian People's Assembly, where the tasks of the country's development for a five-year period will be determined. They will also consider global issues of the development of the Belarusian state.
12:00 pm Amateur ice hockey clubs in Belarus have been banned from using "unregistered symbols". The list of prohibitions includes even "certain color combinations".
12:05 pm Sviatlana Tsikhanouskaya announced that solidarity foundations will support workers who will join the People's Ultimatum.
12:10 pm Andrius Kubilius, a member of the European Parliament from Lithuania, proposed to create a special center for investigating the crimes of Belarusian riot police. Almost all European Parliament members supported the proposition, DW reports.
12:17 pm The first 4 stations of the third metro line in Minsk is scheduled to be launched on 7 November. Initially, it was supposed to open in 2015.
12:22 pm The Ministry of Internal Affairs of Belarus reports: since 10 September, 1,000 Belarusians left for Poland, and 3,000 Belarusians – for Ukraine.
12:27 pm The man who was photographed with a part of a water cannon at one of the protest rallies, was charged under the article of "mass riots". He pleads not guilty.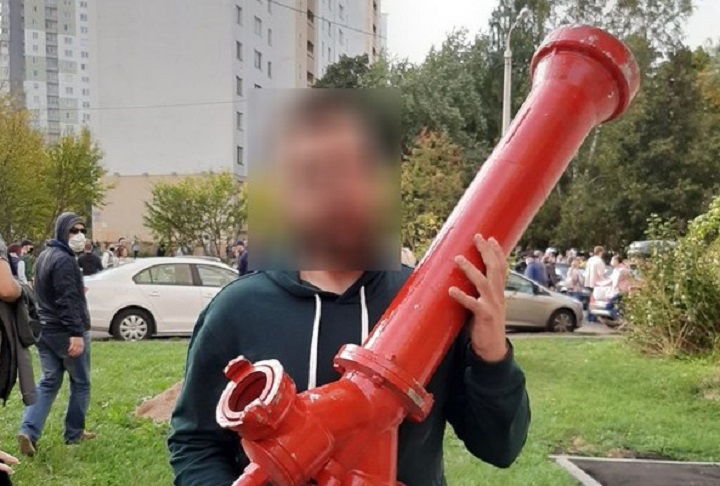 12:33 pm In the Minsk neighborhood Smena, both hot and cold water have been turned off for a few hours now.
12:43 pm Yuri Korzun, the miner who became famous after refusing to rise from the mine in protest against election fraud, is now serving an administrative arrest. In a letter to his family, he said that he was offered to speak on state TV in "repentance", but he refused. Korzun suspects that he may be convicted again for refusal.
1:02 pm Brest State Technological University students are protesting again today in solidarity with the dismissed university rector Aliaksandr Dragan.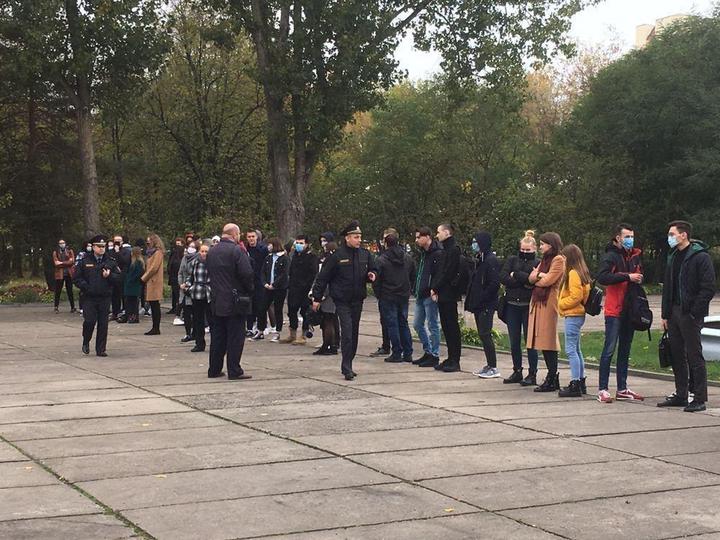 1:28 pm Andrey Luhin, the musician of the band "Laudans" who was detained yesterday after giving a concert in a courtyard on Angarskaya Street, was sentenced to 15 days of arrest.
1:37 pm Belarusian State University of Physical Culture students are collecting signatures under an appeal to the rector with a demand to support students and go over to the side of the people.
1:57 pm The Prosecutor General Office proposes to introduce a new form of punishment in the Administrative Code: community service. The punished person will do the community service free of charge in their time free from their main job.
2:00 pm A small solidarity chain has formed in Minsk on Kalvariyskaya Street.
2:05 pm Electricity has been turned off in the area of Logoysky Trakt Street in Minsk.
2:08 pm Belarusian State Economic University students held a solidarity protest.
2:15 pm A football player of the Belarusian national team, whose name was not disclosed, spoke out against the violence in the country in an interview with by.tribuna.com, but soon afterwards forbade to publish this interview. Allegedly, he consulted his mother and decided that this would be dangerous. The player is famous by Belarusian standards, and has played abroad.
2:19 pm A Pruzhany town resident was fined for having the official red-green flag on his shoulders during a rally in his hometown. The police claim that the flag was white-red-white, and in spite of admitting their "mistake" after watching video material, Vitaly Kulgauchik was still found guilty and fined with 945 Belarusian rubles.
2:23 pm Women's Marches participant Natalya Raentava will be tried under a criminal article. The Interior Ministry claims that during her arrest on 29 August, she bit a police officer in the left thigh.
2:26 pm Mobile operator A1 says in its report that due to the unstable political situation in the country the business is at risk. The report directly blames the deterioration of the quality of service on "authorised state bodies".
2:29 pm Belarusian State University students have started another solidarity protest.
2:50 pm Belarusian State University Faculty of Philosophy and Social Sciences and Faculty of Journalism students went out to a joint protest.
3:04 pm A large number of Belarusian State Academy of Arts students are bringing their appeals to the rector.
3:07 pm The Minister of Education will hold a closed meeting with "student activists". None of the protesters were invited to this meeting. The newly appointed rector of Belarusian State Linguistic University Natalya Lapteva met with the students – now both sides are trying to discuss the format for the upcoming dialogue, all while standing right on the university stairs.
3:25 pm 10 Finberg Orchestra concerts are scheduled to take place in the Kupala Theatre. No one is buying the tickets, and part of the orchestra is against this plan. The "Khoroshki" ensemble recently performed on the Kupala stage, but the Belarusian culture community urged them to refuse to perform "on the grave" of the Kupala Theater.
3:41 pm There are reports of Education Minister Ihar Karpenka arriving at Belarusian State Linguistic University to meet the new rector, Natalya Lapteva. Whether he will meet with the protesting students, is still unknown.
3:55 pm Independent media editors continue to receive messages from people working at Belarusian budget-funded organizations, reporting that they will be forcibly taken to a pro-government rally on 25 October. "Minskovodokanal" employees report that they were told openly that employees who refuse to go to the rally will lose their jobs.
4:00 pm Protests against repairing Alexander Lukashenko's plane are taking place in front of the Lufthansa Technik building every day.
4:08 pm Today, the Belarus Solidarity Foundation (BYSOL) paid out 1,000,000 euros to factory workers, miners, railroad workers, doctors, teachers, security officers, clerks and many others as compensation for the repression inflicted on them by the Lukashenko regime.
The BYSOL founders also announced the creation of a "platform that will unite several mutual investment funds in the country and, with the support of business, will become a step towards a full-fledged Belarusian alternative digital economy," as one of the coordinators Yaroslav Likhachevsky wrote on his Facebook page.
4:15 pm The authorities are gathering extras for the upcoming pro-Lukeshenko rally by any means possible, and thus among the attendees will be… the Vitsebsk penal colony. The colony happens to have rented a bus for October 25, as can be noted from their application on the public procurement website. The application does not say where exactly the bus will be going, but judging from the price, it's going to be a long trip. The transportation rent is paid from the government budget.
4:29 pm TUT.BY readers report that a small women's solidarity chain was dispersed today near the Vostok metro station. About 10 women were out holding flowers in the street. After a while a bus with the security forces arrived. Some are likely to have been detained.
5:10 pm Poet and tour guide Roman Abramchuk disappeared from the Zhodzina prison without a trace. According to the Facebook page of Abramchuk's wife Yelizaveta Strotseva, Abramchuk was struck off the Zhodzina prisoner list, where he had been sent on 13 October, but is not included in the prisoner lists of other prisons and pre-trial detention centers in Belarus.
5:17 pm Sviatlana Tsikhanouskaya and Pavel Latushka held an online meeting with cultural figures.
The meeting participants discussed how cultural workers can support the People's Ultimatum, unite local communities through cultural events, and support enterprises and people who, if the People's Ultimatum is not fulfilled, will go on strike.
Pavel Latushka said that culture and education have never been priorities in the regime's policy, and if the regime continues to exist, the situation in these areas will only get worse.
5:40 pm Archbishop Tadeusz Kandrusewicz, who is not allowed to enter Belarus, despite being a citizen, is hoping for the help from the Vatican.
He thanked Pope Francis for sending a delegation to negotiate with the Belarusian authorities in September. He says he "does not feel abandoned" and is grateful to everyone for "physical help and prayer".
5:46 pm An administrative case has been opened against the woman who was hit in the face by a policeman so hard that she fell to the ground, for no apparent reason in mid-September. She will be tried for participation in unauthorized mass events. No legal action has been filed against the policeman.
5:56 pm Journalists Maksim Khlebts and Roman Chmel, who were detained last Sunday while covering a protest march, were brought to the Brest Palace of Justice. The journalists were charged with "participation in an unauthorized mass event". They insist they are not guilty, and that they were at the march as journalists, rather than as participants.
5:57 pm Representative of the local underground scene Ihar Bantser was arrested in Hrodna. Since the beginning of the protests this year, Bantser has been placed under administrative arrest three times for participating in rallies (all together, he has spent 18 days in jail), and he will be required to pay a fine. It is known that the reason for the latest arrest was one of Bantser's street performances, when he danced in front of police officers without any undergarments. He has been charged with hooliganism, under Article 339 of the Belarusian Criminal Code, and has now been left in custody for 72 hours.

6:30 pm Despite the fact that the border has been closed due to coronavirus, about 10,000 Belarusians have left for Poland, 3,000 have headed to Ukraine, and about 500 have gone to Lithuania and Latvia since the beginning of September. According to Sputnik, these figures come from the head of the Ministry of Internal Affairs Department of Citizenship and Migration. Compared with the international migration figures from Belarusian National Statistical Committee, this means that in less than two months, several times more people have left Belarus than in all of 2019.
7:05 pm The Minsk Central District Court has rejected an appeal against prolonging jail time for Sviatlana Kupreeva, a family friend of Viktar Babaryka. This was reported by Kupreeva's attorney Evgeniy Pylchenko, who also stated he will appeal that decision at the Minsk City Court.
On 11 October 2020, the court extended Kupreeva's jail term to six months. Her attorney filed an appeal. Kupreeva is a close family friend of Viktar Babariko, and a former member of his initiative group. She is now retired, but formerly worked as an accountant for several small companies, and lived in an old block apartment that belongs to her mother. Kupreeva has now been in custody for over four months, since her arrest on 11 June and transfer to the KGB detention center under preventive custody since 13 June: she has been held as a suspect in an alleged $4 million tax evasion scheme.
7:30 pm Natalya Petrakova is one of the best female handball players in the history of Belarus, who has coached goalkeepers on the women's national team on a permanent basis for seven years. In August, she signed a letter outlining demands to the authorities. Despite the pressure from the Ministry of Sports, she refused to withdraw her signature, and this week she has learned that starting this December, her and the head coach's Konstantin Gribovy contracts with the Republican Center for Olympic Preparation will not be renewed.
7:50 pm During a press conference, a Coordination Council Presidium member Pavel Latushka responded to Alexander Lukashenko's claims by stating that when the government of Belarus changes hands, officials who have not carried out criminal orders will remain in the civil service. "First of all, no one is going to tear Alexander Lukashenko to shreds. Unlike him, the people who will come to power, who will follow the Constitution and Belarus's electoral and criminal laws, and our administrative code and any other legislation governing our society to the letter of the law. After all, laws are founded on principles, which have evolved over centuries, and, in fact, are a general agreement by which an entire society abides, in order to define its stage of development. So, unlike Alexander Lukashenko, everything will take place legally."
Last night, while appointing new officials, Lukashenko stated that if the opposition comes to power, it will tear anyone who worked in the civil service "to shreds."
7:56 pm Pavel Latushka stated that there is a plan of action in place for the case Lukashenko refuses to leave power by October 25.
7:58 pm Once again, solidarity chains and concerts are underway in numerous Minsk neighborhoods.
8:12 pm The time for collecting proposals on amendments to the Constitution of Belarus has been extended. Suggestions will now be accepted after 25 October, 2020, the Chamber of Representatives has stated. The decision was due to increased "discussions within regional dialogue spaces of upcoming constitutional reforms."
8:34 pm ⚡️The March of People With (Dis)Abilities will be held on 22 October at 2:00 pm in Minsk. People with physical disabilities will gather at the Red Church to protest violence at the hands of those with moral disabilities.
8:52 pm On 25 October (the day of the People's Ultimatum), nearly all of Minsk subway will be closed.
The order was signed by Deputy Director for Metropolitan security Vadim Plis, who will lead the procedure for closing all metro stations and make any necessary adjustments in case of force majeure. Lukashenko's supporters fully trust him, as previously, State Security Colonel Plis led Minsk's counterintelligence forces and served as KGB Deputy Head in Minsk and the Minsk region. He now works for the KGB as a contractor.
Auxiliary mobile units of former and retired officers from the Main Directorate for Combating Organized Crime and Corruption will be on duty at Minsk metro stations.
9:15 pm The ongoing political crisis has raised the risk of economic default. The Coordination Council has asked creditors about a moratorium on payments of Belarus's public debt, according to Sviatlana Tsikhanouskaya's advisor Ales Alekhnovich.
9:42 pm A new mural dedicated to Nikita Ignatyuk, who was criminally charged for a photographed with a part of a water cannon has appeared in Minsk. Today, in less than eight hours, Belarusians collected enough money to pay for a lawyer for Ignatyuk ✊.