August 15, 2020, finance.tut.by
According to our information, a rally in support of Aliaksandr Lukashenka is planned to be held next to the government building. It has been reported by readers from different regions who are forced to visit the capital. Some managed to refuse due to all sorts of reasons, while others didn't as they faced threats of dismissal from a job or losing their room at a student dormitory. People are afraid of provocations during the rally. Moreover, some of the invited participants expect those from the authorities. It's worth mentioning that it's illegal to require employees to participate in any rallies on their legitimate weekly rest days hence it's okay for them to reject such invitations. That said, even if someone attends a rally, they are not obliged to support Aliaksandr Lukashenka in particular, as they are free to express their favour for any other citizen of the country.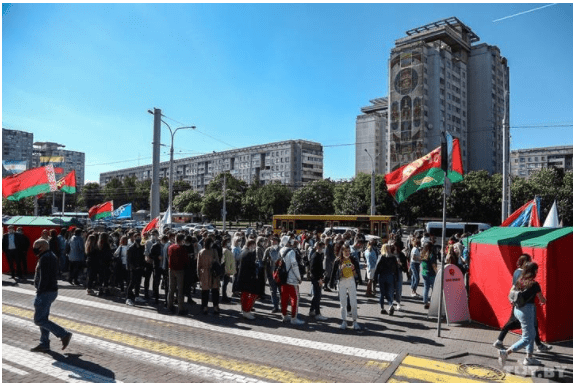 We receive reports people are forced to attend a rally in support of Aliaksandr Lukashenka from the employees of Belshina, Integral, Mogilev meat processing plant, Slavianka of Bobruisk, Bobruiskagromash, Belarusian cement factory, Kommunalnik of Pruzhany, Krichevcementnoshifer cement factory, Dzerzhinsk poultry plant, Slonim water supplying plant, LLC Polykovichi (agricultural enterprise near Mogilev), Mogilevenergo, Bobruisk biotechnology factory, Vitebskoblgas, Dobrush porcelain factory, Belarusian Railways. Government workers and military officers are asked to come dressed in civilian clothes. Agricultural workers, teachers, state media workers and many more also received similar invitations.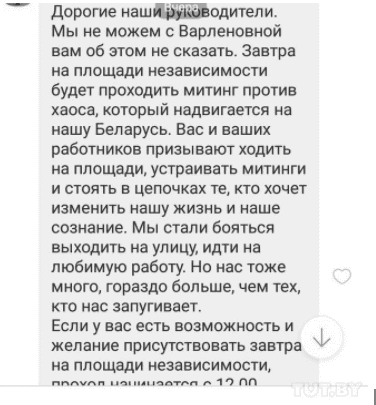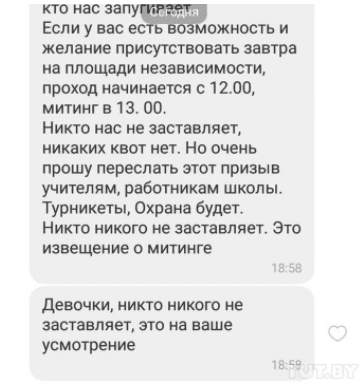 "Dear teachers. We cannot help but tell you about it. A rally against the chaos that's coming to our Belarus is planned to be held tomorrow at Independence square. You and your coworkers are called to participate in protests and become a part of those who want to change our life and our minds. We have become afraid to go outside, to go to our beloved work. But we are many and we are a lot more than those who are trying to intimidate us. If you can and you're willing to come to Independence square tomorrow, the check-in is at 12, the rally is at 13 PM. There is no enforcement and there is no allowance. But I urge you to share this information to the teachers and other employees of the school. There will be security control. Nobody forces you to go. It's a notification about the rally. Ladies, nobody is forcing you to go, this is just for your consideration."
Many people report that they are willing to attend the rally because of job dismissal threats. The reports are coming from different regions, towns and villages. People's complaints are related not only to the enforcement factor, dismissal and threats of other nature, but also to the fact that they have to wake up early in the morning in order to be in Minsk on time.
According to our sources, the invitations have also been sent to the employees of Government stuff, the Ministry of Labour, the Ministry of Finances, the Ministry of Economy, the Ministry of Health, the Ministry of Forestry, the Ministry of Antimonopoly Regulation and Trade, the Ministry of Emergency Situations, the State Customs Committee, the State Control Committee. At certain establishments the threats of job dismissal also take place. For instance, according to the reports, the employees of the Ministry of Finance must gather next to the Ministry's building at 12, and to participate in the rally next to City Stella at 2.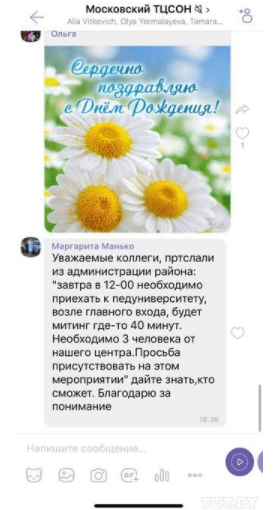 Text on the images:
"Dear colleagues, a message from the district administration: "tomorrow at 12 you need to come to the pedagogical university's main entrance, there will be a rally lasting at around 40 minutes. 3 persons from our centre are needed for participation. We ask you to attend this event" let me know who can attend. Thanks for understanding"
Some of the invited have been promised a monetary reward. Some of Belshina workers have reported that they will be paid 100 Belarusian roubles for this trip. Moreover, their shift for this day will be considered closed. It is also reported that the workers of this factory have also been invited to attend an event in support of Aliaksandr Lukashenka held at "Karusel" shopping mall in Bobruisk, without specifying the date of the event.
"Integral" factory workers have reported that the management are willing to provide extra days off to the rally participants. The message sent out by the management is as follows:
"Good evening. Tomorrow, a rally will take place next to the Oktyabrsky District Office Administration building where employees of LLC "Integral" will participate. We will march to the Independence square. 5 persons from our team are needed. Please let us know who wants to go. Days off will be provided"'
In the city of Gomel, the doctors who currently are on holiday are called to participate in the rally as well.
One of the readers sent a photo, presumably, of a list of how many people are going to come from Vitsebsk region – more than 2.7 thousand people.
The rally should take place at noon next to the government building on Independence square. It is also reported that some have been invited to the City Stella located on the Victory Square, to the Officers' Club (the Military Academy officers), to the Trade Unions House (Medical University teachers), to the city wall, to the Red Church (the Academy Of Science employees), to the Institute Of Arts and to the district of Kamennaya Gorka. Those invited to the Independence Square are also told that a march will take place with the final destination of the House of Government.
Some reports say that others are asked to come to Independence square at 2 o'clock in the afternoon.
One of the readers has reported that the gathering point is the Palace of Independence at 11 o'clock in the morning.
'I'll be wearing white. Long live Belarus!'
We have received hundreds of reports that people are forced to attend the rally. Here are some of them.
"The boss called and gave an order to attend a demonstration in Minsk tomorrow. We don't want to go, but if we refuse to, they will terminate our employment contracts', said an employee of a Kalinkovichi state-owned firm 'Kommunalnik"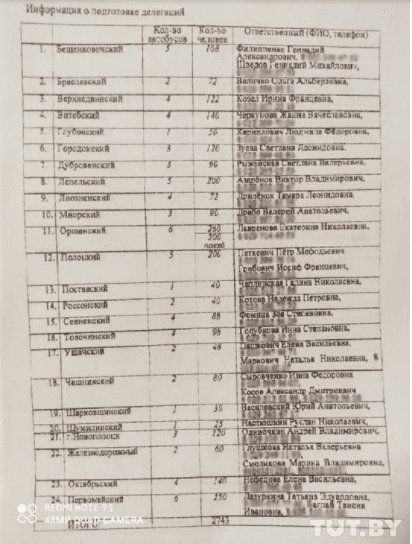 "I'd like to tell you about someone being forced to attend a pro-state rally tomorrow at 12. A member of my family from Hotimsk is asked to go or else she would be fired. She works in the financial department of a collective farm (kolhoz). Just in case, Hotimsk is in 450 km from Minsk", writes our reader.
"We were also told we have to attend the rally. We'd rather not go, but it was hard to get this job and I don't want to lose it. I am against the regime, I hate what's happening and it hurts me a lot. I don't know what I should do", writes another reader.
"Employees of the Pinsk meat processing plant are forced to go to Minsk to attend a rally in support of Lukashenka. Tomorrow, six buses will leave Pinsk at 6 o'clock in the morning. Employees of the city council and the Ministry of the Interior, all dressed in civilian, teachers (mostly those who were part of the local election commitees — they're scared of prosecution in case the regime falls)", another reader reports.
'Soldiers are "asked" to voluntarily attend the compulsory rally to support Lukashenko. Those who refused are put on a special list', writes one of the soldiers.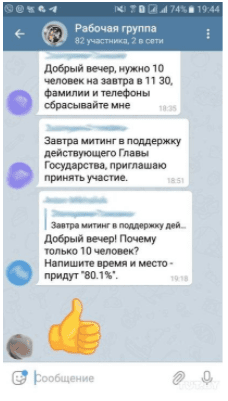 Text on the screenshot:
"— Good evening, 10 people are needed to come at 11:30, I need names and phone numbers — A rally in support of the current Head of the State is going to take place tomorrow. I invite you to participate. — Good evening! Why just 10 people? Give the time and place, all 80.1% of the voters will come."
'Why just 10 people? Give the time and place, all 80.1% of the voters will come', jokingly said one of the employees of the Minsk Bearing Plant in a response to the message about the rally.
'Osipovichi town and its region. Teachers are told to go to the rally to support a certain citizen named Aliaksandr Lukashenka. They insist that either the school directors should go or their representatives', one of the readers says.
'I work at an establishment reporting to the Administration of the President. They invited me to participate in their rally. I didn't receive direct threats of dismissal. But I'm not scared. I said that I'm in Minsk right now but I won't go to their rally. I know that many of my colleagues have rejected the invitation. Some said it straight, some would say they're out of town', — one of the Minsk citizens reported.
'The Kruglyany district council forced us to assemble a whole bus full of people from all state-owned enterprises and agricultural organisations of the district to go to Minsk. No reasons given', reports a reader.
'Tomorrow, the Pukhovichi district council is to attend the rally. They also called all of the village councils requesting the heads of them to attend as well. Of course there were no written orders, no paperwork, only phone calls. The departure is planned for 10:30, with more people to be picked up along the way to Minsk. Most of the people from councils are elderly women who can't afford losing their jobs that soon before their retirement if they refuse to go', a reader reports.
'Members of the electoral commissions in Klimovichi district (teachers, factory and farm workers etc) are all gathered as per order above. The administration has been calling everyone around 6 to 7 o'clock in the evening telling them they "need to go to Minsk to show they are indeed the 80%, the bus departs at 7:15 from the central park, attendance mandatory". A lot of people refused to go, a lot of them said they were afraid to "look people on the square in the eye after all that"', writes another reader.
'The boss called and said that they received a call from the district council saying that two people from each organization in the town (the head and the trade union representative) should go to Minsk to meet with the president. They said nothing about the fact that it is going to be a rally in support of the president. They promised to arrange meals. I don't want to let my boss down (he is a very good person and is also against Lukashenka). I'll be wearing white. Long live Belarus! We live 350 km from Minsk', the report says.
Readers report that many refuse to attend the rally.
Some of the readers who are forced to attend the rally report that they intend to take a white-red-white flag with them. A student of the Military Academy wrote that he intends to raise a wave by chanting the words "Go away". Representatives from Klichev town have prepared banners, according to our sources.
Can one refuse to participate in the rally? Is it possible to come to the rally and support someone other than Lukashenka?
Clarification from FINANCE.TUT.BY: on a legal day off, no one has the right to force employees to take part in rallies. That said, such offers can be refused. If the employee is threatened with dismissal for refusing to participate, this can be considered a violation of labour law. If you know of such cases, you can report them to our editors. You can also file official complaints to the Ministry of Labour. Although, according to our information, the employees of this department were also invited to the event taking place near the House of Government.
At the same time, not only it's illegal to force employees to take part in a rally on a day off, but also illegal to force them to speak out in support of a particular person, movement, and so on. Simply put, even if an employee was invited to a rally in support of the current president and they agreed under the threat of dismissal, they are not obliged to support the president at the event. According to the Constitution, each of us has the right to have their own opinion.
Invited to the rally speak about the fear of provocations
Some of those invited to the rally in support of Aliaksandr Lukashenka fear that provocations may take place there. We have received multiple messages regarding that. One of the doctors reported that they have received a message via Viber that 'the administration of Partizansky district is inviting to participate in rallies in support of Aliaksandr Lukashenka which will take place tomorrow at the square near the Minsk City Executive Committee building. We guarantee a day off to be provided for any date.'
"Things might get down and dirty … It looks like they are trying to clash two groups against each other in order to provoke riots and violence between civilians. This will be used to justify the violence to follow", the doctor suggests.
"There is a possibility the government wants to knock their tomorrow rally's participants (where it has been ordered to recruit about 5 thousand people) with a crowd of peaceful protesters," one of those invited to the rally suggests.
"What will happen if suddenly the authorities will cause a provocation at their own rally against their own supporters? They will blame the opposition. Will an invasion of the Russian troops be the next step then?", asks one of the readers.