29 August 2020, 10:52 | TUT.BY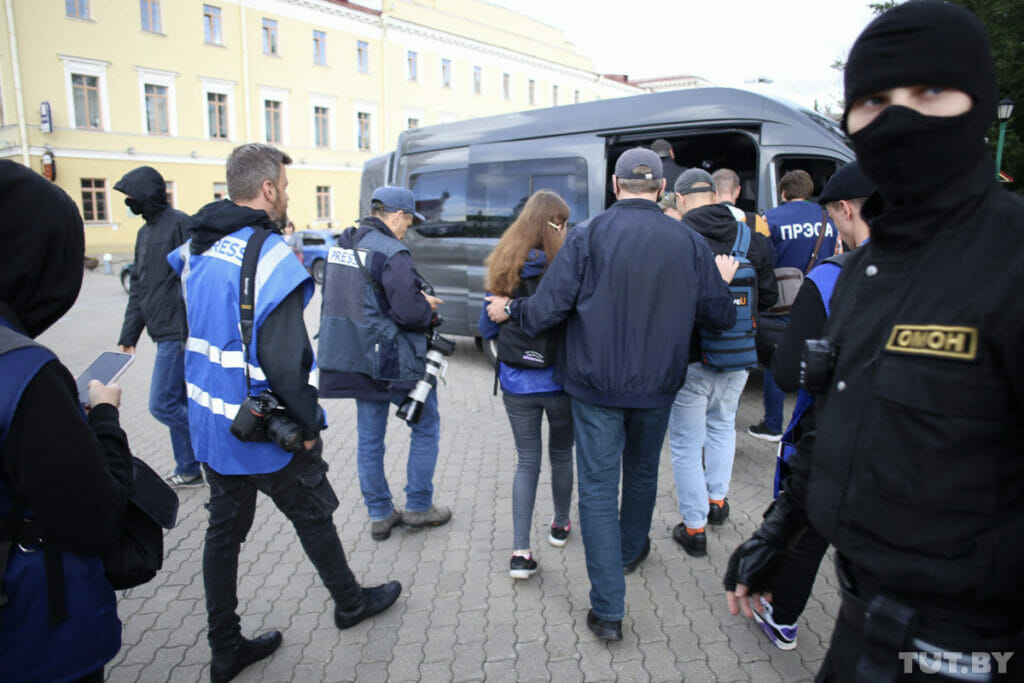 The journalists of the German TV channel ARD detained yesterday in Minsk have been stripped of their accreditation. Its Russian representatives will be deported from Belarus. A protocol has been drawn up against the Belarusian representative for his alleged participation in a mass action. It also became known that Belarusian journalists working for BBC, Reuters, Radio Svaboda, AFP and others have been denied accreditation. As it became known to TUT.BY, 19 journalists were deprived of their accreditations at 13:00 on 29 August. The Belarusian Ministry of Foreign Affairs does not comment on the situation.
Ilya Kuznetsov, as well as Russian citizens Sergey Sergeev and Mikhail Fomin (all three were accredited by the Belarusian Ministry of Foreign Affairs as journalists of the ARD TV channel), was detained in Minsk yesterday. The journalists spent the night at the police station, and they were released only in the morning.
"They drew up a protocol under Art. 23.34 – active participation in a mass action – and deprived us of accreditation 'in order to ensure the information security of the country'", Ilya Kuznetsov told TUT.BY.
According to Ilya, his Russian colleagues are to be deported from Belarus with a ban on returning to the country for five years.
The Russian journalists were picked up by a representative of the Russian embassy. It is still unknown when Ilya Kuznetsov's trial will take place.
BBC journalists Tatyana Melnichuk and Tatyana Yanutsevich were also deprived of the foreign ministry accreditation, which allows them to legally work in the country.
"They called in the morning from the Ministry of Foreign Affairs and said that by the decision of the Interdepartmental Commission on Security in the information sphere, accreditation has been canceled from today," Tatiana Melnichuk told TUT.BY. "To the question, 'What have I done wrong?' they answered that they were instructed to convey only this information."
Radio Svaboda informs that by the decision of the same commission, its correspondents Ales Dashchinsky, Oleg Gruzdilovich, Vladimir Gridin and Alexandra Dynko were deprived of their accreditation.
The list of those whose accreditations were canceled also include Vasily Fedosenko and Vladimir Kostin (Reuters), Sergey Gapon and Alexander Grebenkin (AFP), Sergey Grits and Yury Karmanov (Associated Press), Gennady Sharipkin (RFI), and Roman Vasyukovich (Current Time).
RIA Novosti, citing the Russian embassy, ​​reports that four Russian citizens who worked for Western media are being deported from Belarus. Two of the journalists worked for the Associated Press, and two for the German TV channel ARD.
The day before, it became known that the famous Swedish photojournalist and winner of World Press Photo Paul Hansen was also deported from Belarus with a ban on entry for five years.
Hansen was detained on 27 August. On that day, more than 50 journalists were detained in Minsk, including the correspondents of TUT.BY. The Belarusian Association of Journalists appealed to the head of the Investigative Committee with a demand to initiate a criminal case for obstructing the lawful professional activity of journalists.
It should be reminded that print editions, such as the Belarusian Komsomolskaya Pravda, Narodnaya Volya, Belgazeta, and Svobodnye Novosti Plus, are also experiencing difficulties with printing and distribution.
Even before the elections, Aleksander Lukashenko criticized the foreign media as well as officials who await instructions from the president on how to proceed in this case.
"Everyone in the Ministry of Foreign Affairs is sitting and waiting for the president's command. What is this attitude towards the country? BBC, 'Svoboda', 'Free Europe' and so on, these streams … I'm not talking about tendentiousness, they also call for riots. Why do you put up with this? You accredited them here. There is no need to wait for any end to the electoral campaign. Expel them from here if they do not comply with our laws and call people to the Maidan," Lukashenko said during a meeting with the leadership of the country's economic block.