Lukashenko stated that there are no political prisoners in Belarus; shops selling national symbols are raided; abuse and trials continue even against minors
28 Januar 2021 | Voice of Belarus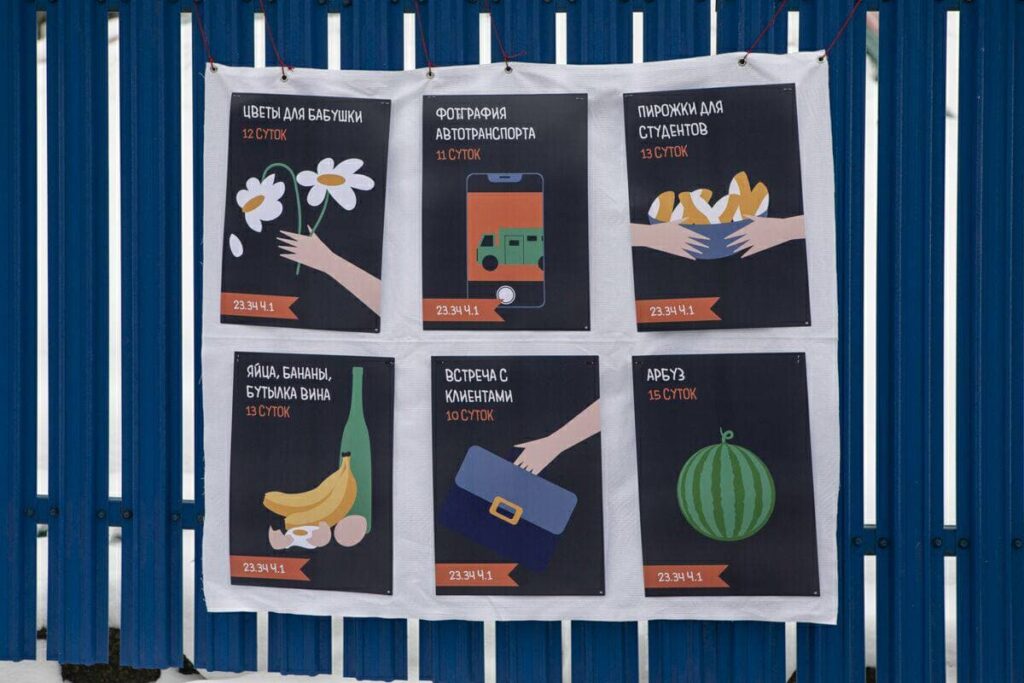 Posters tell the stories of Belarusians who were tried under administrative and criminal articles
Posters by Natallia Zhukava, designer and artist, appeared on fences and public traffic stops in Minsk. Zhukava's work is dedicated to people who have suffered from the "defenders of the regime" while they were just going about their business. For example, those buying a light bulb in the store, those who gave flowers to grandmothers or fed them with pies during protest marches of pensioners. The inscriptions on the posters: "Flowers for grandmother – 12 days detention, article 23.34 part 1", "Photo of vehicles – 11 days detention, article 23.34 part 1" and others reflect absurd accusations for which Belarusians are sent to prison.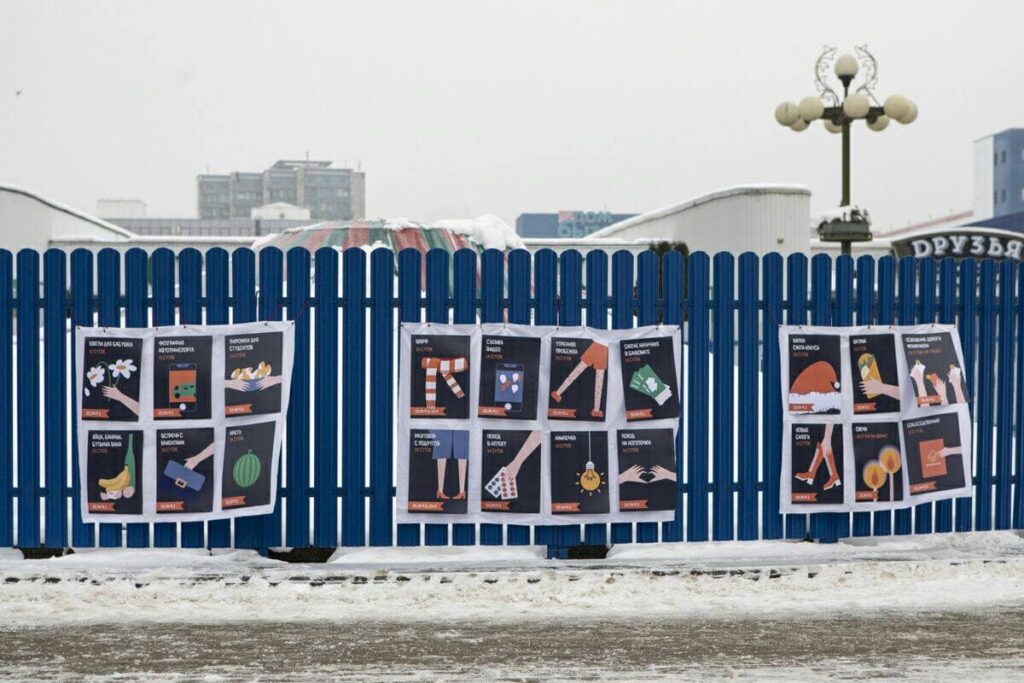 Lukashenko said there are no political prisoners in Belarus
Quote: "Today some are moaning and crying: amnesty … political amnesty and so on. Tomorrow we will have political amnesty if someone shows me at least one political article in our Criminal Code and that they are convicted, detained, or arrested for political reasons. Tomorrow I will immediately pardon those and let them free. We must stop all this chatter." At today's meeting, Lukashenko made a decision to toughen laws for preventing actions that harm the state "in shortest time possible".
These changes will affect administrative, criminal, criminal procedure and electoral legislation. Amendments will be made to the Criminal and Labour Codes in order to suppress calls for strikes. A revision of the law on extremism, strengthening the protection of personal data of judges and law enforcement officers is expected.
Shops selling national symbols are being raided
Moi Modny Kut is a souvenir shop with national identity. Alena Yasipionak, the wife of the shop owner, was detained on 26 January inside their shop for selling non-authorised symbols (including the white-red-white flag) according to what the customers overheard. Yelena's husband, Valery Yasipenka, was also detained during her trial on 28 January. By the end of that day the shop announced it was going to close.
Fiodar Shylin, the owner of Vokladki brand, was visited by the employees of the police department combating economic crimes. They were interested in the book covers with Pahonia ['pursuit' coat of arms] on them, which had been sewn since 2014. Shylin was taken to the police station but later released.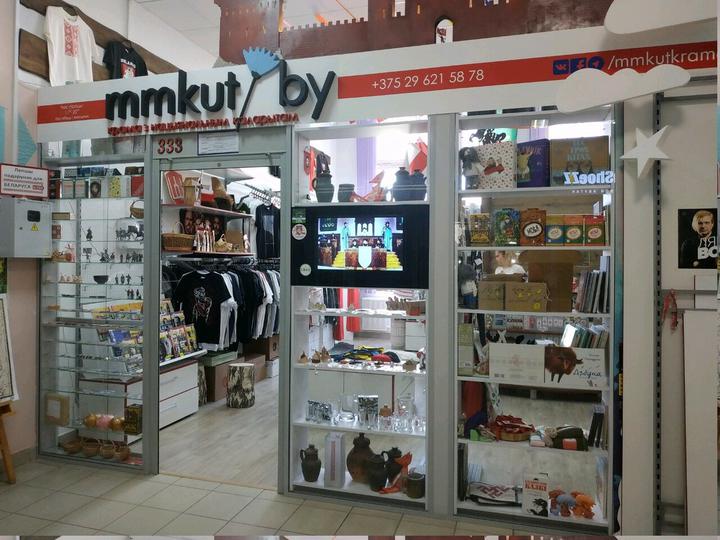 The judicial "machine" works without stopping. Trials for 16-year-old Nikita, Alexander, who threw grass at riot police, and 50 other people who participated in a round dance take place
Journalists analyzed recent criminal trials and compiled a list of their common characteristic features. The accused in an administrative case who first served multiple days detention are now detained in criminal cases. The accused are charged amounts of several thousand euros in equivalent formulated as damage to the state. Prosecutors seem focused on maximum penalties available. Witnesses present themselves in balaclavas, and with changed names.
In Brest, the court is considering a criminal case on the "protest round dance" on 13 September 2020. More than 50 people are connected to this case. They are accused or suspected of active participation in group actions that grossly violate public order, entailing disruption to public transport, functioning of enterprises and organizations.
29-year-old Aliaksandr Nurdinau who participated in the protests on 9–10 of August is on trial in Minsk. He is accused of stepping out onto the road and "pulling greenery from flower beds and throwing it at police officers". He also erected barricades from garbage containers and flower beds on the carriageway. According to the prosecution, Aliaksandr caused damage to the state in the amount of 28,000 Belarusian rubles (8,700 euros).
The trial of Leanid Kavaliou, Dzmitry Karneyeu and Mikita Zalatarou, who are accused of participating in mass riots and of throwing Molotov cocktails in the city center on 10 August 10, continues in Homel. 16-year-old Mikita Zalatarou, the youngest of the accused, had testified. "I said that I didn't throw anything. But they took me to the police office and started beating me up. They gave me a chair and made me hold it on outstretched arms. They stripped me and kept me in a cage made of concrete and didn't allow me to sit or lie down," the accused said, on 11 August he ended up in intensive care.
Political blogger Volha Takarchuk was fined for the video on her YouTube channel. Thecourt ruled that Volha took part in an unauthorized rally on 29 November. Two days after the trial, information appeared that the investigator promised Volha that she would be prosecuted for every video she published: to detain her for three days and put on trial again.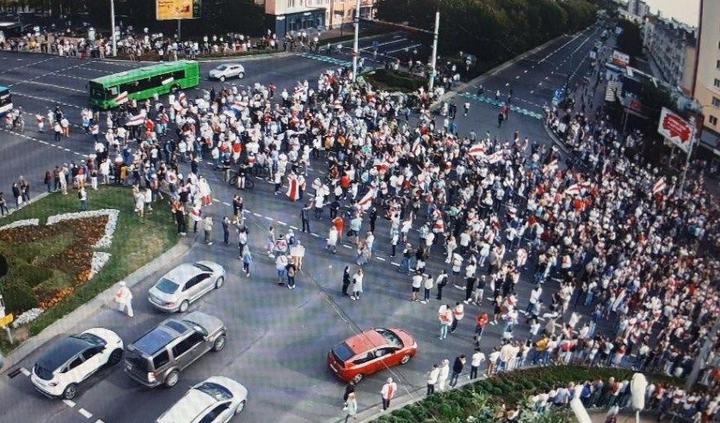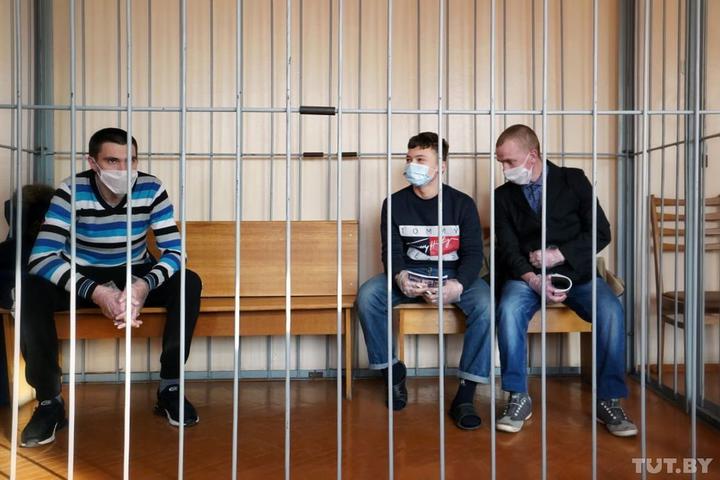 ---
For more information on the events of 28 Januar 2021, please visit Infocenter Free Belarus 2020: