19 August 2020 | Tatyana Nevedomskaya, DW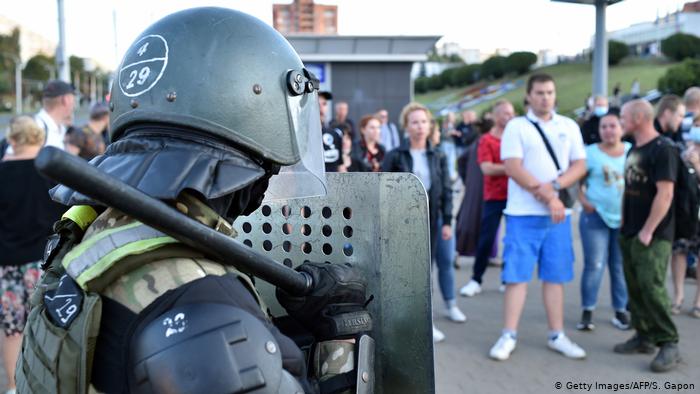 After the brutal dispersal of protests in Belarus some security officials have given up their uniforms. DW has collected stories shared by those who have left the force. What drove them to quit their jobs?
On 18 August, Alexander Lukashenko signed a decree awarding medals to more than 300 security officers for "impeccable service". According to the Interior Ministry, the order had nothing to do with the suppression of protests that started on 9 August. Officials claim that the documents had been submitted to the Council of Ministers back in March. Meanwhile, government security personnel started resigning from the force because of recent events. They are posting video messages to former colleagues as well as letters of resignation alongside their official identity cards online. Why do they do it and what consequences might they face? DW spoke with some of them.
An Investigative Committee officer: "We did not disperse people. We swore an oath to people."
"The Investigative Committee's job is not going out and dispersing people but every officer still swears an oath to protect the people", says Vladimir, an officer who asked that his real name not be used. After the 9 August election, the city where he lives saw a brutal dispersal of protests. "There is a video of a kneeling man beaten with a baton as he is being detained. I spoke with the riot police officer who was involved and was shocked by how he was talking about it," shared Vladimir.
Vladimir said he had suggested to his colleagues and the heads of the local Investigation Committee department to call an officer assembly to discuss the actions of the security forces during peaceful protests. "A number of offences were most likely committed, and the Investigative Committee would otherwise have to immediately start looking into them," Vladimir says. "Response is currently being delayed, however, for political reasons. Nothing to do with the law."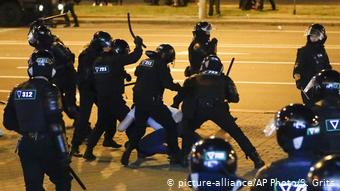 Vladimir said that his proposal was not welcomed and was met with negativity. He submitted a report requesting an assessment of the security forces' actions and of proven instances of vote rigging: "We don't know whether criminal proceedings have been launched against security personnel," he says. "I would not rule out provocations by protesters (there is a video) – but the security personnel's actions must absolutely be investigated in accordance with the law." Vladimir notes that this is his personal view rather than the official position of the Investigative Committee: "I don't think my colleagues were ready to join me back then," he said. "I don't know how things stand now. There are deterrents such as contractual obligations and early retirement."
Vladimir has been removed from office and is subject to an internal investigation. If the situation in Belarus does not change, he will likely be fired after 17 years of service for "discrediting" the Investigative Committee. "Naturally, I am scared for myself and for my family. I am sure that should the government survive the current crisis, repressive measures will be taken against me and other officers who did the same thing."
A police captain from Novopolotsk: "I quit because I did not want to beat people up."
This view is shared by Yegor Yemelyanov, a former police captain at the Novopolotsk Office of the Security Services Department of the Interior Ministry. He submitted his resignation on 11 August, after 17 years of service. He says he wanted to quit ahead of the election but was asked to stay on until the end of his contract. Otherwise, he would have had to refund about $2,500 that security officers receive in Belarus upon signing a long-term contract.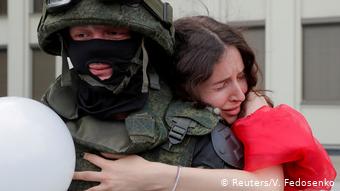 "We are a regular family, with many loans to pay off, including a mortgage, so it was a difficult decision," admits Yemelyanov. "However, after what happened on 9 and 10 August, there was no doubt in my mind – it became clear to me that I couldn't stay on the force. This is a real war against unarmed people."
Yemelyanov says he told his superiors that he will not go to the square, will not force people to disperse and, even more so, beat them, even if ordered. "I was warned that I would be fired in disgrace. So I handed in my ID and said I wouldn't be coming to the office." Yemelyanov says he had never been involved in breaking up peaceful demonstrations since nothing like this has ever happened in Novopolotsk before. Even this time, he says, the local police had used neither force nor arms (rubber bullets and stun grenades) to detain people. "These types of actions were taken only by security forces coming from elsewhere – the military and the riot police."
Five of Yemelyanov's subordinates resigned after he did. "I heard that my superiors said that I had been 'bought by Europe' and that it was all just a PR stunt I did in an attempt to make money," he says. "I am scared both for myself and my family. If the current government survives, I'll have issues," Yegor said.
Police lieutenant colonel: "I saw what state people were in as they were leaving Akrescina. This is not why we joined the force."
Alexander, a police lieutenant colonel, also made his choice: "When I saw pictures of the people beaten up by the security forces, I knew I could not serve this system anymore." Until recently, Alexander was training future Interior Ministry officers, and on 9 August he was guarding a polling station in Minsk. He says people had come to vote as if it were a celebration but their ballots were not counted. "I can't say I saw any vote rigging with my own eyes but teachers who were on the [polling station] commission were too scared to go outside. They didn't want to explain anything, they were just sitting and crying."
The election and subsequent events really settled Alexander's decision to resign. "I saw what state people were in as they were leaving Akrescina [the detention facility on Okrestina Street in Minsk]," he says. "We never taught our students anything like that. That's not why we joined the force." Alexander acknowledges that he had been deployed to disperse protests after the 2010 presidential election but says he did not participate in arrests or beatings. He cannot understand the security personnel's current brutality.
Alexander says he left law enforcement without a backup plan, even though some accuse him of being paid to resign: "People support me – that's what counts. We are a single nation. We shouldn't be fighting with each other, and much less so – beating each other up."