Key events since election day
12 August 2020, 12:46 | TUT.BY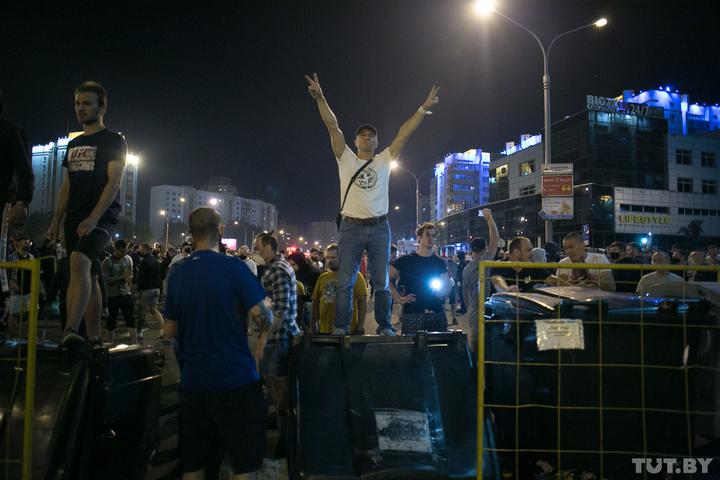 All of Belarus has experienced an unprecedented three days of internet problems which, as we all hoped, were over by Wednesday morning, 12 August. A significant proportion of the population is still in the dark about what exactly happened over the past three days, with all sorts of rumors in the air. We (TUT.BY) decided to gather all of the key events of the past three days in one article.
9 August
At polling stations – in the capital, regions, and abroad (at embassies and councils of Belarus) – there was an unprecedented rush, with people literally standing in kilometre-long queues to cast their votes.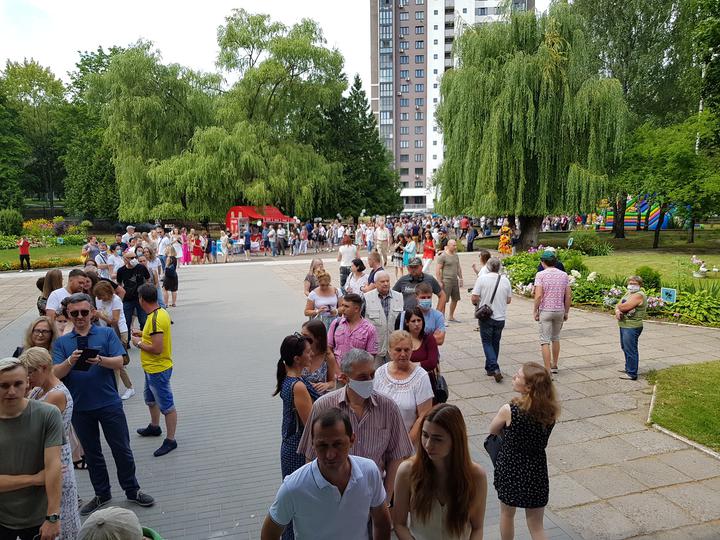 Some polling stations announced that they had run out of voting ballots, and the turnout, according to independent observers and taking into account data on early voting, was over 100%. At some polling stations, people did not manage to vote in time before they closed at 8 p.m. In some places, riot police were brought in to disperse those who had gathered; in others, the working hours of the polling stations were extended. Speaker of the Council of the Republic of Belarus Natalya Kochanova visited one of the polling stations.
By the end of the election day, many started experiencing issues with their internet connection and by 10 p.m., Belarus was almost completely isolated from the World Wide Web. There were difficulties with accessing messenger apps, as well as main news portals such as TUT.BY, Onliner, Komsomolskaya Pravda in Belarus, Nasha Niva, Naviny, and others. Without internet access, it was nearly impossible to call a taxi, even by mobile phone.
State TV channels started announcing the preliminary results of exit polls, attributing a convincing victory to Lukashenko.
People did not leave polling stations, waiting for the official announcement of the results. Some polling stations announced that the winner was Sviatlana Tsikhanouskaya, often by a large margin. Later on, dozens of committee reports appeared on the internet to prove that. This information was greeted with excitement and words of gratitude to the election commissions.
The main event of the day was mass protests across the country. By evening, military vehicles were spotted gathering in Minsk. Military patrols operated on the roads leading to the capital. Government security forces blocked central streets, while in some areas, public transport stopped running and some metro stations were closed.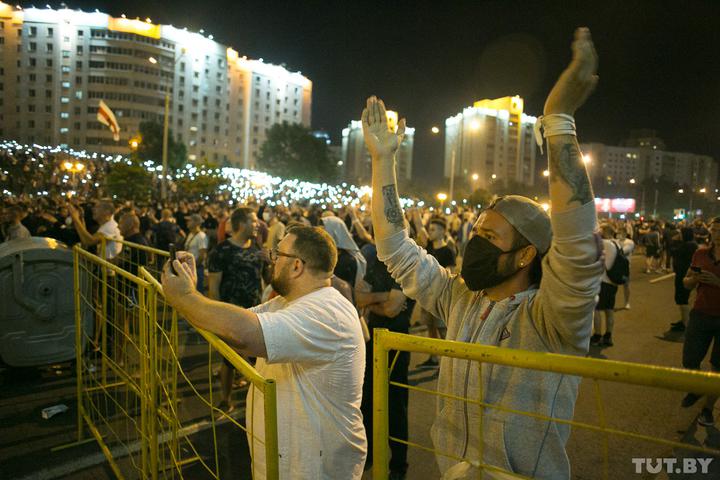 Towards 9 p.m., thousands of people started gathering in the large area between Nyamiha and the Minsk Hero City Obelisk, and further along Pobediteley Avenue, as well as along Masherova Avenue – up to the Bigzz supermarket. This is exactly where the main events of the night took place: people walked on the roads, while government security forces pushed them out of the Nyamiha district. Near the Obelisk and Masherova Avenue, protesters tried to build barricades out of rubbish bins and metal barriers. Security forces used rubber bullets, water cannons, and flashbang grenades. Many were injured, some severely, as police trucks drove through the crowds. In separate clashes, riot police beat up protesters with truncheons. Those who were forced from Pobediteley Avenue moved towards Victory Square, where they were met by more security forces and arrests. The protests were suppressed only late at night.
Protests also took place in all major cities of Belarus, with the most serious clashes with security forces occurring in Brest. Many people took to the streets in Polatsk and Navapolatsk, Babruisk, Salihorsk, Vawkavysk, Baranovichi, Kobryn, Zhodzina, and Maladzyechna. The next day, the Ministry of Internal Affairs announced that protests took place in 33 cities and towns of the country, and around 3,000 people were detained.
10 August
The Central Election Committee (CEC) announced the preliminary results of the vote only the next day: 80.23% for Lukashenko, 9.9% for Tsikhanouskaya.
While the EU has condemned the actions of the Belarusian authorities, China and Russia congratulated Lukashenko on his victory.
During the day, there were reports of workers from some factories going on strike, such as in one or several departments of the Byelorussian Steel Works company in Zhlobin; however, the manager denied such reports.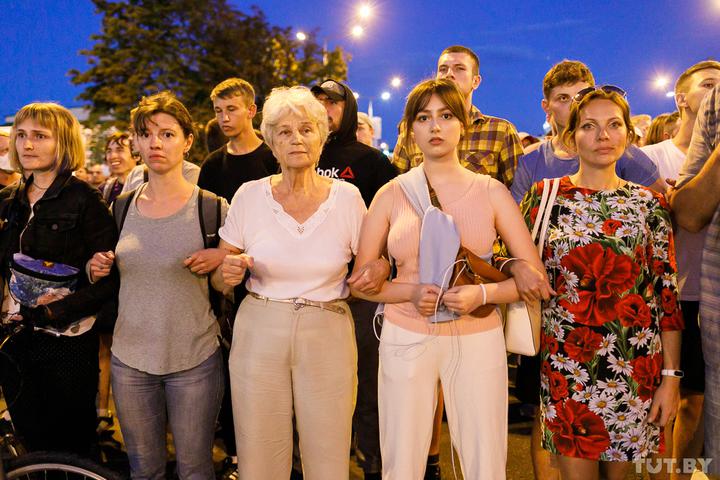 Monday evening's protests were just as intense as the ones on the previous day. In Minsk, just like the previous day, the city centre was blocked by security forces and six metro stations were closed. People gathered in the Nyamiha district again, but the main events took place in the area of Pushkinskaya metro station and Riga shopping centre. Yet again, thousands of people took to the roads, blocking them with barricades; yet again, rubber bullets, water cannons, and flashbang grenades were used, and many were harshly detained. Motorists blocked the roads with their cars, preventing special equipment military units from accessing the area. The next day, the Investigative Committee of the Republic of Belarus warned that such cars would be seized as they would be considered an instrument of crime.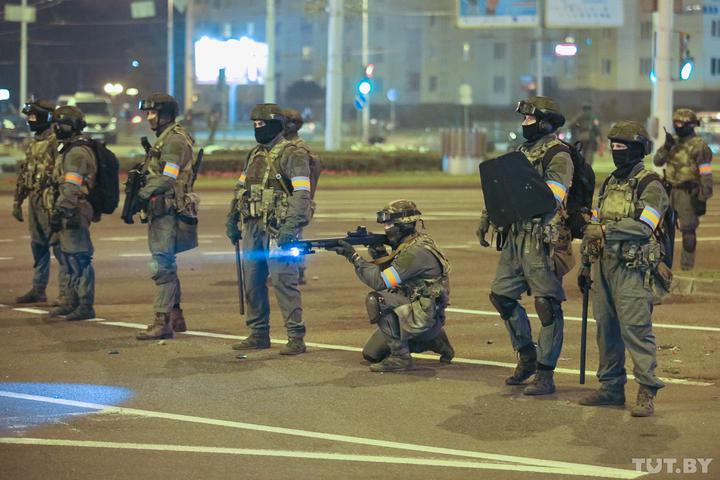 One protester was killed that night around Pushkinskaya metro station. According to the Ministry of Internal Affairs, he had attempted to throw an improvised explosive device at riot police forces, but it detonated in his hands; however, there are eyewitnesses who refute this version of events.
The Ministry of Health announced that more than 200 people had been admitted to hospitals with injuries over the two days of protests, with several requiring surgeries.
Protests also took place in Hrodna, Vitebsk, Mogilev, Navapolatsk, Baranovichi, Maladzyechna, Navahrudak, and Zhodzina. In Brest and Gomel, there were violent clashes between protesters and riot police.
Problems with accessing the internet persisted throughout the day, affecting the operation of many services, institutions, and IT-sector enterprises; this inflicted multi-million dollar losses on the country. Telegram founder Pavel Durov announced that the company has put special anti-censorship tools in place to aid the situation in Belarus.
The Ministry of Internal Affairs announced that 2,000 more people had been detained and reported that 21 members of law enforcement agencies had been injured.
11 August
In the morning, reports emerged of Tsikhanouskaya's departure for Lithuania, and this information was confirmed by the head of the Lithuanian Ministry of Foreign Affairs (MFA). It appears she went there at night, after spending several hours in the CEC building on Monday. It is unclear who talked to her and what they talked about, but in the afternoon, a video aired in which she urged Belarusians not to take to the streets and to obey the law – but it is clear that she was reading the text from a piece of paper. Maria Kalesnikava, the only one of the "trio" (Sviatlana Tsikhanouskaya, Veranika Tsapkala, and Maria Kalesnikava) who remained in Belarus, said that Tsikhanoustaya had made this announcement under duress.
There were reports of protest sentiments among workers at the Kozlov Electrotechnical Plant, Integral, and Belenergosbyt. People talked about strikes again.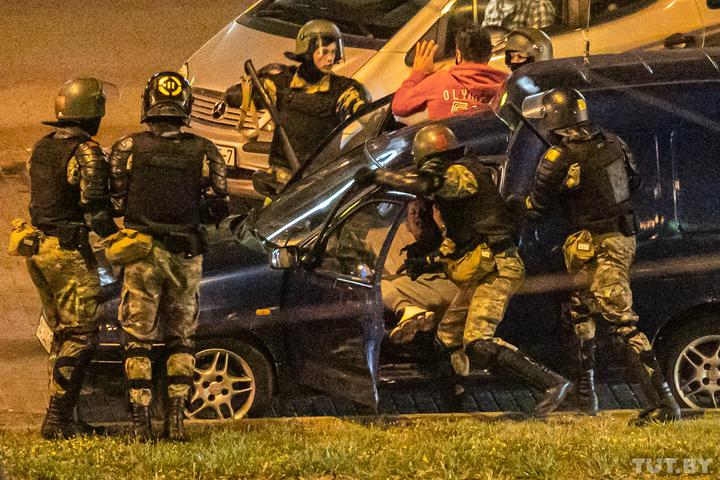 The protests on Tuesday were not so numerous, but security forces acted much more violently, even against journalists: in Brest, TUT.BY correspondent Stanislav Korshunov was detained, while in Minsk, riot police confiscated memory cards with footage from photographers and tore off their accreditation badges. Most of the protesters in Minsk were either dispersed or detained by midnight. They were caught in courtyards and entrances where they hid from the police, who broke down the doors. There were reports that security forces fired rubber bullets at windows, from which witnesses to the arrests showered them with insults.
This morning, the Ministry of Internal Affairs announced that more than 1,000 people had been detained last night. According to the Ministry of Health, 51 people applied for medical assistance, 14 of whom were police officers and internal troops.
The results of the three days of protests in figures: more than 6,000 detainees, more than 250 injured, and one dead.