Belarus and women's protest
20 September 2020 | Elena Fanailova, Radio Liberty
Women's marches on Saturdays have become a sign and a rule of the protest movement in Belarus. If at the beginning of the protests, law enforcement officers didn't arrest women, now they are being seized with the same cruelty as men. On Saturday, 430 people were arrested, including a well-known protest activist, 73-year-old Nina Baginskaya. On Sunday, in Hrodna, riot police dragged a pregnant woman along the asphalt road. Women stand with arms locked, tear off masks from law enforcement officers and rescue detainees.
We talk about women's part of the protests in Minsk and other Belarusian cities in an interview with Olga Shparaga, co-founder of the independent European College "Liberal arts", Minsk; researcher and member of the Fem group of the Coordinating Council. About torture and solidarity on the streets of cities of Belarus, about the "discordant society with a female face", about the case of the painter Nadezhda Sayapina and the unexpected role of the painting "Eva" by Chaïm Soutine in the consolidation of the protest.
"In the Belarusian protest, attention is drawn to its great female strength. Not to mention the figures of Kolesnikova and Tikhanovskaya, there is such a great woman as Nina Baginskaya, practically a folk symbol. We're looking at a huge political theatre where women are playing their amazing roles. How could it be explained?"
"There are several reasons. One is related to the figure of candidate Victor Babariko, who was imprisoned three months ago (on Sunday Maria, Babariko's daughter, read out on YouTube her father's appeal to the protesters – com. PC). He supported cultural venues around Belarus: Independent theatre festival TEART, partly supported the festival "Listopad", large site OK-16 on Oktyabrskaya street, gallery ART-Belarus.
Women working as supervisors and art managers reacted in solidarity with Babariko. In general, women have always been active. They work in Non-Сommercial Organization (NGO in Russian), in social, cultural, environmental projects. Another important reason is related to the coronavirus: the behaviour of Lukashenko and the crisis of the health-care system in general, the decay of the social state put under question the ground of women's support that Lukashenko has always had. These women in this area are all related to caregiving. They are those who are caregivers and those who are a vulnerable group of the population.
The behaviour of Lukashenko and the crisis of the health-care system put under question the ground of women's support that Lukashenko has always had.
Lukashenko rudely destroyed this group using all means. This is a great mobilization group.
I would point out two reasons: the activists who were in the shadows and took the stage next to the new leaders, and the social group that Lukashenko destroyed with his reaction to the coronavirus".
"Watching Belarus from the outside, a person who does not understand well its realities will say that Belarus is a totalitarian country with a totalitarian leader. But this is a country with a developed intellectual network, a country with universities, with a high level of communication with Europe, with students who go there to study. Maria Kolesnikova is a musician who worked in Germany for many years, then returned, like Tikhanovskaya, she shows the example of European behaviour. Was there a social push needed to make this noticeable?"
"I'd like to say so, but I don't want to exaggerate. Various studies have proven that the mobility associated with travel to European countries is not so great. I would say about the influence of the Internet, about horizontal communication, about people's involvement not only via journeys and exchanges, but also through information about European countries, through interest in what is happening there, and the search for alternatives. And not only and not so much political alternatives, but things related to everyday life, and participation in it. The citizens of our country have seen how people in other countries become more active in the last ten years. I think it was an important model for them".
"Every time after marches you read in social networks how people were beaten, tortured, brutally abused while being arrested, and women are no exception. Reports of rape, gender-based psychological humiliation, when women are forced to take off their underwear, when both men and women are deliberately beaten on the genitals. Is there human rights and legal control over all of these? Are people willing to talk about for instance sexual torture like this?"
"Organization for human rights support deals with this problem, a number of them, in particular, the Centre for human rights of the organization "Vesna" and others. You can follow the information on the Viasna website. (On 18 September, coordinator of Vesna Maria Rabkova was arrested – com. PC).
When people go to medical institutions to report that they were tortured, the authorities use this to open criminal cases.
It was very difficult to collect information on tortures, including sexual tortures. What did the authorities do when people go to hospitals to be examined after being tortured? They open criminal cases against these people for participating in unauthorized protests. This fact complicates the collection of information. The second aspect, and it is being discussed by human rights defenders, is that not all people are informed about organizations for human rights and about the fact that one can defend one's rights. Organizations for human rights are trying to respond to this right away. Training sessions are now being held on how to register cases of torture, how to find victims, how to encourage people to testify, participate in investigations of the tortures and self-protection. This is a challenge that civil society is trying to respond".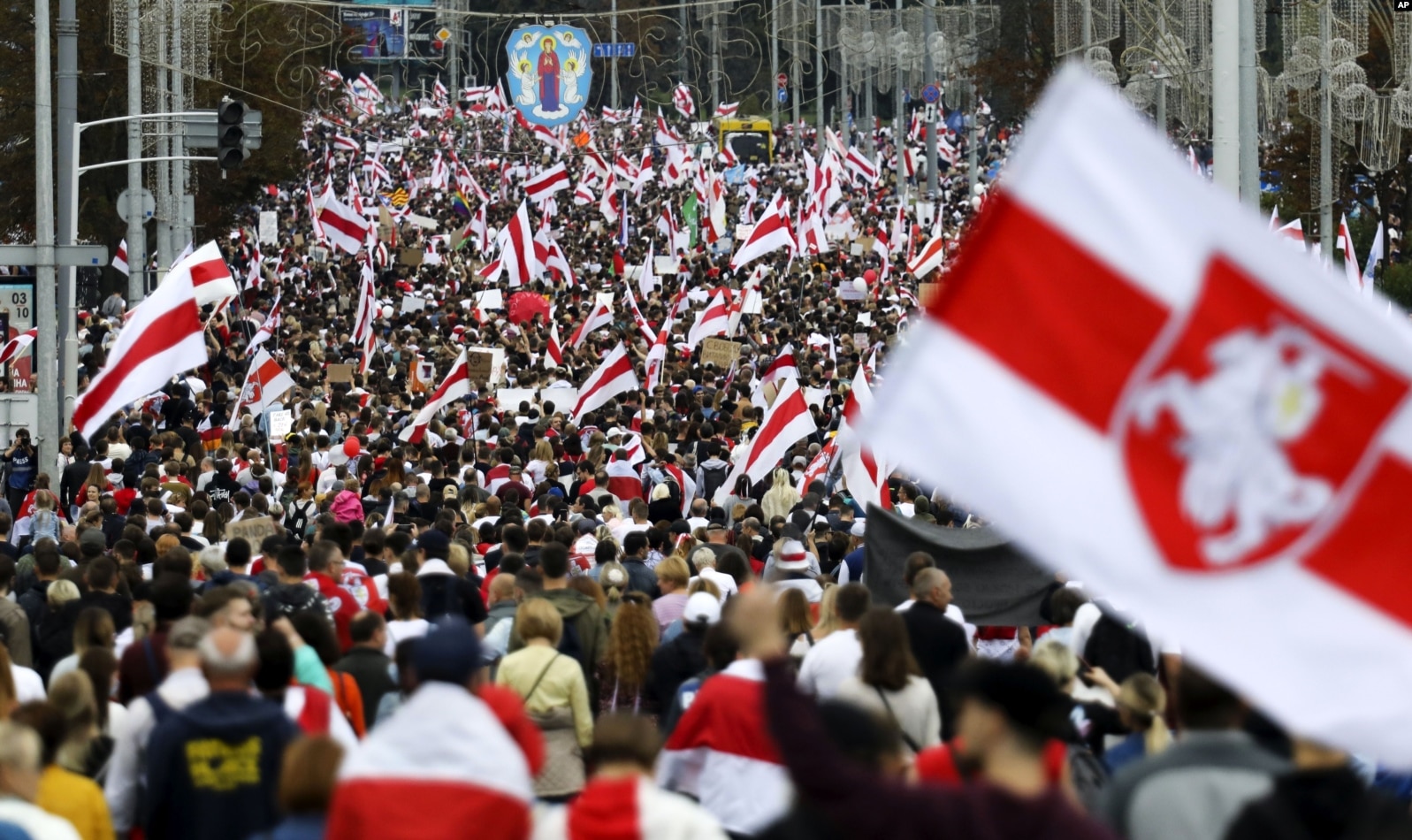 "Do you and your colleagues-teachers go to courts or organize any actions to support the arrested?"
"I could tell you about Irina Sukhy case, she is one of the leaders in the environmental community. She served a five-day sentence, and I was at her trial. They broke into her apartment and arrested her. A few days later, the trial was held, and she was put in prison. The trial was held via Skype, the room was small and not everyone who wanted to support her could come. The trial was conducted in violation of all procedures. For example, a witness who is hard to be called a witness, apparently a KGB officer, was present all the time during the trial. The case was fabricated: on this day, 3 September 2020, Sukhy was not in the city at all, yet she was accused of participating in the protest. As a result, the case was reviewed, she was given five days detention, because, apparently, the case was too obviously forged. But using this situation, they still managed to make a house check of her daughter's place, who is also in the art community, visited a public organization where Sukhy works. Arrests are usually accompanied by actions in relation to other members of the organizations, or colleagues".
"Are they trying to close these organizations? What are the reasons for this?"
"A raid took place to public organizations that had received registered assistance from European funds. They also examined how these organizations communicated to get this assistance. This is a pressure. This can probably be considered as an attempt to skim more money from funds. But first of all, this is, of course, a threat to public organizations".
"The man was arrested during the protest rally, brought to jail, and then to the court. What do they sentence people to?"
"It could be either a fine, or an arrest from a day to several days long. Here is Nadia Sayapina received 15 days of detention. There's such a practice: after 15 days, you get a second trial, and you get new 15 days. Several members of the Coordinating Council are now serving one sentence after another. For instance a group of people might be accused of participating in unauthorized rallies, but authorities would want to accuse them as organizers of rallies, then it's a criminal case already and a possibility to put people to prison for several years".
"The case of Nadi Sayapina, the artist. Under what circumstances was she arrested, what is she accused of? It is known that her colleagues in Russia are signing a collective letter in her support".
"This letter originally was written in Belarus, but it immediately became an international, since the modern art community is not a local thing. Nadia received 15 days for her participation in an unauthorized event, a performance outside the Palace of Art in the downtown. This was organized by a group of artists, who displayed photographs which showed people who beaten, those who survived the torture on 9 to 11 August. There was a large number of artists, art critics, standing in chains with printed photographs. Nadia Sayapina was sentenced for 15 days for taking part in this action".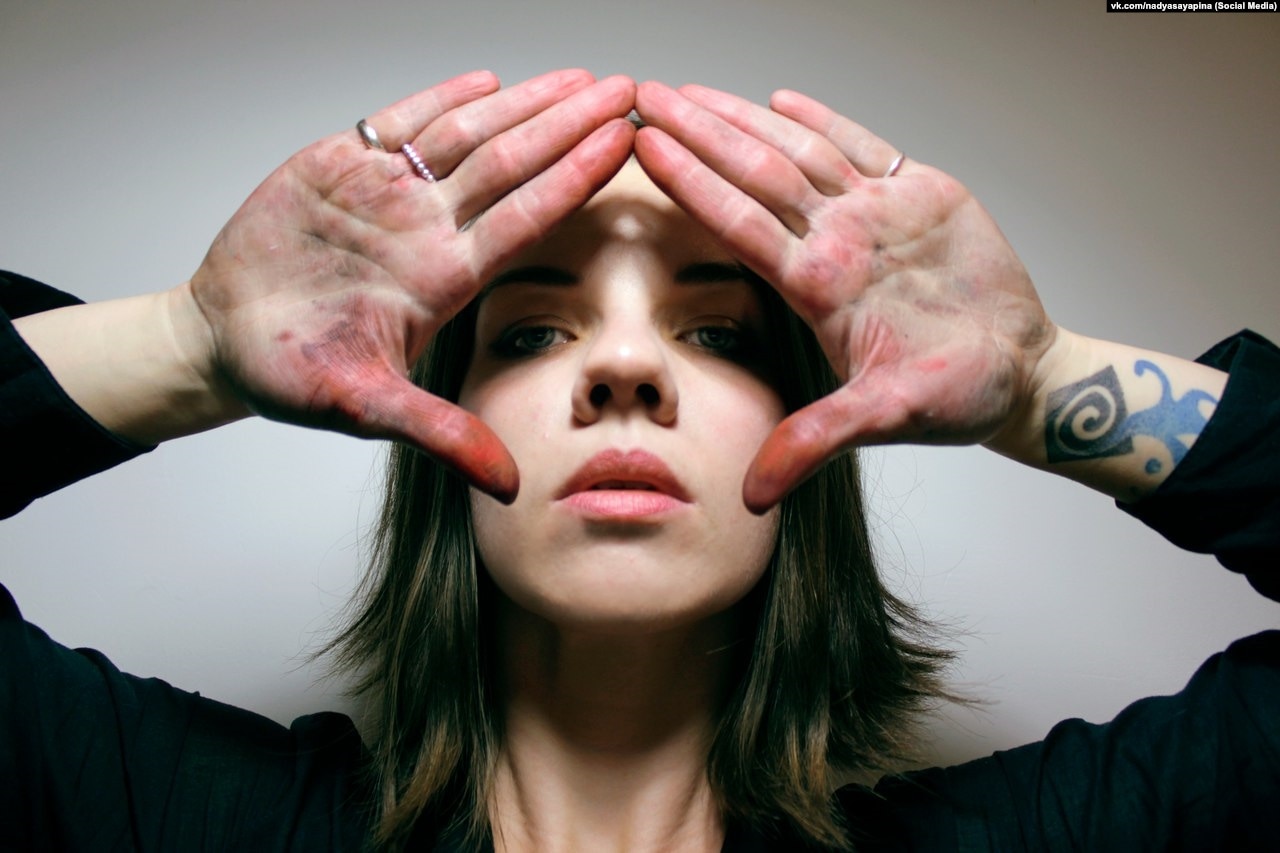 "One of Svetlana Tikhanovskaya's proposals is to turn the Coordination Council into a widely spread social movement. How can this idea be put into practice?"
"Some forms of support of the Council are already presented, for instance, credential letters from public organizations were launched. What we can see now in Belarus and not only in Minsk but throughout the country is a diversity of self-organization forms. There is information that nowadays 1,155 of neighbour chats were set up throughout Belarus, each containing between 500 and 2,000 people, which is only one of the forms, and the results of this work are activity in the courtyards, marches to rallies in groups.
When people go to a protest and then come back, the police try to brutally treat them, so it is important to stick together.
There's a problem: when people go to a protest, and when they come back, the police try to brutally treat them, so it's important to stick together. But there are many other forms of active actions at workplaces, in universities, and these are various forms. Different people, and different communities consider the Coordination Council as a representative body of Belarusian society and they want such a movement to play its role. It is obvious that this is a decentralized protest, and the Coordination Council is also a decentralized platform where there are different forms, but it's a form of search for different instruments of mutual support".
"There is such a picture in Media that the Belarusian workers were on strike, and now the workers' protest has been drowned out. Taking into consideration what you say, this is not quite true, the protest is developing into other forms?"
"Yes. From time to time you can get information that people are using methods of Italian strike, looking for other mechanisms if an open strike is not possible. Since trials are being held against strike committees, and there is a reaction from the authorities, it is necessary to look for other forms.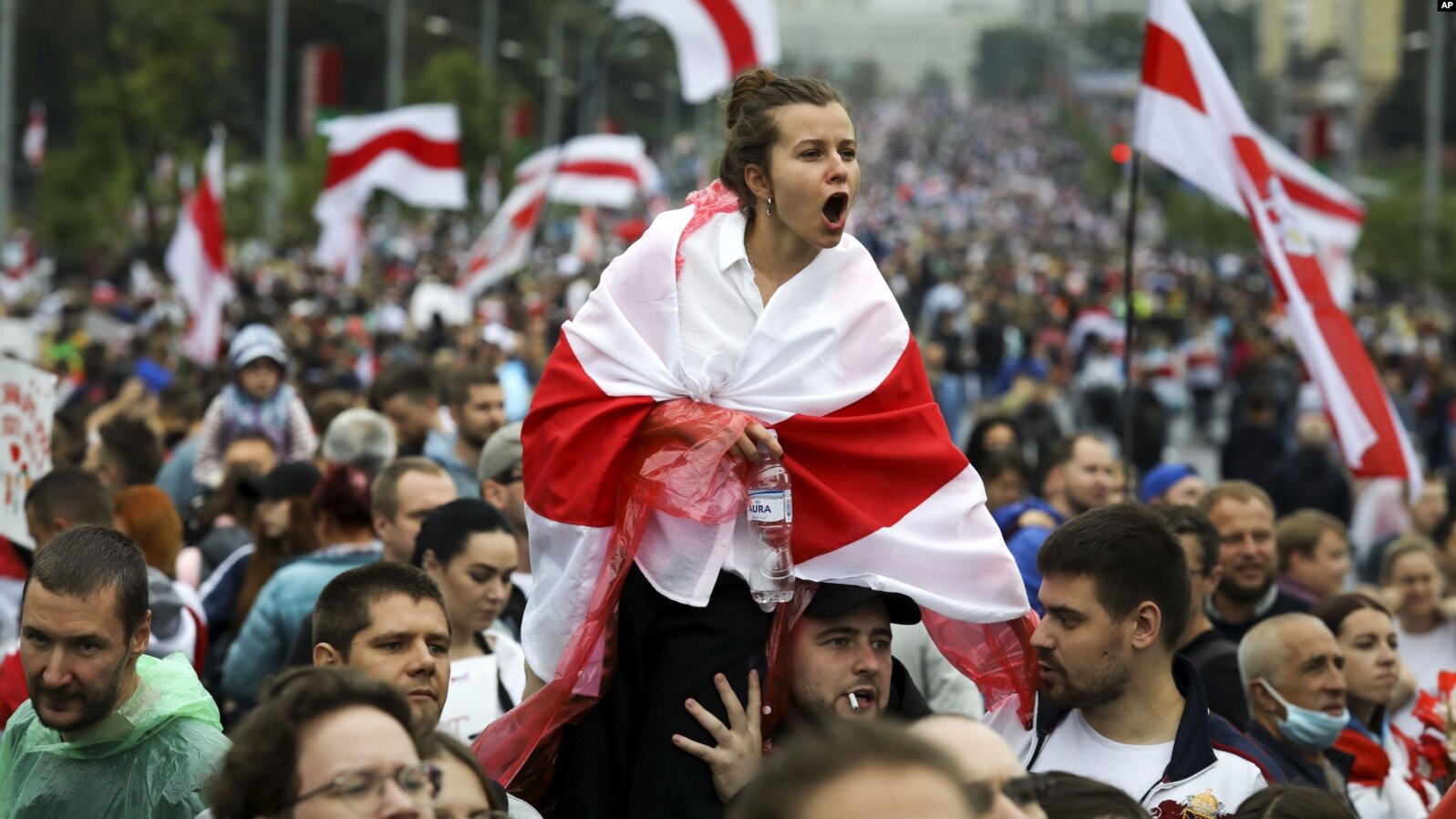 One could recall the dynamic actions of professional groups. After the beatings on 9-12 August, musicians, for example, sang at the Philharmonic almost every day. There were people from different musical communities. Ten days later the authorities started chasing individuals, and now they're singing in the subway, shopping mall. Suddenly, at some moment, we hear their songs. In different places, in cafés exhibitions are organized. Next to me is the café "Zerno", where the exhibition "About the growth of collective consciousness" is held. At the universities: at the Faculty of Philosophy the Italian strike takes place – students, teachers do not attend classes, there is a fight against the authorities. Athletes, we see their statements almost every day. There was a video message from 90 Belarusian football players. We see such statements from different groups, and this is also a form of solidarity among professional collectives".
"Did you expect in mid-July that the protest would be so massive, persistent, consistent? That it will show that the society is convinced: changes must be made, authorities lost the trust of the population and lost it everywhere?"
"We didn't expect it. There were signs of activity somewhere in the middle of June, probably when the story with Chaïm Soutine's "Eva", with "Evalution" began. But the fact that it would get so big… There were illusions when people started coming out in masses, that we would solve everything quickly. Later we saw that consolidated authoritarianism is not such a simple thing, you can't deal with it so easily, you need to be persistent. And it became noticeable that people are making rearrangement and are ready to continue. Despite the horror of torture and the behaviour of the authorities, there is joy in the actions of solidarity within the entire Belarusian society. Not in Minsk only. According to the official statement of the authorities, there were 28 Marches across Belarus last weekend. Over these 26 years, the Belarusian society made a move forward, its attitude to violence and its understanding of civil position has changed, and it has become aware of itself as citizens living in this country. But the authorities are stuck at the point 26 years old and do not want to move anywhere. And this gap that has formed… Well, you can fall there, in jails, but people do not want to, they will resist it with all their might".
"Tell us what role was played by "Eva" by Chaïm Soutine?"
"Eva" is a painting dated 1928 that belongs to a collection of so-called Paris school. This collection was bought by Belgazprombank when Viktor Babariko headed this bank. It was publicly displayed at the Art-Belarus gallery, the Palace of Art. Art-Belarus gallery is a site run by Belgazprombank. This is an amazing collection. These are artists who left Belarus at the beginning of the twentieth century, many of them of Jewish origin. The most famous – Chagall, for sure but Chaïm Soutine – is also a well-known artist. Authorities arrested the collection on the eve of Babariko's arrest. It was probably a warning. A few days later, Babariko himself was arrested. In connection with the arrest of the collection, the artistic community became more active, its symbol was the work "Eva" by Chaïm Soutine. She became a symbol, a driving force of the women's movement and protests. I have already said that it is as if Eva was embodied into the three women who formed the Headquarters: Veronika Tsepkalo, Maria Kolesnikova and Svetlana Tikhanovskaya. There was a big campaign around the collection and around the "Eva" of Chaïm Soutine, there was even a concept – "evalution". People were making different statements with the hashtag #evolutia, Nikolai Khalezin, Free theatre, Nikita Monich; not only women but also men. Nikita Monich lost his job at the National Art Museum because he wrote a beautiful poem about "Eva". I myself wore from mid-June a t-shirt with "Eva", in one of the interpretations of this t-shirt, where Eva shows "FUCK". Painters, men and women, made many poetic interpretations of this image, and it was one of the driving forces of a discordant society with a female face".
Olga Shparaga.