A doctor had to leave the country when he found out about a possible criminal case against him
22 November 2020, 15:58 | TUT.BY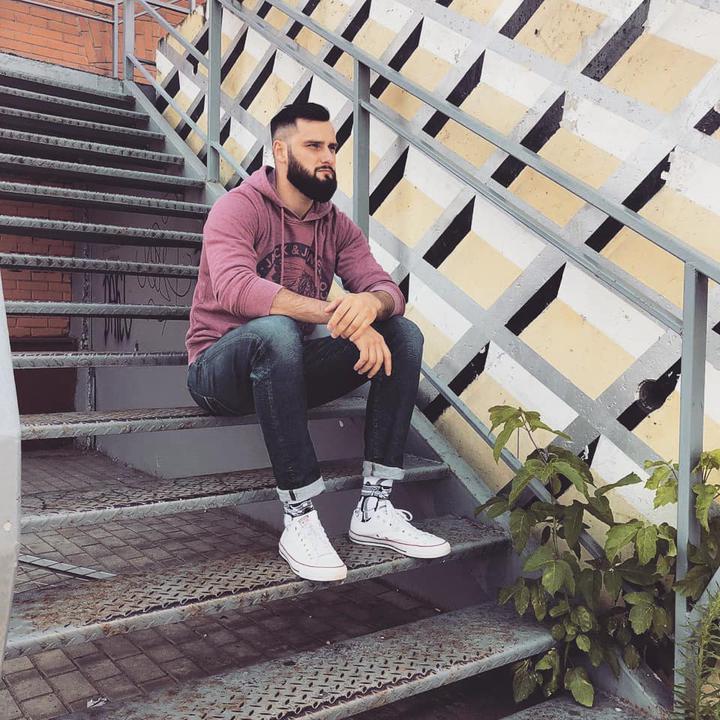 "The last hour at the airport right before departure was the most difficult," says Mikita Staravoitau. He is 27 years old and has been working as a physiotherapist for the last five years. Mikita was employed as a massage therapist and a coach on the national women's biathlon team (he worked with Domracheva and Skardino), on the junior ice hockey team, and on the national weightlifting team. He also worked in a private practice. But all of it is in the past because the young doctor had to leave the country and start his life from scratch in Poland to avoid being charged with a "criminal offense".
"It was not really a beating, it was just gentle stroking"
Mikita's initial "acquaintance" with law enforcement agencies took place during the election campaign.
"On 18 June, Viktar Babaryka was detained, and so there was a protest on 19 June. I was riding a bicycle and saw a chain of solidarity. Of course, I understood what was happening. I witnessed a scene where a group of women were trying to wrench a guy away from the hands of some men dressed in civilian clothes. I approached and noticed that the guy being attacked was pale. Being a doctor, I naturally asked the attackers to let go of him. The men walked away at first. But soon after, a bus drove up and the two of us were thrown in there. On the bus, I was hit a couple of times. But in comparison with the beatings I saw later, it was not really a beating, it was just gentle stroking."
But the young doctor did not stay in the cell for long as he was soon fined the amount of 30 base units [equivalent to approximately 264 Euros – Proofreader's note] and released.
During the period from 9 August to 11 August, Mikita worked on the streets of protesting Minsk as a volunteer nurse. He had even prepared a Red Cross armband, but did not get a chance to use it.
"There were rumors that volunteers in white coats were deliberately beaten and detained, so we chose not to distinguish ourselves from other protesters. For several days working on the streets with just a first-aid kit, we managed to provide help to several people. The worst thing I saw was a guy with his hand torn to pieces after a stun grenade went off next to him. It happened in the area around Pushkinskaya metro station, on the same day Aliaksandr Taraikouski died."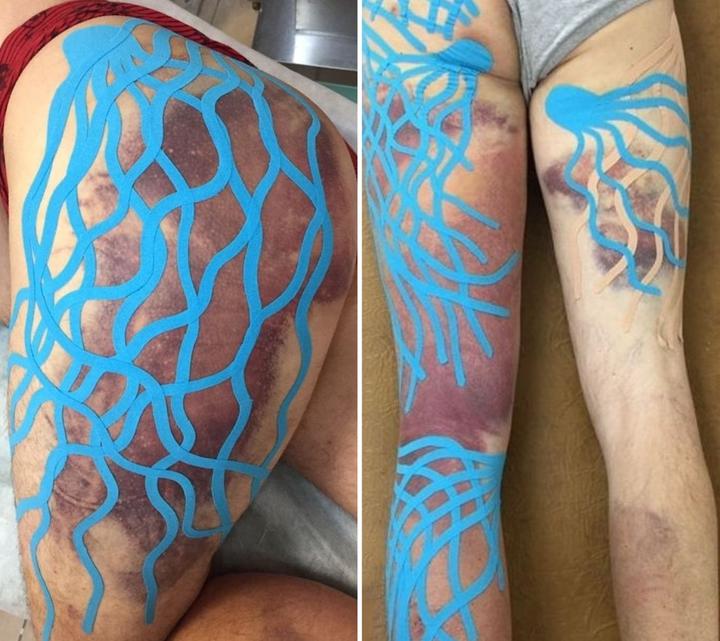 After the detainees began to get out of Akrestsina, Mikita, together with other doctors, performed taping (an alternative medicine of applying elastic colored tapes to the skin or wrapping them around a body part. – TUT.BY note) on about 70 victims.
"Afterwards, several people came to me for a restorative massage. Do you know what surprised me? The fact that after a couple of days, the shock people had experienced went away and they found the strength to laugh. For example, a guy with a bruise looking like a number three would joke about 3%." ["3%" refers to Lukashenko's approval rating in informal polls published by Belarusian independent media before the 9 August presidential elections. – Proofreader's note]
"They didn't like the fact that I was wearing a balaclava in the video"
Throughout September and October, Mikita took part in Sunday marches. On 26 October, together with his girlfriend, he found himself in the area where a column of retirees was protesting. It was the last protest Mikita witnessed in Belarus.
"Some of the participants of the march crossed the road not via an underpass but instead, along the road. Together with several other people, I stopped the traffic for the retirees to cross. Afterwards, it turned out that we had been filmed at that moment. The protesters went on, we stopped at a cafe, and then went about our business. A few hours later, a bus drove up on one of the streets near Gorky Park. People started running out of the bus… I immediately thought it was some kind of random raid, but I ran anyway, realizing I could get in trouble since I already had one 'offense'. I would probably have managed to get away but on Pershamayskaya, not far from the building of the Investigative Committee, a young man blocked my way. I got disoriented and hit myself. They ran up to me, hit me, laid me on the ground and sprayed gas in my face."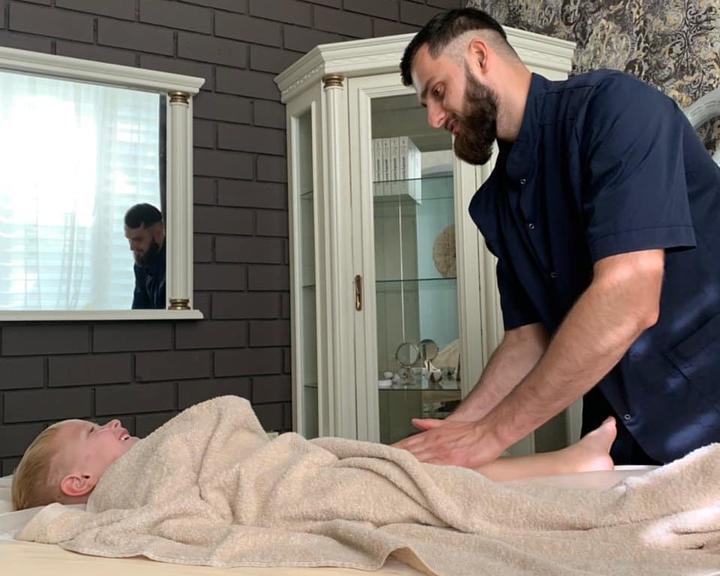 Mikita and his girlfriend were taken to the Central District Department of Internal Affairs. There the couple was told that they had been detained for blocking the road. The authorities also demanded their phone passwords.
"They threatened to cut off my girlfriend's finger with a penknife if she did not give up the password. On my phone, they found evidence that I was helping with the treatment of bruises and questioned me about it. Then they stumbled upon a video that a friend shared with me. In the video, shot not far from the Central District Department of Internal Affairs, I was stating: 'We are not running, we are standing.' They didn't like the fact that I was wearing a balaclava in that video. I was called a terrorist, although the reason for wearing a balaclava is that I simply cannot put a medical mask on top of my lush beard."
Later, Mikita was summoned for another interrogation. There he realized that he was not being interrogated about the events of 26 October, but rather the events of the previous Sunday march.
"They saw that I had posted a video of a walking crowd from the march into the chatbot of a Telegram channel, which cannot be named. They asked how much I was paid. The investigator was confident that such videos were not shared for free."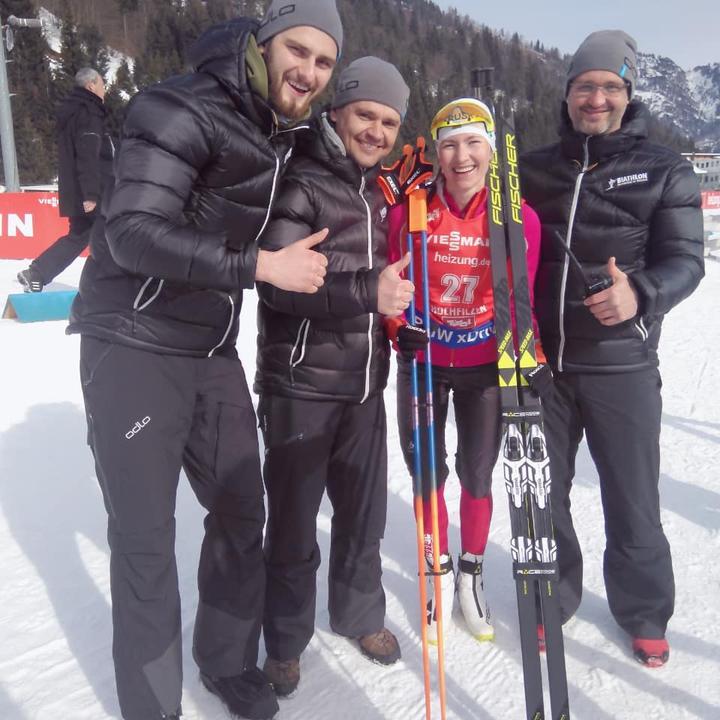 Mikita's girlfriend was released, but Mikita was taken to Zhodzina. A day later, he was transferred to the prison at the place of his residence in Cherven, where the doctor served a one-day sentence and received a fine of 10 base units [approximately 88 Euros – Proofreader's note].
Why was there a need to flee the country?
A few days later, Mikita and his girlfriend went back to the police department to pick up their phones. Outside they met an investigator who said that their case had been transferred to the Investigative Committee.
"He was inside his personal vehicle and seemed startled. He said not to worry about the phones since they will be returned if nothing suspicious is found in them. But I do not doubt that if they really needed to find something, they would find it. We quickly packed our things and bought bus tickets for the next day. But on the night before departure, the border was closed down and our bus was canceled. Then we decided to buy plane tickets. When we went through transport control at the airport, I called my mother. She said that a search was already underway at the place of my residence."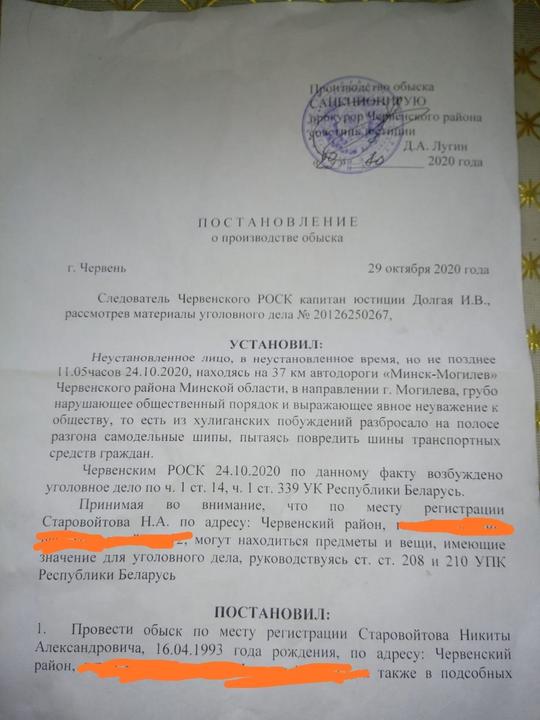 Mikita says that by that moment, the essence of the matter had significantly changed:
"Allegedly, on the highway around my place of residence, I had thrown spikes, endangering other people. They were looking for a welding machine at my mother's house…"
The couple did not have a lot of time to think about where they were going. They chose Poland as their destination, the country that they could fly to at that moment. Currently, the couple is living off their savings. But Mikita is starting to think about getting a job in his area of expertise and is working out the legal details at the moment.
"Unfortunately, I would probably not be able to work in sports, particularly with national teams. It is often associated with traveling abroad and, for example, I will obviously be denied entry to Russia in my current situation."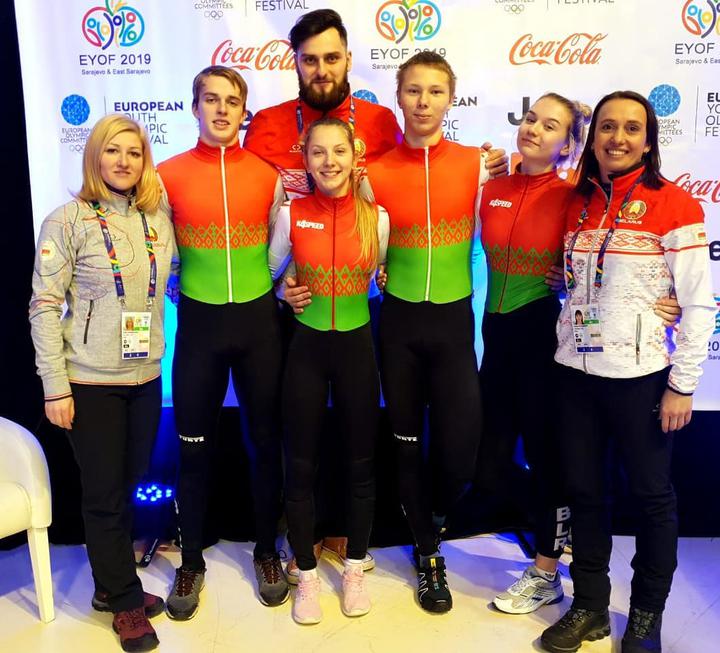 Caring fellow Belarusians residing in Poland are helping Mikita cope with the situation. A Belarusian realtor found suitable housing for free, the Belarusian Solidarity Center assisted with the preparation of the necessary paperwork, and other fellow Belarusians helped with advertising Mikita as a physiotherapist on their social networks.
"Local businessmen, also natives of Belarus, offered a place I can use as an office to provide my massage services. And what kind of support did I get from my former job? I was asked by the national weightlifting team to sign a statement by agreement of the parties. Even though I really needed help when it all started… I have realized one thing: there are still people who do not care about anything and are ready to turn a blind eye to what is happening just to keep receiving their salary."