13 September 2020 | Infocenter Free Belarus 2020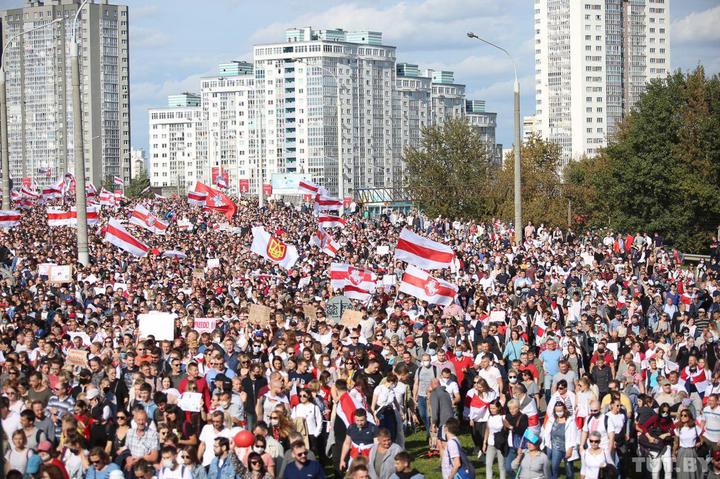 Good morning! It's the 36th day of the protests. Stay with us to follow the most important events.
8:08 am The Belaruskali strike committee declared an indefinite strike. This is a response to the court's ruling that the previous strike was illegal.
8:24 am Sandvine, an American network equipment company, has admitted its involvement in Internet blocking in Belarus, writes Bloomberg.
According to Sandvine executives, their company provided Belarus with technology that filters out about 40% of all Internet traffic going in and out of the country. They said this did not violate US sanctions.
8:38 am 7 years ago this day in 2013, the Ig Nobel Prize was awarded to Lukashenko for making it illegal to applaud in public, AND to the Belarus State Police, for arresting a one-armed man for applauding.
The annual prizes, meant to entertain and encourage global research and innovation, are awarded by the Annals of Improbable Research as a whimsical counterpart to the Nobel Prizes.
9:37 am Minsk. Prisoner transporters, military trucks, and cars with barbed wire are moving down Independence Avenue. We remind you that the Sunday March of Heroes is planned for 2 pm in Minsk today.
10:00 am Teachers of the Philology Department of the Belarusian State University recorded an appeal for freedom of speech.
"Fear is bad, violence is bad, lies are bad. We must not pretend that nothing is happening. We have the right to have our beliefs and express them, we have the right to support each other. Students, we are with you. The Philology Department is us. Freedom, truth, solidarity," they said in the video.
10:05 am What is now happening with the two Belarusians, hiding in the territory of the Swedish Embassy?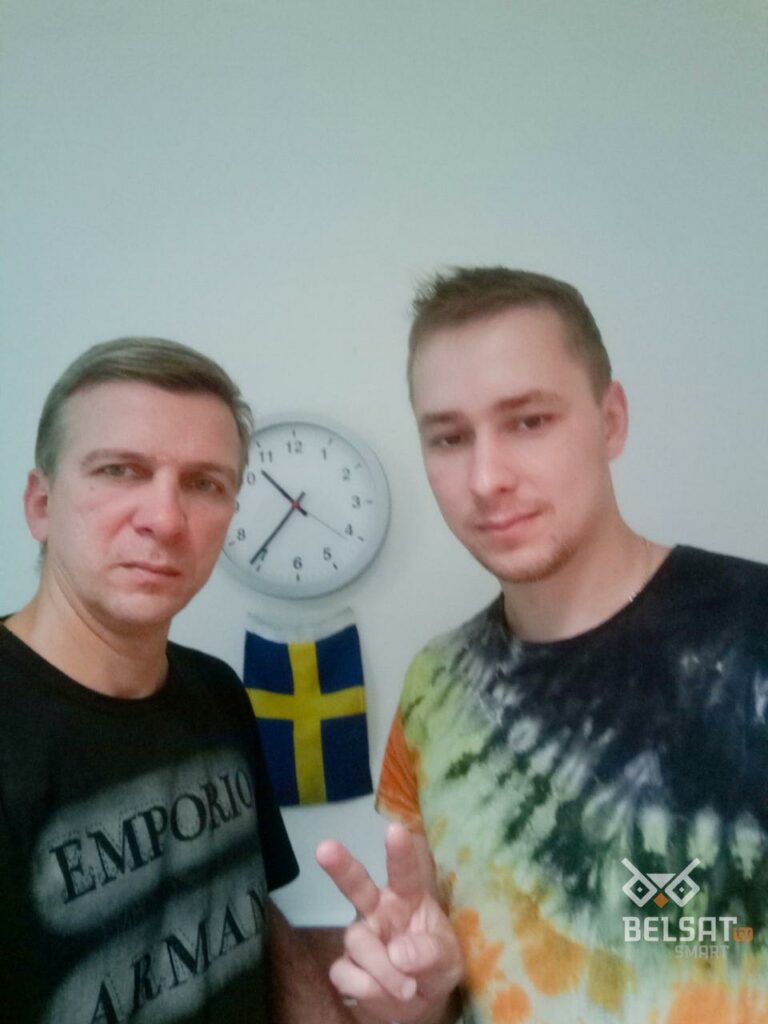 Vitaly Kuznechik told Belsat that for now all is well, the embassy staff are taking care of them, but what will happen next is still unclear. Vitaly says that their fate is being decided at the highest level. "We are ready to go all the way and will do everything not to fall into the hands of those executioners."
10:15 am This is how the bike ride participants were arrested yesterday.
10:20 am Deputy Minister of Health Dmitry Pinevich said that "Belarus got through the pandemic phase with dignity, with everybody winning." However, we would like to remind you that Lukashenko's regime did not take any steps to stabilize the situation and help medics during this difficult period. All this was done by BYCOVID-19 volunteers under Andrey Tkachov's lead. As of 12 September, according to official data, 73,975 cases of COVID-19 were registered in Belarus. 744 people died.
11:35 am According to the Belaruskali strike committee, the strike committee representative Roman Leonchik was arrested.
11:40 am Situation in Minsk this morning: military vehicles were seen in almost all districts of the capital, Independence Square and the Obelisk are cordoned off by paramilitary troops, barbed wire was brought to Oktyabrskaya Square.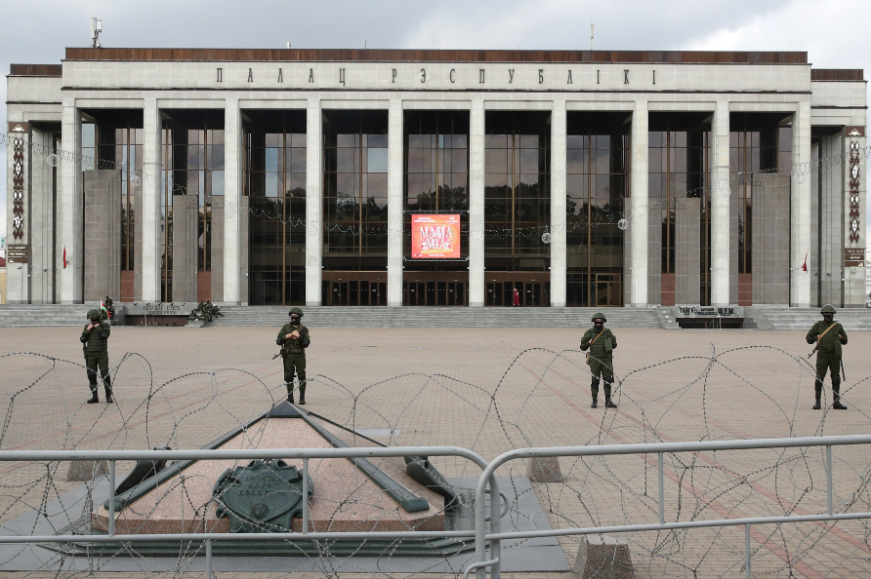 11:42 am Ministry of Internal Affairs: yesterday, 12 September, 114 people were arrested during the protests in Belarus (99 of them in Minsk). 87 people remain in detention awaiting court hearings.
According to the Ministry of Internal Affairs, more than 50,000 people allegedly took part in pro-government rallies yesterday, and only 1,700 participated in 12 anti-government protests in different cities. The number of protesters on Freedom Square was estimated at 100 people.
11:59 am Armored vehicles pulled up to the Palace of Independence.
12:04 pm Nasha Niva: According to the Ministry of Internal Affairds, over 114 people were detained yesterday (12 September), including 99 in Minsk.
Thus, based on the official sources, over 9,300 people have been detained for political reasons since 9 August and in total, over 10,600 detained since the start of the election campaign.
12:34 pm EuroRadio: Minsk. Oktyabrskaya Square is once again fenced off by barbed wire. Soldiers in military uniforms and balaclavas with weapons are cordoning off the square.
12:39 pm Sviatlana Tsikhanouskaya recorded her video address to the participants of today's rally in Minsk:
"I congratulate everyone with another Sunday of Freedom. Today's march is dedicated to our heroes, to all who continue our fight. Let's show the regime that we are a peaceful people who do not accept violence and lies. I am sure that everyone who stands for the change will be on the march today."
01:08 pm TUT.BY: Detentions have begun on Mayakovsky Street in Minsk. Unidentified men in balaclavas, with weapons and truncheons, brutally detained several demonstrators who were walking along the street with white-red-white flags.
TUT.BY: In Grushevka district, Minsk, minibuses without any number plates drove up to assembled people. These buses are used to transport unidentified men in balaclavas who brutally grab and force demonstrators into the minibuses. This time, the demonstrators formed a tight human chain, the minibuses only managed to drive slightly forward. Later, a column with white-red-white flags started moving towards the center.
1:41 pm Radio Svaboda: Mass detentions of demonstrators have started near the Renaissance Hotel, Minsk. The column of several hundred demonstrators, marching from Grushevka district in Minsk, was stopped and the security forces are now dispersing the march. Large numbers of OMON (the riot police) and riot police trucks are present in the area.
1:46 pm An illustration of how many special riot police and equipment and security forces are in Minsk right now.
1:48 pm Minsk. Dozens of unidentified men in balaclavas and men in protective gear and helmets surrounded at least several dozen demonstrators, brutal detentions have started. As reported by a TUT.BY correspondent, men are being taken into minibuses without number plates, their hands badly twisted behind their backs.
2:15 pm Nasha Niva: Minsk. Over two thousand people have gathered near Nyamiha.
Nasha Niva: Residents of the residential buildings opposite the KGB building hung out white-red-white flags on their balconies.
2:19 pm Radio Svaboda: Homel is taking part in the March of Heroes. People are gathering in the city center.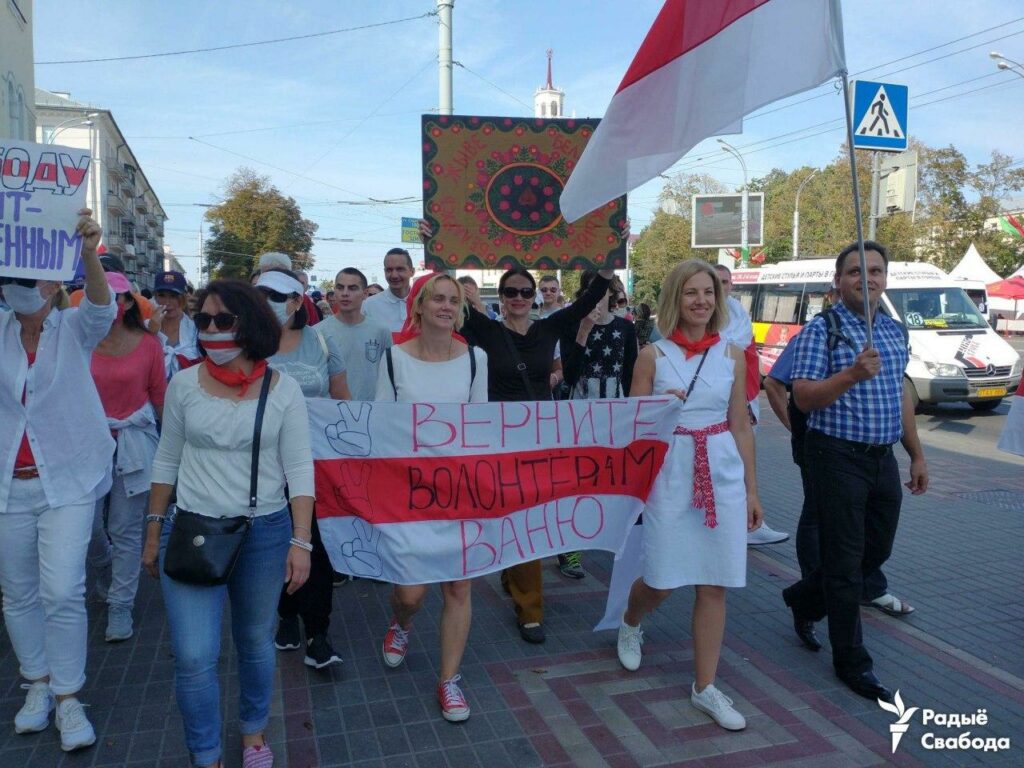 2:20 pm At one of the crossroads in the center of Minsk, a column of demonstrators met the minibus with regime informants ("tikhari") and started shouting, "Shame!" Military equipment can be seen everywhere.
@belteanews: The security forces have broken up the demonstrators' crowd in one area and forced people to run in the opposite direction. People scatter around but still continue to move to the city center.
2:26 pm Nasha Niva: Thousands of demonstrators are moving toward the center of Minsk through the main streets and avenues and streets backyards.
2:30 pm People all over the country are participating in the March.
Hrodna: Hundreds of people have taken to the streets. The column is followed by a police car warning that the rally is not authorized. In return, people are shouting, "Shame!" and "Boo!" The column includes over 5,000 people.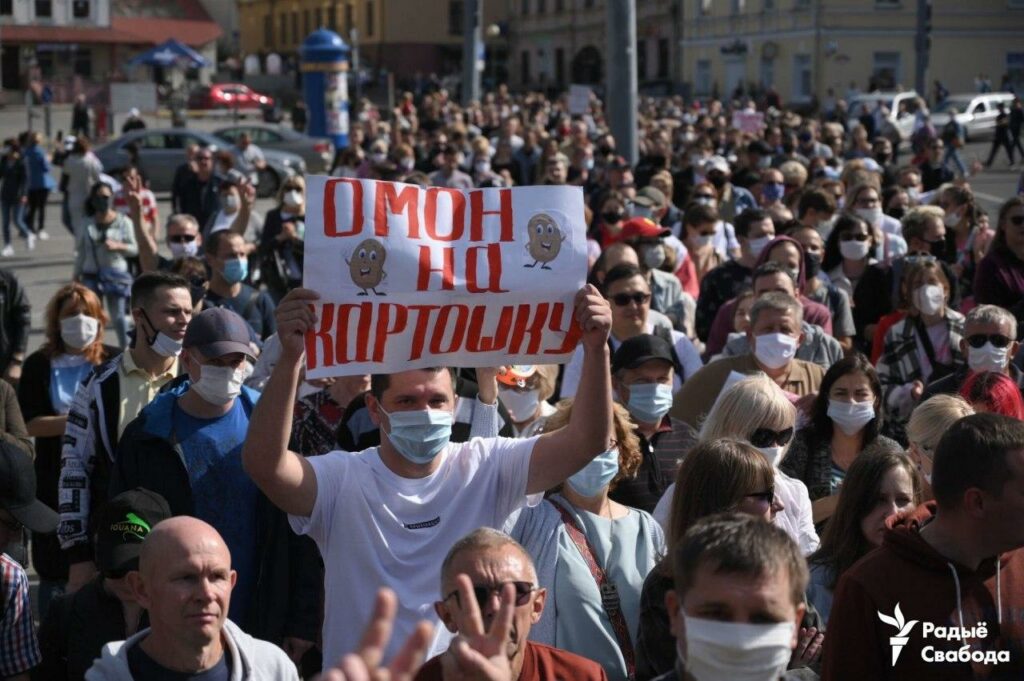 Mahiliou: Peaceful demonstrators are being forcibly detained and thrown in the riot police trucks. Despite the brutality of the detentions the number of demonstrators is growing! According to some witnesses, 500 to 1,000 protesters are flooding the city center.
Vitsebsk: Demonstrators' column is marching along one of the avenues in the city center.
Lida: People also gathered in the center in protest against the violence of the regime and demanding Lukashenko's resignation.
Pinsk: Over 200 people have taken to the streets and now are moving to the city center.
Kobryn: A large column with white-red-white flags is moving towards the center.
2:43 pm Over 10,000 demonstrators have gathered in Melnikaite street while several hundred men from the security forces arrived at the scene in riot police trucks. After forming a line, the riot police ran towards the demonstrators. Peaceful protesters are being detained and thrown into the trucks.
2:48 pm In the next five minutes all operators will switch off the mobile Internet in the area where the march is going on.
2:52 pm All central (seven) metro stations are shut "for technical reasons" in Minsk. The train doors are not opening, the drivers apologize for any inconvenience. There has been no official announcement that the metro stations would close.
2:57 pm Radio Svaboda: Minsk. Despite the arrests and dispersals, people still managed to get together and are heading towards the Stele monument.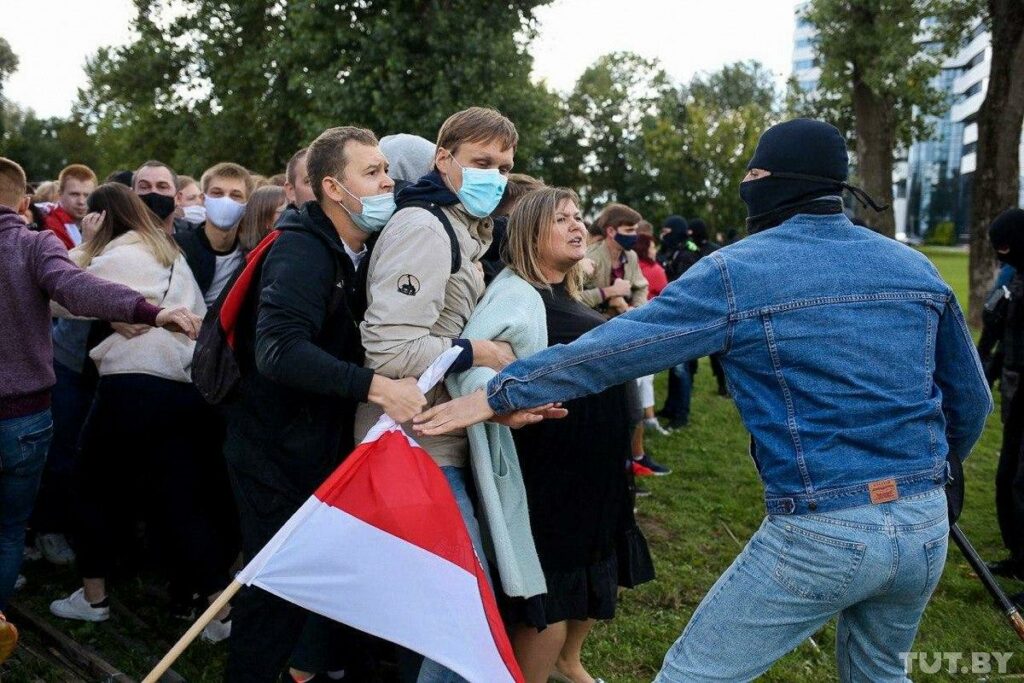 The column is joined by people who have approached from the neighboring streets. According to a Nasha Niva correspondent, about 10,000 people are already walking along Victors' Avenue.
3:00 pm The human rights center "Viasna" reports that 31 people have been detained today. Surnames of all detained can be found on the center's portal.
3:04 pm A Nasha Niva correspondent reports that the demonstrators' column is heading from Balangor Square to the Stele monument. Over 7,000 people are in the column.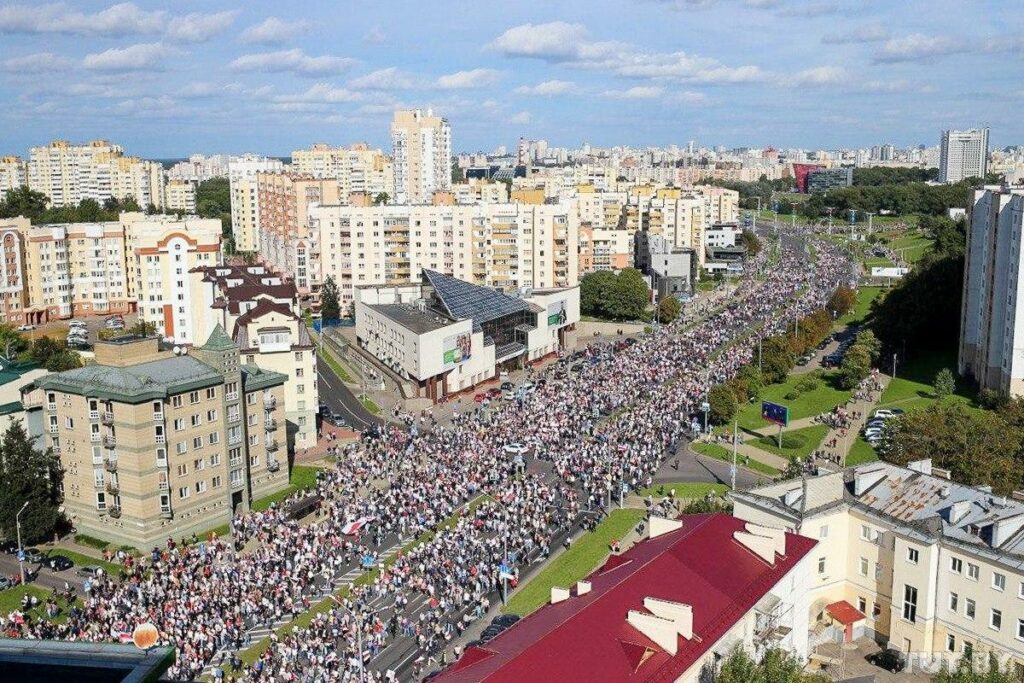 3:07 pm The human rights center "Viasna" reports 37 demonstrators have been detained during the march so far.
3:08 pm Radio Svaboda: A1 operator officially announces the reduction of the Internet speed in Minsk. Minsk residents report problems with the mobile internet of other mobile providers as well.
3:10 pm Protests are taking place throughout the country: Vitsebsk, Hrodna, Mahiliou, Homel, Lida, Kobryn, Pinsk.
3:18 pm Radio Svaboda: Minsk. A column of thousands of people has turned away from the Stele monument and is moving towards a parallel street because the avenue where the column was marching is blocked by the military.
Belarusian athletes, about 50 of them, were seen in the demonstrators' column, they are again carrying banners "Sportsmen with the city".
Mostly, people carry white-red-white flags, only a few banners and posters are seen today.
3:23 pm According to the Ministry of Internal Affairs, the police detained around 250 participants of the March of Heroes.
3:30 pm Hrodna. The protesters reached the center, but further down the road was blocked by riot police trucks so the column turned back. At the rear of the column some protesters were detained, with riot police grabbing people one by one, both men and women, and throwing them in the riot police trucks.
At the moment, several dozen people have been detained.
3:32 pm Minsk. The traffic police blocked Pushkin Avenue at the intersection with Pritytsky street on McDonald's side. Only public transport is allowed in, cars are honking in support of the protesters. The protesters' column is now moving in this direction.
3:42 pm The demonstrators chant, "Cascade is great!" when passing the residential complex Cascade. Over the recent weeks the Cascade's residents have been hanging out white-red-white flags here and the regime informants ("tikhari") have been taking them down. In response to the demonstrators' support, the Casdade's residents are hanging dozens of white-red-white flags from their windows and balconies.
3:59 pm Nasha Niva: One of the columns of demonstrators is moving towards Pushkinskaya station – on 10 August the first peaceful protester, Aliaksandr Taraikouski, was shot dead here.
Another column, which was heading towards the Stele from the other side, turned towards Drozdy district, the residence of the "elite" of the Belarusian authorities, including head of the Central Election Committee Lidziya Yarmoshyna.
4:05 pm Peaceful protesters are being forcibly detained in Hrodna.
Women are seen amongst those who detain peaceful protesters.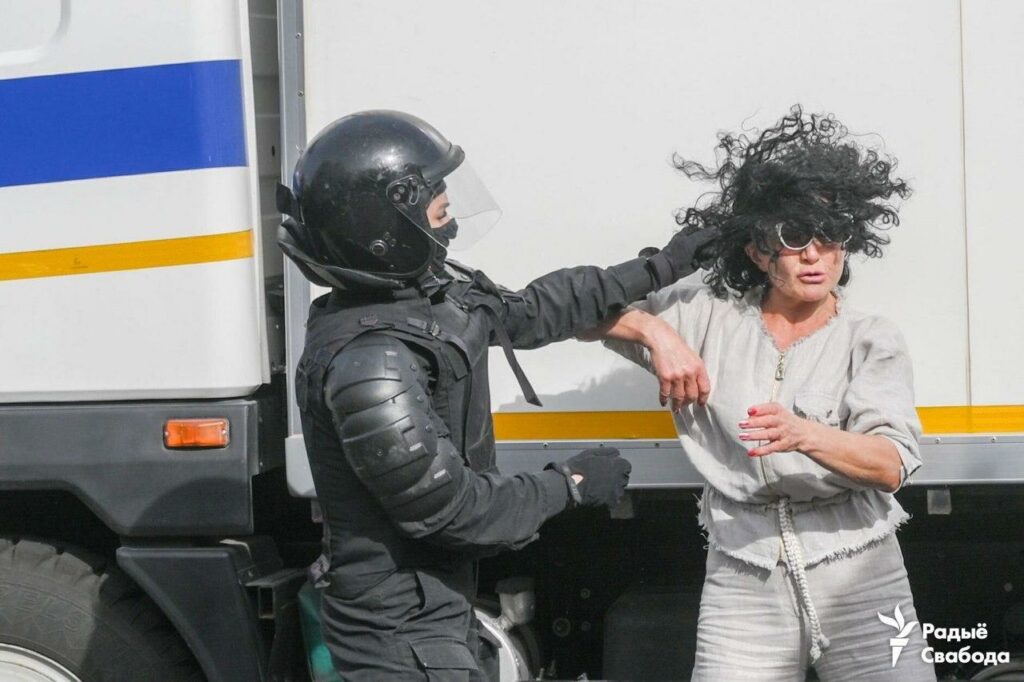 4:16 pm Media reports that a column of security forces with control equipment is moving towards the Drozdy area.
4:18 pm Peaceful protesters are being detained near Drozdy. People are caught at the University of Physical Education.
4:30 pm In Zhodzina, during a demonstration, a police officer hit a woman in the face while she was walking with a phone. Eyewitness video.
4:31 pm ⚡️⚡️ Onliner: One of the columns reached a barrier built by the security forces near ​​Novovilenskaya street, not far from Drozdy. The distance between the protesters and the security forces was approximately 50 meters. People were shouting and tried to argue.
After that, machinery equipped with shields appeared. The distance was reduced to a minimum. At some point, a warning shot fired into the air was heard.
4:52 pm Onliner: At some point in the Novovilenskaya area, security forces appeared with ammunition. After lining up, they began to move towards the peaceful protesters. The protesters dispersed and began to leave the place via backstreets.
Protests take place in other cities of Belarus:
In Brest, a column of many thousands is marching through the city and chants, "We will not forget, we will not forgive". ❗️ Water cannons were used against the protesters!
In Navapolatsk, protesters managed to protect their fellow protesters from the riot police.
Today, protesters in Vitsebsk broke through the security forces cordon. According to an eyewitness, at least one person was detained.
5:10 pm EuroRadio: Protesters and the riot police forces are standing at a 20-meter distance from each other near "Arena City" in Minsk. Two security forces representatives came out for negotiation.
5:27 pm Riot police were moved from the Stele, Minsk Hero City Obelisk, to Drozdy ("Belarusian elite" residential area). On approach to the Stele, the protesters left hundreds of white-red-white ribbons tied up to the metal turnstiles.
5:42 pm The march participants tried to bypass the police cordon using parallel streets, but there they were met by riot police. Many people were detained.
5:45 pm People again began to gather near the Stele, Minsk Hero City Obelisk.
5:47 pm Siarhei Cherkasov, who was the co-chairman of the Belaruskali strike committee until 11 September, was detained earlier today.
A TUT.BY journalist was detained in Mahiliou.
5:49 pm The atmosphere around "Arena City" is described below: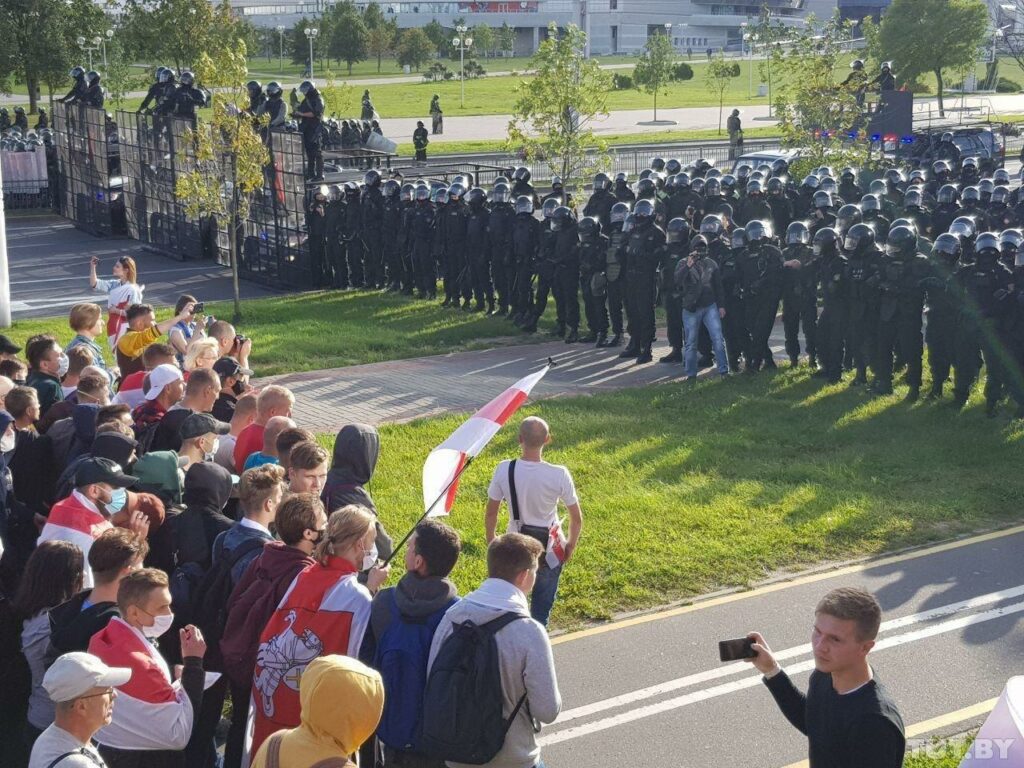 The chains of protesters and the security forces froze, watching each other. From time to time, people from among the protesters were coming out to the open space between the lines and addressed the people in black. They smiled in response.
5:52 pm Arena City: people decided to move away from the security forces cordon, they turned and moved back to the Stele monument.
5:55 pm People are being brutally detained in Brest, even in the backyards.
6:00pm ⚡️⚡️ Flash bangs are being used against protesters for the first time since early August. Near Drozdy district in Minsk, police are beating people and dragging them on the ground as they are being forcibly detained.
The Ministry of Internal Affairs denies using flash bangs.
6:10 pm Security forces are drawing their weapons as they arrest people in Brest.
6:18 pm ⚡️⚡️ Shots heard in Minsk. A member of the Ministry of the Interior's Main Directorate for Combating Organized Crime and Corruption (ГУБОПиК) has allegedly fired his own weapon into the air, in order to disperse protesters!
6:20 pm An RBC correspondent, citing eyewitness reports, reports that flash bangs have been deployed at the home of Lidziya Yarmoshyna, head of the Central Election Committee.
The Ministry of Internal Affairs denies they were used.
6:26 pm Tadeusz Kandrusewicz, the (Catholic) Archbishop of Minsk and Mahiliou, who was denied entry into Belarus after traveling to Poland, has arrived in Lithuania, according to Lithuanian media, including the site bns.lt. The Archbishop was invited to give a sermon for Sunday Mass at a church in the village of Shiluva. Kandrusewicz has not yet spoken of his future plans and where he intends to stay.
6:27 pm Citing eyewitness reports, an RBC correspondent has reported that flash bangs have gone off at the home of Lidziya Yarmoshyna, the head of the Belarusian Central Election Committee. Once again, the Ministry of Internal Affairs has denied this.
6:35 pm Siarhei Cherkasov, the co-chairman of the Belaruskali (potash factory) strike committee until 11 September, was arrested at about 2:00 pm, according to the factory strike committee's Telegram channel.
The strike committee indicated that its members and participants in the strike have "recently been facing unprecedented pressure".
6:39 pm The entrances and exits of Sportivnaya, Pushkin, Molodiozhnaya, Fruznenskaya, and Nyamiha metro stations in Minsk have been closed. All of the stations are located near Pieramozhtsau Avenue, where the protesters have gathered today.
6:40 pm Once again, Belarusian athletes have peacefully protested in Minsk. They include the Mesheryankov brothers (basketball), volleyball player Artur Udris, and others.
The athletes held a banner saying, "Athletes with the people". As they approached the "Arena City" mall, they began chanting, "The people are champions!" and "We play by the rules".
6:58 pm The Ministry of Internal Affairs explained why it used a water cannon in Brest: "In order to restore normal civilian life and ensure traffic safety, a water cannon was used."
7:09 pm Demonstrations of solidarity with Belarusians are being held today in Moscow, Saint Petersburg, and Kyiv.
7:18 pm According to Radio Svaboda, the Belarus service of RFE/RL, several thousand protesters in Minsk reached the intersection of Pritysky Street and Pushkin Avenue. This is the site of a people's memorial for Aliaksandr Taraikouski. Some of the demonstrators remained by the memorial. The rest have split up. Drivers are honking their car horns in a show of support.
7:38 pm Near the Pushkin metro station, where many protesters were still standing, police have begun making arrests, according to TUT.by and Nasha Niva. Approximately 50 riot police officers have been seen there.
7:45 pm As of 7:45 pm, over 400 protesters have been arrested around Minsk. Detainees brought to the Sovietsky District police station are being made to stand facing a wall.
7:58 pm The Belarusian Ministry of Internal Affairs has confirmed that shots were fired into the air in Minsk today:
"Police officers were arresting several active participants in the protest on Pieramozhtsau Avenue. During this time, at least 100 other protesters attempted to resist. In order to suppress this illegal activity, a warning shot was fired into the air from a pump-action shotgun."
8:00 pm President Sviatlana Tsikhanouskaya's press conference has begun!
8:13 pm Female riot police were involved in the arrest of protesters today in Hrodna.
Several thousand protesters in Hrodna gathered in support of change. They gathered at 2:00 pm while waving red and white flags near the "Hrodna" youth center on Sovietsky Street. They chanted, "Long live Belarus," "We believe, we can, we will win," "This is our city," and "Hrodna, come out". Employees of "Khimvolokno" factory joined the demonstration wearing their uniforms.
The crowd of protesters moved along Bolshaya Troitskaya Street to Gorky Street. While the protesters were on both sides of the streets, prisoner transport vehicles (PTVs) and police buses approached. Hundreds of riot police left the vehicles wearing helmets and carrying weapons. Several officers were also carrying shields.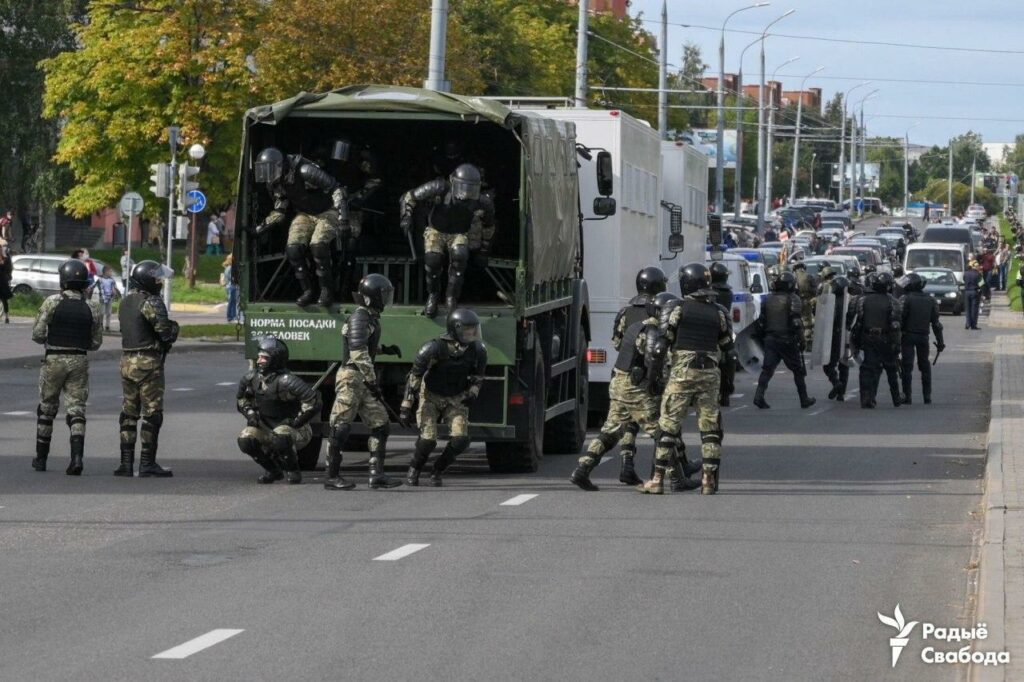 Dozens of protesters at the end of the crowd, as well as those in nearby courtyards, were arrested. Police detained men, women, and the elderly. The PTVs left Gorky Street several times, turning back whenever the protesters returned to the street. This continued until the protesters dispersed.
8:55pm The editor-in-chief of dev.by, Natallia Provalinskaya, was released from Minsk's Oktyabrsky District police station at 8:50 pm.
9:14 pm TUT.BY readers have reported that police officers had "left their posts for approximately 15 minutes". During that time, local residents were able to put the mural of the "Change" DJs back in place.
9:40 pm Three people were reportedly detained at "Cafe 1067" on Romanovskaya Sloboda in Minsk. They may have been journalists with press cards. According to eyewitnesses, other people in the cafe were left alone. It is confirmed that one of those arrested was photographer Aliaksandr Vasyukovich. Vasyukovich sent an SOS text from a point at Karlvariyskaya, 43. The Ministry of Internal Affairs press secretary, Volha Chamadanava, told TUT.BY that Vasyukovich is currently being booked at the Frunzenskaya police station.
9:40 pm For the fifth Sunday in a row, rallies have taken place in Vitsebsk, to protest against the results of the presidential election. Today's protest was called the "March of Heroes" on social media, and saw participation of up to 400 people. The demonstrators spent 2.5 hours marching around the city. One violent encounter occurred between demonstrators and police. According to TUT.BY, 18 protesters were arrested in Vitsebsk Oblast on 7 September in the city of Vitsebsk, 5 in Navapolatsk, and 2 in Polatsk.
10:10 pm The Coordination Council of the Belarusian opposition condemned the use of force against Sunday's protesters in Minsk. "We strongly condemn the use of brute force against protesters," said the Council in a statement, reminding citizens of their right to peacefully express their opinion at assemblies and rallies, pursuant to Articles 33 and 35 of the Constitution of Belarus. The Council also condemned the members of security forces who are acting anonymously – in plain clothes, wearing masks, with nothing identifying their department. "These actions are not only unlawful, they also allow arbitrary arrests with impunity," stated the Coordination Council.
There have been numerous cases of Belarusian law enforcement using flash bangs and tear gas at Sunday protests.
10:25 pm As in all other oblast centers, a protest was held in Mahiliou for the sixth consecutive Sunday – there were flags, flowers, balloons, signs, and slogans calling for Alexander Lukashenko to resign. The crowd chanted, "Leave!" and "Shame!" Over two thousand protesters had gathered at its peak. As in other weeks, there were arrests.
Around 5:30 pm near Kosmos movie theater, police arrested vlogger Aliaksandr Sobolevskiy, who was airing a live broadcast of the events. Sobolevskiy had already been arrested on 30 August, and found guilty by the court of participating in the protest. He was sentenced to 8 days of administrative detention. Sobolevskiy began a hunger strike. It is known that today, 13 September, after his arrest, he was taken to Oktyabrsky police station.
10:46 pm A day of protest has become an evening of waiting. According to the Ministry of Internal Affairs, over 400 individuals were arrested in Minsk (250 of them before the rallies had even begun). As night fell, the friends and relatives of those who did not return home began to gather outside of Minsk's police stations.
ONLINER.BY spoke with some residents waiting for their friends and relatives outside the Minsk police stations. A recently released 17-year-old stated: "There are about 50 people in there now. They're all sitting in a room, not on the floor, that part is okay. The way the police are treating us varies. Some are fine, others are saying rude things. There is someone with epilepsy among the detainees, I carried him in my arms myself. As far as I know, they did not call an ambulance for him. They're photographing and fingerprinting everyone."