15 September 2020, 08:50 | Daria Klyuiko, LADY.TUT.BY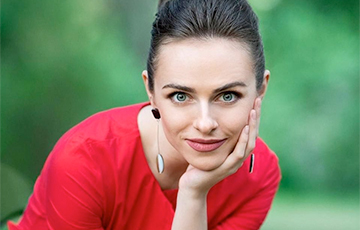 Today the soprano of Margarita Levchuk is mostly heard not from the stage, but in defense of those who, in her opinion, need help. Margarita became an active participant in peaceful protests, as well as social and cultural projects. Just a few days ago, musician Pavel Arakelyan released a jazz video for the folk song "Mury". Among the people who performed it, LADY noticed Margarita as well. We decided to talk to the opera diva about her career, her departure from the Bolshoi Opera and Ballet Theater, and whether her life has changed since she began to publicly express her civic position.
Margarita, congratulations on the recent premiere. Can you tell us about the video?
The video was recorded a couple of weeks ago, when Denis Dudinsky had not yet been detained, and Pavel Latushka had not been forced to leave. I always gladly agree to participate in such projects.
Judging by your social networks, you generally like musical experiments.
Somehow, since I was a child, I've been open to everything that is connected to music. I always say: I can't do anything else in life except singing. (Smiles) If I got interested in a song – I tried it. A good offer appears – I support it. It turns out pretty well. But I don't want to leave the opera altogether. And I'm not going to; after all, I am an academic opera singer. Opera is my profession, and all other creative experiments are my hobby.
Since their first year of training, opera singers have been taught by their teachers that everything except opera is bad. For example, singing in cover bands. It's clear that if you sang all night in a cover band, and at 10 am you have classes in your specialty at the academy, you will simply have no voice. I used to work in such bands, so I know what it is like. But you should not completely reject other musical styles; there is a certain degree of snobbery in doing that. By the way, not all opera singers can easily switch to folk or pop singing. It's not easy.
Was it difficult to understand that singing is your everything?
When I was just born, according to my mother, I screamed for two days such that they brought me to her with the words: "Take your singer already." Now, I say: "Mom, I didn't cry, I was singing, just nobody understood."
I've been singing since childhood. Everyone around was touched: "Oh, how beautiful!" We sang with my grandfather near the fireplace. I didn't need a stage and a large audience, didn't need any attributes or life-changing moments to understand that I just love to sing. We sang with my grandfather at the fireplace and that's all – that was my concert. You can't even imagine how many concerts like that we've had.
When you have a gathering with friends, do they often say: "Margarita, sing"?
They do. (Laughs) If you just support the folk song, it's easy. But sometimes it is an aria from some opera they ask for: "Oh, cool, can you 'belt it out'?" This is what makes me mad. I turn it all into a joke. I ask: "What do you work as? A hairdresser? Can you style me right now? Are you a surgeon? Oh, I have been planning to fix something for myself for a long time, let's do it here?"
Your career has developed quite quickly and successfully. Have you faced any stereotyping?
Not so fast, I will soon be 30 years old. You can't even imagine how much I studied to become who I am. Five years in a music school, then four years in a college, and finally seven years in the Academy of Music. My parents are ordinary people who never bribed anyone to push me through. Although there were such accusations – they say that my parents bought me a place in the Bolshoi Opera (a popular TV show on the Russia Culture channel, in which Margarita participated in 2017 – Ed.).
I always had to fight my way through with my work, voice, talent. And I'm indifferent to people's envy – I am sure that the truth is on my side; though, you can't count how many love affairs people said I've had.
With whom?
With conductors, mostly. If you worked with the conductor – that's it, they say you had a special relationship with him. I even indignantly joked: "Why not with the director?" They attributed to me an affair with the artist Vladimir Kondrusevich, who painted my portrait. With colleagues in the theater.
I must ask about the Bolshoi Theater. You quit your job in March 2020. Many have written about the reasons for your departure, and I want to ask: why did you go there four years ago?
Because I love Belarus, I want to work and sing here. I didn't want and don't want to go anywhere. And I hope that one day, when a new life begins, I will happily return to the theater with a new leadership. Singing at the Bolshoi Theater of Belarus has always been my dream. Every day, returning to the students' hostel from the Academy of Music, I passed by the Bolshoi Theater and thought about how much I wanted to work there.
Of course, my dreams were very different from the reality that I faced when I came to work there. And the cramped dressing rooms, which many complain about, have nothing to do with it. It's about the people who work there, the atmosphere. An excellent creative team. But the bosses… The feeling that I was in a Soviet theater in the early 50s never left me. There was a very rigid approach to work; I really lacked freedom. To speak figuratively, it was like banging your head against the wall, but no one heard you – such was the system. And I don't want to live in the system. I want to sing.
How do you feel about all that is happening in our country over the last month?
It seems to me that today, all clear-thinking Belarusians (myself included) have a full range of very different feelings. From love to hate. And we just have to withstand all these tests with dignity. I am sure that sooner or later it will all end, because good always triumphs over evil. Going through all of this, we become wiser, we gain an experience that later will allow us to live only with love in our hearts.
Many say that Belarusians have shown themselves in a new light in these circumstances. What do you think about this?
Since childhood, they have tried to convince all of us that we should keep silent. There is even such a strange joke: "Keep silent, woman, your day is 8 March." How is it? I do not celebrate this holiday and with my whole life, I try to prove that women are even cooler than men.
I can stand up for myself. And I really feel sympathy for my friends who cannot. I support them, I encourage them. I say: "Don't be afraid to express your feelings straightforwardly, bang your fist on the table." She replies: "I can't do that…" I can. I am strong and determined. Like my grandfather – Petr Levchuk. I have his character and his surname, which I am not going to change under any circumstances. I will always keep my grandfather's surname – Levchuk. There was, however, one case: I got married and changed my last name. But then, thank God, I got divorced and everything returned to its place.
Do you ever feel afraid?
Sure I do. I am afraid of many things. When I see representatives of power structures, I feel very uncomfortable. You look at a policeman, and for some reason you think: "They're coming for me" – even though I know that I have not done anything illegal. Every time I am going to leave the house, I think: "I need to wear something warm. I usually feel cold, what if they detain me today, then I will be freezing in the prison cell." Never in my life did I expect that I would have such thoughts. But this is our reality now.
Look, our ancestors endured the horrors of war for four long years. One of my great-grandfathers reached Berlin, the second was killed by his fellow countrymen – policemen.
And now, things are not easy for our generation. Every Belarusian, in my opinion, cannot be sure of their safety today. But if our ancestors endured all those hardships, then we will survive all this. At times, apathy strikes, but I encourage myself and cheer myself up (it is very important to keep encouraging yourself) that everything will be fine.
The support of others also helps a lot. Even with a single kind word. Simply tell your friend, "I'm with you." Every evening, my neighbors and I go out to the streets and shine our flashlights. This also warms my soul. After all, you are not alone.
Are there any musical pieces that you don't have the strength to perform now?
It's "Ave Maria". We were always taught: on stage, you get used to the role and don't transfer any feelings to yourself. It is not you who should cry, but the audience – that's what an artist is. But it doesn't always work out that way. I sang "Ave Maria" thousands of times: I work in the Nesvizh Palace – and there, we can perform it for tourists in the chapel all day long. But time passed, and then I sang "Ave Maria" during a concert on the Minsk Sea, just a few days before the elections. I started singing and could not stop the tears from falling. Because my soul hurts for everything that happens, for my people. I cry, and everyone cries – no singing comes out. And I hate myself in these moments…
On 19 September, there will be a charity concert "Lux Aeterna" in the Red Church, where I am going to perform "Ave Maria". Now, I am preparing myself to be a pro and not to show weakness.