How families of those killed during protests live
9 October 2020, 13:35 | Katsiaryna Barysevich, Stanislau Korshunau, Alena Bychkova, TUT.BY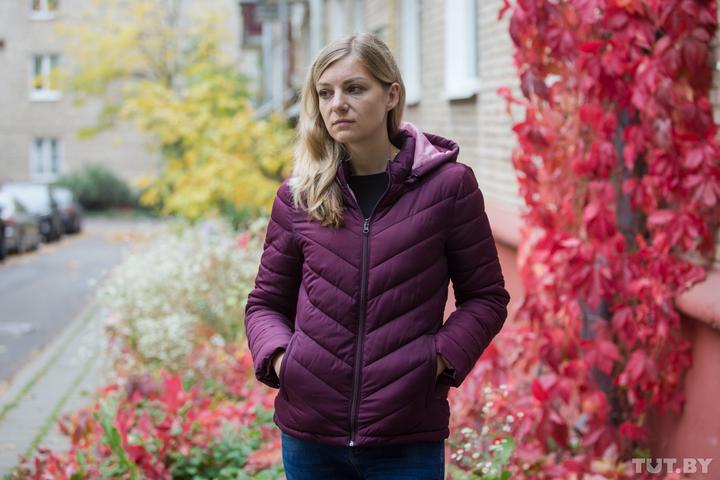 Two months have passed since the presidential elections in Belarus followed by unprecedented violence. Three people were killed during the protests – Aliaksandr Taraikouski from Minsk, Henadz Shutau from Brest and Aliaksandr Vikhor from Homel. There is still no information about criminal cases under the article "Murder". We talked about the victims with their families.
Aliaksandr Taraikouski, Minsk. "What happened is my personal tragedy"
People still bring fresh flowers to the place of Aliaksandr Taraikouski's death. They put up posters and write "We will not forget" in capital letters on the pavement. Communal workers covered this inscription with salt more than once but "We will not forget" reappeared. Alena Herman, Aliaksandr's partner, does not see any of this. After 10 August, she is unable to come to Pushkinskaya [metro station]. Only once could she not resist and dropped by the spontaneous memorial.
"Once I was riding by on a scooter, I thought I wouldn't open up my wounds. I stopped, bought flowers, stood there and burst into tears. I can't imagine how Aliaksandr's father goes to work down Pushkina Street every day," Alena brushes away tears from her face and falls silent.
When making our appointment, she asks: let's not conduct the interview where her Sasha [short for "Aliaksandr"] spent the last minutes of his life. We meet near her house, the one Aliaksandr Taraikouski left in the evening of 10 August never to return.
"Alena, do you remember your last conversation with your partner? What was it about?"
"That day we went to work together, I remember there was no Internet [connection], and Sasha tried to download a VPN in order to find out the news. In the evening we went to the playground with the children [Alena has an older child from another relationship – note by TUT.BY] and at about 8 p.m. he decided to go towards Beruta Street. You know, I wasn't particularly worried. I thought he just wouldn't make it to that area. On the day before, on 9 August, we had been out with him, reached the railway station, and there was a [police] cordon. I decided that this time everything would be cordoned off too, and he would return home. Although I tried to stop him at the doorway, he replied: "No, I will go." Later I found out: he had an arrangement with a friend and went to the protest intentionally. Probably he didn't want to worry me. At about 10 p.m. we spoke for the last time… I heard sounds of explosions [over the phone] and Sasha said, "You have no idea what is going on here." I asked him to go home. "OK, I'm coming."
The family lived in an old neighbourhood near Hrushauka metro station, while Aliaksandr Taraikouski had an apartment on Pushkinskaya. In summer the latter was being renovated, so Alena let her partner go there, hoping that he was only going to fetch some instruments. Now, she admits, she regrets very much not having stopped Aliaksandr.
"I was sure that someone other than Sasha was killed. I remember thinking: what a grief for somebody"
"On 10 August, at about 11 p.m., during mass riots in Minsk in Prytytskaha Street, the crowd was erecting barricades to block traffic. In the course of a confrontation with the special forces who arrived to unblock the square, one of the protesters attempted to throw an unidentified explosive device towards the law enforcement officers. It exploded in his hand, the man was fatally injured," a news post appeared in the Telegram channel of the Ministry of Internal Affairs by midnight on 10 August.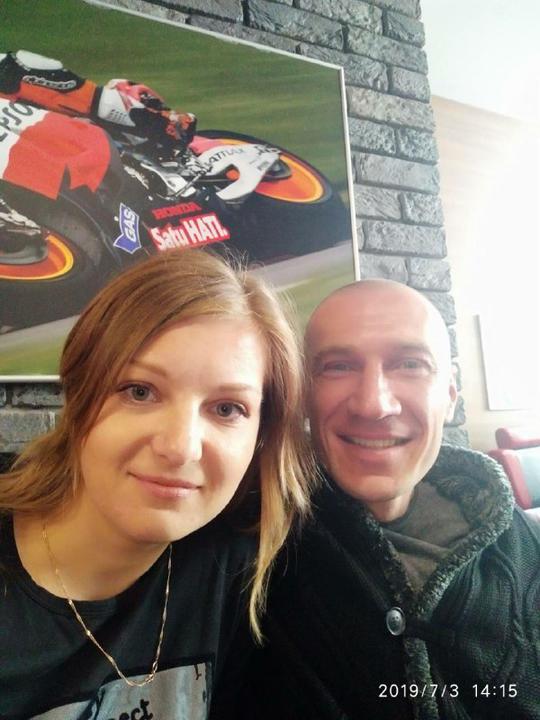 Due to the missing Internet connection, Alena did not see this post. At 2 a.m. she called her partner again. She heard a ringing tone but no one picked up. Alena was not concerned yet: she consoled herself with the thought that her partner could have met an acquaintance on his way, that [parts of] the city were cordoned off and it was probably not so easy to get home.
"In the morning I woke up and realized: something awful had happened. For the first time ever Sasha had not spent the night at home. I was confused, there was no Internet, how was I supposed to look for him? I called my relatives and understood: I had to go to the police office. Where is it? I didn't know," Alena tells how her relatives, friends and acquaintances joined in the search for Aliaksandr.
She started her search from the Frunzenski district police department but there were no lists of detained protesters there.
"On that day, only Onliner [news website] would load. There was a live feed of what had happened on Pushkinskaya. I started looking through the photos – and found Sasha in one of them. I was so happy! But where to find him now? I went to his Pushkinskaya apartment and saw an investigation team working near the metro station, as I was passing by."
"Did you already know about the person who died during the protest?"
"Yes, but I was sure that it was not Sasha. The official version of the Ministry of Internal Affairs was about an explosive device. I was one hundred percent certain: he would have never taken up a weapon. I remember thinking: a person had died, what a grief for somebody."
On 11 August, no one contacted Alena. She went to Akrestsina and Zhodzina [detention centers] but Aliaksandr was nowhere to be found. The next day the woman started again from Akrestsina Street.
"I thought the worst thing that could happen was a criminal case. Sasha would not have gone to the prisoner van by himself, I think he would have fought back when detained. I was standing near the Akrestsina [detention center] hoping: now he will come out and I will hug him."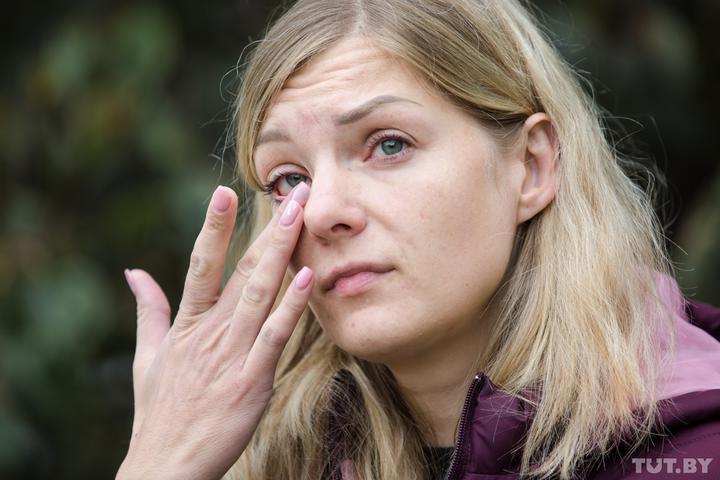 Alena's brother was updating her about what was happening in the country: he lives outside the city and could at least sometimes establish an Internet connection. He was the first to see a comment by the Ministry of Internal Affairs that the deceased was 34 years old and had been previously convicted. Taraikouski was also 34 and had been convicted at the age of 19. But even having put these facts together, Alena was sure: her partner was alive.
"And yet I decided to go to the emergency care hospital, it was unbearable to sit at home. But where to look for him? On the police hotline, they said there were no lists [of detainees]. In the late afternoon on 12 August, an investigator called Sasha's father, that was how we found out. I don't remember what happened next," Alena tries to find the words, but her voice trembles, she breathes out and pauses once again. "Those days were blurred."
"Now I am alone, at a loss and do not understand what to do next"
This is the hardest and the most emotional part of our conversation. Only Alena and her nearest know how she survived the days immediately before and after the funeral.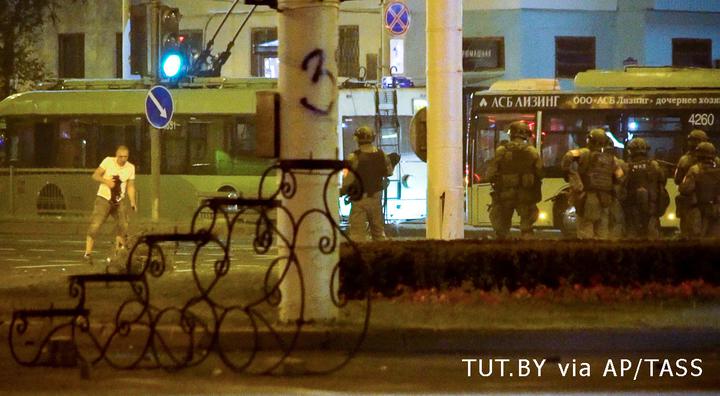 "I used to think: if you come to the morgue and describe a person, they will let you in. It turns out, this is not true. They didn't let us into the morgue, they told us to come only with the investigator. We called him and he answered that it was physically impossible for him to arrive earlier. He invited us to the Investigative Committee at lunchtime, Sasha's father and I were interviewed for three hours, but in the end we returned to the morgue without the investigator. Their main goal was to show us the injuries, they uncovered only the chest, while the whole body was not visible. Aliaksandr's father wanted to see if the bullet had gone right through or not. He had to know, it was his son, after all! When they gave us the body, Sasha's father turned him over right in the coffin and looked, but there were no marks on his back."
"Were you insulted by the official police statements that described Aliaksandr as some sort of a lowlife and did not even apologise for the initial report about the explosive device?"
"Of course, I was insulted. When we arrived for identification, a person, perhaps the [forensic] expert, came out and called the investigator. The investigator asked something and that person looked at us appraisingly and replied: "They are normal [people]." They apparently thought that if a person has been convicted, it means that he leads a dissolute life. But they didn't know him personally! At the very least he was someone's son, husband and brother. Who gave them the right to decide other people's destinies? Since he has been convicted, can he be shot? I had known Sasha for six years. Yes, he had been behind bars after he had accidentally killed his mother's cohabitant while protecting her. But he served his sentence: five years in prison and two years on probation. He was released almost 10 years ago. By the way, prison had taught him to appreciate any happy moment in life. He used to be a bit short-tempered, but he didn't like it and improved himself. Sasha lived for his work and I helped him. He started a business making car window blinds. He made plans about expanding it and even applied for approval. But he never got the chance…"
A smile appears on Alena's face only when she reminisces about the past and her family life with Aliaksandr. Their relationship was not ideal and they used to argue, of course, but Aliaksandr was usually the first to make amends.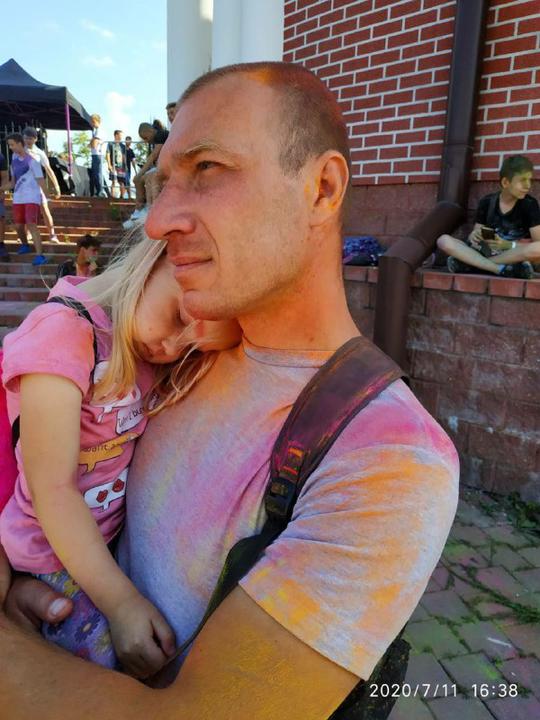 "Every Sunday Sasha used to arrange a family day: we rode on electric scooters, went to the Drazdy beach or to kids' playrooms," Alena shows some moments of family life captured on her phone. In the photos, Aliaksandr is standing next to his three-year-old daughter Nastsia with a happy look, or holding her in his arms, or cuddling with her.
"Nastsia is a daddy's daughter, he knew how to comfort her in any situation. Now she is crying and a minute later they are laughing together. After the funeral, we didn't tell Nastsia anything – I didn't know how to do it – and consulted a psychologist. It seems to me that she does not fully realize what has happened. Every day she waits for her dad to pick her up from kindergarten. And when I come, she turns away saying, "I wanted dad to come." At night, she dreams that dad is at home. Now I am living through not only my own pain, but hers as well. When I lived with Sasha, we made all decisions together, now I am alone, at a loss and do not understand what to do next."
"For now, I'm just going with the flow"
Alena recalls: when the election campaign began, she and her partner closely followed the events, scrutinised the candidates and even went to the meeting in support of Sviatlana Tsikhanouskaya on Bangalore Square with children.
"We had hope for change and there is still hope, otherwise it is scary to live on," says Alena.
She also hopes that the investigation team will eventually initiate a criminal case about the murder of her partner; however, there has been no progress so far.
"I am not summoned anywhere; the investigator calls me from time to time and asks clarifying questions. They said that a security guard from Sasha's work went to the Investigative Committee. As far as I understand, they were drafting his personal reference and interviewing his friends. Once the investigator asked me for the unlock pattern for Sasha's phone. I gave it because I knew that there was nothing there, nothing to be afraid of. It turned out that the pattern did not work. I thought: Sasha, smart guy, has probably changed his password at the last moment, having seen what was going on on Pushkinskaya. Each time I ask the investigator about the initiation of a criminal case and he answers: "We are working [on it]." He said straight away: the check will most likely last three months, the legal maximum period. Our lawyer has already prepared a letter to the Investigative Committee with a demand to open a criminal case."
"Do you believe that the check will result in the initiation of a criminal case?"
"You see, according to all laws, it should be initiated. I do not know what grounds there might be for not initiating a criminal case. Although I understand: it is unlikely that something will happen."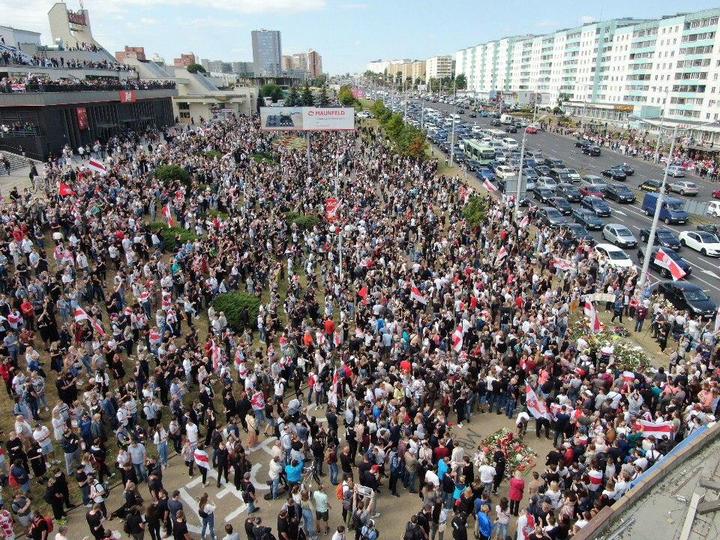 "Alena, have you asked the investigator how it can be that according to the official version something exploded in Aliaksandr's hand, while the video clearly shows that he was not holding anything?"
"I asked another question, why the family had not been informed for two days. He said that he was only interrogating me and was not responsible for that case."
After Aliaksandr's death, many caring people supported the family: they sent letters, offered help and transferred money.
"I try not to spend it [the money], I just can't bring myself to it. I did not earn it. I don't know what will happen next, let it be our emergency cushion. How shall I plan my future life? I don't understand. For now, I'm just going with the flow."
When asked how readers should contact her if they want to help, Alena dismisses the question, "There are many other people who need help. I have already received help, and I am very grateful."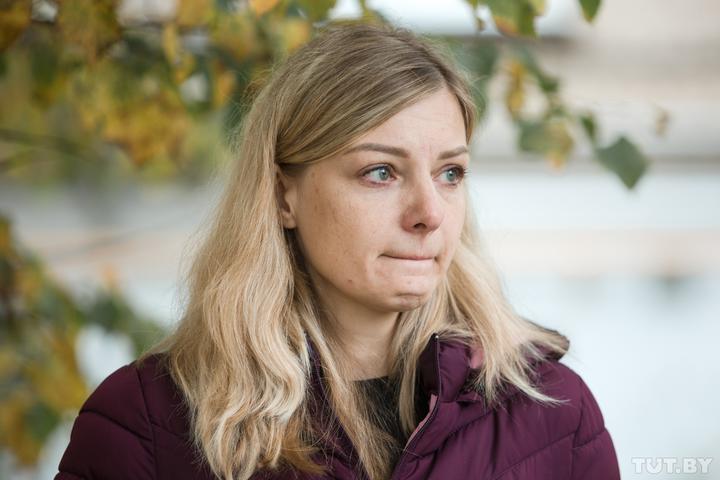 "What happened is my personal tragedy. When I want to cry, I call my family. So far I manage without the help of a psychologist. I think I am doing well, children are a blessing and work is a good distraction. I decided to continue Sasha's business: he was so proud to have started from scratch and dreamed of passing on the family business to the children. I have started sewing to distract myself. I understand that life goes on, but for now it's hard for me…"
Henadz Shutau, Brest. "There are no sufficient grounds to initiate a criminal case for murder"
A people's memorial in honor of Henadz Shutau, the resident of Brest, appeared on the day of his death on 19 August and is still in place. Flowers, candles and photographs of the deceased lie on the parapet near the 20-storey building in Maskouskaya Street. It was there that on 11 August Henadz was wounded in the head. His partner Tatsiana Marakhouskaya often comes here.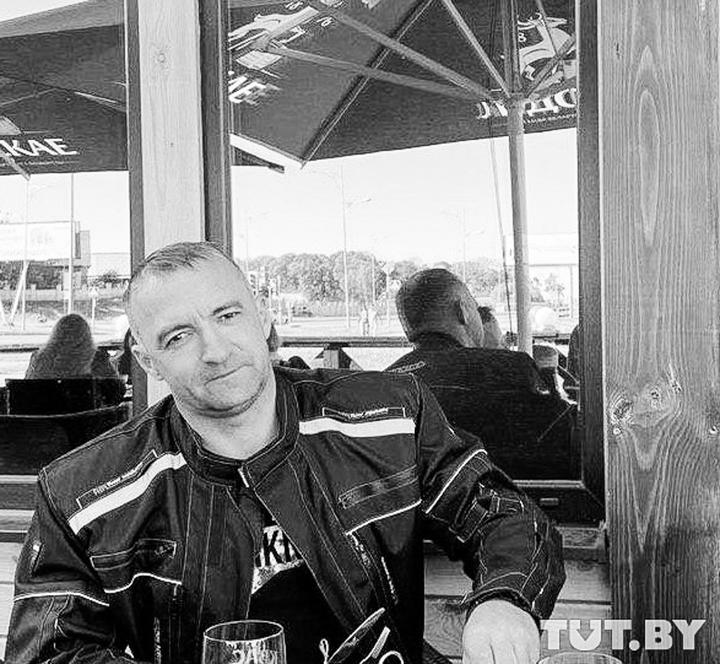 "Sometimes we arrange over the phone with friends and meet there, sometimes I come on my own. The memorial is destroyed all the time: photographs and flowers are removed. I can also understand the people who live in this house: they probably don't want to look at it all the time. But please understand us too – this is very painful… We come [there] and bring flowers," says Tatsiana, admitting that the spontaneous memorial "helps to get through what happened."
"This month I work without days off. It's easier for me at work. Being at home is harder."
Tatsiana had a daughter before meeting Henadz Shutau and, according to her, he developed an excellent relationship with the girl. Tatsiana did not conceal from the 14-year-old girl what had happened.
"She was very worried. She herself made the decision to go to the funeral. We didn't want to take her to the cemetery – she is still a child. But she cried: "I want to say goodbye."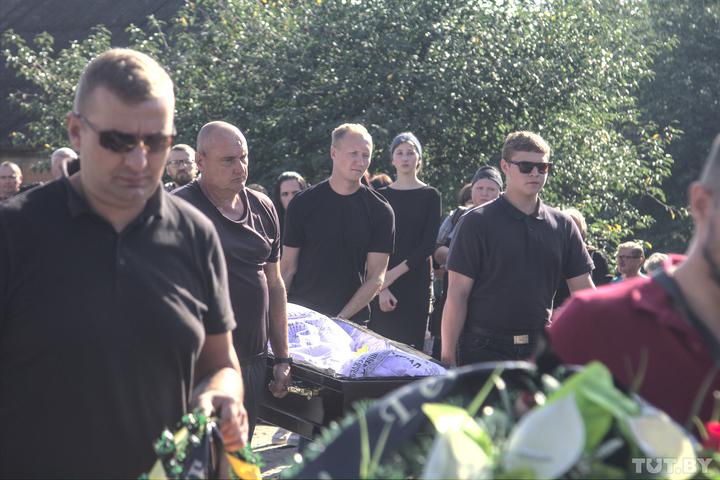 Tatsiana remembers the events of 11 August as if it were yesterday. For Henadz, who worked as a long-distance truck driver, this was the third day of rest after a two-week trip. In the morning Tatsiana went to work and he stayed at home.
"We talked a lot over the phone that day. He was riding around the city on his motorcycle. He said that he would go to the garage to repair a leak in the motorcycle. Then he called and said that he would stay in the garage with his pals. They were going to fix the motorcycle and have a drink. I came home from work and cooked dinner. At about 10 p.m. I called him and asked where he was. Henadz said that he was in Maskouskaya Street; he was going to take a taxi and come home. At 10.36 pm I called him again but he was no longer available," says Tatsiana.
Relatives and friends found Henadz in the regional hospital with "an open penetrating gunshot wound to the skull." On 13 August, he was transported by helicopter to the military hospital in Minsk. He died six days later. The certificate indicated that the external cause of death was "damage resulting from a handgun shot made with an undetermined intent."
Henadz's adult daughter Nastassia Baranchuk often comes to the people's memorial to her father, just as Tatsiana does.
"It's nice that people remember him and still bring flowers, but at the same time it's hard to be reminded [of our loss]."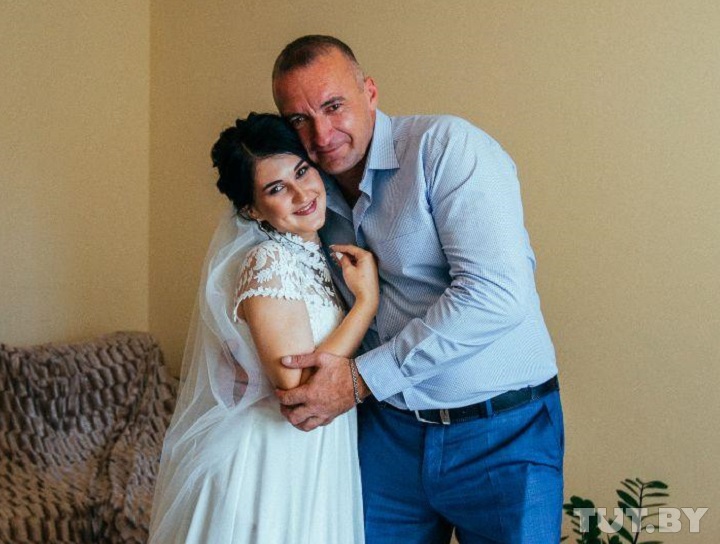 The family of the deceased continues to investigate the circumstances of the incident on their own. They do not get any information from the official investigation, Nastassia said.
She recently received a response to her requests to the Prosecutor General's Office and the Investigative Committee, petitioning to open a criminal case under the article for murder. Nastassia's letters were incorporated into the criminal case which had been opened on 12 August [against Henadz Shutau] for resisting law enforcement officers with the use of violence or with a threat of violence. The response specifies that "the establishment of the circumstances of injury and death of Shutau is one of the directions of the investigation."
"A legal assessment of the actions of persons involved in causing bodily harm to Shutau will be given during the investigation of the criminal case. Currently there are no sufficient grounds for initiating a criminal case under Art. 139 of the Criminal Code (Murder)," read the letter from the Central Office of the Investigative Committee.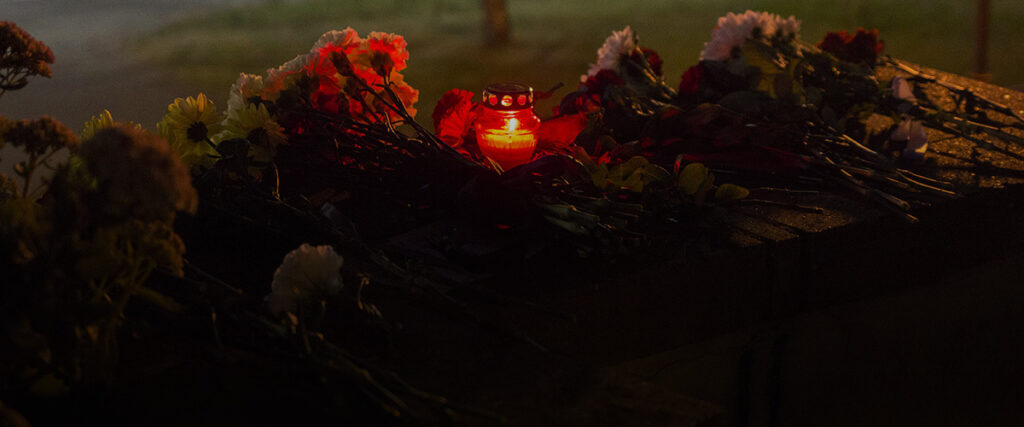 According to Nastassia, the case about resistance to police officers is being investigated in Minsk.
"Father is still a suspect in that case. It has not yet been closed due to his death," said the daughter of the deceased.
A friend of Henadz Shutau, Aliaksandr Kardziukou, is also a suspect in the criminal case, Nastassia told us. On 11 August, when Henadz was wounded, he was nearby.
"He was also transported to Minsk. So now everything is in Minsk. And the trial, as far as I understand, will also be held there," the girl said.
The last time the Investigative Committee commented on the death of the Brest resident was on 19 August. According to the Committee, during the protests on 11 August in Brest, Shutau was "unintentionally wounded in the head from a weapon, while he was attacking persons who were protecting public order."
On 6 October, at a meeting with the students of Brest State Technical University, the Brest region prosecutor Viktar Klimau, said in response to a question about Shutau that he had "committed unlawful acts":
"This case is being investigated. A second person who was with him at that time has been detained. He was hiding for a long time. At the moment, he has been identified, detained and is giving testimony. You will learn everything during the trial. (…) I can say one thing only: there was nothing heroic on the part of this person who, unfortunately, died."
Aliaksandr Vikhor, Homel. "This brutality and beatings just broke him, even though my son was healthy"
Sasha's [short for "Aliaksandr"] room is tidy and silent. His portrait stands on the table, in front of it, a memorial light. It has been burning for 60 days. Since the day when Sasha's family learned that he passed away. For 60 days his parents have been trying to understand what happened to their son in fateful August, when he got into a prisoner transport vehicle and three days later was found in the morgue. Two months have passed since a check was started by the Investigative Committee, but the reasons for the death of Aliaksandr Vikhor from Homel have not yet been named.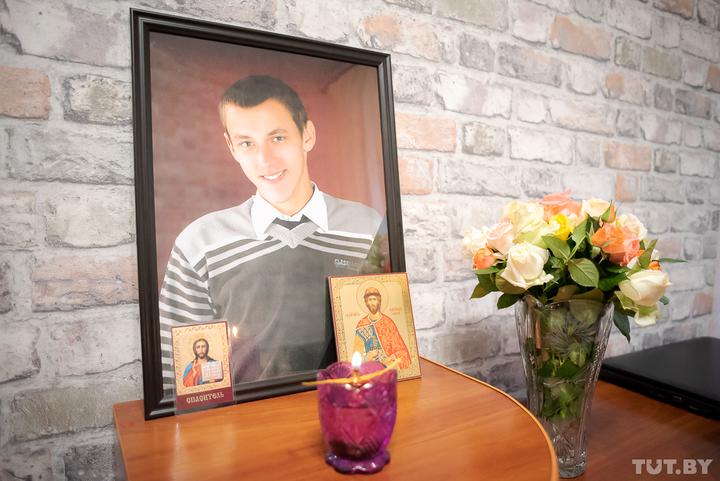 To recap, the 25-year-old Aliaksandr Vikhor was detained on the evening of 9 August in Savetskaya Street in Homel, as he was going to see his girlfriend. Aliaksandr's parents were looking for their son for three days: they called the police department and went there, they kept vigil until into the night at the pre-trial detention center and the temporary detention center. And only on 12 August, as they arrived at the police office to report him missing, it became known: Sasha had died on 11 August.
On the same day, the Investigative Committee announced its version of the events. Aliaksandr Vikhor was allegedly detained by police officers for active participation in an unauthorized mass event. By a court order, he was brought to administrative responsibility in the form of detention for 10 days. He was sent to a penitentiary facility to serve his sentence, where his health deteriorated sharply. The Homel resident was taken to hospital and died there. "The initial examination found no visible bodily injury that could have caused death," commented the Investigative Committee.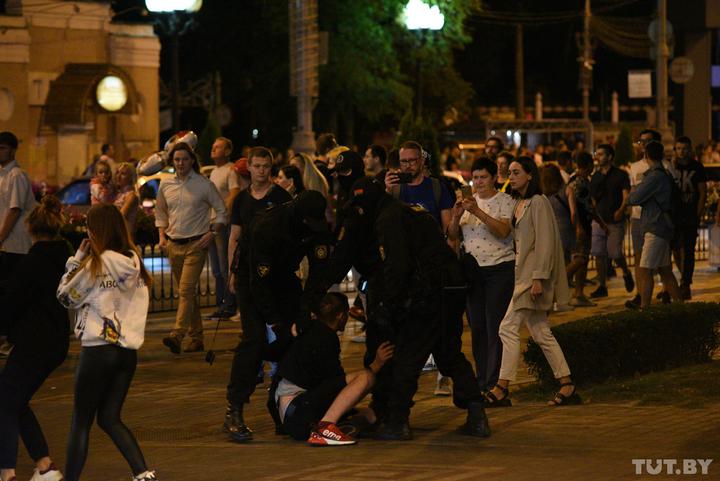 A day later, the investigator told the family that Sasha had died of a drug overdose. The parents were simply shocked: their son had never as much as smoked! Then, how could he have taken drugs in custody?! Outraged relatives filed a complaint and, as a result, as they say, "the investigator was disciplined and his superior apologized to us personally."
Then there was the funeral followed by days in a haze. After forty days, the pain has not gone away, but has apparently become even more unbearable, says Sasha's mother, Sviatlana Ryhorauna. But they must somehow live on. Rush to the cemetery after work. Then, to the empty apartment. And wait for a call or a letter from the investigator.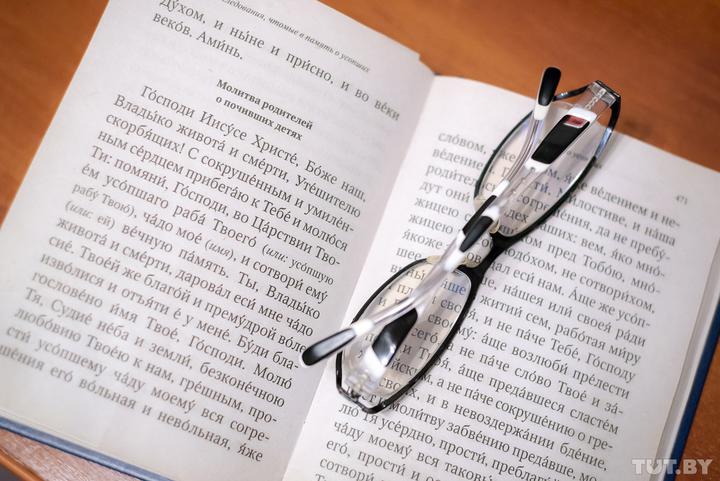 The Vikhor family have repeatedly petitioned the prosecutor's office to open a criminal case against police officers for unlawful actions against their son, but the only answer they got was to wait for the results of the check by the Investigative Committee. Its deadline has already been extended twice, according to the parents.
In early September, they were finally invited to the Investigative Committee.
"The conversation lasted three hours, and all this time I was asked some strange and quite irrelevant questions. When did Sasha go to kindergarten? Was he a good student? What did he do for a living? I wouldn't pay much attention to this if I didn't find out that later the investigator interviewed Sasha's acquaintances and friends and asked them something different: for example, if Sasha took any medications or pills," says Sviatlana.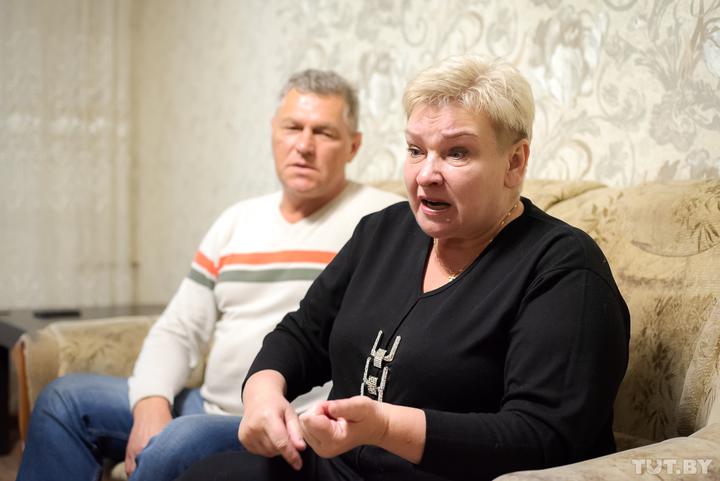 "By the way, neighbours told me that some guys came here, to Kastsiukouka [district of Homel where the family lives], as well," adds Sasha's father Aliaksandr Mikhailavich. "Almost the whole street was interrogated: what kind of family we are, whether we have committed any offenses, how they would characterize Sasha and so on. We understand that they were trying to dig up some dirt, but there is nothing to blame us for. We are a decent family and have wonderful children."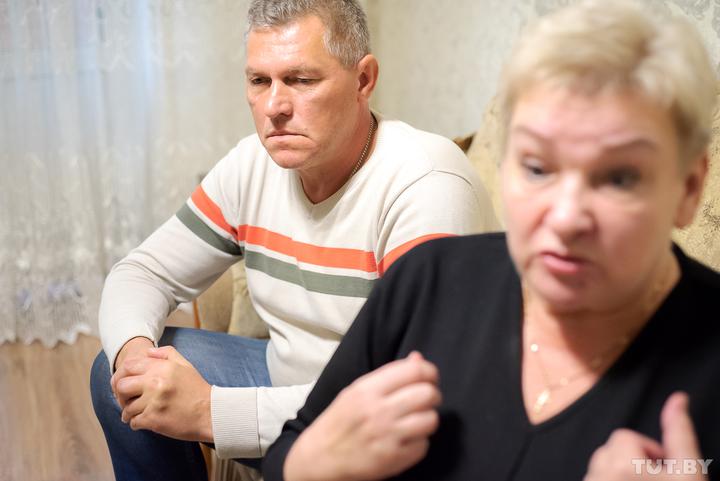 The Vikhors saw the body of their son at the morgue. They believe that Sasha had been beaten, while [forensic] experts offered a different explanation.
"They tried to persuade us not to look. Then they opened this bag a little. And then all of a sudden I opened it completely. They certainly did not expect this. Neither did they expect that I would begin to examine the body. I lifted his poor head: on its back there was a big dent, like a notch. They said they had performed a trepanation. I said, "Look, the ribs are moving." To which I was told that the ribs could have been broken during resuscitation. Bruises under the knees, on the lower back, on the shoulders, elbows and wrists were dismissed as postmortem lividity."
Sasha's relatives began to look for witnesses – the detainees who were with Sasha during the last days and hours of his life. They found someone who rode with Vikhor in the prisoner transport vehicle, someone who lay next to him face down on the floor of the police department for several hours, someone who was in court with him on the next day. All of these persons have already given evidence at the Investigative Committee.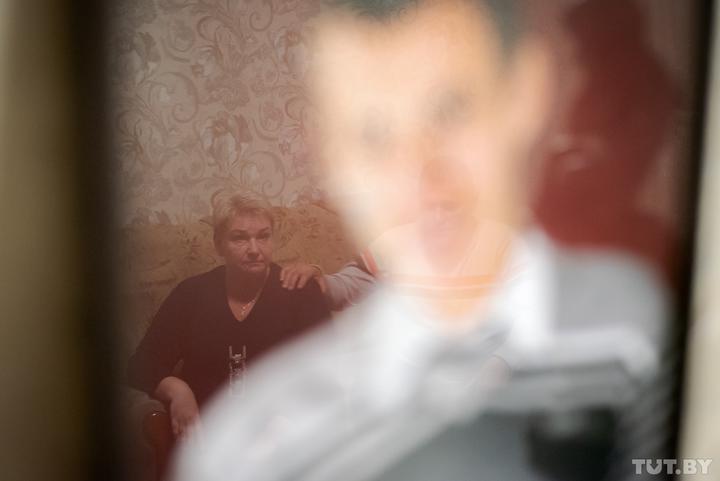 This is how the events were reconstructed from witness statements. Late in the evening Sasha and other detainees were taken to the Zheleznodorozhny district police department. The detainees stayed in the gym, while their paperwork was being processed all night. In the morning they were taken to the detention center – and Sasha was already unwell by then. He was lying all the time. One of the cellmates even offered him his bottom bunk. Witnesses also said that they had repeatedly told the officers that Sasha needed help, to which the officers recommended to wash his face with cold water. In the afternoon of 10 August, Sasha was taken to court. After the trial, his condition deteriorated. Witnesses recalled that he began to behave strangely, as if lost in time and space.
"They say he was in shock and kept repeating, "Guys, I'm not guilty of anything." I know my son: he believed that he was not guilty and could not understand in any way why he was tried. This brutality and beatings just broke him, even though my son was healthy. Two months before all that, he had passed a health check at the military registration and enlistment office and not a single doctor had raised any concerns," weeps Sviatlana.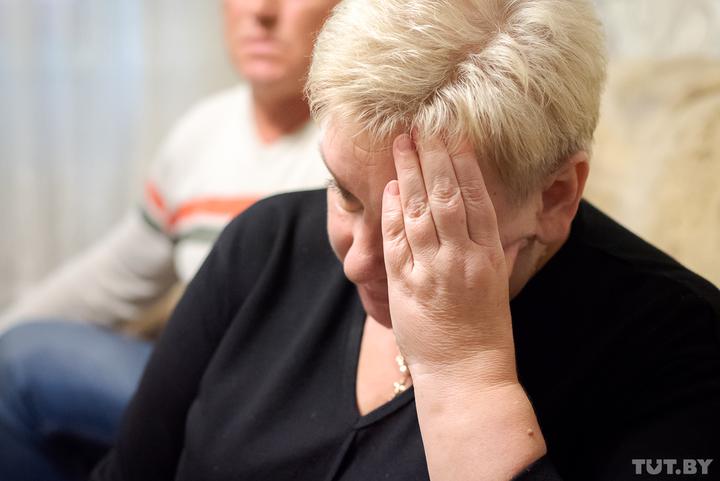 Back in August, at the funeral, one of the men who had stayed with Sasha in detention for some time, talked about his erratic behavior.
"After the trial, they were going to take us to the detention center, but they took us back to the police department gym. There Sasha got completely lost. He asked for money to buy a ticket and commute home, he tried to stand up and leave the gym. A third-year medical student from Turkmenistan who was sitting next to him said that Sasha needed to be taken to hospital for urgent help."
According to the witness, he told the police that Sasha needed help but no one called an ambulance.
"In the evening we were loaded into a van. Sasha was put into the "glass" [narrow individual compartment in a prisoner transport vehicle] and he just went crazy there. He screamed and called his parents. The police must have finally realised that something was wrong with him and "treated" him with pepper spray. Then they took us out but left him inside."