30 September 2020 | Infocenter Free Belarus 2020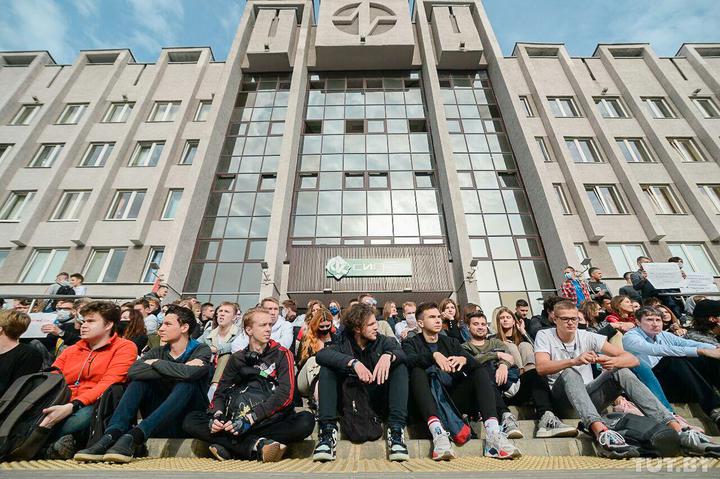 Today is the 53rd day of the protests. Let's follow the events together.
8:49 am Yesterday in Minsk, Bishop Yury Kasabutski, who is responsible for media relations, denied the rumours that the Belarusian Catholic Church is being used by external forces for political purposes in his night sermon.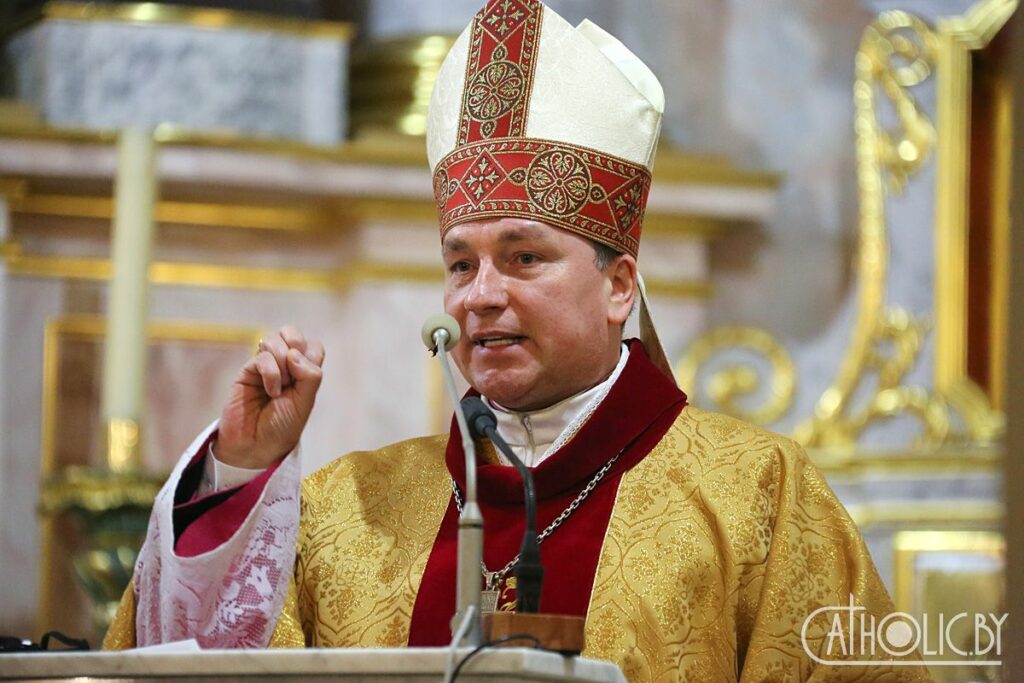 "Some media outlets published information that was reported by the head of the Russian Foreign Intelligence Service, Sergey Naryshkin. This is fake, this is absurd. He spoke about some sort of provocations, that the USA, the CIA and other organisations are trying to use the Catholic Church to undermine the state system in our country.
"This is simply absurd, it's fake information, lies, it has nothing to do with the truth… This information should be taken with a touch of irony," said the Bishop.
Yesterday, Sergey Naryshkin, director of the Russian Foreign Intelligence Service, said that the United States is escalating the situation in Belarus by using Catholics.
9:39 am Basketball player Yelena Leuchanka was arrested, Nasha Niva reports. According to the publication, she was taken to Minsk Lenin Police Department in connection with participation in unsanctioned mass events.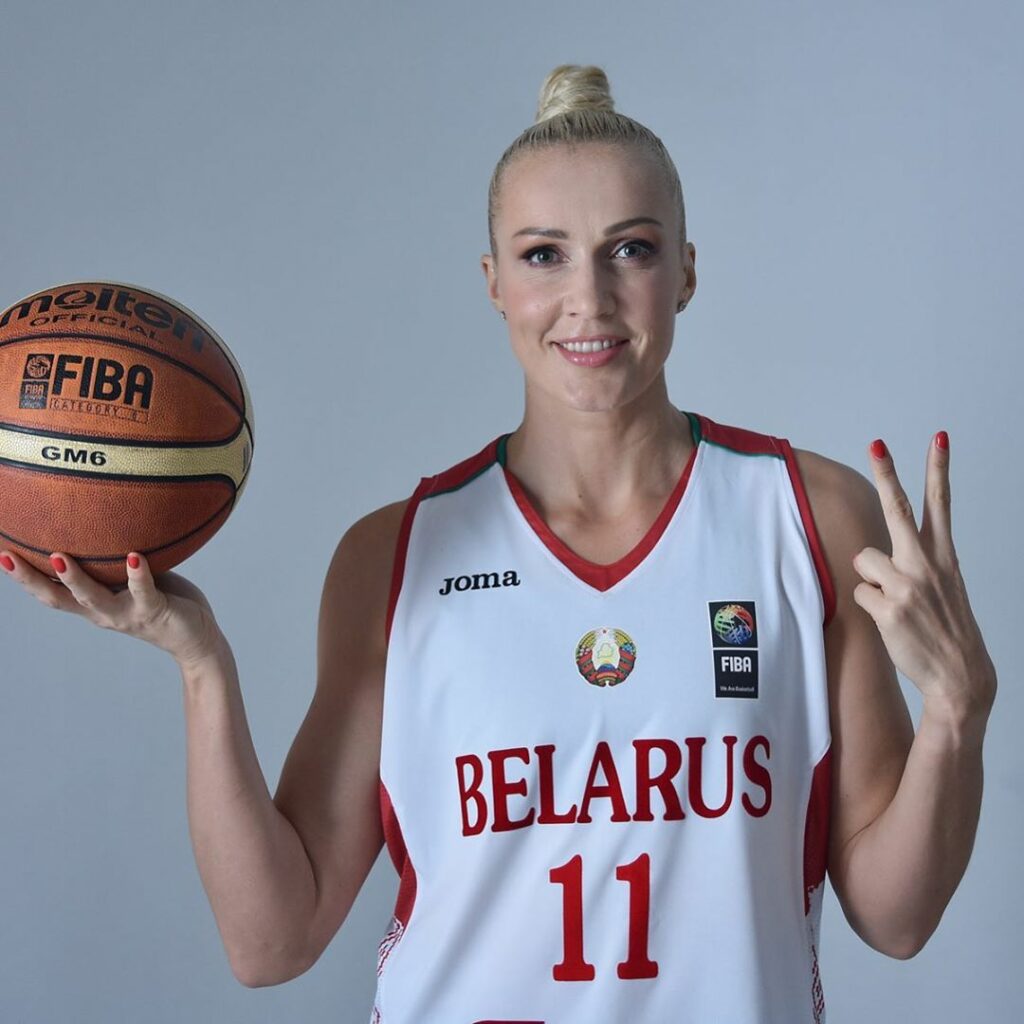 Leuchanka was detained at the airport before flying out for planned rehabilitation. Yelena's phone is currently off.
Yelena participates in the independent athletes' movement SOS BY, which has condemned violence used by the authorities. The authorities are putting constant pressure on the movement's participants.
10:10 am Vogue Italy, the most famous fashion and style magazine, published a series of portraits of 73-year-old Belarusian activist Nina Bahinskaya. The series is called "The Mother of the Belarusian Revolution". The photographer is Ivan Revyako.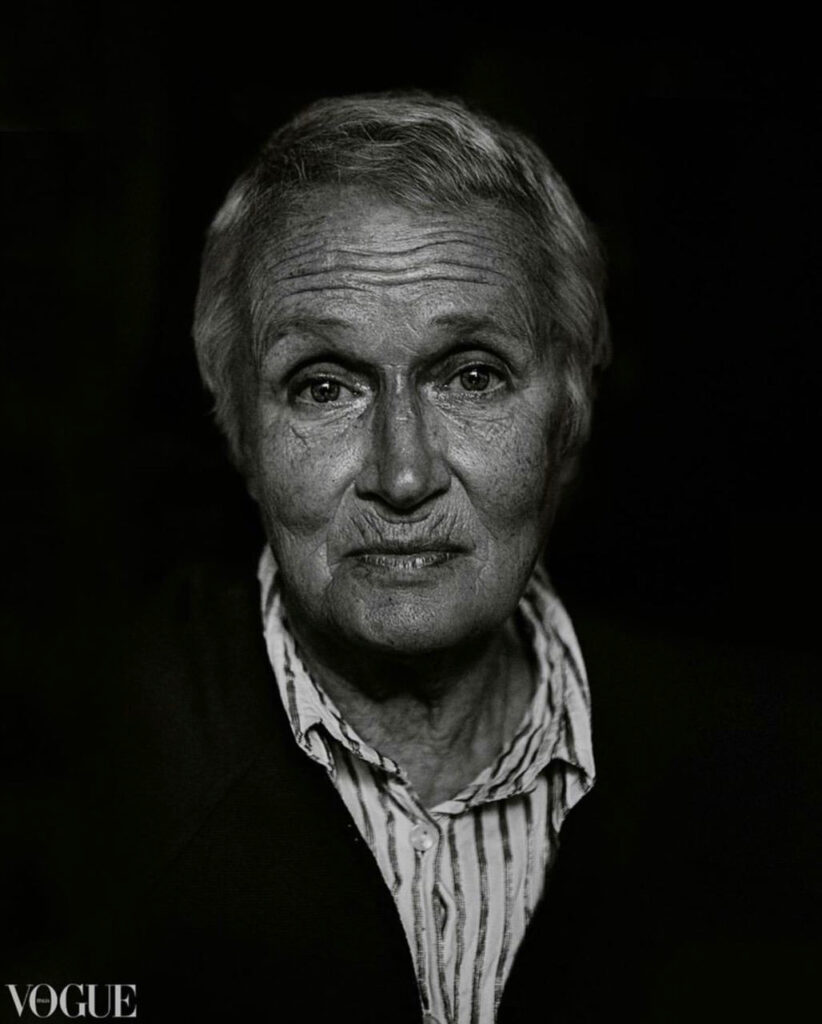 This was reported by a Belarusian contemporary art magazine, Chrysalis Mag.
10:14 am A petition against Lukashenko was brought to the International Criminal Court of The Hague.
The appeal was signed by more than 37,000 people from 102 countries of the world. The petition was created as a response to "the seizure of power in Belarus by Alexander Lukashenko by falsifying the elections on 9 August 2020, brutally suppressing peaceful protests, including the use of firearms, and mass repressions against Belarusians".
10:41 am ❗️ Angela Merkel announced that she does not recognise Lukashenko as the elected president, and confirmed that she is meeting Sviatlana Tsikhanouskaya, RIA Novosti writes.
10:56 am ⚡️ Yelena Leuchanka's lawyer says that the basketball player is currently in Akrestsina detention centre.
11:08 am Sviatlana Tsikhanouskaya has appointed representatives for human rights and economic reforms. They are Garry Pogonyailo, a well-known Belarusian lawyer, and economist Ales Alekhnovich.
"Lukashenko's regime is not only illegitimate, it no longer manages to accomplish its tasks. We cannot stand aside and watch the country sink deeper and deeper into crisis. Therefore, in order to ensure that a new election is held, I continue my work to unite all democratic forces of Belarusian society," said Sviatlana Tsikhanouskaya.
11:36 am Belarusian universities have started actions of solidarity with arrested students. Future medics were the first to come out in protest.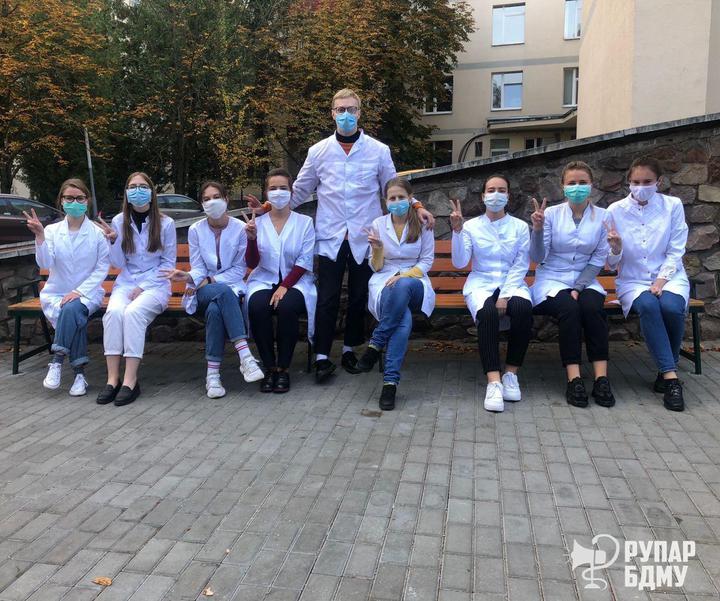 11:39 am Yelena Leuchanka's lawyer, Mikhail Kirilyuk, was not allowed to see his client. He filed a complaint.
11:43 am Docent Pavel Barkovsky resigned from Belarusian State University Department of Philosophy and Social Sciences. "I cannot put up with violence," he explained the reasons for his resignation in a video message.
11:46 am Free Athletes' Movement members have invited people to gather at Akrestsina detention centre, where famous basketball player Yelena Leuchanka is held, at 12 pm.
11:52 am "Yelena Leuchanka's arrest is yet another attempt to divide our forces, but I see her colleagues' reaction: they are all ready to stand for themselves, for her, for the new Belarus." – Tsikhanouskaya.
11:56 am The court dismissed the case against the Media-Polesye website for posing a "threat to national security". According to the prosecutor's office, said threat was the publication of an interview with Tsikhanouskaya's school teacher.
11:59 am Basketball player Yelena Leuchanka's trial will start at 12:00 pm. Initially, it was scheduled for 12:30 pm, but it was rescheduled – apparently, in order to prevent people from attending.
12:10 pm In Homel, in order to prevent students from gathering for a solidarity rally, construction equipment has been brought to colleges and universities. They say it's "for renovation work".
12:12 pm Uladzimir Laptsevich, the journalist who was covering the protests against Lukashenka's inauguration, was arrested in Mahiliou and detained for 13 days.
12:26 pm People have come to Akrestsina Street to support basketball player Yelena Leuchanka.
12:30 pm Students of the Belarusian State University of Informatics and Radioelectronics are being evacuated. This might be related to the rallies and assemblies of solidarity with detained students that have been planned for today at many colleges and universities of the country, as the evacuation is led by the police, not the Ministry of Emergency Situations.
12:36 pm In Minsk, exits from universities are being fenced to prevent students from holding the planned protest.
12:39 pm The court has issued a warning for participation in a "mass action" to Alexander Bogdan, an Orthodox priest from Hrodna. The reason is that he brought flowers to the museum building where Konstantin Shishmakov, whose death is associated with the protests after election fraud, had worked. During the hearings, the witnesses for the prosecution claimed that the priest had been "shouting slogans".
12:44 pm Students of the Belarusian State University, the Academy of Arts, the Belarusian State University of Physical Culture, the Minsk State Linguistic University, and the Belarusian State Economic University have come out for rallies of solidarity.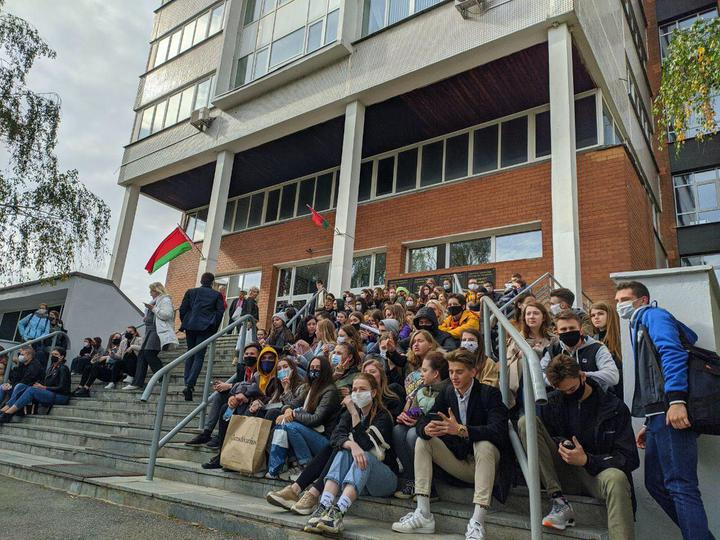 12:48 pm Angela Merkel says that Germany does not recognise the elections in Belarus and confirmed her intention to meet with Tsikhanouskaya next week.
"Seeing brave women going out into the streets for a free, corruption-free life, I can only say: I admire them," she said.
1:07 pm The decision made by the Ministry of Information is a sign that they are cleaning up the information field; we do not exclude that access to the site might be blocked at any time, said TUT.BY's Chief Editor Marina Zolotova when commenting on the revocation of the license.
1:11 pm Natalya Snezhkova, a mother of a large family whose children had been taken to an orphanage in Homel, has been fined by the court. After the trial, Natalya was taken away in a police car in an unknown direction, and her lawyer does not know where she is.
1:16 pm Lithuanian President Gitanas Nausėda: "Sanctions from Belarus weren't a surprise, but they do not frighten us, and even more so, they won't prevent the EU from making the decisions regarding Belarus that already had to be taken."
1:20 pm The riot police (OMON) have entered the territory of the Belarusian State Economic University, where the sit-in protest is taking place right now.
1:23 pm Chains of solidarity are emerging all over Minsk – now, as well as in the morning.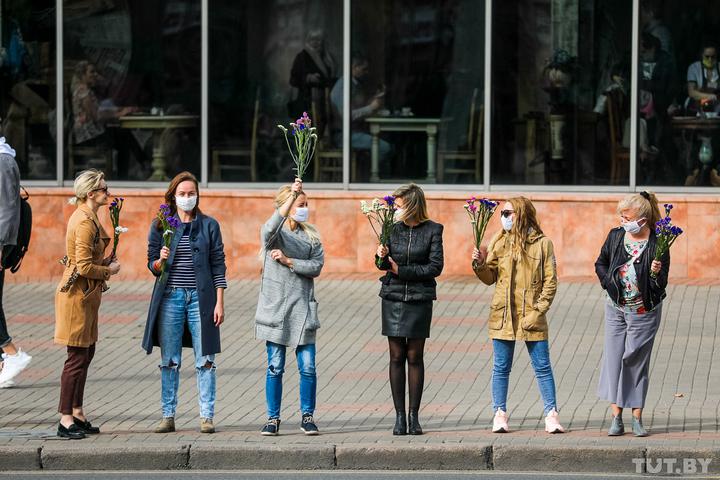 1:33 pm Three students of the Hrodna State University have been detained at the sit-in protest.
1:53 pm A red-green flag has appeared on the walls of the Lida Castle. While fixing the flag on the wall, some of the castle stone has been damaged.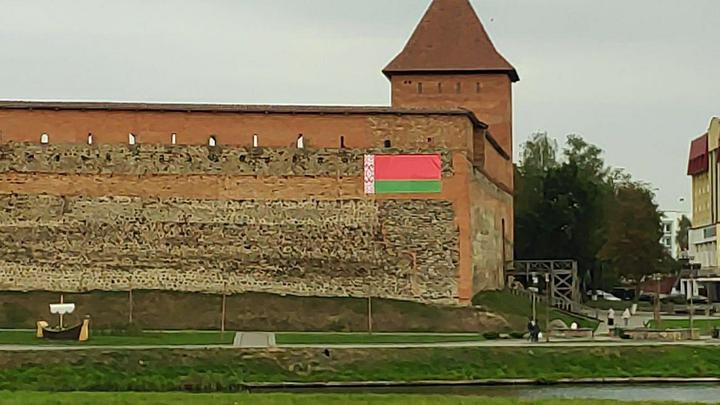 1:59 pm The First Vice-Rector and Vice-Rector for Academic Affairs of the Belarusian National Technical University are threatening the students in the protest assembly with calling the riot police.
2:12 pm The national debt of Belarus has grown by 29.1% since the beginning of the year, reports TUT.by.
2:27 pm Students of almost all Belarusian colleges and universities have come out for protest actions.
2:31 pm "You are showing the whole world how to preserve human dignity," said the Polish Ethnological Association, addressing Belarusians.
2:33 pm The deputies of the Minsk city council, Olga Tesakova and Pavel Bocharnikov, have announced that they are joining forces and say that they are going to record violations of citizens' rights.
2:35 pm Yelena Leuchanka, one of the best basketball players in the world, has been sentenced to 15 days of detention.
2:40 pm Viktar Babaryka's defense is challenging the extension of his detention period.
2:57 pm The Belarusian Association of Journalists (BAJ) demands that the Ministry of Information withdraw the claim against TUT.BY, and reminds the Minister of Information Igor Lutskiy about personal responsibility for illegitimate restrictions on freedom of speech, said the Head of the Association, Andrei Bastunets.
3:05 pm The Minsk City Executive Committee Interior Department has confirmed that tear gas was used to disperse protesters in Minsk's Lebyazhy district. Women with children were in the crowd.
3:09 pm Belarusian handball team "Vityaz-Leon" has refused to take part in today's Belarusian championship game against "Mashek" to express support for the arrested basketball player Yelena Leuchanka, who is a member of the Free Athletes' Association of Belarus.
3:16 pm Human rights watchdogs are demanding that the prosecutor's office report on investigations into torture in Minsk detention centres. According to the activists, it has been 1.5 months since witness accounts of torture appeared; however, there has been no information on the prosecutors visiting the detention centres.
3:34 pm At the Belarusian State University of Informatics and Radioelectronics, more students are joining the sit-in protest. The police have arrived.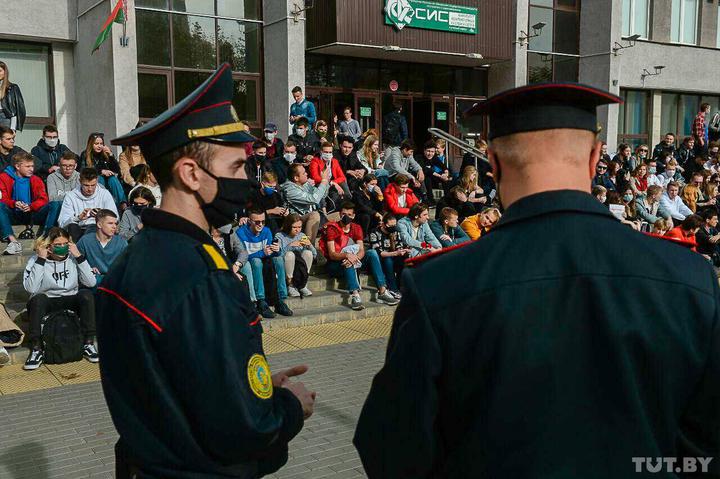 3:38 pm There have been reports that security officers, emergency services and bomb defusal experts have arrived at Gymnasium №17 in Minsk. It is not clear what exactly is going on there.
3:42 pm The Belarusian Sports Solidarity Fund is urging athletes to boycott all competitions to protest the arrest of basketball player Yelena Leuchanka.
3:43 pm Belsat Telegram channel has published photos of samizdat: independent news that are printed by volunteers in Minsk's residential neighbourhoods.
3:51 pm Andrey Verbitsky, a Mahiliou resident who received blows to the head during the dispersal of a protest, was taken from hospital to a temporary detention centre today. The police came for him in the morning. First, Mr. Verbitsky was taken to the district police office to draw up a protocol, and then to the detention centre to face trial.
4:01 pm A Minsk family who were displaying a white-red-white opposition flag at their window has had their window glass broken. The police who came to the scene did not look for clues or start an investigation.
4:12 pm According to TUT.BY, a man holding a poster with the words "Free Shklyarov" was detained near the Volodarsky prison in Minsk. He is now at the Moskovsky district police office. Political expert Andrey Shklyarov was arrested back in July and is still in custody. He is charged with organising mass unrest.
4:38 pm Ukraine has officially adopted a policy of using Alexander Lukashenko's name without mentioning any official title.
5:11 pm In Minsk, police are going door-to-door on Esenina Street. They are asking whether any of the neighbours are gathering in the common areas, playing music or using banned symbols.
5:28 pm Belarusian human rights watchdogs have recognised Pavel Peskov and Vladislav Estsianiev from Maladzyechna as political prisoners.
5:37 pm In the town of Baranavichy, a number of people were tried today. One of them was sentenced to 10 days in jail, while others were fined.
5:41 pm In Hrodna, an emergency services worker with 22 years of experience was fired for going to a polling station and trying to find out the actual results of the presidential election on 9 August. He was then arrested on the spot, and has now lost his job.
5:50 pm About 20 women wearing red and white clothes and carrying matching umbrellas marched through the streets of Minsk, starting at Dana Mall. The rally, which is titled "I'm taking a walk" after activist Nina Bahinskaya's defiant response to a riot policeman, has already become a tradition.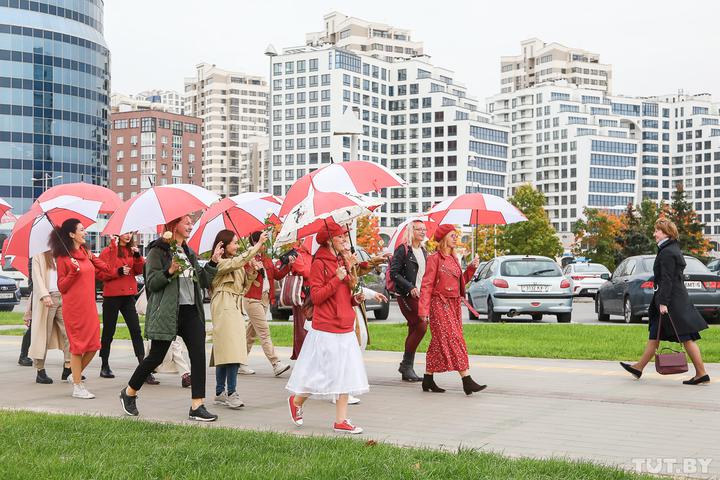 6:00 pm An employee of Viktar Babaryka's headquarters, Inna Kavalionak, was sentenced to 13 days of imprisonment for "unauthorized actions", reports the press service of Babaryka's headquarters. People without identification signs detained Inna on 28 September in Minsk. No more specific reasons for the detention have ever been stated.
6:08 pm The lawyer of the ex-presidential candidate Viktar Babaryka reports that in the detention ward, Viktar is being held in informational isolation: they don't even give him letters from his family.
6:24 pm Pavel Barkovsky, associate professor of the Faculty of Philosophy, has resigned from the Belarusian State University. "What's happening in our country is a totalitarian rule of violence and lies," he said.
The university has officially commented on the resignation, saying that "it's not about conscience, but about losing authority and broad support". The administration accuses the philosopher of organising strikes at the expense of educational processes and claims that Barkovsky's contribution to science is overestimated.
6:45 pm The lawyer Maria Kolesova-Gudilina reports that popular blogger and co-founder of the National Strike Committee Eduard Palchis has been located at the Akrestsina jail. He is under a 30-day detention.
6:46 pm Dancing also can be illegal.
A dancing flash mob of solidarity with detainees and prisoners was to take place in Gorky Park today. As soon as the first 10 girls came together in the park, a plateless minibus appeared and people in olive uniforms emerged. The girls scattered. The security forces made a video of the journalists and went deeper into the park.
6:53 pm Earlier today, BelAZ milling machine operator Yuri Mikhnevich was detained right at his workplace. Police informed that Yuri had been detained for participation in an unauthorised rally on 23 September. Now, he is in the detention ward in Zhodzina and will stay there until his trial.
7:05 pm Sviatlana Tsikhanouskaya's Telegram channel has changed its name. While the old name was similar to that of Lukashenko's channel, the new name will be just https://t.me/tsikhanouskaya.
"The people of Belarus and the international community have made their choice. I am no longer a candidate for the presidency and I am no longer running for elections. Neither I nor my team now need to compete with anyone to be heard. From now on, I will speak only under my own name, since this is the name you, dear Belarusians, have chosen in your bulletins. Thank you for all your support – every victory of ours comes thanks to you," she explained.
7:08 pm Sviatlana Tsikhanouskaya, on her official Telegram channel, called on Belarusians to testify about the violence they've suffered. "OSCE experts urge everyone who has evidence of violence against Belarusians to send it to them via the official address, [email protected]."
7:24 pm Italian Minister of Foreign Affairs Luigi Di Maio has called for maintaining contacts with Minsk and pointed out that "Russia should play a constructive role in the dialogue".
7:38 pm In Vitsebsk, Minsk, and other cities and towns of Belarus, people have started meeting in their neighbourhoods under white-red-white flags.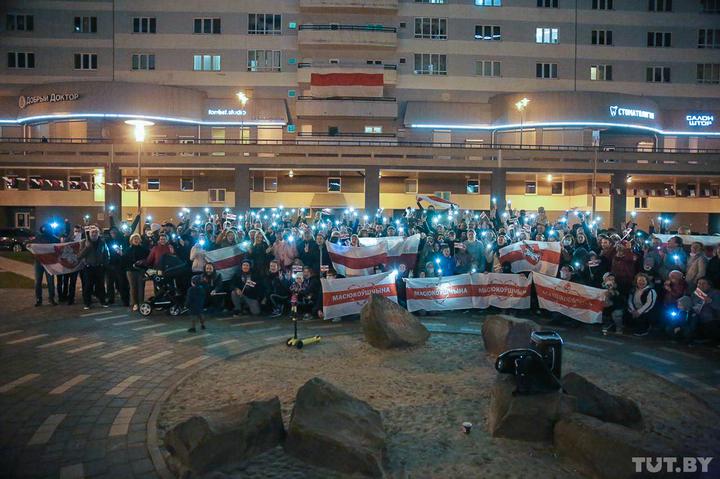 7:57 pm The bagpiper, Konstantin Kantsev, has been fined 270 rubles for participating in the March of Unity in Mahiliou.
8:00 pm A pro-government rally has begun in Minsk.
8:15 pm It is difficult to remain human in an atmosphere of violence.
The press service of the Ministry of Internal Affairs announced the arrest of a man who had beaten a 72-year-old pensioner for his political views. "He didn't like the old man's answer to a who-did-you-vote-for question."
8:54 pm In Victory Square, one of the participants of the pro-Lukashenko march commanded the others to line up on both sides of him and offered to lay flowers in memory of the "Great World War". After that, people stood for a minute of silence and sang the national anthem of Belarus. At the end, another participant turned to people with a request to "help with restoring order in the city" and people started to disperse.
9:00 pm Supporters of change don't need commands to get together and sing. Tonight, they have once again met in their neighbourhoods in a warm atmosphere of mutual understanding and support.

For example, this is what's going on tonight in Novaya Borovaya.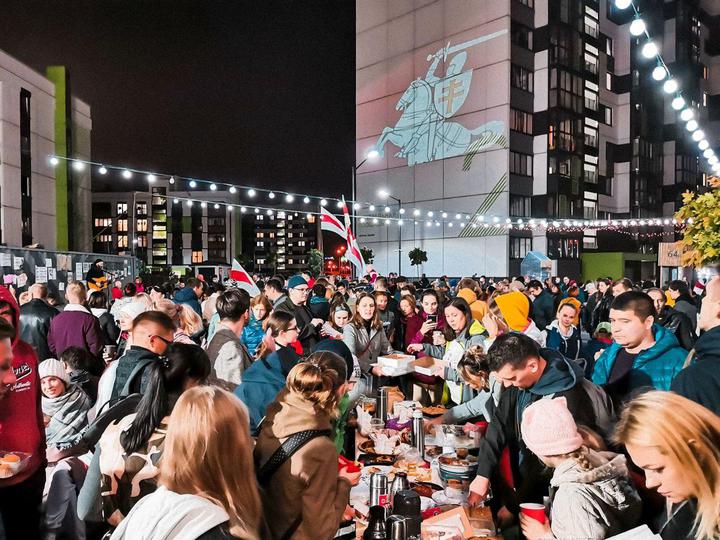 And here is the evening walk in Navapolatsk.