26 October 2020 | Infocenter Free Belarus 2020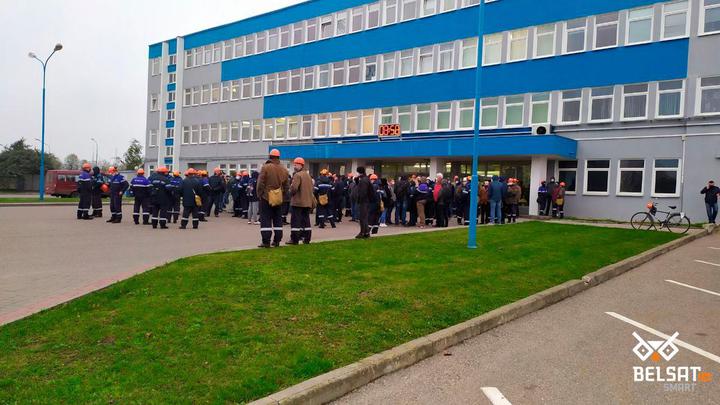 Good morning! The 79th day of the protests begins.
7:44 am Unidentified men in olive-colored uniforms attack people near "Grodno Azot".
People are being detained and forcibly brought back to the plant territory.
Only the workers who leave their night shift are left near the entrance now.
8:04 am Minsk. Workers at Workshop No 16 at the Minsk Electrotechnical Plant, named after Kazlov, started their strike. It seems they are the first in the country. The strike started at 0:10 am. They are in the plant now, simply talking.
8:12 am People are being brutally detained near the checkpoint at "Grodno Azot".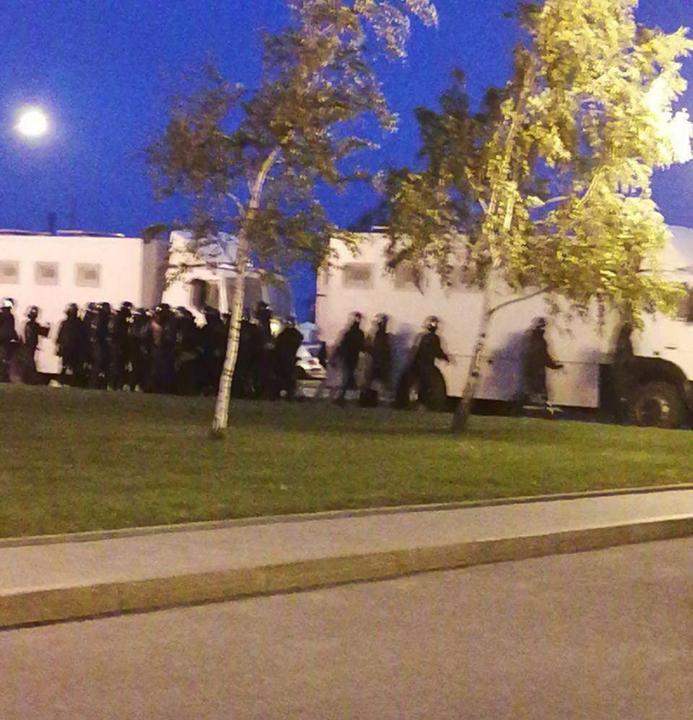 8:15 am BELSAT readers report that the workers are standing near the checkpoint at the entrance to "Grodno Azot". The morning shift refuse to take over from the night shift.
8:15 am Police and riot police are patrolling Minsk Tractor Plant. Riot police are chasing a young man who is carrying white-red-white flag.
8:19 am The workers of Minsk Tractor Plant (MTZ) and Minsk Heavy off-road Vehicles Plant (MZKT) started getting out to the plants' entry checkpoints.
8:21 am Military trucks are seen heading towards "Grodno Azot".
8:33 am A "sit-in" strike is taking place at the main building of the Belarusian State University. BELSAT readers: "Students are coming and coming. The first classes started at 8:15 am and the video was taken at 8:20 am. We estimate that over 200 people are there from the department. Year 3-4 students are not allowed in the University, as their classes start later, but they want to join the strike."
8:36 am Medical personnel of the Republican Scientific Practical Centre "Cardiology" are standing in the solidarity chain.
8:45 am People have gathered outside the forge shop at MTZ.
8:47 am Around 5-10 people have been detained at "Grodno Azot". The rest went home, went to other places or entered the plant territory. Riot police continue to patrol the area around "Grodno Azot", as reported by the strike committee leader, Yury Ravavy.
8:56 am A "road police officer" broke a car window of one of the cars at Pushkin Avenue.
9:03 am Students of the Belarusian State Medical University also joined the protest.
9:04 am Workers at "Ammiak-3" and "Carbamide-4" workshops have refused to take over the shift. People refuse to work. Riot police have entered the plant territory.
A white-red-white flag is displayed over "Grodno Azot" now.
9:08 am No workers are present at their workplaces at the Minsk Electrotechnical Plant.
9:11 am BELSAT readers report: "Grodno Azot" entrance checkpoint, the plant is in downtime, section supervisor and production manager came up to us and started talking and inciting us to join the morning shift, people refuse, so the management have left."
9:28 am The first day of all national strikes in the country.
It is reported that the strikes are taking place at MZKT, MTZ, "Grodno Azot" and the Minsk Electrotechnical Plant, "Atlant".
9:34 am MTZ: "Deputy head for ideological work and section supervisors prevent the workers from entering the workshops."
9:42 am More and more people are gathering at the "Atlant" plant and they are chanting "Long Live Belarus!"
9:43 am Students from Belarusian State University of Informatics and Radioelectronics (BGUIR) call for their colleagues to join the strike.
9:45 am Belkard stopped working in Grodno.
9:46 am "Brestenergo" has joined the strike!
9:46 am Students from the Journalism and Philosophy and Social Science Departments of the Belarusian State University have joined the strike.
Head of the Social Science Department called on the students to join their studies. The head of the Journalism Department called the students in for a personal talk. However, the students continue their strike and demand the discussion in front of everyone and not separately in the head's office.
9:47 am "BelKommunmash" workers have joined the strike. It has been reported that the engineers have also joined the strike. It is also known that many members of staff have taken a day off today.
9:55 am "Minsk Electrotechnical Plant: Workers at the main workshops and sections have stopped work. People are simply talking to each other," writes one of the readers.
9:56 am Several dozens of supporters have gathered near MTZ to express their support to the workers.
9:57 am "Belneftechim" has refuted the Telegram-channels reports about the strike at "Grodno Azot" OJSC.
9:58 am No one can be seen at the works No 9 of the Minsk Electrotechnical Plant.
9:59 am A riot police truck has been seen near MTZ.
10:02 am Students of the Belarusian State University of Informatics and Radioelectronics are taking to the streets, as reported by Peaceful BGUIR channel. Peaceful protests have started, and the students are gathering at the main entrance at Hikalo street.
10:04 am Students of the Minsk State Linguistic University are marching in a column in the building.
10:07 am It has been reported that the forge shop has stopped its operation at MAZ.
10:10 am "Atlant" workers are marching through workshops in a column chanting "We believe! We can! We win!"
10:13 am Workers at the business centre "Port" have also joined the national strike.
10:15 am Vasil Khamutowski, ex-goalkeeper of the Belarus national football team, has been fined by the court for taking part in peaceful protests and his support of SOS_by Independent Athletes Association.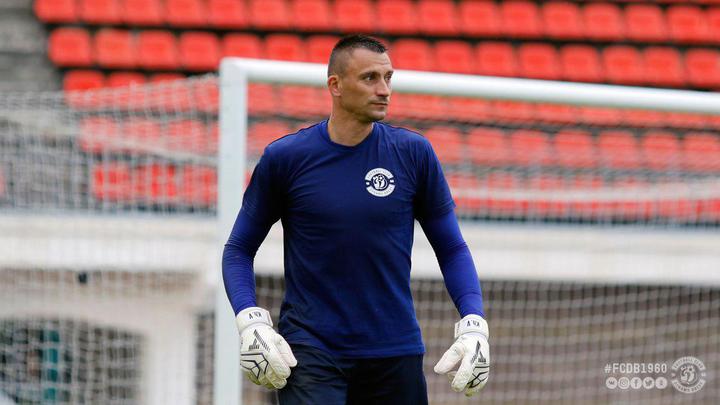 10:17 am Georgy Vershina, the First Deputy Chancellor of the Belarusian National Technical University came out to talk to the students asking them: "Do you have any claims against me?"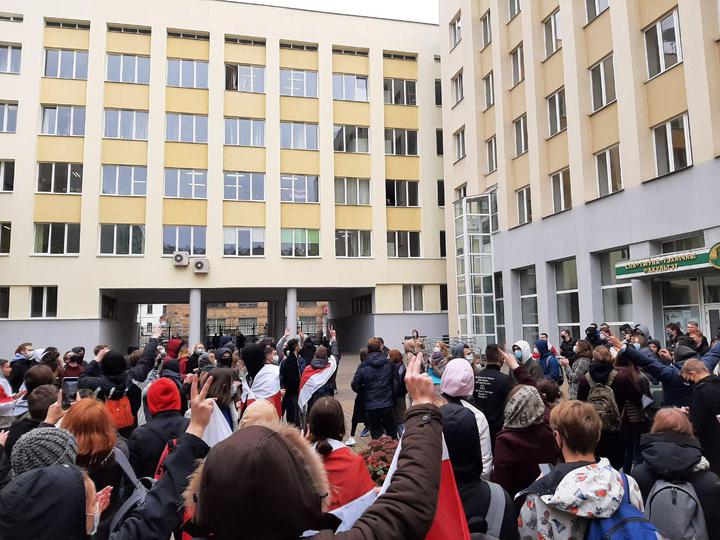 10:20 am A "sit-in" strike has started at the Belarusian State University. The students of the Mechanical Mathematics Department are sitting in the hall.
10:21 am Students from the Business Institute of the BSU are standing in a solidarity chain.
10:21 am Several people have been detained at the checkpoint entrance to "Grodno Azot" for taking part in an unauthorized rally, as reported by the press office of the Grodno Regional Executive Committee.
10:21 am A riot police truck and a green bus have arrived at the Tractor Plant.
10:22 am At this moment, MAZ workers are arriving at the plant checkpoint entrance.
10:24 am Students of the BSU Biology Department have started moving towards MKAD in a column.
10:25 am An argument occurred between the Department head and the students of the Belarusian State University of Informatics and Radioelectronics: "This honorable man wishes to say that he represents power. Well, you are not power." After these words, the students started chanting "We are the power!"
10:26 am Pizza delivery site Dominos.by, oz.by offline stores do not work. Foreign language courses "Streamline" canceled classes today.
10:27 am The employees of the mobile operator MTS took part in the action of solidarity.
10:28 am Students of the Minsk State Linguistic University are standing at the entrance to the University and chanting "Azot, we are with you!"
10:29 am Students are walking in a column along Independence Avenue.
10:29 am The construction workers of the "Lazurit" Construction Complex have also supported the People's Ultimatum and the National Strike.
10:30 am Sviatlana Tsikhanouskaya made her statement about the beginning of the People's Strike: "The deadline for meeting the requirements of the People's Ultimatum has expired. Today the People's Strike begins. This is the next step of the Belarusians' move towards freedom, an end to violence and towards new elections. The Belarusians know that on 26 October, the main job is to show that no one will work for the regime. Employees of state factories and enterprises, transport workers and miners, teachers and students began their strike this morning. I believe that private business, religious communities, cultural and sports figures and IT specialists will support the strikers and stop their work for a day. After all, the strike of state-owned enterprises is a lever of economic pressure. And the strike of private companies is a manifestation of solidarity between everyone and everyone is important. People who decide to go on strike need to see that they are not alone in their decision. Support the workers of MAZ, GrodnoAzot, MTZ, MZKT, Naftan, Belaruskali and other factories. After all, today they risk their personal freedom so that we achieve freedom for our country."
10:30 am The Human Rights Center "Viasna" reports of more than 20 detainees this Monday morning. The list of detained people is constantly growing. Buses with riot policemen and security forces are moving all over Minsk.
10:35 am The journalist Alena Dounar should be freed from the detention centre at Akrestsin street, following her 30 days of arrest. She should be freed at 5:00 pm.
10:36 am Protest marches have started in the Minsk suburb of Kolyadichi.
10:39 am It has been reported that a workers' meeting is planned at the MTZ entrance at 11:30 am. More workers intend to join the strike demanding the resignation of Lukashenko.
10:44 am "Belkommunashina" workers have joined the protest.
10:46 am Unidentified men in balaclavas jumped out of minibuses near Yakub Kolas Square and brutally detained at least one person who was walking on the pedestrian pavement.
10:49 am A protest is also taking place near the Nitrogen Industry Institute in Grodno.
10:49 am A column of students was dispersed near the Central Department Store in Minsk. However, a new column is gathering pace. BNTU students have now joined the column.
10:50 am Columns of students of the Belarusian State Pedagogical University and the Belarusian State University have united next to the BSU Chemistry Department. Students are chanting: "As long as we are united, we are invincible."
10:51 am The police blocked a road near the Central Department Store in Minsk.
10:53 am The chain of solidarity of students of the BSU Institute of Business was dispersed by the road police. They were threatened that next time they would be detained.
10:54 am The Deputy General Director for Production, Sergey Evtukhovsky, went out to talk with the striking workers at MAZ. He made a claim that the plant management never put pressure on the workers.
10:56 am A column of paddy wagons was seen on Independence Avenue, not far from the students' procession.
10:57 am A chain of solidarity with the striking workers is being built on Dzerzhinsky Avenue.
10:59 am The security forces have just arrived at Secondary School No 18 on Kalinin Street, as reported by the readers.
"We saw how people in masks took out about four schoolchildren with their hands behind their heads and put them in a paddy wagon."
11:00 am Medical students are moving towards the city centre.
11:04 am Two thirds of workers at the Electrotechnical Plant named after Kazlov are on strike, as reported by the workers.
"We support our elected president, Sviatlana Tsikhanouskaya, and demand immediate resignation of Lukashenko," said the plant's activist Aliaksandr.
11:03 am One of the students' columns was dispersed by the riot police near the Belarusian National Technical University.
11:13 am Alfa-Bank InSync. Mobile bank is not working.
11:14 am Students from the Journalism and Philosophy Departments at BSU are standing in a solidarity chain in support of those detained earlier. At least fifty people are holding white-red-white flags at the Journalism Department.
11:14 am Two or three persons have been detained. They were in the solidarity chain at 119 Dzerzhinsky street, in Minsk.
11:16 am Minsk Heating Network has joined the strike.
11:19 am Vladimir Karpovich came out to talk to MTS workers. He claimed that "everyone who is standing out there, has taken an unpaid day off today." He orders the managers to deal with their members of staff. The meeting was dispersed.
11:20 am Construction workers at Byada street in Minsk express their solidarity with the strikers.
11:21 am Junior management has taken the place of the striking workers at Grodno-Azot. The plant's management is planning a meeting. Workers report that the production process has practically been stopped at the plant.
11:22 am 43 shops are shut in the shopping centre "Korona-Zamok", more than half of the "islands" are not working.
11:22 am People in the solidarity chain on Kalvaryiskaya street have been brutally detained.
11:24 am It has been reported that 13 people have been detained early in the morning near "Grodno Azot": 12 workers and 1 supporter. Two workers have been released and brought back to the plant. In total, the human rights activists report the names of 38 people detained today.
11:27 am Students have gathered in the courtyard of the BSU main building.
11:28 am Pupils of the last year of the Secondary School No 6 are taking part in the sit-in protest.
11:31 am "ShapOchkin Pinsk", "Belaya Lisitsa" hairdresser, "Motylek" shop, "121" coffee shop, "Uspekh Kondidera" shop are shut in Pinsk.
11:36 am Brutal detention and dispersion of the protest have started near the Victory Square.
11:38 am The staff of the National Historical Archives of Belarus have also joined the National Strike.
11:38 am Students of the Grodno State University have joined the protest.
11:39 am A large solidarity chain has been dispersed by the riot police at Dzerzhinsky Avenue. Some people are reported to be detained.
11:41 am The Ministry of Education informs RIA News that the students' actions are sporadic and the educational process has not been disturbed in the country.
11:44 am Riot police have detained a woman and a girl near MTZ. A blue bus is patrolling the area along Daugabrodskaya street. People are being brutally detained at the bus stops near MTZ.
11:45 am The number of workers at "Grodno Azot" checkpoint entrance is growing and they seek support from the Grodno residents.
11:46 am Grodno School No 40 has joined the strike.
11:45 am Azot workers are being released from detention. It is reported that more than a hundred workers have been detained during early hours of the morning. They were held at the Oktyabrsky district police station. In the majority of cases no detention protocols are being drawn.
Two production units have not been handed over to the morning shift and are being managed by the night shift production managers.
11:47 am Onliner CEO Ilya Zhurovets and the developer, Aleksander Mokhorev, have been detained while in the solidarity chain at Dzerzhinsky Avenue. They have been taken to the local police station.
11:48 am Minsk Motor Plant (MMZ) has also joined the National Strike.
11:51 am TV channel Russia-24 broadcast Sunday's demonstration in Minsk. Accompanying the report was a video sequence from Nagorno-Karabakh.
11:52 am Men in road police uniform detain people at the Victory Square in Minsk. One car was stopped in the middle of the Avenue blocking all the traffic.
11:55 am Construction complex "Lazurit" is on strike.
11:56 am New Borovaya residents are marching in a column toward the city in support of the National Strike.
11:57 am A "Children's carers are against violence" poster has appeared on the fence of one of the nurseries in Oktyabrsky district of Minsk.
11:57 am It has been officially reported that a social services organization is on strike in Pruzhany.
11:59 am 50 people have been detained this morning.
11:59 am Students and teachers of the Minsk State Linguistic University are standing in a chain at the entrance to the University. Riot police are patrolling the area.
12:00 pm The Supreme court will hear the appeal by TUT.BY against the warning issued by the Ministry of Information. A preliminary hearing will be attended by the minister.
12:00 pm Employees of the state-owned petroleum company PA Belorusneft in Rechytsa have joined the strike.
12:02 pm Residents of the "Square of Changes" quarter walk out in a small column in support of striking students and workers.
12:08 pm A photo on the Internet shows children entering a police van near Gymnasium 18, a public school in Minsk. It is yet to be confirmed whether they are students of the Gymnasium.
12:10 pm A column of BSU, BSTU, and BSPU students is walking toward Minsk State Linguistic University.
12:11 pm To support the nationwide strike, popular blogger Maxim Pushkin has changed the name of his Telegram channel from "Working with Pushkin" to "DO NOT work with Pushkin".
12:12 pm Striking workers are gathering on the grounds of Minsk Motor Plant.
12:13 pm Viewed as extremist by the authorities, the Nexta Telegram channel has announced the Senior Citizen March, to take place today at 2:00 PM with a slogan "Striking and Belarussing!" Elderly ladies and gentlemen are kindly advised to keep a moderate pace. They will be accompanied by a team of medical personnel.
12:15 pm More and more solidarity chains are emerging across the country. People are forming lines near factories and universities and in the streets.
12:18 pm Students have gathered in the lobby of Minsk Gymnasium 42, which shares the building with the BSU Law College. They are singing.
12:23 pm Students of Belarus State University of Culture and Art have begun a sit-in protest. Natalia Karchevskaya, the new rector of the university, tried to admonish the students and asked why they thought they were the majority. In response, the students suggested asking those who had voted for Lukashenko to raise their hands. Karchevskaya was the only one to raise hers.
12:24 pm The A1 mobile operator employees have joined the strike. The company's press service comments:
"A1 does not limit is employees in the execution of their constitutional rights, including the right to freedom of speech or the right to express their position in any legitimate way, while their political opinions or civic stance as well as its public expression have no bearing on the employer's subsequent decisions about employee hiring, dismissal, or promotion."
12:36 pm Police minibuses have arrived in the BSU courtyard, where students of at least three faculties are on strike.
12:37 pm The OMON [riot police] is reported to have blocked Independence Avenue near Vostok metro station. The policemen are grabbing drivers and confiscating vehicles.
12:39 pm TUT.BY readers inform: "Two police vans with protesters arrived at the Sovetski police office. Without beating the protesters, the police are taking them inside one by one."
12:40 pm Deputy director for tutorial services at BSUIR called the police to curb the student strike. Until the police arrived, the students were locked in the college building, with all doors guarded by the college staff and toilets on the first floor also locked, according to @motolkohelp subscribers.
12:46 pm Students are scattering to escape the riot police in the BSU courtyard. Some form close-knit chains. Cars are honking in support. The OMON officers remain in the buses and keep circling around the BSU.
12:49 pm Against the backdrop of a new round of protests in Belarus, the Kremlin has refused to advise Lukashenko. According to Moscow, this would mean "intervention in another state's domestic affairs".
12:51 pm The OMON minibuses have left the BSU. The students have returned to the square chanting, "Get lost, you and your OMON!"
12:59 pm Thirty-two people have been detained at the entrance checkpoint of the Grodno Azot plant. City residents have gathered outside the police office to support the detainees. The police are dismissing them one by one after drawing up reports.
1:02 pm Pyotr Kuznetsov, political observer and founder of the Silnyie Novosti [Powerful News] website, has stated to Radio Free Europe that the regime is losing ground:
Russia's support is less unequivocal.
The People's Ultimatum has reinvigorated the protest, which had started to lose steam.
Reinforced with a new impulse and energy, the protests will be undermining the system more and more efficiently.
Even if the People's Ultimatum does not yield short-term results, it will not damage Tsikhanouskaya's reputation because the nation wants to protest and demands change.
1:05 pm BSEU staff locked window shutters on the ground floor to prevent students from attending the protest, but students used exits in adjacent buildings.
1:10 pm BSU students have blocked Leningradskaya Street.
1:12 pm A one-thousand-strong protest near the High Technologies Park has been dispersed with riot control weapons. Eyewitnesses report hearing loud pops, similar to those produced by flash-bang grenades.
1:15 pm The Grodno Azot workers who had been detained report being beaten with batons in police vans.
1:17 pm Residents of the Kaskad housing complex in Minsk have formed a solidarity chain across the road from Minsk Region Executive Committee Internal Affairs Directorate.
1:20 pm The administration of Minsk State Professional Lyceum 10 (vocational school specializing in construction engineering) is threatening students with "uncontestable expulsion" for joining the strike and trying to convince them that the white-red-white flag is the flag of "Nazis".
1:30 pm The subscribers of BELSAT and Nasha Niva Telegram channels are sending videos of schoolchildren in Minsk gathering in hallways during breaks and silently applauding in solidarity with the teachers who refused to falsify the elections and participate in protests.
1:35 pm The website of the National Bank of the Republic of Belarus has been down for an hour.
1:38 pm After the protest was dispersed with riot control weapons, the protesting High Technologies Park employees returned to their positions.
1:46 pm Students have blocked traffic near the Faculty of Law of the BSU, but the riot police have forced them off the road. The young people have formed a close-knit chain.
1:47 pm The ring road has been blocked near the High Technologies Park, resulting in a massive traffic jam.
1:49 pm Many police minibuses and a van have moved down Leningradskaya Street, where students are protesting.
1:54 pm Sviatlana Tsikhanouskaya's call to a universal political strike has signaled a new level of confrontation in the society, according to political scientist Valery Karbalevich. He views it as a way out of the deadlock – "We are witnessing the protests gain a new momentum", even though the strike isn't nationwide.
1:57 pm Elderly protesters are gathering near the Church of Saints Simon and Helena (the Red Church) to participate in the Senior Citizen March. A column of students is moving toward them from the BSU.
2:02 pm Minsk Tractor Plant workers are joining the strike with a slogan, "Stop the machine tool, stop the violence!"
2:04 pm Students and senior citizens at the Red Church are chanting, "Together we are strong". Several thousand people have gathered.
2:10 pm A column of BSEU and BSTU students is walking down Babruyskaya Street toward the Red Church.
2:12 pm The many-thousand-strong column of protesting senior citizens, medics, and students has begun its movement down Independence Avenue. Car drivers are honking in support.
2:17 pm The protest at High Technologies Park has been dispersed irreversibly. The riot police are clearing the forest.
2:30 pm The cars in Independence Avenue driving in the direction opposite of the march are moving very slowly and keep hoking. The head of the column has reached the GUM department store, while its tail is at the Tsentralny Movie Theater.
2:38 pm Vitebsk. VSMU students have walked out in protest. Four detentions have been reported.
2:45 pm Minsk. Some of the participants of the students and senior citizen's march decided against using the underground pedestrian crossing in Lenina Street and crossed the road in an undesignated area. Elderly ladies handled the traffic.
2:43 pm A march of senior citizens and doctors is gathering in Grodno. A group of 20 has set out from the central park down the street. Women are carrying bouquets of autumn leaves. Car drivers are supporting the protesters by honking.
2:45 pm Chats contain messages about detention of minors at Gymnasium 18 in Minsk.
2:50 pm The column is crossing Oktyabrskaya Square, as police vans are zeroing in on it in the streets of the city center.
2:56 pm The National Bank's website has been down for several hours. A group called "Cyber-Partisans" has assumed responsibility.
3:00 pm According to the Viasna Human Rights Center, today's detainee list already contains 150 people.
3:04 pm Readers of Nasha Niva Telegram channel @nashaniva report that upon their third arrival at the Hi-Tech Park, the OMON arrested at least seven people.
3:07 pm The number of protesters in the march of pensioners and students has reached 5,000 people. The column is moving from Oktyabrskaya Square to Victory Square. The protesters are chanting "Strike".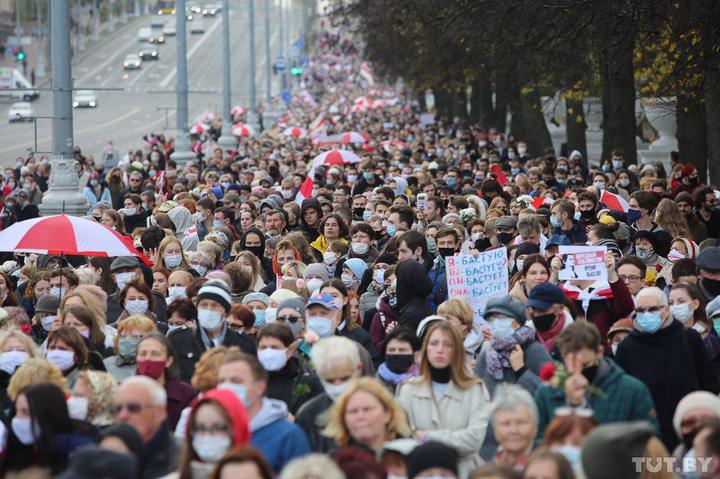 3:09 pm The traffic police have effectively blocked all traffic around Independence Avenue. All side streets are closed.
3:10 pm In Brest, about 30 people went out for a Pensioners' March. Elderly Brest residents with white and red flowers started at the TsUM department store and walked along Sovetskaya Street.
3:11 pm Eduard Akulin, a Belarusian poet, translator, and September magazine editor, was detained today during protests. Currently he is in the pre-trial detention center on Akrescina Street.
3:17 pm The protesters have formed a solidarity chain on Denisovskaya Street and Kazinets Street in Minsk.
3:22 pm The protester column has reached Victory Square and is moving further along. People are bringing tea and water to the protesting pensioners.
3:23 pm In Brest, the protester column is walking in the city and chanting, "shame on plainclothes [agents]", as reported by Belta Telegram channel @belta readers.
3:27 pm Minsk Kozlov Electrotechnical Plant workers reported that "at about 2:30 PM, a spontaneous rally took place, with about 50 people gathered". The trade union representatives met with the workers.
"We agreed to meet with the company management at the exit at the shift change, and discuss the strike conditions," said one of the plant workers.
3:32 pm Grodno. The Pensioners' March has reached the Neman department store. The protesters sang the song "Mury" ("Walls"), and started dispersing. Passers-by and police listened to them sing, no one was detained.
3:35 pm What is known about the strike in GrodnoAzot at the moment:
• In the morning, about 200 people gathered to strike at the entrance. The security forces arrived and began to brutally detain the factory workers. Detainees were beaten with truncheons in the prisoner transporters, and addressed with insults: "What is it, bitches? You don't want to work?!"
• More than 50 people were detained. Most of them have already been released. They were interviewed and booked.
• Technicians at the Ammiak-3 and Karbamid-4 workshops started changing places with their colleagues after the night shift – some have been working for 19 hours straight already. The day shift refuses to replace their night shift colleagues. Several workers have been replaced by management since 4 out of 8 technicians at this workshop refuse to work.
• Workers, who are standing at the entrances and waiting for the order to stop production, were brought pizza and hot drinks by sympathetic citizens.
• The strikers are waiting for commands from the dispatcher and an order to stop production.
3:46 pm MZKT (heavy off-road vehicles manufacturer – Ed.) activists report that many workers have been on a work-to-rule strike since this morning – they are at work, but they are not doing anything.
People from the Investigative Committee were reported to come to the plant.
4:00 pm The protester column has reached Yakub Kolas Square, chanting: "Why are you sitting there? Go on strike!"
4:05 pm Minister of Education Ihar Karpenka claims that the student protest is taking on the form of open aggression, and will be suppressed by lawful measures.
4:14 pm A solidarity protest is taking place at the Minsk emergency hospital.
4:34 pm Onliner Telegram channel @onliner reports that the Interior Ministry press service confirmed reports that an OMON officer broke his leg while dispersing the protesters at the Hi-Tech Park.
"The situation is as follows: an OMON officer has a fracture, he is currently in the hospital. We are working to find out the details of what happened."
4:38 pm Zhodzina, BelAZ automobile plant. A girl who met workers leaving after the shift change while holding a placard saying: "Dad, if you work, they'll throw me in jail," was taken to the police station.
4:39 pm Minsk. The protesters, together with Nina Bahinskaya, are singing "Kupalinka" on Yakub Kolas Square. Few people have remained, most of the protesters dispersed.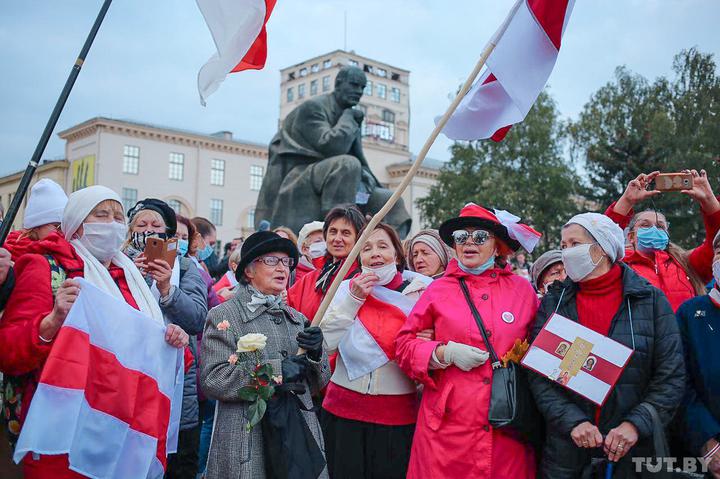 4:51 pm People are standing in a solidarity chain at the regional hospital in Minsk's Barauliany district.
5:00 pm The OMON has come to the march and closed all exits. People have reached the central market; four buses are parked there, security officials are filming the protesters.
5:02 pm A police car has come to the protesting medics near the Cardiology Center. No one was detained; the police told the protesters to put away their national symbols and then they may stand there as long as they want.
5:07 pm BELSAT Telegram channel @belsat readers report that the strike is taking place at the Minsk Electrotechnical Plant. One of the main workshops, on which the rest of the production depends, is stopped.
5:09 pm Minsk.After the OMON left, the remaining participants of the Pensioners' March formed a solidarity chain.
5:13 pm BelOMO (Belarusian Optical and Mechanical Association) workers started a protest against violence.
5:15 pm The Belarusian National Bank said that their website was unavailable due to an external DDoS attack.
5:18 pm The Interior Ministry said that tonight in Homiel, an explosive device-like object was found buried under a white-red-white flag. A video has been published, and a criminal case has been opened.
5:21 pm The European Parliament's largest party has prepared a list of 86 members of the Belarusian government, against whom new sanctions will be introduced. Among them are Lukashenko and his son Viktor, as reported by RIA Novosti.
5:29 pm Another solidarity chain has started forming near the Minsk Regional Clinical Hospital.
5:30 pm Riot police arrived at Yakub Kolas Square where people were standing in a solidarity chain. Due to riot police's lack of speed, people managed to flee. Riot police left, and people formed the solidarity chain again.
5:33 pm In Babruysk, railway workers joined the protest. Train whistles can be heard from three kilometers away, BELSAT Telegram channel @belsat reports.
5:42 pm In Grodno, the Power Plant No. 2 workers started a protest against violence.
5:46 pm As BelTA reports, the Belarusian KGB claims that the extremist actions of the protesters can be considered an act of terrorism. KGB Investigative Department Director Konstantin Bychek listed the following offenses:
• The attempt to seize the Central District Police Department in Minsk on 25 October;
• A booby trap was found hidden under the pole of a white-red-white flag on the night of 26 October in Homiel, which was supposed to detonate when someone attempted to remove the flag;
• 5 cases of the circuit on various sections of the railway being deliberately closed on the morning of 26 October.
5:51 pm Journalist Alyona Dounar was released from the Akrescina pre-trial detention center after serving 30 days of jail time.
5:54 pm "Viktoria Mebel" furniture factory (Dzyarzhynsk city) has joined the National Strike. The factory ceased production as of 25 October.
5:57 pm "Belshina" tyre factory workers report that the main entrance of the factory has been closed for unknown reasons. They assume this was done to prevent people from gathering in one place. People are being let out through other entrances.
6:00 pm According to human rights workers, so far over 200 individuals have been arrested on 26 October.
6:08 pm Pinsk. About 15 residents have gathered near the medical college and formed a solidarity chain. Some of them left after the police warned them of potential arrest. Once the police had left, seven people were still standing in a chain.
6:23 pm Dozens of people have gathered on Independence Square in Minsk. The square is being patrolled by police.
6:42 pm Minsk. People in uniforms have arrived on Independence Square.
6:43 pm Minsk. Riot police have set up a cordon near the Red Church and from Independence Square to the cinema museum.
No less than 100 people have advanced from Independence Square along the avenue toward Oktyabrskaya Square. Cars driving by are honking their horns.
6:49 pm The Volkovysk meat processing plant is on strike. Management locked everyone in the workshops, but one workshop refused to work and went on strike at their stations. As a result, finished products cannot be shipped. Workers sat in their workshops, drinking coffee and refusing to work, BELSAT Telegram channel @belsat reports.
6:57 pm Minsk. People who were unable to reach Independence Square have headed toward Oktyabrskaya Square. Near the GUM department store, arrests are underway. The store has closed its doors.
7:00 pm The Ministry of Internal Affairs reports that a Minsk resident who "doxxed" police officers online has been arrested. He turned out to be a 25-year-old state employee, who took advantage of his official position to gather and disseminate personal information on citizens online.
7:05 pm Minsk. Solidarity chains have formed on both sides of the avenue at Malinovka metro station. Periodically riot police approach on buses, and attempt to arrest people.
7:07 pm A young man who was defending women was arrested at the Pushkin metro station
"Near the Pushkin metro, at the Aljaksander Taraikouski memorial, there are buses with no license plates. There were three of us, middle-aged women together, when eight riot police jumped out of the bus and began rudely commanding us to disperse. A brave young man stood up for us, and for that he was by the mob of riot police, and taken away in the bus, possibly to the closest Frunzensky police station," – Nasha Niva Telegram channel @nasha_niva readers report.
7:08 pm Grodno. A solidarity chain has formed downtown.
7:14 pm Minsk. People are being arrested on Oktyabrskaya Square.
7:15 pm Brest. Near the TsUM department store, riot police have taken a man away in a tinted minibus, Binkol reports.
7:16 pm Minsk. Groups of protesters are gathering at Victory Square.
7:17 pm Minsk. Riot police have stopped putting up barriers on Independence Square. Traffic on the avenue heading toward Oktyabrskaya is moving again. The traffic police have left.
Some riot police on Independence Squarehave left in a bus along Sovietskaya Street.
7:17 pm Minsk. People are gathering at the intersection of Yanka Kupala Street and Independence Avenue, TUT.BY readers report. Cars are honking their horns and traffic jams are forming.
7:20 pm On the main street in Grodno, people have formed a long human chain. Riot police officers are nearby, Nasha Niva Telegram channel @nasha_niva readers report.
7:29 pm TUT.BY readers report that at about 6:45 pm, unknown individuals shot paintball guns at a solidarity chain near the Mogilevskaya metro station in Minsk.
7:30 pm Minsk. Riot police are taking detainees from the Oktyabrskaya metro station crossing.
There are reports of people being arrested on the metro platform.
7:35 pm Arrests are taking place near the Malinovka metro station in Minsk. A solidarity chain had formed there until buses with riot police pulled up and began dispersing everyone.
7:35 pm Minsk. People are standing in a chain on Yakub Kolas Square. According to Radio Free Europe, protesters have blocked traffic on Independence Avenue.
7:39 pm Minsk. A column of protesters is walking between Victory Square and Yakub Kolas Square.
7:50 pm Minsk. Riot police are not allowing people to gather at Pushkin station. BELSAT Telegram channel @belsat readers report that "violent arrests are taking place, 'vigilantes' without face masks are arresting people, there is a video of them strangling a man, they dragged him unconscious onto the bus".
7:51 pm 361 people are already on the arrest list, including a 16-year-old girl. She is at the Pervomaisky police station.
7:53 pm Mahilau. Riot police are arresting people on the streets. When asked on what basis they are doing this, they answer, "We are police officers".
7:57 pm Minsk. Buses carrying riot police are driving around the city. On Yakub Kolas Square, demonstrators were dispersed, and several people were arrested.
Despite this, people continue to build human chains all over Minsk.
8:01 pm Minsk. Residents of the Vostok microdistrict have gone out in support of the strike!
8:05 pm Grodno. People are sending in solidarity chains in several neighborhoods around the city.
8:08 pm Smorgon. Residents have once again come out to protest. Protesters are chanting, "Long live Belarus!" Nasha Niva Telegram channel @nashaniva's correspondent reports.
8:10 pm Minsk. Riot police continue to operate on Yakub Kolas Square. They have dispersed a solidarity chain near the Philharmonic Theater, and arrested several people.
8:15 pm Protesters have returned to Kolas Square and stood in a solidarity chain. Again, they are attempting to block the avenue.
8:18 pm Minsk. People are standing in a human chain along Dzerzhinsky Avenue. The cars are honking their horns at demonstrators.
8:20 pm "Stop, bitch!" There was a brawl at the Oktyabrskaya metro station. Eyewitnesses report that "a man in plainclothes ran in and began beating another man. People beat him away, and he ran away on the escalator, where people began beating him."
The video shows an unknown man attempting to grab someone on the metro, and the passengers' reaction.
8:21 pm Minsk. Both entrances and exits are closed at the Yakub Kolasa metro station, according to the metro Telegram channel.
8:25 pm Minsk. Several riot police have arrested a bicyclist near the Philharmonic Theater, throwing him onto the asphalt. The reason for his arrest is unknown.
8:26 pm Minsk. Solidarity chains have been shot at with paintball guns twice at the Grushevka metro station. The same also happened tonight at the Momo shopping center.
8:26 pm On 26 October, the Minsk Tractor Factory (MTZ) strike committee head Siarhei Dylevsky met in Gdansk with Lech Walensa, the first President of Poland. Walensa expressed support for Belarusians, is inspired by their courage, and wishes them success.
8:28 pm Minsk. Telegram channel readers report that people are being arrested near the Circus.
8:34 pm Minsk. Riot police have "cleaned out" the protesters on Yakub Kolas Square.
8:39 pm Minsk. Yakub Kolas Square metro station is now open.
8:43 pm Flagpoles are being dismantled near PVT. Today, protesters were dispersed here three times. At one point, a white-red-white flag was hung from the flagpole.
8:47 pm Minsk. Drivers are moving very slowly along Independence Avenue.
8:50 pm During Monday's protests, 273 people were arrested around Belarus, most in Minsk and Grodno, Viasna human rights center reports. The true number of arrests is likely much higher.
Overall, 15,700 people have been arrested around Belarus since the protests broke out in August.
8:52 pm Riot police chased everyone away from Yakub Kolas Square. Only Nina Bahinskaya is left; she was untouched.
8:57 pm Riot police tried to take Nina Bahinskaya's flag away. Passengers surrounded her and would not allow them to take it.
8:59 pm Aliaksandr Kozulin's grandson Vladislav was arrested on 25 October and sentenced to 10 days in jail.
Aliaksandr Kozulin is a Belarusian political and social figure and the former rector at Belarusian State University.
09:06 pm Homel. It has been reported that MTS (mobile operator) employees joined the protests on their lunch break, and were arrested by police. They are being held at the temporary detention center.
09:09 pm Human rights organization Amnesty International issued a statement urging Belarusian authorities to immediately release striking workers and end police violence against peaceful demonstrators.
"The Belarusian government must immediately end police violence against peaceful protesters. Authorities must immediately and unconditionally release all those arrested and facing administrative or criminal proceedings merely for trying to exercise their rights to freedom of expression and peaceful assembly, and their rights to form independent associations and to strike."
09:10 pm The first President of Poland Lech Walensa had some parting words for striking workers in Belarus.
He urged Belarusians to be ready for the Lukashenko regime to try its hardest to interfere with the national strike, but that they cannot be afraid of that, as it is important to understand: the workers' strikes are what will bring the people's victory over the regime closer to reality.
"The regime's job is now to make everything difficult for you. A trade union's registration on paper is not important. People are what is important."
09:15 pm Viciebsk. Four medical students who were singing "Peremen" ("Changes") at the university building were arrested. In all, over 50 people took part in the protest in the courtyard at Viciebsk Medical University.
09:15 pm Minsk. The famous Free Choir has appeared on Chernyshevsky Street.
09:20 pm Mahilau. Six people are reported to have been arrested. Information on five more arrests is being verified.
09:24 pm "Factory workers, we believe in you!" Chizhovki residents stood in a solidarity chain.
09:25 pm Musicians are with the people. "Lyapis-98", Brutto and Drezden stated that they will not perform in Belarus "until a full regime change has taken place".
09:27 РМ pm It is reported that five vehicles carrying riot police have left Uruchcha heading toward downtown Minsk.
09:30 pm Minsk. A solidarity chain has formed on the Logoisky Tract.
09:33 pm Berezovka. A solidarity chain has formed.
09:34 pm Krakow. Poles protesting stricter abortion laws greeted Belarusians fighting for their freedom.
09:35 pm Minsk. Brutal arrests are still underway at Pushkin metro station.
09:38 pm Minsk. Human rights defenders report that all of the men and some of the women who have been arrested at Zavodsky police station have been taken to Akrescina detention center.
09:44 pm Grodno. Video footage has appeared of one of the furnaces at Grodno Azot factory being shut down.
The night shift has begun at the factory, and the workers are on strike. Currently, management is pressing the buttons, but they are unlikely to continue all night. There are a few potential outcomes- either the third workshop (in which there is a chain reaction) will stop working, or riot police will force the workers to keep things going.
09:52 pm Minsk. Demonstrations of solidarity are underway throughout the city. Solidarity chains are standing in Kamennaya Gorka and Pritytsky Street.
09:54 pm Minsk. Cardboard cutouts of former Prime Minister Siarhei Rumas, Minister of Culture Yuri Bondar, and historian Ihar Marzalyuk have joined a solidarity chain in Pritysky.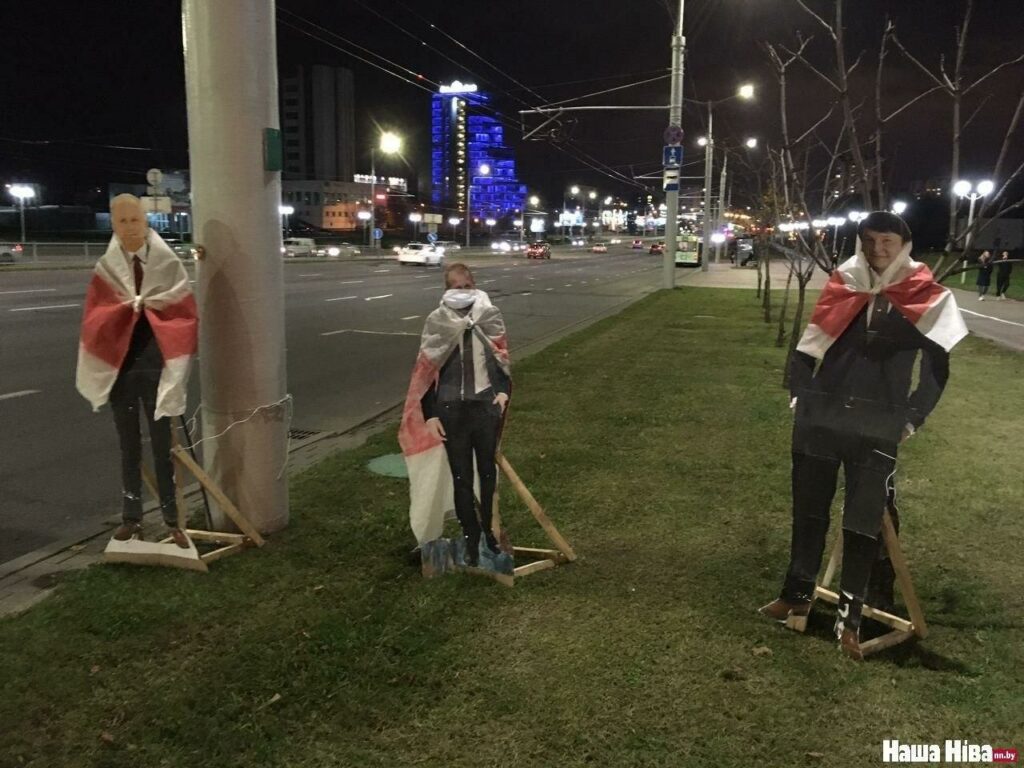 09:54 pm Demonstrations of solidarity with striking workers have been underway in Bolshevik, Berezovka, Rechitsa, Borovlyany, Kobrina, and Orsha.
09:57 pm Mahilau. After 26 days of administrative detention, physician Andrey Verbitsky has been released from jail. Local residents had been holding demonstrations of solidarity with him the entire time.
Verbitsky was injured while demonstrations were broken up on 27 September.
He was tried twice, and as a result, sentenced to 12 days in jail, followed by 14 days.
10:03 pm Zaslavl. Local residents are marching in a column around town in a show of solidarity with striking workers.
10:01 pm The number of arrests during Monday's protests throughout Belarus now numbers close to 300, according to Viasna human rights center, which has been stripped of its registration. Most arrests took place in Minsk. The volunteer-run "Spiski Zaderzhannih" ("Arrest List") Telegram channel has collected the names of over 450 individuals, and the list continues to grow.
10:22 pm Sviatlana Tsikhanouskaya summed up the first day of the national strike: "The national strike has only begun, and it will grow stronger yet".
10:26 pm "Novy Chas" journalist Larisa Timoshek was arrested in Slutsk, and fined 40 base units for allegedly taking part in protests at the Holocaust victims memorial, while covering events. She had spent three days behind bars.
10:28 pm Minsk. A solidarity chain has formed near the Sportivnaya metro station, and in the Lebyazhi microdistrict.
10:34 pm Viciebsk. In the Bilevo and Zheleznodorozhny districts, solidarity chains have formed.
10:35 pm Moscow. Demonstrations of solidarity with striking workers have been underway at the Belarusian Embassy in Russia's capital.
10:42 pm USA. Belarusians in San Diego have organized a demonstration of support for striking workers.
10:45 pm Khatezhino and Beloziorsk support the striking workers.
10:45 pm Brasilia. The Belarusian diaspora in Brazil has recorded a video message for their fellow citizens. They talk about how Brazilians use strikes as a way to defend their rights.
10:49 pm Grodno. Already, three shifts out of four are striking at Grodno Azot. If the morning shift joins the strike, then the entire factory will shut down.
10:53 pm Minsk. People have come out in Uruchche in a demonstration of solidarity.
10:54 pm Minsk. In Kalvariska, a solidarity chain has formed right across the street from the district administrative office and police station.
10:58 pm Rechitsa. It has been reported that six employees of Belneftekhim geophysical operations department, who went on strike today and recorded a video message against violence and impunity have been fired.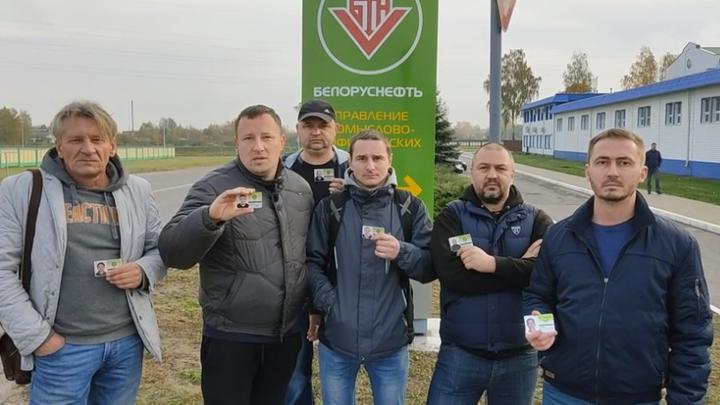 11:04 pm Minsk. A solidarity chain has formed on Aerodromnaya Street in the Minsk-Mir microdistrict.
11:08 pm Dzerzhinsk. Residents have been walking around the city with flashlights and a huge white-red-white flag.
11:12 pm Semkovo. Demonstrations of solidarity are underway at the Semkovo collective farm residential settlement. People are chanting in Belarusian, "We are together, we are many, we will win!"
11:19 pm On the Baranovichsky, Molodechensky, and Osipovichsky sections of the railroad, wire closures were noted on the rail circuits, which will shut down the entire train and tracks in use monitoring system. In the first half of the day alone, six such incidents were recorded.
11:30 pm According to human rights workers, so far 347 individuals have been arrested on 26 October.