23 September 2020 | Infocenter Free Belarus 2020

8:00 am "The situation in Belarus poses a threat of a new rift in our continent," French President Emmanuel Macron said yesterday at the 75th session of the UN General Assembly.
"The courage of the Belarusian people evokes global admiration," the French leader noted. "Their aspirations must be respected, and we support them with all our might."
"A national political dialogue is needed, and any outside interference is unacceptable," Macron said.
He reminded that together with German Chancellor Angela Merkel and European Council President Charles Michel, they negotiated with Russian President Vladimir Putin, and advocated the mediation proposed by the OSCE. "We see no other way. No to interference, no to guilty silence," the French President said.
8:05 am Anna Krasulina, a press secretary for opposition leader Sviatlana Tsikhanouskaya, spoke about why the former presidential candidate left Belarus. She stated this in an interview with the YouTube channel "And Grem Burst In".
According to Krasulina, Tsikhanouskaya had to leave the country after a conversation with the security forces at the Central Election Commission (CEC). The spokesman claims that the opposition leader was faced with a choice either to leave Belarus or her children will grow up as orphans. Krasulina pointed out that this is enough for her to understand the actions of Tsikhanouskaya, and added that in no case does she condemn her.
8:21 am Lukashenko's Women's Forum, which took place on 17 September at the Minsk Arena, cost 146.5 thousand rubles. According to TUT.BY the event and its organization were financed from the state budget. Information on public procurement for this concert appeared on the website of the National Center for Marketing and Pricing. The total cost of the concert was 146,483 rubles 24 kopecks (about 50 thousand Euros).
This money went to the maintenance of equipment and the Minsk Arena, as well as to pay the technical director (2350 rubles) and the operator of lighting (230 rubles). At the same time, the equipment and Minsk Arena, according to state procurements, were leased without charge.
9:16 am Alexander Lukashenko's press secretary Natalya Eismont has not yet announced the date of his inauguration, but promises to do it "closer to the time" of the ceremony, RIA Novosti reports.
"For now I can only say that closer to the time of the inauguration, we will definitely inform you," Eismont told RIA Novosti when asked to announce the date of the inauguration and comment on speculations on the Internet that the ceremony might take place on 29 September.
9:55 am "Nasha Niva" editor-in-chief Yegor Martinovich is being searched, said his wife, TUT.BY journalist Adarya Gushtyn.
Contact with Yegor Martinovich was lost when he went to walk the dog in the morning. An SOS signal came to the family's phone.
Afterwards Adarya Gushtyn said that their apartment is being searched. According to her, these events are related to the "Nasha Niva" article telling about a high-ranking police official who came to the prison cell of the DJs of Change in Akrestsin Street. The search is carried out by the Internal Security Service of the Ministry of Internal Affairs.
10:45 am On the morning of 23 September, people noticed a gathering of military personnel and equipment near the Palace of Independence. Independence Avenue is closed. So far no one was able to find out what kind of event is planned there. But the rumour already has it, this might be Alexander Lukashenko's inauguration.
11:10 am Employees, students and alumni of the Belarusian State University Biology Department turned to the state bodies of Belarus. They ask to stop detentions and violence against peaceful citizens, to release political prisoners and to declare the election results counterfeit.
"We express solidarity with all citizens who, through non-violent protest, contribute to the restoration of peace and law in Belarus," says the appeal. "Concerning the violation of our civil and political rights, namely: the right to fair and transparent elections, freedom of expression (Articles 65, 66 of the Constitution), the right to life and security, the right to protection from encroachments for the free expression of one's position (Art. 4, 10, 22, 25, 33 of the Constitution), we express our protest against the lawlessness established in our country to the state governing bodies."
The biologists defined their requirements as:
Prevent detention and violence against peaceful protesting citizens. Initiate the process of removing all law enforcement officers who used violence, gave and executed criminal orders and violated the oath given to the people of Belarus from their posts, and bringing them to justice. Until the end of an independent and public investigation, remove the Minister of Internal Affairs Yuri Karaev, as well as the Interior Ministry OMON units' leadership and personnel, from their respective duties
Release all political prisoners, cancel unlawful court decisions, pay compensation to all citizens who have suffered from the illegal actions of the security forces
Taking into account an unacceptable number of recorded violations and falsifications, invalidate the results of the 9 August election. Form a Central Election Committee, hold a new election […]
Recognize the Coordination Council as a body representing our interests in terms of the above requirements.
The appeal was signed by 624 people.
11:32 am In the Palace of Independence in Minsk, Alexander Lukashenko is taking over the president's office. This is his sixth inauguration. The event date was kept secret until the last moment.
11:50 am On the morning of 23 September, Lukashenko's press secretary Natalya Eismont did not name the date of the inauguration, but promised to do it "closer to the time" of the ceremony, RIA Novosti reported.
"Today we are witnessing an unprecedented situation. The outgoing President, who claims to have won more than 80 percent of the vote in the election, holds a special operation of self-inauguration. Under the protection of riot police, in an atmosphere of secrecy and concealment, in a narrow circle of hastily brought-in officials. Where are the jubilant citizens? Where is the diplomatic corps? To be honest, it looks more like a thieves' meeting for the coronation of another thief-in-law. It is obvious that Alexander Lukashenko is the president of the OMON and a handful of lying officials only.
"He had a chance to leave… And yet the blue fingers (a reference to Lukashenko's pre-election words, when he promised he would "not hold on to power until my fingers turn blue" – Ed.) did their dirty work," Pavel Latushko, the Coordination Council Presidium member, wrote in his Telegram channel.
12:04 pm According to the law "On the President of the Republic of Belarus," the oath-taking ceremony is to be broadcast on state radio and television. Today, soap operas were broadcast on state channels during the inauguration, which once again confirms that the inauguration process is deemed legally null and void.
12:09 pm A protest rally, so far not very numerous, is taking place near the Palace of Independence, where the "inauguration" took place. Detentions have started.
12:14 pm Yegor Martinovich, the chief editor of the Nasha Niva publication, was taken for interrogation incriminating him in a criminal case of "libel", allegedly, aimed at discrediting Alexander Barsukov, the Deputy Minister of the Interior Ministry.
12:16 pm Minsk IT-company Rozum Robotics announced a day off today in connection with "a festive event of inauguration". The chief editor of Nasha Niva newspaper told how he had spent time in the same cell with the head of the company Viktor Khamenkov after the presidential elections in 2006.
12:23 pm Dmitry Solovyov, the chief editor of the 6tv.by was detained in Mogilev.
12:30 pm The company "Fifth Element" announced that today's working day had been shortened to 13:00 due to possible interruptions in the work of public transport.
12:31 pm In Minsk, people are forming solidarity chains.
12:38 pm Moscow announced that they hadn't known anything about the upcoming Lukashenko's "inauguration", so Putin did not attend to the ceremony.
12:54 pm TASS journalist Artem Popov was detained near the Palace of Independence in Minsk.
12:56 pm Students of Belarusian universities protested outside their Universities' study blocks.
12:57 pm Military equipment is being brought to Independence Square in Minsk.
1.00 pm Spontaneous protests begin all over Minsk.
1.10 pm Zelensky: Negative developments in the country threaten to result in hundreds of thousands of refugees from Belarus.
1.18 pm TASS journalist Artem Popov was released after three hours of detention at the Central District police station in Minsk.
1.21 pm The United States may adopt its sanctions list on Belarus before the EU. Among others, it includes former president Lukashenko, as reported by the telegram channel Global Belarus.
1.40 pm Independence Avenue is blocked for the second time in a day.
1.52 pm Lithuanian Foreign Minister Linas Linkevičius commented on Lukashenko's "inauguration". "What a farce. Fake elections. Fake inauguration. The former president of Belarus is not getting any more legitimate. He is an illegitimate president and it is a fact and will have consequences. "
2.05 pm The chief editor of Nasha Niva, Yegor Martinovich, is a suspect in the libel case. He will spend the next three days in a detention cell, as announced by his wife, journalist Adarya Gushtyn, on Facebook.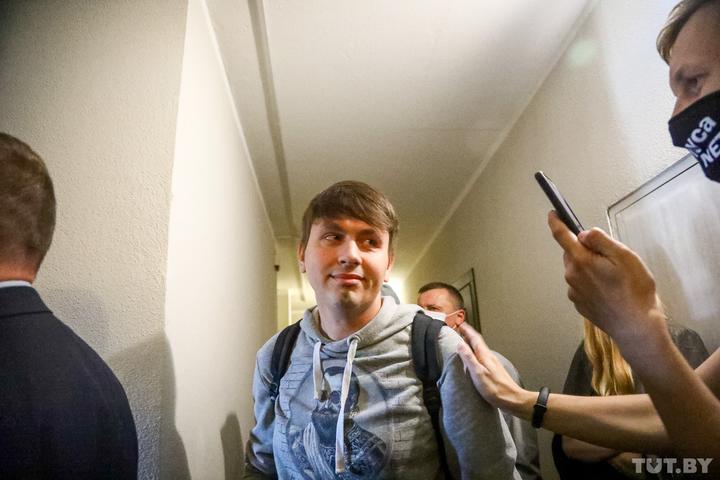 2.10 pm Slovak Foreign Minister Ivan Korchok said that his country does not recognize Lukashenko's legitimacy. "Slovakia supports the citizens of Belarus," the diplomat wrote on Twitter.
2.20 pm Estonian Foreign Minister Urmas Reinsalu said that his country does not recognize Lukashenko's legitimacy. "Lukashenka's inauguration is illegitimate and contravens all democratic principles. It is clear, he has lost his mandate. We call for new democratic elections so that the people of Belarus can choose the president they deserve. "
2.28 pm Germany does not recognize Alexander Lukashenko as the legitimate president of Belarus even after his inauguration, as stated by Steffen Seibert, the official representative of the German government.
2.30 pm Svetlana Tikhanovskaya announced that from today she does not consider Lukashenko to be the legitimate president of Belarus. "The so-called "inauguration" is a farce. In fact, Lukashenko has simply retired today. His orders given to the security forces are illegal and not subject to execution. Svetlana Tikhanovskaya called herself the only leader elected by the Belarusian people."
2.31 pm Trump's adviser Robert O'Brien called on the Belarusian authorities to immediately release US citizen and political strategist, Vitaly Shklyarov.
2.40 pm Mogilev freelance journalist Alexander Sidorevsky was released from the police station without drawing up a protocol.
2.46 pm Latvian Foreign Minister Edgars Rynkevics tweeted that his country also does not recognize Lukashenko as the legitimate president of Belarus.
2.59 pm Over 600 students and graduates of the Biology Faculty of the Belarusian State University signed a petition calling for new presidential elections.
3:02 pm Valeri Tsepkalo, ex-presidential candidate who had to leave the country ahead of the election, asked law enforcement authorities of Belarus to give legal evaluation to Alexander Lukashenko's inauguration.
3:18 pm A state TV news program showed Alexander Lukashenko speaking to the military, saying: "You are like those guys who stopped these scoundrels on our clean [streets, apparently – translator's note]… our Minsk… a month ago".
3:23 pm Witnesses have reported a water cannon in the streets of Minsk, moving towards the city center.
3:27 pm The Czech Republic does not recognize Lukashenko's inauguration as legitimate. Foreign Minister of the country, Tomasz Petřicek, tweeted the following:
"The elections in #Belarus were neither free nor fair. The result is therefore illegitimate, which is why today's inauguration of Alexander #Lukashenko is also illegitimate. Belarusian civil society has the full support of the Czech Republic. Belarusians deserve #freedom."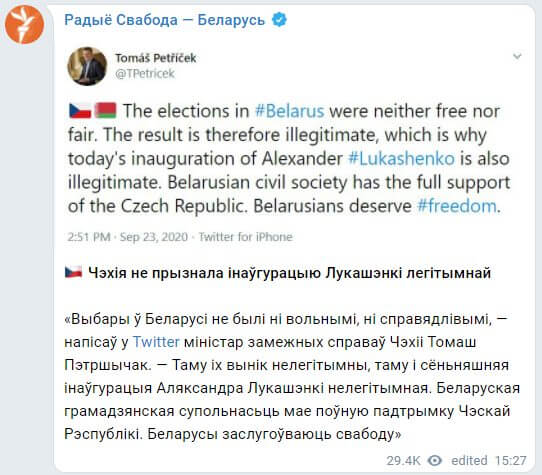 3:34 pm Jeppe Kofod, Foreign Minister of Denmark, tweeted: "Lukashenko confirms his own lack of legitimacy by arranging secret inauguration". (Twitter)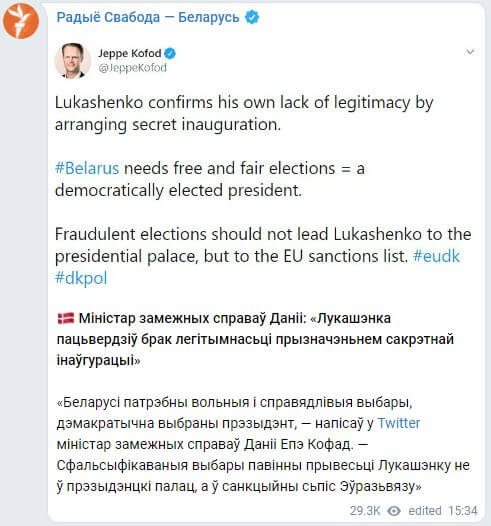 3:39 pm Employees of offices located in the center of Minsk have had their working hours reduced today, unexpectedly. Everyone is being sent home urgently.
At the main building of Belarusian State University, which is located at Independence Square, evening classes are hastily being moved to other days, justified by "security concerns".
3:48 pm A rally is being held at the Belarusian State University of Informatics and Radioelectronics. The demonstrators are chanting "Go away!", while the police are urging them to disperse.
3:54 pm Arrest has been lifted off PandaDoc's Belarusian accounts. This means that the company will be able to pay wages to approximately 250 of its employees, which was previously impossible due to the blocking of accounts. (Onliner)
4:01 pm Polish President Andrzej Duda and Italian President Sergio Mattarella discussed the situation in Belarus at a meeting in Rome. They stressed that it is necessary to hold free and fair elections in Belarus, so that the citizens themselves can choose their future.
4:06 pm Belarusian State University law students are holding a rally against the "secret inauguration".
4:33 pm The Polish Foreign Ministry commented on the inauguration in its Twitter account: "A president elected in an undemocratic election cannot be regarded as legally exercising power regardless of whether the swearing in is secret or official."
4:34 pm Two women have been detained in Minsk. They were standing in the center of the city, wearing crowns with the words "My president" written on them.
4:37 pm Grodno: The central square, where peaceful rallies usually take place, has been cordoned off. A patrol is on duty, no one is allowed through.
4:57 pm Minsk: special service vehicles are arriving at Independence Square. A large number of police detention vans are stationed on Victors Avenue near Minsk Hero City Monument.
5:02 pm The New York Times released a short film about Sviatlana Tsikhanouskaya. "I was a stay-at-home mom. Now I'm leading a revolution. My husband was jailed for daring to run against our president. So I ran in his place."
5:10 pm During a press conference in Uzhgorod, Ukrainian Foreign MInister Dmitry Kuleba announced that Ukraine is preparing to express its official position on Alexander Lukashenko's secret inauguration. He stressed that "Ukraine's previous view of the situation was very clear: the elections in Belarus were not free, fair or transparent."
5:28 pm The court rejected the complaint filed by lawyer Maxim Znak, and he will remain in custody. Today is the sixth day of Mr. Znak's hunger strike, which he announced to protest against illegal imprisonment.
5:29 pm The evening show at the Grodno Drama theater has been cancelled for the third time in a row for an unknown reason. The first time happened last Sunday, when the actors themselves decided to stop the play: they heard that some of their colleagues had been detained. Yesterday, head of the Grodno region Vladimir Karanik came to meet with the actors after another cancellation.
5:30 pm According to Olga Chemodanova, official spokesperson for the Belarusian Internal Affairs Ministry, the police are on high alert due to a number of calls for unauthorized rallies.
5:35 pm Multiple witnesses have told various press outlets that shops in central Minsk are closing very early, and university students were told to go home at 4 pm.
This hasn't happened before. During previous protests the authorities only closed metro stations in the city center.
5:40 pm In Minsk and other cities, police and security services are increasingly active. A large number of police and military vehicles are stationed in central Minsk.
Most law enforcement officers are located at Independence Square and Sports Palace on Victors Avenue.
5:58 pm Independence Square is completely cordoned off by security service officers with shields. Water cannons are stationed nearby. Independence Square metro station is closed.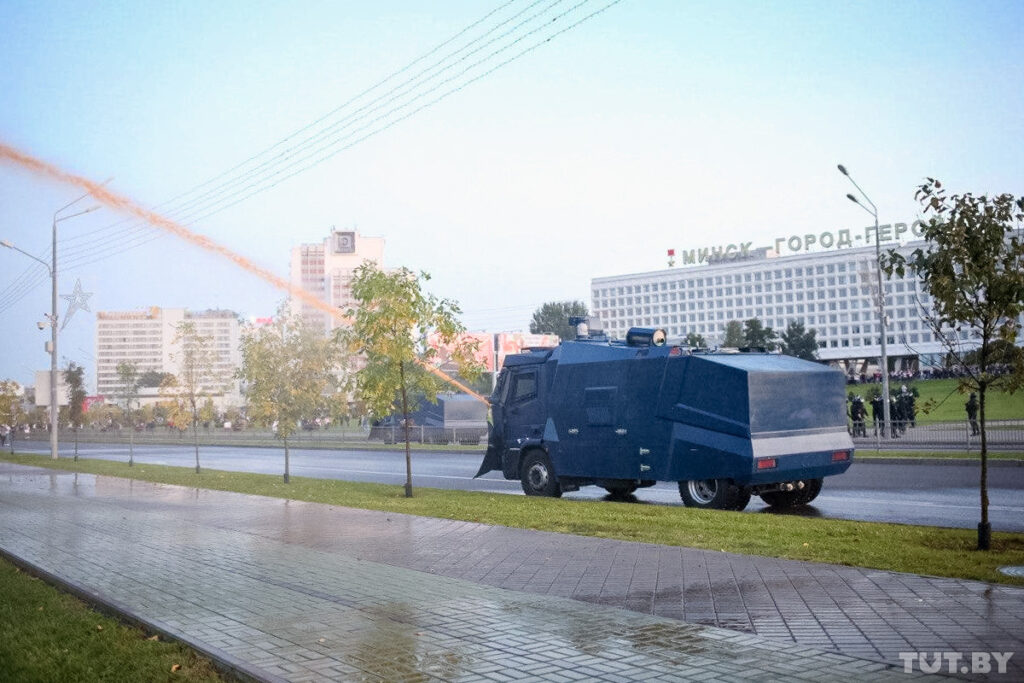 No protesters in sight.
6:01 pm According to Deputy Head of the Institute of CIS Countries Vladimir Zharikhin, the decision to hold Lukashenko's inauguration in a "secret" ceremony was due to the fact that the current government recognizes the tense situation in Belarus. "Lukahsenka decided to play into the exacerbating situation. Everyone thought that the inauguration would take place closer to the end of his current mandate, in November. What's more, there were statements indicating that following the inauguration, the Belarusians leader would not be recognized as legitimate. He decided not to drag it out until November, but instead, to hold the inauguration now, to see the reaction of those who were making these statements," he said.
6:05 pm The police cordon has been completely removed from Independence Square.
6:06 pm In response to a request from former presidential candidate Uladzimir Tsepkalo, the Belarusian Ministry of Justice stated that Lukashenko's inauguration took place in strict adherence to Belarusian law.
6:33 pm Former Belarusian Ambassador to Slovakia Ihar Leschenia, who was relieved of his duties after supporting peaceful protesters, has taken the initiative to start a movement called "I Am a Citizen". "For most Belarusians, the new authorities' legitimacy is merely a rhetorical question," he stated.
6:37 pm Minsk. Several young people are standing on the steps to the Galeria Minsk mall holding placards: "If you have 80% what are you afraid of?", "You'll never be our president". Two prisoner transport vans and two black minibuses are parked across the street.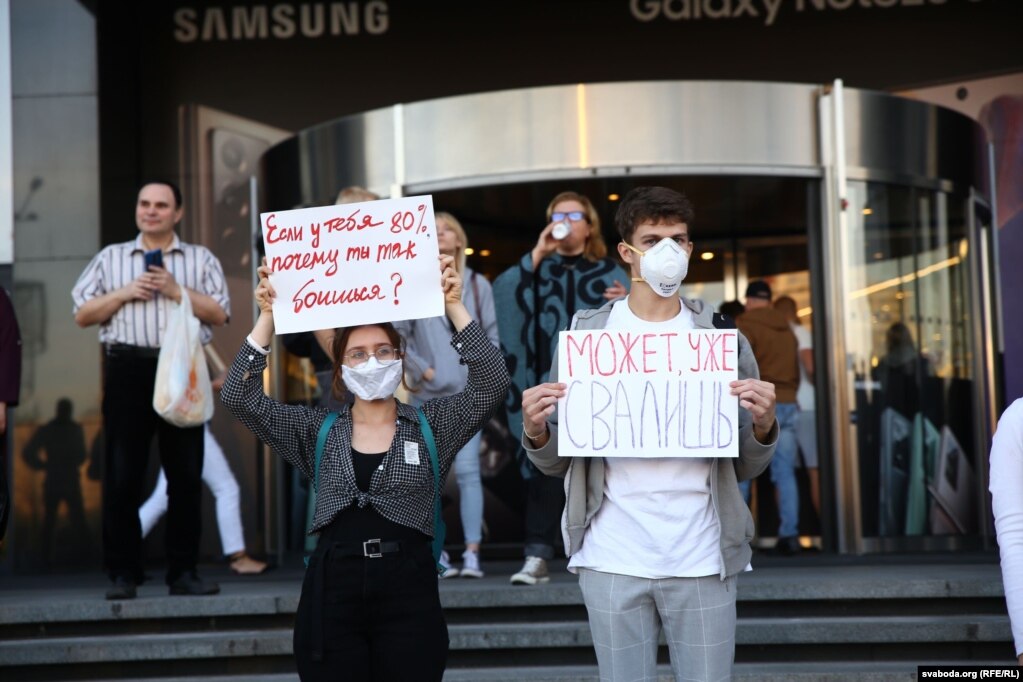 6:40 pm Minsk. People are heading from Freedom Square toward the Sports Palace in small groups with no flags. On Nemiga Street, cars honk at those walking alongside the Galeria Minsk mall. People raise their hands in a victory sign in response.
6:57 pm Several thousand demonstrators are moving along Victory Avenue toward the Minsk City of Heroes Stele monument. Some of them are wearing paper crowns and carrying white-red-white flags. They are changing "Long live Belarus," "Alex, let your beloved go," "Leave!" and other slogans. Some of the demonstrators are walking on the roadway.
People have also gathered near the Pushkin metro station, where 34 year-old Minsk resident Aliaksandr Taraikousky was killed while a peaceful demonstration was being dispersed on 10 August.
Meanwhile, BelaPAN reports that Lukashenko supporters have gathered on Independence Square.
7:09 pm Security forces in Minsk have cordoned off the Stele monument. People are going down to Victory Avenue. Arrests have begun.
A large crowd of people are also approaching the Stele, chanting "The emperor has no clothes," and "Leave!"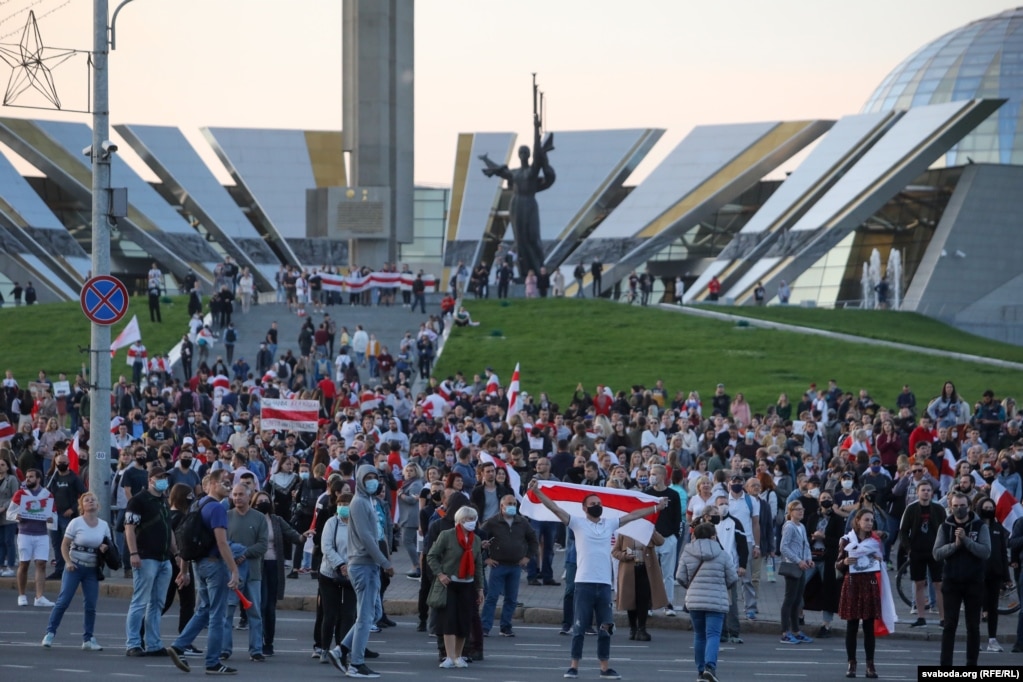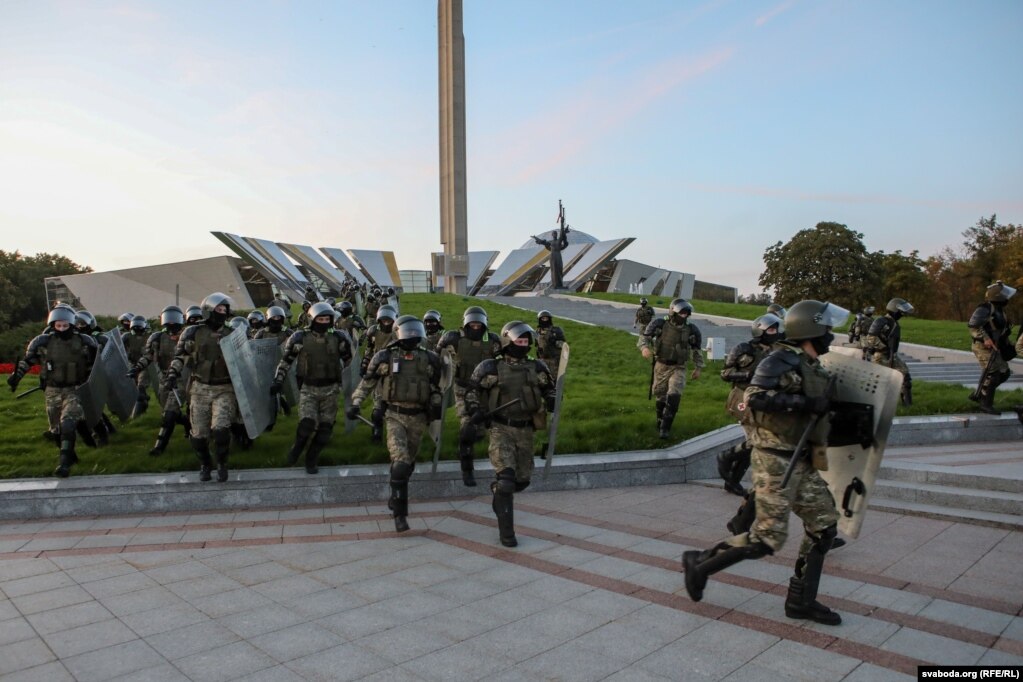 7:19 pm Near the Stele, people in black stand on one side of the sidewalk, and people in olive green on the other are driving protesters away. They are using water cannons with colored water.
8:20 pm Protesters in Minsk have dispersed around the city center, after police deployed water cannons with a paint inside. According to TASS's correspondent, most of the protesters were forced to retreat from Victory Avenue into nearby streets. But hundreds of protesters are not leaving downtown Minsk, and are continuing to gather in small groups along the street. Cars driving by honk their horns in support.
7:20 pm The Nemiga metro station in Minsk is closed to passengers who want to get in or out.
7:41 pm Italian President Sergio Mattarella has described the repression of peaceful protesters in Belarus as "extremely serious and unacceptable," and expressed hope that free elections will be held without outside interference.
7:43 pm The Coordination Council (CC) Presidium members Pavel Latushka and Volha Kavalkova, who are both abroad, have issued a statement on the CC website responding to Alexander Lukashenko's 23 September inauguration.
"This morning, Alexander Lukashenko appointed himself President of the Republic of Belarus. He did so enshrouded in utmost secrecy, under the protection of the riot police, with a small circle of his own voters. He took an oath of office on the Constitution. The same Constitution he wrote himself, and on which he himself has spit on, once again. And once again he has shown his own failings," they wrote.
According to members of the CC Presidium, Belarusians did not vote for Lukashenko in the elections. "That farce can hardly be called an election. Once again, Lukashenka has demonstrated his indifference to what the people think," they continued.
"But there is good news, too. As of today, Alexander Lukashenko is simply a citizen of the Republic of Belarus. He has stripped himself of any remaining shred of legitimacy. The people are clamoring for dialogue. But instead, they speak to us with riot police batons and from helicopter cockpits while clutching an automatic rifle," the statement pointed out.
The CC Presidium members are demanding that any investigators who have received allegations of crimes against ordinary citizens open criminal cases against the suspects and immediately begin investigations. If the high command of the Investigation Committee or Prosecutor's Office disagree, the CC urges investigators to draw up their resignations.
"We support all athletes who refuse to take part in athletic events. We support all cultural figures who have chosen not to participate in public events. We call on all honest journalists from the state media to declare their opposition to this illegal inauguration, both on live broadcast and otherwise. We call on all Belarusians to decisively say "No" to the lawlessness and lies," says the statement.
The Presidium members are ready to immediately begin negotiations with the Prime Minister of Belarus and Chairs of the Committees of the House of Representatives on setting a date for new elections and the interim management of the transition period.
"We call on the European Union, United Kingdom, United States, Canada, China, and Russia to be unequivocal in recognizing Lukashenko's illegitimacy and consider recalling their ambassadors for consultations. We suggest creating an international mediation group made up of high-level representatives from Austria, the United Kingdom, Germany, Russia, the United States and France with support from the OSCE.
We ask that at its upcoming session, the EU Council adopt a decision on sanctions against Lukashenko and any other individuals who took part in election fraud, violence and financing the regime," the statement continued.
In an interview to Russian TV channel Rain (Dozhd), Latushko expressed his opinion that Russia's participation in such a mediation group would satisfy its strategic interests. According to the former diplomat, with regard to support from the Russian authorities, "as of today, Lukashenko has become a de facto governor of the Russian Federation. I regret that I have to say that. But it is the case, as without support from the Russian Federation, Lukashenko simply would not be able to hold onto power," he stated. Latushko is a member of the CC Presidium.
7:48 pm On Victory Avenue in Minsk, security forces are violently dispersing protesters. Some have been wounded.
7:57 pm Arrests have begun in Vitsebsk. Prisoner transport vans and police buses are on Victory Avenue.
8:00 pm Mikita Mikado, the founder of PandaDoc, stated that his company has transferred 107,000 rubles to the Coordination Council bank account. "The company's accounts were unfrozen – of course that is good news. Now, we can pay the salaries to all our employees who are still in Belarus," he told TUT.by.
The company's main priority right now is freeing employees who are in jail. PandaDoc's attorney stated that the accounts were unfrozen thanks to the "dialogue with the investigators." The company has deposited 107,000 rubles into the CC's account. This is the amount of the alleged damages.
Following 2 September search of PandaDoc's offices, four employees were arrested. The reason given for their arrest was Article 209 of the Criminal Code (racketeering). Human rights activists have deemed the PandaDoc employees political prisoners.
Previously, PandaDoc founder Mikita Mikado launched a project providing financial support to former law enforcement officers.
8:02 pm After the police opened traffic on Masherov Avenue, drivers blocked it entirely. They have created a huge traffic jam and are honking their horns.
8:05 pm Nearly 50 people have been arrested in Minsk protesting Lukashenko's inauguration.
8:11 pm Near the Stele monument, traffic has been entirely blocked, and water cannons are being used to disperse protesters. TUT.BY readers reported hearing single gunshots.
Police continue to carry out selective detentions around the city. Some of these arrests are violent, batons and other specialized equipment are used.
Nonetheless, near the Nemiga metro station, protesters have once again managed to close off one of the streets. Several hundred people are gathered here, chanting, "Tribunal!"
8:32 pm On Victory Avenue in Minsk, pepper spray was used against peaceful protesters when some women tried to rescue one of the female demonstrators who was being dragged into a police transport vehicle.
Eyewitnesses have reported to BelaPAN that arrests are also taking place near the Pushkin metro station.
8:35 pm In an interview with the Slovak edition of Hospodarske Noviny, Ukrainian President Volodymyr Zelenskiy has stated that the events in Belarus will have repercussions for Europe, according to his press service. When asked if the situation in Belarus presented any danger to Ukraine, Zelenskiy responded, "That kind of crisis will have an effect not only on Belarus's neighboring countries. The repercussions will be felt throughout Europe. What we are seeing now is the greatest political crisis in the history of Belarus' independence. It is also related to economic and social crises, which have long been coming and now bring the consequences. If the situation is negative, that will result in no less than hundreds of thousands of Belarusian refugees in European countries," he stated. According to Zelenskiy, the best way to end the current crisis is by holding a fair presidential election.
8:42 pm Turkmen President Gurbanguly Berdimuhamedow has congratulated Alexander Lukashanko on his inauguration. Thus far, he is the only head of a CIS member state to congratulate Lukashenko on his illegitimate presidency.
9:04 pm Mikalai Karpiankou, the head of the Main Directorate for Combating Organized Crime and Corruption, who smashed the doors of a coffee shop a few days ago, is now seen hitting cars at the Nemiga intersection if they honk their horns.
9:06 pm Unregistered human rights center Viasna has updated its list of arrested individuals following 23 September protests. 52 names are currently on it, including people from Minsk, Brest, Mahiliou, Homiel and other cities.
9:56 pm Additional security units are being transferred to downtown Minsk. A TASS correspondent reports that additional convoys of trucks with security personnel are heading along Independence Avenue from the Uruchcha neighborhood. Six more army trucks were spotted near the Minsk City of Heroes Stele monument, where water cannons had been deployed earlier on Wednesday.
Traffic police partially blocked vehicles traveling along main thoroughfares. Riot police have taken control of some intersections in town, including Victory Square.
Nonetheless, protesters are also trying to block traffic in various parts of Minsk, and heading out into the roadway. Onliner.by reports that near the Nemiga metro station, they even attempted to stop a prisoner transport vehicle with detainees inside. According to eyewitnesses, police fired warning shots and used their batons.
TUT.by reports that the neighborhood near the Pushkin metro station also saw clashes between protesters and law enforcement. Bangs were heard, but it is still difficult to determine what they were from. Gas was used. People have scattered into nearby yards, chased by the riot police.
10:00 pm A representative of the US Department of State has stated that 9 August elections in Belarus "were neither free nor fair" and that the announced results were "fabricated and do not reflect legitimacy".
The State Department also added that despite today's inauguration, "the United States cannot consider Alexander Lukashenko the legitimately elected leader of Belarus".
10:19 pm Protesters have once again blocked traffic near the Nemiga station in Minsk. They are clapping and chanting, "We believe, we can, we will win!" and "Throw Lukashenko in the police van!" They have created traffic jams on both sides of the street.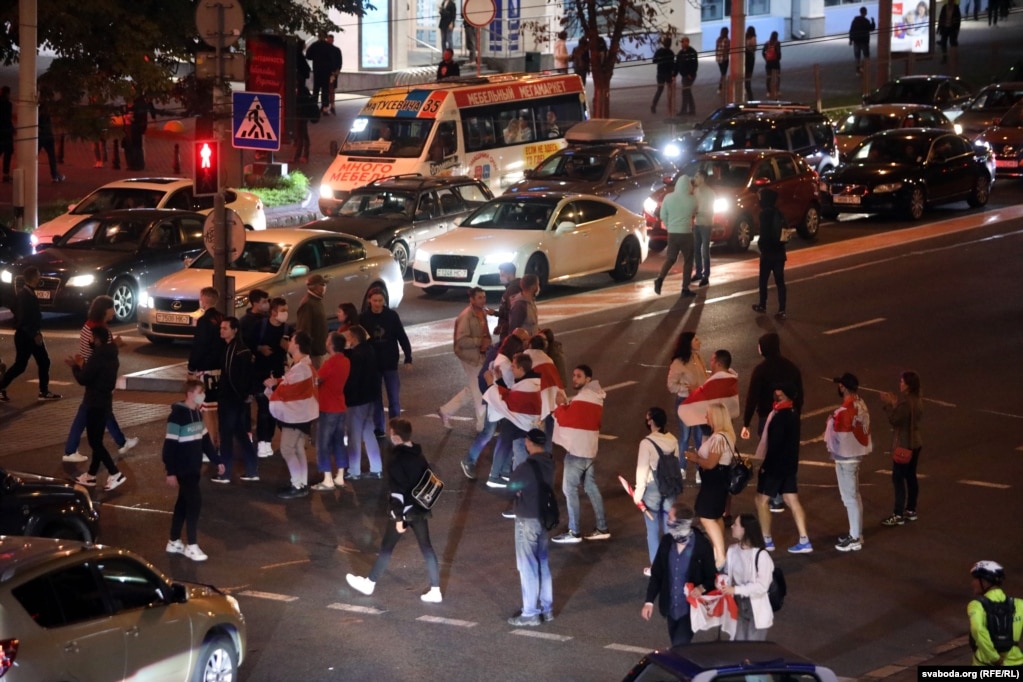 Police vans and minibuses carrying security forces have arrived at the intersection, and police are carrying out violent arrests.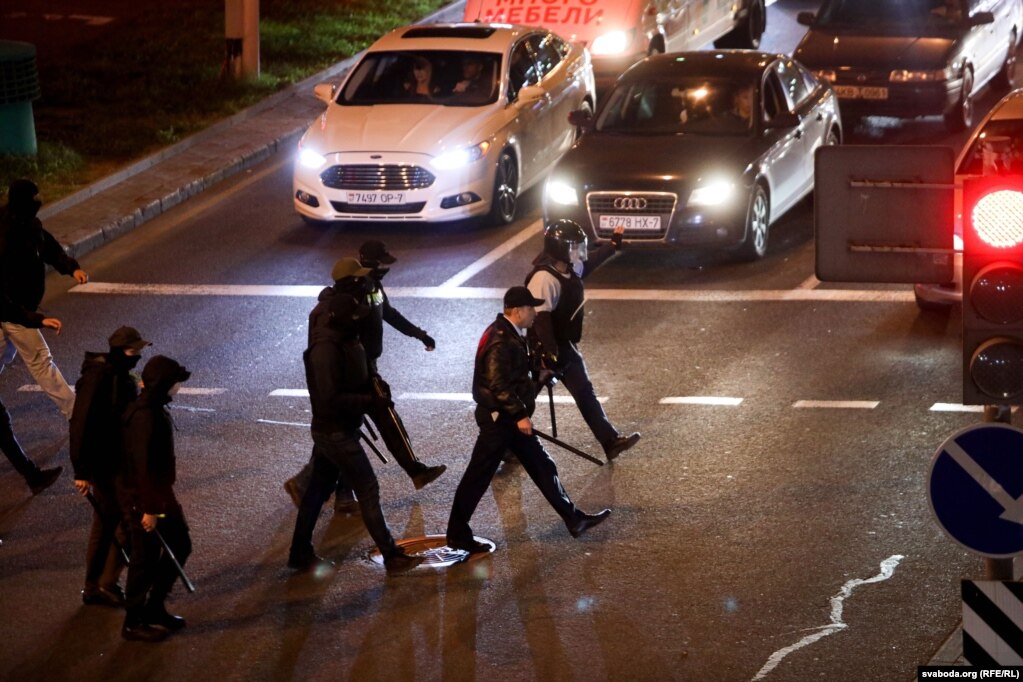 10:06 pm The Foreign Ministry of Slovenia has called Lukasehanko's inauguration "contrary to the will of the Belarusian people" and expressed support for "the appeal of the Belarusian people for free and fair elections under OSCE observation".
10:11 pm The Minsk Police Main Department of Internal Affairs press secretary Natallia Ganusevich has stated that law enforcement is now in control of the situation in Minsk. She was unable to give an exact figure of how many protesters were arrested so far today. "Arrests are still being carried out," she responded.
10:21 pm Minsk police are claiming that tear gas, weapons, and flash bangs were not used to disperse protesters.
10:28 pm Unregistered human rights center Viasna has updated its list of arrests during 23 September protests. Currently 116 names appear on the list.
10:45 pm A message on the @NEXTA.Live Telegram channel has reported that at least two explosions occurred on Pushkin Street. Eyewitnesses also report that security forces opened fire on a vehicle.
11:00 pm A taxi driver on Pushkin Street saved a protester fleeing from the riot police. He drove onto the curb and grass, changed into the other lane, and ran a red light, but managed to save the man.
11:03 pm Cars with flags are being inspected on Pushkin Street. Drivers have completely occupied the 10-lane street. People have gotten out of their cars and are discussing the "inauguration", while spontaneous groups of demonstrators gather around.
11:10 pm Localized demonstrations of 50-150 participants are continuing in at least five neighborhoods in downtown Minsk and the city's outskirts. People are gathering around the city or marching in groups.
In the neighborhood of Serebyanka, people continue to block the road and are not leaving the street.
11:15 pm UK Foreign Minister Dominic Raab has described the Belarusian elections as "rigged".

11:20 pm Security forces have arrived in Serebyanka. Explosions have been heard.
Drivers are protesting by honking their horns at the convoy of police officers who have arrived in the neighborhood.
11:23 pm 10 buses carrying police officers have arrived in the Malinovka neighborhood once again. According to Nasha Niva readers, they are attacking protesters. Local residents are chanting, "Shame!" and "Long live Belarus!".
11:30 pm Canadian Foreign Minister François-Philippe Champagne has expressed regrets about Lukashenko's secret inauguration ceremony, following rigged elections. Canada, along with other countries, is preparing an official response to the events.

11:40 pm Protesters have blocked traffic near the Sportivnaya metro station and are chanting, "You're the rat!".
A few weeks ago, while riding in a helicopter following a march, Lukashanka stated that the protesters "scattered, like rats".
11:42 pm Convoys carrying police equipment are leaving the city. Police are continuing to carry out spot checks in courtyards in certain neighborhoods.
11:46 pm "We do not accept this president". This was the statement of Dutch Prime Minister Mark Rutte in the Lower Chamber after the representatives of the Party for Freedom and Christian Democrats asked him to speak more forcefully against the Belarusian regime and harsh treatment of political opponents.
This was the first time that the Netherlands has spoken out against the Alexander Lukashenko regime.
11:55 pm Security forces continue to carry out arrests in Minsk's Kuntsevschina district.
12:00 am Several people have been arrested at the university campus in Minsk. Nearly every window in the dorms is lit up.
12:03 am Protesters have begun letting cars through between Pushkin Street and Sportivnaya. Up to this time, a huge traffic jam has formed there.
Security officers in khaki uniforms are searching cars, looking for white-red-white flags and other national symbols.
12:12 am Clashes between police and protesters have been going on for over three hours now.
200 people are already on human rights center Viasna's list of detainees.
12:19 am Police are smashing cars and dragging out the drivers on Dzerzhinskiy Avenue in Minsk, Nexta reports.
12:21 am The Belaruskali OJSC Strike Committee called for an immediate national strike.
12:24 am People in uniforms attempted to arrest a car driver on Dzerzhinskiy Avenue in Minsk, reports Onliner. They had almost blocked the car, but the driver was able to push through the police vehicles. Several dozen police officers swarmed onto the car. They were seen beating the car body and windows with their batons. Suddenly, the driver was able to break through the crowd, with two traffic police vehicles following behind. One person was left lying on the ground.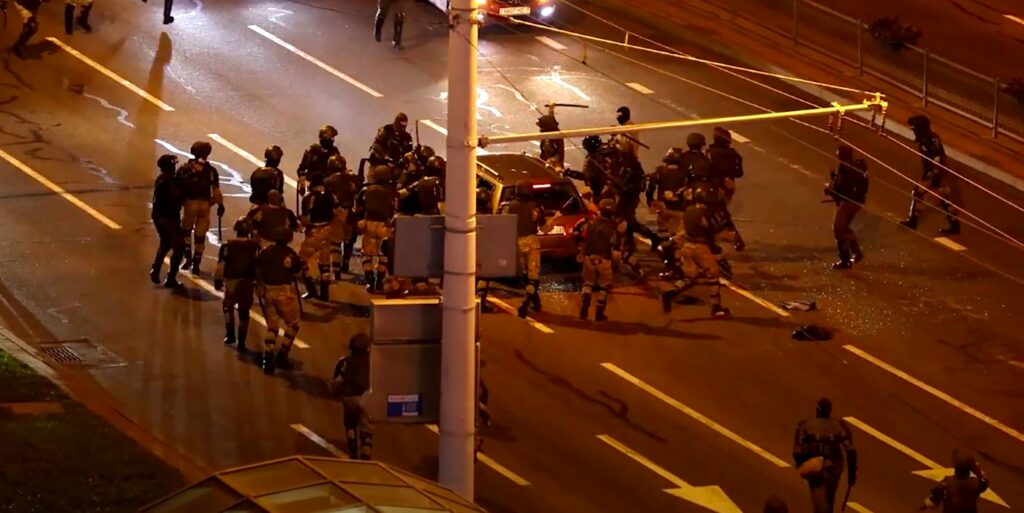 According to NEXTA.Live, police were able to catch up with the driver and arrest him. He was taken away in an ambulance.
The policeman, who refused to introduce himself, told the TUT.BY correspondent that the driver was drunk and hit the traffic police inspector.
Eyewitnesses told how the driver was detained:
"About 7 traffic police cars caught up with him in the courtyards at the intersection of Shchors and Razinskaya. The officers smashed all the windows and beat the driver until he was taken away. There was also a girl in the car.
"Some local residents came out to see what was happening – one of them was arrested. A traffic police car drove over another man's foot."
12:35 am Police stopped a car near the Sportivnaya metro station. They forced the driver onto his knees, and now are searching his car.
12:36 am Video: security officials beat another car in Dzerzhinsky Avenue.
12:50 am Ukrainian Foreign Minister Dmitro Kuleba wrote that he does not consider Lukashenko to be the legitimate president of Belarus.

"Ukraine has never interfered in internal affairs of Belarus & will always support the Belarusian people. Taking into account the election campaign & what followed, today's "inauguration" of Lukashenko does not mean his recognition as a legitimate head of Belarusian state."
1:08 AM Minister at the Foreign, Commonwealth & Development Office Wendy Morton condemned Lukashenko's "secret inauguration" on her Twitter today.

"The UK does not recognise the result of the Belarusian election, and it is shameful that Lukashenko was inaugurated in secret today. The Belarusian people deserve much better: full transparency, the release of detainees, an end to the violence, and free and fair elections."
1:30 am Human rights center Viasna's list of detainees already contains nearly 260 people. A few of them have been released.
According to the press secretary, the Interior Ministry's personnel arrested "a few dozen people".