16 September 2020 | Infocenter Free Belarus 2020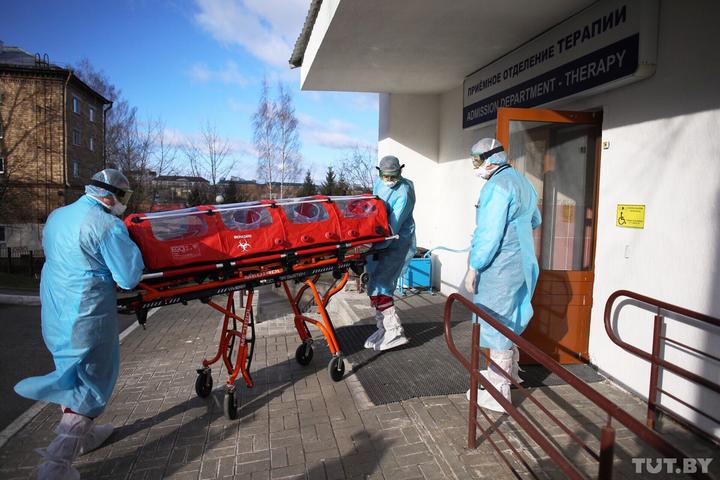 9:00 am TUT.BY: In June 2020, the number of deaths in the country exceeded last year's death rate for the same month by 3,753. The death rate in the first half of this year has beaten a five-year record. Neither the Ministry of Health nor Belstat (National Committee of Statistics) has provided an explanation for such data; moreover, Belstat had promised to publish data for the first half of 2020 in July, but the information is still not available to the public.
9:30 am Russian Ministry of Defense: Russia has announced the next military exercise on the territory of Belarus. The exercise will be held on 12-16 October, within the framework of the Collective Security Treaty Organisation (CSTO), the ministry reports. Belarus, Russia, Armenia, Kazakhstan, Kyrgyzstan and Tajikistan will take part in the exercise.
9:40 am Nexta: The first list of 12 security officials believed to have participated in the brutal suppression of the peaceful protests has been published. The data was gathered from the Ministry of Internal Affairs' databases, hacked by the activists calling themselves Cyber Partisans. They urge security officials and the military to resign; otherwise, the list will be published in full.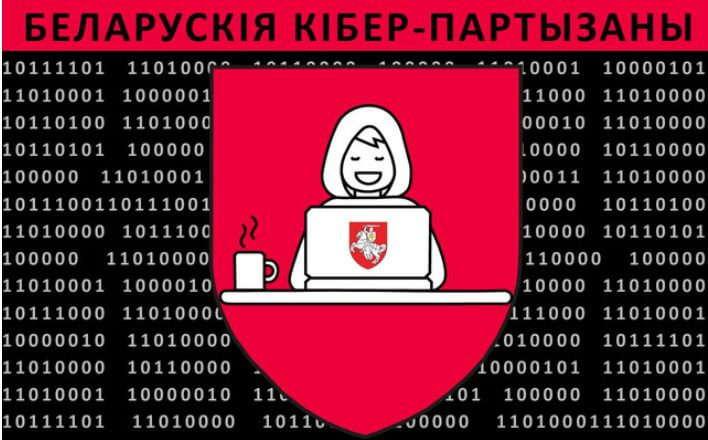 10:00 am Sviatlana Tsikhanouskaya stated that the Belarusian opposition is prepared to provide the incumbent President Alexander Lukashenko with "security guarantees" if he leaves the position "peacefully".
10:30 am Belta: Today, Alexander Lukashenko is holding a meeting with government officials, parliament members, civil servants, and the media. In total, about 300 people are gathered in the Palace of Independence. They discuss the current situation in Belarus. According to Lukashenko, the ongoing events are neither new nor unexpected for the authorities.
"What is happening now is neither unexpected nor new to us. Older people in Belarus remember worse, when in the 90's thousands of people took to the streets, overturned cars, burned them, threw Molotov cocktails through the windows of ground floors, which back then were not shops or boutiques but homes of common people. This allegedly spontaneous self-organization of society, the development of this so-called revolutionary situation, 'illegitimacy of the election', and the like – it's all a myth. This myth is completely broken by an in-depth analysis of the events which took place long before this year's electoral campaign," said Lukashenko.
11:00 am The American company Sandvine, which supplied Belarus with Internet traffic blocking technology, has canceled the deal. The IT company explained its decision by citing the fact that "the government used the technology to violate human rights," Bloomberg reports.
11:20 am TUT.BY: Anastasya and Darya Lukashenko (Alexander Lukashenko's granddaughters) have withdrawn their documents from the Belarusian State University Lyceum.
11:30 am Belarusian Ministry of Defense: a Russian military delegation, led by the Minister of Defense of the Russian Federation, Army General Sergey Shoigu, has come to Minsk on a work visit. The purpose of the visit is described as "discussing the questions of bilateral military cooperation between Belarus and Russia".
11:50 am Human Rights Watch has collected evidence of torture during the post-election protests.
One of the testimonies gives an account of rape using a truncheon.
"[The riot police] demanded that I unlock my phone. I refused. They called their superior in. He started threatening me – 'I'll stick a truncheon in your ass.' Then he cut my shorts and underwear open, criss-cross, called out to his crew to see if anyone had a condom… I was lying face-down on the floor, but I could see him putting a condom on the truncheon… And he thrust the truncheon into my anus… pulled it out and again demanded I give my [phone] password. He beat and kicked me: in the ribs, in the face, in the teeth – he broke my two front teeth."
12:00 pm Miss Belarus 2008 lost her job because of her civic position. Olga Khizhinkova actively participates in peaceful protests and publishes her photos on social networks.
"Last week, I had another conversation and I was told: either I keep quiet and publish nothing at all, or I will have to leave. My choice was obvious," Olga told TUT.BY.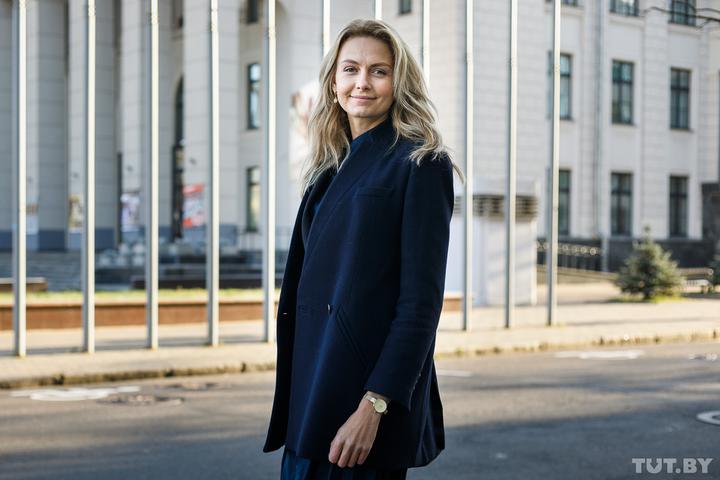 12:00 pm DELFI.LT cites the Lithuanian Ministry of Foreign Affairs stating that from 21 September, Belarusians getting national visas to Lithuania will need to meet the same conditions as citizens of Australia, Japan, the United Kingdom, USA, Canada, New Zealand and South Korea. They will be able to obtain a national visa for six months with a minimum package of documents and proof of their financial security – funds for three months, or the obligation of a legal entity to provide such funds.
Interior Minister of Lithuania Rita Tamashunienė added that in order to speed up the visa issuance procedures, the Migration Department will start processing applications of highly qualified specialists even before their arrival in Lithuania. The simplified visa regime shall be valid until 21 March 2021.
1:33 pm Several TUT.BY readers have reported a dispersal of a solidarity rally at the intersection of the Pushkina and Olshevskogo Streets: "There was a group of protesters (several dozens of people) with flags and posters. Some men in civil clothes came up, one of them was holding a camera. A minute later, a minibus and a traffic police car drove up. Two people got out of the bus, began to disperse the protesters, and detained one guy."
1:46 pm Clients of the BelVEB bank have reported numerous problems with their bank cards today. Many cardholders couldn't pay for goods and services. The bank claims that this was due to some service issues from 12:21 pm to 12:57 pm, but now the problems have been fixed.
1:53 pm NAVINY.BY reminds that today is the 21st anniversary of the disappearance of Viktor Gonchar and Anatoly Krasovsky, members of the opposition who have been missing since 16 September, 1999. Analysis of evidence and witness accounts gives grounds to believe that they were abducted.
1:58 pm Andrei Yehorau, a member of the Coordination Council, political scientist, and head of the Center for European Transformation, was released today after 10 days of administrative detention in Zhodzina. He was detained on 6 September when many protesters were detained on Chebotareva Street near the motorcycle plant.
2:02 pm The European Union is with the people of Belarus, said the President of the European Commission Ursula von der Leyen, speaking at the European Parliament on 16 September: "I say loud and clear to the Belarusian people that we applaud the immense courage of the protesters. The recent elections were neither free nor fair and the brutal response of the government is shameful," she said, and emphasized that "people must be free to decide their own future – they are not pieces on someone else's chessboard."
2:12 pm The UN has recently published data on mortality in Belarus. It turned out that in June 2020, the number of deaths exceeded last year's value for the same month by 3,753 cases. The death rate in the first half of this year has broken a five-year record. Neither the Ministry of Health nor Belstat has yet explained what had caused such mortality; moreover, Belstat had promised to publish the data for six months in July, but they are still not available in the public domain.
2:43 pm Today, employees of the offices in the Omega Tower business center were going to spend their work break by the nearby road holding flags in their hands. It wasn't the first time, and earlier they had come out for such an improvised assembly without any problems. However, today a blue tinned-windowed minibus without registration plates drove up to them, and people in olive uniforms ran out of the bus. One girl, Violetta Yatsyno, an employee of the Oxagile IT company, was caught and taken away in an unknown direction.
3:06 pm TUT.BY: Lukashenko once again accused other countries of the Belarusian protests. He stated that "over the past ten years they have been scrupulously preparing for the present zero hour."
"In order to remove all masks at once, let's name these players by name. At the level of global centers, this is primarily the United States of America, more specifically, its network of funds supporting the so-called democracy. American satellites actively operated on the European continent: Poland, Lithuania, Czech Republic and, unfortunately, our Ukraine," he said.
3:13 pm TUT.BY: Norwegian company Yara, one of the world's largest suppliers of mineral fertilizers and one of the key clients of the Belarusian Potash Company, will arrive in Minsk for negotiations on Friday. The day before, the company posted a message on its website expressing concern about the situation in Belarus and the fate of the miners who had been dismissed or kept in custody.
3:38 pm ⚡️⚡️ The launch date of the Belarusian Nuclear Power Plant (NPP) has been announced by Lukashenko at his meeting with political advisers. The facility is to open on 7 November.
3:41 pm Today, on the Day of Solidarity, students of many Belarusian universities took part in protest actions and announced strikes, as reported by Charter97.org.
3:57 pm The Investigative Committee of Belarus has not received any claims on incidents of rape by police officers during protests, claimed the first deputy head of the Ministry of Internal Affairs, head of the criminal police Gennady Kazakevich at a press conference on 16 September Sputnik.by reports.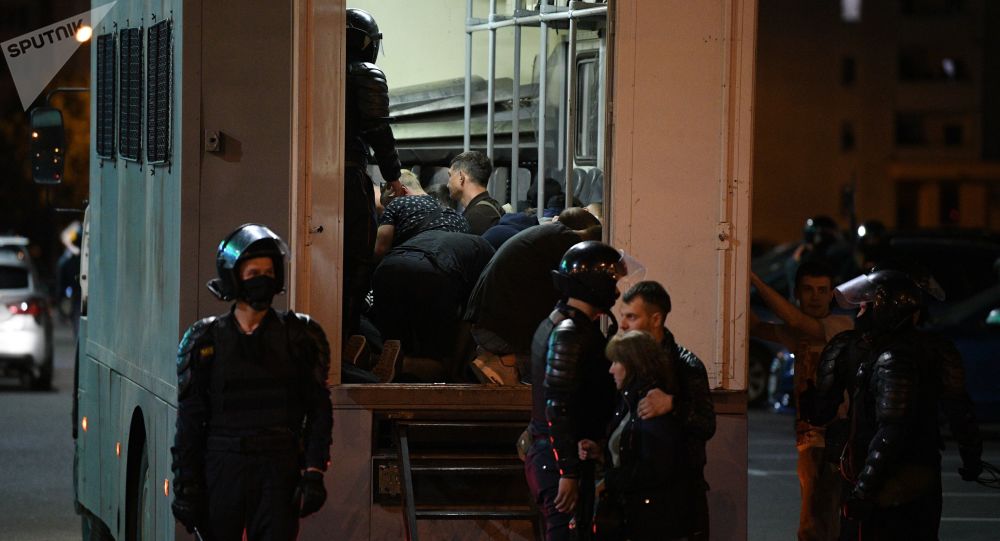 Kazakevich called the information about the rape fake. "You can't rape in a police van," he claimed.
4:07 pm Yaroslav Likhachevsky, CEO of Deepdee startup and the participant of the BYSOL fund, wrote on his Facebook that he is ready to continue Mikita Mikado's project to support the officers who retired from the security forces for political reasons.
4:24 pm The President of Slovakia called Svetlana Alexievich, the last member of the Presidium of the Coordination Council who is in the country and not in custody. Zuzana Chaputava announced this on her Twitter. Zuzana expressed solidarity and support to all those who call for free and fair elections.
4:45 pm 79-year-old Zinaida Krivetskaya was convicted for participating in peaceful actions in Rechitsa. "I have already lived, I can afford it," she said.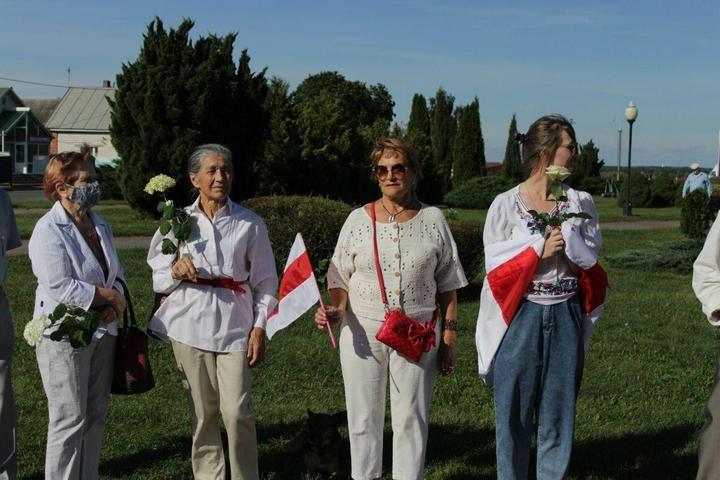 4:58 pm The European Court of Human Rights is considering an application for interim measures in the case of Vitaly and Vladislav Kuznechikov, who have been seeking refuge on the premises of the Swedish Embassy in Minsk for the last six days. TUT.BY received this news from Vadim Drozdov, a lawyer from Switzerland, who helps Vitsebsk citizens to obtain protection.
5:03 pm ⚡️⚡️ Maria Kalesnikava, a member of the Presidium of the Coordination Council, was charged with public calls for actions aimed at harming the national security of the Republic of Belarus, the Investigative Committee reported. Maria remains in custody.
Maria was detained on 8 September after an attempt was made by the security services to secretly deport her from the country. At the border, Maria tore her passport; now she is in prison in Zhodzina.
5:16 pm Aliaksandr Vasyukovich, tut.by freelance photojournalist, and freelance photographer Vladimir Gridin were sentenced to 11 days of detention, reports Motolkohelp. They were detained in a pub where they went after the Sunday rally.
5:27 pm Onliner: Maria Kalesnikava's lawyer, Lyudmila Kazak, has just seen her client. She says that Maria is in a good mood, she sends her greetings to everyone. Kalesnikava has her red lipstick, says the lawyer.
5:33 pm TUT.BY: Minsk. A group of girls with white-red-white umbrellas are walking today along Independence Avenue.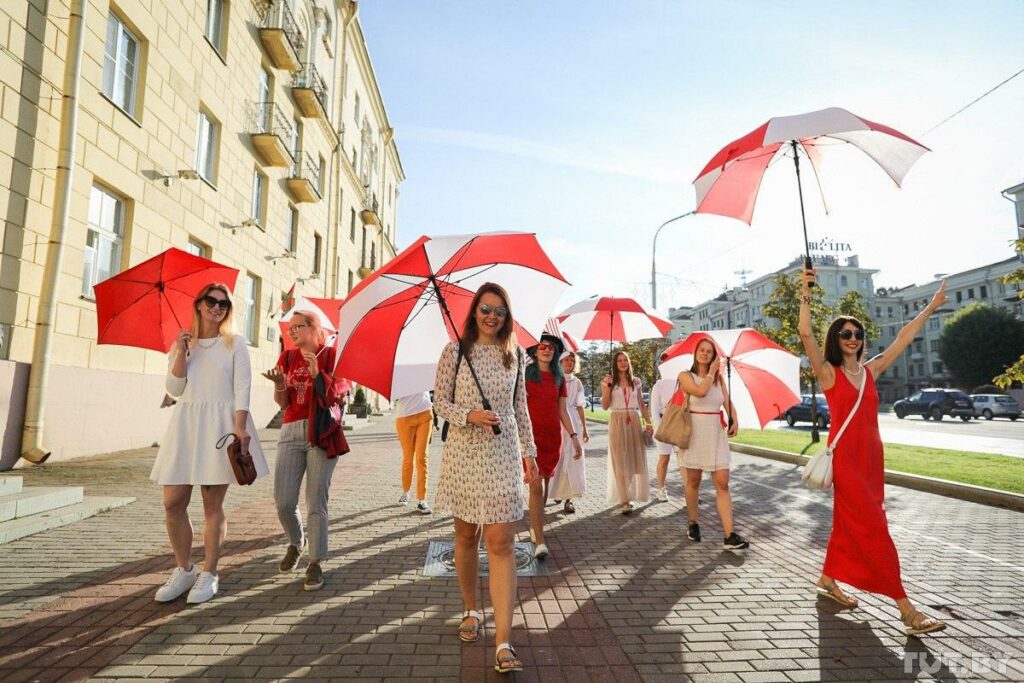 5:36 pm The Ministry of Internal Affairs proposes to allow police officers to appear in court under assumed names. Today, the Parliament of the Republic of Belarus received an appeal signed by Yury Karaieu, the Minister of Internal Affairs of the country. In his appeal, Karaieu states that law enforcement officers are witnesses at trials against people detained during peaceful protests.
It should be noted that such "security measures" are already being taken against police witnesses, although the legislation does not provide for such action at present.
The Ministry of Internal Affairs reports that the data on around 300 police officers has already been leaked on the Internet; more than 250 employees and their family members have been threatened and insulted. It is worth recalling that on 13 August, immediately after the atrocities committed by the riot police, Lukashenka signed a decree on rewarding Ministry of Internal Affairs officers for their "valiant service". The list of employees, which is still publicly accessible, includes more than 300 names.
5:38 pm The security officials visited the offices of the Beltyazhmash group of companies, managed by the businessmen Igor and Dmitry Onishchenko. Viktar Babaryka's campaign headquarters rented an office in one of the buildings belonging to the company. The connection with Igor and Dmitry has been lost and currently is not available.
5:58 pm During tomorrow's plenary meeting, the European Parliament will vote on a resolution with recommendations to the European Commission.
The resolution is dedicated to the situation in Belarus.
In the draft resolution, MEPs propose:
Not to recognize Lukashenko as president after the expiration of his term, as well as to introduce a ban on financing the public sector of Belarus by the European Union;
To transfer the Ice Hockey World Championship 2021 from Minsk;
To provide a humanitarian corridor for Belarusians leaving the country for political reasons;
Not to provide loans to the Belarusian regime;
To expand sanctions on Russians who support the Lukashenko's regime in Belarus;
To arrange a full investigation into the crimes of the regime against the Belarusian people.
5:49 pm ⚡️ The European Parliament intends to ban financing the public sector in Belarus, with a proposal to freeze EU funding for state and state-controlled organizations and stop government loans from the European Bank for Reconstruction and Development (EBRD). The ban will be considered formally at tomorrow's plenary session.
Annually, the EBRD contributes approximately 360-390 million euros to the Belarusian economy.
6:00 pm Lukashenko has instructed the Minister of Justice to audit Belarusian political parties for compliance with their own statutes, and to re-register all existing political parties. This was a reaction to the recent resolution from 10 of 15 registered parties demanding an end to violence and new elections.
6:32 pm Political parties demanded an end to violence, that dialogue be held, and also called for new, fair elections. The parties reacted to Lukashenko's order that they be re-registered by stating that in the current context, re-registration will simply lead to their elimination.
6:42 pm Sviatlana Tsikhanouskaya responded to the Director of the Russian Federation's Foreign Intelligence Service, Sergei Naryshkin, who spoke of the "Western footprint" on the Belarusian protests.
"There is one reason for the protests in Belarus, and everyone knows what it is – Lukashenko lost the elections, and he is unwilling to step down. The people, who have denied the former leader their trust and support, are demanding that he leave. This is a domestic political crisis, and nothing about the protests have anything to do with our relations with other countries or the direction of our foreign policy. Mr. Naryshkin would do well to appreciate that, rather than repeating tired propaganda clichés."
7:04 pm The resident of a Minsk courtyard on Chervyakov Street known as the "Square of Change", Stepan Latypov, is a suspect of violating Article 293 of the Belarusian Criminal Code (rioting), his attorney Ilya Perhalskiy informed BelaPAN.
Latypov was arrested on 15 September in the courtyard of his apartment building on Chervyakov Street. The courtyard, now known to Minsk residents as the "Square of Change", is constantly being decorated with white-red-white opposition flags, and residents have drawn the likeness of two DJs who played Viktor Tsoi's "Peremen" ("Changes") at a 6 August official event in Kiev Square on a transformer box.
Latypov was guarding the transformer box with the drawing of the DJs from security forces, who have come multiple times to wipe it off. The officers were masked and wearing plain clothes, and Latypov demanded that they identify themselves. Later, his apartment was searched.
7:09 pm According to TASS, Maria Kalesnikava's attorney has stated that her client is in the Zhodzina pre-trial detention center and in good spirits. Kalesnikava does not regret what happened to her. "These are her words, which she asked me to convey to everyone."
7:12 pm A TUT.BY reader sent a photo of a "solidarity chain" in Minsk. "Five individuals and a dog are standing at the Chelioskintsev Park metro station. Cars are honking their horns at them." Similar chains can be found on many streets around Minsk.
7:24 pm Dozens of people have gathered at the now-famous dragon in Uruchcha, Minsk. People have come with children, and are putting on an improvised concert.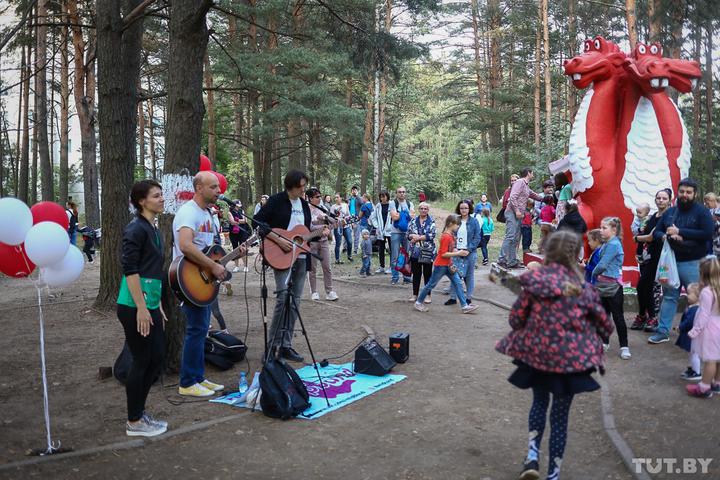 7:46 pm The "Pul Pervogo" Telegram channel has relayed what Lukashenko discussed with Putin in Sochi:
Energy issues,
Market access ("Putin suggested activating holdings and large companies, in order for them to meet and trade with each other. Lukashenko supported the idea"),
Regional cooperation,
Credit (Lukashenko was quoted as saying: "The Prime Minister and Minister of Finance suggested paying back this loan. This year, we were to pay them a billion dollars under the terms of our old loan. In spite of these difficulties, we were ready to repay that amount. This is not a new loan. This was my request to the Russian leadership, that this year we will not pay back that billion dollars. We will keep it and postpone repayment to next year. The interest rate was acceptable. It was a matter of refinancing."),
Military-industrial complex and defense (Lukashenko suggested moving forward with exercises, despite the reaction from abroad),
Cargo transport (reorienting cargo shipping from the Baltic states to Saint Petersburg).
7:58 pm A memorial was held in Zhodzina on Wednesday: 10 people stood near a monument to the inventors of mining dump trucks. Those gathered held photos of those who have died or disappeared in Belarus: Anatoly Krasovskiy, Viktor Gonchara, Mikita Kryutsou, Yuri Zakharenko, Aliaksandr Taraikouski, Aliaksandr Vikhor.
8:10 pm An 80 year-old former school principal, who spoke at a rally, was convicted in Pinsk. On 16 August, Grigoriy Semonovich Burvan spoke at Lenin Square in front of several hundred Pinsk residents who were protesting the election fraud and violence at the hands of law enforcement.
Some time later, a police officer visited Burvan and drew up administrative charges for participating in an unsanctioned mass event. On 16 September, he was summoned to court. Burvan did not deny what he said in front of hundreds of residents and dozens of police officers. He told the court that he did not understand the essence of the charges: "I was defending the Constitution. I was defending the State, my people. I was defending them from usurpation and the forcible retention of power, which is the most serious crime…"
8:15 pm Russia has offered Belarus a loan to be paid in two stages: $1 billion in 2020 and $500 million in 2021. According to TASS, this information comes from the Russian Minister of Finance, Anton Siluanov.
8:40 pm The memorial to Taraikouski has been put back up on Pushkin Street!
8:41 pm Ukraine has closed the "Novye Yarilovichi" border checkpoint until 27 September, according to information posted on the official State Border Committee Telegram channel.
According to official information from Ukraine, from 16 September to 27 September at midnight, the "Novye Yarilovichi" border checkpoint will be closed. This comes following an order from the Ukrainian Cabinet of Ministers.
Ukraine will close the checkpoint to both citizens and cargo transport.
9:21 pm ⚡️ President of the European Parliament, David Sassoli, has invited Sviatlana Tsikhanouskaya to speak before the European Parliament.
9:23 pm Lukashenko's supporters marched down Prospekt Nezavisimosti in downtown Minsk, in a show of support for the current president.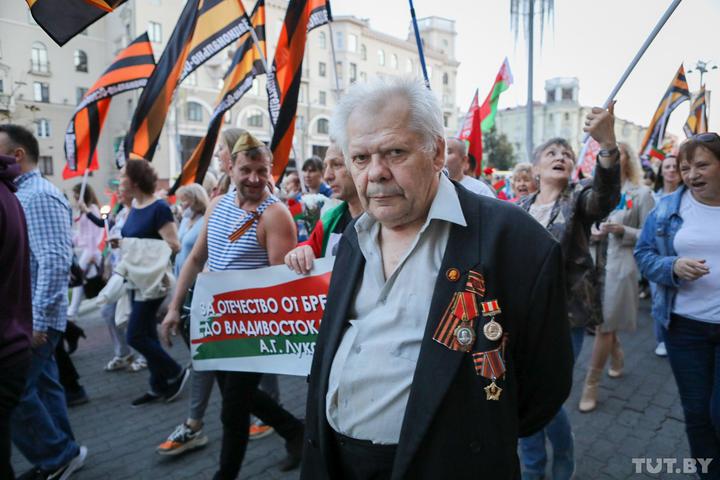 Prior to heading to Victory Square, located about 2 km away, the event organizers instructed demonstrators on what slogans to use, in order to not repeat those of the opposition. The group then marched down the avenue while waving state flags, as well as USSR flags and St. George ribbons to the song "Sacred War".
9:39 pm Lukashenko stripped former ambassadors Pavel Latushka and Ihar Lescheniya of their diplomatic ranks of Ambassador Extraordinary and Plenipotentiary. This was done "in connection with acts discrediting state (diplomatic) service". Vasili Markovich was relieved of his duties as Ambassador Extraordinary and Plenipotentiary to the Republic of Latvia and stripped of his diplomatic rank "for failure to perform official duties".
9:42 pm INTERFAX.RU: Discussing the results of his talks with Russian President Vladimir Putin, Lukashenko stated that Belarus is ready to shift its cargo flows from the Baltic countries to St. Petersburg, so long as Russia provides similar conditions.
10:05 pm At a meeting on Wednesday with Valery and Veronika Tsepkalo, Estonian President Kersti Kaljulaid stated that she intends to continue drawing international attention to the events in Belarus.
"Estonia and I, personally, are doing everything we can from our end in order to bring international attention to the events in the Republic of Belarus," stated Kaljulaid, as she urged Belarusian authorities to end violence against peaceful protesters and threats of military force.
"Through free and fair elections, the Belarusian people are demanding an end to the violence and respect for their fundamental democratic rights," she added. "Belarusians should have the right to independently choose their own path, and we express our solidarity with them."
10:32 pm A demonstration took place in Cologne, in "support of freedom in Belarus". Video of the event was published on the NEXTA Telegram channel.