1 October 2020 | Infocenter Free Belarus 2020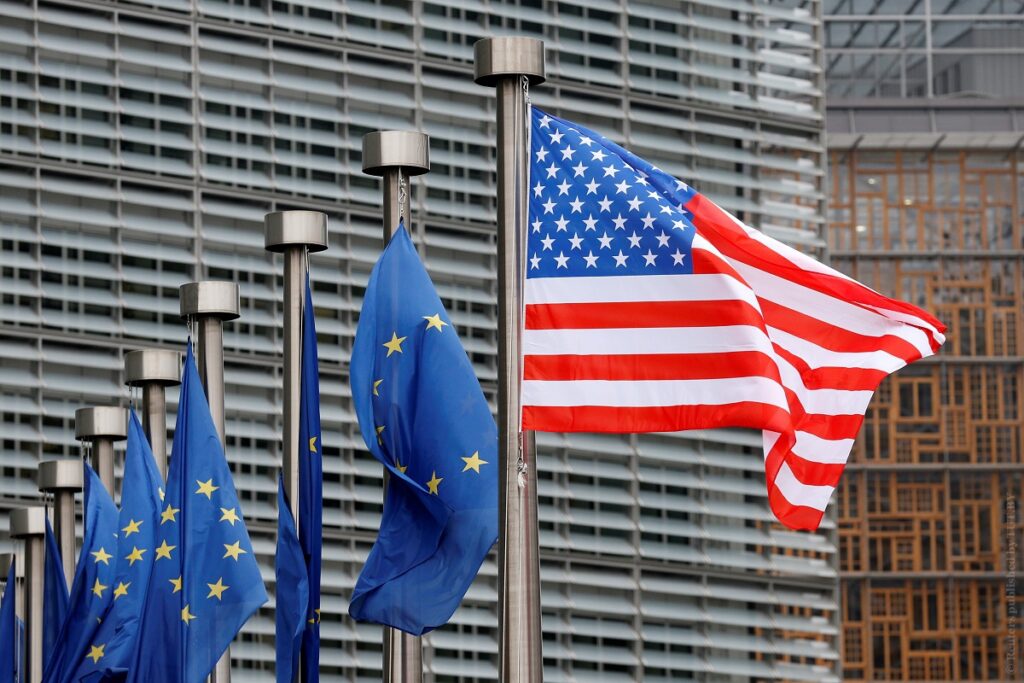 The 53rd day of protests begins. During this time, the security forces and Lukashenko's supporters have perfected bureaucratic formulations, and the Belarusians have learned to stand arm in arm to protect each other from police brutality.
Sense of humour also stays on the side of those who support change. A very peculiar phrasebook was published yesterday. Here are some excerpts from it:
"There was an unauthorized rally" – "People came out to protect their liberty and police didn't allow that"
"Special means were used" – "People were beaten, gassed, shot, and private cars were smashed"
"Unregistered symbols" – "National flag"
"Explanatory work" – "Tortures"
And thus, with a sad smile and hope for change, we start today's Information Bulletins for Foreign Media.
Last night
US held back sanctions on Belarus – but this doesn't mean they won't impose them.
The U.S. State Department did not directly address why it had not joined Britain and Canada in imposing sanctions, but said it welcomed their having done so and noted U.S. sanctions already applied to 16 Belarusians, including Lukashenko.
"We are coordinating closely with our European partners to promote accountability for those involved in human rights abuses and repression in Belarus," said a State Department spokesman.
Valery Tsepkalo wrote a new announcement for Belarusians
"If the European Union does not recognise it, Belarus cannot exist as an independent state. I think it is not long before the Russian government starts changing their attitude to the events in Belarus," he says in the announcement.
8:05 am Norwegian tabloid Verdens Gang proposed to nominate Svetlana Tikhonovskaya, Veronica Tsapkala and Maria Kolesnikova for the Nobel Peace Prize.
"Three women managed to do what no other politician could do before, namely, to bring Belarusians out into the street." "[Their] calls for a normal life and freedom of choice were supported and the violence was condemned unconditionally," the article says.
8:34 am A new day brings new white-red-white flags into courtyards of Belarus.
9:03 am Fake or support? Leaflets appeared in Vitsebsk with "an appeal to the townspeople on behalf of the chairman of the Vitsebsk regional executive committee Nikolai Sherstnyov." According to the leaflets, Sherstnyov supports popular protests and promises to do "everything to restore law and order in the Vitsebsk region as soon as possible." The Vitsebsk region administration has already announced that the leaflets are fake.
9:37 am Detentions continue? Anastasya Sharkevich, advertisement manager of Narodnaya Volya newspaper, has not been in touch since 7 am. Earlier, she managed to report in a volunteer chat that the police had come to her and that they were conducting a search as part of some criminal case, but she does not know what.
9:50 am People take the initiative. At the entrance of the judoist Yury Rybak's apartment block, who, in the 90s style, intimidated other athletes who did not support Lukashenko, appeared leaflets denouncing him.
10:00 am Time for new heroes. On the sports ground in a Hrodna courtyard, a panel-board appeared bearing the silhouette of the basketball player Yelena Leuchanka, arrested yesterday, and number 15 – the number of days of arrest assigned to her.
10:15 am How much is the fish? Finance.tut.by experts have calculated how much the events in support of Lukashenko cost Belarusians.
So, for example, 11,410 rubles (about 3800 euros) were spent on a concert in honor of the Day of Railway Troops, due to which a large Tsikhanouskaya's rally, planned on August 6 in the Friendship of Peoples Park, had to be cancelled. And the pro-government Women's Forum in Minsk on September 17 cost the country thirteen times more (146,500 Belarusian rubles).
10:30 am Journalist trials continue. The trial of Igor Remzik, journalist and editor-in-chief of the NewGrodno portal, will be held today at 12 pm.
The journalist was detained on 27 September, during a protest. He spent a day in a detention centre. Later he was released, after charging him with participation in an unsanctioned meeting. During the detention, riot police tore off the journalist's press vest, ignored his identity documents, and threw him into the bus.
10:40 am Fighting the drawings. At the main entrance of Belarusian State Medical University, a drawing in red-and-white appeared, depicting a girl doctor and a question: "Have you put on a white ribbon?"
It took seven people to remove it: yardkeepers, janitors, workers from building management.
10:45 am Anastasya Sharkevich's location found out. It was confirmed that the Narodnaya Volya editor is now at the Frunzenskiy police department. Her status and charges are not known yet. Anastasya refuses to talk to the law enforcement officers without her lawyer.
11:50 am A neighbourhood chat is also a grounds for arrest. "Grushville" channel is dedicated to the Minsk micro-district Grushevka. Channel subscribers discuss neighbourhood issues, share news and thoughts on what is happening in the neighbourhood, city and country. But even this is enough nowadays to warrant you a police search.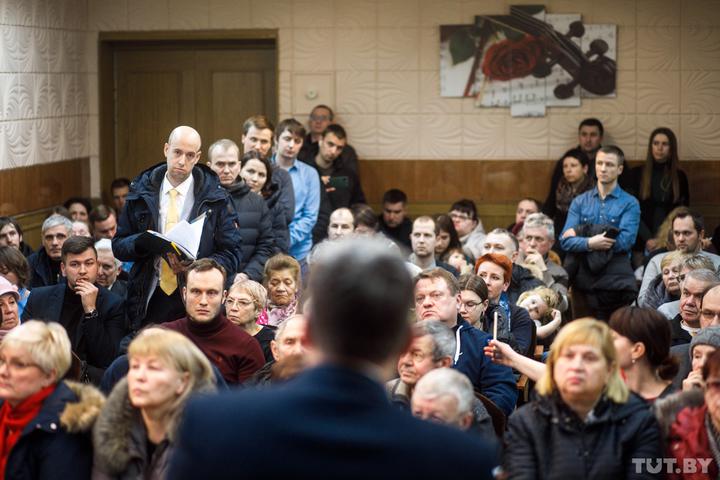 "Early in the morning, Dmitry got an SMS requesting him to be an attesting witness," a friend of the channel's creator said. Meanwhile Dmitry's wife said that he is now at the Moscow District police department, where he was asked to come after the search.
12:05 pm Vadim Antipau, one of the teachers from the Belarusian State University of Informatics and Radioelectronics, was detained last night at his home. The police searched his apartment and seized a telephone and other equipment. He was taken to the Minsk police department on suspicion of "participation in unauthorized mass events".
12:09 pm Internet provider A1 is to compensate its users mobile internet downtime in Minsk on Sundays of 6, 13, 20 and 27 September due to the demands of the authorities to disable the service.
12:12 pm Belsat subscribers on Telegram have reported that teachers from Mozyr are being forced to attend a rally in support of Lukashenko in Homel. The bus will leave at 5 pm. People don't want to go but don't feel as if they have a choice.
12:26 pm Another journalist has resigned from the Belarus national TV company. "Good bye Belarus 1", wrote the author of "Under the President's Control" project, Nadezhda Serbinenko, on her Instagram account.
12:34 pm The strike committee of Belaruskali has called on the residents of Salihorsk, Minsk and of the whole Republic to join the general meeting in the Park of the Four Elements at 2pm on 3 October.
12:33 pm After yesterday's rallies, police are on duty at the entrances to Belarusian universities.
12:35 pm Sviatlana Tsikhanouskaya has met the chairman of Vilnius University, Professor Rimvydas Petrauskas. The chairman expressed his support for the Belarusian people and on behalf of the Vilnius University handed Tsikhanouskaya a declaration of readiness to support Belarusian students with special scholarships.
12:46 pm The court in Hrodna is hearing the case of Igor Remzik, Chief Editor of a popular city web-resource. The judge has sent the case for further investigation and appointed the next hearing for 11pm on 7 October.
12:58 pm New chains of solidarity are emerging in the streets of Minsk.
13:03 pm The Belarusian Association of Journalists and representatives of the media have demanded an end to pressure on the media and for a withdrawal of the lawsuit against TUT.BY.
Other demands include the withdrawal of the decision to "suspend" TUT.BY's license and lifting the ban on access to internet resources covering public and political issues.
The statement of demand has been signed by the Belarusian Association of Journalists, Onliner.by, Nasha Niva, CityDog, BelaPAN, Euroradio, Radio Svoboda, BelGazeta, Free News Plus, Ezhednevnik, Novy Chas, Reform.by, the "Solidarity" newspaper, and the Association of Regional Press Publishers "United Mass Media".
1:08 pm The students of Minsk State Linguistic University have come out for a rally singing songs.
1:19 pm The Human Rights Center "Viasna" and Belarusian civic leader and former prisoner of conscience, Ales Bialiatski, have been awarded the Swedish Right Livelihood Award, sometimes referred to as the "Alternative Nobel". The award cited their "resolute struggle for the realization of democracy and human rights in Belarus."
1:27 pm Anastasya Sharkevich, advertisement manager of Narodnaya Volya newspaper, was detained earlier today and has now been released from the police department. The arrest and search were performed as part of an investigation of a criminal case regarding "mass riots".
1:30 pm The students of the Journalistic Department of the Belarusian State University have joined in an act of solidarity with their future colleagues from TUT.BY. For the whole day, they have been handing out stickers related to the news portal.
1:42 pm Creator of the "Grushville" chat has left the police department. His equipment was seized and sent to the Investigative Committee under investigation of a criminal case on mass riots. However, Dmitry himself has no status in the case – he is neither a defendant, nor a suspect.
1:54 pm Palina Sharenda, an activist of the "European Belarus", has been summoned to come with her son to the education department today. Palina says that they are threatening to take away her children.
1:55 pm Subscribers of the student-oriented Telegram channel "Otchisleno" have published letters sent by the Prosecutors Office to colleges and lyceums in Minsk.
The letters demand the administration of educational facilities report when students or their parents take part in protests or solidarity actions, including street rallies, as well as activity on social networks and Telegram channels.
It also mentions the dismissal of protesting employees and the "destructive online communities" of students and teachers.
2:03 pm The EU has promised Cyprus future sanctions against Turkey if Cyprus agrees to change its position and approve proposed sanctions against Belarus.
2:07 pm A judge has found no grounds for penalty for religious acts as claimed by police. The judge noted that it is legal to pray in Belarus, rejecting police claims against a Catholic woman, accused of praying for the return of Metropolitan Tadeusz Kondrusiewicz.
2:15 pm "Putin could become a mediator in the resolution of the Belarusian crisis," said Tsikhonouskaya in an interview with the French radio station RTL. She also said that, in her opinion, any neighboring country of Belarus could provide such help and take up the role of mediators.
She also mentioned the meeting with Angela Merkel scheduled for next week.
2:30 pm Sviatlana Tsikhanouskaya has commented on the situation of independent media: "It is difficult for independent media in Belarus now. Journalists are being shot at and arrested; their accreditations and licenses are taken away – in such conditions it is almost impossible to carry out their work. The only media outlets that are not repressed are working for the regime and are engaged in their propaganda. Everyone else has to either leave the country or put themselves at risk on a daily basis. The situation with TUT.BY is a good example of this. However, I am sure that independent media will keep working under any conditions and from any spot in the world. And I want to express my most heartfelt gratitude to them."
3 pm The InfoBank.by has published a list of banners picturing police brutality and saying "This was done by OMON" and "We shall not forget".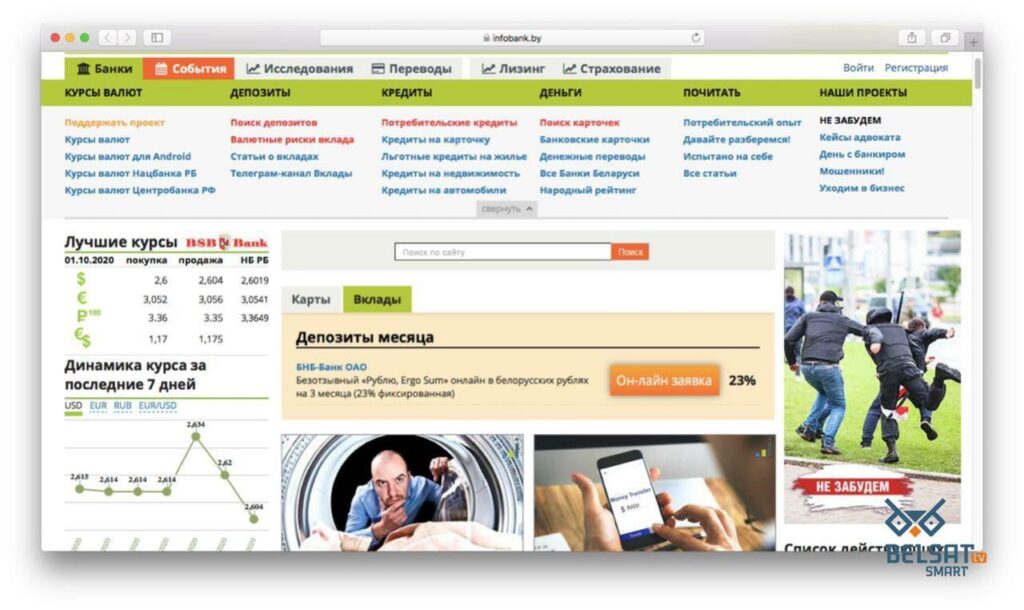 3:25 pm The students of Belarusian State University of Informatics and Radioelectronics have commenced another sitting protest. They are sitting and chanting "One for all and all for one!"
3:30 pm Students of the Philosophy and Social Sciences Department of the Belarusian State University have held a rally of solidarity for the Associate Professor Pavel Barkovsky, who resigned yesterday.
3:41 pm Belarusian Steel Works has decided not to extend the employment contract of the locksmith Vitaly Savelyev, who was sentenced by the court to 12 days of arrest for participation in an unauthorized mass event. The man had worked at the plant for 20 years.
3:45 pm The Ministry of Foreign Affairs of Belarus has reacted to the latest statements of the Minister of Foreign Affairs of Ukraine Dmitry Kuleba regarding the legitimacy of the Belarusian leadership.
"We can't get rid of the feeling that the desire to be on the stage at any cost has overshadowed all other feelings of the performers, including their perception of the surrounding world."
4:05 pm In Mahiliou, former head of the city headquarters for Valery Tsepkalo has been issued with a prosecutor's warning for involvement of his six-year-old daughter in the protests . He was warned that if the child is seen in a similar situation again, the question of withdrawing parental rights would be raised.
The activist himself considers that this is an attempt to put pressure on him for participation in the protests.
4:10 pm The philosophy teacher of Belarusian State University of Informatics and Radioelectronics, Vadim Antipov, who was detained at his home on the evening of September 30, is now in the detention ward in Akrestsina Street.
It's still not known what the man is accused of. His relatives have been assured that the case is of an administrative nature, but upon arrest all of Antipov's equipment was seized by police.
4:40 pm A TUT.BY reader has filed an inquiry to the Belarusian State Academic Theater asking why security force officers entered the theater during a children's play. According to their answer, the officers went into the theater building "to use the public toilet".
4:50 pm Belarusian designer Andrei Shnitulenko makes lego reconstructions of the most important moments of the last two months in Belarus.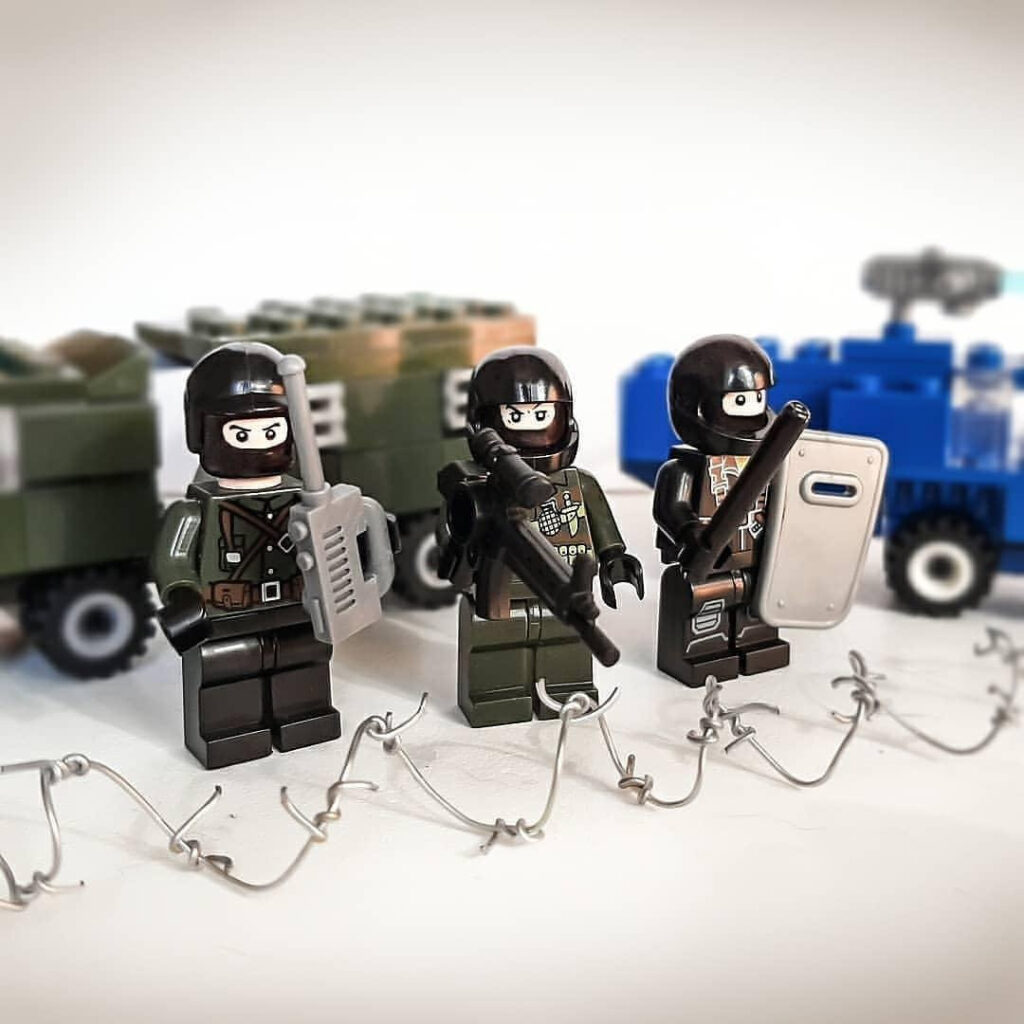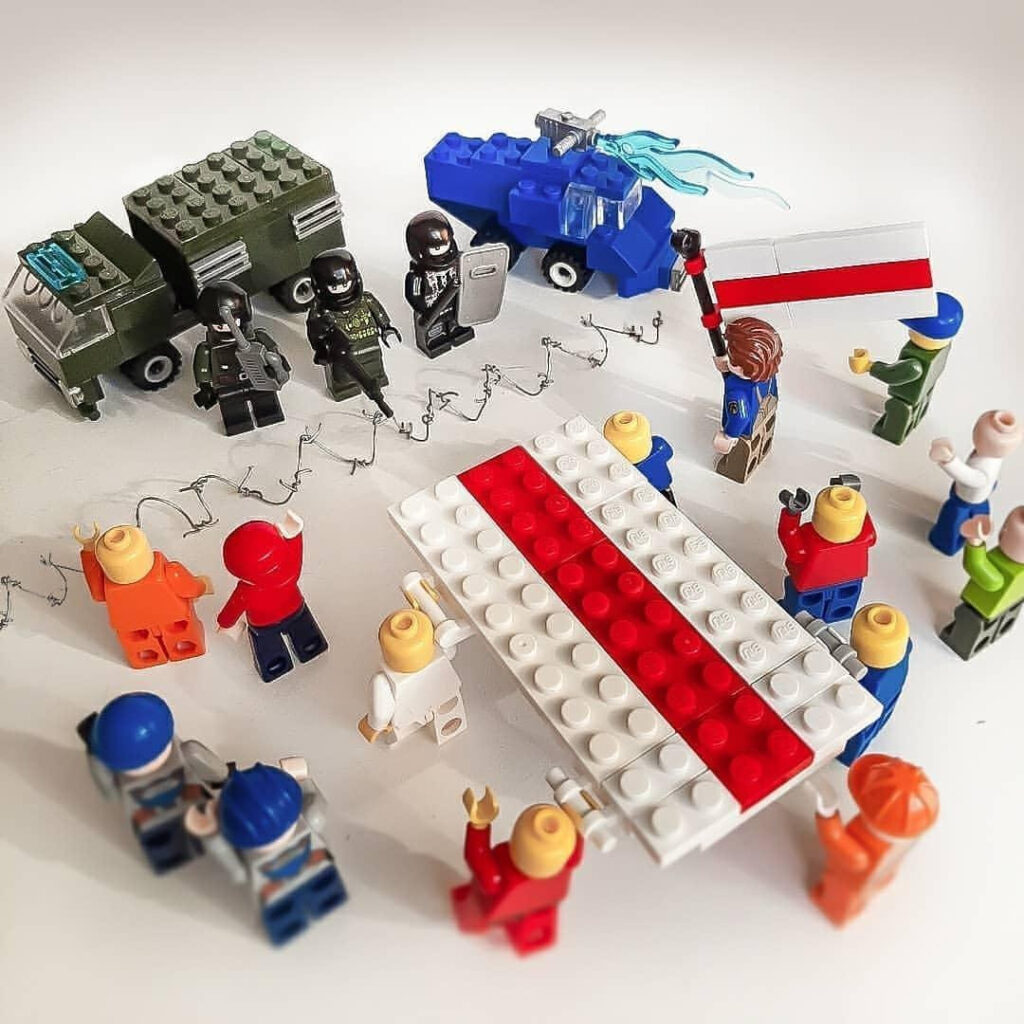 4:55 pm One more journalist has resigned from National Belarusian TV today. This time it is Alexandra Kavelich, who had worked at the channel since 2017. According to her, the way the news is presented on TV is very biased, unacceptable and dishonest, and is doing a disservice to viewers who are waiting for objective information.
"Those watching only state news cannot form critical thinking, and become a hostage to biased, misleading and dishonest vision of the world. I could no longer take part in this," said Kavelich.
5:15 pm The European Union is to prepare a plan on the ways to help the people of Belarus after Aleksander Lukashenko has left, to prevent "interference" of "third countries" in the situation, said the President of Lithuania, Gitanas Nausėda.
5:25 pm Readers of Belsat are sending screenshots of new text messages from the Ministry of Internal Affairs.
In the messages, the recipients are accused of participating in unauthorized actions and are warned that all their actions have been recorded in photos and on film. Also, the authors of the message notify that such actions are legally prosecutable and ask the recipients "not to make mistakes."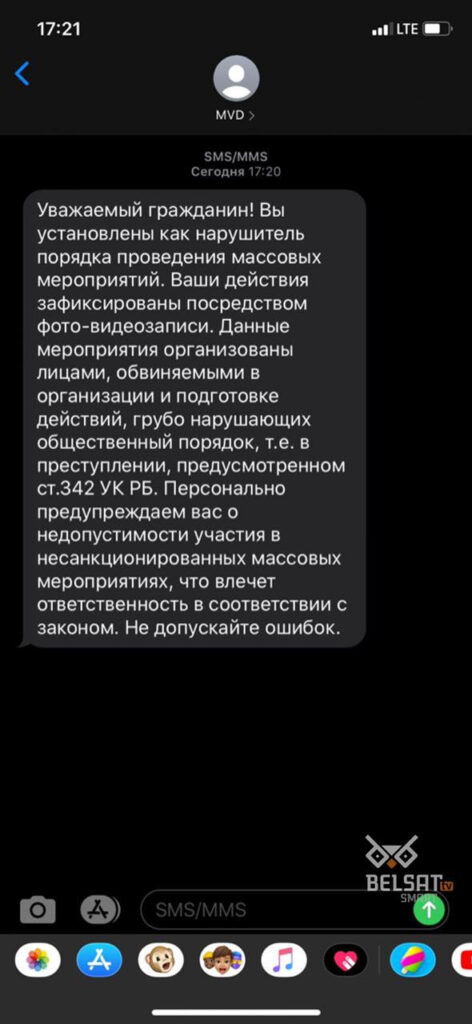 5:30 pm Pavel Latushka has written on his Telegram channel that his Facebook page has been blocked.
6:06 pm The Belarusian Handball Federation has removed the Vityaz-Leon club from the national handball championship after the team refused to play in a planned match in response to the arrest of basketball player Yelena Leuchanka.
6:30 pm Sviatlana Tsikhanouskaya spoke at a rally at the Belarusian Embassy in Vilnius. She thanked the Belarusian protesters in Lithuania for their solidarity and support. Members of the Coordination Council Pavel Latushka and Volha Kavalkova also took part in the rally.
6:46 pm Today, European Belarus activists Evgeniy Afnakhel and Andrei Voinich were charged with participation in mass unrest.
7:12 pm A petition has been circulating online asking that TUT.by's status as a member of the mass media be restored.
7:50 pm Dozens of people in Brest went to the courthouse, in a show of support for a female activist who was summoned to the Commission for Juvenile Affairs after attending a protest with her child.
8:41 pm US Secretary of State Mike Pompeo and high-level representatives of the Vatican discussed the current situation in Belarus at their meeting today. The details of what was discussed are not yet known.
8:55 pm The Ukrainian Foreign Ministry summoned the Belarusian ambassador to provide explanations on a range of issues. According to the ministry's press service, Ukraine's leaders are concerned with the continuous repression of peaceful citizens and the incident involving the Ukrainian ambassador on the Belarusian-Ukrainian border.
9:00 pm People are gathering in traditional solidarity chains and organizing courtyard celebrations all around Minsk. Moreover, in some neighborhoods, placards and billboards are displaying the likeness of detained basketball player Yelena Leuchanka.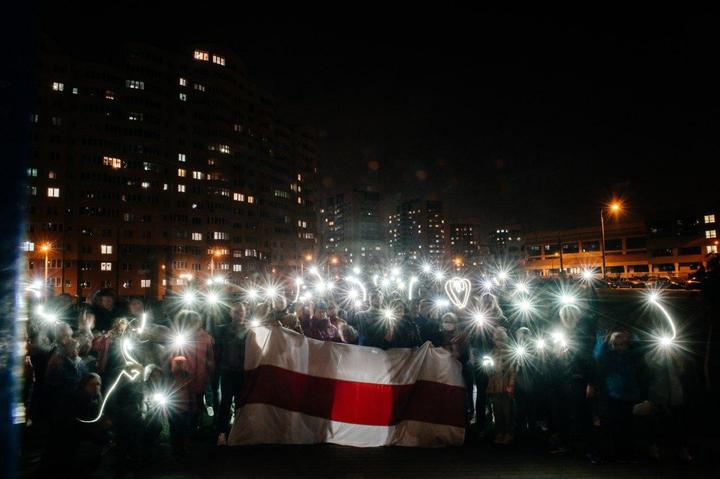 9:05 pm TUT.by readers report that law enforcement has arrived at a neighborhood protest in Mikalovo and two people have been arrested.
9:10 pm Mobile operator A1's press service has explained that the text message sent out today warning against participation in rallies was sent at the initiative of the Belarusian Foreign Ministry as a social advertisement. That information was then confirmed by the ministry's spokeswoman, Volha Chamadanava.
9:15 pm Tatsiana Severinets, a resident of Vitsebsk, filed a request with the City Executive Committee to hold a rally in her own apartment. On 30 September, the court ruled that waving a white-red-white flag from her balcony during a recent citywide protest was an unsanctioned rally and fined Ms. Severinets 675 Belarusian rubles ($260 USD).
10:06 pm The second league of the "First Region" Belarusian soccer championship has issued a statement on suspending the tournament due to the country's current situation.